One of the best parts of owning a kayak is exploring new waterways. There's always something new to be found in your area's assortment of lakes, rivers, or coastal waterways.
But you need a reliable way to transport your kayak (or kayaks!) to these new waterways safely. While we've seen a number of jerry-rigged solutions to transport kayaks, a proper kayak rack for your truck is the safest method.
A kayak isn't a small investment, especially as you gain experience and seek new kayaks with extra features. A quality kayak rack is a great example of an accessory that will help you protect your investment.
In this article, we'll review ten of the best kayak racks for trucks and highlight key info about each. We'll also define some of the common jargon you'll need to know about kayak racks and provide a detailed buying guide to help you select the right kayak rack for your needs!
Jargon Buster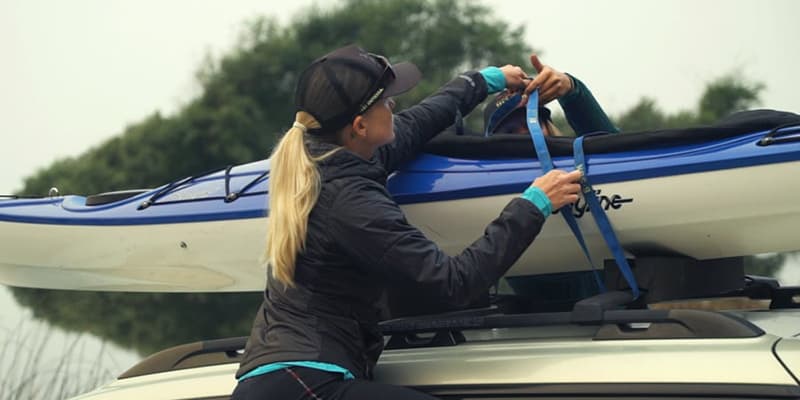 If you're new to kayak racks for trucks, there's always going to be some new jargon to get familiar with. In this section, we'll offer brief definitions for some common kayak rack terminology.
Cantilever
Cantilevers are a common structural support used in bridges and building construction. You'll see them used in some lumber-style roof racks to provide additional support for the rack.
In kayak racks, a cantilever is used to provide structure for the rack's horizontal supports without the need for any vertical supporting columns or braces.
Full-Size Truck Bed
You'll quickly see that many of these kayak racks are designed to fit a "full-size truck bed." This can be a little misleading because there really isn't a "standard" for the dimensions of a full-size truck bed.
That said, the width of most truck beds is designed to fit a common 4' by 8' sheet of plywood. In terms of length, most standard truck beds are about six feet long and long beds are about eight feet long, give or take about six inches depending on the specific model of your truck.
Receiver Hitch
The receiver hitch is standard on almost all trucks and is where you'd attach a trailer to tow behind your truck. Most standard receiver hitches are two inches across, although there are larger and smaller sizes.
There are actually five classes of receiver hitches. These classes are differentiated depending on size and how much weight the hitch is rated to tow safely.
Utility Track System
Certain truck models include a rail system that runs along the length of the truck bed. These rails are often called a "utility track system" and they include sliding cargo adjusters that give you the ability to fasten down your load in multiple positions.
Factory-Installed Crossbars
Some of the most minimally designed kayak racks require that your truck already has crossbars to which the rack can attach. Many trucks already come with these crossbars, but some can be installed with aftermarket parts.
You should always be sure to follow intricate instructions if installing your own crossbars. The security of the kayak rack that you put on top of the crossbars is only as safe as the installation of the crossbars it is installed upon.
Buying Guide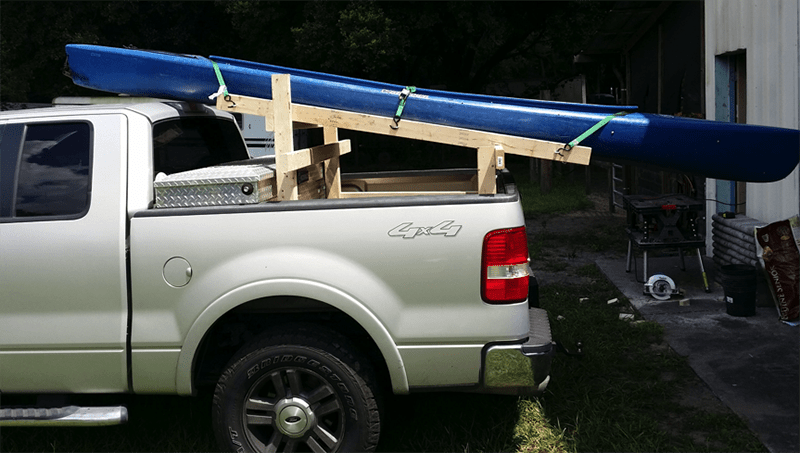 While you could try your hand at a DIY kayak rack solution as you see above, it's a whole lot easier to buy a ready-made rack that comes with all the parts and installation instructions you'll need.
In this buying guide, we're going to detail the most important features, specifications, and personal preferences you should consider when narrowing down your kayak rack options.
Rack Types
For the purposes of this article, we'll break your options down into three main categories. They are roof-mounted racks, 'lumber-style' racks, and bed extenders.
Roof-Mounted Racks
Roof-mounted racks are often the easiest to install and remove when you don't need them. This is why they are a great option for the casual kayaker that only goes out a few times per month.
Roof-mounted racks require existing crossbars or factory racks. If your vehicle doesn't already have crossbars or a factory rack to which you can attach this type of rack, you'll have to make the additional investment to make racks like the Kayak Wing or Leader Accessories rack work.
Lumber-Style Racks
This is a more permanent kayak rack solution. This style of rack mounts to the sides of your truck bed to provide a raised structure that can support kayaks, canoes, paddleboards, and more.
If you like to take your kayak out very frequently throughout the month, this can be a great rack solution because it doesn't require adjustments or tightening once it's in place. You'll even be able to keep your kayaks up on these racks more regularly, as long as you strap them down tightly.
This style of rack is also great if you regularly transport other large items that might not have anything to do with kayaking. When your kayaks are removed, this style of rack is great for transporting lumber, ladders, long PVC piping, and much more.
Bed Extenders
Bed extenders are the best option if you want to minimize injury risk. You'll be able to slide your kayak into the bed of your truck and secure it without having to lift it above your head to secure it on top of your truck.
This rack style is also easy to install and most are designed to fit a standard, two-inch receiver hitch. This also makes them super easy to remove and most break down to store out of the way behind the back seat of your truck when you don't need them.
Weight Capacity
Weight capacity is an important consideration because, frankly, you have to make sure that the rack you choose will be able to support the weight of the kayaks you plan to load onto it.
So, it's a good practice to weigh your kayak, or kayaks, before you select a kayak rack. This will allow you to make sure the rack you choose has plenty of capacity, and it can be a good rule to make sure your rack is rated to hold at least 100 pounds more than the combined weight of your kayaks.
Aerodynamics
If you've never driven with kayaks on top of your truck before, you'll definitely notice a big difference the first time you pull out and onto the highway. Your car's aerodynamics and fuel efficiency will undoubtedly be impacted when carrying kayaks.
If you plan on regularly transporting your kayaks long distances, aerodynamics and fuel efficiency become even more important. If this is the case, you'll want to search for a kayak rack that's designed to improve airflow and minimize its impact on your truck's fuel efficiency.
Safety
At the end of the day, the most important thing is that your rack will keep your kayaks safe. And you'll also want to feel confident that your kayaks aren't going anywhere so that you, and your fellow drivers, feel safe on the road.
Not all kayak racks feature extra elements that allow you to keep your kayaks super secure on the rack. Extra features like vertical supports and tie-down loops will allow you to double-down and make sure your kayak is extra safe and secure on your truck.
Thumbnail
Title
Darby Industries 944 Extend-A-Truck
Lund 601021 Hitch Mounted Truck Bed Extender, Black
AA-Racks Model APX25-E Aluminum Pickup Truck Ladder Rack w/Cantilever Extension - Sandy White (2 Packages)
AA-Racks Model X35-W 800 LB Capactiy Extendable Pick-up Truck Rack with Protective Screen Set (Black)
Best Kayak Racks For Trucks 
Check Price on Amazon
If you really just want to be able to slide your kayak into the bed of your truck, strap it down, and go, the Lund Bed Extender will allow you to avoid having to lift your kayak over your head every time you want to transport it. 
This kayak rack is built to fit a standard, two-inch receiver hitch. It allows you to extend the length of your truck bed to accommodate kayaks of lengths upwards of 14 feet. 
The Lund Bed Extender comes with an additional seven inches of ground clearance and creates a portable sawhorse off the back of your truck. It also features vertical arms that provide additional security.
This rack also comes with a flag and red reflective tape so that you're keeping it legal and making sure your kayak is visible to other drivers. 
Check Price on Amazon
The Extend-a-Truck rack from Darby Industries is another option for those that don't want to lift their kayak onto the top of their truck over and over again. The horizontal support on this rack is four feet wide. 
That horizontal support also features eyelets on either end to give you a better place to secure your kayak straps. The height of the support is even adjustable if you want the other end of your kayak to secure to the roof of your truck. 
This kayak rack fits a standard, two-inch receiver hitch and can break down and store flat behind the seat of your truck when not in use. It weighs a total of just 25 pounds and comes with a red flag so your kayak remains visible on the road. 
Check Price on Amazon
The APX25-E model from AA-Racks is a great option because it's a permanent rack solution that will allow you to transport your kayaks super safely. It will also give you the freedom to transport other large items, such as lumber, canoes, and more.
This kayak rack is universally designed to fit full-size truck beds, although it is not compatible with trucks that already include a utility track system. It's made of durable, heavy-duty, reinforced aluminum.
This rack measures 71 inches across and 28 inches high. It includes a cantilever that attaches to the crossbars on top of your truck to give you an additional 38 inches of carrying capacity.
The APX25-E has a large weight capacity of 800 pounds, which means it's capable of carrying multiple kayaks with ease. It's also easy to install with a total of eight mounting clamps and doesn't require any permanent drilling into your truck bed.
The Kayak Wing is a super affordable kayak rack solution that's best suited for thinner kayaks under 30 inches in width. It comes as a complete set designed to hold a single kayak.
This kayak rack is designed to work with the existing crossbars on top of your truck. It works with crossbars of a maximum width of 3.25 inches and requires a minimum clearance of 1.5 inches between the roof of your car and the bottom of the crossbars.
One of the best things about this kayak rack solution is that it can easily be installed or removed as needed. You won't need any tools to install this kayak rack and all necessary hardware is included.
The Kayak Wing works best with kayaks that feature a V-shaped hull and prevents damage to that hull with extra padding. It fits with a wide variety of factory-installed crossbars, including popular models from Thule and Yakima.
Check Price on Amazon
The X35-W model from AA-Racks is a great bet for anyone concerned about protecting the rear cab window of their truck. This rack comes with a cab protective screen that is removable when you don't want it in place.
This rack is designed with commercial grade steel and ready for heavy-duty use. It boasts a maximum weight capacity of 800 pounds, which means it'll easily support two large kayaks.
This rack features a universal design that fits all full-size pickup trucks and the rack is powder coated with a matte white finish. That makes this rack best for folks with white pickups if you want it to match.
Check Price on Amazon
The TMS Adjustable Utility Rack comes with two, heavy-duty steel racks. You'll be able to customize exactly how you set up these racks in your truck bed so that it fits your specific kayaks and loading/unloading needs.
This kayak rack has a maximum weight capacity of 800 pounds, which makes it fully capable of handling multiple kayaks, paddleboards, or a large canoe. It's also a great rack for heavy lumber, ladders, and other large equipment.
This kayak rack can be adjusted to widths from five to seven feet so that it can fit a variety of truck bed sizes. The maximum height of this rack is 30 inches above the height of your truck's bed.
The TMS Adjustable Utility Rack weighs a total of 50 pounds and must be mounted to the sides of your truck's bed. This means you'll have to do a little drilling and make sure you've mounted this rack securely to sustain your desired load.
This kayak rack from Leader Accessories mounts to the existing crossbars on your truck's roof to give you the ability to transport two kayaks. This rack does not work on round roof crossbars. 
This kayak rack comes with all the hardware you need to easily install it on your existing crossbars. Two screws on each U-shaped component are easy to hand tighten to keep these racks in place.
These racks are constructed with steel and powder coated to improve resistance to rust and corrosion. They include strategically placed foam padding to reduce scratches and damage to the sides of your kayak.
The Leader Accessories Kayak Rack weighs just over 15 pounds and is super easy to store when you don't need it on top of your truck. This is one of the easiest racks to install and remove as needed.
Check Price on Amazon
The Thule Xsporter Pro mounts to a variety of full-size truck beds without the need for any drilling or cutting. It boasts a maximum load capacity of 450 pounds, which is plenty for at least two kayaks, paddleboards, or canoes.
This kayak rack is designed with an adjustable bar height to give you the versatility to adjust as needed. It also features Thule's trademarked AirDrip technology, which redirects airflow and improves aerodynamics.
It also features Thule's WindDiffuser technology, which serves to disturb airflow and give you a quieter ride on the road. This technology also reduces air drag to improve your fuel economy when this rack is installed.
The Xsporter Pro does require Thule rack systems crossbars, round bars, or factory racks to integrate for storage on top of your truck. But it also comes with SecureLock technology that allows you to lock the rack to your truck.
Check Price on Amazon
The MaxxHaul Aluminum kayak rack is constructed with no-rust aluminum, keeping its overall weight light while still providing excellent strength and durability. This rack weighs a total of 55 pounds.
The base brackets of this rack are made with heavier duty steel that's finished with a powder coating for rust and corrosion resistance. It also includes adjustable stopper bumpers on the ends of the crossbars to prevent your kayaks from sliding during stop-and-go transitions or around sharp turns.
The crossbars on this kayak rack are internally reinforced to provide extra strength. The maximum load capacity of this rack is 400 pounds, which will carry up to two kayaks with ease.
The MaxxHaul kayak rack's crossbars extend up to 70 inches across and are adjustable to fit most full-size truck beds. The maximum height of this roof rack is 26 inches above the sides of your truck bed. 
The Thule 997 Goal Post kayak rack is a hitch-mounted option that can carry multiple kayaks, a large canoe, or even several paddleboards. It's a great option for the multi-faceted watersports lover. 
This kayak rack fits a standard two-inch receiver hitch and boasts an anti-sway design that guarantees a more stable, secure transport for your kayaks. The horizontal bar on this rack is 58 inches across and manufactured from durable steel. 
On the vertical support, the height of this rack can be adjusted to accommodate kayaks in the bed of a truck or resting on the top of your truck's cab. This rack is also compatible with Hydro-Glide and Set-To-Go kayak saddles, although those accessories are sold separately. 
The Thule Goal Post is designed to fit a variety of full-size pickup trucks, and the telescoping mast allows you to adjust this rack to the height of your truck bed. The two vertical load stops and hook straps on this rack make it easy to secure all loads for a variety of conditions.
Check Price On Amazon
The Lund Hitch Mounted Bed Extender gets our top pick for the best kayak rack for trucks. We really appreciate the fact that this kayak rack allows you to slide your kayak into the bed of your truck without having to lift it over your head.
As you transport your kayak more frequently, you'll quickly learn how it can be a hassle to have to lift your kayak onto the top of your truck over and over. This is also one of the most vulnerable positions to put yourself, and your kayak, in regularly.
Having to lift a kayak up and over your head puts you at additional risk of injury. It also adds a higher likelihood of dropping and damaging your kayak if you don't have your hold quite right every time.
This kayak rack easily mounts to a standard receiver hitch and extends far enough behind your truck to avoid hitting your tailgate when it's down. We also love the fact that this rack can easily be removed and broken down when you don't need it.
This is the perfect kayak rack if you're a kayaker that goes out maybe five or ten times a month, but don't necessarily need a permanent rack on your truck. With DOT approval and a maximum weight capacity of 750 pounds, this rack will keep your kayaks safe and secure on the road.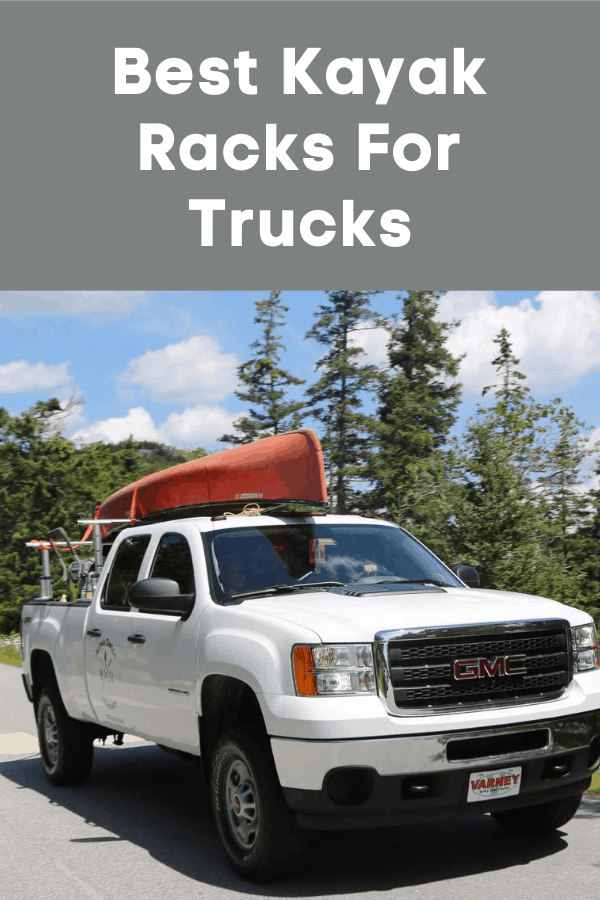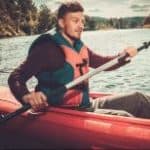 Author: Peter Salisbury
Pete is the Owner of KayakHelp.com. Born and raised in Cleveland, Ohio, he grew up kayaking, fishing, sailing, and partaking in outdoor adventures around the Great Lakes. When he's not out on the water, you can find him skiing in the mountains, reading his favorite books, and spending time with his family.