There are so many health benefits of kayaking that make it an attractive sport for both genders.
It's a great way to escape the stressors of every day and spend some time allowing your favorite body of water to rock you into a state of calm and relaxation.
But kayaking is also good for getting out in the sun and absorbing that much-needed vitamin D that helps your body counteract the loss of bone density that sometimes occurs as we get older.
For many, kayaking is also a great way to socialize with friends and family while allowing everyone to maintain the freedom and independence that comes with being in your own single kayak.
There are many recreational kayaks out there to choose from these days. But we've canvassed the market to bring you several fantastic options for the best recreational kayak for a woman.
We've also included a comprehensive recreational kayak buying guide in this article to help you choose the best possible kayak for your needs. And our jargon buster section will give you a better understanding of some key kayaking terminology that you should be familiar with.
Jargon Buster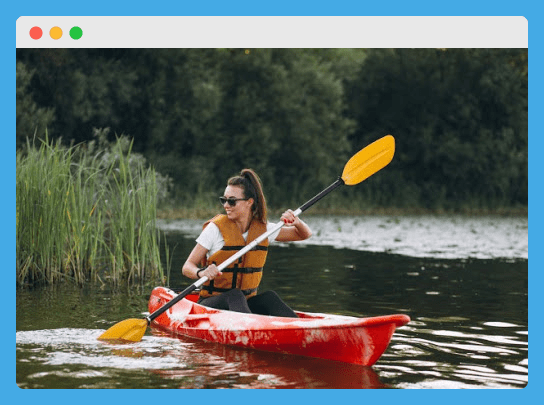 Before we dive into how to choose the right kayak for your individual needs, we need to define some interesting kayaking jargon that you'll most likely encounter throughout the rest of this article.
Bow And Stern
When sitting in a kayak, these terms are your 'North' and 'South'. The bow is the front of your kayak and the stern is the rear of the kayak.
Hull
A kayak's hull is what will be underwater while you're paddling. The design of a kayak's hull has a major impact on how well it performs in varying paddling conditions.
Gunwales
This term refers to the side of your kayak and the height of a kayak's gunwales dictates how well it keeps you dry while you're paddling.
Scupper Holes
Scupper holes are unique to sit on top kayaks and you won't normally find them on sit inside or inflatable kayaks.
They allow any water that accumulates in the kayak's cockpit to drain out naturally and they eliminate the need to pump out water or soak it up with a sponge.
Drain Plugs
Drain plugs allow you to seal up the scupper holes in a sit on top kayak so that you can stay drier while paddling.
They are generally small pieces of rubber with an attached string that mimic the tapered design of your kayak's scupper holes.
Wilderness Systems Pungo 120 | Sit Inside Recreational Kayak | Features Phase 3 Air Pro Comfort Seating | 12' 2"
perception Kayaks Zip 9.5, Sit on Top Kayak for All-Around Fun, Stable and Fast, Rear Storage with Tie Downs, 9' 6", Classic Camo
Sun Dolphin Aruba Sit-in Kayak (Blue, 10-Feet)
INTEX 68305EP Challenger K1 Inflatable Kayak Set: Includes Deluxe 86in Aluminum Oar and High-Output Pump – Adjustable Seat with Backrest – Removable Skeg – 1-Person – 220lb Weight Capacity
Wilderness Systems Pungo 120 | Sit Inside Recreational Kayak | Features Phase 3 Air Pro Comfort Seating | 12' 2"
perception Kayaks Zip 9.5, Sit on Top Kayak for All-Around Fun, Stable and Fast, Rear Storage with Tie Downs, 9' 6", Classic Camo
Sun Dolphin Aruba Sit-in Kayak (Blue, 10-Feet)
INTEX 68305EP Challenger K1 Inflatable Kayak Set: Includes Deluxe 86in Aluminum Oar and High-Output Pump – Adjustable Seat with Backrest – Removable Skeg – 1-Person – 220lb Weight Capacity
Buying Guide
Now that you know what we're talking about when we mention terms like hull, stern, and gunwales, it's time to tell you more about how they impact a kayak's performance.
In this Buying Guide, we'll cover the most important decisions you'll need to make when choosing a new recreational kayak.
Sit On Top Versus Sit Inside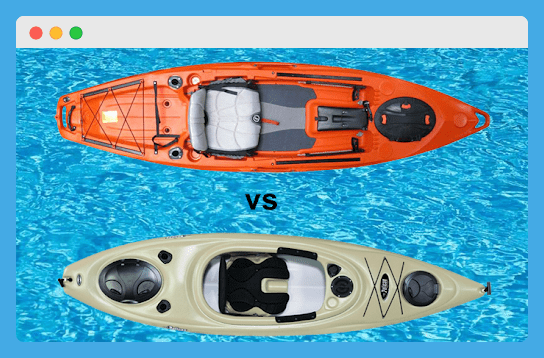 The first step to narrowing down your options is to choose between a sit on top or a sit-inside kayak. Each has its own advantages and disadvantages, so we'll discuss those here before moving on.
Sit on top kayaks tend to be better for recreational paddling on calm, flat waters. They are generally very stable and also more forgiving for inexperienced paddlers if you do happen to capsize.
Sit on tops have scupper holes in the hull that allows any water that gets into the cockpit to drain out naturally.
This means the kayak doesn't create a seal if overturned and you won't have to use a bilge pump or sponge to clear water out once you climb back in.
That being said, you're always more likely to get wet when paddling in a sit on top kayak.
The gunwales of these kayaks aren't as high as a sit inside and the scupper holes also naturally allow a minimal amount of water into the cockpit from underneath.
Sit inside kayaks are best used for kayakers in wet, windy, or wavy conditions. This is why most of the best sea kayaks on the market are of the sit inside variety.
Sit inside kayaks allow for a drier ride and also generally offer more dry storage capacity.
Because of the ridge that surrounds the kayak's cockpit, they are also compatible with a kayak spray skirt, which is not the case with a sit on top kayak.
That being said, sit inside kayaks tend to be more difficult to right and re-enter if you capsize.
This is especially true if you have a spray skirt installed, and you should always be familiar with executing a wet exit before employing one on a sit-inside kayak.
Also Read: Best Kayaks For Camping
Inflatable Versus Hard Shell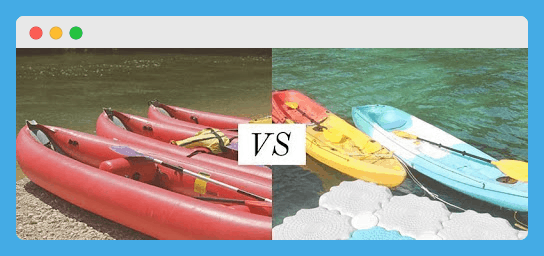 The next choice that can help you narrow down your options is deciding whether an inflatable or a hard shell kayak makes more sense for you.
Inflatables used to be the laughing stock of the kayak manufacturing world, but inflatable technology has improved drastically over the last decade or so.
Inflatable kayaks have the benefit of being easier to store and transport. Because of their design, they are much lighter than hard-shell kayaks and they can be deflated into a much more compact package when you're done using them.
This makes inflatables very useful for anyone living in a smaller living space without a lot of outside or garage storage. They are also a popular choice if you don't have a kayak trailer or a roof rack to easily transport a hard shell kayak.
Hardshell kayaks, however, generally outpace their inflatable competition when it comes to performance and stability.
For example, you'll be hard-pressed to find an inflatable kayak that can cover any distance as quickly and efficiently as a hard shell kayak designed for touring.
But hard shell kayaks also tend to have a longer lifespan and hold up better in the sun than inflatables.
They're also more resistant to bumps against rocks or dragging them across the beach, which is never recommended with an inflatable kayak.
Hardshell kayaks do, unfortunately, weigh more and require more storage space on the side of your home or in the garage.
They also require more care when transporting them to and from the water, so make sure you know how to transport a kayak properly before choosing a hard shell design.
Length and Width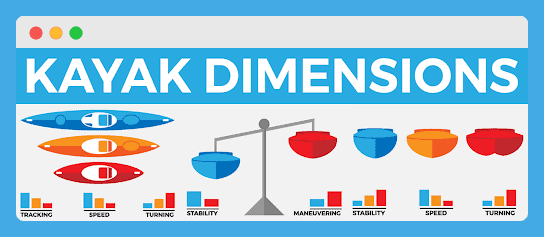 Length and width impact the performance of your kayak. In general, a longer and narrower kayak will be better suited for distance paddling while a shorter, wider kayak will be more maneuverable in tight spaces.
If you intend to do most of your paddling on large lakes or protected coastal bays, you might want a longer, narrower kayak that allows you to cover longer distances with more ease and efficiency.
But if you plan to spend most of your paddling time on smaller rivers and creeks (or in light ocean surf) you'll want a shorter and wider kayak that's easier to maneuver and responds more quickly to your paddle strokes.
Storage Capacity
The kayak you choose should have enough room on board for all of your essential kayaking safety gear. You should also be able to bring along any additional recreational items, food, or overnight gear that make you feel prepared.
In general, sit inside kayaks will offer larger internal compartments for storing dry gear, but this often means you won't have access to that gear while paddling.
Sit on top kayaks tend to have less space for dry storage, but their open storage compartments give you better access to all of your gear.
Weight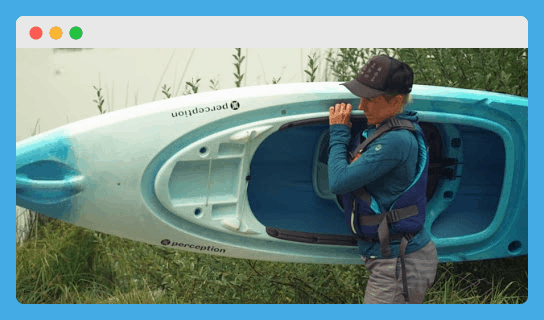 A kayak's weight is going to impact how easy (or hard) it is to transport to and from the water. But it will also impact your ability to maneuver the kayak where you want it to go once you're on the water.
In general, a lighter kayak will make your life easier in a multitude of ways. It will be easier to load onto your car or a kayak trailer and it will also be more responsive to your paddle strokes when you're on the water.
But heavier kayaks can be good for certain applications. They tend to be more durable and also track straighter, which can be useful if you're looking for a new recreational kayak that will allow you to cover some distance with minimal effort.
Recreational Kayak Reviews
Check Price on Amazon
The Perception Kayaks Zip 9.5 is another small sit on top kayak that's great for recreational paddling. It offers a simple design with a total of eight scupper holes that easily drain water if it comes over the gunwales of your kayak.
These scupper holes also make it much easier to right and re-enter this kayak if you do happen to accidentally capsize in deep water. The multiple footrest positions also make it easier to find a comfortable, ergonomic paddling position.
This recreational kayak measures 9'6" long and it offers a width measurement of 32 inches. This extra width, combined with the kayak's rounded hull, makes it ideally suited for a more stable ride on the water.
The Zip 9.5 weighs a total of 45 pounds and it's capable of handling a maximum load of 250 pounds. It's best suited for lakes, ponds, and slow-moving rivers, but can also perform well on calm coastal waterways or in light ocean surf.
Multiple footrest positions make this kayak versatile enough to fit a wider variety of paddlers. And the molded handles on both gunwales make this kayak super easy for a single paddler to carry.
Check Price on Amazon
If you drive a small vehicle or live in an apartment, an inflatable kayak can be much easier to use than many of the hard shell kayaks on our list. The Intex Challenger K1 is one of the most affordable inflatable kayaks on the market today.
This kayak comes with its own collapsible paddle and a high-output foot pump to help you inflate it quickly. The inflatable seat back in the K1 can be pumped up to your desired firmness and also adjusted to your preferred paddling position.
With a total weight of just 27.2 pounds, this is also one of the lightest recreational kayak options out there. This makes it so much easier to move around and it also stores in a more compact package when it's not in use.
This means you won't need to worry about having a kayak J-rack on top of your car's roof or towing a kayak trailer to transport it.
But this kayak still offers a weight capacity of 220 pounds, so it has plenty of ability to carry smaller paddlers and all of your kayaking gear.
Speaking of storage, there's an extra-large mesh storage area at the stern of the kayak. String along the entire edge of the kayak's stern area also gives you the ability to rig up an additional apparatus for gear storage.
The Challenger K1 measures nine feet long and 30 inches wide. It also has a 15-inch deep cockpit and offers a cockpit design that mimics most sit inside kayaks. This means it offers a drier ride than many sit on top kayaks.
Check Price on Amazon
The Riot Kayaks Escape 12 kayak offers a variety of features for the more serious paddler. It's best suited for flatwater paddling on lakes, ponds, and slow-moving rivers, but it's also capable of covering some ground if you intend to use it for multi-day paddle trips.
Unlike most of these kayaks on our list, it features a drop-down rudder at the stern. This helps you track straighter in heavy winds or strong currents and it's controlled by hand from the comfort of the kayak seat.
While this is a sit on top kayak, it comes with drain plugs that allow for a drier ride if you desire. These plugs, of course, can be removed so that the scupper holes naturally allow water to drain if the cockpit fills up.
The large, open storage compartment at the stern of the kayak includes ample bungee rigging for securing a dry bag, tackle box, or kayak cooler.
There's also a large, sealed storage compartment at the bow for storing any gear that needs to remain dry while you're paddling.
The raised dashboard at the front of the cockpit includes a single beverage holder and another small storage compartment for snacks or smaller items.
There are also a total of five fishing rod holders on this kayak if you want to use it for kayak angling at any point.
The Escape 12 is also one of the longer kayaks on our list, with a total length of 12 feet. The width of this kayak is 30 inches, but it is one of the heavier kayaks on our list at a total of 72 pounds.
The Aquaglide Noyo 90 is another single-person inflatable kayak that's great for easy transportation and compact storage. This kayak boasts a protective touring cover that keeps you drier in wet conditions and also creates additional storage space inside the cockpit.
This inflatable features a drain plug (which is rare amongst inflatable kayaks) in the cockpit so that water doesn't accumulate and make it harder to paddle. There's also a removable, quick-release fin on the hull for better tracking.
It's also the lightest kayak on our list with a total weight of 21 pounds. It has the ability to hold up to 250 pounds and includes zippered dry compartments at the bow and stern for dry gear storage.
There's also an abundant supply of bungee cord rigging at the bow of the kayak for attaching additional gear or securing one of the best kayak deck bags to the front of this kayak.
This Noyo 90 measures nine feet long and 35 inches die. It's also one of the few inflatable kayaks to boast paddle parks on the side to keep your paddle secure if you want to get your hands-free to eat lunch or remove an extra layer from your dry bag.
The Wilderness Systems Pungo 120 kayak is one of the best options on the market for small-to-medium-sized paddlers. It offers great speed for covering long distances but also excellent stability for newer kayakers.
This kayak measures 12'2" long and is one of the most efficient small kayaks in its class. It features a Phase 3 Air Pro Comfort Seating System that allows for more comfortable days out on the water.
With a 29-inch width and a weight of just 49 pounds, this kayak is also small enough to make transporting it easy for smaller paddlers.
But if you need additional help, we'd recommend looking into one of the best kayak carts, wheels, and trolleys for 2020.
This kayak also has a maximum weight capacity of 320 pounds and it's best suited for flat water on lakes, protected bays, or slow-moving rivers. The upgraded dashboard in the cockpit is also one of its most unique and useful features.
It offers a removable dry box that's great for keeping a phone, wallet, or snacks secure while you're paddling. And it also gives you dual beverage holders and sidetracks along the cockpit's edge that allow you to attach additional kayaking accessories.
Finally, the Pungo 120 has a large rear hatch with a sealed bulkhead. This gives you a bunch of dry storage area if you need to pack overnight supplies for longer kayaking expeditions.
The Sundolphin Aruba 10 is another small, sit inside kayak that's a lightweight option. It measures ten feet long and the sit inside design makes it a great choice for paddlers in wetter climates, or those interested in paddling on protected ocean bays.
Because it's a sit inside kayak, it's also compatible with one of the best kayak spray skirts. This accessory will seal the cockpit so that no water gets in and it retains heat more effectively.
This Sundolphin kayak offers a width of 30 inches and it weighs only 40 pounds. The cockpit is also 13 inches deep and the gunwales on the sides help to keep water out on windy or wavy paddle days.
Adjustable foot braces inside the kayak's cockpit allow you to personalize your paddling position.
We recommend having your knees slightly bent for more effective paddling, and this kayak also has thigh braces to keep your knees and thighs from rubbing uncomfortably against the hard plastic of the kayak.
Speaking of that plastic, this kayak is manufactured using UV-stabilized Fortiflex, high-density polyethylene. This material holds up well against impacts and also retains its strength when exposed to the sunlight over years of use.
The Aruba 10 offers a maximum weight capacity of 250 pounds and it offers a large storage compartment towards the stern. There's also bungee cord rigging on the deck of the kayak for extra gear storage.
Check Price on Amazon
Our pick for the best recreational kayak for a woman is the Riot Kayaks Escape 12 because it offers the most versatility of all the kayaks on our list. It's designed primarily for recreational use but can also graduate to be used for kayak fishing or light kayak touring as your experience level grows.
It's one of the few kayaks on our list that can grow along with you as you try new types of paddling.
This is a major reason why we feel it's worth the extra investment that it requires when compared to some of the cheaper recreational kayaks out there.
It also offers one of the highest storage capacities of the recreational kayaks we've chosen and there's even enough space in the stern storage compartment for a small furry companion to come along on your paddling adventures.
Another thing we love about this kayak is the drop-down rudder at the stern. If you've ever struggled to keep your kayak straight on a windy day, you're going to love the extra control that this rudder gives you.
And finally, the Escape 12 is easily the longest kayak on our list, which means it will perform best over longer distances.
That being said, it is a heavier kayak so you might consider getting a wheeled kayak cart to help you transport it to and from the water's edge.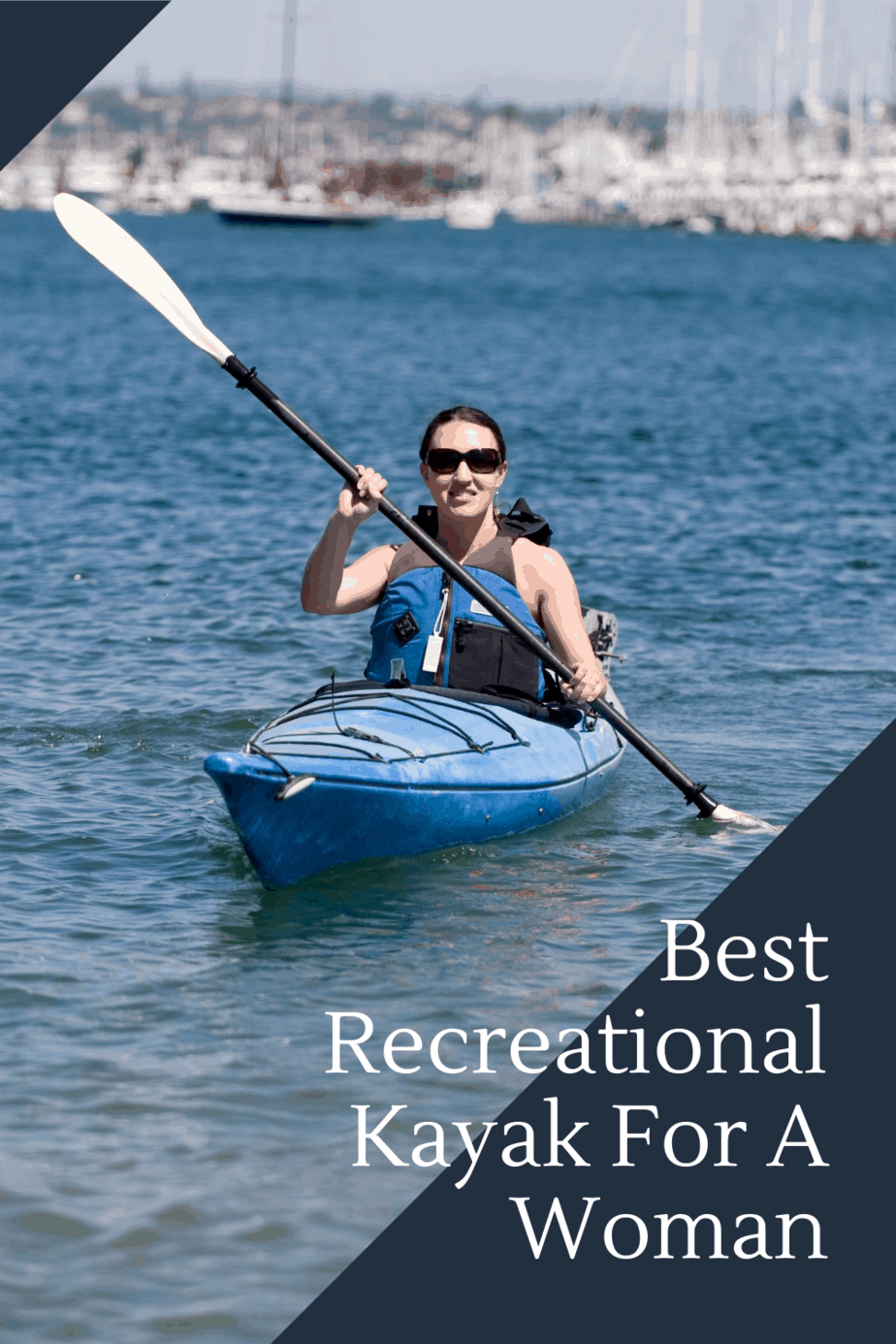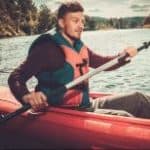 Author: Peter Salisbury
Pete is the Owner of KayakHelp.com. Born and raised in Cleveland, Ohio, he grew up kayaking, fishing, sailing, and partaking in outdoor adventures around the Great Lakes. When he's not out on the water, you can find him skiing in the mountains, reading his favorite books, and spending time with his family.