One of my favorite things about guiding kayaking trips all summer is watching my sandal tan line develop as I spend more and more time in the sun.
It can actually be a point of pride in the guide industry when you've developed your sandal tan lines faster than your co-workers.
But even if you won't be comparing tan lines with your fellow employees, you'll want a pair of the best sandals for kayaking for men and women.
These sandals are meant to protect your feet from sharp rocks, glass, and any other dangerous objects that could be on the shoreline when you're entering and/or exiting your kayak.
The good news about the best kayaking sandal brands on the market these days is that they all offer plenty of stylish options.
So, not only will your feet be protected when you go kayaking in the coming months, but you'll also look darn good doing it.
We've compiled a collection of the best sandals for kayaking for men and women to help you find a durable and trendy new pair of kayaking sandals, and our Buyer's Guide will also help you determine which of these sandals is perfect for your feet and your kayaking style.
So, without further ado, let's try some shoes on for size!
Best Sandals For Kayaking For Men
Chaco Z2 Classic Sport Sandal
Teva M Hurricane 4 Sport Sandal
Xero Shoes Z-Trek Sandal
Keen Newport H2 Sandal
Chaco Lowdown Flip Sandal
Best Sandals For Kayaking For Women
Chaco Mega Z Cloud Sandal
Teva Hurricane XLT2 Sandal
Xero Shoes Jessie Sandal
Keen Rose Sandal
Chaco Lowdown Flip Sandal
Buyer's Guide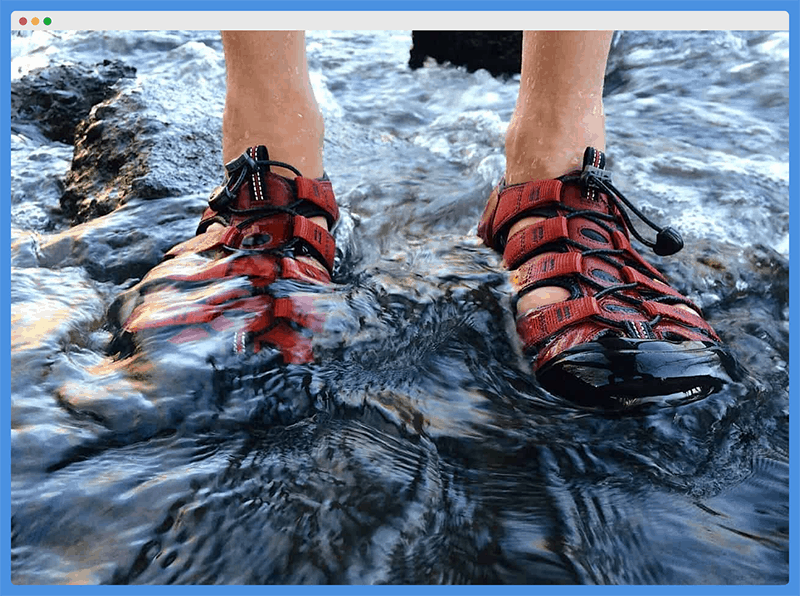 Before you check out our reviews of the best kayaking sandals, let's address some of the most important features and specifications to pay attention to when you're comparing and contrasting any sandals for kayaking or paddleboarding.
Outsole
The outsole is the bottom of the sandal and its composition is largely responsible for how well the sandal will grip rocky and slippery surfaces when you're getting in and out of your kayak.
You'll want something that's hard enough to provide grip, but also soft enough to remain grippy in wet conditions.
For example, most hiking shoes are made with harder outsoles because they are designed to provide you with excellent grip when walking on steep, uneven terrain with loose rocks, dirt, tree roots, and the like.
But these kinds of shoes aren't necessarily designed for wet conditions because a harder outsole can be more likely to become slippery when you're trying to walk on wet or moss-covered rocks.
That being said, you don't want something that's too soft either.
A sandal with an overly soft outsole won't provide enough cushion and protection for your feet, and it will also be more likely to wear out more quickly than a sandal with a harder outsole.
Straps vs. Drawstring vs. Slip-On
Kayaking sandals these days are designed with multiple different methods for securing them to your feet. You'll find sandals that feature Velcro straps, sandals that feature a pull-tight drawstring, and, of course, the traditional slip-on style sandal.
In our experience, sandals for kayaking that feature Velcro straps tend to remain tightened down better than the other two alternatives.
That being said, these Velcro straps can sometimes rub various parts of your feet and ankles uncomfortably if you wear them for an extended period of time.
Conversely, sandals with a pull-tight drawstring can have fewer pressure points to irritate your feet over time.
The downside of this type of sandal is that it usually only offers one point at which you can adjust how tight they are, versus sandals with multiple straps for more customized adjustments.
Finally, slip-on sandals are also an option for kayaking and their major advantage is that they're super easy to take on and off.
You'll be able to pop them off if you prefer to paddle barefoot for most of the day (and avoid those tan lines I mentioned earlier), but they'll also be much more likely to slip off accidentally when you do need grip and protection on your feet.
Toe Coverage
You'll also need to decide how much toe coverage you're comfortable with when choosing a pair of sandals for kayaking.
Most of these sandals feature an open-toe design, but the Keen brand is well-known for its closed-toed kayaking sandals.
If you regularly paddle at locations with especially rocky and jagged coastlines, you might need the extra degree of protection that a closed-toed kayaking sandal can provide.
But if you're not worried about banging or smashing your toes on rocks every time you make landfall, you'll probably prefer something that lets your toes breathe a bit more.
That being said, there is one alternative path for those of you that are on-the-fence about how much toe coverage you need. If you can't make up your mind, you can also buy an open-toed kayaking sandal that's a half-a-size larger than your regular shoe size.
This will extend the toe of the sandal out past your actual toes and help to provide an additional buffer against stubbing your toes.
It may, however, take some time to get used to wearing a sandal that's slightly larger than you're used to, so take your time and move with clear intention if you choose this alternative.
Style
The last thing you should consider before settling on a new pair of kayaking sandals is style.
As you might imagine, style is going to come down to personal preference nearly 100 percent of the time (unless someone forces you into buying a pair of sandals you aren't really into!).
The cool part about many of these sandals is that they're available in many different colors and some of them also allow you to choose different strap patterns as well. So, have some fun with it because, hopefully, you'll be wearing these kayaking sandals for a while!
Men's Kayaking Sandal Reviews
Check Price on Amazon
The men's Chaco Z2 Classic Sport Sandal features a non-marking rubber outsole with a 3.5-millimeter deep lug. The lug provides extra grip while the rubber outsole helps you maintain that grip when conditions get wet.
The webbing straps are made of a polyester Jacquard material that wraps comfortably around your foot. And that strap can be adjusted in numerous ways so that you can make them comfortable without them squeezing or pinching your foot anywhere.
The polyurethane midsole provides a plush and comfortable feel under your foot and it retains its grip when the sandals get wet. It's also finished with an antimicrobial application so that these sandals won't start to smell after just a few uses.
Check Price on Amazon
The Teva M Hurricane 4 Sport Sandal boasts a rugged rubber outsole that provides excellent grip on rocky and slippery shorelines.
From our experience, the Teva sandals with their standard Durabrasion outsole tend to be more grippy on wet surfaces than their options with Vibram outsoles.
These sandals also feature a nylon shank in the midsole, which helps to provide more side-to-side stability for your feet and ankles when you're walking on uneven terrain.
Teva is also well-known for their Velcro straps that make it super easy to adjust the tightness of their sandals.
These sandals have three straps on the toe, top of the foot, and heel, respectively.
Each of these straps can be adjusted independently and they make it super easy to slip these sandals on and off without necessarily having to re-tighten all three straps each time.
Check Price on Amazon
If you're looking for a minimalist sandal for kayaking, the Xero shoes Z-Trek Sandal is an excellent choice.
This is a barefoot-inspired sport sandal that's the lightest option on our list, so you'll just have to remember you have them on once you've been sitting in your kayak for a few hours.
These sandals are also great for traveling kayakers because they're 70% lighter than the nearest competing sport sandal for kayaking and they're also just 5.5 millimeters thick so that they take up minimal space in your carry-on luggage.
These sandals also feature a non-marking outsole and a Z-shaped webbing strap that makes it easy to slide these sandals on and pull a single strap to tighten them up. Plus, all Xero Shoes come with an unprecedented 5,000-mile warranty!
Check Price on Amazon
If you're looking for the maximum level of foot protection possible (or you just know that you're one of those people that is constantly stubbing your toes), then you should check out the Keen Newport H2 Sandal.
This is the only closed-toed sandal on our list and it also features an easy-to-tighten drawstring that allows you to slip these sandals on and tighten them down in seconds.
The heel strap also includes a pull tab to make it even easier to get these sandals on without a hassle.
The outsole of these sandals is made with non-marking rubber material that helps you grip wet and slippery surfaces. It's also designed with multi-directional lugs that work to provide improved grip on rocky and uneven terrain.
Check Price on Amazon
If you're looking for a slip-on style sandal for kayaking, the Chaco Lowdown is a great choice because it's still equipped with a grippy outsole as you'll find on Chaco's other strap-on style kayaking sandals.
The ChacoGrip outsole is made with a rubber compound that's finished with three-millimeter lugs that give these sandals better grip than nearly any other pair of slip-on sandals you'll find out there on the market.
But the best part about these sandals is that you can slip them off and enjoy paddling barefoot once you're on the water. They're also great for folks with high arches when you put them back on to walk to and from the vehicle you're carrying your kayaks on.
Women's Kayaking Sandal Reviews
Check Price on Amazon
The Chaco Mega Z Cloud Sandal is a great women's kayaking sandal because it features a women's-specific midsole made of dual-density polyurethane material.
That LUVSEAT midsole provides a super comfortable cushion for your feet throughout long days on the water.
The webbing straps on this kayaking sandal are extra wide so that they don't squeeze or pinch your feet when the sandals are tightened down. But these 28-millimeter straps can also be adjusted at multiple points for a customized fit.
Chaco's proprietary rubber outsole provides excellent grip on wet and slippery surfaces and the toe of the sandal naturally curves upward to protect your actual toes.
Plus, these sandals come in several stylish sandals that may even cause you to wear them casually when you're not kayaking.
Check Price on Amazon
The Teva Hurricane XLT2 Sandal is a great alternative to the Mega Z Cloud and it's a slightly more affordable option as well. These sandals boast quick-drying webbing that won't retain moisture and accumulate mold or mildew after a few uses.
They feature a rugged rubber outsole with substantial lugs that help to provide excellent grip and traction on wet and rocky surfaces. They also include extra cushioning under the heel for increased comfort when you're wearing them all day long.
The Velcro straps that secure these Teva sandals are super easy to adjust, which allow you to control how tight or loose you like to keep them. Overall, you'll be able to adjust three different straps at the heel, toes, and top of the foot for comfort.
Check Price on Amazon
The Jessie Sandal is another selection from the barefoot-inspired sport sandal line from Xero Shoes. It features a single strap around the front of the ankle and it's designed for only your big toe to keep it in place at the toe.
For the lady travelers out there, this sandal is the lightest model on our list and it's also super easy to pack in your luggage without it taking up too much space. In total, these sandals are just 5.5-millimeters thick and they weigh just 4.8 ounces each.
That said, the rubber chevron sole provides enough grip for navigating the kind of terrain you'll find when you exit your kayak and they've gone a long way to make sure that the woven toe loop is soft enough to avoid irritating your toe while you're out on the water.
Check Price on Amazon
If you need a sport sandal with full toe coverage, look no further than the Rose Sandal from Keen. This sandal features an easy slip-on design and it's secured with a single Velcro strap that wraps around the top of your ankle.
The rubber outsole on the bottom provides great grip and the midsole offers ample cushioning for comfort under your foot. That outsole is also finished with multi-directional lugs to give you more grip on rocky terrain.
The midsoles also boast a treated lining that protects them against bacterial growth. This means that your new kayaking sandals won't begin to smell a little nasty after you use them just a few times.
Check Price on Amazon
If you're looking for a more traditional slip-on sandal for kayaking, the women's version of the Chaco Lowdown Sandal is made with polyester Jacquard webbing that's finished with a synthetic trim to avoid it rubbing uncomfortably on the top of your foot.
The outsole features the same non-marking ChacoGrip rubber compound that gives the men's version of this sandal extra grip. And it also includes those critical three-millimeter lugs for extra traction when you're just learning how to get into your kayak.
Check Price on Amazon
The Chaco Z2 Classic Sport Sandal is our pick for the best sandals for kayaking for men because it's one of Chaco's most trusted designs. It's a simple and effective sandal that protects your feet and gives you grip when you need it most.
It also allows you to customize the fit of the sandal more than any other sandal on our list.
You can adjust it at multiple points on the top of the foot and the webbing around the heel is also adjustable so you can control how high it sits on your heel and/or Achilles.
But what we really like about this sandal is the fact that it's finished with an antimicrobial application that helps to control nasty odors from developing.
That's because many other sandals will start to smell really funky after they get wet and sweaty just a few times.
Check Price on Amazon
The Chaco Mega Z Cloud Sandal is our pick for the best women's kayaking sandal because it provides a customized, comfortable fit. These Chaco sandals actually feature a single strap that crisscrosses the top of your foot.
This strap can be tightened or loosened at several different locations so that you can adjust it to your foot. This allows for these sandals to offer a comfortable fit for folks with a wide variety of foot types.
It's also a great choice for folks with higher arches because they provide more arch support than other sport sandals out there. Finally, these sandals got our top nod because they are available in a variety of eye-turning colors and strap patterns.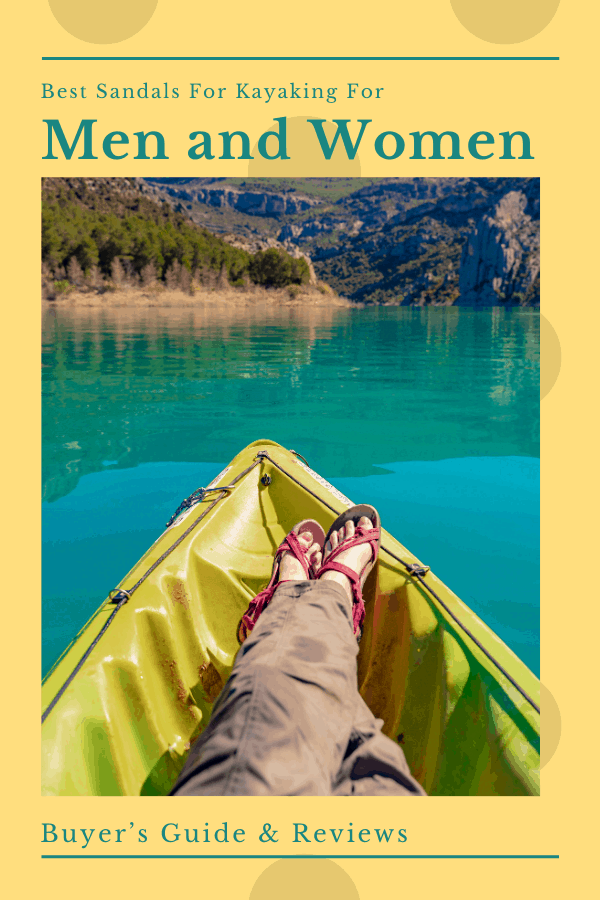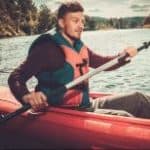 Author: Peter Salisbury
Pete is the Owner of KayakHelp.com. Born and raised in Cleveland, Ohio, he grew up kayaking, fishing, sailing, and partaking in outdoor adventures around the Great Lakes. When he's not out on the water, you can find him skiing in the mountains, reading his favorite books, and spending time with his family.