What really makes a fishing kayak different from a regular kayak? There are many kayak anglers that make their living out of customizing regular kayaks to suit their fishing needs, but this can be a lot of extra work and it requires expert knowledge of how exactly you want your setup to look once you're on the water.
If you're relatively new to the sport of kayaking, the differences between fishing kayaks and regular kayaks may not appear obvious at first.
But, rest assured, there are some key features that set fishing kayaks apart from all others.
For those of you that are considering whether or not a fishing kayak makes sense for you, we're going to help you through that decision by defining what exactly makes a fishing kayak best suited for anglers.
We'll also discuss some of the advantages and disadvantages of fishing kayaks as they compare to regular kayaks. We'll also provide some key considerations to help you choose a kayak that's actually going to suit your needs for the foreseeable future.
Keeping all of that in mind, let's get started!
What Are The Differences Between Fishing Kayaks and Regular Kayaks?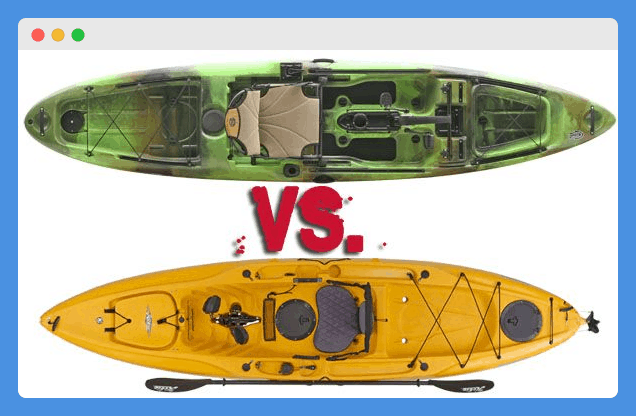 In general terms, fishing kayaks tend to be a bit larger and heavier than regular kayaks. But that's not necessarily true across the board because even the best fishing kayaks can differ quite a bit in their specific designs.
For example, you'll find fishing kayaks out there that are designed specifically for use on the ocean or on smaller ponds, lakes, and rivers. Furthermore, some of the best fly fishing kayaks are designed much differently than a kayak for ocean anglers.
That being said, the major differences between fishing kayaks and regular kayaks can be found when you look at their specifications on width, weight, seat design, and the ability to attach additional accessories to the kayak's deck.
We'd also be negligent if we didn't mention the fact that there can be a significant difference in price between fishing kayaks and regular kayaks. But now that you have a very general idea of the differences between fishing kayaks and regular kayaks, let's get into some more specifics.
Fishing Kayaks
Many fishing kayaks come with a lot of bells and whistles that you won't find on any other type of kayak. Those bells and whistles, however, are largely what's responsible for making them so useful for kayak anglers.
Notable Features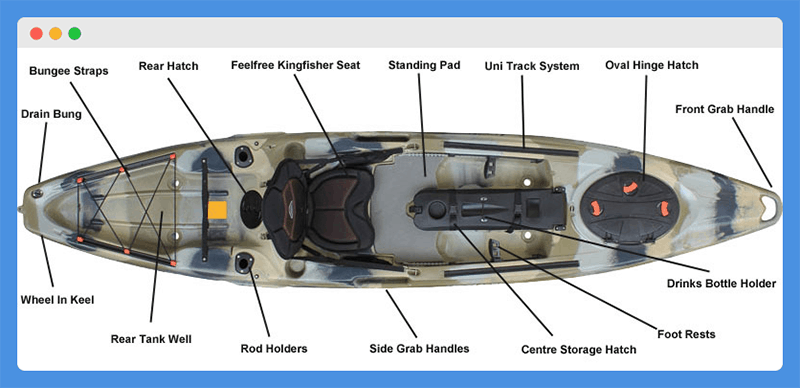 The image above is included to give you an idea of the many features that come standard on a typical fishing kayak. But you should keep in mind that the exact kayak you buy may offer different features from the one we've chosen above.
That being said, here are some of the notable features that define most fishing kayaks:
Elevated Seat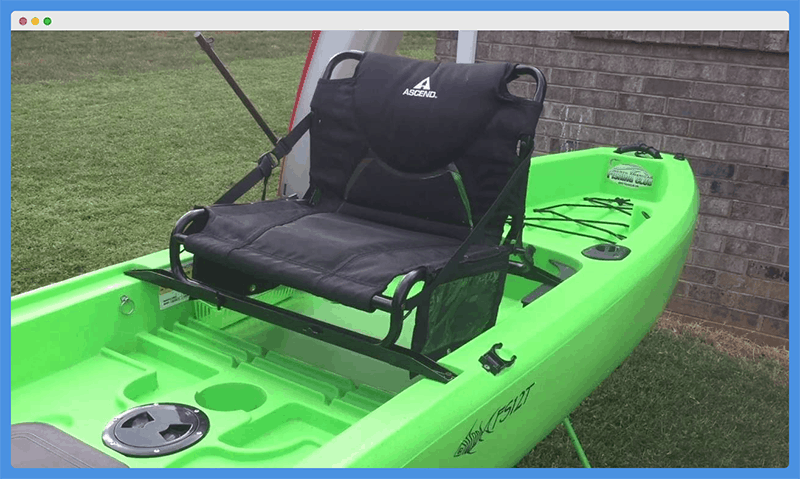 The first notable feature that you'll find on most fishing kayaks (and not many others) is an elevated seat. This seat design is unique to fishing kayaks because kayak anglers often require an elevated vantage point when they're on the water.
Sitting up higher can help you cast more effectively from a seated position and can also help you spot upcoming obstacles in the water.
This last point can be really important if you decide to attach a trolling motor to the back of your fishing kayak.
The elevated seats on fishing kayaks also help you remain more comfortable when you spend several hours on the water. By placing your hips higher, your knees won't feel like they're crunched into your chest and your hips are less likely to tighten up uncomfortably.
Furthermore, the elevated seats on most fishing kayaks give you additional storage space. You'll be able to keep a small dry bag or waterproof phone case underneath your kayak seat so that it's handy when you need it.
Rod Holders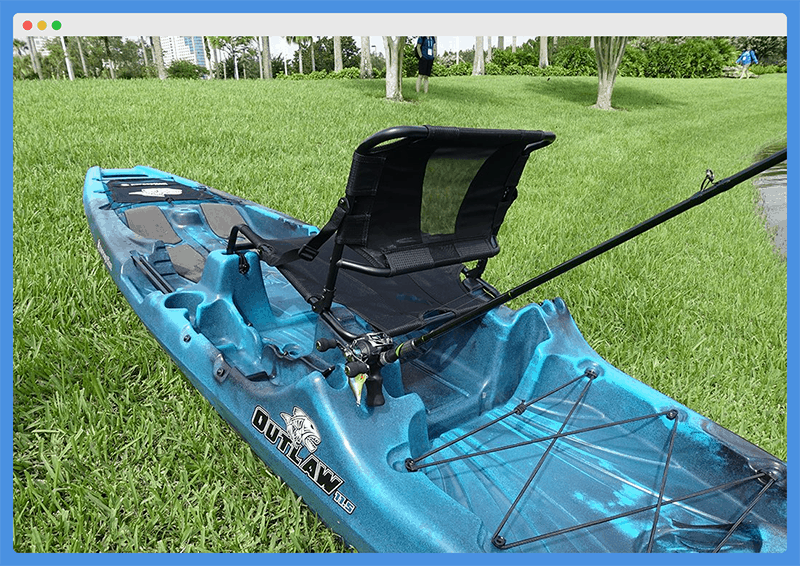 The whole point of getting a fishing kayak is to make it easier to fish more spots and for longer durations. But changing conditions on the water often require that you change bait and alter your fishing tactics several times throughout the day.
That's one reason why most fishing kayaks include rod holders that allow you to set up multiple rod and reel combinations before you even get on the water.
This frees you up to spend more time fishing and less time handling tackle once you get out on the water.
Most of the best river fishing kayaks are outfitted with either flush-mounted rod holders (these are built into the deck of the kayak) or swivel-mounted rod holders (these can pivot 360 degrees for easier trolling). Some kayaks also offer a combination of both of these types of rod holders.
Tracks For Mounting Accessories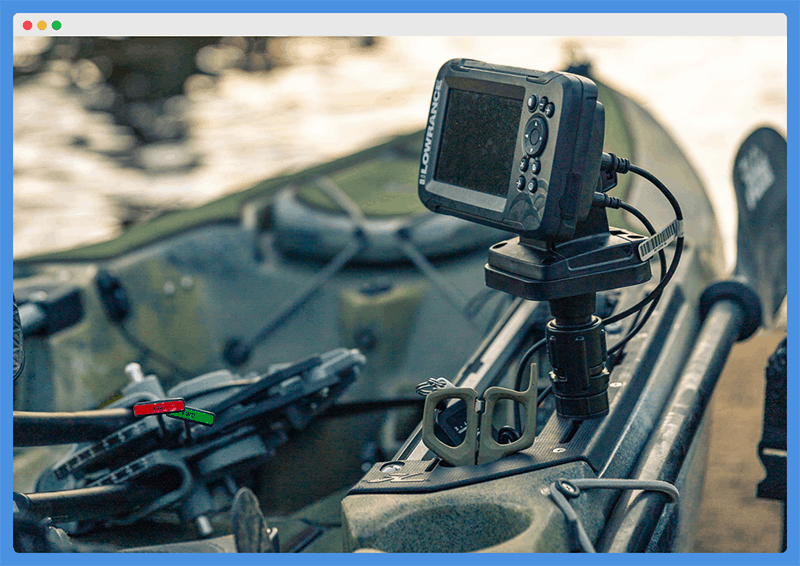 Most fishing kayaks are also equipped with tracks that make it easier to attach certain fishing-specific accessories to the deck of the kayak. These tracks are typically located on the gunwales on either side of the kayak.
Because each angler is unique, tracks are a great way for fishing kayak manufacturers to allow anglers to customize their fishing setups.
For example, you might want to mount one of the best fish finders for kayaks on the right gunwale and a clip with fishing pliers and other small tools on the left gunwale.
Other kayak anglers might prefer their fish finder on the left because it gives them more freedom to cast off the right side of their kayak.
But, as we hope this demonstrates, every good fishing kayak will have a set of tracks that allow you to add fishing accessories according to your preferences.
Large Stern Tankwell
Another notable feature of fishing kayaks is a large stern tankwell that provides open storage space. This tankwell is often used by many anglers to hold a kayak cooler or fishing tackle box that would simply be too large to fit anywhere else in your fishing kayak.
These tankwells typically include scupper holes that allow water to naturally drain out of the tankwell if it happens to splash in over the gunwales (or if you're fishing on a particularly rainy day!). They also include bungee rigging to help you secure whatever you decide to store in them.
In addition, the tankwells on many fishing kayaks can be used to strap down a trolling motor battery to supply power to an attached motor.
This will support your need for hands-free fishing and help you explore spots a little further away from your launching area without having to spend your whole day paddling.
Advantages of Fishing Kayaks
The notable design features of fishing kayaks that we mentioned above provide several advantages over regular kayaks. Let's discuss a few of those advantages here:
Storage Space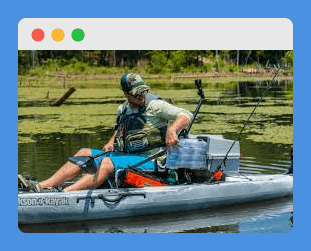 Because anglers typically need to bring more supplies and accessories with them on the water than most other kayakers, fishing kayaks meet that need by offering much more storage space than most regular kayaks.
This storage space is perfect for fishing tackle boxes, fishing coolers, kayak deck bags, multiple fishing rods, and anything else anglers might need on the water.
With a regular kayak, you'll have a hard time fitting everything you need to be successful on your fishing adventures.
Stability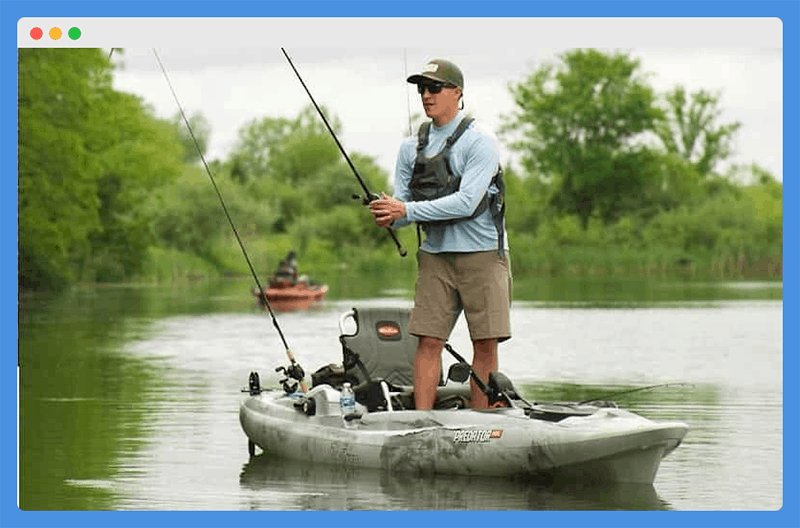 Stability is a key feature of the design of the actual body and hull of most fishing kayaks. Because they need to remain stable and afloat after you've hooked into that record-breaking marlin, fishing kayaks are among the most stable kayaks on the market.
This stability is largely attributed to the fact that fishing kayaks are much wider than regular kayaks. In turn, this is what makes some of these kayaks stable enough for anglers to fish from a standing position as well as while they're comfortable sitting down.
Versatility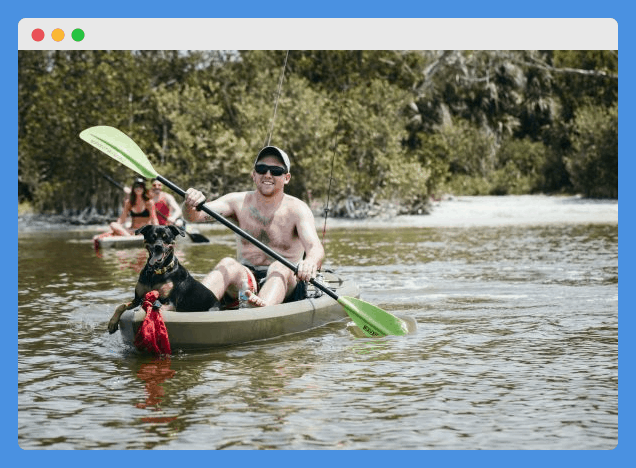 Fishing kayaks are also generally more versatile and adaptable than regular kayaks. If you want to load them down and spend all day trying to bring home several fish for dinner, these kayaks are perfect for that.
But, if you just want to head out for a recreational day on the water, there's no reason why you can't use a fishing kayak for this as well.
Plus, these kayaks are some of the few that allow you to attach a trolling motor and explore new places without actually having to paddle.
Disadvantages of Fishing Kayaks
While there are certainly benefits to buying a new fishing kayak, we'll be honest and say that this type of kayak isn't necessarily for everyone. So, here are a few of the main disadvantages of fishing kayaks:
Weight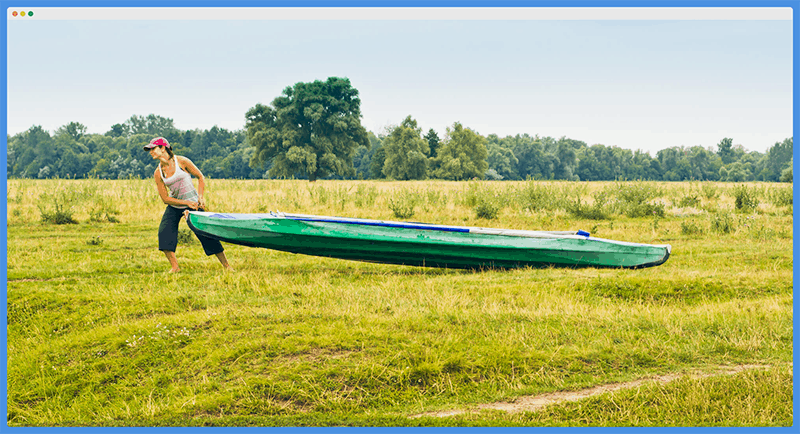 Fishing kayaks do tend to be some of the heaviest kayaks on the market. This is mainly because they tend to be loaded down with more features and accessories than almost any other type of kayak you might choose.
This extra weight can make fishing kayaks difficult to transport on land (unless you purchase one of the best kayak carts!).
And it can also make them harder to maneuver once you're out on the water (unless you learn how to attach a trolling motor to your kayak!).
Size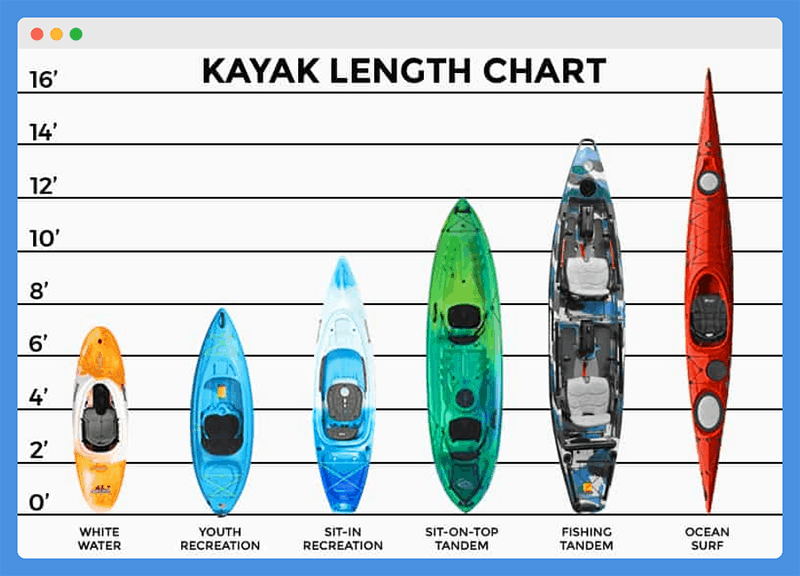 As you can see from the general size chart we included above, fishing kayaks tend to be on the larger end of things when compared to other types of kayaks. This is mainly because they need that extra width for stability and length for storage space.
When you're not using your kayak, however, that extra size means you'll need more space at home for storing your kayak.
This can be a disadvantage (especially if you're living in a second or third-floor apartment) if you don't have a covered outdoor storage area to keep your kayak when you're not using it.
Price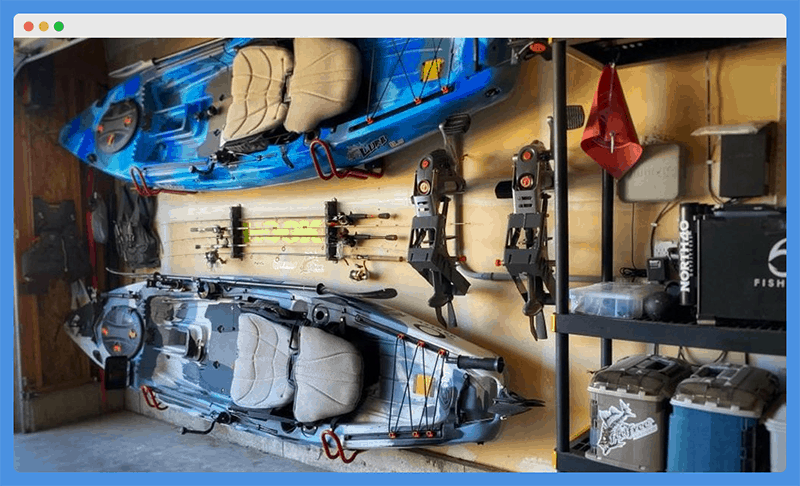 The final disadvantage that we'll discuss about fishing kayaks is their price. Generally speaking, these kayaks tend to be more expensive than regular kayaks because of the unique features and accessories that they include.
That being said, not all fishing kayaks are incredibly more costly than regular kayaks.
It certainly depends on how high-end of a kayak you choose, how much time you spend bargain shopping, and whether or not you factor the versatility of fishing kayaks into your buying decision.
Regular Kayaks
There are actually many types of regular kayaks out there. From whitewater kayaks to ocean touring kayaks, this article is mainly referring to regular kayaks as any type of kayak that isn't specifically built for fishing purposes.
Because of the large variety of regular kayaks, we're not going to cover their notable features as we did for fishing kayaks. But we will discuss some of their advantages and disadvantages when compared to fishing kayaks.
Advantages of Regular Kayaks
Please keep in mind that these advantages may not apply to every single regular kayak out there. But they will give you an idea of whether or not a fishing kayak is actually the right choice for you and your lifestyle.
Easier to Transport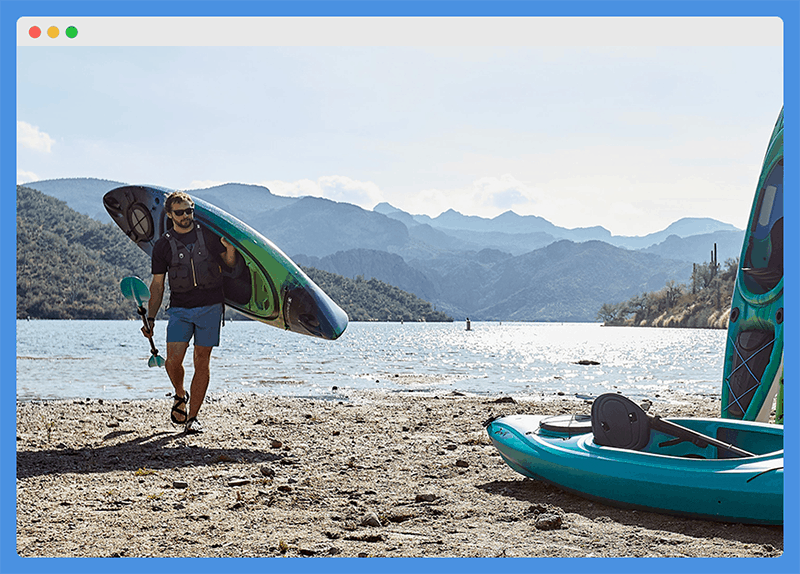 As we mentioned earlier, fishing kayaks are among the heaviest of kayaks out there. So, many of the other regular kayaks that you can find for non-fishing purposes will be much lighter and easier to transport.
In some cases, regular kayaks can weigh less than 20 pounds (usually these will be inflatable kayaks).
So, if you know that you'll often be carrying your kayak quite a distance to put it in the water (or you want to learn how to portage a kayak!), you'll probably want to opt for a regular kayak that's much lighter than most fishing kayaks.
Fewer Moving Parts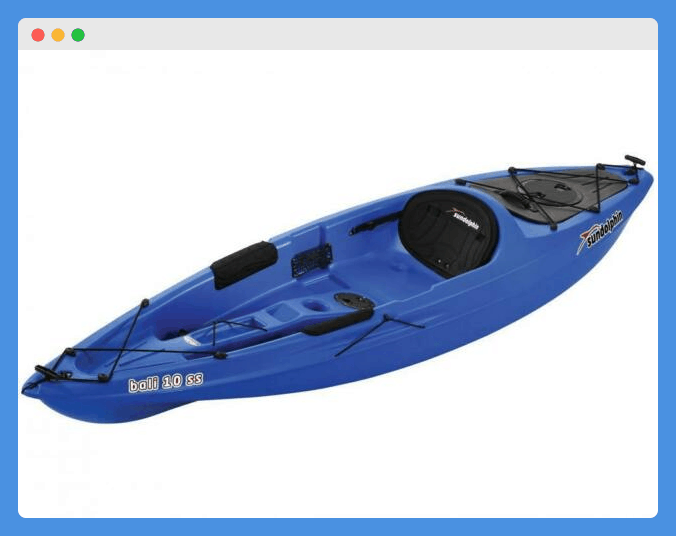 While fishing kayaks aren't overly complex, they do feature more moving parts (such as swivel rod holders) that can break or malfunction over time.
Most regular kayaks, on the other hand, feature more basic designs that require fewer repairs over the life of the kayak.
That's not to say that fishing kayaks are particularly prone to breaking and requiring repairs. But, the fact that they do have more moving parts (combined with the nature of fishing in general), does often lead anglers to have to perform more repairs than those that own regular kayaks for recreational use.
Price
Many regular kayaks are more affordable than the best kayaks designed for fishing purposes. In many cases, the lower price of regular kayaks can be attributed to their smaller size and the inclusion of fewer features.
That being said, you can certainly find regular kayaks that cost much more than their fishing counterparts. It all depends on the manufacturer you choose and the exact kayak design that's best for your unique paddling preferences.
Disadvantages of Regular Kayaks
As you might imagine, many fishing kayak manufacturers have continued to tinker and refine their kayak designs over the years. Here are a few reasons why most serious anglers don't use regular kayaks for fishing:
Storage Space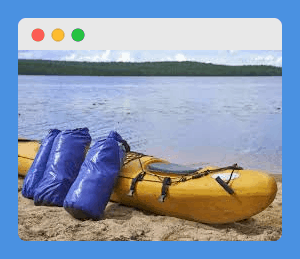 Many regular kayaks (aside from touring kayaks) offer significantly less storage space than fishing kayaks. This is why using a regular kayak for a full day of paddling or fishing often requires you to load up several large dry bags (as seen above) to keep your gear dry.
In addition, you'll be hard-pressed to find a regular kayak that features tracks on the gunwales for attaching accessories. Because of this, it is often more difficult to attach a fishfinder or a kayak GPS system to most regular kayaks.
Stability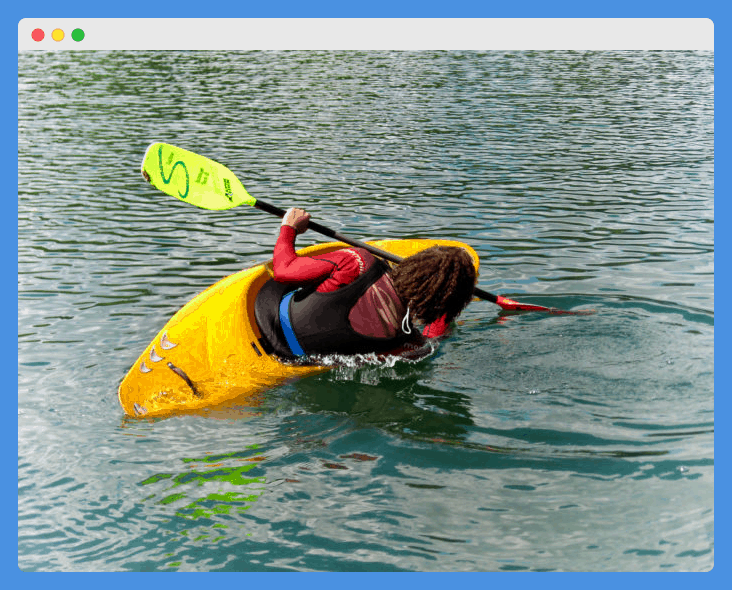 Stability is the hallmark of fishing kayaks and most regular kayaks simply don't compare. Even recreational kayaks (which are also designed to be very stable) are usually not quite as wide and stable as fishing kayaks.
In addition, some regular kayaks are designed for speed over distance or optimal maneuverability on whitewater rapids.
Because they are designed for a very different purpose than fishing kayaks, they will be very unstable when sitting stationary in them on flat water.
Adaptability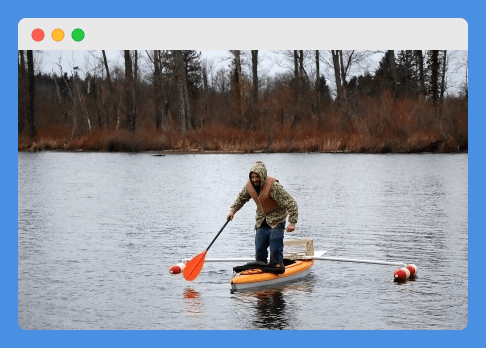 Many of the regular kayaks that aren't designed for fishing are designed for other specific purposes. For example, touring kayaks are made for kayaking expeditions or long days paddling on rough ocean waters.
Conversely, whitewater kayaks are specifically designed to perform in some of the most turbulent river waters you can imagine. Because of these specific designs, regular kayaks aren't as adaptable to multiple types of paddling as fishing kayaks.
Additionally, fishing kayaks are one of the few (if not the only!) type of kayak that can adapt to accommodate a trolling motor and the accompanying equipment to make it work. This lack of adaptability is one of the key disadvantages of regular kayaks.
Which Is Best For You?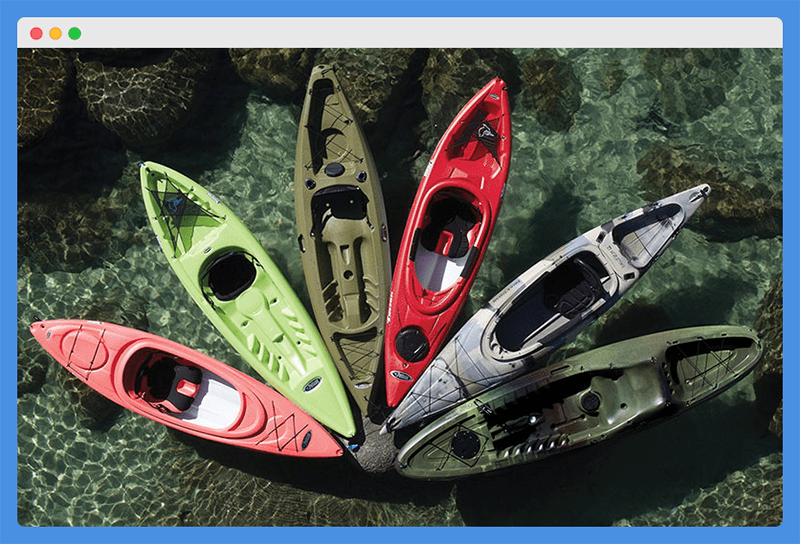 When deciding whether a fishing kayak or a regular kayak is best for you, there's one simple question you can ask yourself: Do I ever intend on learning what it's like to fish comfortably from a kayak?
If the answer to that question is yes, you should consider the benefits of a fishing kayak.
While your choice of the exact type of fishing kayak you need may change depending on whether you want to fish on lakes, ponds, rivers, the open ocean, or coastal waterways, you'll need a fishing kayak if you ever want to become a successful kayak angler.
That being said, we certainly understand that kayak fishing isn't for everyone out there. So, if you can unequivocally answer that question with a hard no, we'd like to invite you to check out our reviews of some of the best recreational kayaks on the market these days!
Final Thoughts
At the end of the day, the bottom line is that you need to select a fishing kayak if you ever plan to test your luck at angling from a kayak. Fishing kayaks will help you remain comfortable and optimize your chances for success when kayak fishing.
The good news is that you don't have to overspend on a super-expensive model on your first purchase.
But it is important to consider how you will grow into your kayak over time because you may want to spend a little more to get a kayak that's going to be useful for years to come.
We hope that you've enjoyed learning about the major differences between fishing kayaks and regular kayaks today. As always, we want to wish you the best of luck on all of your future kayak fishing (or other kayaking) adventures!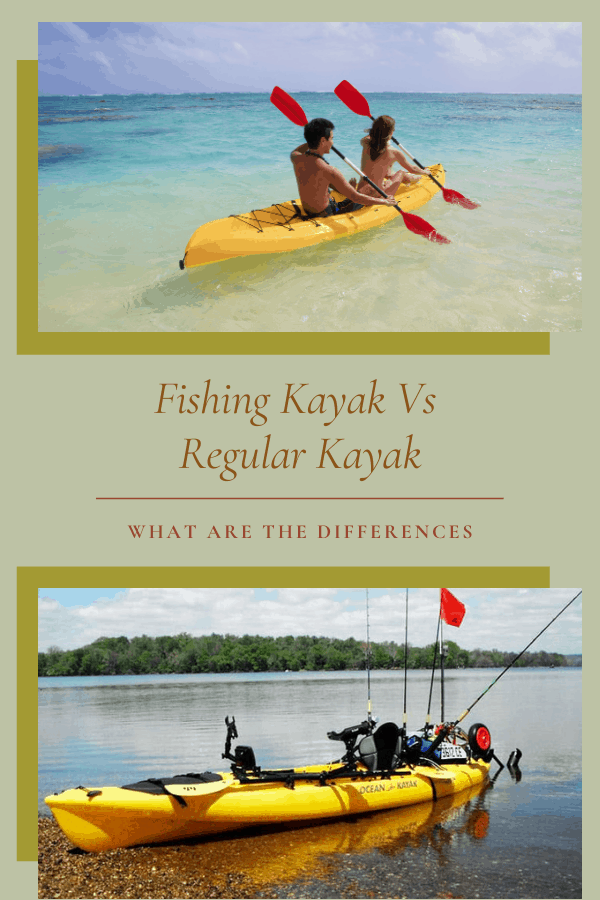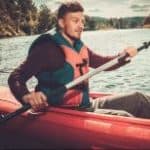 Author: Peter Salisbury
Pete is the Owner of KayakHelp.com. Born and raised in Cleveland, Ohio, he grew up kayaking, fishing, sailing, and partaking in outdoor adventures around the Great Lakes. When he's not out on the water, you can find him skiing in the mountains, reading his favorite books, and spending time with his family.