Skiing and cross country skiing are excellent workouts. A few hours on the track or the slopes is a great form of exercise that incorporates your whole body. They also get your heart pumping, improving your cardiovascular health.
Many people use cross country skiing for exercise, as it is fun and gets them outside. However, you can only go cross-country skiing when there is snow on the ground, so they need something to keep them active during less snowy months.
Also, downhill skiers benefit from working the appropriate muscles in preparation for their upcoming ski trip.
Many skiers jump on road bikes, take up running or join the gym to stay fit, which are great. Still, the movements are not necessarily specific to maintain skiing fitness.
You can work the necessary muscles for skiing at home with ski machines. These ski machines allow you to mimic the movement and effort needed for skiing for the coming winter.
By being able to keep the right muscles active, you will find that you will get a head start for when the snow falls. In this post, we will go through the best ski machines and give you some tips for buying the best one for you.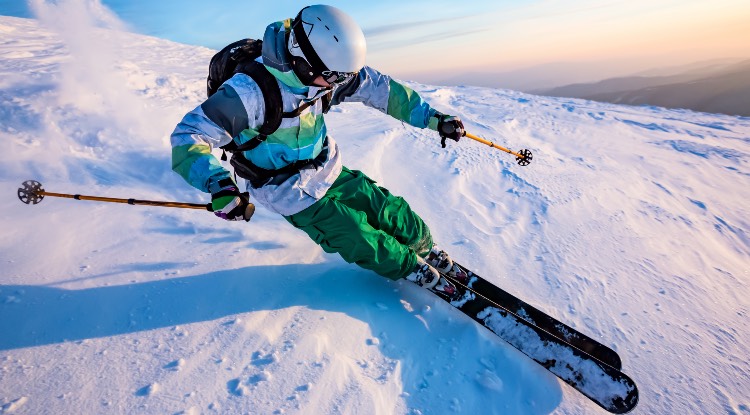 Who Should Buy A Ski Machine For Training?
Skiers and cross-country skiers will benefit from using a ski machine regularly. But, no matter who you are, a home ski machine is an excellent way of keeping fit all year round.
Many people from all walks of life can achieve their fitness goals with a ski machine. People often use them for cross-training and for targeting specific muscle groups.
When time is short, you can use a ski machine to get an intense workout at home. For example, if you used a machine that mimics cross-country skiing, you can get your heart racing in a short amount of time.
Due to the low-impact nature of a ski machine, you can choose to exercise with lower intensity. Therefore, you can get a gentle workout if you are just starting your fitness journey.
Often personal trainers add ski machine low-intensity workouts for injury rehabilitation. So depending on your injury, a ski machine can speed up your recovery, as long as you don't go too hard too soon.
What To Look For In A Ski Machine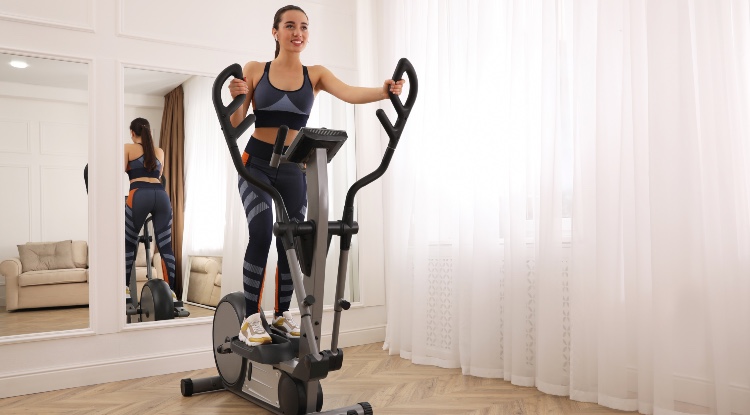 We have chosen the ski machines in the list below based on a few necessary criteria. Here are the things you need to look out for when you buy a ski machine for home.
Size And Portability
You may have a huge house, where space is not a problem. But, most people need to be mindful of how much space they have.
Some ski machines can take up lots of room, while others fold up, making storing them more manageable. A ski machine with a low-profile design is less intrusive in tight spaces.
If you have to move your ski machine around, make sure it has wheels to make it easier. These things are not exceptionally lightweight.
Durability
When you are working out hard, you put these machines under lots of stress. Therefore, ski machines with poor build quality don't last very long.
To ensure that you can exercise with a ski machine for many years, make sure you buy one that is durable. Often cheaply made ski machines will feel fragile and instantly be recognizable due to their materials and components.
Your Fitness Goals
There are ski machines that allow you to reach specific goals. For example, some ski machines mimic the movements associated with pushing yourself along with poles. But some ski machines concentrate on the lower body or allow you to work both your upper and lower body.
Your Budget
Ski machines vary in price depending on their features and target market. Some ski machines are very basic, while others have LCD screens, built-in programs, and different ways of altering resistance.
It would be best if you considered how much you plan on using your ski machine. If you want to be more serious about your exercise, you may need to spend more.
Thumbnail
Title
Concept2 SkiErg with PM5 Performance Monitor
Sunny Health & Fitness Legacy Stepping Elliptical Machine, Total Body Cross Trainer with Hyper-Quiet Magnetic Belt Drive, Low Impact Exercise Equipment, Optional Bluetooth with Exclusive SunnyFit App
SCHWINN Fitness 411 Compact Elliptical Machine
Sunny Health & Fitness Portable Stand Up Elliptical - SF-E3908
snode Magnetic Elliptical Trainer Exercise Machine with Bluetooth App Tracking Option Heavy Duty Cross Crank Driven and Programmable Monitor for Home Fitness Cardio Training Workout (E16)
Thumbnail
Title
Concept2 SkiErg with PM5 Performance Monitor
Thumbnail
Title
Sunny Health & Fitness Legacy Stepping Elliptical Machine, Total Body Cross Trainer with Hyper-Quiet Magnetic Belt Drive, Low Impact Exercise Equipment, Optional Bluetooth with Exclusive SunnyFit App
Thumbnail
Title
Sunny Health & Fitness Portable Stand Up Elliptical - SF-E3908
Thumbnail
Title
snode Magnetic Elliptical Trainer Exercise Machine with Bluetooth App Tracking Option Heavy Duty Cross Crank Driven and Programmable Monitor for Home Fitness Cardio Training Workout (E16)
Best Ski Machines: Our Recommendations
Check Price On Amazon
The Concept2 SkiErg is a professional exercise machine suitable for home use, but you will also find them in some good gyms. It focuses on your upper body but improves your endurance too.
This ski machine uses two handles attached to cords. You pull the handles down in the same motion as when you pole along on skis.
You can change the resistance via a large dial at the machine's base to alter your workout's intensity. The LCD screen is directly in front of you, making it easy to monitor your progress.
The LCD screen's controller allows you to choose various modes and programs to mix up your workouts.
One of the significant advantages of the Concept2 SkiErg is that it has a reasonably low wall-mounted profile. It isn't foldable, but it doesn't intrude too much, so you don't need to put it in a huge room.
The Concept2 SkiErg is well built and is one of the best ski machines you can buy. It is not cheap, but you certainly get what you pay for.
Check Price On Amazon
Elliptical machines work all the muscles you use for skiing. This item from Sunny Health & Fitness is an excellent option if you are on a budget.
The SF-E905 uses a magnetic system to add resistance while you work out. All you need to do to cycle through the eight resistance levels is twist a knob.
Even though this ski machine is low priced, it is packed with useful features. For example, the handgrips have built-in heart rate monitor sensors so you can stay in the best heart rate zone for your exercise.
The SF-E905's LCD screen displays your heart rate, distance "traveled," and your speed. This information is vital for monitoring your progress.
This machine is not foldable, but it has wheels, so you can easily get it out for your workout and put it away if necessary. To ensure it is rock solid, the SF-E905 has floor stabilizers to prevent movement when you are going hard.
Check Price On Amazon
For a higher-end elliptical machine, you may want to check out the Schwinn 411. The most exciting feature of this ski machine is that you can virtually exercise in different environments.
The World App takes away any monotony of exercising indoors by giving you access to virtual courses and locations. You can even upgrade your subscription for more environments.
If you struggle for space at home, you may benefit from the Schwinn 411. Its compact design takes up minimal space, but its stride is 18″, making it perform like a much larger machine.
The Schwinn 411 has seven programs to choose from and eight resistance levels. This combination gives you plenty to work with when it comes to improving your fitness.
To help you monitor your workouts, the 411 measures your heart rate via the sensors built into the grips. Other additional features you will find helpful are the mobile phone and water bottle holders.
Check Price On Amazon
If you want to focus on your lower body only, you may want to try out this portable elliptical machine from Sunny Health & Fitness. This machine may look simple, but it is very versatile and compact.
It is ideal for people who have limited storage space, as it only measures 25.2″L in x 18″ W in x 10.6″H. It has a built-in handle, too, making it very portable.
By having a portable ski machine, you can get some exercise whenever and wherever you need it. The base is fitted with a non-slip textured material, so you don't need to worry about where you use it.
The idea of this machine is to allow you to get a cardio workout while standing or sitting down. This versatility will enable you to vary your workouts to suit your situation or to reach your goals.
You can develop your leg muscles for skiing while you are working at your desk. You can use it to simply keep your legs moving, which is essential if you spend all day sitting down.
Sunny Health & Fitness has ensured that this ski machine is incredibly quiet. Therefore, you won't disturb your co-workers while you are keeping relatively active.
You can easily adjust the machine's resistance with a dial. It has eight levels of resistance that use a magnetic system.
Check Price On Amazon
The SNODE magnetic elliptical machine is beefier than the other machines on this list. Its manufacturers have engineered it to be tough and durable, so you can push hard and not worry about its longevity.
This ski machine uses a three-piece crank design to give it its strength. The design increases durability, but it can also take the weight of a 265-lb person on its large footplates.
Therefore, if you are a larger person or want to make your workouts very intense, the SNODE may be the best choice for you. Its design also creates a smooth operation while being incredibly quiet.
You can ensure that you exercise all of your leg muscles with this machine. Its design allows you to pedal forwards and backward, so nothing is left out.
SNODE has mounted a large and easy-to-read LCD screen right in front of you. It gives you lots of essential data relating to your workout, including your heart rate.
The grips' integrated sensors measure your heart rate, so you can adjust your effort to stay in your required heart rate zone. Altering your effort is made easier with the machine's eight levels of magnetic resistance.
Due to the intended purpose of this machine, SNODE has added some safety features to it. For example, the large footplates have a non-slip texture to ensure your feet stay in place when pushing hard.
Also, you can be sure that the machine doesn't move about when you are working out. The adjustable horizontal stabilizers ensure that the machine has a stable footing on a multitude of surfaces.
SNODE has also fitted the machine's feet with wheels. These wheels allow you to effortlessly move the machine around when you need to.
Check Price On Amazon
The Stamina 55-1602 Inmotion Elliptical trainer is an alternative to the portable machine from Sunny Health & Fitness above.
You can use this trainer pretty much anywhere, thanks to its compact size as it fits into a tiny space, measuring just 24.5 x 17″. Stamina has designed this machine to be super quiet; therefore, it is not intrusive to people around you when you are using it.
To adjust the intensity of your workout, all you need to do is twist a dial. Rotating it clockwise increases the resistance, while anticlockwise lowers it.
The machine has a compact but easy-to-read LCD screen built into it. The screen gives you all the information and statistics you need for your workout.
The Stamina 55-1602 Inmotion Elliptical trainer is pretty versatile when it comes to planning your perfect workout. You can use the machine either standing or sitting to achieve your required fitness goals.
You can ensure that your legs get a full workout, as it works both in forward and backward directions.
If you are worried about it not looking good in your home, its compact size makes it very easy to store away when you are not using it. However, it comes in three different colors, so you can pick the best one to match your decor.
The Stamina 55-1602 Inmotion Elliptical trainer is ideal for people who spend lots of time sitting down. If you work at a desk, play video games or just watch TV, you can use this machine to ensure you can move your body when it is inconvenient.
Check Price On Amazon
The Hurtle Fitness Vibration Platform is a very different machine from the others on this list. It isn't specifically designed for skiing fitness, but it does dramatically benefit skiers.
Using a vibration platform may look very easy, but it is surprisingly difficult. When performing exercises on a vibration platform like this, more of your muscle fibers become activated.
Vibration platforms don't do anything for your cardiovascular fitness but strengthen your core and lower body. By performing exercises, such as squats on the platform, the vibrations make the movement more intense.
To maintain balance on the vibration platform, your fast-twitch muscles will engage. These are the muscles you use to maintain balance while skiing or doing any sport.
Traditional vibration platforms just work the lower body. But, this one from Hurtle has detachable resistance bands that allow you to incorporate your upper body into the exercises.
The instability you get from vibration training also puts your core muscles to work. A strong core is essential for skiing, as it is easier to balance and react to changes in the snow conditions.
Hurtle has fitted this fitness vibration platform with a powerful vibration motor. It gives you over 2,300 rpm, but you can select 20 different intensity levels to suit your fitness level.
Using the Hurtle Fitness Vibration Platform at home is a very convenient way of exercising. You can either integrate it into a full workout or simply stand on it periodically throughout your day.
When standing on the platform, your glutes, thighs, calves, and core muscles get a workout. However, you can add the vibration platform into your pushup variations to activate those smaller muscles in your upper body.
Another benefit of using the Hurtle Fitness Vibration Platform is that it helps to increase your bone density. Strong bones are important for skiers, as they become more resistant to injury when you fall.
Vibration training isn't just good for people who participate in sports. By using a vibration platform, older people see improvement in their stability, mobility, and posture in just a few weeks.
Check Price On Amazon
The BRRRN Slide Board isn't exactly a ski machine, but it does dramatically benefit skiers.
The BRRRN Slide Board is a high-quality board with a finely polished surface. With the aid of low traction overshoes, you can mimic the skating motion used when skiing.
By sliding from side to side, you can develop muscles and muscle memory for skiing. The sliding motion is easy on your joints, while it improves your balance, coordination, endurance, and mobility.
This type of fitness equipment is used by athletes at all levels and in many different sports. It is popular with skaters, skiers, and ice hockey players.
Skiers can benefit from the slide board by practicing the appropriate technique for keeping a flat base when skating forwards. By developing the correct muscle memory, the technique is easily transitioned onto snow when winter comes.
There are two different slide boards to choose from. One is a fixed 5ft long one, while the other extends from 5ft to 6ft.
If you are shorter, you will benefit from buying the 5ft slide board. However, if you are taller or several people want to train with it, you should get the adjustable one.
At first glance, the BRRRN Slide Board may seem quite limited in what it can do for you. But, there are eight different workout options to choose from.
The different workouts are available from the BRRRN app or their website. BRRRN's exercises are designed for different goals, and they release new ones every week.
You can expect easy exercises designed for recovery and more challenging ones to get your heart pumping. The different exercises are varied enough to keep your workouts fun.
The BRRRN Slide Board is made from a shiny polymer, with a wooden block at each end. The wood is there to push off from to slide back in the other direction.
Keeping the slide board in place has a grippy material that works on all flooring surfaces. Therefore, you don't need to worry about the board moving around.
You can vary your workouts to exercise both your upper body, lower body, and core. The slide board comes with mitts for your hands and overshoes for your feet, so you can concentrate on different body parts.
Check Price On Amazon
Another item of fitness equipment that isn't exactly a machine, but is excellent for skiers, is a balance board.
Balance boards are lots of fun and are a very challenging way of exercising for skiing. If you are serious about developing your core and balance skills for skiing, a balance board is ideal.
Whether you are a cross-country skier, carve the groomers, or hit the backcountry, you will benefit from a 4TH Core Balance Board. You will develop strength in your legs and core with one of these, resulting in enhanced performance on the slopes.
Pro athletes in many different sports use balance boards to become stronger. Therefore, it is the ideal piece of equipment to add to your home workout kit.
This balance board's roller is made from cork. 4TH Core chose cork as it rolls well, isn't toxic, and won't mark your flooring. It also holds its shape better than rollers made from various types of plastic.
The board itself is very strong and has anti-slip material on top. The material is comfortable enough to stand on it with bare feet.
At each end of the balance board, 4TH Core has fitted stop plates to the underside. These stop the board from slipping out from under you when you balance at the board's extremes.
There are several 4TH Core balance board packages to choose from. The one we recommend is the one that includes the board, roller, a cork mat, and a fitness band. The combination allows you to get a varied and safe way of improving your balance and core strength.
Final Thoughts
As you can see, there are many different ways you can prepare for skiing next winter. All of these are effective in improving muscle strength, cardio fitness, or both while you are waiting for the snow to fall.
By starting to exercise six to eight weeks before a skiing trip, you will be put yourself in an excellent position to enjoy your time on the mountain.
Images from Shutterstock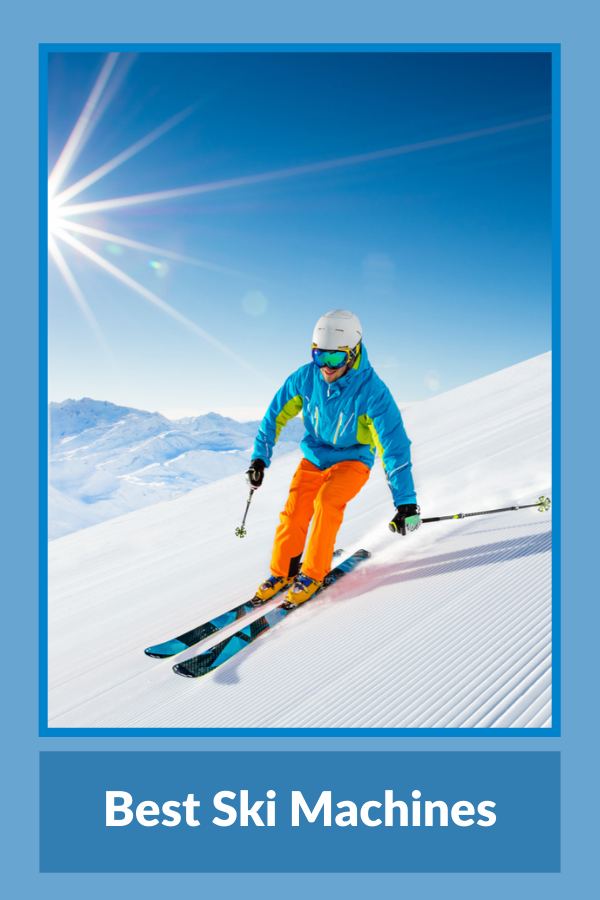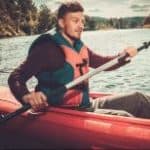 Author: Peter Salisbury
Pete is the Owner of KayakHelp.com. Born and raised in Cleveland, Ohio, he grew up kayaking, fishing, sailing, and partaking in outdoor adventures around the Great Lakes. When he's not out on the water, you can find him skiing in the mountains, reading his favorite books, and spending time with his family.