If you are wondering who makes all those boats that are creating the massive waves you are forced to navigate in your kayak, you will probably be interested in who makes the most expensive ski boats.
These boats are great for water skiing, wakeboarding, and even wake surfing. They aren't the most affordable options out there (and they certainly make the most expensive kayaks look cheap!), but it is good to know what is out there when you are evaluating your boat buying budget.
Keep in mind that new boat models are available almost every year. So you can sometimes find great deals on the most expensive ski boats a year or two after they were originally purchased.
This article, however, will be focused on providing a brief overview of these ski boats, their general specifications, and their best features.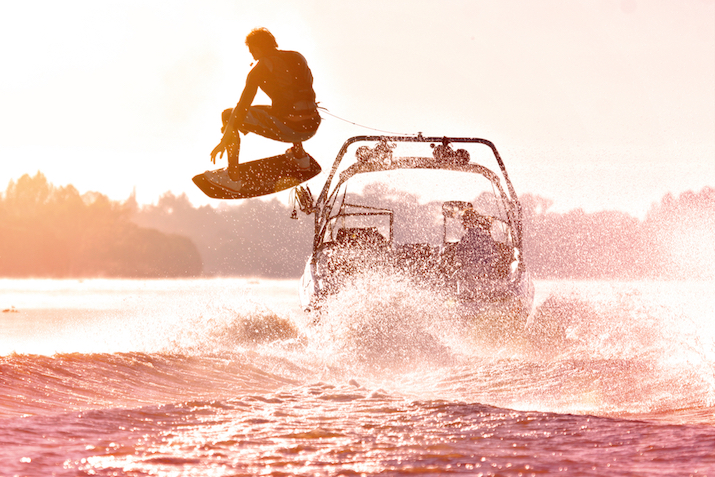 Photo by SAPhotog via Shutterstock
Most Expensive Ski Boats
Pavati AL24 Wake Boat
Pavati AL26 Wake Boat
Supra SR
Supra SA
Supra SL
Supra SE
MasterCraft ProStar
MasterCraft XStar S
MasterCraft NXT24
MasterCraft XT25
Malibu Wakesetter 21 LX
Malibu Wakesetter 25 LSV
Malibu Response TXi MO CB
Tigé 23RZX
Super Air Nautique G25
Ski Boat Reviews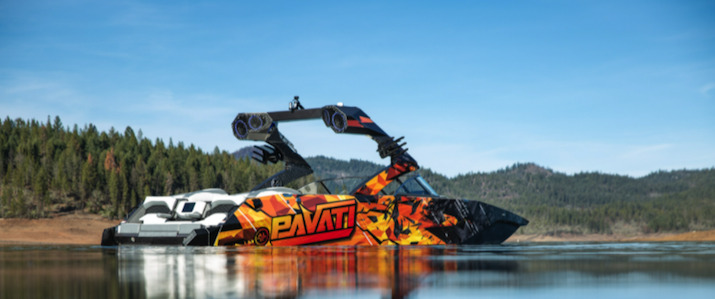 PC Pavati Wake Boats
Length: 24'8"
Weight: 4,894 pounds
Fuel Capacity: 67 gallons
Seating Capacity: 17
Pavati broke onto the scene in 2008 with the industry's first aluminum V-drive ski and wake boat. They have continued to innovate for more than a decade now and the AL24 is their smaller model.
It is packed with a bunch of standard technology, but there are also more than 30 upgrade options for you to choose from. Some standard features include the industry's largest integrated sub-floor ballast tanks and a folding wake tower with integrated speakers and RGB lights.
The AL24 also boasts a hefty command center with a Garmin Touch Screen GPS, Lake Vu with HD Ultra Maps, Fusion Apollo Entertainment System, and GPS Speed Control System. In terms of safety, it is also equipped with two fully automatic bilge pumps, an onboard automatic fire suppression system, and EPA compliant fuel system.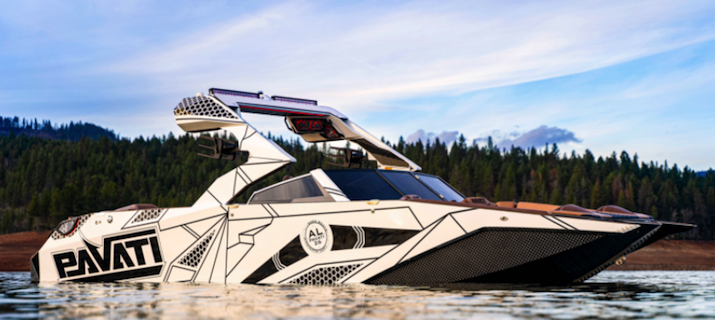 PC Pavati Wake Boats
Length: 26'8"
Weight: 6,700 pounds
Fuel Capacity: 81 gallons
Seating Capacity: Captain's Choice
The AL26 is Pavati's slightly larger model for skiing, wakeboarding, and wake surfing. It is actually a yacht-certified vessel and the interior is fully customizable to allow the captain to choose how many (or how few) folks can comfortably sit on board.
The exterior can also be customized to provide the exact look you desire. That will help you stand out on the water instead of having your boat look just like the next one in line at your local boat ramp.
This expensive ski boat boasts fully electronic steering and comes with a 48-quart ice chest built into the floor. Some of its other exceptional features include transom underwater night lighting, a bolstered adjustable heated and cooled captain's chair, and a chilled driver's cupholder.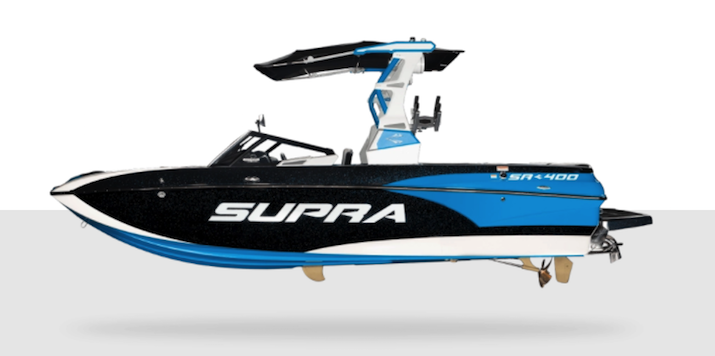 PC Supra Boats
Length: 23'1"
Weight: 4,950 pounds
Fuel Capacity: 45 gallons
Seating Capacity: 14
The Supra SR ski boat is a crossover boat that can handle any type of motorized watersport you are into. It is also one of the most comfortable boats on the market due to Cool Tech Vinyl that doesn't heat up in direct sunlight like the finishes on most other boats will.
The folding tower on this boat is power actuated so you don't have to awkwardly collapse it on your own. Plus, that eliminates the worry about damaging it when folding and unfolding and makes it so much easier to trailer with the tower up or down, depending on how you store it.
Supra's SR model also boasts a central seat that faces towards the stern for optimal rider viewing. That seat can even be converted into a table when you guys want to take a break and bust out the charcuterie board you prepared for the day.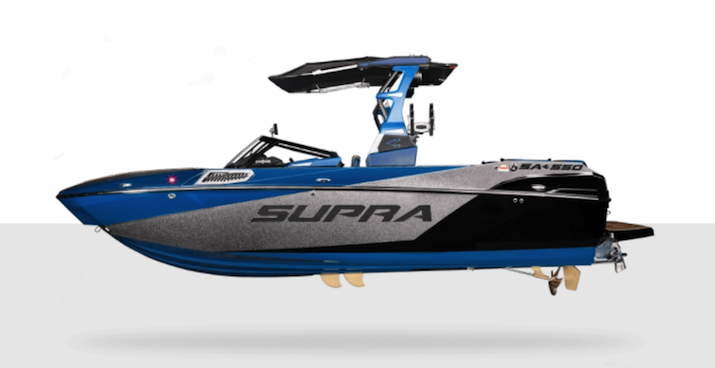 PC Supra Boats
Length: 24'7"
Weight: 5,800 pounds
Fuel Capacity: 60 gallons
Seating Capacity: 16
The Supra SA model is the next step up in terms of size, weight, and fuel capacity. This boat is also the Official Towboat of the Supra Boats Pro Wake Tour, which means it is trusted by the best wakeboarders and wake surfers on the planet.
This model is built with Supra's proprietary Surf Swell 3.0 system, which delivers a massive wave for wake surfing. It can also be dialed in to the perfect speed so that the driver can concentrate on steering instead of making constant speed adjustments.
It is also equipped with a 3,500-pound sub-floor ballast that can be filled or emptied depending on whether you are surfing, skiing, or wakeboarding. It also has a total of six pumps to help reduce fill time so you can spend more time having fun and less time waiting for your ballasts to fill.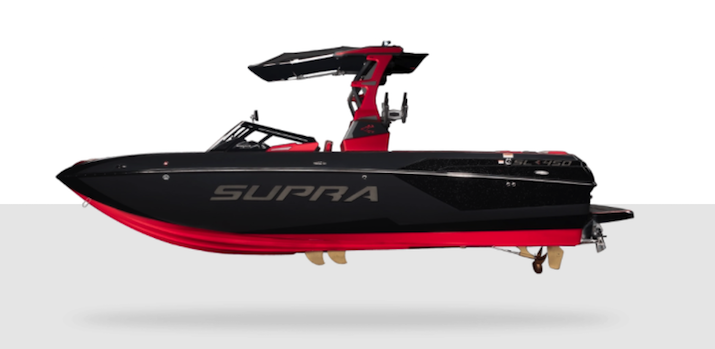 PC Supra Boats
Length: 25'7"
Weight: 5,600 pounds
Fuel Capacity: 73 gallons
Seating Capacity: 17
The Supra SL model is designed primarily for wake surfing and it throws a massive wake while also providing plenty of seating space on board. GatorStep non-skid flooring throughout provides plenty of grip and traction even when it gets wet.
The seating is also versatile to accommodate groups of different sizes with a rear-facing seat that converts into a dining table for sunset meals on the boat. It also gives you the option of adding a surf pipe that produces cleaner waves for easier surfing.
The Vision Control System in the cockpit of this boat is one of its coolest features. It has three touchscreen displays that can be used by the driver or passengers and allow you to control lighting, music, heaters, and more.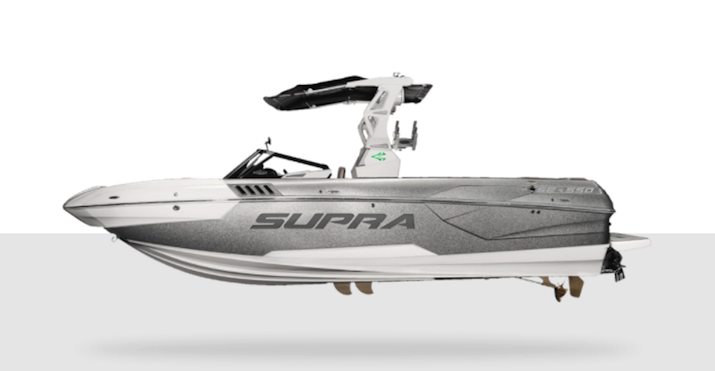 PC Supra Boats
Length: 26'7"
Weight: 6,150 pounds
Fuel Capacity: 83 gallons
Seating Capacity: 18
The SE model is Supra's largest and it is best designed for a superior wakeboarding experience. It boasts a 4,100-pound sub-floor ballast that fills quickly and efficiently with a total of six pumps and optional flip-up backs on the swim deck for a better lounging experience.
This ski boat also features an aluminum folding tower with power actuators that make it super easy to tow with the tower up or down. Optional underwater transom lights can be set to red, blue, green, or white to improve your visibility and allow for cooler evening wakeboard sessions.
The SE comes with Supra's Super Swell system as a standard feature, which delivers a great riding experience for riders that love to transfer from side to side. It also couples with Supra's AutoWake system to deliver the ideal wave for any type of wakeboarding, wake surfing, or skiing.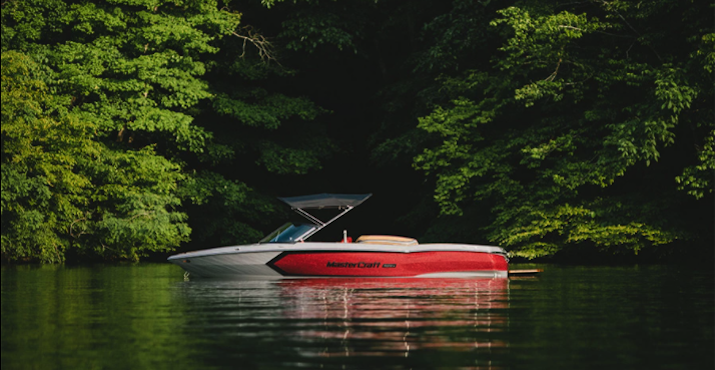 PC MasterCraft
Length: 20'
Weight: 3,300 pounds
Fuel Capacity: 30 gallons
Seating Capacity: 7
The MasterCraft ProStar is a true skier's delight, but it isn't meant to hold a bunch of extra passengers. This boat is all about throwing out a minimal wake and achieving higher speeds for slalom skiers.
MasterCraft has been one of the most trusted names in the ski boat industry for decades, but they redesigned the helm in the ProStar to feature a 10-inch touchscreen for easier command of lighting, music, speed, and more.
They also added new hull rails and added tracking fins that make this one of MasterCraft's easiest boats to drive. Plus, it boasts a redesigned motor box to improve engine performance by increasing airflow and, as a result, reducing engine noise.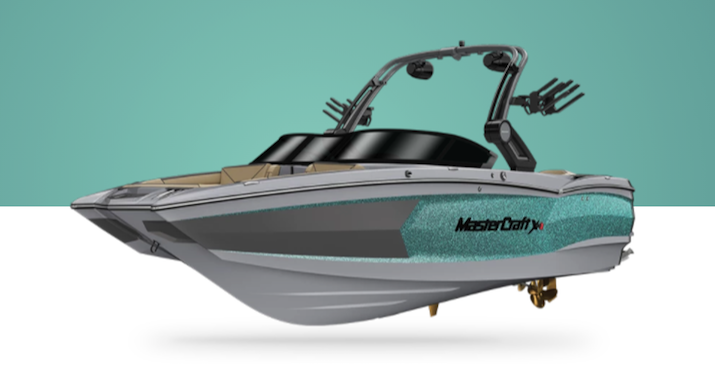 PC MasterCraft
Length: 23'
Weight: 5,800 pounds
Fuel Capacity: 76 gallons
Seating Capacity: 16
The XStar S ventures into the world of MasterCraft's wakeboard and wake surf boats. This model, however, is designed for everything from family fun to hardcore riding because it features their SurfStar system that allows you to customize the wake to your preference.
It also features 4,300 pounds of ballast that fills easily and efficiently so you can spend more time enjoying your activities. Speaking of enjoying, the transom chaise loungers in this boat offer supreme comfort and even include ergonomic headrests and extended footrests.
At the helm, your boat captain will easily be able to monitor your boat's "vitals" with the dual-screen dash setup. That includes emptying or filling the ballasts, dialing up the volume on the boat's premium Klipsch audio system, and so much more.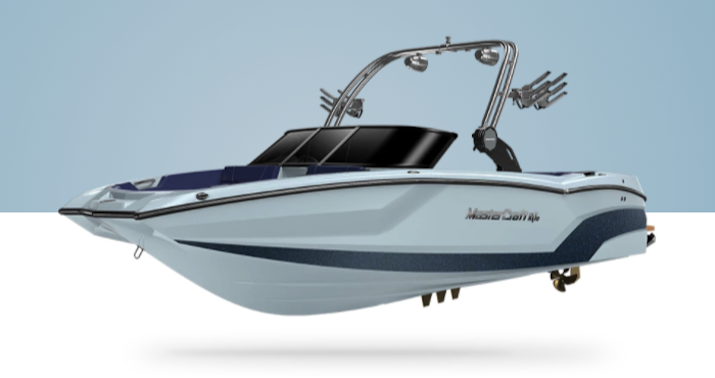 PC MasterCraft
Length: 24'
Weight: 5,000 pounds
Fuel Capacity: 65 gallons
Seating Capacity: 16
The MasterCraft NXT24 offers a little bit of extra length in a more lightweight package with plenty of seating capacity. It is best suited to wakeboarding and wake surfing, but will also work for skiers, tubers, and other watersport enthusiasts.
It boasts up to 3,450 pounds of ballast and is equipped with MasterCraft's SurfStar system. That system allows you to customize the wave for goofy or regular riders and according to their jumping or riding preferences.
The NXT24 also offers a convertible rear bench seat and boasts clamping board racks that allow you to do away with those pesky bungees. There are also a total of five wireless chargers available throughout the cabin of this MasterCraft ski boat.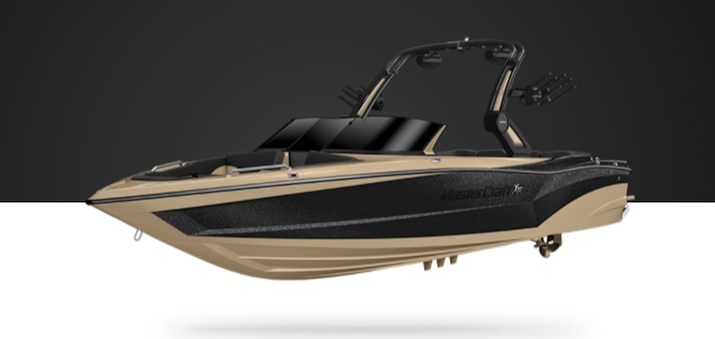 PC MasterCraft
Length: 25'3"
Weight: 5,200 pounds
Fuel Capacity: 92 gallons
Seating Capacity: 18
The MasterCraft XT25 is designed for long days on the lake with an increased fuel capacity compared to the other models. It also has room for a few extra passengers if you really want to load it down to maximize the size of your wake for wake surfing.
Speaking of that wake, this boat provides 2,800 pounds of ballast and the same SurfStar wave customization system that you will find on the XStar S and the NXT24. It also offers nearly endless customization options from the flooring to the audio system and much more.
This boat model also includes contoured seats and an all-new BTS windshield that won't glaze over after only a few years of use. Plus, the all-new Z8 hydro-lock tower is the easiest manual tower on the market to operate.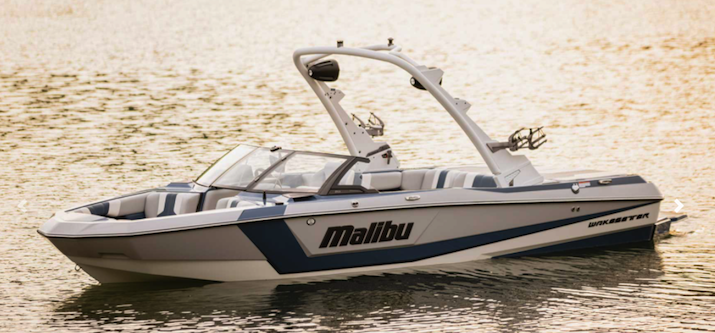 PC Malibu Boats
Length: 21'
Weight: 4,580 pounds
Fuel Capacity: 50 gallons
Seating Capacity: 12
The Malibu Wakesetter 21 LX is brand new overall, but one of its most unique new features is the hybrid bow. This bow combines the streamlined efficiency of their traditional bow with the added lounging space supplied by the newer pickle fork bow.
This boat is made for all sorts of water activities and it also features a pop-up ski pylon inside the rear cabin. When you aren't using it, it recesses into the deck to stay out of the way, but you also don't have to try to ski behind a boat while attached to the tower pylon.
The 21 LX does, however, boast their G5 tower to keep all of your wakeboards and surfboards attached and out of the way. It also manually folds down if you need to pass under a low bridge or you just like to trailer your boat with the tower folded.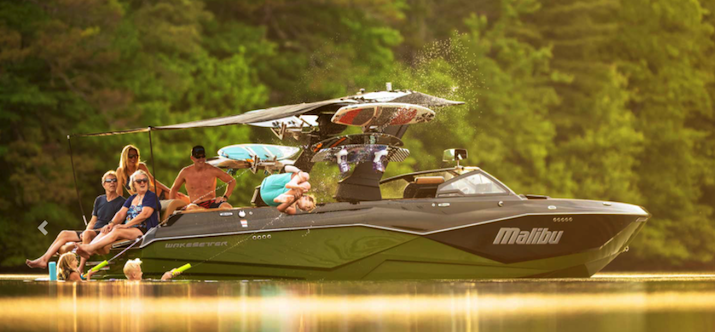 PC Malibu Boats
Length: 25'
Weight: 6,175 pounds
Fuel Capacity: 103 gallons
Seating Capacity: 18
The Wakesetter 25 LSV is the longest boat in Malibu's Luxury Sport V-Drive Series and it also offers a stunningly large fuel capacity. This allows you to spend long days on the lake and the ample seating capacity in this boat will allow you to invite all of your friends along as well.
The traditional bow on this boat makes it easy to cut through chop and navigate rolling surf waves without soaking your front passengers. There is also a luxurious wraparound lounge and a convertible multi-view wake bench in the rear for optimal viewing and relaxing.
The 25 LSV also boasts up to 5,180 pounds of ballast to throw out a sizeable wake for surfing and wakeboarding. There is even a folding rear walkthrough (added due to customer demand) that allows you to walk comfortably from the lounge to the swim platform without climbing over the rear hatches.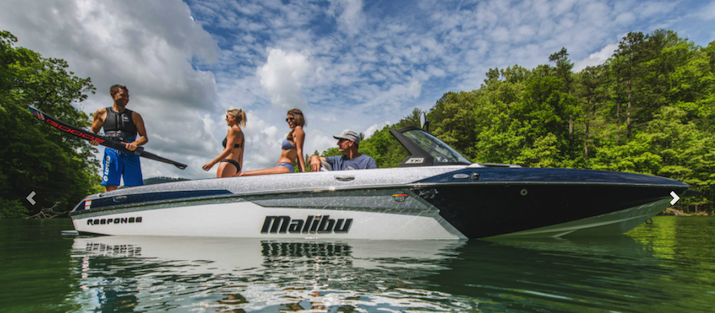 PC Malibu Boats
Length: 20'6"
Weight: 3,100 pounds
Fuel Capacity: 40 gallons
Seating Capacity: 5
The Malibu Response TXi MO CB ski boat is the best option on our list for tournament skiers. It is the 13-time water ski world record holder, in part, because it delivers smooth, flawless waves that the skier barely has to worry about when navigating the course.
The T-Cut Diamond hull on this boat is approved for tournament use and delivers smooth tracking and exceptional speed. The Advanced Rudder Control also delivers consistent performance on run after run so you can attack your personal best.
The Open edition of this boat even features a 7-inch touch screen display at the helm. This touch screen allows you to control the boat's Zero Off GPS Speed control and a host of other features and equipment.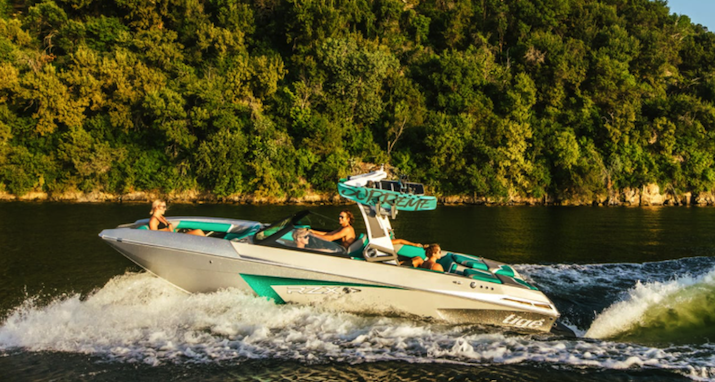 PC Tigé Boats
Length: 23'
Weight: 6,000 pounds
Fuel Capacity: 65 gallons
Seating Capacity: 16
The Tige 23RZX is a superior wake surfing and wakeboarding boat that boasts a Convex V hull and their proprietary TAPS 3T technology that delivers an ideal wake for your preferred activity.
At the helm, you will enjoy the Tige Clear touch screen monitor, which provides access to a host of feature and setting customization options. That includes Zero Off GPS speed control, a rearview camera, lighting, and full control of the boat's Wet Sounds audio system.
The major advantages of this touch screen are its superior size and lighting quality. At 11 inches long, it is one of the largest displays you will find in any ski boat helm (and you definitely won't find it on models made by the worst boat brands!).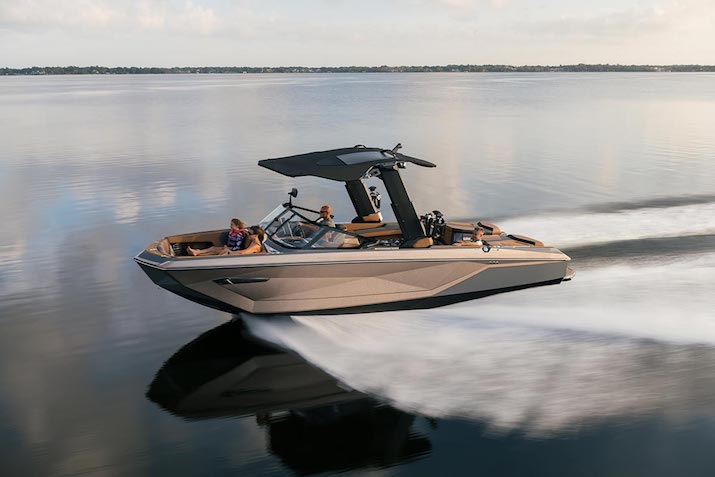 PC Nautique Boats
Length: 27'1.5"
Weight: 6,400 pounds
Fuel Capacity: 88 gallons
Seating Capacity: 19
Air Nautique was once known for its light, fast, and compact ski boats, but the Super Air Nautique G25 breaks that mold a bit. It has one of the largest seating capacities you will find among these ski boats.
The stunning hull on this boat is sure to turn heads as you pull out of your local marina. It also delivers one of the largest and cleanest wakes for surfing and/or wakeboarding that you will find on the market.
The G25 even includes 1,450 pounds of supplemental ballast for the days when you can't load your boat down with passengers. It also features MyNautique, which allows you to connect to your boat from your phone or computer to monitor fuel level, battery voltage, location, and a host of other important metrics.
Final Thoughts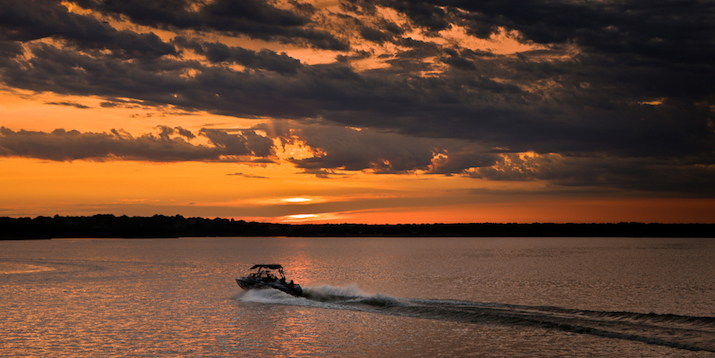 Photo by Chuc via Shutterstock
While we are huge proponents of human-powered recreation here at Kayak Help, we love anything that gets us out on the water more. It is hard to beat the kind of sunset views like you see in the image above.
We hope you enjoyed these ski boats and got some inspiration for buying your own motorized vessel one day. As always, we want to wish you the best of future adventures in either your motorized or human-powered watercraft!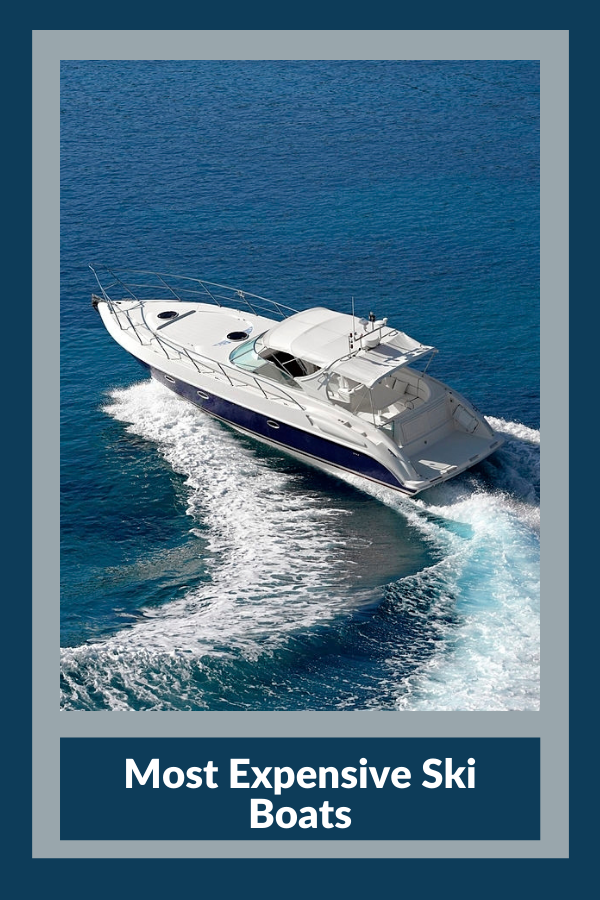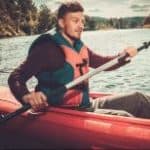 Author: Peter Salisbury
Pete is the Owner of KayakHelp.com. Born and raised in Cleveland, Ohio, he grew up kayaking, fishing, sailing, and partaking in outdoor adventures around the Great Lakes. When he's not out on the water, you can find him skiing in the mountains, reading his favorite books, and spending time with his family.