As a snowboarder, the first piece of equipment you should buy is a pair of snowboard boots. By owning your own, rather than renting them, you will see many advantages.
When you rent snowboard boots, you are never sure what you are going to get. They may not be the perfect fit or style for your riding.
A pair of hired snowboard boots will have hundreds of pairs of feet in them before you slide into them. Besides the hygiene issue, the boots will have been packed out by other people rather than molded specifically to your feet.
In this post, we will go through what to look for in a pair of snowboard boots and give you some recommendations.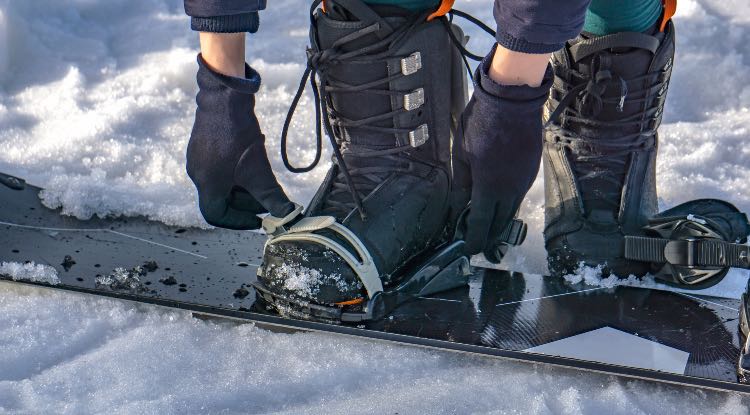 Buy Snowboard Boots To Suit Your Riding Style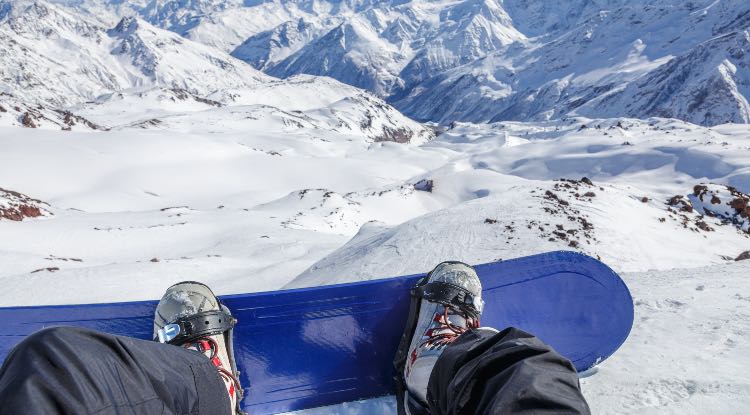 There are a few snowboard disciplines, and there is appropriate equipment for all of them. When it comes to snowboard boots, you need to choose some with the correct amount of flex for your riding.
By choosing snowboard boots that suit your riding style, you will be comfortable and have lots of control. Snowboard boots generally come with flex ratings categorized as soft, medium, or stiff.
Soft – Soft snowboard boots are very comfortable and very forgiving. If you are a beginner or like to do jumps and tricks, soft snowboard boots are ideal.
However, soft snowboard boots give you less control when it comes to turning. So, if you like to ride fast and carve hard, soft boots may not be the best choice.
Medium – If you like to find the sweet spot for riding all over the mountain and mixing up your style, you may want medium-flex snowboard boots.
Medium-flex snowboard boots give you lots of control in the turns, but they are also forgiving enough for freestyle snowboarding. Medium snowboard boots are worn by most riders, as they are great on the groomers and in the backcountry,
Stiff – Stiff snowboard boots are excellent for carving. The stiffness gives you more edge control when riding fast and in challenging conditions.
Stiff snowboard boots are also worn by freeriders. This is because they want control and precision when they need it the most.
The downside of stiff snowboard boots is that they are less forgiving when landing tricks. Also, you need to take extra care in getting the right ones to make sure they are comfortable.
When buying snowboard boots, one thing to consider is that they get softer after a few weeks of wearing them. If you plan on riding a lot, you may want to opt for slightly stiffer boots to compensate.
Lacing Systems
When you start looking at the different snowboard boots on the market, you will notice that they lace up in different ways. Generally, you can have snowboard boots with traditional laces, a speed lace system, or a boa system. All have their own advantages and disadvantages.
Traditional Laces
These snowboard boots lace up like a regular pair of boots. You can't really go wrong with them, as they have been tried and tested since day one of snowboarding.
The main benefit you get with traditional laces is that you can easily customize how tight they are. Also, they are easy to replace and bring the boot's price down.
Traditional laces can be challenging to fasten while wearing gloves or when your bare hands are cold and wet. Also, they loosen as you ride, so you may need to re-tighten them throughout your day.
Speed Lacing Systems
Snowboard boots with speed lacing systems allow you to tighten the boots in zones. You do this by pulling on toggles on either side of your boot.
The significant advantage of a speed lacing system is that you can fine-tune your boots' fit quickly. Some systems independently tighten the inner and outer boots while others adjust the lower and upper parts of the boot.
Speed lacing systems can be used easily while wearing gloves and stay tight all day. They are very convenient ways of fastening your boots perfectly.
The downside of a speed lacing system is that it can cause unwanted pressure points around your foot. But the main issue is if the lace breaks, as it is very difficult to replace. However, the laces are pretty resilient these days.
Boa
The boa system is made up of a series of metal cables laced through the boot. These are tightened and loosened with one or two dials placed on the outside of the boot.
The dials use small internal ratchets, which allow you to get the perfect fit. Boa systems stay locked in place all day, and you can easily tweak the dials to suit your comfort.
Boa systems give you lots of control and comfort. However, some boa systems can create uncomfortable pressure points or a crushing sensation around your foot.
Another disadvantage of boa systems is that if a cable snaps, your day of riding is over. If this happens, you will also have the headache of trying to fit a new one unless the manufacturer does it for you.
Boot Liners
The liner of a snowboard boot is the inner part that slides into the boot and is very important. Snowboard boot liners are usually made from EVA, which is a very lightweight and moldable foam.
Snowboard boot manufacturers use EVA as it is very good at providing cushioning, stability, and warmth. Most snowboard boots have removable liners, so you can quickly dry them out after snowboarding in wet weather.
There are three main types of snowboard boot liner you need to know about – non-moldable, thermoformable, and custom moldable.
Non-moldable
Some less expensive snowboard boots come with non-moldable liners. These give you enough stability and padding for most riding, but they are not as malleable as other types.
Over time, non-moldable liners will form to the areas that you put lots of pressure on while riding. But, they won't feel as plush as the other types of liners.
Thermomoldable
Thermomoldable snowboard boot liners form to the shape of your feet over a couple of days of riding. The heat your feet give out activates the foam, giving you a custom fit.
Custom Moldable
When you buy snowboard boots with custom moldable liners, you need to go through a fitting process in the shop. The boot fitter will heat up the liners, and as they cool down, they perfectly form to your foot shape.
Get The Perfect Fit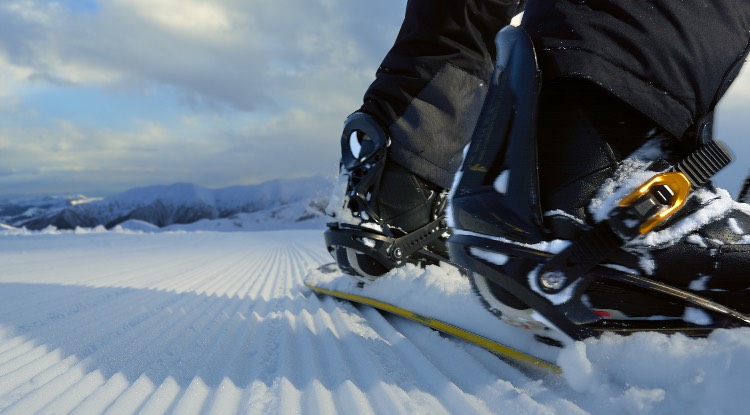 It is critical that your snowboard boots are the correct size and shape for your feet. As with any type of footwear, sizes and shapes tend to differ between brands.
The best thing to do is visit a professional boot fitter to help you get the best snowboard boots for you. They will know what brand and model to give you; they will also be able to tweak the liners to get the perfect fit.
When trying on snowboard boots, they should feel tight, but not too tight. Your toes should just about touch the ends of the boots without any pressure.
Your aim is to buy a pair of snowboard boots that are comfortable at the end of the season, not in the shop. By this, I mean you need to take into account how the boot will pack out over time.
Buying boots that feel incredibly comfortable and a little loose is a bad idea. They will become sloppy, and your feet will move around in them, making them dangerous.
Ensure that your heel locks into the boot properly too. Any heel lift will compromise your control and make your day on the mountain miserable.
Buy Some Snowboard Socks
Arguably, snowboard socks are just as important as your boots. Your socks are the first point of contact with your snowboard setup and can drastically affect comfort and control.
Snowboard socks are made from smooth material, mostly synthetic and merino wool. This smoothness reduces friction in the boot, so you get fewer rubs and sore spots.
Snowboard sock material also provides insulation and moisture-wicking properties, which enhance comfort further. Check out these snowboard socks from Burton Snowboards.
Thumbnail
Title
ThirtyTwo Men's Zephyr Boa '19/20 Snowboard Boot (Olive/Black, 6)
Ride Anthem Mens Snowboard Boots 9.5 Black
Rome Snowboards Libertine Sort Snowboard Boots, Slate, 7.5
DC Mutiny Lace Snowboard Boot Black 2 9 D (M)
K2 Maysis Snowboard Boots 2021 - Men's Black 11
Thumbnail
Title
ThirtyTwo Men's Zephyr Boa '19/20 Snowboard Boot (Olive/Black, 6)
Thumbnail
Title
Ride Anthem Mens Snowboard Boots 9.5 Black
Thumbnail
Title
Rome Snowboards Libertine Sort Snowboard Boots, Slate, 7.5
Thumbnail
Title
DC Mutiny Lace Snowboard Boot Black 2 9 D (M)
Thumbnail
Title
K2 Maysis Snowboard Boots 2021 - Men's Black 11
Best Snowboarding Boots
Check Price On Amazon
The Zephyr from Thirty Two is a soft flex snowboard boot ideal for beginners, intermediate riders, and freestylers. These are definitely not for hard-chargers but for those that like to ride casually and hit jumps and features.
If you are looking for a pair of snowboard boots to help you progress without being too extreme, the Zephyr is a great option.
The flex is soft but not too soft, just about below medium stiffness, meaning they are pretty forgiving. The Zephyrs have a medium-wide fit but are reasonably narrow at the toes, so they should suit most riders' foot shapes.
These boots have a single dial boa system, so they are quick and easy to adjust. But, you don't get the adjustability of a two-dial system.
Check Price On Amazon
The Ride Anthem snowboard boots are also great for beginner and intermediate riders. But if you are looking for a pair of boots that is forgiving enough for freestyle while being able to ride everywhere, the Anthems have you covered.
Again, these only have a single dial system, which means they are not very adjustable. However, they do hold your feet firmly and comfortably without much movement.
The Ride Anthem snowboard boots have a below medium flex, so they are great for riding the whole mountain, as long as you don't ride too aggressively.
At this price point, you get quality boots without breaking the bank. If you are looking for value for your money and don't need anything too full-on, the Ride Anthem snowboard boots are a good choice.
Check Price On Amazon
Rome has designed the Libertine to be one of the most waterproof snowboard boots you can buy. It is very durable, thanks to the DuraFit shell, which also helps to maintain its flex and shape.
With its high-end double density, heat-moldable liner, and footbed, the Libertine forms perfectly to your foot while being resistant to packing out, making them feel new for longer.
This version has a hybrid fastening system, which uses both a boa and traditional laces. The result is a secure feeling and easy adjustability; however, your choice of lacing system is all down to personal preference.
The Rome Libertine snowboard boots have an above medium flex. Therefore, they are suited to more advanced riders that want something that will allow them to shred hard anywhere but still want to hit the park from time to time.
Check Price On Amazon
The DC Mutiny is an excellent choice for beginners or those who like to ride with softer flexing boots. These snowboard boots have some features that make them great for freestyle too.
One of the things freestylers love about the DC Mutiny snowboard boots is their shock absorption. The Impact S insole does a great job of damping out landings but doesn't negatively affect board feel.
The DC Mutiny snowboard boots use a traditional lacing system, so they are not too fancy. However, they are laced up so you can easily tighten each section of the boot.
As the Mutiny's have a traditional lacing system, DC has managed to keep the price down. Therefore if you want a pair of well-priced soft flex snowboard boots, you will be very happy with these beauties.
Check Price On Amazon
The K2 Maysis is firmly aimed at intermediate to advanced riders. These are designed to shred the whole mountain at 110%.
If you want supreme edge control from a pair of snowboard boots you can really lean into, the K2 Maysis are ideal. They are very stiff and have an articulated cuff so you can push all your power into your heel edge turns.
These snowboard boots are high-end options with all the features you would expect. For example, you get fast adjustability with a two-dial boa system and a heat-moldable foam liner to get the perfect fit.
The Maysis has 3D-formed EVA foam footbed cups located under your heel. These provide cushioning for hard landings and day-long comfort.
For extra traction when walking on the snow and ice, K2 has fitted the Maysis with a rubber outsole. This is a welcomed feature, especially when hiking in the backcountry.
Although how snowboard boots look is not the main reason to buy them, the K2 Maysis look super cool. They also come in five different colors so that you can match them to your outfit.
Check Price On Amazon
Burton has been in the snowboard game since day one, so they know a thing or two about making great snowboard boots. The Burton Moto is a great entry-level snowboard boot, thanks to its soft flex, comfortable fit, and simplicity.
However, you don't need to be a beginner to enjoy a pair of Burton Motos. If you want a pair of softer flexing boots for playful riding without having to spend too much, the Motos are a good option.
Many riders like to buy Burton Motos as a second pair of boots to pair with a softer flexing board. This setup gives you a very forgiving park and jib combo.
The Burton Moto snowboard boots also suit riders that just ride casually. If you like to cruise the blues without charging too hard, these will suit you too.
When you first slip a pair of Motos on, they may have the feeling that they are already broken in. This feeling is due to the soft flex and flat sole that gives you an excellent board feel.
Even though the Motos are entry-level snowboard boots, they come with Burton's speed lacing system. The system is straightforward to use and makes adjusting the boot's fit effortless.
These soft flexing snowboard boots have a slightly wider than average width. There is also lots of room around your toes, which is great for keeping them warm.
The Moto is one of Burton's biggest selling snowboard boots. Their comfort and price are just two reasons many riders begin their snowboarding career in them.
Check Price On Amazon
The Salomon Dialogue Focus boots are ideal for riders who want responsive snowboard boots with reasonable forgiveness. These boots strike a good balance for powerful and playful riding.
You won't want to wear the Dialogue Focus boots if you are a beginner. They are suited more to intermediate and advanced riders due to their stiffness rating.
If you are new to Salomon snowboard boots, you need to know that they are pretty narrow. The Dialogue Focus is slightly narrower than usual, so you can expect a snug fit.
These boots give you lots of control while charging fast, but they also maintain agility when you are riding slowly. You can expect plenty of power while carving, but they are forgiving enough for easy casual riding and jibbing.
You can adjust the fit of these snowboard boots perfectly with their double boa lacing system. One dial adjusts the lower part of the boot, while the second one adjusts the top part.
Salomon has made the Dialogue Focus snowboard boots with good shock absorption for big landings. They have also managed to isolate your feet from chatter without reducing board feel.
If you are looking for a comfortable and responsive boot that is also forgiving, the Dialogue Boa is an excellent choice. The enhanced shock absorption and board feel are added bonuses of these well-rounded snowboard boots.
Check Price On Amazon
The Thirty Two Lashed boots are for intermediate and advanced riders who don't want to spend too much money. How well these boots respond to rider input relative to their price is excellent.
Their above medium flex rating gives you lots of control without being too unforgiving. However, they are more rewarding when you ride fast and put in powerful carve turns.
The Thirty Two Lashed has a traditional lacing system. But, the inner liner has a velcro strap at the top, giving you a good fit around the heels and shins.
With this additional strap, you get a similar feeling to a boa system. However, you don't get the convenience of being able to adjust the fit as easily.
The Thirty Two Lashed are mid-range snowboard boots aimed at intermediate and advanced riders. They are pretty good at this price level, especially as they are as responsive as more expensive boots.
Check Price On Amazon
Burton has been making the Ruler for many years, and they are a staple of the range. They strike an excellent balance between soft and stiff while being reasonably priced.
Burton Rulers are not really suited to complete beginners. But are ideal if you have the basics down and want some boots that will help you progress.
The width of the Rulers is slightly wider than what you would consider medium. However, Burton boots are generally true to size, so you can get a good idea of how they will fit.
As you start to get some air time, you will notice that your Burton Rulers are reasonably good at absorbing shock. They are also pretty good at damping out vibrations from choppy slopes.
For snowboard boots at this level, their responsiveness is how you would expect them to be. You can easily stay in control at slow speeds, but you can also hold a carve well when you ride faster.
The Burton Ruler is an excellent all-around snowboard boot for riders with some skills but not yet charging hard or going big in the park.
Final Thoughts
It can be tempting to buy snowboard boots that you think look cool, which is not something you should do. You need to remember that fit, comfort, and control are essential considerations when buying snowboard boots.
Now you know what to look for in a pair of snowboard boots and have some excellent options to choose from. It is always wise to visit a professional boot fitter to get some advice, so you don't accidentally buy the wrong ones for you.
Images from Shutterstock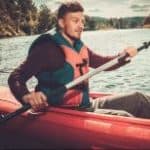 Author: Peter Salisbury
Pete is the Owner of KayakHelp.com. Born and raised in Cleveland, Ohio, he grew up kayaking, fishing, sailing, and partaking in outdoor adventures around the Great Lakes. When he's not out on the water, you can find him skiing in the mountains, reading his favorite books, and spending time with his family.