The weather in the mountains is pretty unpredictable, and it can change rapidly. But, you may not be able to get on the mountain very often, so you will want to snowboard whatever the weather.
If the weather forecast predicts rain, you will want to know how it will affect your time on the slopes. Therefore, we have put together some top tips for snowboarding in the rain.
Let's get started without much ado.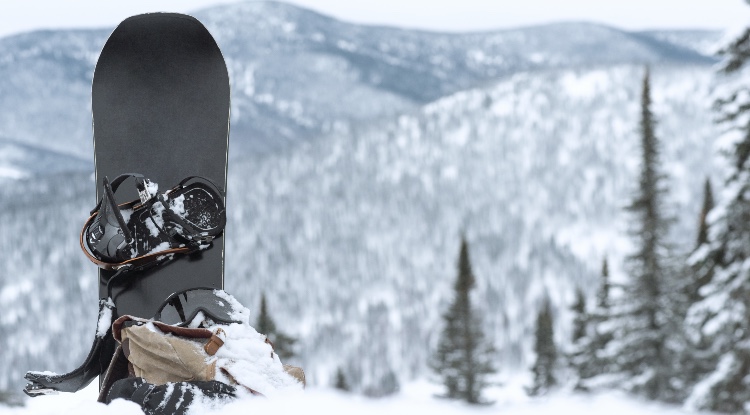 Dress Appropriately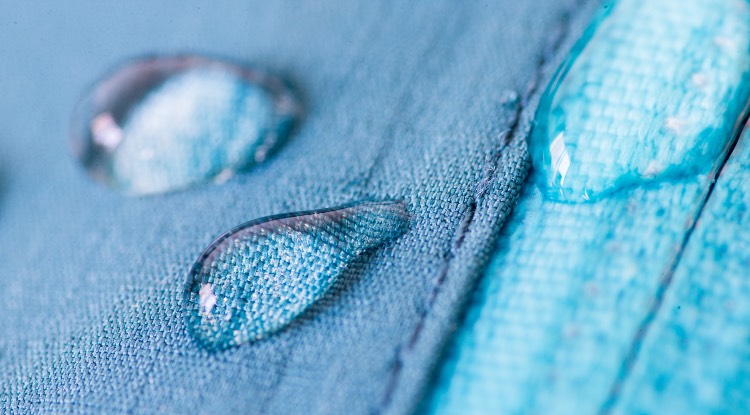 Your choice of clothing will make the difference between a great day and a miserable day. Spending all day wet and cold is not fun, so wearing suitable snowboard clothing to suit the conditions will mean you will still enjoy yourself.
You can buy budget snowboard clothing, but you need to be realistic about their capabilities. You can't expect to be warm and dry all day in a low-cost snowboard jacket and pants.
To ensure that your clothing is capable of keeping out the rain, you will need to spend more money on quality clothing.
Snowboard jackets and pants come with a rating that indicates their level of waterproofing. Clothing is assigned with a number. The higher the number, the higher the waterproofing level.
Clothing with a waterproof rating of <1500 is shower resistant and suitable for wearing in light drizzle. If you are snowboarding in light rain or dry snow, you need a waterproof rating between 1,500 and 5,000.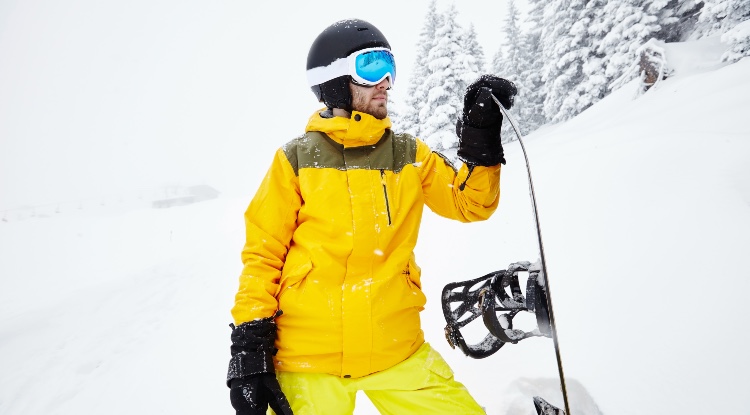 Snowboard clothing rated from 5,000 to 10,000 is ideal for moderate rain or moderate snowy conditions. But, for the ultimate in waterproofing, you need to wear snowboard clothing rated from 10,000 to 20,000.
If you can afford to spend the extra money, it is best to go for snowboard clothing with the highest waterproof rating. You will be much more comfortable and be able to snowboard in wet and snowy conditions all day.
Wearing waterproof clothing used for camping, fishing, etc., will stop the rain from getting in. It will also be much cheaper to buy; however, this cheaper clothing is not breathable.
Having breathable snowboard clothing is essential. It wicks sweat away from your body which allows you to stay comfortable.
If sweat stays close to your skin, your clothing will remain wet. Breathable clothing that draws moisture from your skin allows you to keep warm and dry.
When you have been riding hard and then stop, your body cools down. You can get freezing cold, uncomfortable, and even hyperthermic in very cold temperatures.
Snowboard clothing manufacturers indicate the breathability of their products with a figure. The figure displays how much water vapor can pass through a square meter of the fabric within 24 hours.
To illustrate what this means, a jacket rated between 5,000 and 10,000g/m² is what most people would wear day-to-day. But you would get a bit uncomfortable if you physically exert yourself.
A jacket rated from 10,000 to 15,000g/m² is more suitable for someone relatively active. As a snowboarder, you should be fine in most cases with a jacket like this.
For a snowboarder that wants clothing suitable for most conditions, they should choose a 10k/10k jacket and pants. These products can hold off 10,000mm of rain or snow while letting out 10,000g of water vapor per square meter from the inside.
If you were to hike or splitboard in the backcountry, you would need snowboard clothing with more breathability. So a jacket with 15,000 to 20,000g/m² of breathability is suitable for heavy exertion.
You would get very sweaty if you were to hike in snowboard clothing with a low breathability rating. The inside would stay wet, no matter what its waterproof rating is.
Wear A Helmet
Wearing a helmet while snowboarding should be something you do anyway. But in soggy weather, a helmet is much more comfortable than a beanie.
A beanie gets wet very quickly in the rain, which is very unpleasant, especially if the temperature drops. A helmet doesn't get wet, and they often have more insulation than a woolly hat.
You will find that you will be comfortable in a helmet much longer than in a beanie. Also, a helmet can enhance your riding experience with built-in features.
For example, some snowboard helmets are "audio ready". This means you can listen to your favorite music while riding.
Bring Spare Clothing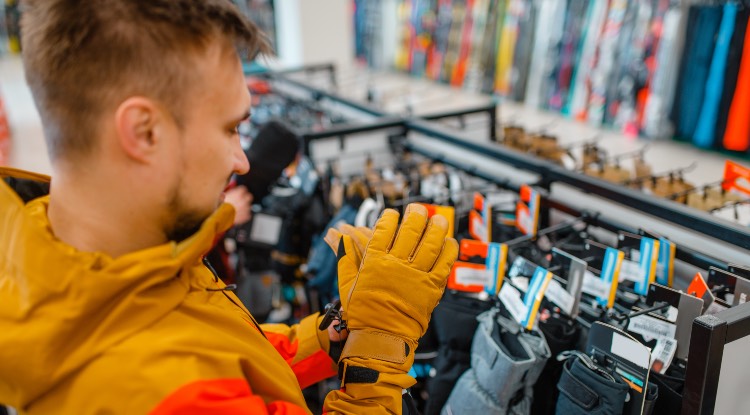 If you have clothing with good waterproofing properties, you shouldn't need to bring spare snowboard jackets and pants on your trip. However, there are some items of clothing that you will find helpful to have more of.
You can never have too many socks on a snowboarding trip, especially if it is raining. Make sure you have more snowboard socks than you think you will need, as even the best snowboard boots let in water after a while.
If your socks get wet, you can swap them for a dry pair at lunchtime to ensure you have cozy feet. Don't be tempted to buy cheap hiking socks for snowboarding, as they will rub and cause blisters.
Snowboarders often get wet gloves, especially beginners, as their hands are in the snow a lot. Having a spare pair of gloves will allow you to have dry hands while your other pair is drying out.
Being able to rotate the gloves you wear is great for staying comfortable when snowboarding. It can also prevent you from getting frostbite.
Dry Your Clothing As Soon As You Finish Snowboarding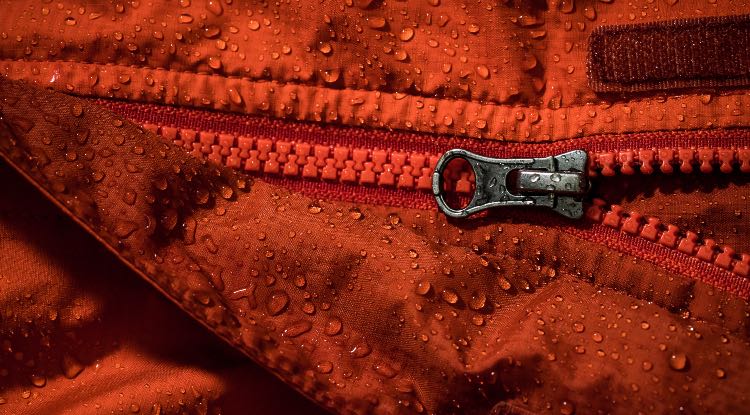 If you have been snowboarding in the rain, it is best to dry your clothing out as soon as possible. As soon as you get back to your accommodations, hang it up in a warm, dry room.
Do not put your clothing in a clothes dryer, as the heat will damage the waterproof coating. Unless you can reapply the coating, your snowboard clothing will lose all its waterproofing properties.
Something else you should avoid is putting your clothing directly onto a radiator or heater. The direct heat can damage or even melt your snowboard jacket.
In addition to this, the heater can stain the color of your jacket. Therefore, you could lose your security deposit.
Some accommodation options have boot dryers. These dryers are great for ensuring you can put your feet into warm, dry boots in the morning.
However, you need to be careful how you use boot driers. Some driers use hot air, which can alter or damage the moldable liners in your boots, affecting their fit and comfort.
Make sure your snowboard boots are not being blasted with hot air all night. It is best if they are on a timer, so they dry your snowboard boots in the evening and warm them up for the morning.
This way, you will have comfortable feet, and your boots will continue to fit how they should.
Be Careful What You Do With Your Goggles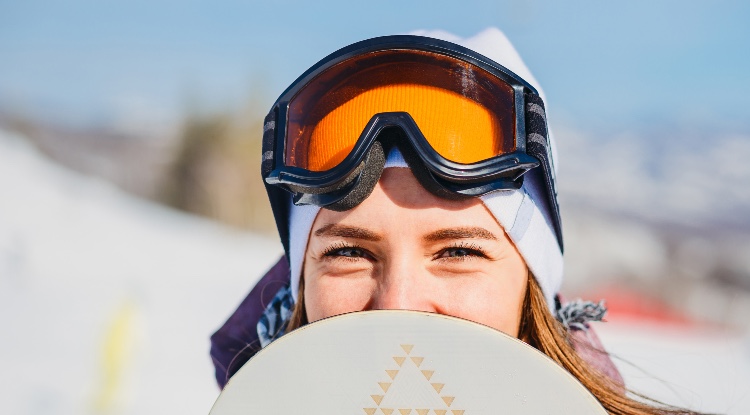 When snowboarding in the rain, a pair of sunglasses will not cut it. Visibility will be bad enough without the rain getting in the sides of the glasses and into your eyes.
The first thing you need to do when it comes to goggles is to make sure they interface with your helmet correctly. If you have a huge gap exposing your forehead, you will get cold and uncomfortable quickly in bad weather.
But when the weather is good, you still want to avoid the gap. A sunburned forehead is not a good look and will ruin your vacation photos.
The next thing you need to do is choose the correct goggle lens to suit the conditions. Most goggles allow you to change the lens very easily by just pushing it out of the frame.
On a rainy day, you will need a low-light lens, which has a yellow tint. Low-light lenses improve the contrast of what is around you. Therefore, you will be able to see more of the imperfections in the snow.
Being able to see how the terrain lies makes snowboarding in bad visibility much safer.
However, if you buy a pair of goggles with a fancy lens, such as the Oakley Prizm lens, you won't need to change the lens. Prizm lenses are excellent in many different light conditions.
When you are snowboarding on a rainy day, you need to be careful what you do with your goggles. The last thing you should do is put them on top of your wet helmet.
When the goggle foam gets wet, the lens will fog up, preventing you from seeing. In very bad cases, the fog will appear between the two panes in the lens, which is difficult to remedy on the mountain.
If this does happen, your best bet is to head to a mountain restaurant to find a hand dryer. Use the hand dryer to warm up the lens until it is clear, and dry out the goggle foam. This trick will get you by for a short while, but you really need to dry your goggles out properly overnight.
It can be tempting to wipe the inside of the lense to clear the fog and moisture. However, you should avoid doing this if possible, as some lenses have a special coating that will be damaged by wiping them.
Choose The Correct Snowboard Wax For The Conditions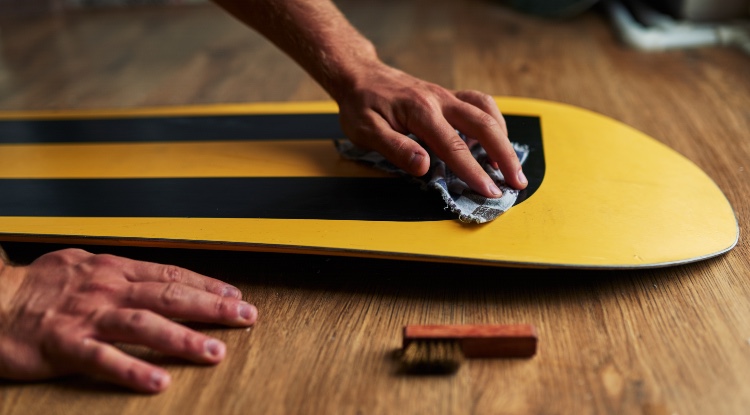 There are different types of snowboard wax suitable for varying weather conditions. So before your trip, it is a good idea to check the weather forecast to see what the temperature will be.
If you service your own snowboard and the temperatures are warm, you should use wax that will allow your board to run on slushy snow. On the other hand, if the temperatures are cold, you will want to use wax that performs well in lower temperatures.
Its manufacturer will state the wax's optimum operating temperature. However, most people use universal wax, which strikes a balance to perform reasonably well in most conditions.
What Rain Does To Snow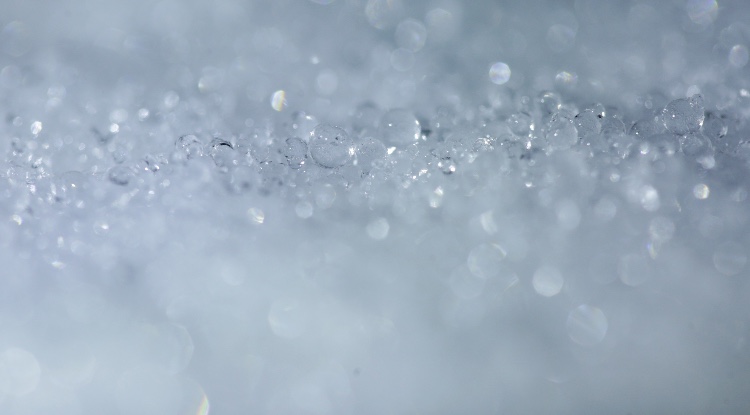 Rain makes a big difference to the consistency of snow. When it is combined with colder or warmer temperatures, it will affect how your snowboard performs.
If the temperature is low, rain can freeze onto the surface. When the snow is hard-packed, your snowboard will run faster due to reduced friction.
When snowboarding on icy hard-packed snow, you need to anticipate your turns and cope with reduced control. This may sound scary, especially for a beginner, but it can still be lots of fun.
In these conditions, you will not be carving much but taking wider skid turns. This is so you can stay in control on the more slippery surface.
To ensure that you have as much control as possible, you should make sure your snowboard edges are sharp. Sharp edges will cut into the harder surface allowing you to turn and stop more efficiently.
If the temperatures are warmer, the snow will be heavier and slushy. Most snowboarders love riding slush, as it is great fun, although it is physically more challenging.
The technique for snowboarding in slush is similar to riding powder. Your back leg will feel tired quite quickly when riding slush.
Something to be mindful of when riding slush is how it affects your snowboard wax. The stickiness of slush will take the wax off your snowboard quickly, slowing it down throughout the day.
If you expect rain or slushy conditions for several days during your trip, you may want to wax your board several times so that you can keep your speed up in the slower conditions.
Benefits Of Snowboarding On A Rainy Day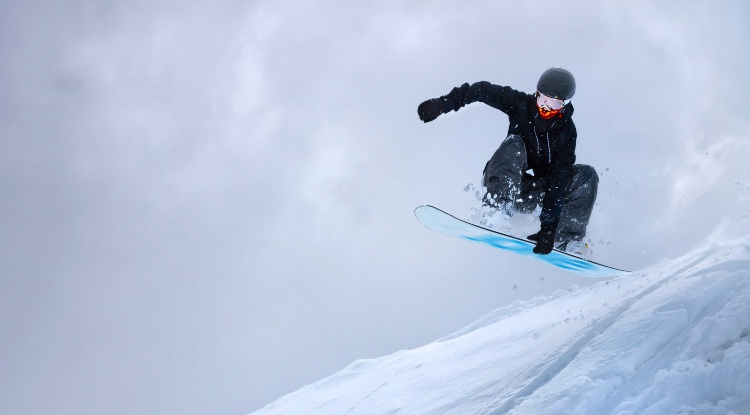 There are several benefits to snowboarding on a rainy day. It opens up opportunities that you wouldn't usually have when the weather is good.
You probably won't want to do too much exploring on a wet day, so you can use the time to work on other things.
Bad weather days are great for practicing new skills and techniques. For example, you can take the opportunity to improve your switch riding.
If the snow is slushy, it is much softer. Slush is more forgiving than snow or ice, so you can practice some tricks or try out some new ones.
Jumping off side hits and smaller kickers is less intimidating when the snow is soft. You stand less chance of hurting yourself, and the speeds are much slower, so you can dial in your technique easier. It almost feels like you are doing everything in slow motion.
Don't expect to hit any big kickers in the snowpark on a rainy day, though, as most of the time, they will be closed. The reason for this is that you probably won't be able to get enough speed to clear the knuckle from the slower slush. Also, the reduced visibility makes it challenging to judge the correct take-off speed and spot your landing.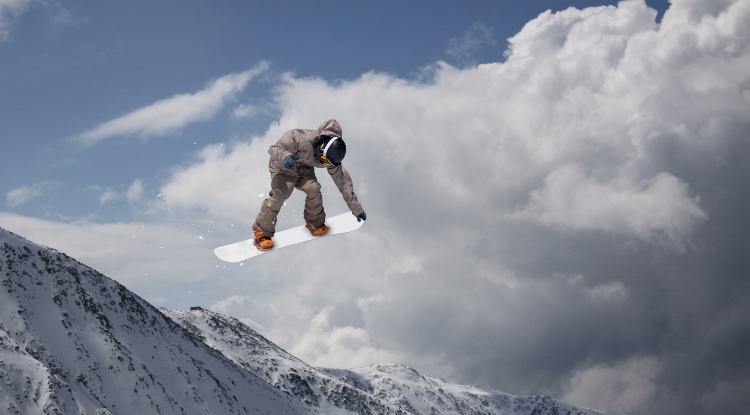 Often a good thing to do is take everything back to basics. By sessioning a slope over and over, you can work on various techniques. Try to iron out any bad habits, so you are riding much smoother when you shred the rest of the mountain.
You can ensure your technique is perfect by taking a lesson. An instructor will coach you and give you things to work on during a rainy day on the mountain.
Another benefit of snowboarding on a rainy day is that the slopes and lift lines will be quiet. Not everyone is as hardcore as you, shredding the mountain whatever the weather!
When the slopes are quiet, you can get more runs in. Also, there won't be anyone in your way, allowing you to have clear and safer runs all day.
Pick Where You Ride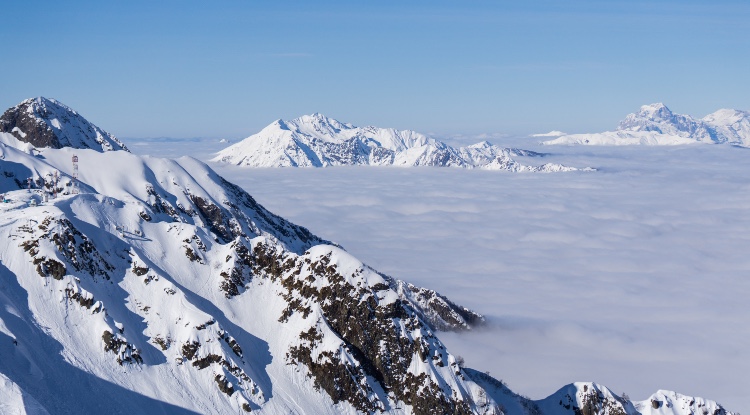 But what if the weather is really miserable? Some ski areas are versatile enough for you to find better conditions for riding.
When you look out of the window in the morning, and the mountain is shrouded in cloud, you may not be inspired to go out. But, you should still make an effort to strap in.
Some ski areas have a high enough altitude to allow you to get above the clouds. When you get above the clouds, you get above the rain and into the sun.
People are put off by bad weather, so they won't bother going out when they see cloudy skies. But, if you make an effort, you can enjoy sunny and quiet slopes above the clouds.
If there is no chance of riding at high altitude in the sun, you may want to aim for places where visibility is better. Lower slopes below the treeline will allow you to see much more easily.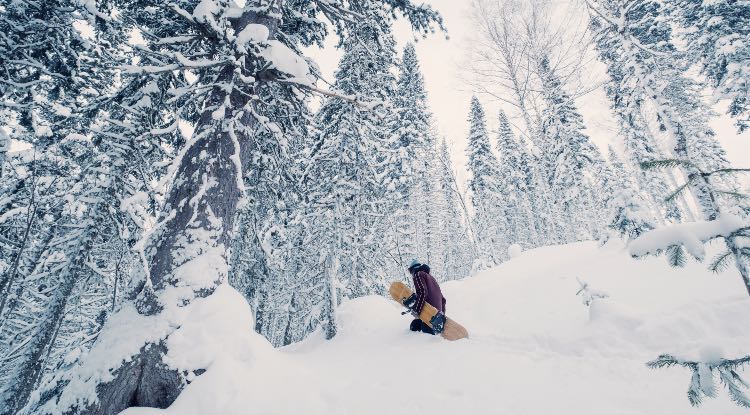 On these less technical slopes, the snow around the trees will likely be of better quality, too, so you get a more pleasant experience. The snow in more exposed areas will be more windswept and icy, making your snowboarding more challenging.
By heading out in bad weather, you have nothing to lose. You may have a great time and be able to take full advantage of the slope conditions.
However, if you don't enjoy yourself, you can always call it a day and head back down the mountain early. It is worth the risk of getting soggy for a couple of hours to see what the conditions are like.
Take A Day Off And Experience Something New
It is all very well and good going through the top tips for snowboarding in the rain, but what if it is a definite no-go? The mountain may be closed, the conditions haven't improved from the previous day, or maybe even have gotten worse.
These rainy days are perfect opportunities for experiencing other things to do in the resort. Ski resorts are always trying to outdo each other with alternative attractions, so they offer lots of activities to their visitors.
Some ski resorts have ice rinks, spas, tubing slopes, swimming pools, and fitness centers. All of these are great distractions if the snow conditions on the mountain are bad, just don't expect them to be quiet.
Alternatively, you could head away from the ski resort. There may be other things to do or cool places to visit that would usually pass you by on a snowboarding trip.
Experiencing something new in a place you are unfamiliar with can surprise you.
An example of something new to do is the Woodward Tahoe training facility. Here you can practice your freestyle skills indoors.
Hit The Shops, Bars, And Restaurants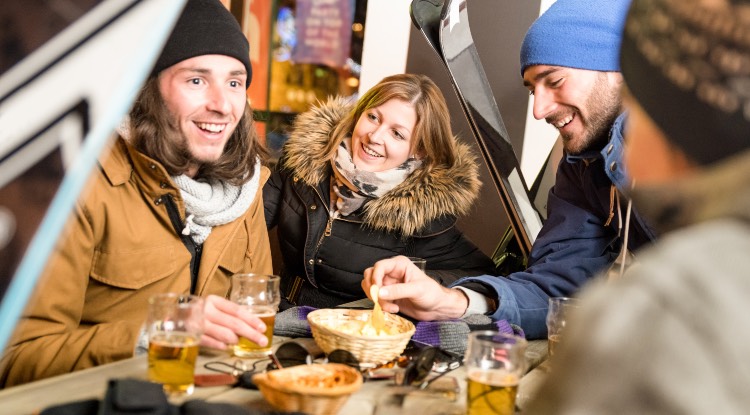 Whether you finish your day early or do not bother going out at all, rainy days are great for exploring ski resorts. You can get to see the resort's other attractions and amenities.
Often ski resorts are excellent for shopping, so you can find your next outfit to cope with the wet weather. Alternatively, you could treat yourself to a new snowboard.
One of the best times to hit the après bars is on a rainy day. Locals and visitors to the resort will all be in the same situation as you.
Therefore, the bars will be heaving with people and have great atmospheres. Bad weather is a great excuse for many skiers and snowboarders to take full advantage of the local bar scene.
If you prefer something a little more low-key, you could pick somewhere for a long lunch. Ski resorts are packed full of restaurants, so you can choose one that tickles your fancy and enjoy a big meal at a leisurely pace.
A day off the mountain can be good for you. It gives you a chance to rest your legs and recuperate. Therefore, you will be fresh for a full day of snowboarding tomorrow.
Final Thoughts
A day of snowboarding in the rain will never be as good as a bluebird day. However, you can still enjoy yourself when the weather conditions are not great.
If the weather forecast looks bad for your upcoming trip, there is no need to be disheartened. With some preparation and resourcefulness, you can still have a great time on a snowboarding trip.
Take the opportunity to hone your skills and have new experiences. By taking this attitude, you will not have a wasted trip.
Images are from Shutterstock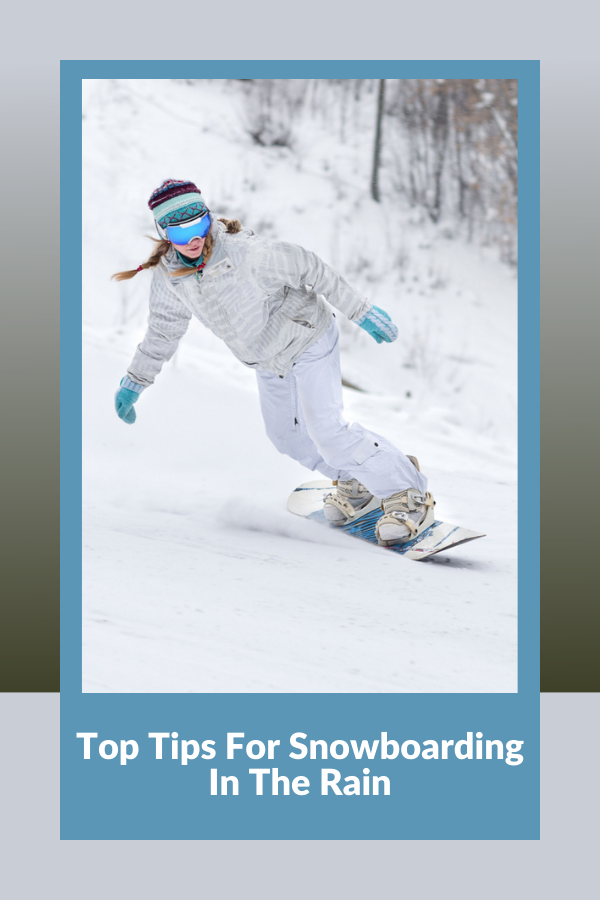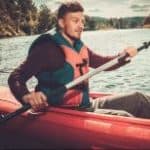 Author: Peter Salisbury
Pete is the Owner of KayakHelp.com. Born and raised in Cleveland, Ohio, he grew up kayaking, fishing, sailing, and partaking in outdoor adventures around the Great Lakes. When he's not out on the water, you can find him skiing in the mountains, reading his favorite books, and spending time with his family.