Trying a new sport often comes with a need to spend money on equipment, clothing, and lessons. So you may look for ways of reducing your costs by making do with what you already have.
For example, you can wear a waterproof jacket you might wear for hiking or other outdoor activities for skiing. But, one thing you don't want to do is ski without wearing a helmet.
A helmet is an essential piece of protection, no matter how new or experienced you are at skiing. A helmet won't let you get away with every type of crash, but it will prevent serious injuries in most situations.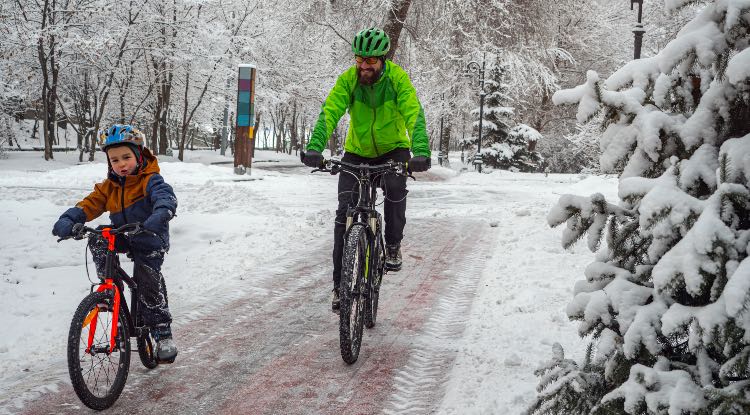 I Have A Bike Helmet, So I Will Just Wear That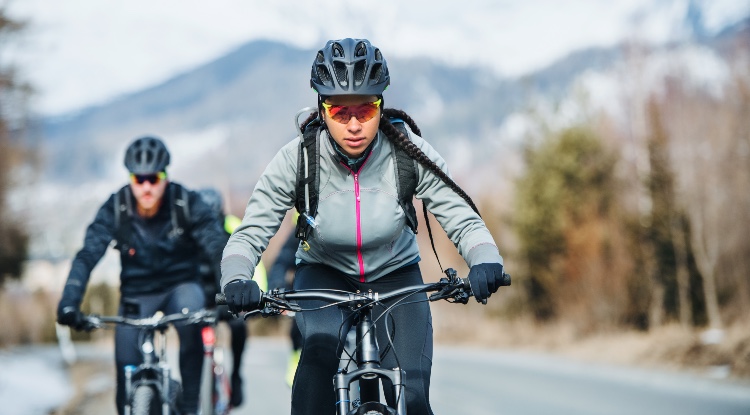 When you put together your ski outfit and equipment, you may be tempted to wear your cycling helmet. This is understandable if you only get on snow a couple of times per year.
However, there are a few reasons why wearing a cycling helmet while skiing is a bad idea.
Helmet manufacturers design their products for specific sports. They put in lots of research and development to provide the optimum protection for people doing those activities.
Part of this research and development is based on safety standards for each type of helmet. So, when you wear a specific helmet for a sport, you know it is up to the job.
Race officials would not allow you to compete if you wanted to wear a skateboard helmet for a mountain bike race. This is because different helmets give you different levels of protection around your head to suit your activity.
There is nothing to say that you cannot wear a bike helmet for skiing. But it doesn't mean that it is a feasible way of protecting your head in a crash.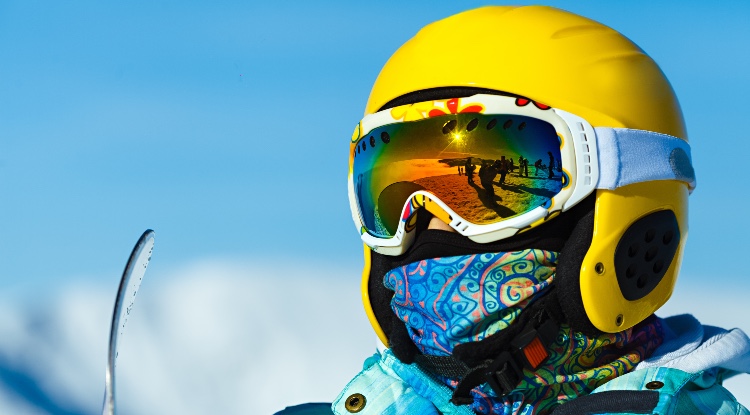 A ski helmet has more coverage than a standard open-face cycling helmet. When you compare them, you can see that a ski helmet covers the sides and back of the head more.
Ski helmets also keep your head warm in cold mountain weather. Their coverage goes a long way to insulate your head, but their ventilation differs significantly from a bike helmet.
Bike helmets have many vents and holes to keep your head cool when you are working hard. A head that is exposed to the elements isn't great when you combine freezing temperatures and wind while skiing fast.
Proper ski helmets have ventilation, but the vents are smaller, or in some cases, adjustable. Good ski helmets allow you to open and close the vents to suit the weather conditions and your comfort.
You need to remember that weather can change quickly in the mountains. You may start your day with blue skies, but you could easily find yourself in a snowstorm in the afternoon.
A cycling helmet with no insulation and lots of vents will make skiing in bad weather a miserable and potentially dangerous experience.
I Have A Motorcycle Helmet, So I Will Just Wear That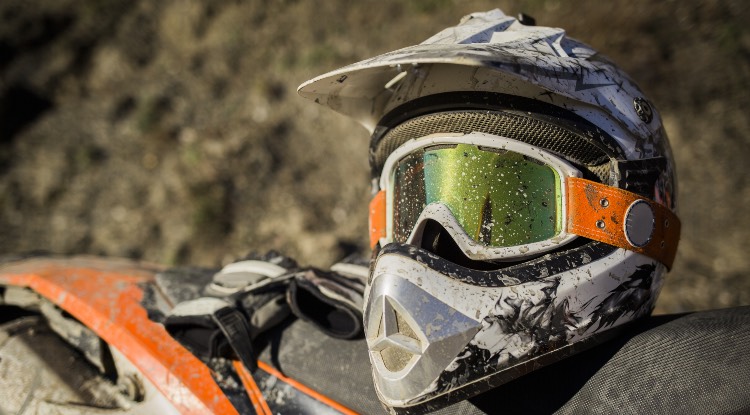 Suppose you wear a motorcycle helmet while skiing; you will definitely not get a cold head. You may also think that you will have more protection in a crash.
But, again, a motorcycle helmet is not made for skiing, so it is not appropriate for the job.
For a helmet to do its job of protecting your head in a crash, it needs to deform. When a helmet deforms, the shock of the impact dissipates around the shell and liner.
A motorcycle helmet is designed to take bigger hits than a ski or cycling helmet. Therefore, when you have a crash that doesn't cause it to deform, your head takes much of the shock.
Another reason for not wearing a motorcycle helmet while skiing is that you will feel more isolated. The thicker insulation and protection material dampens sound, so you will be less aware of what is going on around you.
Not knowing if another skier is close to you could result in a nasty accident. Most severe injuries from skiing come from colliding with other people and objects.
But I Don't Want To Spend More Money On Buying A New Ski Helmet
You can buy used ski helmets, but you need to be sure of their history. If you buy a used ski helmet, you cannot be sure if it has been dropped or crashed in.
Often signs of helmet damage cannot be seen from the outside. The helmet's inner part protects your head, and if this has been compromised, it won't work effectively.
The alternative to buying a ski helmet is to rent one. All good ski shops will rent you a helmet, and they often come free when you rent skis, boots, and poles.
Of course, you don't know if a previous skier has dropped your rental helmet either. But a decent ski shop will check their helmets after each customer.
You may not like the fact that your rental ski helmet will have had many heads in them before yours. But, the ski shop will properly clean it before they hand it over to you.
Buying A New Ski Helmet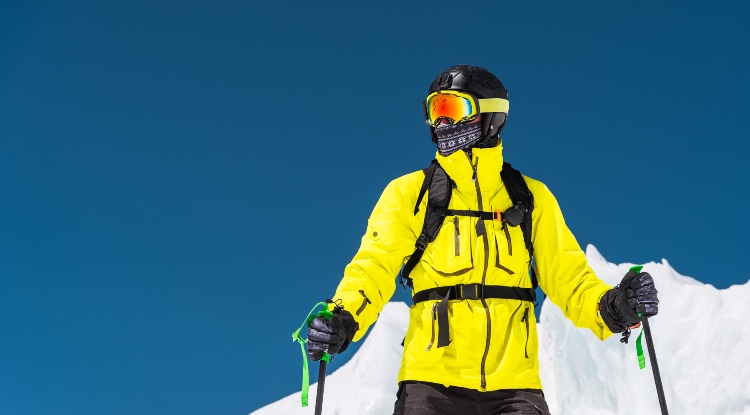 So you have decided that renting or buying a used ski helmet is not for you. In this case, you need some pointers on what to look for when you buy a new ski helmet.
Now we will break down the different parts of a ski helmet and features to look out for. Armed with this knowledge, you will be able to choose the best ski helmet for you.
The Two Main Parts Of A Ski Helmet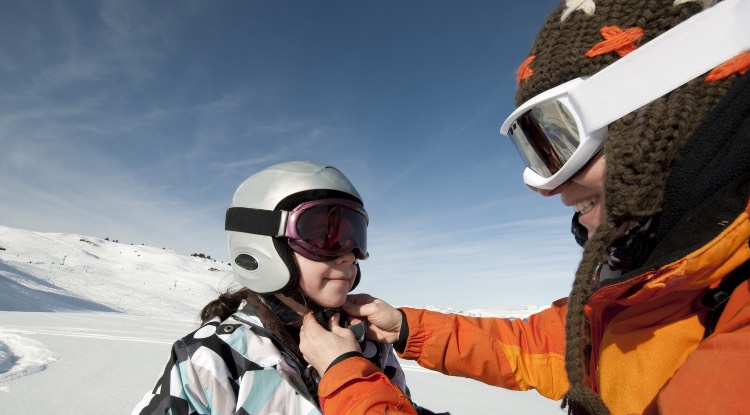 The Shell
A ski helmet's shell is the hard plastic layer you see on the outside. The shell's job is to protect your head from sharp objects, scrapes, and knocks.
When you hit your head, the helmet's shell helps to dissipate the shock around the helmet rather than through it. Its smooth surface also allows it to slide, preventing it from stopping suddenly, which causes neck injuries.
The Liner
The liner of a ski helmet is usually made from expanded polystyrene foam (EPS). During an impact, the liner compresses to absorb the shock.
After a significant impact, you should replace your ski helmet, as the liner remains compressed. If you hit your head in the same place, the compacted liner won't protect your head.
Ski Helmet Construction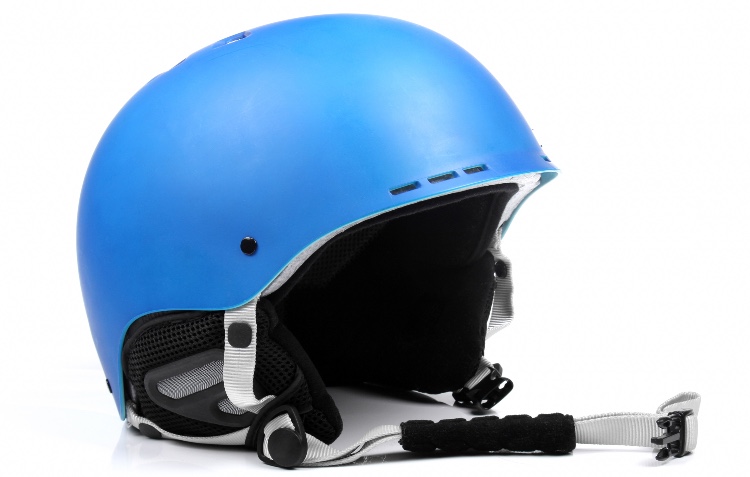 Ski helmet manufacturers use two main types of construction, in-mold, and injection mold.
In-mold
In-mold ski helmets, see the shell and liner attached during their molding process. This process means that they are fused together, creating a lightweight and sleek design.
Injection-molded helmets
Ski helmets that are injection molded see the two elements manufactured separately. The shell and liner are bonded together, which makes them more durable than in-mold ski helmets.
A nice feature of a ski helmet to look out for is if it has removable ear pads. Some people like to remove them to wear a beanie underneath their helmet to adjust how warm they are.
Some ear pads are "audio ready," which allow you to fit earphones or speakers into them.
Make Sure Your Ski Helmet Fits Properly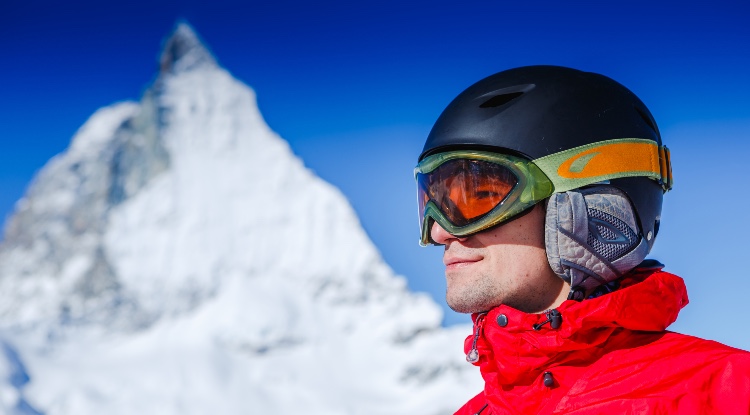 Trying a ski helmet on in a ski shop is the best way to see if it fits. But if you buy one online, and it doesn't fit perfectly, you may be tempted to just put up with it.
A ski helmet that doesn't fit properly will not protect you sufficiently, or even at all. Therefore, you should send your ill-fitting helmet back for one that fits properly.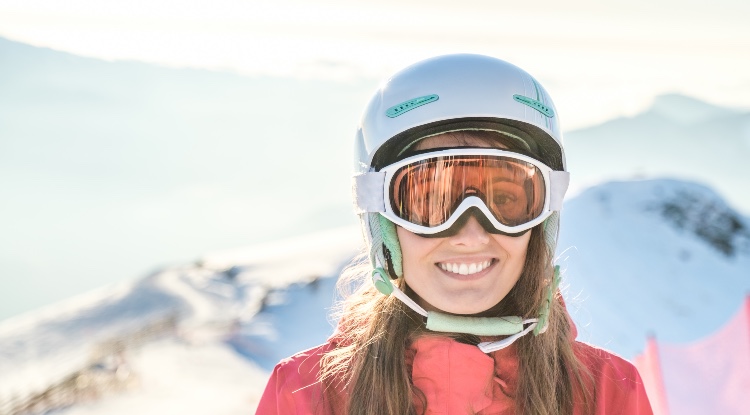 A top tip is to try a helmet on with your goggles. Your helmet and goggles need to interface correctly without interfering with each other.
If your goggles foul your helmet, it won't sit properly on your head. On the other hand, if you have a massive gap across your forehead, you will get cold or an embarrassing sunburn.
Get The Right Size Ski Helmet
When you buy a ski helmet online, you will need to measure your head. Measuring your head is a simple task, as you measure the circumference of your head above your ears.
Once you have a measurement, you just need to check the ski helmet manufacturer's sizing chart on their website.
Ensuring A Good Fit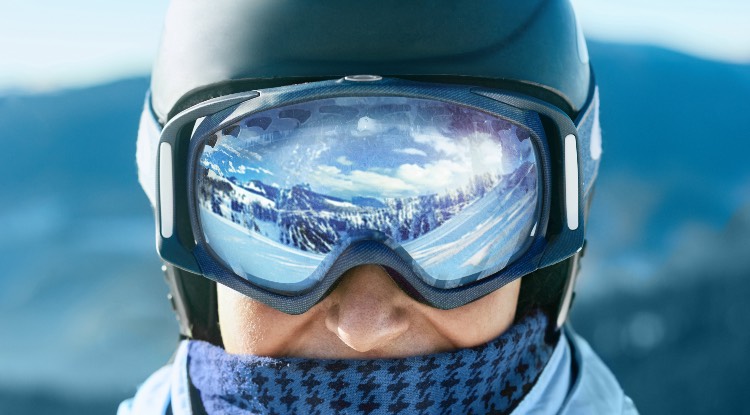 A well-fitting ski helmet should feel snug on your head but not too tight. If it is too loose, it won't stay in place during a fall, but it will become uncomfortable very quickly if it is too tight.
Fasten the helmet properly and try to move it with your hand. If it moves side to side or back and forth, the helmet is too large.
Also, if the helmet moves when you shake your head, you will need to try on a smaller size. However, some ski helmets come with alternative internal pads, so you can try thicker ones to prevent movement.
Most helmets are adjustable too. So tighten the chinstrap or tighten the adjustable dial to get the perfect fit.
The chinstrap should be across the upper part of your throat, so your helmet doesn't move in a crash. Also, your chinstrap should be snug but not so tight it restricts your jaw or pinches you.
Your ski helmet should sit low enough to cover your forehead, but the front should still be just above your eyebrows.
Do I Need A MIPS Helmet?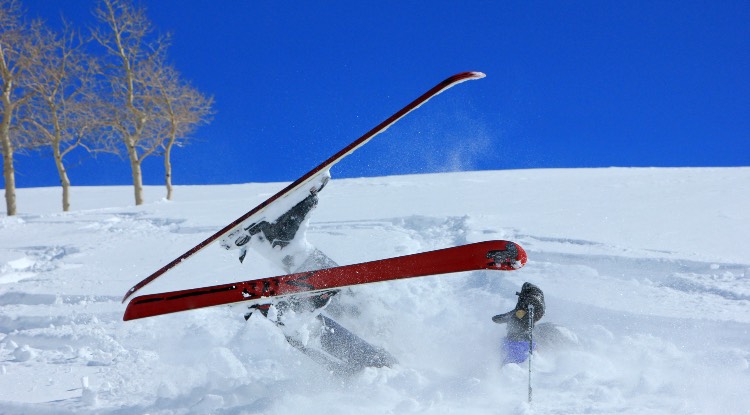 When looking at the various ski helmets on the market, you will come across MIPS, which stands for Multi-directional Impact Protection System. MIPS is a system that helps to protect your neck and head in a crash.
MIPS works to reduce the rotational forces you can get from angular impacts during a fall. The system uses a low friction layer that sits between the shell and liner.
The layer allows the shell to slide slightly around the liner. This movement takes some of the energy out of angular impacts, which is common in skiing accidents.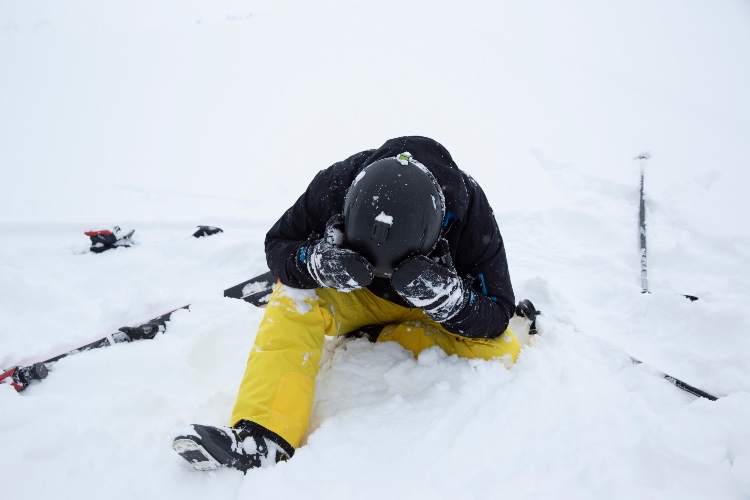 MIPS ski helmets are generally more expensive than ones without the system. However, they give you a significant improvement in protection.
If you can afford to go for a MIPS ski helmet, you should buy one as long as it fits correctly.
Ski Helmet Features And Accessories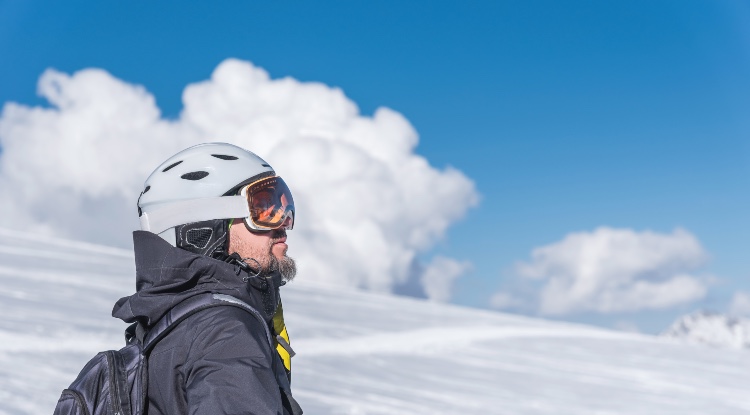 There are some ski helmets with additional features and accessories you might not have thought of. These accessories can enhance your comfort while making your day on the mountain even more fun.
Camera Mounts
Being able to film your mountain exploits hands-free is a great way to capture memories. You can attach adhesive camera mounts to your helmet, but some people suggest that they compromise the helmet's integrity.
Some ski helmet manufacturers fit their helmets with purpose-built camera mounts. These mounts break off with an impact so that the helmet can do its job unhindered.
If you attach a camera mount, check with the manufacturer's guidelines to check if the helmet is suitable. Also, make sure you don't fit it in a bad position.
If your camera is in a bad place, your footage will be terrible. But, it could also affect how your helmet fits with its extra weight.
Customizable Liners
You can often configure your ski helmet by adjusting its liner. Manufacturers will give you the option to fine-tune your helmet's fit with additional pads.
Some helmets also allow you to add or remove insulation from the liners to suit the weather conditions.
Adjustable Ventilation
Good ski helmets have built-in channels and vents to keep air flowing around your head. But sometimes, you will want some warmth.
Find a ski helmet with adjustable ventilation. These helmets have sliders that open and close vents, so you can regulate how much air flows through your helmet.
Fasteners
How your chinstrap fastens may seem trivial, but it can make a difference. If the clasp is fiddly, you won't be able to fasten and unfasten it with gloved or cold hands.
Look for magnetic or easy to fasten chinstraps. These make getting in and out of your helmet much easier and quicker.
Thumbnail
Title
Smith Quantum MIPS Snow Helmet - Matte Cloudgrey/Charcoal | Medium
Sweet Protection Igniter II MIPS Helmet, Dirt Black, Medium/Large, 840043DTBLKML
Oakley MOD5 Factory Pilot
Thumbnail
Title
Smith Quantum MIPS Snow Helmet - Matte Cloudgrey/Charcoal | Medium
Thumbnail
Title
Sweet Protection Igniter II MIPS Helmet, Dirt Black, Medium/Large, 840043DTBLKML
Recommended Ski Helmets
Check Price On Amazon
The Smith Quantum is a high-end helmet thanks to its level of protection and features. The Quantum uses Koroyd, which is a clever material that is fully vented, but it has excellent shock-absorbing properties.
Smith has made the Quantum a MIPS helmet, so you get extra protection for your neck. Along with all this protection, Smith has made the Quantum very comfortable.
Comfort comes from a wide range of adjustability so that you can get the perfect fit. In addition to this, the internal liner has odor-fighting properties, so it remains fresh for longer.
The Smith Quantum also has twenty-two vents to maintain airflow, keep you cool, and prevent your goggles from fogging.
Check Price On Amazon
A great alternative to the Smith Quantum is the Sweet Protection Igniter II. Sweet Protection has ensured that the Igniter II's ventilation is perfectly balanced, so your head doesn't get too hot or cold.
The Igniter II has bio-mapped protection, which follows the shape of your head perfectly. It also uses a TLC shell, which blends the elasticity of a traditional thermoplastic shell with the stiffness and strength you get from carbon fiber.
When you combine this with MIPS technology, you have a well-fitting helmet with excellent protection. This helmet is also audio-ready so that you can listen to your favorite tunes on the snow.
Check Price On Amazon
The Oakley MOD 5 is a ski helmet for freeriding. If you are an advanced skier that needs a lightweight helmet with excellent protection, this one is for you.
The adjustable ventilation system allows you to regulate the airflow through the helmet. Therefore you can be sure you won't overheat or be too cold.
To ensure that you get the perfect fit from your Mod5, Oakley has fitted it with theirCBOA 270 Fit System. This system provides fine-tuning, so you get a secure and comfortable fit for any type of skiing.
A neat feature of the Mod5 is the interchangeable brims. You can swap the brim, so your goggles fit the helmet without interfering with it or causing a forehead gap.
The additional advantage of the interchangeable brim is that it channels air, so your goggles don't mist up.
After a while, no matter what helmet you wear, the earpads will need to be washed. Oakley has made this easy by making the ones in the Mod5 removable, which are also compatible with speakers and earphones.
Final Thoughts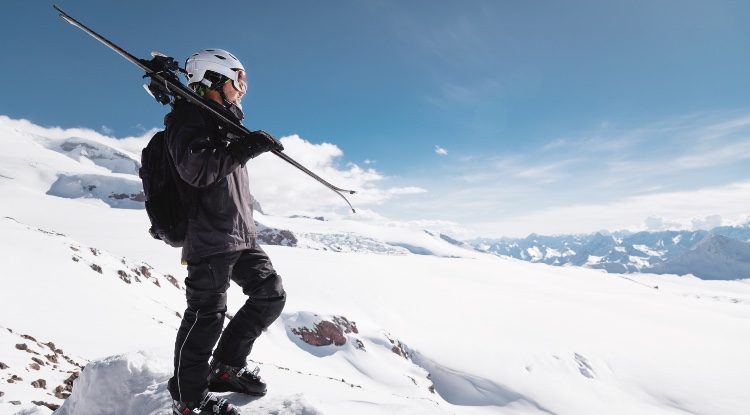 There is nothing to stop you from wearing a bike helmet for skiing. But, it is not something we recommend, and besides, it looks pretty silly.
But how it looks is not the main reason for wearing a proper ski helmet. Comfort and protection for your head are paramount when skiing at any speed.
Some people forgo a helmet in favor of a beanie hat. A hat may be comfortable, but it won't provide you with any protection from a crash.
Now you know what to look for in a ski helmet, you will be able to find the best one for you.
Images are from Shutterstock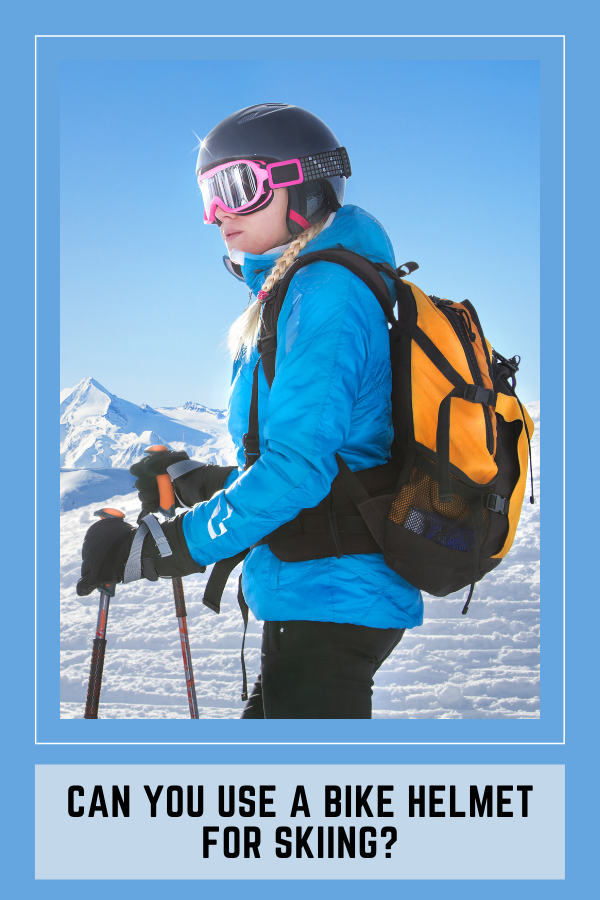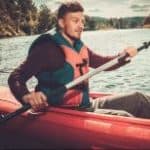 Author: Peter Salisbury
Pete is the Owner of KayakHelp.com. Born and raised in Cleveland, Ohio, he grew up kayaking, fishing, sailing, and partaking in outdoor adventures around the Great Lakes. When he's not out on the water, you can find him skiing in the mountains, reading his favorite books, and spending time with his family.