There are a few things as relaxing as floating along a lake or river in a kayak when the weather is nice and warm.
However, the stress of loading a hardshell kayak on the roof of your car, unloading it, and then dragging it to the water can take a lot of the fun out of the activity.
Inflatable kayaks were designed to solve this problem and make it easy and convenient for you to go kayaking whenever you want without having to worry about storage or logistics.
You can transport your inflatable kayak in the backseat or boot of your car or even put it in a carry-on and hike to the waterfront.
When you arrive at your destination, you can simply inflate the kayak in a matter of minutes and start paddling away.
Since more and more people have been opting for inflatable kayaks in recent times, many brands and models have arrived to fulfill the demands of the growing market.
Intex is one of those brands. It is highly regarded as the manufacturer of some of the best inflatable kayak models on the market.
This article is going to compare and evaluate the Intex Excursion Pro and the Explorer K2, two of the brand's premium inflatable kayak models based on their features, specifications, performance, durability, and other relevant factors.
So before you decide which kayak to buy between the two, check out the review for an in-depth understanding of each option and whether it's right for you.
Key Features and Specifications
Check Price on Amazon
The specifications for the Intex Excursion Pro are as follows:
Length: 12 ft 5 in, the longer length boat gives it better directional stability.
Width: 3 ft, so there's plenty of room for two kayakers to stretch.
Kayak Weight: 46.73 lbs (21.2 kg) when inflated, so it can easily fit into small spaces and be carried from place to place.
Weight Capacity: 400 lbs (181 kg), which means it can conveniently fit two average-sized paddlers and some gear.
Style: Single and Tandem with two-person capacity
Design, Material, and Construction
The Intex Excursion Pro is made with super-tough, three-ply PVC laminate material with a polyester core, making the kayak stronger and more resistant to sunlight, abrasions, and impact.
The kayak uses l-beam flooring combined with high-pressure inflation to provide better structure and rigidity. You won't have to worry about your kayak flipping over as you try to launch or exit.
With three separate air chambers-one for the floor and two at the sides-the Excursion Pro will remain afloat even if you accidentally puncture one of the air chambers.
The Intex Excursion Pro's open construction style supports easy access when entering or leaving the boat. Owing to the variable seat placements, the kayak can be paddled solo or in tandem with a partner.
Key features
Everything you need to take your kayak out to the water right away is included in the Intex Excursion Pro.
It comes with two bucket seats that can be inflated and installed on the boat, as well as two specially designed removable skegs to allow you to snake through shallow and deep waters more efficiently.
There's a hand pump to help you easily inflate and deflate the Intex Excursion Pro and two double-bladed aluminum paddles that can be broken down into five pieces.
You can secure your gear and dry bags with the D-rings that are conveniently placed around the kayak and use the handles at the front and back to carry the kayak from the land to the water and vice versa.
Also, you'll find a waterproof bag for stowing important gear at the bow of the kayak, a carry bag for transporting all the accessories and the kayak, and a repair patch for quick fixes.
The Intex Excursion Pro has some extra handy features for added convenience that are typically absent from most inflatable kayaks.
This includes floor-mounted footrests, two fitted fishing rod holders at the rear end, and an adjustable mount in front for holding other kayaking accessories like fish finders, GPS systems, phone holders, and more.
Pricing
The starting price for the Intex Excursion Pro is $499.99. Although it's far from being the cheapest inflatable kayak on the market, it is still within the affordable range and you'd be spending a lot less than you would on a plastic kayak.
Check Price on Amazon
The specifications for the Intex Explorer K2 are as follows:
Length: 10 ft 3 in, this makes it easy to maneuver without sacrificing balance.
Width: 3 ft, the broad base ensures optimal stability that beginners will appreciate.
Kayak weight: 36.7 lbs (16.6 kg) when inflated, which makes it one of the most lightweight kayaks on the market.
Weight capacity: 400 lbs (181 kg), so it can comfortably accommodate two average-sized paddlers and light gear.
Style: Tandem with two-person capacity.
Design, Material, and Construction
The Explorer K2 is a tandem kayak made with rugged polypropylene vinyl construction which allows it to withstand drops, bumps, and contact with sharp objects like sticks and submerged branches or rocks.
It sports a streamlined hull design and a bright yellow with sporty graphics that gives the kayak a stylish appearance while also ensuring it'll be easy to spot in the water in case of emergencies.
The Explorer K2's floor is made with an inflatable l-beam system-a flat bottom made up of small air tubes-which adds much-needed stiffness and makes the kayak stable on the water.
Thanks to the Explorer K2's three air chambers, the kayak is incredibly buoyant and you won't have to worry about it sinking even if one of the air tubes gets punctured.
Key features
The Intex Explorer K2 has a wide, open cockpit that makes entry and exit a breeze.
The great thing about this kayak is it comes with all the accessories you need to start using it out of the box so you won't have to spend extra on essentials before you can start embarking on float trips.
The inflatable kayak has a removable skeg that can be attached to the stern to improve tracking and enable the kayak to move in a straight line.
It has two inflatable folding seats with backrests to keep you comfortable during your trips and two 86" aluminum paddles with adjustable blade angles that can be separated into five pieces for easy transport.
You'll also get a repair patch and a high-output pump for easy inflation of the Explorer K2 and a carry bag made of thin mesh for transporting the deflated kayak and its accessories.
Finally, the Explorer K2 features grab lines on the stern and bow that can be used to carry the inflated kayak to and from the water. Alternatively, it can be used to tie the kayak to a dock or shoreline.
Pricing
With prices starting at $169.99, the Intex Explorer K2 is easily one of the cheapest inflatable kayaks on the market and it comes with a complete list of accessories.
Performance and Stability
Intex Excursion Pro
The Intex Excursion Pro may not be winning any awards for best-looking kayak but for an inflatable model, it handles amazingly well in different kinds of water.
The high-pressure design and three-ply construction make it capable of holding its own in regular obstacle-free waters and rocky shorelines. Since the fabric used for the boat doesn't absorb water, the Intex Excursion Pro delivers low drag and great speed that will exceed your expectations.
Additionally, the Excursion Pro can function as a fishing kayak thanks to the integrated rod holders and mounting brackets. So you'll be getting more use out of it than a traditional inflatable kayak.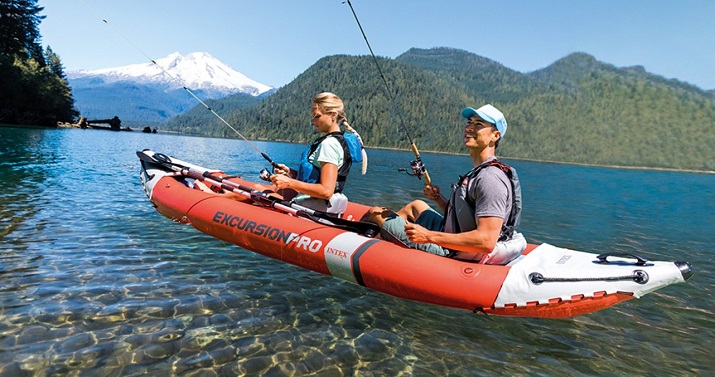 Like most inflatable kayaks designed for recreational use, the Excursion Pro may not be stable enough to withstand wild rapids and rough water conditions.
However, the Intex Excursion Pro is ideal for short trips in calm weather conditions on flatwater like lakes and slow-moving rivers without a lot of wind.
Stability, Maneuverability, and Tracking Abilities
The broad base, long length, and large sidewalls make the Intex Excursion Pro a very stable kayak. It comes with two skegs for optimizing and improving tracking, directional stability, and paddling performance.
The smaller skeg will help you wade through shallow waters easily while the bigger skeg will allow you to expertly navigate deeper waters.
You can even add an optional fin to increase the Excursion Pro's above-average tracking capabilities even further.
Some customers have reported that the fin holders for their Intex Excursion Pro were glued on in a skewed way which might interfere with the kayak's ability to maintain a straight line.
Also, while the paddles included in the package are great for beginners, they're not very durable or powerful. If you're a professional paddler, you'll likely not be impressed with them so you may want to consider replacing them with more efficient kayak paddles.
Explorer K2
When you're out on the water, the Intex Explorer K2 will feel stable and easy to control even if you're not using the skeg.
Paddlers who are accustomed to using plastic kayaks will notice that the Explorer K2 is slower but in reality, it actually moves at a reasonable speed for an inflatable kayak of its size.
The open design of the cockpit combined with the kayak's shallow depth means that you'll be more likely to swamp if you encounter rough waters or challenging waterways.
To avoid this, it is best to restrict usage of the Explorer K2 to calm or sheltered waters. The Explorer K2 can handle smaller choppy waves and tranquil waters with grace and ease but I wouldn't count on it to take on white water or the open sea.
Stability, Maneuverability, and Tracking Abilities
The Explorer K2 has a flat inflatable l-beam floor that provides increased rigidity and stability. The uniform width of the kayak from the stern to the bow also helps to make it more stable in water.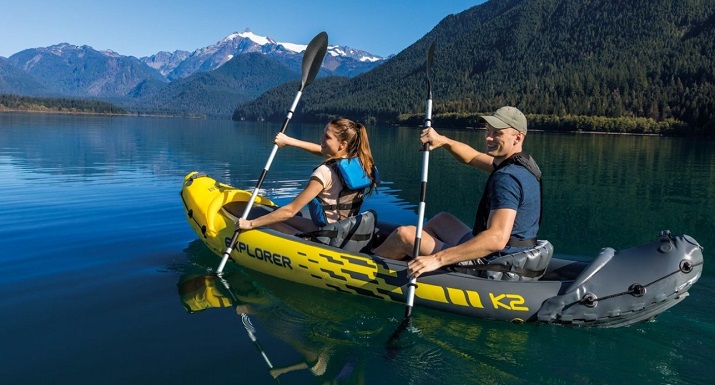 You can get a decent degree of buoyancy from the Explorer K2 when out of the water by inflating it to the recommended pressure level.
However, for optimal buoyancy, you will have to inflate the kayak slightly beyond the recommended level. As long as you're using the Explorer K2 in calm waters and non-windy conditions, you should have no trouble executing maneuvers with the boat.
The kayak comes with a removable skeg that can improve and significantly enhance its tracking abilities when attached.
Although the Explorer K2 is a bit slow to respond, it makes up for this by offering good speed and allowing you to negotiate turns and change directions easily.
However, rough conditions can drastically reduce the performance of the Explorer K2; the kayak's wide hull will cause it to drag and move a lot slower.
Comfort and Convenience
Intex Excursion Pro
One of the best selling points of the Intex Excursion Pro is its customizability. You can adjust the kayak seats and switch from solo to tandem configuration depending on your needs.
In tandem mode, the Excursion Pro still gives plenty of room for you and your partner to move forward or backward without bumping into each other.
You will both have the space to execute whatever paddling technique or brace strokes you want to use. The Intex Excursion Pro also comes with a seat pad that can be inflated and placed under the seats to raise the height.
This feature will come in handy for shorter or smaller paddlers or anglers, giving them a better vantage point from which to cast rods or reach into the water with paddle blades.
One downside of the Intex Excursion Pro is that the backrest for the seats doesn't offer a great deal of support for your back. If you lean too hard or too far back into it, it can easily fold or give way.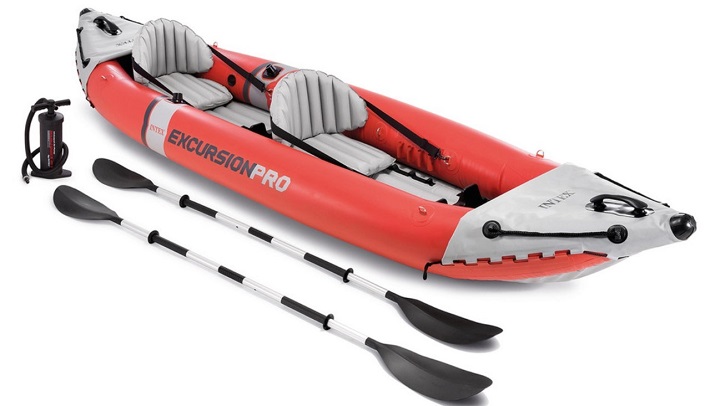 Another interesting comfort-enhancing feature that the Excursion Pro provides is adjustable footrests. It's rare to find an inflatable kayak with this feature so it's definitely appreciated because foot braces can give you better support when paddling.
They can also enable you to exert less effort with your paddle strokes which means that you won't be as exhausted at the end of the kayaking trip.
There are three different positions for the foot braces so you can place them in the position that's most suitable for you.
Furthermore, the Intex Excursion Pro has considerable room to store plenty of kayaking gear on the deck. It also has accessories like D-rings for tying down your bags and a waterproof bag attached to the bow for holding valuables that you don't want to get wet.
Explorer K2
For an inflatable boat, the Explorer K2 is quite comfortable to sit in. The kayak has adjustable seats that can be removed or installed for a more relaxing and forgiving paddling experience.
However, it's worth noting that the backrests won't give you as much support as you would want, so if you're going to be embarking on longer trips, you should be prepared for some stiffness and backache.
One disadvantage of the kayak's shallow depth which causes it to sit lower in the water is that you are more likely to get wet during your excursion.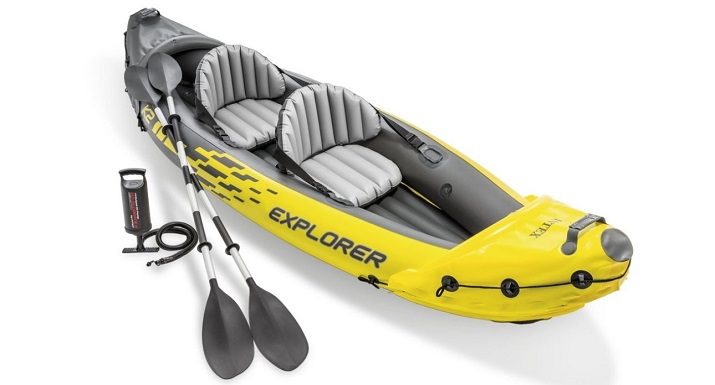 Additionally, there's not a lot of storage space to work with on the Explorer K2, which relegates the kayak to being used primarily for short leisurely trips.
If you're planning a full-day's trip or a multi-day tour, you won't have any compartments or accessories to store your gear.
However, like the Excursion Pro, the Explorer K2 allows you to remove one of the seats when paddling solo, which can solve the lack of legroom and storage space that exists when using the tandem configuration.
Durability and Construction
Intex Excursion Pro
You probably don't want to buy an inflatable kayak that you'll need to replace in just a few months.
Thankfully, the Intex Excursion Pro is made with polyester fabric that is coated inside and out with 30-gauge PVC and this three-ply construction makes it stronger than the average inflatable kayak.
As a result, the Intex Excursion Pro is highly resistant to punctures and abrasions so you can go paddling in waters with sticks and rocks and the kayak will remain intact and bring you back home safely.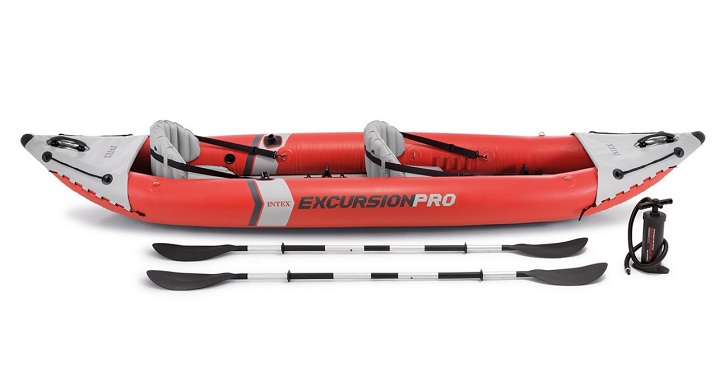 The quality of the materials used in manufacturing the Intex Excursion Pro makes it less likely to be harmed by exposure to the sun or other substances like salt water, gasoline, and oil.
Additionally, the material used for the construction of this kayak dries quicker because it doesn't soak up water.
There's a much lower chance that you will accidentally store away the kayak while it's still wet, creating the conditions for mold to grow, and causing the kayak to break down faster.
All this means the Intex Excursion Pro kayak is very durable. It won't deteriorate quickly from regular use so you'll be able to go paddling with it for many years.
Additionally, the Intex Excursion Pro is covered by a 90-day warranty, which means that if you find something wrong with your kayak, you can return it and Intex will give you a new one.
Explorer K2
Like most inflatable kayaks, the Explorer K2 is made from polyvinyl chloride (PVC) material.
The kayak is constructed in a way that makes it able to withstand bumps, scrapes, abrasions, scratches, or encounters with blunt objects. Unlike the Intex Excursion Pro, the Explorer K2 is lacking on the UV resistance front.
The fabric used in making the kayak will deteriorate faster with constant sun exposure.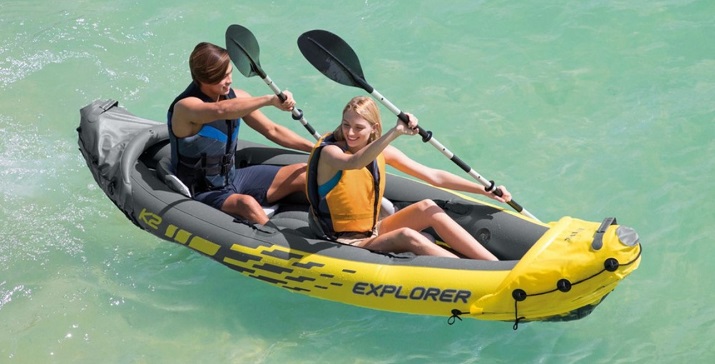 If you want your Explorer K2 to last longer, you'll have to store it away from the sun when it's not in use.
The Intex Explorer K2 also comes with a 90-day warranty so if you find the product to be defective after your purchase, the manufacturer will replace it with a new one for no extra cost.
User Reviews and Feedback
Intex Excursion Pro
The Intex Excursion Pro has a 4.4/5 customer rating on Amazon with over 6,000 submitted ratings, of which 69% are 5-star ratings and an additional 16% are 4-star ratings.
No matter how you slice the data, it is an indisputable fact that most customers who have purchased the Excursion Pro are happy with their decision.
Many customers appreciate the construction quality, spaciousness of the kayak, and the thoughtfully fitted and well-positioned D-rings it offers for attaching all kinds of equipment and gear.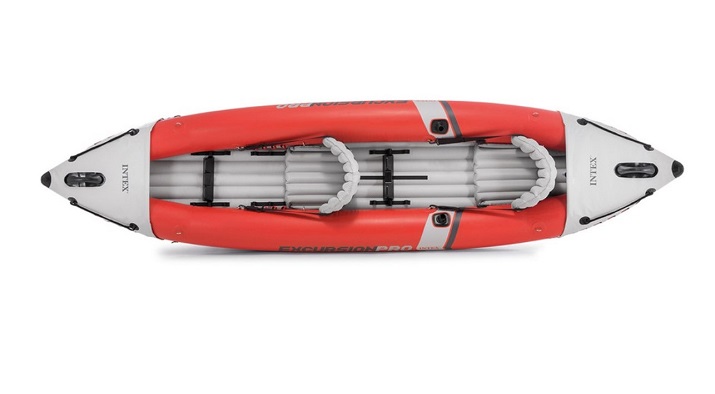 For some other customers, the allure of the Intex Excursion Pro is in its portability and ease of storage. Despite the avalanche of good reviews, the Intex Excursion Pro is not without its flaws.
Some users have criticized the kayak's paddles for being short, flimsy, and not built for powerful strokes. Also, customers have complained about the kayak's seats because they offer little back support and could leave one feeling uncomfortable for the duration of their trip.
Other customers consider the kayak to be a good bargain for the price and praise it for performing excellently in flatwater and smooth rivers.
Explorer K2
The Intex Explorer K2 has a 4.5/5 customer rating on Amazon with over 27,000 submitted ratings, of which 73% are 5-star ratings.
Customers often compliment the Explorer K2 for being easy to set up, clean, store, and transport as well as for providing all the equipment you need to use the kayak. Others have great things to say about the kayak's durability which allows it to last for years even with frequent use.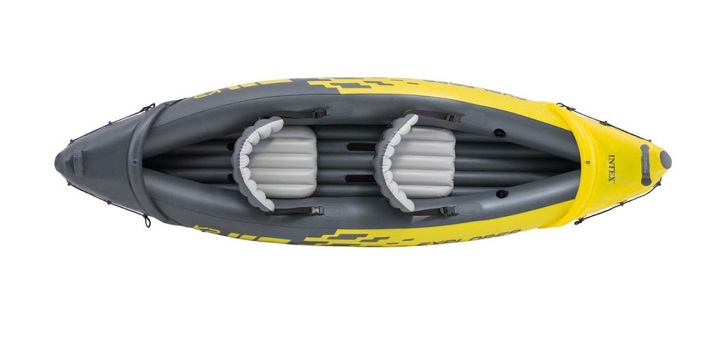 Contrary to some users' expectations, the Explorer K2 has proven to be easy to control, move fast on the water, and made with quality materials that can stand environmental abuse and the test of time.
According to another user's review, they considered the Explorer K2 to be a sturdy and buoyant boat that maneuvers well in water.
Customers have also reported some complaints about the Explorer K2 such as how challenging it can be to work the straps that help support the backrest of the kayak seat.
Recap – Intex Excursion Pro vs Explorer K2
The Intex Excursion Pro and the Explorer K2 are both high-value inflatable kayaks, especially when you consider their prices and all the accessories they come with.
Both kayaks are easy to assemble and dismantle and they offer good speed, stability, and maneuverability. However, in terms of individual offerings, the Intex Excursion Pro is the better of the two models.
It has better tracking, plenty of interior space, tougher fabric that's more resistant to tears and UV damage, and built-in features for paddlers who also want to do some fishing.
The Excursion Pro also comes with two skegs for improved tracking in deep and shallow waters, footrests for added comfort, and a seat cushion for adjusting the height of the seats.
The extra benefits are definitely worth it being double the price of the Explorer K2.
At the end of the day, if you're a beginner or pro looking for an affordable inflatable kayak that delivers better-than-average performance, the Intex Excursion Pro and the Explorer K2 are great options worth considering.
Your final decision will come down to your preferences, budget, and specific needs, but either way, you're guaranteed a decent kayaking experience.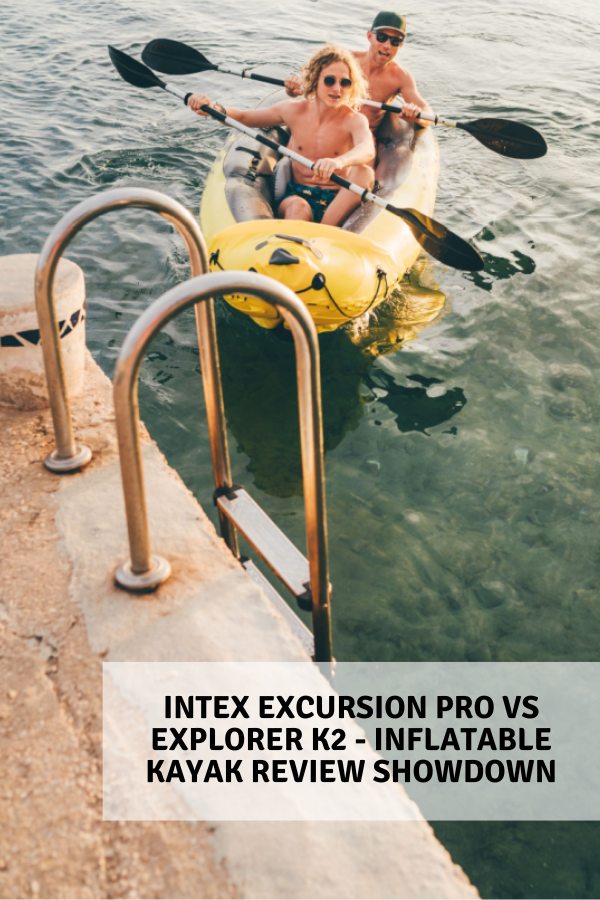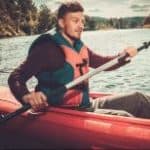 Author: Peter Salisbury
Pete is the Owner of KayakHelp.com. Born and raised in Cleveland, Ohio, he grew up kayaking, fishing, sailing, and partaking in outdoor adventures around the Great Lakes. When he's not out on the water, you can find him skiing in the mountains, reading his favorite books, and spending time with his family.