Owning a stable kayak allows you to explore the joys of kayaking on your own terms and at your own convenience without always having to depend on a more experienced partner to accompany you and help you when your kayak flips over.
When you're not constantly worried about controlling your kayak and preventing it from capsizing, you can focus on relishing your time on the water and practicing new techniques to improve your paddling skills.
The more stable a kayak is, the more confident you'll feel using it and the more enjoyable your trip will be. This is especially important if you're a beginner at Kayaking.
Deciding what kayak to buy as a beginner can be pretty overwhelming because you don't have a lot of knowledge or experience to draw from and you can't tell how stable a kayak is just by looking at it.
But don't worry because I've got your back.
In this post, I'm going to explore some of the best stable kayaks for beginners in the market today to guide you and help you find the right kayak for you.
Let's get into it.
Thumbnail
Title
Oru Kayak Foldable Kayak Haven TT | for 1 or 2 People - Stable, Durable, Lightweight - Lake and River Kayaks - Beginner, Intermediate - Size (Unfolded): 16'1" x 33", Weight: 41 Lbs
INTEX 68305EP Challenger K1 Inflatable Kayak Set: Includes Deluxe 86in Aluminum Oar and High-Output Pump – Adjustable Seat with Backrest – Removable Skeg – 1-Person – 220lb Weight Capacity
Sevylor Quikpak K1 1-Person Kayak Blue, 8'7" x 3'
Intex 68303EP Excursion Pro Single Person Inflatable Vinyl Fishing Kayak Set, Red
Driftsun Rover 120 Inflatable Kayak - 1 Person Adult White Water Single Rider Foldable Kayak Canoe Set with Padded Seat, Aluminium Paddle, Action Cam Mount, Pump, High Pressure Floor & Travel Bag
Most Stable Kayaks For Beginners 2023
Check Price on Amazon
This portable folding kayak by Oru Kayak is perfect for kayaking newbies who don't have a lot of space in their homes to store a traditional hardshell kayak.
The kayak is made from 5mm double-layered custom polypropylene, which makes it highly resistant to punctures and abrasions from sand, sticks, and stones.
The Oru Kayak Inlet can easily be folded up like origami and tucked away behind, underneath, or on top of your other belongings regardless of how small your living quarters are. The kayak can be carried on your shoulder like a sling bag, allowing for effortless transportation to the water.
And once you arrive at the launch area, you can unfold and set up the Oru Kayak Inlet in three minutes.
The Oru Kayak Inlet features an open cockpit design that allows for easy entrance and exit. The cockpit is spacious enough to hold your fishing gear or a small dry bag filled with the belongings you need for a day-long water excursion.
Thanks to Oru Kayak Inlet's hull width, beginners will feel right at home in the kayak because of the stability it offers.
So whether you're looking forward to a fun float trip in a lake or planning to go fishing on a river you won't have to worry about suddenly losing your balance and ending up in the water.
You don't have to spend hundreds or thousands of dollars to buy a kayak, nor do you have to keep renting one every time you plan a float trip. With less than $200, you can own the Intex Challenger K1, one of the most stable kayaks for beginners.
The Intex Challenger K1 is an efficient inflatable kayak designed for leisurely adventures in calm, flat water. It comes with a paddle, skeg, and pump included so you won't have to spend extra money on purchasing those accessories.
The kayak is made with puncture-resistant vinyl and comes with two separate air chambers which means that if one chamber somehow manages to get punctured, the kayak would still stay afloat.
Thanks to Intex Challenger K1's wide and stable frame, you'll not have any trouble maintaining your balance and staying upright in your boat. The Intex Challenger K1 seat provides impressive support and comfort and it doesn't move while you paddle.
Also, since it's inflatable, the Intex Challenger K1 eliminates common hindrances that could prevent you from going kayaking as much as you'd like.
For instance, you don't have to stress about how to transport your kayak or carry it to the water because the Intex Challenger can fit into a carry-on and is incredibly lightweight even after it's been inflated.
If you're a beginner who's still trying to learn the ins and outs of kayaking without investing in expensive equipment or worrying about storage space, the Sevylor Quikpak K1 is a great boat to kick off your journey with. It costs less than $200 and is inflatable, making storage and transportation a breeze.
The Sevylor Quikpak K1 is pretty durable and offers better-than-average performance considering its low price.
This sit-on-top kayak is very lightweight and prone to wind interference, making it best suited for trips on gentle, smooth-flowing, flat waters with minimal waves and wind.
With tarpaulin construction on the bottom, the Sevylor Quikpak K1 is resistant to punctures and tears. The kayak is also made up of multiple air chambers so even if one becomes compromised, your boat will remain afloat and continue working like normal.
The Sevylor Quikpak comes with a comfortable backrest and multi-position footrest for relaxed paddling, as well as a storage area for securely storing items with bungees.
It's also sold with a paddle and pump included so you won't have to buy them separately at an additional cost.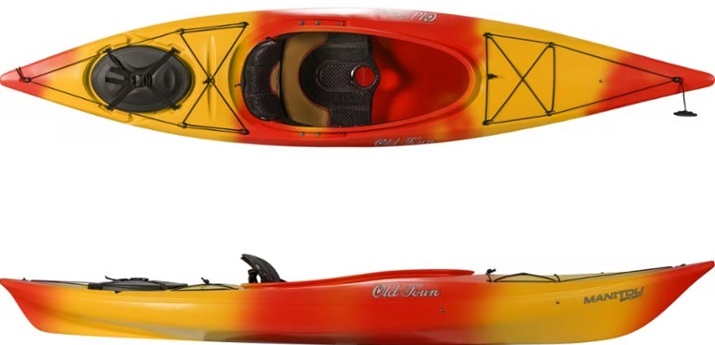 Old Town's Manitou Sport is a sleek, beautiful watercraft that doubles as a sea and flatwater kayak. Whether you're planning multi-day touring trips or a simple recreational float trip as a beginner, it will deliver outstanding stability and performance to keep you hooked and coming back.
Made with rotomolded polyethylene plastic, the Manitou Sport is as durable and damage resistant as kayaks come. Its 10 ft 11-inch hull and broad keel make it very easy to maneuver and provide improved tracking performance to make your paddling more efficient.
The Manitou Sport goes a step further to ensure your safety while kayaking by including perimeter lines and recess in the stern deck. To maximize comfort, the boat provides foot pedals and an adjustable ACS2 seating system so you can enjoy your ride without putting great stress on your lower back and legs.
Manitou Sport's large cockpit supports easy entrance and exit from the kayak and its stern hatch offers ample room for storing and keeping your gear dry on day trips. The boat also features rigging on the stern and bow, which provides additional options for securing and transporting your gear.
The Excursion Pro is another stable kayak for beginners from the Intex Technologies family that's ridiculously affordable and easy to use and doesn't sacrifice performance.
It's constructed with laminate PVC with a polyester core, which makes it super lightweight and resistant to sunlight, impact, abrasions, and punctures.
The Excursion Pro leverages high-pressure inflation to provide incredible stability and rigidity and allow for quick and easy inflation and deflation of the kayak.
When you purchase this kayak, you'll get all the essential gear you need to start using it right away such as an air pump, paddle, grab handles, adjustable seat, and inflatable seat booster for added elevation.
Other accessories available in the Excursion Pro include a floor-mounted footrest, adjustable and detachable GoPro and phone mount, two removable skegs for shallow and deep water, two detachable fishing rod holders, and adjustable mounting brackets for extra accessories.
Storage space is not lacking in the Excursion Pro with roomy compartments in the stern and bow, as well as stainless steel D rings for tying down your gear and dry bags.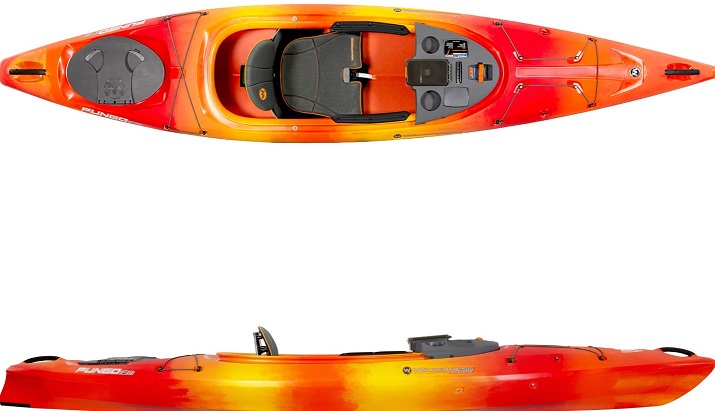 The Pungo 120 is a high-quality performance kayak by Wilderness Systems that offers maximum stability and simplicity that beginners will cherish, while still being powerful enough for expert paddlers to love. Its precisely engineered hull allows the kayak to remain straight and stable even when dealing with rough winds and water.
Although the Pungo 120 can handle any type of water, it shines best when used in flat water. The lightweight nature of the kayak allows for independent loading and carrying.
This sit-in kayak brings you excellent tracking and speed to match your intensity any day of the week. Pungo 120's patented AirPro seating system is designed to be adjustable and support your lower back.
It also comes with Slidelock XL foot braces and thigh pads to keep you completely comfortable throughout your trip.
The Pungo 12 is outfitted with cup holders, carry handles, replaceable skid plates, bungee rigs, spacious sealed hatch, and mounting platforms for installing additional accessories like a camera holder and rod holders.
While the Pungo 120 is not nearly as cheap as most of the options on this list, you will be getting your money's worth and more. The kayak's premium design and construction can support frequent kayaking expeditions for many years without performance being compromised.
Driftsun Sun Rover is a convertible kayak perfect for beginner, casual, and thrill-seeking paddlers. Whether you take it to open flatwater or you want to try your hands at running rough whitewater, this kayak will rise to the occasion.
Constructed with reinforced layered PVC, the Driftsun Rover offers incredible protection, allowing you to safely paddle in waters littered with logs, rocks, and other obstacles without worrying about damaging your boat.
Its drop stitch floor easily rivals the stability and feel of a hardshell kayak, without the extra weight, leaving you with a boat that is responsible, rigid, and resistant to forces that might affect your motion.
For stellar tracking performance in flatwater, the Driftsun Rover comes with a rear tracking skeg which can be removed whenever you're going whitewater kayaking or folding the kayak up for storage.
This versatile paddle craft can withstand up to class III and IV rapids and is available in both one-person and tandem kayak models.
Other impressive features you'll find in the Driftsun Rover include a camera mount, tie-down points, front and rear carry handles, adjustable padded seat and footrests, and self-bailing drain plugs for effortless and rapid draining of the cockpit.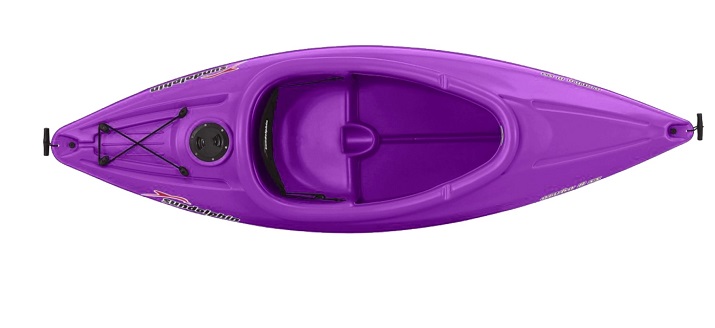 If you're looking for a no-frills stable kayak for beginners that gets the job done efficiently at an affordable price, look at the Sun Dolphin Aruba sit-in expedition and touring kayak.
This one-person lightweight vessel is the perfect companion to take with you on lake and river trips. With this boat, you don't have to worry about damaging your kayak by paddling in rough waters surrounded by tree logs and rocks because its rock-solid frame is resistant to impact.
Sun Dolphin's Aruba 8 SS is made of durable, high-density UV Fortiflex®️ polyethylene material and comes with an adjustable cushioned seat to keep you relaxed and comfortable for the duration of your trip.
It provides protective thigh pads and adjustable foot braces to help you position yourself appropriately in the kayak. The Sun Dolphin Aruba 8 SS also has some degree of shock cord deck rigging that you can take advantage of.
The Sun Dolphin Aruba is easy to carry and furnished with a paddle holder and multiple storage compartments at the top and rear of the kayak for transporting your kayaking equipment and baggage safely without getting them wet.
Escape into nature faster and without fuss using the Aquaglide Chelan 120, a lightweight inflatable kayak ideal for exploring gentle rivers and lakes, embarking on touring trips, and enjoying other recreational flatwater paddling adventures.
Aquaglide Chelan 120's distinct blend of drop-stitch, hard-bottom floor, and extra tough Duratex™️ tube construction provides you with an impressively rigid, stable, and responsive kayak.
This versatile kayak has an 11.5-foot open bow layout which gives you plenty of space for carrying a child, gear, or pet. It's uniquely designed to deliver high-level performance in one portable package that you can easily transport, set up, and store away.
Each purchase of Aquaglide Chelan 120 includes all the components you need to use and maintain the kayak such as an adjustable seat, fin, valve adapter, storage bag, and repair kit.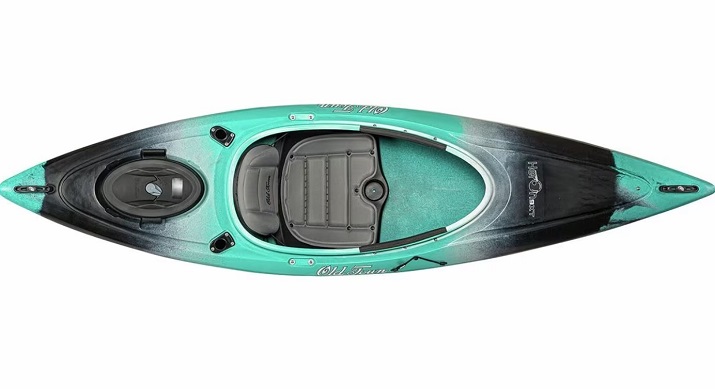 Old Town's Heron 9XT is a reasonably priced recreational kayak that's built to provide both kayaking beginners and seasoned paddlers with all the comfort they need while spending time on the water.
In terms of measurement, the kayak is a bit on the short side, standing at only 9'6 feet (2.9 m) long with a deck height of 13″ feet. This combined with its low weight (37 lbs) makes the Heron 9XT lightweight and very easy to maneuver.
The Heron 9XT's hull is designed to remain stable and balanced regardless of the water conditions. It performs best in flat waters and lakes so you can take it out whenever you want to go exploring or fishing.
Heron 9XT comes with adjustable seats, so regardless of your height and frame, you are guaranteed to find a seating position that works for you in this boat. It also features a cup holder, thigh pads, paddle rests, support track foot brace, and two flush-mount rod holders for added convenience.
If you're only planning to spend a day on the water, you'll find Heron 9XT's stern storage to be ample enough to fit your essential kayaking gear. You won't have to worry about water getting into your belongings because the stern hatch has a waterproof click-seal cover.
This stable beginner kayak from Advanced Elements is constructed with rip-stop polyester and PVC tarpaulin to withstand all kinds of abrasions and resist tears.
The Lagoon 1 offers built-in sturdy panels in the bow and stern to cut through waves and improve tracking performance.
Despite its lightweight design, the Lagoon 1 is built to last for a long time. The kayak's twistlock and high-flow spring valves make setting up quick and easy.
The Advanced Elements Lagoon 1 kayak handles well in bays, lakes, estuaries, and gentle rivers and is sure to deliver excellent performance and portability on every trip.
You can say goodbye to stiff and sore joints after a day of kayaking thanks to Lagoon 1's comfortable integrated seat.
You'll also be getting other features such as paddle loops, foam floor, D-ring bungee deck lacing, zippered mesh pocket, rubber carry handles, and an inflatable coaming for attaching a spray skirt.
The Lagoon 1 kayak is reasonably priced and comes with additional accessories including a repair kit, folding seat, carry duffel bag, and an owner's manual.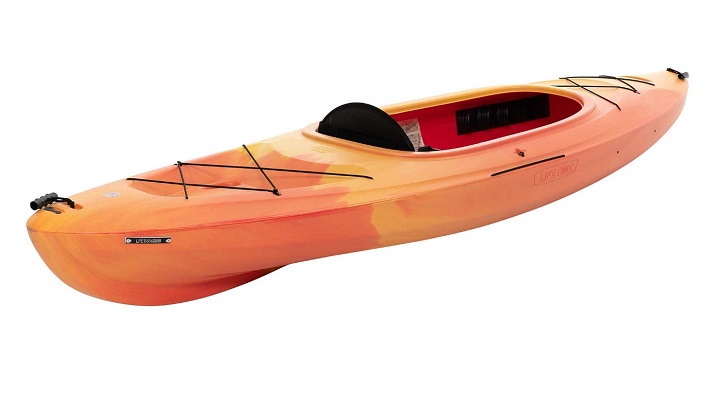 Enjoy maxed-out stability on your next outdoor water adventure with Lifetime Charger 10, a sit-in kayak designed for use on tranquil ocean bays, slow-moving rivers, and lakes.
The great thing about the Lifetime Charger 10 is that it's simple and comfortable enough for newbies to use, while still delivering a high level of performance that will satisfy intermediate paddlers.
This means that you won't need to change your kayak as your kayaking skills improve because the Lifetime Charger 10 will serve your needs. The kayak has incredible tracking capabilities that allow it to maintain a straight course on the water.
Getting in and out of the Lifetime Charger is extremely convenient as a result of its sizable open cockpit. With adjustable seating and footrests, the Lifetime Charger can easily be customized to suit different people and their proffered sitting positions.
Lifetime's Charger 10 comes with front and rear handles, allowing for effortless transportation, as well as an easily accessible rear-tank well storage and bungee storage for securing your belongings.
The Elkton Outdoors Cormorant is one of the best stable kayaks for beginners who are in the market for a tandem boat that'd allow them to bring along a partner on their expeditions.
This 10-foot inflatable fishing kayak is outfitted with multiple rod holders, removable mesh storage compartments, and easy-to-install EVA padded seats with comfort gel interior.
It provides users with plenty of other accessories such as a double action pump, skeg, paddles, and a carry pack. The Elkton Outdoors Cormorant is built with durable materials including thick tarpaulin, 18-gauge PVC, and a tough nylon cover to give you many years of use without experiencing compromised performance.
This kayak is highly resistant to hooks and tears so you can banish any worries about developing a leak while out on the water.
The Elkton Outdoors Cormorant inflates in minutes and enables you to set up your rods using a variety of positions and strategies to increase the chances of reeling in a great catch.
On the off-chance that your kayak gets damaged while you're out fishing or touring your favorite spots, Elkton Outdoors Cormorant's three removable air chamber design will enable you to quickly diagnose and repair the leak.
If money is no object and high performance is a priority, the Eddyline Sandpiper is hands down one of the most stable kayaks for beginners you can invest in.
Its large cockpit and incredible buoyancy make getting in and out of the boat simple to do and its high-performance hull provides exceptional tracking and stability.
The Eddyline Sandpiper is 12 feet long with a weight of 38 lbs, a 10-inch stern hatch opening, and an 8-inch bow hatch opening, which along with the adequate deck space gives you plenty of room to store your kayaking gear.
It also comes with deck fittings, enabling you to keep some of your luggage on the outside of the kayak.
This kayak is best used for exploring calm and inshore waters like ponds, lakes, rivers, and class I-III rapids. It has an adjustable backrest to provide maximum comfort while you're seated, as well as performance foot braces and retractable carry handles for effortless conveying of your kayak to and from the water.
Eddyline Sandpiper is a beautiful lightweight boat that you can easily transport on your own and handle really well in water even if you don't have a lot of kayaking experience under your belt.
Conclusion
As a beginner, the kayak you choose will make or break your paddling experience. You want a kayak that's attuned to your needs and that you can easily control and feel comfortable in, not one that makes you feel like you're in the fight of your life.
The kayaks on this list are some of the most stable offerings in the market that will ensure you stay upright throughout your trip, instead of capsizing and needing to be rescued.
The options here span different types, price points, and levels of features, so you'll have no trouble picking one that suits your budget and intentions.
Happy shopping and paddling!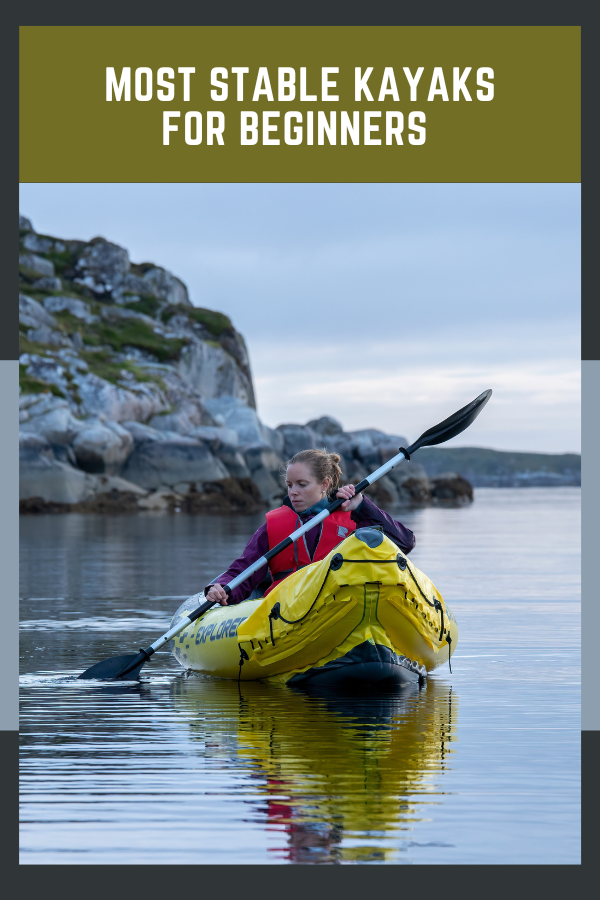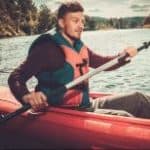 Author: Peter Salisbury
Pete is the Owner of KayakHelp.com. Born and raised in Cleveland, Ohio, he grew up kayaking, fishing, sailing, and partaking in outdoor adventures around the Great Lakes. When he's not out on the water, you can find him skiing in the mountains, reading his favorite books, and spending time with his family.