The key to staying safe when you're out kayaking is excellent communication. Being able to pass information freely within a kayaking group allows you to make sure no one is becoming overtired or struggling with the pace.
It also lets you point out potential obstacles or hazards, like low head dams or areas of unusually fast-moving water.
Two-way radios are an excellent option for fostering that level of contact amongst your group. They allow for reliable, constant communication without having to worry about a mobile phone signal.
Buying the best two-way radio for you and your group means you need to take in to account a lot of different factors before making your purchase.
To help you out, we've put together a jargon buster to simplify the technical language, a buying guide to let you know what you should be looking for in a two-way radio, and reviews of some of the best kayak-friendly models on the market.
Midland 50 Channel GMRS Two-Way Radio - Long Range Walkie Talkie with 142 Privacy Codes, SOS Siren, and NOAA Weather Alerts and Weather Scan (Black/Yellow, Pair Pack)
Uniden MHS75 Waterproof Handheld 2-Way VHF Marine radio, Submersible, Selectable 1/2.5/5 Watt Transmit Power. All USA/International and Canadian Marine Channels - Color Black
Midland 50 Channel GMRS Two-Way Radio - Long Range Walkie Talkie with 142 Privacy Codes, SOS Siren, and NOAA Weather Alerts and Weather Scan (Black/Yellow, Pair Pack)
Uniden MHS75 Waterproof Handheld 2-Way VHF Marine radio, Submersible, Selectable 1/2.5/5 Watt Transmit Power. All USA/International and Canadian Marine Channels - Color Black
Best Waterproof Walkie Talkies
Walkie Talkie Jargon Buster
GMRS: The General Mobile Radio Service is an ultra high-frequency radio service designed for two-way communication at a short distance. You need a license to use it in the United States, but some GMRS-compatible equipment can be used license-free in Canada.
FRS: The Family Radio Service is an improved walkie-talkie radio system used in the United States. This personal radio service uses a frequency range from 462 and 467 MHz in the ultra high frequency (UHF) band.
VOX: Voice Activated Transmit functions, or VOX, allows you to use your walkie-talkie hands-free. For the best use of this feature, you'll need a headset with a microphone connected by wire or Bluetooth, if supported.
NOAA: The National Oceanic and Atmospheric Administration is an American scientific agency that studies the conditions of the oceans and the atmosphere. They offer a number of radio channels that warn of hazardous weather conditions in your local area.
NiMH Battery: Nickel metal hydride batteries are often found in rechargeable electronic devices and are preferable to Nickel Cadmium (NiCd) batteries because of their higher capacity, lack of memory effect, and that fact that they are environmentally friendly.
Buying Guide
Waterproofing
Since you are buying your two-way radio for use in a kayak, it's a good bet that at some point it's going to get wet. Whether it's from rain, splash-up from a paddle, or because of an accidental trip overboard, your radio is going to meet the water, so it's best to invest in one that is built to survive that meeting.
The term "waterproof" is used in a fairly general manner when it comes to electronics, and the exact level of waterproofing can vary depending on what IPX code is attached to the item.
If you are looking for a two-way radio that is completely waterproof, then it best to invest in one marked IPX7. IPX7 rated electronics can withstand being submerged in water as deep as one meter for up to 30 minutes, meaning your brand new walkie-talkie won't die the moment it hits the river.
If you are anxious about your two-way radio going overboard, then it might be worth purchasing one that floats. Many walkie-talkie manufacturers offer this feature, and the radios in question often come in bright colors to make them easier to spot and retrieve.
Range
The range of your two-way radio is not massively important unless you are looking to use it for other purposes that would require a long-range or you have a base camp which you want to check in with regularly.
The range of your radio will depend on what type of radio it is. FRS radios generally have a maximum range of around 6 miles, while a GMRS radio can reach up to 50 miles.
These ranges are not fixed but will depend on a number of factors, such as weather conditions and the topography of the area you are in.
Weight and Size
Like any piece of gear you are planning to take in your kayak, it is essential to consider the size and weight of the walkie-talkie you are planning on getting.
Granted, not many two-way radio models are particularly bulky, but those offering crush and damage resistance are typically more substantial than standard models.
Since damage resistance is ideal for kayaking, you'll need to take this into account and make sure you have somewhere to stow your two-way radio that's both secure and easy to reach when you are paddling.
Privacy Codes
The term privacy codes is actually a little misleading. It doesn't guarantee that your communications are going to be private. Anyone using the "monitor" function on the same channel as you will be able to hear your conversations.
What it does allow you to do is filter out other people's conversations from the channel you and your group happen to be on. Two-way radios can have up to 22 channels, but in heavily populated areas or places where large numbers of people go kayaking, all those channels might be in use.
Radios featuring the "privacy code" function allow you to tune those communications out so you won't miss anything from your own group or interrupt other people.
Emergency Features
Some models of two-way radios offer specific emergency features. Some offer audio and visual beacons that transmit an SOS in Morse code on all available channels.
Others can send a loud noise across all of the channels your group is using, getting progressively louder until someone responds to it.
None of these features are vital to the function of your radio, but if you are taking part in the types of kayaking that can be hazardous, whitewater kayaking or playboating, the additional safety they offer can be worth the extra price.
Power
Most two-way radios run on rechargeable batteries, either Nickel metal hydride (NiMH) or Nickel Cadmium (NiCd). Bringing spare batteries with you is always a good idea, though.
Many models of two-way radio are also capable of using Lithium-ion (Li-ion) or alkaline batteries, which are ideal in keeping as spares as they lose power at a far slower rate than NiMH or NiCd batteries.
Best Waterproof Walkie Talkie Reviews
Check Price on Amazon
Maximum Range:
36 Miles
Privacy Codes: Yes
Weather channels: Yes
Waterproofing: JIS4
Battery Type: NiMH
The GXT1030VP4's compact design is ideal for those paddlers looking to save space in their kayak. The GXT1030VP4 comes with VOX operation for hands-free communication and is Bluetooth compatible, suitable for those situations where you need to communicate but can't take your hands off the paddle.
It also features "direct calling," allowing you to directly communicate with a member of your group without changing channels or altering the rest of the group.
To keep you up to date with the weather in your area, the GXT1030VP4 automatically scans for the local NOAA weather station.
Physically, the GXT1030VP4 is rugged and damaged resistant, with rubberized buttons for more comfortable use in wet conditions. It is, however, only JIS4 waterproof, meaning it can withstand heavy rain for up to 30 minutes but cannot be submerged into water.
It isn't designed to float so you'll have to be cautious to not let it fall overboard! the GXT1030VP4 is compatible with standard AA alkaline batteries that you can pack as spares.
PROS
CONS
Summary: The GXT1030VP4 is an excellent radio for taking on whitewater excursion, where it can be safely strapped within a wetsuit and used, via VOX or Bluetooth, to communicate without taking your hands off the paddle.
For more general use, the fact that it does not float and does not have IPX7 waterproofing put it behind some of its competitors on this list.
Check Price on Amazon
Maximum Range:
36 Miles
Privacy Codes: Yes
Weather channels: No
Waterproofing: IPX7
Battery Type: Li-ion
The upgraded model of the MD-390 combines a digital mobile radio (DMR) with GPS functionality to make a walkie-talkie that is ideal for use in terrain that would otherwise limit radio communication.
While analogue radios are often restricted by the range of their transmitters, digital radio can use digital repeaters to transmit radio signals over much longer distances without losing clarity.
This means that the DMR doesn't really have a maximum range at which it won't work anymore, but the analogue works great even at 36 miles! The MD-390 has both digital and analogue capabilities, giving you the option to switch between them if you are in dense terrain or outside the range of a digital repeater.
Because of the fact that is is a DMR, the MD-390 is able to send text messages in addition to the usual radio communication, and is VOX compatible for hands-free use.
With IPX7 waterproofing, you don't have to worry about the MD-390 getting wet or even submerged, but it doesn't float so recovering it might be a little tricky.
The build of the MD-390 isn't as rugged as some of the radios on this list as it lacks a rubberized covering, nor does it come with batteries. While it does feature over 1000 channels and a privacy code feature, there are no automatic tracking systems for local NOAA weather channels.
PROS
CONS
Summary: The MD-390 is a fantastic digital mobile radio for use in areas where traditional GMRS radios struggle to connect due to the surrounding terrain.
Outside those circumstances, the MD-390s less rugged design and lack of features, such as an NOAA station scanner, make it less useful.
Check Price on Amazon
Maximum Range:
34 Miles
Privacy Codes: No
Weather channels: Yes
Waterproofing: IPX8
Battery Type: Li-ion
Designed primarily as a marine radio, the MHS75 features a number of functions that are ideal for a sea kayaker. IPX8 waterproofing means the MHS75 is fully submersible and thoroughly water and dustproof.
The MHS75 comes pre-programmed with NOAA weather channels and a weather alert systems that will interrupt other communications to warn you of hazardous weather in your area.
If things do go wrong on your trip, the MHS75 allows you to simultaneously monitor up to two Coast Guard Distress/Hailing channels, as well as to one NOAA weather channel and one regular marine channel.
In addition to its IPX8 waterproofing, the MHS75 also floats although the fact that it only comes in black can make it difficult to see in the water.
Equipped with a rechargeable Li-ion battery, the MHS75 isn't compatible with other types of battery but does come with a clip-on "rapid charger" that will work in any standard 12-volt DC "cigarette lighter" style outlet. The whole package comes with a 3-year warranty against manufacturing faults.
PROS
CONS
Summary: The MHS75 makes an ideal two-way radio for kayakers who spend most of their time out on the sea. A weather alert system keeps you up to date with any atmospheric hazards in your area, and being able to monitor Coast Guard Distress/Hailing channels while communicating with you group helps keep you and others safe.
Check Price on Amazon
Maximum Range:
37 Miles
Privacy Codes: Yes
Weather channels: Yes
Waterproofing: IPX7
Battery Type: NiMH
The COBRA CXT1045R combines all of the features you would want from a kayaking walkie-talkie with a rugged build that will shrug off the worse drops and knocks that can happen when you are out on the river.
A GMRS radio with 37 miles of reach, the CXT1045R should have more than enough range to keep you in contact with your group. The CXT1045R is powered by NiMH rechargeable batteries but will also take AA alkaline batteries.
To keep you up to date with any changes in the weather, the CXT1045R has a built-in NOAA weather and emergency radio receiver which identifies your location and automatically sends you weather reports for the local area.
The CXT1045R has 2,662 channel combinations available, 22 of which can be combined with 121 privacy codes to make sure there is no overlap with other people's communications.
The "Rewind-Say-Again" function allows you to replay the last 20 seconds of an incoming call, in case you missed something important.IPX7 waterproofing means the CXT1045R can be submerged in 1 meter of water for up to 30 minutes, although it is built to float!
The CXT1045R also comes with a handy, hi-vis, orange core to make fishing it back out of the water that much easier. If you need a little extra light on your paddling journey, the CXT1045R also comes with a built-in LED flashlight on its base.
PROS
CONS
Summary: The CXT1045R is ideal for just about any paddling adventure. Whether you're whitewater kayaking or just enjoying a peaceful fishing trip, its long communication range, solid construction, and the wide range of features will make it the ideal piece of kit for just about any situation where you need to communicate reliably.
Maximum Range: 35 Miles
Privacy Codes: Yes
Weather channels: Yes
Waterproofing: IPX7
Battery Type: NiMH
The T631 is ideal for kayakers with "butterfingers." It's rugged, rubberized, designed to be  damage resistant against rocks or being tossed around in your kayak. The IPX7 waterproofing means you don't have to worry about it getting wet.
If it does happen to go for an unplanned swim, the fact that it floats will make it easier to recover. Should you be out on the river in the dark, the T631 also has a light-activated flashlight to make it easy to see!
It has 22 channels, each with 121 privacy codes, as well as NOAA weather alerts, all perfect to stay in touch with your group and keep up to date on the weather you'll be kayaking in.
It comes with the built-in flashlight and micro-USB charging capabilities that you might need out on the water, all while being wrapped up in an easy to see hi-viz yellow package.
PROS
CONS
Summary: The T631 is an excellent all-around radio for kayaking or fishing. It's rugged, waterproof, it floats, and is easy to use. In terms of pure functionality, it loses out to the COBRA CXT1045R, and some of the other radios on this list will be better suited to specific circumstances or activities.
But if you are looking for a solid all-rounder, then the T631 is an excellent choice.
Check Price On Amazon
The COBRA CXT1045R has all the features you could possibly want in a two-way radio for kayaking or fishing. Weather channel monitoring, a considerable communication range, privacy channels, and their proprietary "Rewind-Say-Again" function.
It's powered with NiMH batteries, but can take on alkaline batteries in a pinch with no problem! All of this comes in a rugged, floating, IPX7 waterproof package that can survive a little rough treatment while out on the water.
It's LED flashlight is also a bonus, making your list of supplies one item lighter. While other walkie-talkies might perform better in specific circumstances, the CXT1045R has the most well-rounded design and range of features.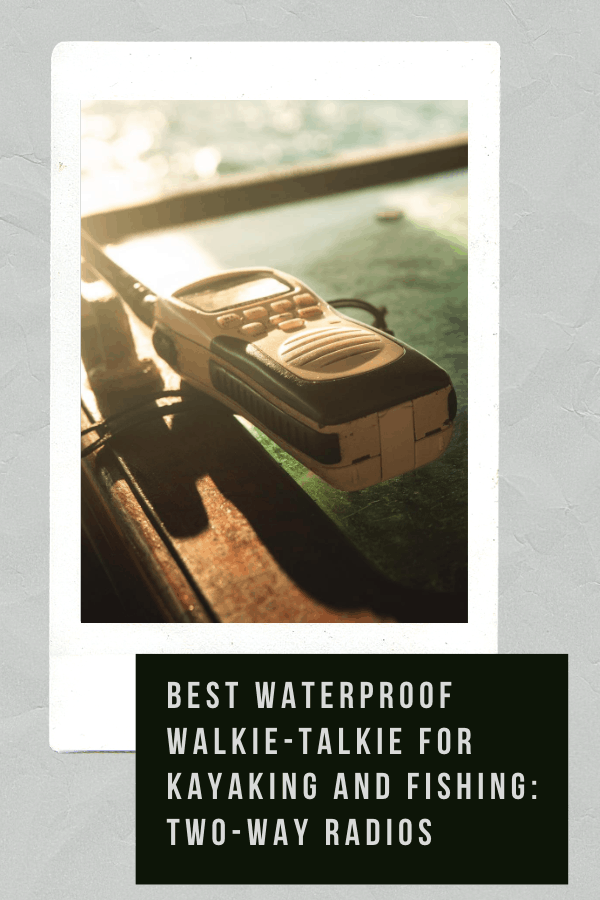 Author: John McCloy
John is a professional copywriter, fencer, and paddlesports fanatic based in the UK. When he's not out on the water, he can usually be found convincing new people to try kayaking, pretending to be Zorro or climbing what passes for mountains in England.