Most of the time, kayaking is a sport focused on moving forward. Touring, sea, and whitewater kayakers are often on the move, paddling to reach the next stretch of beautiful coastline or pulse-racing drop.
Sometimes, however, you'll need your 'yak to stay in place for a while – maybe you're fishing, enjoying the view, catching up with your group, or just need a rest. That's where your kayak anchor comes in!
A good kayak anchor will keep you securely in place on a variety of underwater terrain, and won't take up too much room in your kayak. Picking the right kayak anchor depends on a number of factors, such as the size and weight of your kayak.
To make it easier to pick out the perfect kayak anchor for you, we've put together a buying guide and given reviews of some of the best anchors on the market.
Best Kayak Anchor
Kayak Anchor Buying Guide
Anchor Design
Most kayak anchors use the "grapnel" design over the bigger and heavier "dead weight" or "mushroom" designs seen on larger watercraft.
Grapnel anchors use their four extended flukes to catch on the seabed or river bottom, holding your kayak in place. Because they do not use their weight to anchor your kayak, grapnel anchors are often far lighter than traditional anchors, with most anchors weighing between 1.5 and 3.5 pounds.
This lighter weight means they won't overload your kayak, while the ability to fold the flukes up when not in use makes them easier to store.
Scope
An anchor's "scope" is how much rope or chain is needed for the anchor to trail far enough behind your kayak that it tips over on it side and snags on the bottom.
Too much rope and you might find the rope itself gets tangled or caught on debris, meaning you'll have to cut the line and lose your anchor. Too little rope and it will "skate" along the bottom, skimming over catch points and not stopping your 'yak.
When considering how much rope to bring for your anchor, the best metric to use is any rope or chain will need to be seven times longer than the depth of the water you are paddling in. The NOAA keeps charts of both river and sea depths in the US that you can check when planning your journey.
Anchoring Points
Getting the right design of an anchor and length of rope is only half the battle. It's just as important to make sure your anchor is correctly attached to your kayak, which is where anchoring points come in.
Most kayak anchoring points are at the bow or the stern of the kayak. This is because kayaks are long and narrow crafts, designed to cut through the waves. Anchoring your kayak at the midpoint would run the risk of turning it sideways into the wave, potentially swamping it as the waves broke over the sides of the boat.
Most anchoring points are universal, allowing for the use of rope knots, carabiners, or screw-clips to fasten your anchor rope to them.
It should be noted that not all kayaks have an anchor mounting point, such as inflatable or folding kayaks, so it's always best to check first. Anchor plates can be attached to a kayak, but this often involves screwing them on through the hull, so if you're not comfortable doing this yourself it's best to find a kayak supplier who can do it for you.
Anchor Trolleys
An anchor trolley allows you to switch the anchor mounting point on your kayak from the bow to the stern and back again on the fly. This is particularly important for sea and fishing kayakers.
For sea kayakers, the ability to change your anchoring point allows you to adapt to the wind and the waves, avoiding the chance of water slopping in over the side if your anchoring point causes your kayak to turn side-on to the waves. This is true of any large body of water, such as a lake, but is most important at sea.
For kayak anglers, the ability to change the anchoring point of your kayak is important as it allows you to change the direction of your cast. Looking at most fishing kayaks , they usually come with a fishing seat, which provides a higher and more stable position for casting.
As these seats often face in one direction, re-positioning them means re-positioning your kayak. An anchor trolley allows you to do that without the effort of moving and re-anchoring your kayak.
To facilitate this stability, most river fishing kayaks have a wide beam with a flattened, multi-chined hull. The multi-chined hull has the added advantage of making it easier to edge into tight turns and provides greater secondary stability.
The stability of a flattened hull does come at the cost of some speed, as the kayak is more likely to plane across the surface of the water rather than cut through it.
However, as the river fisherman is more likely to be confronted by twisting watercourses than open flat water, the greater stability, and maneuverability of the flattered multi-chined design is a reasonable tradeoff for a lowered top speed.
Storage
Storage is key on a fishing kayak. There needs to be room for all of your fishing gear, all your standard kayaking gear, and potentially room to store your catch.
The shorter design of most river fishing kayaks can make it difficult to fit in all the necessary storage as there is less internal space than there would be in a longer touring kayak. Look for models with a large internal hatch. The hatch should ideally be waterproof.
Additional bungee storage on the outer hull allows you to store dry bagged items within easy reach. Some kayaks also feature rod and paddle storage so that your paddles can be stowed while fishing and your rods safely packed away while paddling.
Best Kayak Anchor Reviews
Check Price On Amazon
The BEST folding grapnel kayak anchor runs a close second to the Compass Surf kayak anchor kit in terms of utility and durability. The 3.5-pound steel anchor is galvanized which prevents corrosion, and folds down to the same compact 2-inch by 3.5-inch size.
It comes with the same 40 feet of nylon rope, although it isn't marine-rated.It lacks a dry bag, meaning you'll either have to buy one or store your anchor somewhere waterproof. Galvanization might prevent the anchor from rusting, but constant exposure to water will degrade the rope and fittings.
If you own an inflatable kayak, the lack of a padded storage bag might be an issue as it increases the chance of an anchor fluke accidentally damaging your kayak's hull. The BEST folding grapnel kayak anchor does have a quick release hook for those situations where you need to become untethered as quickly as possible.
PROS
CONS
Summary
If you don't need the dry bag or the padded container but are still looking for a durable and utilitarian kayak anchor, then the BEST folding grapnel kayak anchor is an excellent choice. It's light, compact, corrosion resistant, and has a one-year, money back guarantee in case the worst happens.
Check Price On Amazon
The Extreme Max complete grapnel anchor kit is a budget-friendly offering that provides you with all the basics you'll need from an anchor. The 3.5-pound painted galvanized steel anchor is corrosion resistant and comes with a sturdy nylon storage bag with protective padding.
It comes with a snap-hook fastening and a rope, but neither one are marine-rated so they may be vulnerable to salt corrosion if you are planning on sea kayaking. The rope is only 25 feet long, making it difficult to maintain the proper 7:1 rope scope needed for proper anchoring. It does, however, come with a buoy to aid in anchor retrieval.
PROS
CONS
Summary
If you are looking for a budget anchor that comes with the requirements for use and attachment, then the Extreme Max complete grapnel anchor kit does offer that. If you are looking for any accessories or a particularly durable anchor, you may want to look elsewhere.
Check Price On Amazon
The 1.5-pound Seattle Sports kayak anchor is ideal for smaller kayaks where space is at a minimum and the extra weight is not needed to keep the anchor in place. The grapnel design of the Seattle Sports kayak anchor is just as effective at anchoring your kayak as heavier models, making it a great choice for inflatable or folding kayaks with its lightweight.
For kayak anglers, the Seattle Sports kayak anchor kit also comes 50 feet of nylon rope and a ring fitting which allows it to switch quickly from bow to stern, giving you more options on your casting position. It should be noted that this does involve running the anchor line along the side of the kayak, which will need to be taken into consideration when calculating your 7:1 ratio for scope.
PROS
CONS
Summary
Lightweight and easy to switch between stern and bow mooring positions, the Seattle Sports kayak anchor kit makes an excellent addition to lightweight or inflatable kayaks and is especially useful for kayak anglers. Just try to keep in mind how the ring fitting might take up some length of the 50-foot rope.
The OceanMotion kayak anchor kit combines a sturdy, 3.5-pound galvanized steel anchor with 40 feet of reflective marine-rated rope. The added reflection of the rope makes it easier to spot if your anchor gets lost, or if you are out on an early morning or night fishing trip.
The clasp for the rope is stainless-steel to prevent corrosion and the whole kit packs into a padded nylon cinch-top bag. To give you peace of mind over its durability, the OceanMotion kayak anchor set is fully warrantied against manufacturer defects for two years. It also comes with an attached buoy for easy anchor retrieval.
PROS
CONS
Summary
The OceanMotion kayak anchor kit is ideal for kayak anglers who prefer to fish in the evening, early morning, or at night. The kit gives you everything you need to get anchored up, plus a high-visibility rope to keep you a little bit safer.
Made of solid steel, the 3.5-pound Compass Surf anchor comes in a high-visibility red paint to both aid in visibility and to prevent corrosion.
This is ideal if you are sea kayaking where salt corrosion can be a real concern. The anchor folds up to 12 inches by 3.5 inches, making it easy to stow even in smaller kayaks. To make sure your anchor doesn't damage your 'yak, the Compass Surf anchor comes with a padded storage bag as well as an additional dry bag to store both it and the rope in.The 40-foot long rope provided is marine-grade for extra durability.
This may not be long enough for larger rivers or lakes as you'll need to keep to the 7:1 ratio mentioned earlier, but should be fine for shallower waters. Should the worst happen and you need to cut yourself free of you anchor, the Compass Surf kit comes complete with a high visibility white and red buoy to allow you to recover your anchor.
PROS
CONS
Summary
The Compass Surf kayak anchor kit is our choice for best kayak anchor because of its durability, compact size, and the fact that the kit comes with everything you'll need to get your anchor into action as soon as possible, including an additional dry bag and padded storage bag. It also comes with a money-back guarantee, which is definitely a plus!
The Compass Surf kayak anchor kit has everything you need to start using your kayak anchor straight away and the durability to stay useful in the long run.
If you're using an inflatable kayak, you'll appreciate the padded bag that will keep your hull safe from any damage caused by the anchor, while the free dry bag will stop the rope and fittings from degrading by keeping them dry.
The anchor is corrosion resistant, the rope is marine-rated, and the fixings are stainless steel for maximum durability, but if you find it's not up to the task, you have the peace of mind of a full money back guarantee. What more could you ask for out of an anchor?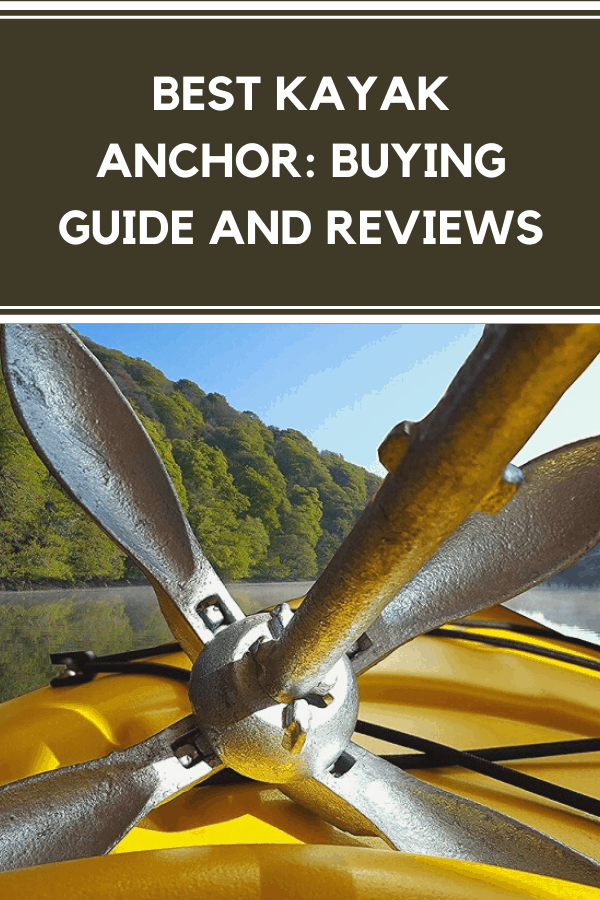 Author: John McCloy
John is a professional copywriter, fencer, and paddlesports fanatic based in the UK. When he's not out on the water, he can usually be found convincing new people to try kayaking, pretending to be Zorro or climbing what passes for mountains in England.