Bass fishing is one of the most popular types of fishing throughout the United States. Even smallmouth bass are known for putting up a great fight that could pull you off one of the most expensive bass boats if you are not prepared.
The best bass fishing kayaks can help you get on the water if you can't quite afford one of these boats, but they won't offer near the comfort and convenience you can find with these boats.
Plus, a quality bass boat allows you to get around way more quickly than even a kayak that is equipped with a trolling motor.
If you love your kayak but you are ready to make a larger investment, you should consider upgrading to one of the most expensive bass boats.
Fortunately, these boats aren't nearly as expensive as the most expensive ski boats out there, but they are definitely in a different stratosphere than the most expensive kayaks.
In this guide, we will present 10 bass fishing boats that are at the higher end of the marketplace. We will also provide some tips on how to select the right bass boat for your needs and budget.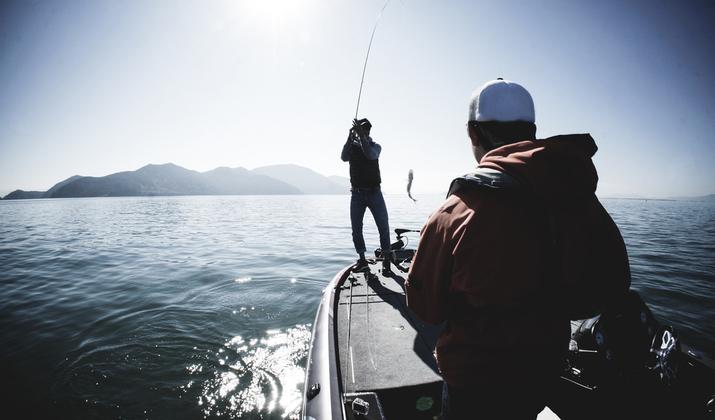 Photo by Battler via Shutterstock
Most Expensive Bass Boats
Bass Cat Sabre FTD
Bass Cat Cougar FTD
Bass Cat Jaguar
Bass Cat Deluxe Tournament
Nitro Z17
Nitro Z20
Nitro Z21 XL Pro
Crestliner 1850 Bass Hawk
Skeeter ZXR21 Apex
Ranger Z Comanche Z521L
Bass Boat Buying Guide
Before we begin our reviews of the bass boats we have chosen for our list, we need to talk about the buying process. Let us discuss the most important factors to think about when you are searching for a bass boat.
Where Are You Going To Be Fishing?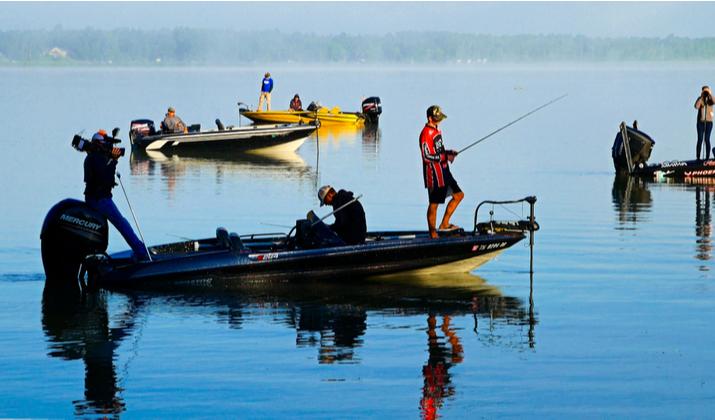 Photo by Edgar Lee Espe via Shutterstock
We know the obvious answer to this question might be "anywhere that there is bass," but we are more concerned about the size of those waterways than anything else. Smaller creeks and rivers will dictate that you choose a smaller boat.
Of course, the opposite is true if you are going to be doing most of your fishing on open lakes or wide, slow-moving rivers. These will make it easier to navigate a larger bass boat without getting into a jam.
So just consider how comfortable you are navigating a 16-foot boat versus something closer to 22 feet, for example. Longer boats will obviously give you more deck space, but they may not be able to get back up into inlets where you know bass are hiding.
How Much Boat Driving Experience Do You Have?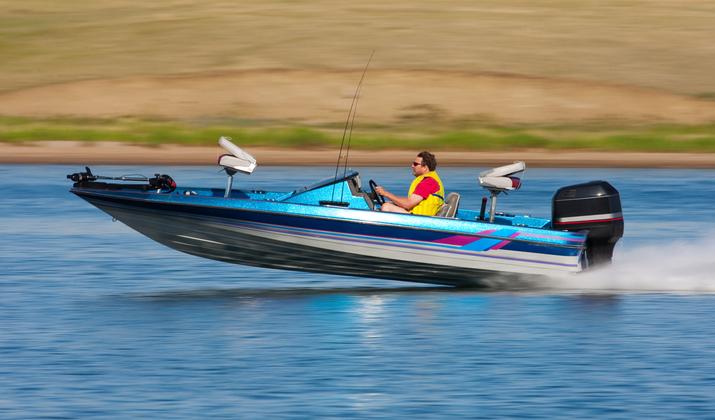 Photo by Brenda Carson via Shutterstock
The amount of experience you already have with driving any kind of boat should also factor into your decision. If you are relatively inexperienced, there is no reason that you need a boat with more than 200 horsepower for bass fishing.
Simply put, boats with larger motors (i.e. more power) can be more dangerous in the hands of an inexperienced captain. That being said, one of the advantages of a boat with more horsepower is the ability to move to a new spot more quickly.
This can be an added advantage if you mostly fish on larger lakes or reservoirs with a lot of territory to explore. In the end, however, you will usually pay more for a boat with a higher-powered motor and those boats are usually best to be captained by experienced boat drivers.
Are You Fishing For Sport or For Competition?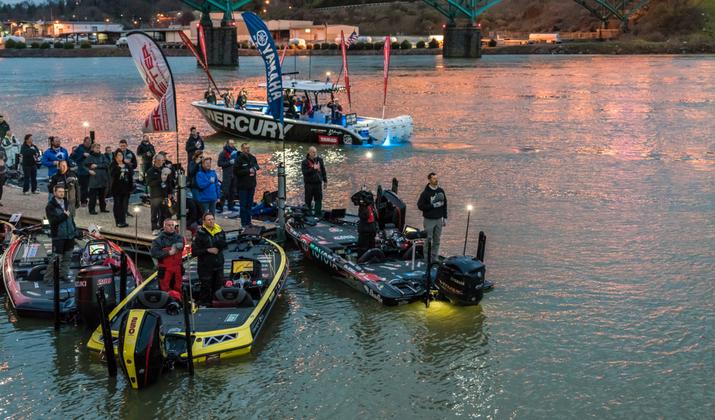 Photo by Kimberly Boyles via Shutterstock
This factor will largely influence which features and add-ons you look for when buying one of the most expensive bass boats. Recreational anglers will be able to get away with fewer bells and whistles than competitive anglers that rely upon them for tournament fishing.
As you might imagine, this will also allow recreational anglers to spend less on a new bass boat, for the most part. Competitive anglers are typically willing to spend a little more to create any sort of competitive advantage possible.
One example of a buying consideration for professional anglers is livewell capacity. This is essentially a holding area where fish can be kept alive after they are caught and then verified in competitive settings.
Many recreational anglers may not need a large livewell on board for fish storage, and this is especially true if you plan on doing mostly catch-and-release fishing.
What Vehicle Do You Have To Tow Your New Bass Boat?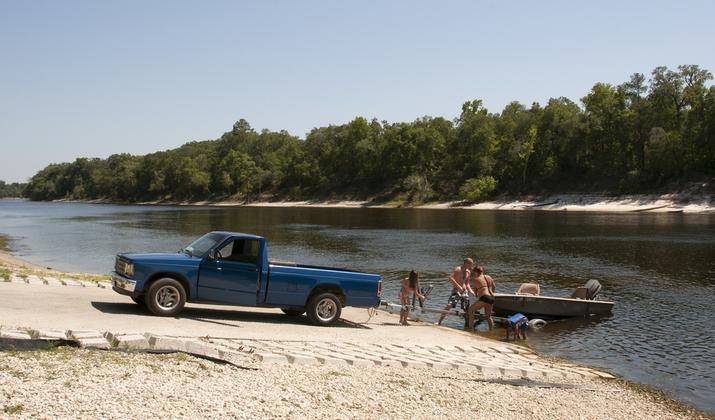 Photo by Peter Titmuss via Shutterstock
You will also need to consider your vehicle's towing capacity before you choose a new bass boat. Simply put, your vehicle will need to be able to handle the weight of pulling your boat and the trailer without putting too much strain on the frame, transmission, and brakes.
When you are considering this, you will have to go a little deeper than the advertised "dry weight" of each bass boat. That weight does not factor in any fishing accessories or personal gear that you will load into the boat for your outings.
In some cases, manufacturers also will fail to account for the weight of the outboard motor when advertising a boat's dry weight. That can add a few hundred pounds to the overall weight, not to mention you will also need to factor in the weight of your boat trailer.
All of these combined weights should never exceed your vehicle's maximum towable weight capacity. In fact, we would recommend trying to keep the total weight you are towing below about 80% of what is advertised in your vehicle's owner's manual or on the door sticker.
Expensive Bass Boat Reviews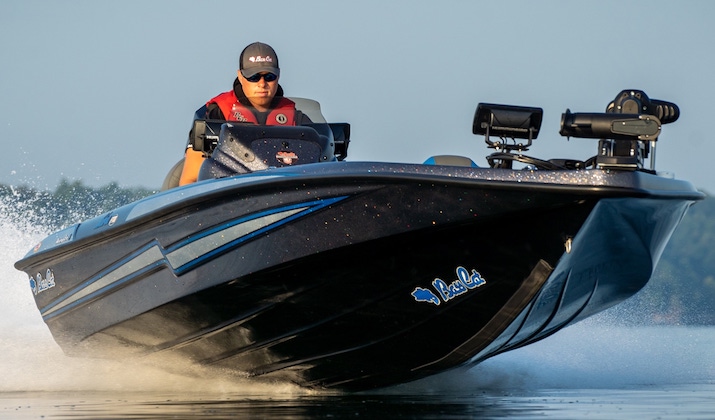 PC Bass Cat Boats
Length: 18'1"
Width: 93"
Weight: 1,215 pounds
Fuel Capacity: 33 gallons
Horsepower Range: 115 to 175
The Bass Cat Sabre FTD offers large performance in a compact package. The base model fits most recreational budgets and the optional Special Package transforms the Sabre into a tournament-ready bass boat.
Equipped with an outboard motor at the stern and a Minn Kota Ultrex trolling motor at the bow, you will have the power to get around quickly and the maneuverability you need when you are fishing.
The Sabre FTD also features a hull made completely out of fiberglass, tilt hydraulic steering, pump-in and pump-out livewells, and two eight-foot rod boxes at port and starboard locations.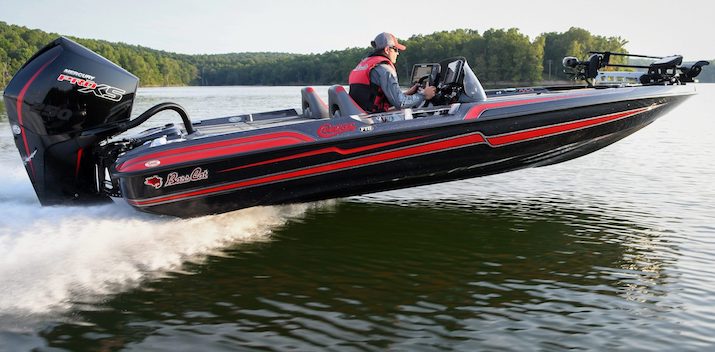 PC Bass Cat Boats
Length: 20'4"
Width: 94"
Weight: 1,805 pounds
Fuel Capacity: 52 gallons
Horsepower Range: 200 to 300
The Bass Cat Cougar FTD offers a little more horsepower for the experienced boater and also boasts design features that were included with the tour angler in mind. One of those features is the large central storage area that allows for easy gear access without shuffling rods around constantly.
It also boasts an upgraded captain's console that can now display single or dual graphs to help you map contours and learn more about where you are fishing. You will also have plenty of fuel capacity with the dual 26-gallon fuel tanks onboard this bass boat.
This boat also comes with a bunch of tournament-ready bells and whistles. Some examples include two Helix 7 Chirp GPS units, livewell lights, a Minn Kota 3 bank charger, and two fully insulated ice chests.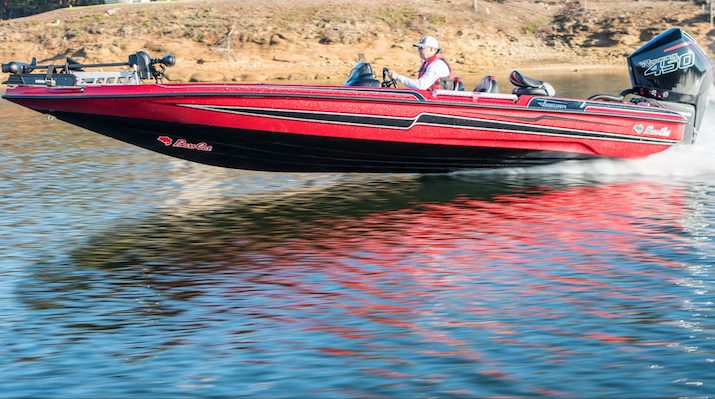 PC Bass Cat Boats
Length: 22'
Width: 94"+
Weight: 2,220 pounds
Fuel Capacity: 60 gallons
Horsepower Range: 250 to 400
The Jaguar is one of Bass Cat's longest bass boats, which provides an ample amount of deck space for you and a few of your best angling buddies. It also offers one of the highest horsepower ranges of all the expensive bass boats we have included on our list.
This boat is designed to handle well in wavy conditions due to its longer hull length and redesigned "Soft Touch" hull shape. It also makes it much easier to get back off the water after dark with its integrated docking, safety, and wake lights.
Anglers will also love the four-bank Minn Kota charger, full boat ventilation system, and Siren Marine boat monitoring and tracking system on the Jaguar bass boat.
PC Bass Cat Boats
Length: 16'5"
Width: 73.5"
Weight: 1,250 pounds
Fuel Capacity: 17 gallons
Horsepower Range: 60 to 115
The Deluxe Tournament bass boat is one of the shortest designs in Bass Cat's lineup. Its shorter length makes it a great choice for anglers that need a highly maneuverable vessel for navigation of smaller creeks and rivers.
The standard model comes with a Minn Kota trolling motor with 45 pounds of thrust, but you will have the option of upgrading to a 55-pound trolling motor if you desire. Reflex flooring throughout the entire interior is comfortable under your feet and two fold-down seats provide versatility to fish from seated or standing positions.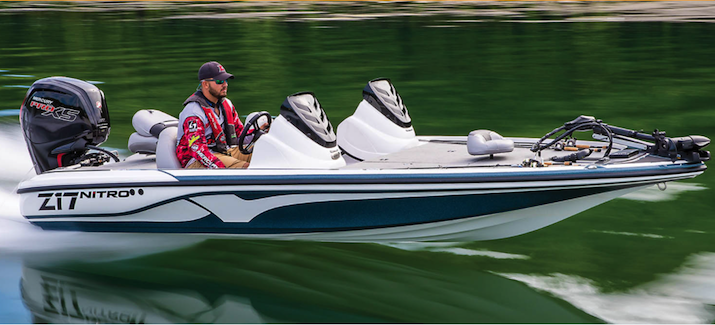 PC White River Marine Group
Length: 17'4"
Width: 90"
Weight: 1,450 pounds
Fuel Capacity: 24 gallons
Horsepower Range: Up to 115
The Nitro Z17 is a fiberglass bass boat that is designed for first-time boat owners. Because it is super easy to tow and drive, it is also a great option for amateur competitive anglers.
It features the same patented NVT™ hull as Nitro's larger bass boats and all models also come with some very useful standard features. Some of the best examples include customizable seating, a lockable rod storage box, and an insulated cooler.
The Z17 bass boat also includes carpeted storage containers at port and starboard locations for your fishing tackle. You will also be able to utilize the boat's 23-gallon livewell to keep bass alive until you get back to the marina for weigh-in.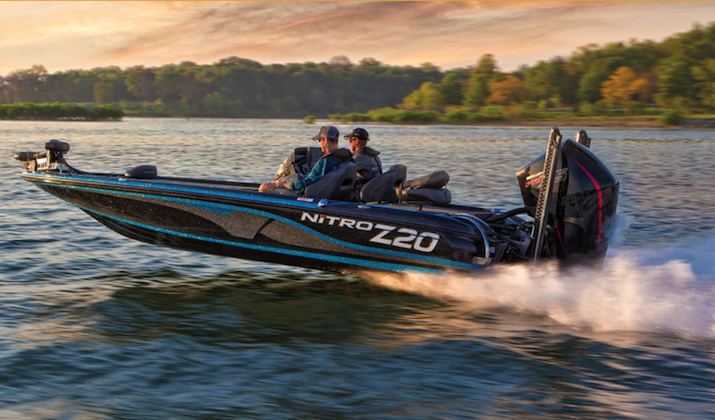 PC White River Marine Group
Length: 20'2"
Width: 94"
Weight: 2,000 pounds
Fuel Capacity: 50 gallons
Horsepower Range: Up to 250
The Z20 provides a nice balance between Nitro's shortest and longest bass boats. The outboard motor on the Z20 will make it possible to keep up with larger bass boats while retaining the maneuverability to navigate and fish in shallower waters.
One of the benefits of the NVT™ hull on the Z20 is to provide quicker holeshots when you need to get up and move to a new fishing hole. This boat model also features two eight-foot fishing rod lockers mounted up at the bow and a Lowrance fish finder as a standard feature.
Other impressive standard features include dual 19-gallon livewells with digital timers, low-profile gunwales that maximum deck size, and multiple lift-out storage areas that can accommodate 3700 tackle trays.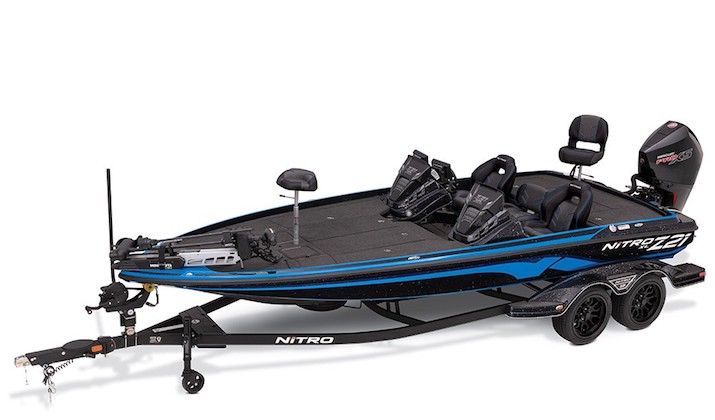 PC White River Marine Group
Length: 21'2"
Width: 95"
Weight: 2,150 pounds
Fuel Capacity: 55 gallons
Horsepower Range: Up to 300
The Z21 XL Pro is Nitro's longest bass boat and, as you might expect, it offers a ton of open deck space for stand-up fishing. Once your legs get tired, you will also be able to take advantage of the fore and aft seats to continue fishing from a more relaxed position.
This bass boat is designed specifically with tournament anglers in mind and the 2022 model has been upgraded to provide additional storage capacity, more convenient fishing, and increased top-end engine performance.
The XL Pro's best standard features include fish finders mounted at the bow and in the central console, a four-bank battery charger, and automatic filling and recirculation of the onboard livewells.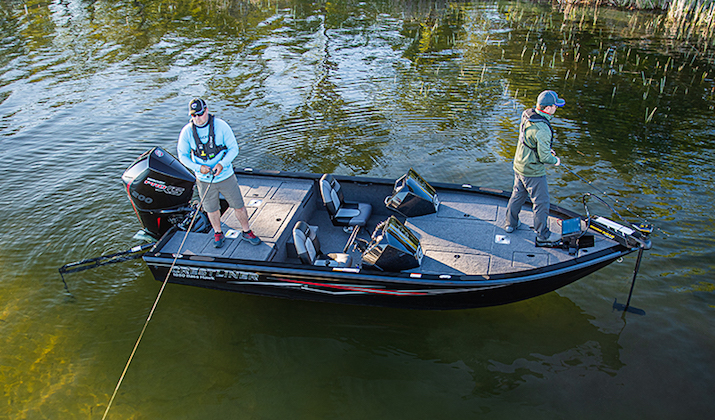 PC Crestliner
Length: 18'9"
Width: 95"
Weight: 1,625 pounds
Fuel Capacity: 34 gallons
Horsepower Range: 115 to 200
The 1850 Bass Hawk from Crestliner combines the speed and performance of a boat with a deep, V-shaped hull with the stability and maneuverability of a traditional bass boat. Its variable deadrise hull cuts seamlessly through waves, tackles rough waters, and handles shallow navigation to get you closer to bass and other fish species.
It boasts a fiber console that allows you to add flush-mounted electronics with screen sizes up to 12 inches. Plus, you will love the ability to add a third central seat between the two bucket seats that come standard on the Bass Hawk.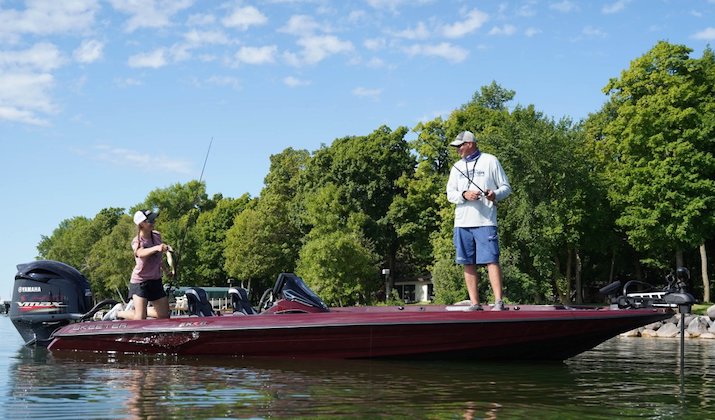 PC Skeeter Performance Fishing Boats
Length: 21'4"
Width: 97"
Weight: 2,275 pounds
Fuel Capacity: 48 gallons
Horsepower Range: Up to 250
The FXR21 Apex is Skeeter's most decked-out bass boat and it is primarily designed for tournament fishing. Skeeter is well-known for the ability to customize your boat build, which makes them a popular choice amongst skilled anglers.
This boat model is equipped with a Yamaha V Max outboard motor at the stern and a Minn Kota Ultrex MDI iPilot Link 112 trolling motor at the bow. It is also equipped with a four-bank battery charger so you don't run out of juice when you need it most.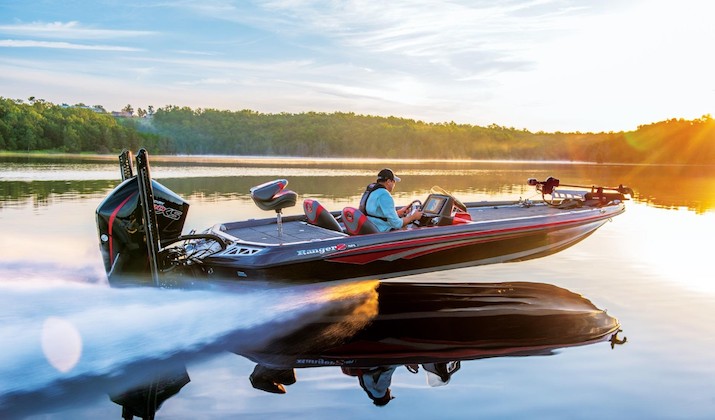 PC Ranger Boats
Length: 21'8"
Width: 98"
Weight: 1,950 pounds
Fuel Capacity: 51 gallons
Horsepower Range: Up to 300
The Z Comanche Z521L from Ranger Boats is easily the most expensive bass boat out there today and it can easily reach six-digit prices. That depends on how many optional features you want to include in your final boat built.
The Z521L boasts the versatility to handle big waters while still maneuvering tightly when you head up shallower inlets. Maximizing storage and efficiency is what this bass boat is all about for the tournament angler.
The standard features on this boat nearly cover everything, but some of the cooler options include a bow-mounted Lowrance HDS 12 Live fishfinder with an active target transducer and a ski tow installation.
Final Thoughts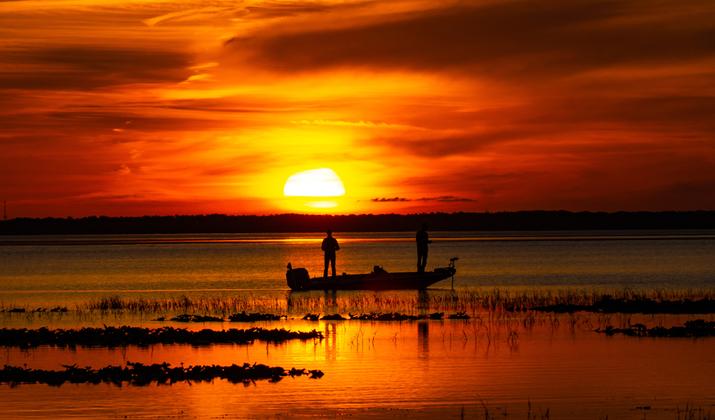 Photo by John P Ruggeri via Shutterstock
Even standup fishing kayaks cannot rival the space and comfort you will get with one of the most expensive bass boats. They just offer way more deck space for you to stand up and move around comfortably.
Plus, they allow you to bring a cooler and other gear so that you can stay out longer and increase your odds of reeling in a record-breaking catch. If you can afford one, there are many additional benefits of investing in a bass boat.
The best models out there might even help you improve your skills so much that you consider joining a fishing club and entering tournaments in your area.
That way, you can start bringing home some money for your efforts, which can help justify how much time you are spending out on the water and away from home!
We hope you have enjoyed our reviews of some of the most expensive bass boats on the market these days. As always, we wish you the best of luck in your boat search and hope your new purchase leads to many joyous days on the water to come!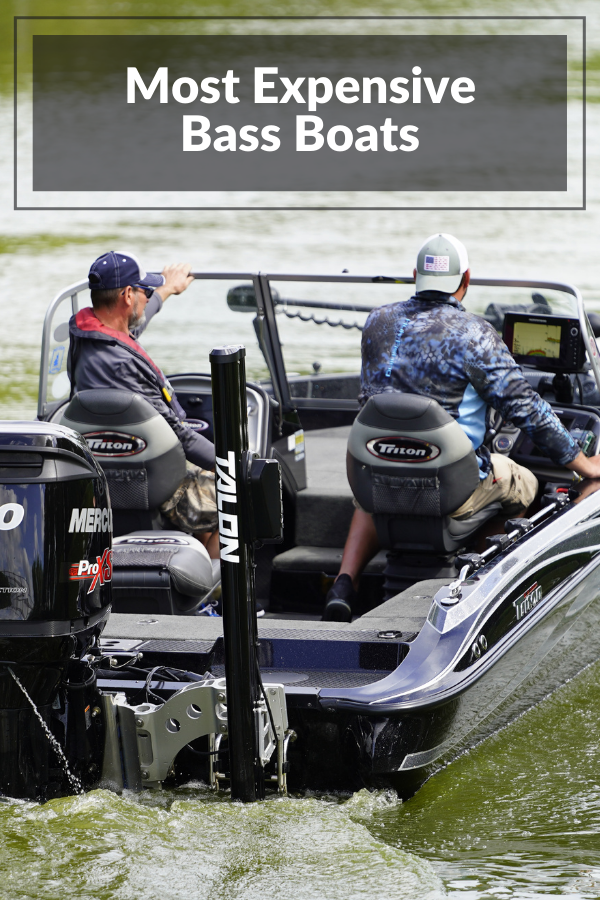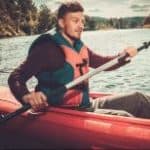 Author: Peter Salisbury
Pete is the Owner of KayakHelp.com. Born and raised in Cleveland, Ohio, he grew up kayaking, fishing, sailing, and partaking in outdoor adventures around the Great Lakes. When he's not out on the water, you can find him skiing in the mountains, reading his favorite books, and spending time with his family.