Cross-country skiing became more popular during the pandemic, as many ski resorts found the world had closed their lifts. People wanted to still have fun in the snow while remaining active. But cross-country skiing is the original discipline of the sport that dates back thousands of years.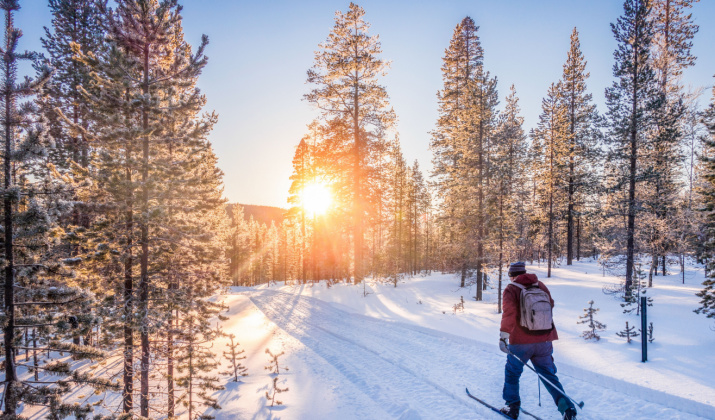 Image Source: Shutterstock
It was originally used to travel across snowy landscapes and for hunting during the winter. Now it is mainly used for competitions and fitness. Still, it is also used for traveling long distances, such as Arctic expeditions and weekends in the wilderness.
Cross-country skiing is a fun and easy sport to learn how to do. It is very different from regular Alpine or downhill skiing as it has an entirely different style and is done in different environments.
In this article, we will talk about the different kinds of cross-country skiing and how they differ. You will learn about the various techniques, the equipment used, and what to wear.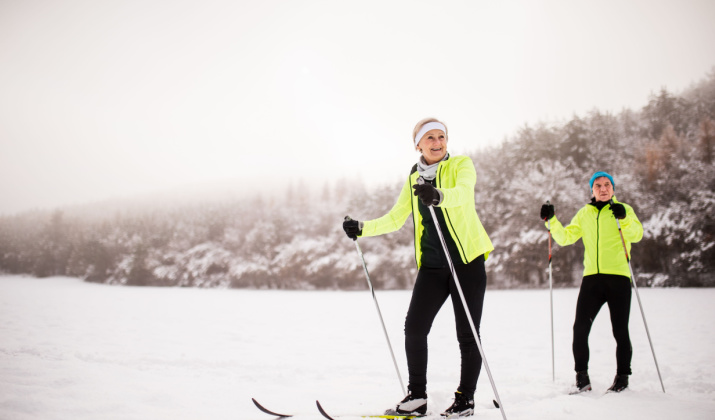 Image Source: Shutterstock
What Is Cross-Country Skiing?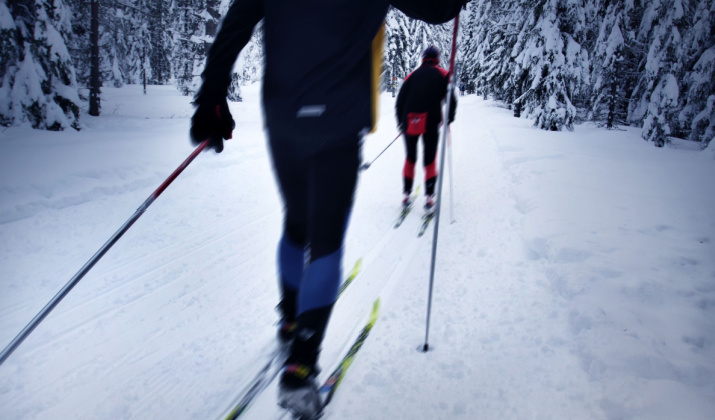 Image Source: Shutterstock
While Alpine skiing consists of ascending the mountains using ski lifts and skiing back down on groomed slopes, cross-country skiing is a much more energetic sport.
Cross-country skiing, also known as Nordic skiing, has four different styles to enjoy. Most people only think that there are two styles of cross-country skiing, classic and skating. But there is also the backcountry style and the classic no-wax skin style.
All four styles see the skier using their own strength to propel themselves along with their skis and/or poles. Let's take a closer look at the different styles:
The Classic Style Of Cross-Country Skiing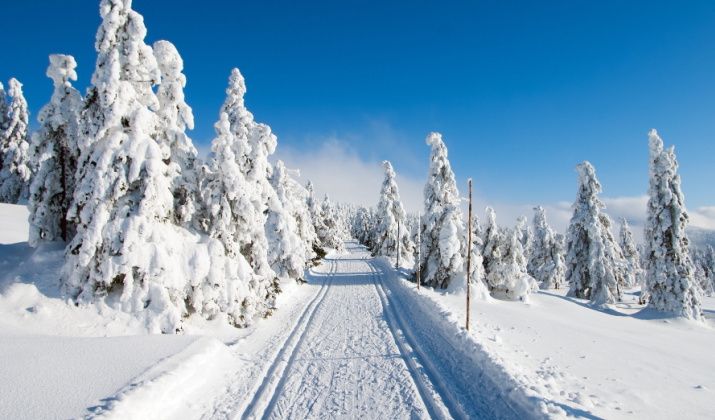 Image Source: Shutterstock
The classic style of cross-country skiing takes place on a classic ski trail. This is a man-made course with two parallel tracks cut into it, following the course all the way around.
A classic style cross-country skier uses a similar technique to walking just by gliding forwards with their skis on their feet and poles in their hands.
They stay on course by keeping their skis inside the cut tracks and will only leave the tracks to overtake a slower skier in front of them.
The central part of the classic style technique is a short kick that allows you to maximize friction with the snow allowing you to glide forward rather than slip backward.
The harder you push in the "kick zone," the further you will glide or the faster you will go along the course.
If you are new to cross-country skiing, the classic style is the best way to enter the sport because the technique is less complicated than the other styles.
The classic style also allows you to get used to the equipment and build up a good fitness level. However, many experienced cross-country skiers prefer and stick with the classic style.
The Skating Style Of Cross-Country Skiing
Image Source: Shutterstock
Many people prefer the skating style of cross-country skiing as it is a much faster sport, and therefore, regarded as a lot more fun. The skating style also takes place on man-made courses, and pre-cut tracks are not used.
Instead, the skating style uses a technique that puts your skis in a V shape with the tails closer together than the tips. This stance allows you to press the inside edge of your ski into the snow so you can push against it before transferring your body weight onto the other ski to glide forwards.
This gliding motion makes the skating style of cross-country skiing fast and fun. Good skating-style cross-country skiers can reach up to 30 km an hour if they use perfect technique and high-end lightweight cross-country ski equipment.
The skating style of cross-country skiing is more complex than the classic style, but once you've mastered it, you will have an excellent way of keeping fit and having fun without needing to jump on a ski lift. Therefore you can have an hour or two of intense, low-impact exercise.
The Backcountry Style Of Cross-Country Skiing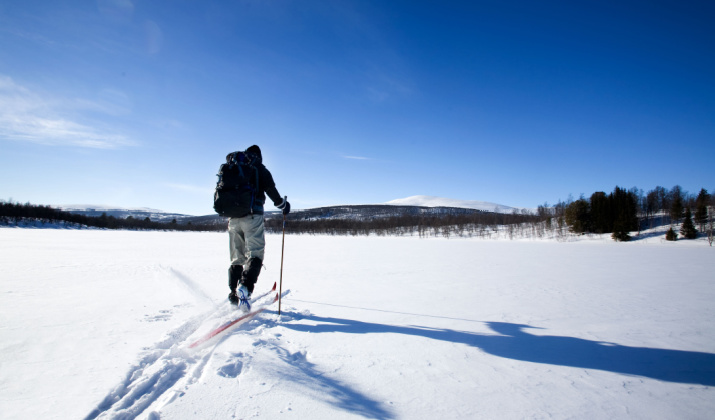 Image Source: Shutterstock
Backcountry skiing creates visions of extreme skiers heading off into the wilderness, dropping cliffs, and skiing deep powder snow. But the backcountry style of cross-country skiing is very different.
Backcountry cross-country skiing gives you lots of freedom to explore the snowy wilderness. This is when you head off the man-made tracks and into nature on day trips or even overnight stays in mountain refuges and cabins.
We will go into the cross-country skiing equipment in detail later on, but backcountry-style cross-country skis are made so you can make your way across many different types of terrain. Therefore they are lightweight and have metal edges, giving you lots of grip on ice and snow.
The technique used in backcountry cross-country skiing is very similar to the classic style technique. This is because the method makes you agile enough to cope with tricky snow conditions, and it will allow you to stay safe with your skis parallel.
Backcountry cross-country skis perform at their best when the snow is deep and fresh rather than being forced to stay in parallel tracks on a course.
The nature of this style of cross-country skiing is regarded as "real cross-country skiing" as it is where the sport originated. Scandinavian ancestors had to cross the fields and valleys and travel through snow-covered forests to travel and survive.
Classic No Wax Skin Cross-Country Ski Style
Image Source: Shutterstock
Some classic cross-country skis have a fish scale-like texture on a section of the base. This is to give the skier purchase from the friction with the snow, allowing them to drive forwards. However, in recent years the cross-country skin ski has become more popular with classic cross-country skiers.
The fish scale texture gives the skis excellent forward performance when the snow is freezing cold and fresh. Therefore, climbing hills is more manageable, and reaching speed on the downhills is lots of fun.
However, these skis don't perform well in wet conditions; therefore, more classic cross-country skiers have been fitting their skis with skins.
Skins are textured pieces of material that stick to the base of cross-country skis. The texture provides grip, preventing the skier from sliding backward when climbing a hill, but it allows them to glide forwards.
The downside of attaching skins to your skis is that your downhill performance is compromised. This is especially the case when there has been a fresh snowfall.
Cross-Country Skiing Equipment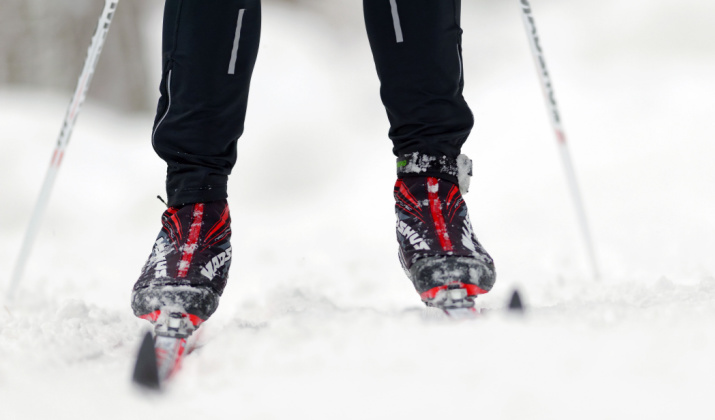 Image Source: Shutterstock
Now you know there are different types of cross-country skiing. You need to be aware that there are differences in the equipment. But generally, there are three elements of cross-country skiing equipment – skis, boots, and poles.
Cross-Country Skis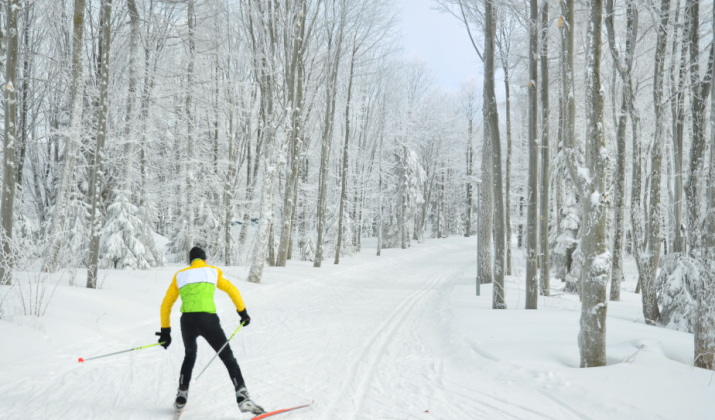 Image Source: Shutterstock
Cross-country skis are long, narrow, and very lightweight. They have turned-up tips at the front and flat tails at the back. Your boots attach to the skis via bindings fixed to the center of the ski on the top.
The area on the base of the ski under the bindings is known as the kick zone. There are two types of kick zones with classic cross-country skis; one is where you will find the fish scale texture, and the other is where you will attach skins. Either way, they are both regarded as waxless skis.
The more traditional style of classic cross-country skis have completely smooth bases but require you to wax them. Unlike Alpine skis, where wax is used to create glide, the wax on cross-country skis is used to provide grip.
Most cross-country skiers will use fish scale or skin skis, as they are easier to maintain. But they also work better in varied snow conditions.
Skate skis are shorter than classic skis and are a little stiff. These characteristics make transferring your energy into the snow much more efficient while making the skis more agile. Classic cross-country skis are longer, so they glide more easily along the track.
The size of your cross-country skis depends on your height and body weight. This is because cross-country skis are cambered, so you need to use a pair of skis that will flatten out under your weight when you are clipped into the bindings. This is so your skis can grip the snow when you push from the kick zone under the bindings.
Cross-Country Ski Boots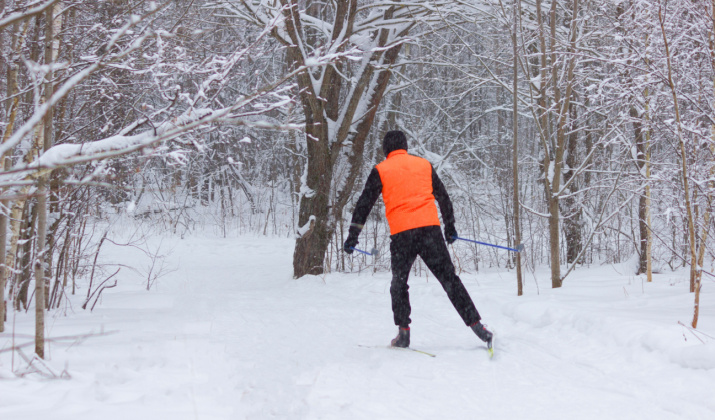 Image Source: Shutterstock
At a glance, cross-country ski boots look a lot like hiking boots and are very different from regular Alpine ski boots. They fit like comfortable and supportive athletic shoes rather than big clunky pieces of plastic with lots of buckles on them.
The skate style of cross-country ski boots has a high cuff and is quite stiff around the ankle to give you lots of stability. Also, they have very stiff soles, which allow you to transfer your energy more efficiently into the ski.
Classic-style cross-country ski boots have lower and softer cuffs. They also have flexible soles, especially around the toe area, making kicking back to ski more manageable.
Some cross-country ski boots have a quick lacing system, while others use more traditional laces that need to be tied.
When you try on cross-country ski boots, you need to ensure that you have enough room to wiggle your toes inside the boots and that you have no heel lift when you stand on your toes.
The boots have a bar under the toe, which clips into your cross-country ski bindings. Cross-country ski bindings allow your heel to lift as the bar at the toe is the only connection you have with your skis. This design allows you to glide forward more efficiently.
Cross-Country Ski Poles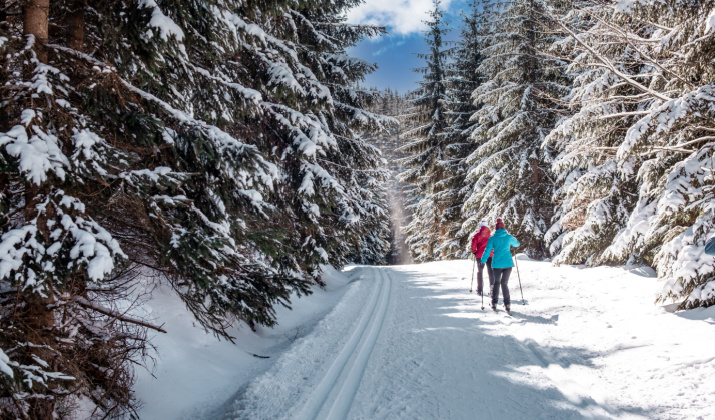 Image Source: Shutterstock
In cross-country skiing, we don't just use our feet. To help you glide forward, you have a cross-country ski pole in each hand. These are generally longer than regular ski poles as they give you more leverage, making your forward stride more efficient.
You hold the ski poles using the grips and the wrist straps. You can use the wrist straps in a way that transfers more of your effort into the snow. They allow you to push yourself along without putting too much tension on your wrists and hands, which would eventually become painful.
At the bottom of the poles, you'll find plastic baskets that stop your poles from sinking into the snow when you push on them.
To make sure your poles are the correct length for the classic style, stand on a flat surface in your cross-country ski boots. The tops of your grips should be between your armpit and shoulder bone.
But, if you want to get the most out of your skate skiing, your poles should be between your top lip and nose. You can always buy longer cross-country ski poles and cut them down to size.
Alternatively, you can buy adjustable poles that you can tweak to fine-tune their length on the fly.
What To Wear While Cross-Country Skiing?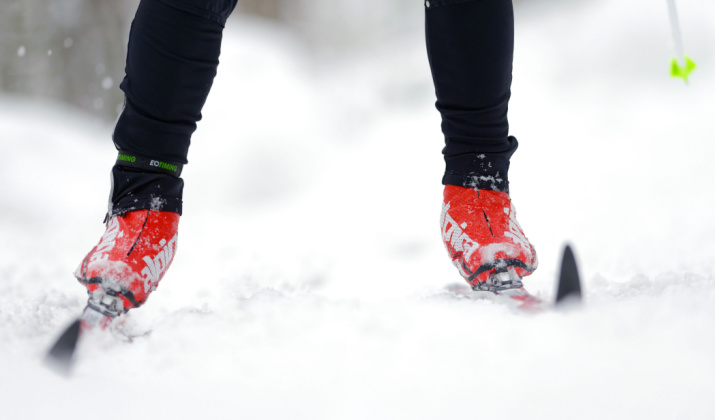 Image Source: Shutterstock
The trick to staying comfortable while cross-country skiing is to manage your body heat along with the cold temperatures. You will be working physically hard, so it is very easy to work up a sweat which can make you highly uncomfortable while you're outside in the cold.
Wear Layers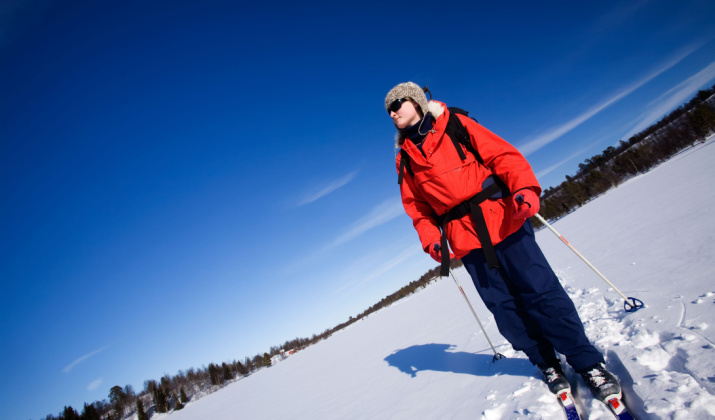 Image Source: Shutterstock
To stay comfortable, you need to make good decisions regarding your clothing. It is best to start off with a quality base layer next to your skin which will consist of thermal underwear made from technical fabrics.
The fabrics will either be synthetic, Merino wool, or a blend of fabrics. These materials draw moisture away from your skin and dry very quickly, so you stand less chance of getting cold. Avoid cotton base layers as they don't dry quickly and hold the moisture next to your skin, making you incredibly cold and uncomfortable.
Depending on how cold the conditions are, you may want to wear a mid-layer over the top of your base layer. Great examples of mid-layers are lightweight fleece tops and synthetic vests.
You may also want to wear a lightweight technical jacket on top of everything. Most cross-country skiers like to wear soft shell jackets due to the extra breathability of the materials. It is essential you choose a jacket that has a good level of waterproofing as you may often go cross-country skiing while it is snowing.
You may want to wear a rain jacket if you know you will be cross-country skiing in incredibly wet weather. But you need to ensure that your rain jacket is breathable. You will produce lots of moisture when you're working hard, which needs to escape, or you will become uncomfortable and cold.
The great thing about using all these different layers is that you can add and remove them to suit the conditions and how hot or cold you feel during cross-country skiing.
Your Lower Half
When it comes to your lower half, you'll be more comfortable if you wear thermal underwear on your legs under lightweight waterproof shell pants. It's also a good idea for your pants to be form-fitting rather than baggy. Tighter-fitting pants will allow you to move more freely and efficiently.
Hands, Head, and Feet
The next thing you need to consider is how you will keep your hands warm while cross-country skiing. Glove choice is quite personal as lots of people feel the cold differently. Therefore you may prefer lightweight, thin gloves that you can add layers to so you can adjust the amount of insulation you have to suit the temperature.
To keep your head warm, you need a lightweight hat or headband. These keep the chill off without making you too hot as you exert yourself. You may want to couple your hat with a buff or face mask to protect you from the wind or sun.
You should never forget about protecting your eyes during cross-country skiing. It is rare that you would wear a pair of ski goggles as the heat you produce will cause them to fog quickly.
Instead, wear a good pair of sunglasses that provide you with lots of coverage and UV protection. Sunglasses protect you from snow, blindness, wind, and snow that may flick up into your face.
Finally, you need to make sure you wear a good pair of socks. Like the rest of your clothing, it is best to wear socks made from technical materials that dry quickly.
Also, only wear one pair of socks and do not layer up with multiple pairs. This is because you will experience extra friction, which will cause discomfort and even blisters or bruising to your feet. If you are skiing in colder temperatures, it is best to just wear a slightly thicker pair of socks.
Fuel Yourself For Cross-Country Skiing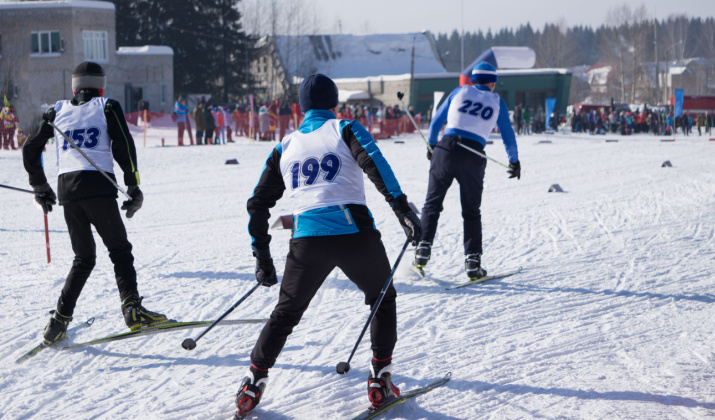 Image Source: Shutterstock
Cross-country skiing is an aerobic activity that requires you to carry some hydration and some form of food.
Eating an energy gel or gummy is a great way to give yourself some extra energy. They are easy to carry as they don't take up too much room, but if you're not used to eating them, they can upset your stomach, so go easy on them to start with.
All the different types of cross-country skiing are thirsty work; therefore, staying hydrated while out on the trails is important. The simplest way to do this is to carry a water bottle on a belt.
Alternatively, if you are going on a long day out cross-country skiing, you may want to carry more water in a hip pack with a hydration system. Cross-country skiing-specific hydration packs have some insulation to prevent your water from freezing, so you can rehydrate and not just carry around a big bag of ice.
Hip packs are great for cross-country skiing as you have the capacity to carry extra food, sunscreen, and kick wax if you need it. Some even have space for a lightweight and compact outer layer for when the weather changes.
Final Thoughts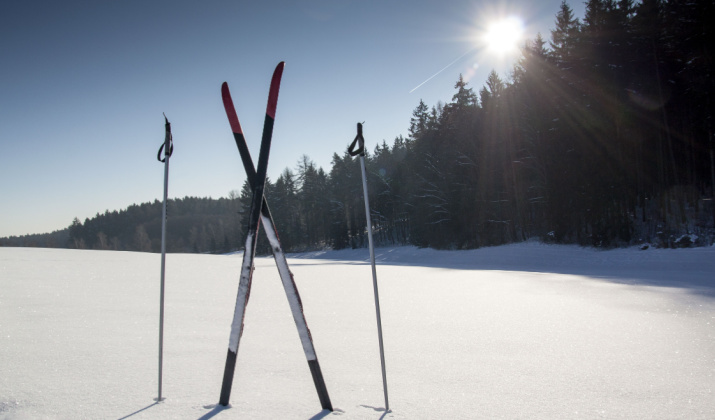 Image Source: Shutterstock
Although we have highlighted four different types of cross-country skiing, the two main ones are the classic and skate styles. The other types are just variations of the classic style in terms of equipment and the environment in which you do them.
All the different types of cross-country skiing have their own techniques to master and equipment to do them effectively.
Whichever style of cross-country skiing you choose to do, you need to ensure you have the correct equipment and clothing to stay comfortable and enjoy your time on the trails.
Even though cross-country skiing is reasonably simple to pick up, we recommend you take at least one lesson. This will take out all the guesswork by following the instructions of a professional cross-country ski instructor.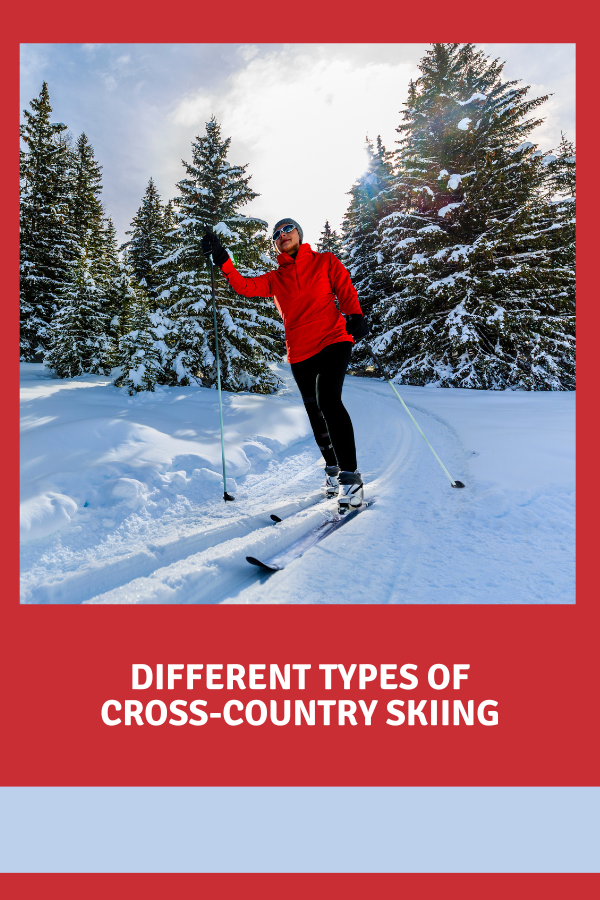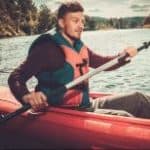 Author: Peter Salisbury
Pete is the Owner of KayakHelp.com. Born and raised in Cleveland, Ohio, he grew up kayaking, fishing, sailing, and partaking in outdoor adventures around the Great Lakes. When he's not out on the water, you can find him skiing in the mountains, reading his favorite books, and spending time with his family.