Jet skis are also known as personal watercraft (PWC for short), and there are many different types to choose from. They all have their own characteristics to suit their intended uses and for the rider to have as much fun as possible.
Knowing the different types of jet skis is essential so you know that you are buying the right one for your needs.
Also, no two jet skis are the same, so it is best to make an informed decision when you head to the jet ski showroom or look through online classified ads.
In this article, we will tell you all about the different types of jet skis and give you some buying tips to ensure you are armed with all the necessary information.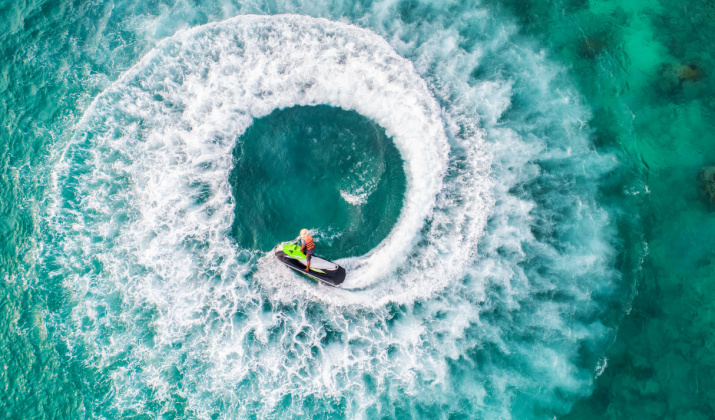 Image Source: Shutterstock
Jet Ski Terminology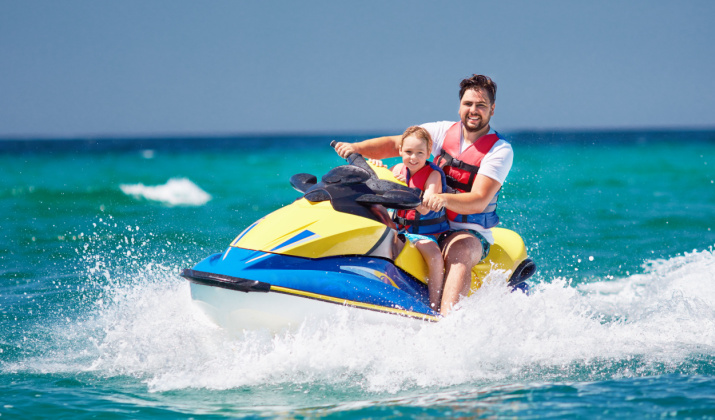 Image Source: Shutterstock
Before we get into the different types of jet skis, you need to understand the terminology used around these wonderful watercraft.
Most people use the term "jet ski" when referring to these vehicles. But jet ski is actually a brand name, as is WaveRunner and Sea-Doo. Let's take a look at each one:
Jet Ski – This is a brand name of Kawasaki, which offers a number of supercharged models, ones that can carry three passengers and ones that use a stand-up riding position.
WaveRunner – Wave Runner is a brand name associated with Yamaha. They make at least 18 different types of craft, and any of them are award-winning.
Sea-Doo – This is an independent brand, not associated with large-scale manufacturers. They produce around six different models, some of which also have won design awards.
All of these watercraft come under the term PWC. PWCs are vessels that use inboard motors that propel themselves along with a water jet pump. You can operate a PWC in a standing, kneeling, or seated position and ride them on fresh or salt water.
Each model and manufacturer of personal watercraft offers specific characteristics that suit the preferred use and environment of the rider. There are a few categories associated with personal watercraft. The two main types are stand-up and sit-down personal watercraft.
Stand-up PWCs – The original type of PWC is the stand-up model. These are smaller craft that are easier to transport either on a trailer or in the bed of a truck. They are also simple machines that require less maintenance which means they are cheaper and less hassle to run.
Due to the smaller size of a stand-up PWC, it can only usually fit one rider. But they are more agile and great for racing and performing tricks on the water.
Sit-Down PWCs – these personal watercraft are much larger than stand-up PWCs. This means some models can take up to 4 riders and are much more comfortable to ride. In addition to this, they are often used to tow wakeboarders, water skiers, rafts, donuts, and banana boats.
There are different kinds of sit-down personal watercraft with varying levels of performance. You can choose to ride high-performance machines or lower-powered ones geared more toward cruising.
Which Jet Ski Should You Ride?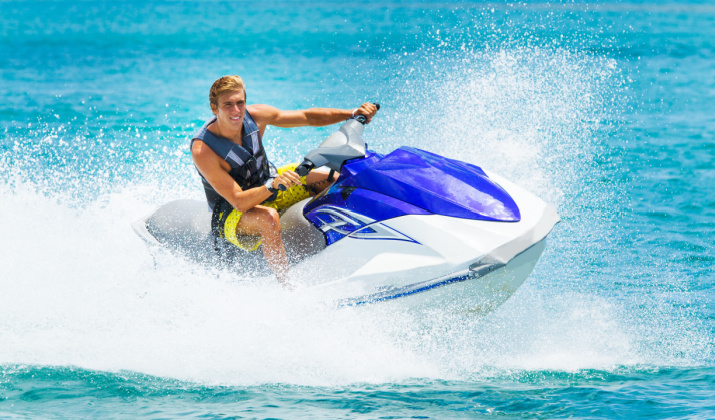 Image Source: Shutterstock
We have established that there are two different types of jet skis, stand-up, and sit-down. But these types are broken down into at least seven different categories.
Let's take a look at the different kinds of personal watercraft to ensure you choose the right one for your needs.
Rec-Lite Jet Skis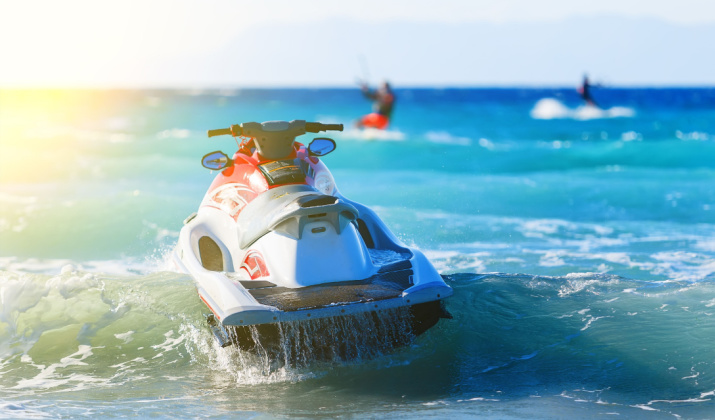 Image Source: Shutterstock
This type of JetSki is the smallest and most simple version you can buy. Therefore they are also the most affordable jet skis, but that doesn't mean they are terrible.
Rec-Lite skis are lots of fun to ride as they have agile handling. Thanks to their light weight, they are also easy to transport, as you can tow one with a small car.
Another advantage of these personal watercraft is that they are cheap to own. This is because they have excellent fuel efficiency and low maintenance costs.
However, there are some downsides to riding a Rec-Lite jet ski.
For example, their smaller size means they don't work very well in rough conditions, and their low-powered four-stroke engines only produce between 60 and 110 hp, which doesn't make them very fast or great for more than one rider.
Therefore, they are best suited to people who ride on rivers and in small lakes.
Historically, all jet skis were similar to Rec-Lite personal watercraft, but they got larger over time as technology evolved and people's needs changed.
Recreation Jet Skis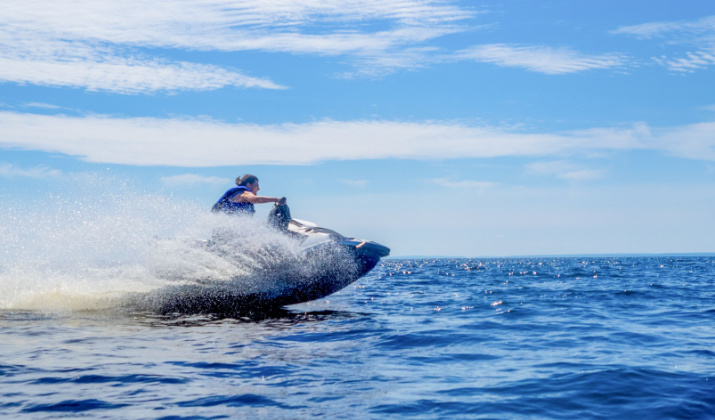 Image Source: Shutterstock
Recreation jet skis are great for families looking for some affordable fun on the water. You will find these jet skis are used a lot by rental companies as they have some great characteristics that suit most riders.
These types of personal watercraft are renowned for being extremely durable and reliable while being exceptionally good value for money.
They are also considerably larger than Rec-Lite personal watercraft, so they can comfortably seat up to three adult riders and include a reasonable amount of storage space.
Due to the extra weight, size, and what they are used for, recreational jet skis usually have naturally aspirated engines that have between 90 and 180 hp. This kind of power is more than enough for most people.
The added advantage of this extra power means that you can tow water toys, such as doughnuts and tubes, but you can also use recreational jet skis for wakeboarding.
These personal watercraft are relatively simple and don't have much in the way of advanced features and accessories.
But this does mean they are great for beginner riders and rental companies as they are easy to use, and there are fewer things to go wrong with them.
Performance Jet Skis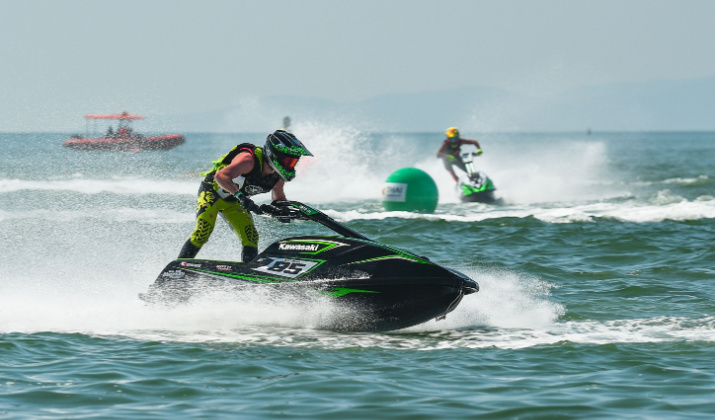 Image Source: Shutterstock
As you would expect, this type of personal watercraft is designed for streaking across the water at top speed and incredible acceleration.
This level of performance usually comes from powerful supercharged engines with power ranging from 230 to 310 hp, depending on which model you ride.
These personal watercraft have certain features that help them have superior handling performance too. Therefore, these jet skis are usually ridden by adrenaline, junkies, and racers.
Performance jet skis are pretty large, so they can carry up to 3 adult riders with ease. This makes them also a good choice for a family and anyone who likes tow sports but doesn't want a full-on tow boat.
This all sounds great, but there are some downsides to owning a performance JetSki.
For example, they are extremely expensive to buy and run as maintenance costs are high, as is fuel consumption.
Due to their high-performance nature, they are not as reliable or as durable as recreational jet skis. They are also very noisy and unsuitable for beginner jet ski riders.
Luxury Jet Skis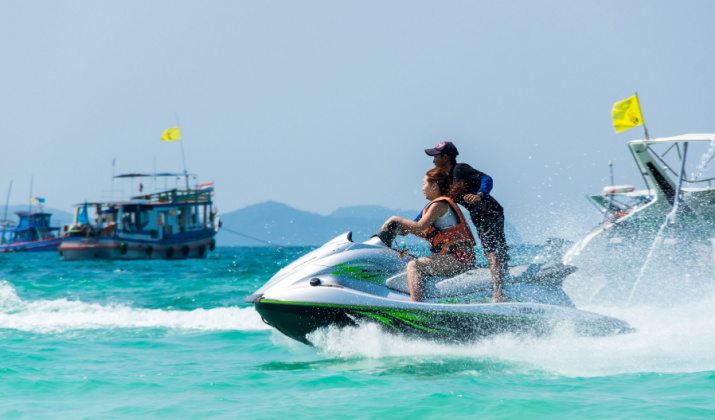 Image Source: Shutterstock
Luxury jet skis are also known as touring jet skis. These are high-end models that are often touted as flagship models for jet ski brands.
These personal watercraft are built with maximum comfort in mind while providing the ultimate in convenience.
To ensure that these models are as comfortable as possible, manufacturers give them incredibly stable platforms and provide plush seats for up to 3 adult riders.
You could expect a lot of performance from one of these jet skis as they have engines usually ranging from 160 hp to 310 hp. They are also fitted with all the creature comforts possible to ensure you have the most pleasant experience while out on the water.
Brands like to fit their luxury jet skis with audio systems, touchscreen, dashboards, GPS, and retractable dock lines. Many of these types of personal watercraft are customizable, so you can configure them to your taste, needs, and budget.
The downside of owning a luxury JetSki is that they are expensive to buy and maintain.
This is a shame because they are also less reliable and durable than more straightforward personal watercraft. On top of this, they depreciate much more than other jet skis, which will affect you when you come to resell them.
The other issue with riding a luxury jet ski is that they don't have nimble handling due to the boat-like hull. But there is always a trade-off between comfort and handling.
Tow Sport Jet Skis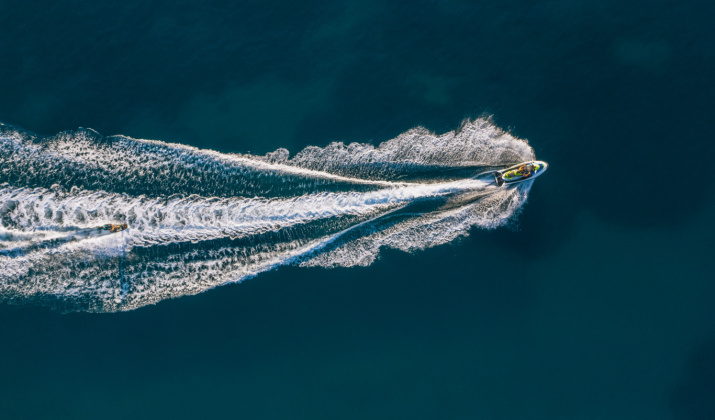 Image Source: Shutterstock
Tow sport jet skis are specifically designed for those who like water sports, such as water skiing, wakeboarding, wakeskate, or inflatables. Great examples of these personal watercraft are the Sea-Doo Wake and the Sea-Doo Wake Pro.
To enhance their towing ability and safety, these personal watercraft are fitted with mirrors, a wakeboard rack, and a tow pylon.
Some are also equipped with a ski mode. This is similar to cruise control which helps the rider keep a steady speed and make deep water starts as smooth as possible.
The great thing about tow sports jet skis is that they are less expensive alternatives to costly wakeboard boats.
However, when compared with a wakeboarding boat with a tow sport jet ski will be much lighter. Therefore it won't produce a large wake compromising the wakeboarding experience somewhat.
Sport Fishing Jet Skis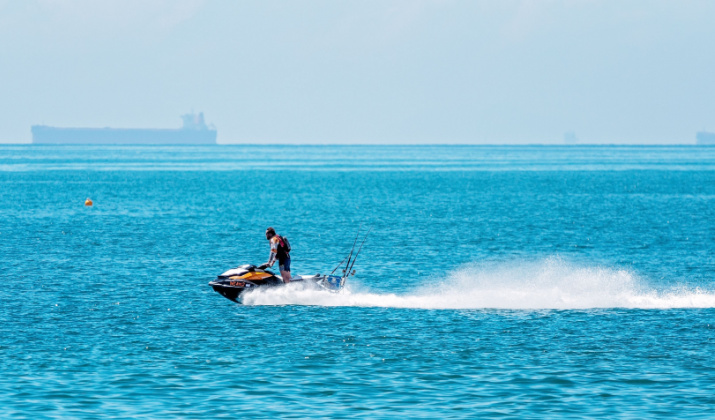 Image Source: Shutterstock
Sport fishing jet skis offer a different way to catch fish out on the water. They are pretty versatile machines as they have all the fun of a jet ski but also combine many features you will find on a small fishing boat.
Essential features included on one of these personal watercraft include rod holders, a cooler, a fishfinder, and clever storage compartments.
They also have extended rear platforms, which increase your storage space and give you a comfortable platform to cast from.
The versatility of sport fishing jet skis is making them more popular with watersports enthusiasts. This is because you can use them for general jet skiing, fishing, touring, and tow sports.
Therefore, more manufacturers are releasing fishing-specific jet ski models all the time. Many of these models have customizable features that allow you to have an element of bespoke design on your fishing jet ski.
Unfortunately, there are some disadvantages to riding a sport fishing jet ski. You will find that these jet skis are less stable than recreational or luxury models. This means they are not as safe, especially when the water is choppy.
Due to the extra accessories and storage capacity, these personal watercraft have smaller fuel tanks, therefore, shorter ranges.
Also, when you compare them to a fishing boat, you have minimal deck space, reduced comfort, and no protection from the Sun.
It may seem unfair to compare a jet ski with a fishing boat, but these are all aspects you need to think about before you choose a jet ski over a fishing boat.
Freestyle Jet Ski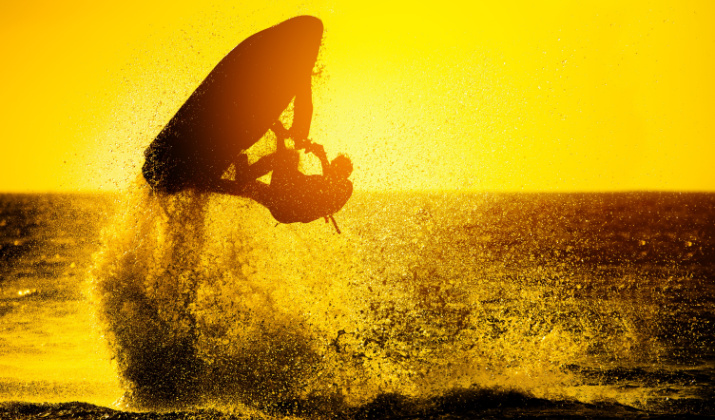 Image Source: Shutterstock
You can get freestyle jet skis that have a stand-up or sit-down riding position, but they are typically used with the rider standing up on either type.
They are much smaller than the other types of JetSki as they need to be lightweight and extremely agile for the rider to perform tricks.
Freestyle jet ski riders use waves, their wake, and the natural buoyancy of the machine to jump into the air and perform freestyle tricks.
These personal watercraft are incredibly entertaining to ride, but they're also challenging due to their lively nature.
There are not many factory-made freestyle jet skis. Therefore, most of these machines are custom-built or modified to allow the rider to jump, high and spin, and flip in the air.
How to choose a Jet Ski?
When it comes to choosing the perfect jet ski for you, you need to make sure you carefully consider what you want to use it for. You also need to consider your personal situation and what you want to get out of it.
What Do You Want To Do With It?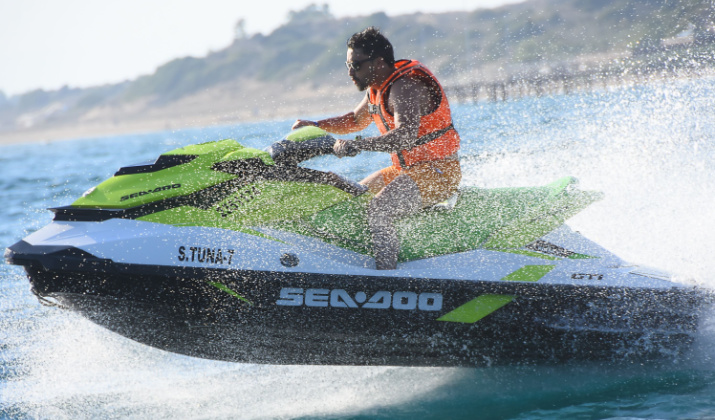 Image Source: Shutterstock
As we've already discussed, there are many different things you can use your jet ski for, from racing, fishing, tow sports, touring, and just generally blasting around the water.
Therefore you need to think about what characteristics you want from your JetSki to make sure it checks as many boxes as possible.
How Many People Will Use This Jet Ski?
The type of personal watercraft you buy will depend on the number of people who will use it. For example, if you just want it for yourself and you want to have lots of fun, you may want a smaller, more agile machine.
Alternatively, if you intend to use your jet ski for family use, for towing people, etc., you will be better off with a more powerful and larger personal watercraft. These can take up to 4 people comfortably.
Who Will Use This Jet Ski?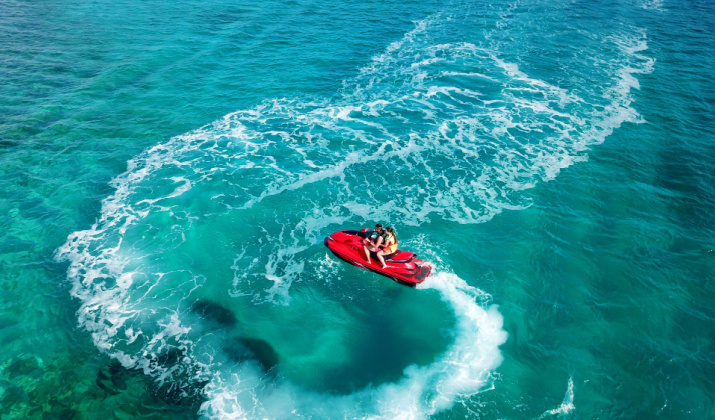 Image Source: Shutterstock
It is best to consider the competency of everyone who will use your jet ski. If you have novice or younger riders, you may want to choose a personal watercraft that isn't too powerful and has lots of stability.
It is very easy for an inexperienced Jet ski rider to get out of control or find themselves in trouble quickly on exceptionally powerful machines.
These personal watercraft should only be ridden by experienced and knowledgeable riders for safety reasons.
Where Do You Want To Ride Your Jet Ski?
Before buying a jet ski, it is best to ensure that a personal watercraft can be legally ridden on the water you want to launch.
Sometimes, personal watercraft are not allowed on certain lakes, rivers, and canals for safety reasons and to preserve local wildlife.
If you intend to ride your personal watercraft in the sea, it is best to choose one with a stable hull. As it will perform better and be more comfortable on choppy water.
How Often Will You Use It?
If you live near a suitable body of water, there is a good chance you will use your personal watercraft more regularly.
It becomes challenging to find time and inconvenient if you have to travel several hours before you can launch your jet ski.
With this in mind, it may be more cost-effective to just rent a jet ski if you have to travel long distances.
This way, you get to have all the fun but with minimum costs, and you don't have to worry about towing it or storing it safely.
What Is Your Budget?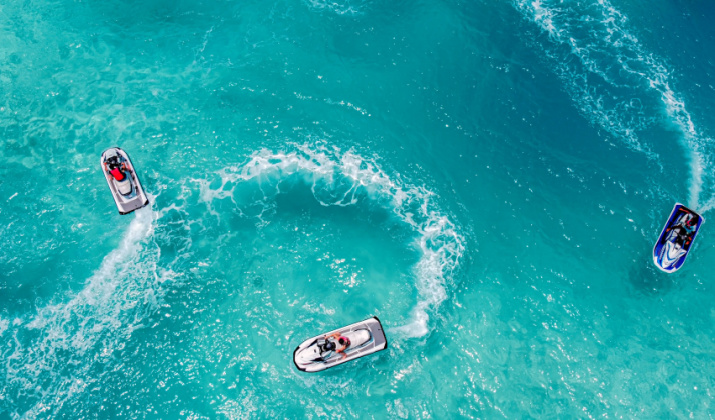 Image Source: Shutterstock
Probably the most significant consideration when buying a personal watercraft is your budget.
If you have a big fat bank account, you don't need to worry too much about this. Still, most people will have to compromise somewhere with regard to the specification of their jet ski.
Therefore, it is good to have a list of must-have characteristics and see which jet ski within your budget has them. These characteristics could be fuel economy, power, accessories, and size.
You may want to consider buying a pre-owned personal watercraft.
This is because they are generally less expensive than brand-new ones. Therefore you may find one with your desired specifications and characteristics for less money.
Newer used personal watercraft are more expensive, but they often come with a warranty that covers you for unexpected breakdowns and repairs.
If you do your homework, you can buy a fantastic used jet ski that will give you years of fun.
It's a good idea to thoroughly check over potential used jet skis before you buy.
This is especially the case if the jet ski has been used in salt water as they require more maintenance and cleaning to keep them in good condition.
Using A Jet Ski In Salt Water Versus Freshwater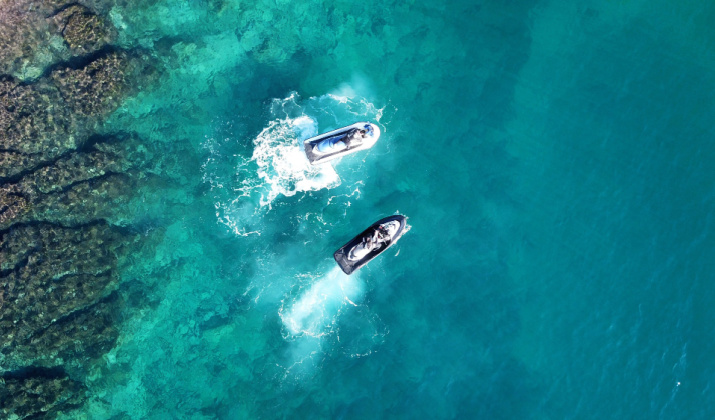 Image Source: Shutterstock
Riding a personal watercraft on the ocean is incredibly good fun.
It gives you a fantastic feeling of freedom, and the wide open space adds to the adrenaline rush. However, you could have just as much fun riding on lakes, rivers, and canals if you are far from the sea.
The body of water you intend to use your jet ski on will make a significant difference in which one you buy, even though you can ride any type of personal watercraft on any body of water, as long as it's legal.
However, you need to be aware that riding a jet ski on the ocean creates a little more work when it comes to maintenance.
This is because these machines are affected by the corrosive nature of salt water, so it's best to take certain precautions to protect your machine.
After a session of riding in salt water, it is best to give your personal watercraft a scrub down.
This includes flushing out the water injection valve with freshwater and using a salt dissolver to remove any salt traces left behind.
It is also important to rinse the engine compartment with fresh water, ensuring you don't soak any electrical components.
The whole exterior of your personal watercraft must be rinsed and wiped down to remove any traces of salt water.
This means you need to scrub all the nooks and crannies by hand to ensure your jet ski won't deteriorate with exposure to salt.
Doing this will keep your jet ski in full working order and in excellent condition, saving you money in the long run.
Final Thoughts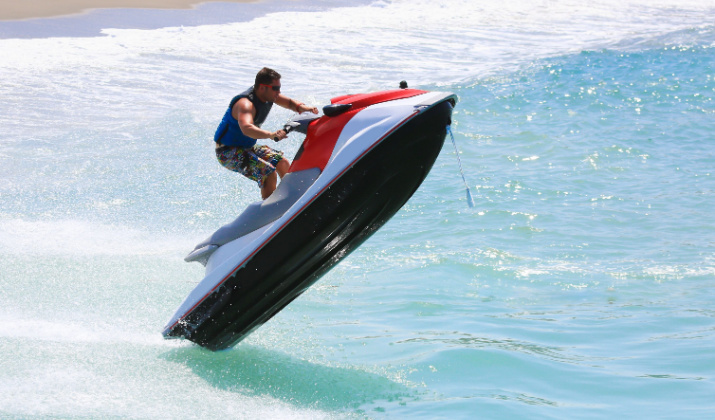 Image Source: Shutterstock
As you can see, the world of personal watercraft is quite varied. There are many different types that suit various needs and uses.
Therefore you need to take careful consideration of what your requirements are to ensure you buy the best one for you so you can have the most fun.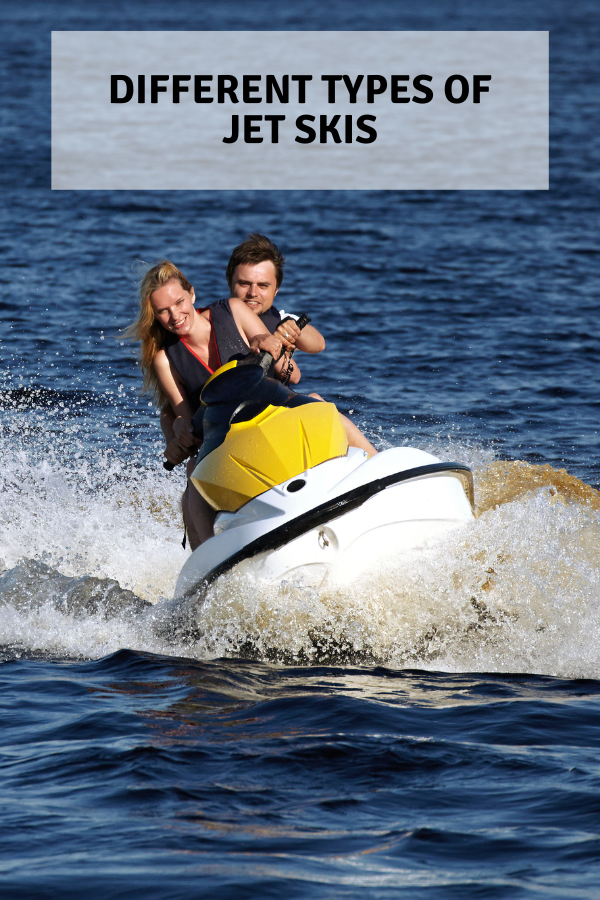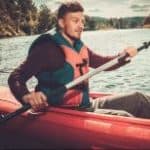 Author: Peter Salisbury
Pete is the Owner of KayakHelp.com. Born and raised in Cleveland, Ohio, he grew up kayaking, fishing, sailing, and partaking in outdoor adventures around the Great Lakes. When he's not out on the water, you can find him skiing in the mountains, reading his favorite books, and spending time with his family.