Whether you are using a kayak, canoe, raft, or tube to paddle down a river, the exercise is going to do a number on your appetite.
You need to have enough food on hand to sustain you throughout the duration of your floating trip.
However, planning float trip food can leave even the most experienced adventurers feeling confused and overwhelmed.
To help take some of the stress out of prepping for your next trip, I've put together some amazing food ideas that will surely hit the spot and help you replenish the energy you burn along the way.
Float Trip Food Ideas
1. Baked potatoes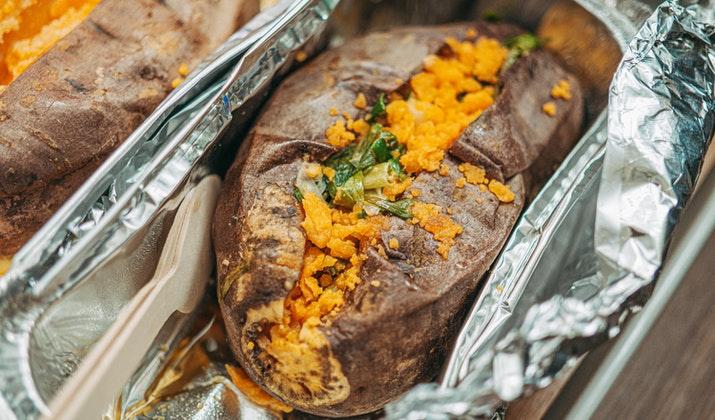 Source: Pexels
This is a great easy to make meal to take with you on your float trip. It packs well and doesn't go rancid quickly, so you can save it for lunch or dinner after you have been out exploring the water for hours.
If you have space to pack an oven or you can make arrangements for one when you reach shore, you can take the raw ingredients and cook the meal fresh whenever you are ready to eat.
2. Turkey and Cheese Roll-Ups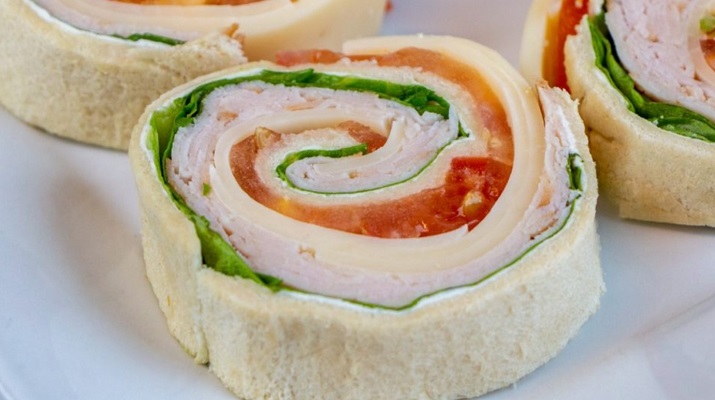 Source: PotatoRolls
The last thing you want when you are out on the water is to get too hungry that you lose focus because that's a recipe for things to go awry. This bite-sized snack is the perfect stomach companion to keep you going until mealtime.
All it requires is some bread, turkey, lettuce, tomatoes, cheese slices, or cream cheese and you're good to go. You can make this protein-packed snack ahead of time and just pop one into your might when the hunger pangs start to hit.
3. Beach Burger with Mango Salsa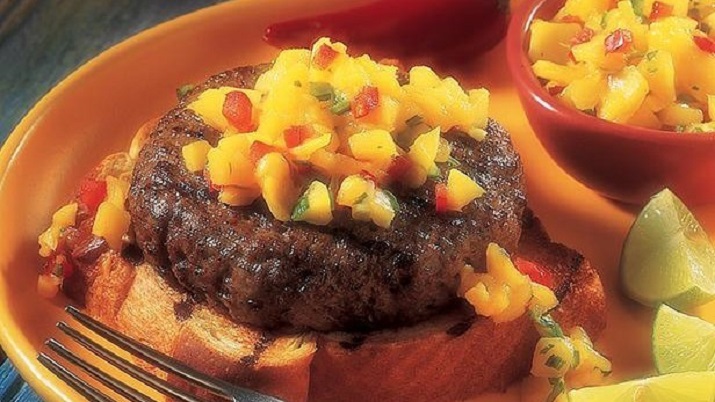 Source: Food Network
No matter what time of the day it is, you can never go wrong with this float trip food staple. It's simple, achingly delicious, and so damn satisfying.
The great thing about burgers is that you can make them at home before heading out for your trip or wait till you set up your campsite, then place a grilling rack over hot coals and cook your beef patties.
4. Sweet Chilli Shrimp Kabobs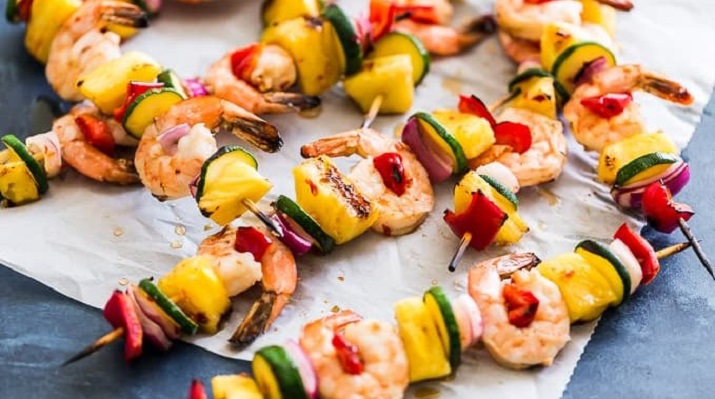 Source: Get Inspired Everyday
These spicy grilled skewers are what you need to bring an extra kick to your water adventures. They taste incredible and don't require a lot of prep work so you'll be dining and relaxing in minutes.
This meal can work as a simple appetizer or you can pair it with some rice and veggies and transform it into the main course.
5. One-Pot Pesto Pasta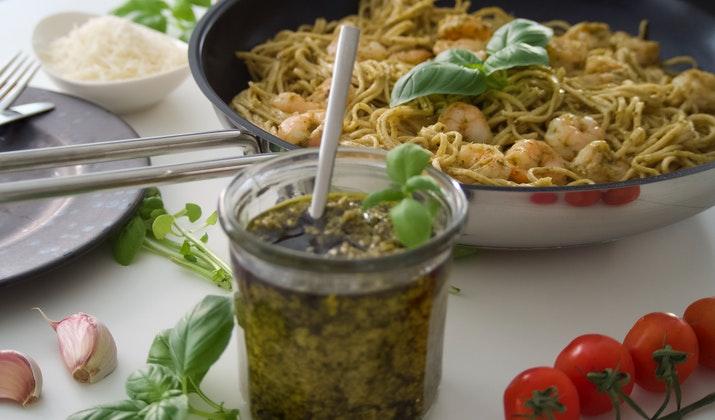 Source: Pexels
Whether you plan to be out on the water alone or you are making a group or family hang out of it, pesto pasta is one of the best float trip food ideas to keep you full, happy, and satisfied.
To save yourself some cooking time, make the pesto beforehand. You can even take things one step further by buying a jar of pesto.
This way, when mealtime comes around you only have to cook your pasta, add the pesto, toss it all together, and serve. Since it cooks in one pot or pan, cleaning up will be much easier to handle.
6. Breakfast Sandwich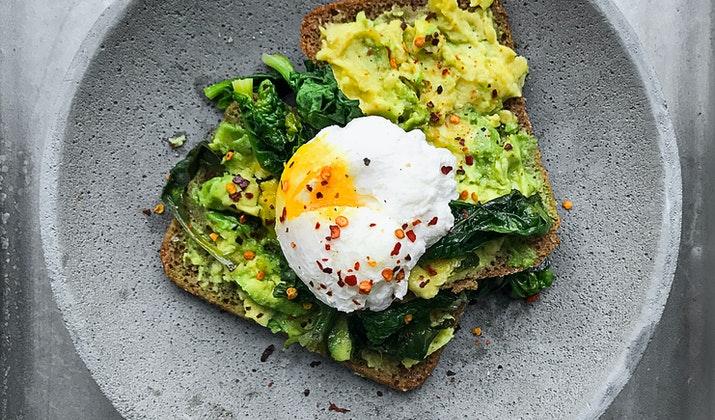 Source: Pexels
This float trip breakfast sandwich has everything you need to buoy your spirits before or after embarking on your on-the-water adventures for the day. You get the refreshing taste of avocados, tomatoes, bacon, and fried or scrambled eggs perfectly ladies out on toasted bread.
Making breakfast sandwiches doesn't require a lot of prep or utensils. It can be made in one skillet over a campfire or stove.
7. Sweet and Savory Oatmeal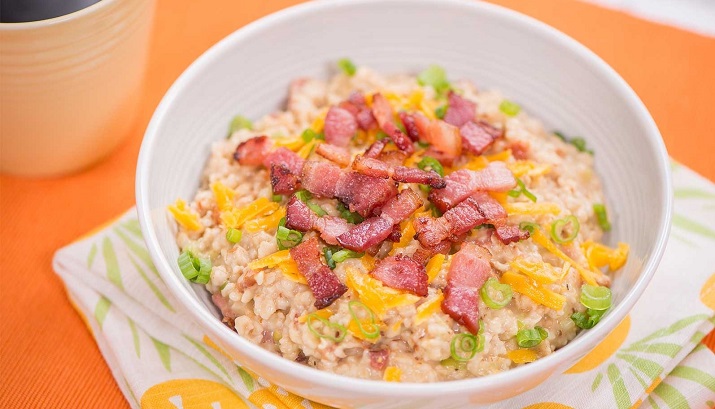 Source: Oats Everyday
You are probably used to eating oatmeal one way: throw in some sugar, milk, and pieces of fresh or dried fruit and you're good to go. But what if I told you that you can take oatmeal to a new level by spicing it up with bacon bits, some shredded cheese, and a drizzle of maple syrup?
You have to admit that sounds interesting. Give it a try on your next canoeing, kayaking, or rafting trip, and see what you think about the pairing.
8. Burrito Wraps
Source: Pexels
This classic Mexican dish contains refried beans, cheese, rice, avocados, peppers, onions, and your favorite proteins packed tightly to make one big, yummy wrap.
The beauty of burritos is they can be customized to suit your specific taste or preferences so feel free to swap out the ingredients you don't like and throw in the ones you love to ramp up the flavor profile.
Don't be surprised if you feel yourself drifting asleep after having this tasty and filling meal. Just make sure you are safely tucked away on land before letting your eyelids close.
9. Chilli and Garlic Bread
Source: PhotoDune
This is one of those meals that feel like home in a bowl and it will make a perfect addition to your float trip food menu. It's incredibly easy to make and doesn't require a lot of time or effort to put together.
Most of the ingredients for this meal—beans, tomato sauce, veggies, and ground beef or textured vegetable protein—can be dehydrated so they will take up little room in your supplies bag.
If you don't have a dehydrator you can buy the dehydrated versions and just throw them in a pot when you're ready to eat. You can also bring along some garlic bread with or pack the bread mixture and make it fresh. It only takes a few minutes.
10. Grilled Chicken Tacos
Source: Pexels
Tacos are another food idea for your float trip that's worth trying if you want a lot of flavor without having to do a lot of cooking or prepping. The citrus-based marinade can be made ahead of your trip to add some zing to the taste of the chicken.
All you have to do when you set up camp is break out a grill, throw the chicken on it, assemble the tacos, and let the deliciousness flood your tastebuds.
11. Beans and Vegetable Soup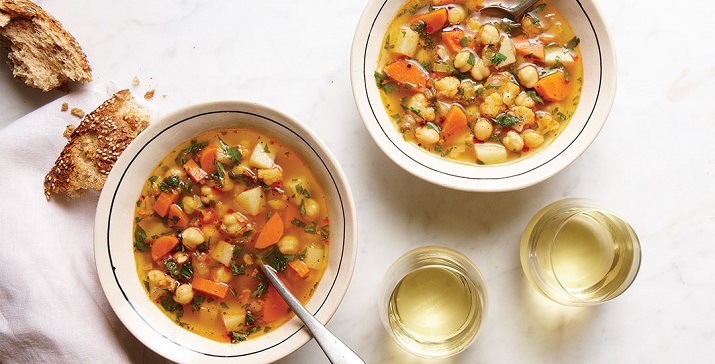 Source: Fine Cooking
This comforting, one-pot meal is a great way to retire after a long day of paddling across the river and soaking in the scenic surroundings. Don't let the soup in the name fool you, this can be a very filling meal depending on how you make it.
It's also very simple to make. All you have to do is throw the beans and whatever vegetables you have on hand into the pot, add some browned ground beef, pour in the broth, mix and let it cook for a while. You can serve it with bread to make it even more filling.
12. Thai Red Curry and Rice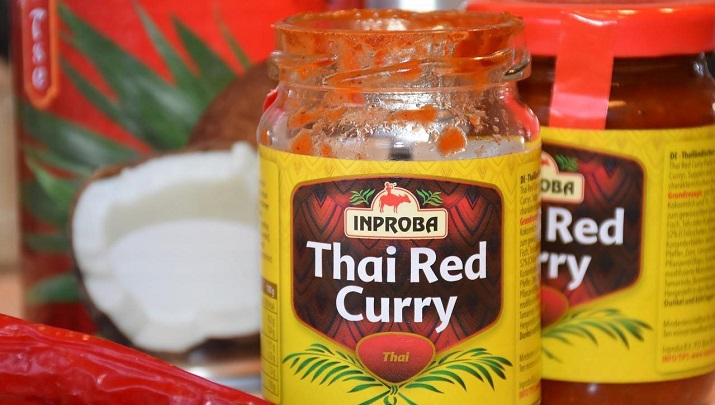 Source: Pixabay
If you're looking for float trip meals that won't have you toiling over pots or waiting long hours before you can finally feast, this Thai red curry is the answer to your desires. It is easy to make and super delicious too.
Instead of making your own Thai curry paste, you can simply buy a few small jars of it to mix with the other ingredients. The jars don't require refrigeration before opening so the Thai curry paste will stay fresh until you're ready to use it.
Boil some rice and scoop the Thai curry sauce onto it and dig in once the food is ready.
13. Spaghetti in Clam Sauce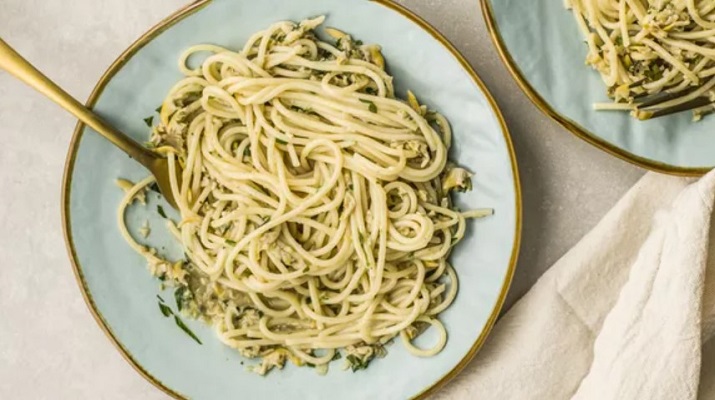 Source: Spruce Eats
After a long day on the water, you will probably find yourself craving a hot meal and there's nothing like a tasty plate of pasta to help you recover from the day's activities.
The best thing about spaghetti with clam sauce is how easy and quick it is to make—it will be ready to eat in 20 minutes tops.
You don't have to worry about packing fresh clams, canned clams will work just as well. The juice from the canned clams will give this dish the tasty-briny flavor you'll love.
14. Albacore Tuna Salad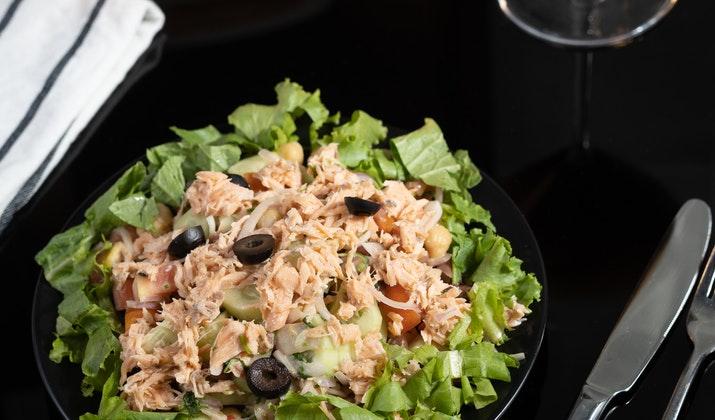 Source: Pexels
For an inexpensive and easy to prepare meal option for your float trips, I heavily recommend an albacore tuna salad. All you need is some canned tuna, lemon juice, dill pickles, celery, herbs, and your favorite flavor of mayonnaise to bring this comfort food together.
You don't need a stove or to build a fire to cook this meal. Just toss and mix all the ingredients together in a bowl and it will be ready to eat.
You can serve your albacore salad with slices of bread or fold it into a tortilla to make a wrap.
15. Quick Skillet Beans with Hot Dogs
One of the best float trip food ideas to plan for after a long, fulfilling day of exploring the outdoors and enjoying fun-filled activities is hot dogs with a generous serving of beans cooked in a cast iron skillet over a grill.
You can grill the hotdogs or cut them up and cook them with the beans in the app. The choice is yours, but either way, you are going to love downing this hearty meal.
16. Lime Butter Grilled Salmon and Veggies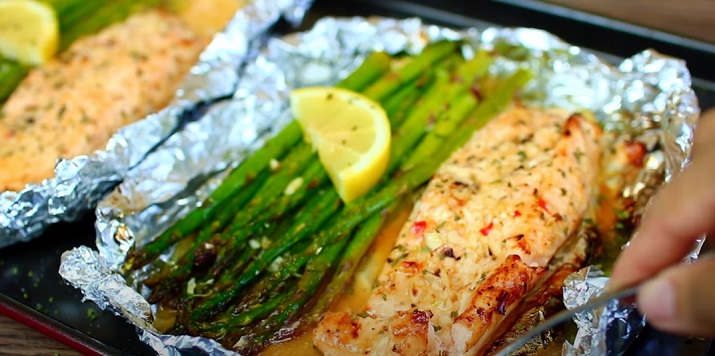 Source: Recipes
I promise you that this float trip food will have you licking your fingers or utensil in delight. It's incredibly easy to make too.
Just place your salmon and vegetables in a foil then melt butter, mix with lime juice and zest, and pour it over the salmon. Throw in a few lime wedges, fold the foil packet to seal it, place it on the grill, and your mouth-watering lunch or dinner will be ready in a few minutes.
17. Cast Iron Brats with Sauteed Peppers and Onions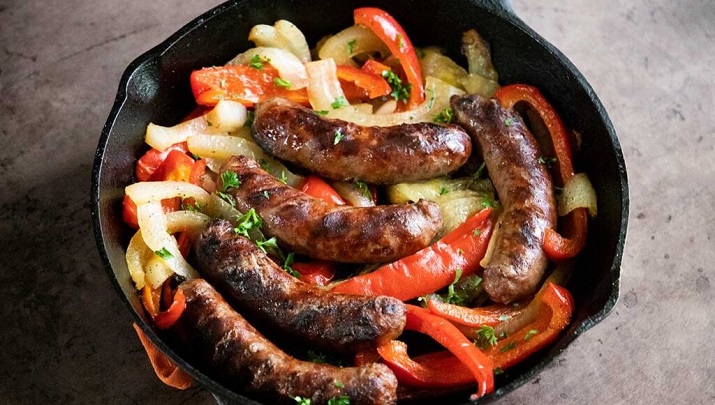 Source: Don't Sweat The Recipe
No matter what time it is or what the season is saying where you are, this meal will make you feel like it's a warm summer day. There are no special tricks or abilities required to cook up appetite-stimulating food.
You just have to place your cast iron skillet over a fire, add some oil, followed by the onions and peppers, then introduce the bratwurst into the mix and stir occasionally until it's cooked through.
Once it's ready, slice a sandwich roll and place the brats, onions, and peppers in the middle, drizzle some mustard on it, and enjoy.
18. Cowboy Caviar with Chips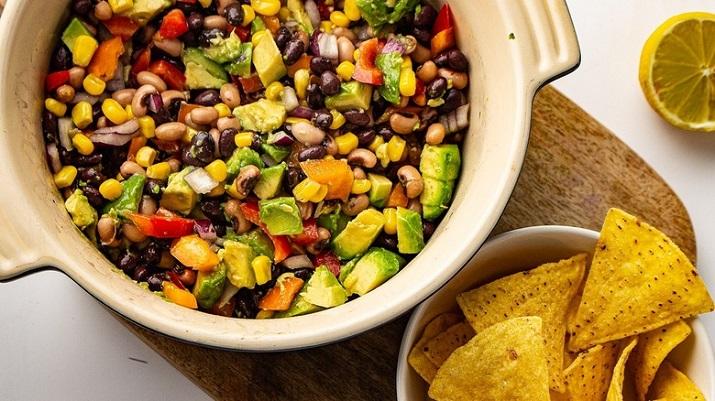 Source: Tasting Table
This is the perfect snack to accompany you for a day on the river, lake, or ocean. You can choose to prep it before you head out so you can munch on it whenever hunger strikes.
If you want to save some prep time or make the meal while you're on the go, you can skip making your own chips and just buy some.
The ingredients for the caviar—tomatoes, avocados, sweet corn, black beans, bell peppers, red onions, and spices—don't require cooking.
Simply add them to a bowl, toss to combine well, grab a pack of chips, and start scooping.
19. Foil Packet Shrimp Scampi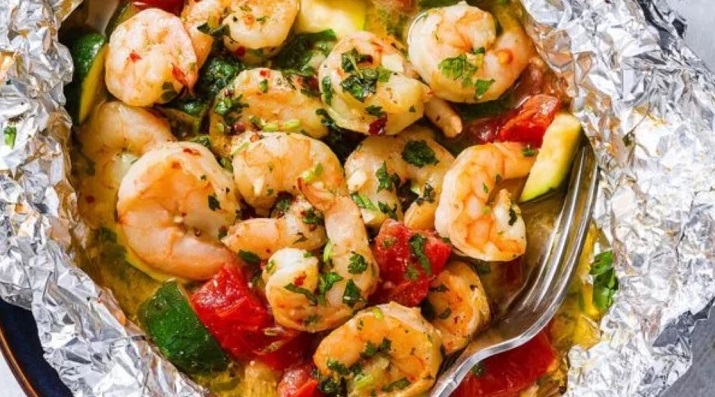 Source: Eatwell101
Whether you are having it on its own, with some cooked rice, a side of bread, or over a bowl of pasta, shrimp scampi is one of the best float trip food ideas you can try.
This foil packet version is easy to assemble and saves you the trouble of having to wash up pots and pans after you're done cooking.
The shrimp will soak up all the buttery, lemony, and herby goodness of the ingredients to create an aromatic dish that will have you swooning even before it comes off the grill.
20. Sweet and Spicy Snack Mix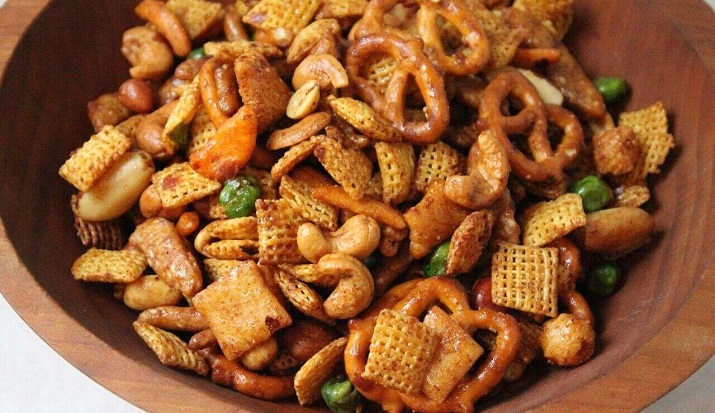 Source: Today
It's always a great idea to pack some tasty snacks to munch on during your float trips so you don't get lightheaded before you have to stop for food.
This sweet and spicy snack mix will have you licking the inside of the bag to make sure you've gotten every last morsel out.
There's plenty of room for customization when making your snack mix so feel free to use a combination of your favorite crackers, cereal, and nuts in your mix. The star of the show is the sweet and spicy syrup coating that will give your snack mix that addicting flavor.
21. Fish Chowder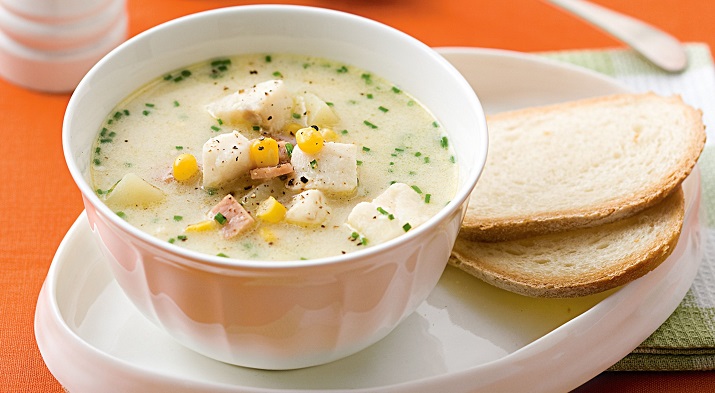 Source: Taste
Since you're out having adventures on the water, eating seafood seems like an unavoidable consequence.
And what better way to enjoy the gifts of the sea than with generous servings of thick and creamy fish chowder.
The combination of fish filler, carrots, peas, potatoes, and sweet corn helps to make this hearty meal quite filling. But you can always grab some crusty bread to go with it if you need a little more weight from your meal.
22. Chickpea Breakfast Hash
Source: FreshOffTheGrid
This breakfast food idea for float trips does away with the traditional potatoes and introduces chickpeas in their place to deliver a truly satisfying meal that is chock-full of proteins.
The cooking process only requires one skillet so cleaning up will be an uncomplicated affair.
Another great thing about the chickpea breakfast hash is its staying power. You won't find yourself desperately craving an early lunch after eating this, which means you'll have plenty of time to get into your float trip bucket list before you have to take a break.
23. Grilled Corn on the Cob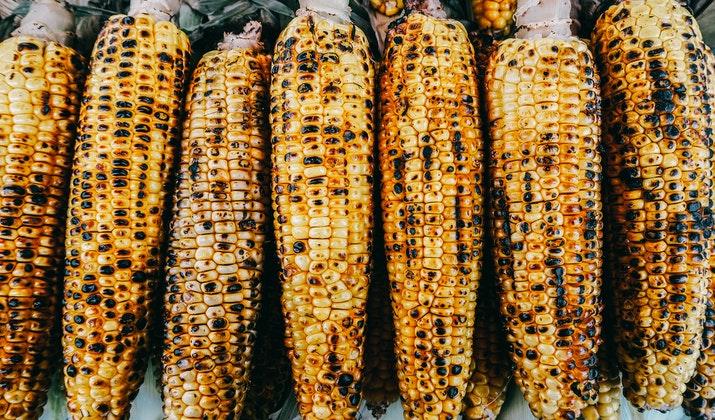 Source: Pexels
If you're looking for simple food ideas for float trips, corn on the cob is one of the most uncomplicated meals you can make.
It's also very versatile which means that you can enjoy it as a standalone healthy snack or incorporate it as a side for another meal like chilli or warmed-up baked beans.
For best results, make sure to soak your corn cobs in water for about 30 minutes before grilling them.
24. Avocado Toast with Hard Boiled Egg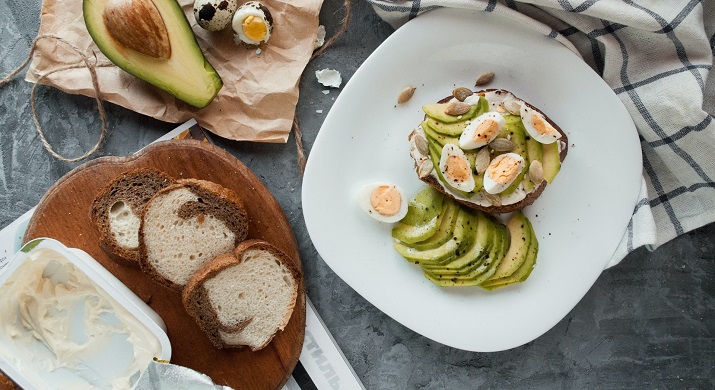 Source: Unsplash
You can prepare this meal to have as a snack during your float trip. You just have to boil some eggs, toast a few slices of bread, select a few avocados, and pack them all into your storage bag.
Since avocados go brown quickly after they are cut, it's best to keep them whole until you're ready to use them.
When that time comes, simply mash your avocados and spread them over the toasted bread, then slice the hard-boiled eggs and arrange them on top of the toast.
You can sprinkle salt and pepper in the mixture to embolden the taste. If you're packing raw eggs as well, mark the shells of the boiled eggs with a sharpie so don't mix them up.
25. Shakshuka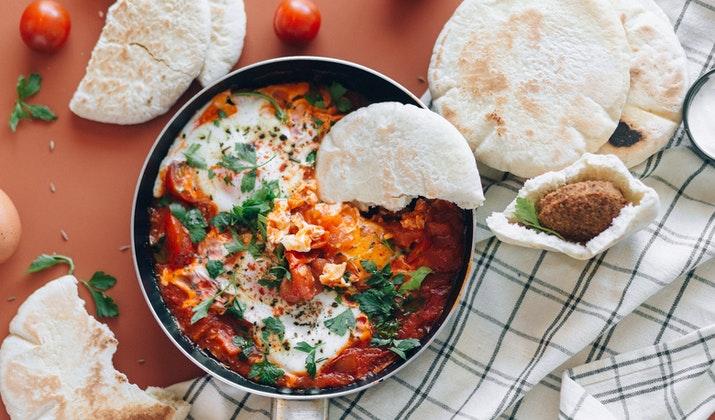 Source: Pexels
Give this North-African dish a try the next time you go on a float trip. Whether you're having it for breakfast, lunch, or dinner, Shakshuka is hands-down one of the best and most interesting ways to enjoy eggs.
It's a simple dish that involves gently poaching eggs in a spicy tomato sauce and adding a sprinkle of crumbled feta cheese at the end.
You can enjoy this heartwarming meal on its own or add some slices of crusty bread to elevate the experience. Feel free to add avocados and microgreens as a garnish and don't forget to relish every spoonful.
26. Cheesy Garlic Fries
Source: Pexels
When you're outdoors having the time of your life, you need a satisfying meal to keep your energy levels up and ensure you make it to the end of your float trip in one piece. Cheesy garlic fries are the perfect quick and easy food option for you.
You don't need an oven to bring this recipe to life, just throw the seasoned potatoes into a foil packet and cook it over an open flame. Your potatoes will come out looking crispy with that extra smoky flavor to make it even more delicious.
27. Red Lentil Sloppy Joes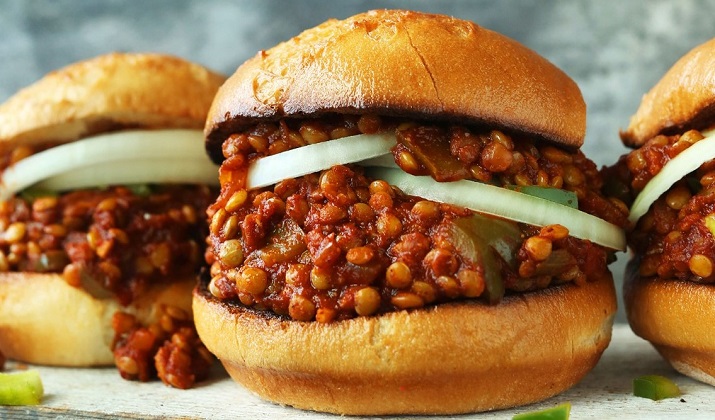 Source: Minimalist Baker
Swap out the meats for this plant-based, protein-dense spin on the classic burger. What you need to get your meal cooking is some red lentils, onions, salt, garlic, pepper, mustard, tomato paste, Worcestershire sauce, maple syrup, and apple cider vinegar.
Once the lentils are done cooking, slice a bun in half, heap the tasty sauce, and take a huge bite. I promise it'll taste even better than you imagine so don't be surprised if you find yourself whipping up a bash to eat even on days when you're back home.
28. Mac and Cheese
Source: Pexels
Few meals provide the comfort and satisfaction that the mac and cheese offer, so it deserves a spot on my list of best float trip food ideas. Whether you're picking up the mac and cheese from the store or making your own, this meal involves very light prep work.
You can eat it straight from the pack whenever you get hungry or wait till you get to your camp tent and heat it on hot coals until the cheese bubbles and melts.
If you plan on storing your mac and cheese in a cooler, make sure you seal the pans or tubes in a ziplock bag to keep water from getting into them and ruining your perfectly planned meal.
29. Panzanella Salad with Peaches and Tomatoes
Source: FreshOffTheGrid
If you love croutons, you are going to thoroughly enjoy this nourishing float trip food. The croutons are tossed with tomatoes, peaches, basil, and mozzarella with a healthy drizzle of white wine vinaigrette.
This meal works great as the star of the show or as a quick side act before the main event.
30. Chicken Ramen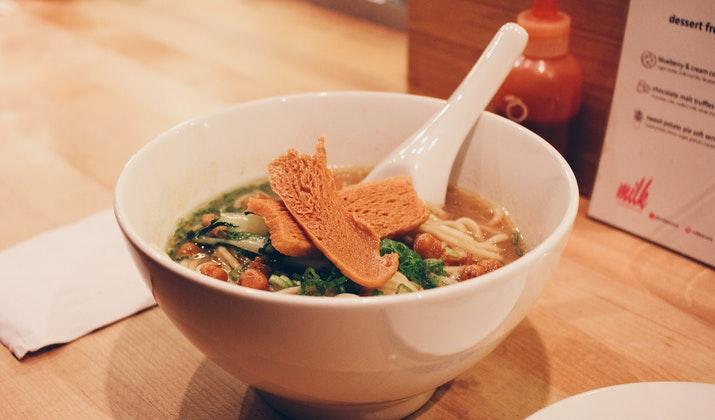 Source: Pexels
After spending the day fishing and basking in the scenic views as you float down the river, a good bowl of chicken ramen soup is just what you need to nourish your body and warm your heart.
It only takes about 30 minutes to cook up this flavorful recipe so you'll be able to dine in no time.
Conclusion
You no longer have to spend days or weeks wondering what you're going to eat on your float trip, nor do you have to carry a ton of processed foods with you.
You can still enjoy healthy, amazing meals even while you're out exploring the waters.
No matter your food preferences or how picky an eater you are, you're bound to find a couple of float trip food ideas on this list that will help fuel your next outdoor adventure.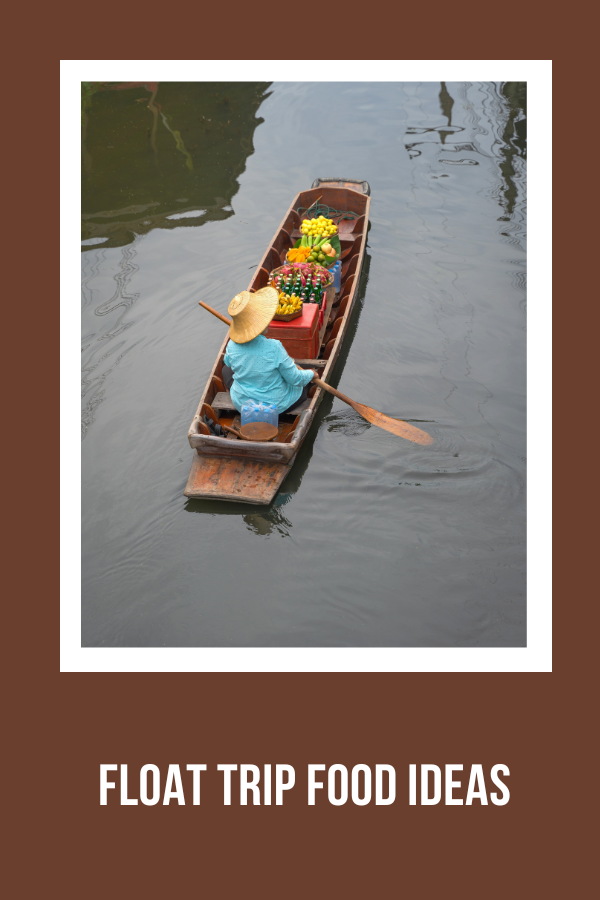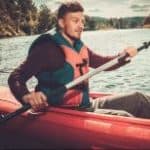 Author: Peter Salisbury
Pete is the Owner of KayakHelp.com. Born and raised in Cleveland, Ohio, he grew up kayaking, fishing, sailing, and partaking in outdoor adventures around the Great Lakes. When he's not out on the water, you can find him skiing in the mountains, reading his favorite books, and spending time with his family.