Florida is a well-known destination for beach seekers and ocean lovers. In addition to being a fantastic place for a getaway, Florida offers many opportunities for kayaking. The state has hundreds of waterways, lakes, and springs.
Your options range from saltwater sea kayaking to smaller freshwater lakes and rivers. No matter your paddling preferences, Florida has something to offer.
A particularly unique kayaking option that you can experience in Florida is clear water kayaking. Paddling in a clear-bottomed kayak in some of the most tropical waters in the U.S. provides opportunities to observe fish, manatees, and dolphins swimming below.
With warm temperatures all year round, Florida is a great place to plan a kayaking trip any time of the year. Keep in mind that during summer, temperatures regularly rise above 85 degrees Fahrenheit, so you'll want to bring plenty of drinking water along.
Many of the places on this list have diverse and ecologically important wildlife and don't allow dogs. However, there are a few places where dogs are allowed to join you on your water adventure if you want to bring Fido aboard the kayak.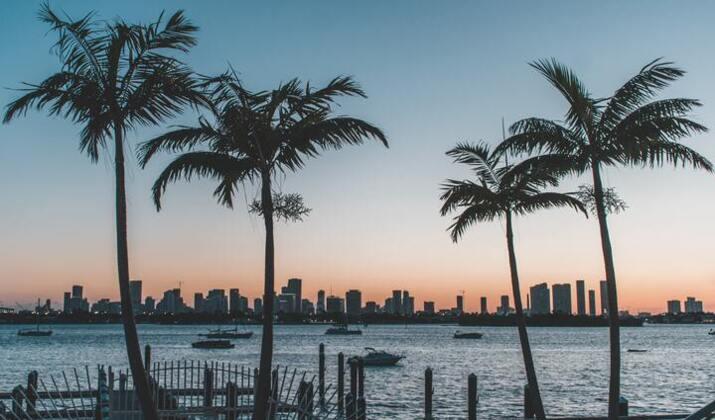 Photo by Denys Kostyuchenko on Unsplash
Best Kayaking Trips In Florida
1. Indian Key Historic State Park
Picture a seemingly-remote island that is only accessible by boat, and you have Indian Key. It's located only a short distance from the mainland but is like a far-away oasis.
You can either paddle with your own kayak or rent one from any of the many available nearby. After only a half-mile, you will arrive at the 11-acre island. There is a small entry fee.
You can shore your boat at the designed kayak landing on the south side and explore the island on foot. There is a watchtower that provides an elevated look at the marsh and ocean landscape.
The island is an abandoned village from the 1800s. Much of the ruins and remains of buildings have been left providing a view into the past. Additionally, you can walk the grid-like pattern of the original roads and imagine a time when people thrived there.
There are no services on the island so bring plenty of snacks and water. Be sure to pack out anything you bring in and always practice Leave No Trace principles.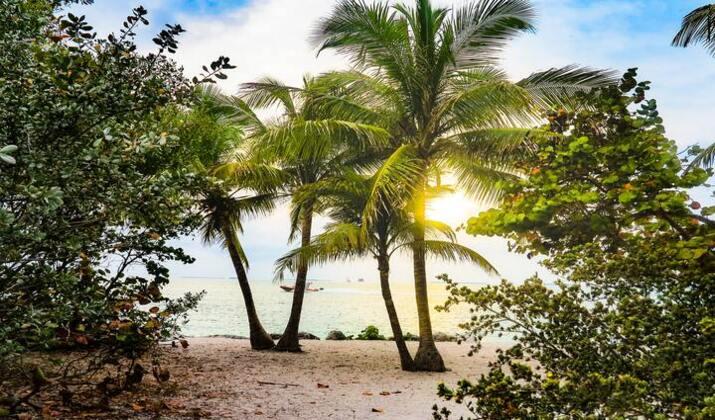 Photo by Nextvoyage on Pexels
The water around Indian Key is extremely clear and marine enthusiasts often spot stingrays, sharks, dolphins, and more swimming below. If you like to snorkel, there are remains of an old coral reef that host a wide variety of fish, sea stars, and more.
This short afternoon trip is well suited for beginners to saltwater kayaking. The water to and from the island is shallow and generally calm in good weather.
2. Turner River
Turner River is located within Big Cypress National Preserve and is one of the most popular kayaking routes in the entire state.
The best time of year to paddle here is from late fall to late spring. The summer months typically have hoards of bugs like mosquitos and biting gnats that make for a less than desirable experience.
The river boasts lots of wildlife viewing opportunities, including many species of birds, alligators, fish, and more. Alligators require a little bit of consideration when sharing the waters with them. Remain aware, and give them plenty of space to roam freely.
The river offers mangrove forests and tunnels, and when the water levels are not too high or too low, you can paddle through them. If the water is a bit high, you may have to duck under some stretching limbs of the mangrove trees.
You can choose to launch your kayak in one spot and kayak to another, using a shuttling service to bring you one way, or simply paddle out and back. Either way, there is so much beauty to be admired on the Turner River.
The river is accessible from a few different points. You can use the kayak and canoe launch on US-41 located in Big Cypress National Preserve and paddle south to another launch at Chokoloskee. You could also flip the route and paddle from the south and travel north.
Launching or exiting at the launch located at the Gulf Coast Visitor Center is another option. Total trail distances vary from 8 to 11 miles, depending on where you access the water. If you prefer a shorter-distance adventure, we recommend paddling out and back.
Timing your paddle in synchronization with the tides will work advantageously but is not imperative. We recommend paddling north with a rising tide and conversely paddling south along a falling tide.
3. Rainbow Springs State Park and River
Rainbow Springs is a very popular destination, and usually, places are popular for good reason. Aside from kayaking, there are tons of options for activities there such as swimming, picnicking, snorkeling, and more.
You can launch your personal kayak in the spring or rent from onsite facilities within the state park. From there you can access the Rainbow River, which stretches for about six miles.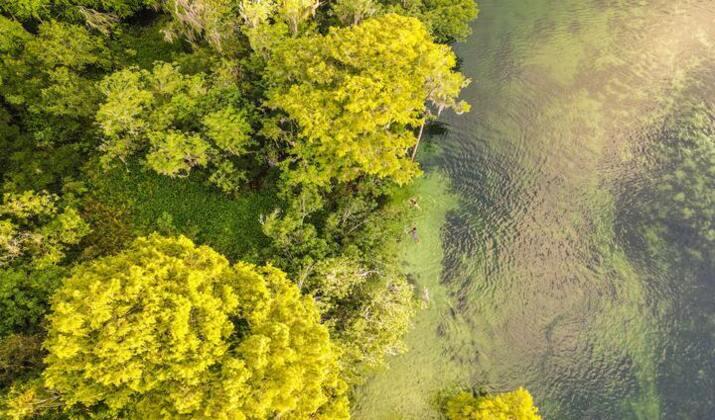 Photo by Luiz Cent on Unsplash
There are a few access points between the state park and the end of Rainbow River where it meets the Withlacoochee River so you can customize your trip to suit your needs. The river itself flows steadily but is not too challenging to paddle upstream.
An abundance of wildlife lives in and around the river. You may expect to see river otters, turtles, dozens of unique birds, and obviously, fish. Osprey and other birds of prey often use the water to hunt for meals. As with any body of water in Florida, alligators may be present so be aware.
4. Crystal River
Both a town and a river, Crystal River brings in half a million visitors each year. If you have ever been you are familiar with what draws people there.
The area is well-known for its plentiful springs, including Three Sister's Spring, a popular destination for manatees and wildlife watchers alike. In addition to manatees, you may see a variety of tropical birds, river otters, pelicans, and maybe even a dolphin.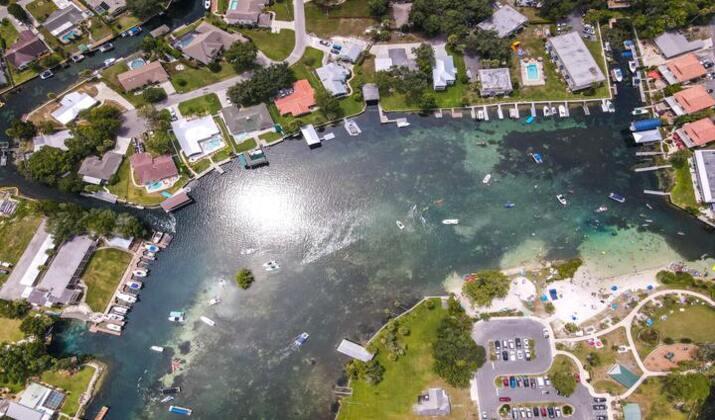 Photo by Luiz Cent on Unsplash
The shortest distance route kayaking to the spring starts by launching at Hunter Springs Park. From there, it is a short 20-30 minute paddle to reach the mouth of the spring.
As previously mentioned, Crystal River is a river too. Though it is a short seven miles, kayaking the river is a fun and serene way to spend a half-day.
Keep in mind that sometimes springs or parts of the bay and spring are closed to any type of watercraft. The U.S. Fish and Wildlife Services manages a lot of this area and enacts temporary closures to protect manatees.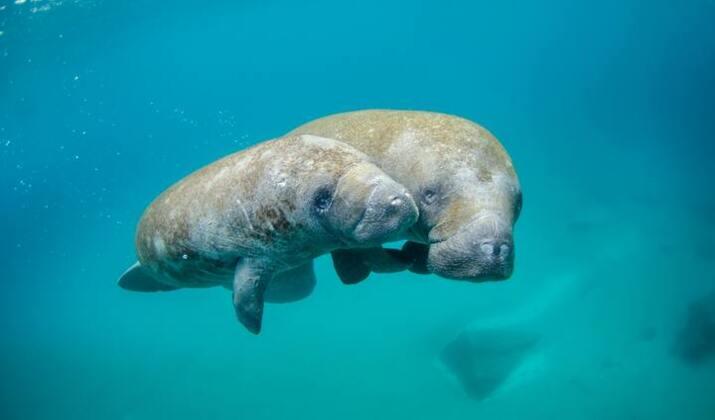 If you are interested in kayak fishing, there are lots of opportunities for that around the Crystal River area, including King's Bay. Gather your best fishing gear then hit the water to reel in trout, redfish, and snook.
If you don't have your own kayak, or you are not equipped to transport your boat, there are several rental facilities in and around Crystal River. Rental locations can also help you plan your expeditions and provide recommendations of areas that best suit your desires.
5. The Apalachicola River Paddling Trail System
Located in the panhandle of Florida is the Apalachicola Paddling Trail System. The entire system has nearly 100 miles of paddling opportunities.
With more than 11 sections to choose from, there are routes for everyone, including beginners. Full-day and overnight trips ending in the Gulf of Mexico are available with the right planning.
Primitive camping is available in many areas along the shores of The Apalachicola River. When the water levels are lower, you can even set up an overnight campsite on one of the many sandbars that emerge.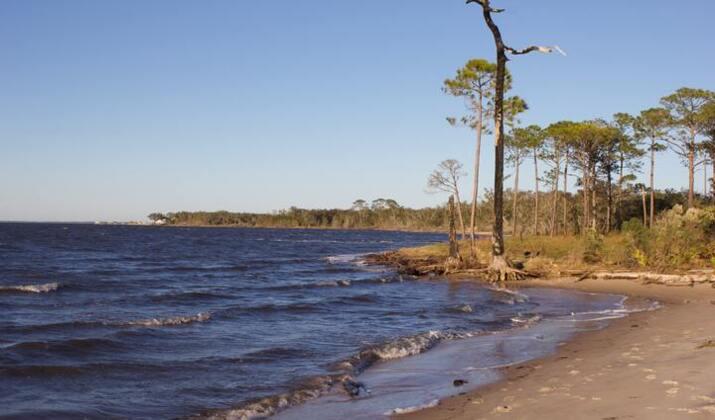 Photo by Leslie Cross on Unsplash
The environment along the river ranges from towering pine forests to floodplain grasslands. In
fact, this area has an incredible, diverse range of animals.
Many birds of prey are found in this area, including the famed Bald Eagles. In addition to birds, you may spot deer, raccoons, alligators, dolphins, crabs, and much more.
If wildlife viewing is your goal, make this paddling trail system your destination. Similarly, if you seek out rivers for freshwater fish, this region has the most diverse population in the entire state.
Many parts of this paddling trail system are only accessible by small watercraft, meaning you can revel in the peace and tranquility of nature. If that's not your jam, sticking to smaller distances and staying near boat launches will keep you close to civilization.
Like some of the other inland kayaking trip locations, the best time of year to paddle the Apalachicola River is in the cooler months. Bugs tend to get pretty plentiful in the summer months, and unless you've got the right gear, proper protection, and a sunny disposition you may not have the best time.
6. Coastal Dune Lakes
Like many areas in Florida, the Coastal Dune Lakes are a unique and special environment. Coastal lakes of this variety are found only in a handful of other places across the globe.
Essentially, saltwater and freshwater merge to form a small body of water and are protected from the ocean by the sand dunes. These lakes are primarily soft, sand-bottomed, and generally have dark-colored water due to leach tannins from nearby trees.
There are several lakes situated in a string pattern running parallel to the Florida coastline. The lakes are an ideal location for families and children to explore because they are small and relatively shallow (about five feet).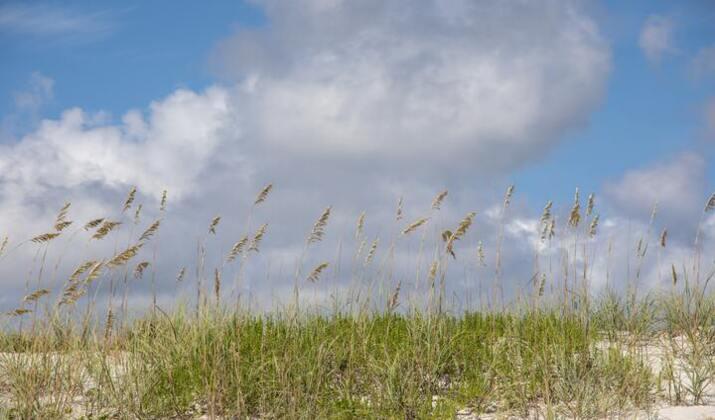 Photo by Dawn McDonald on Unsplash
The largest lake of all the coastal lakes, Lake Powell, offers kayak rentals if you don't have your own. The best part is because of the modest size of the lakes; you can spend as much or as little time out paddling as you prefer.
Don't forget to include sunscreen and plenty of water, especially if kayaking on a hot and sunny day or with children. There are many ways you can prepare and plan for a fun trip, regardless of the temperature or weather.
As you float across these coastal lakes, notice any wildlife or unique plant life. At the very least, marvel at the geologic rarity and know that you are experiencing something only a select few people ever get the chance to see.
7. Merritt Island National Wildlife Refuge
You likely haven't given much thought to kayaking at night, but you certainly need to consider it if you're in the Merritt Island National Wildlife Refuge area. Experience the wonder and delight of a bioluminescent tour.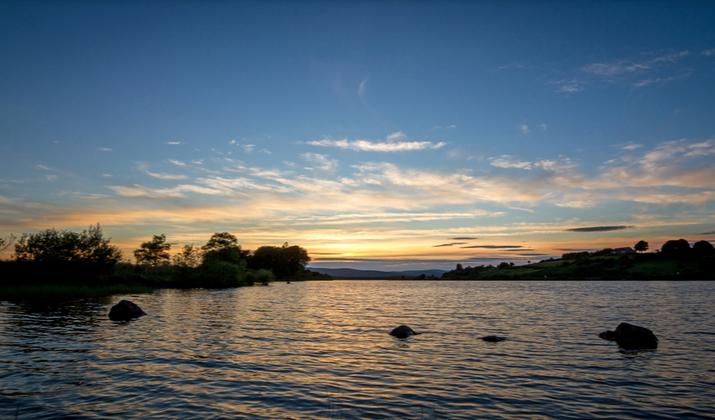 Photo by CGH Photo
Some organisms produce a natural glow as a protection mechanism that lights up at night. It creates a glowing blue hue, a true sight to behold. You may be able to see bioluminescent dinoflagellates, plankton, or jellies.
If you are not familiar with this area, it is best to go with a guided kayaking service. The darkness requires additional safety precautions and considerations that for the first time are better handled by the pros.
Most kayaking tours will start at Kiwanis Park in Merrit Island and paddle over to the magical Indian River Lagoon. It is in this area that bioluminescence is most plentiful and vibrant.
The spectacular glow can be seen almost year-round, so when you book is totally up to you. For the most potent color and glow book during a new moon, or on a cloudy night when the moonlight won't be so strong.
If the incredible glow isn't enough to excite you, there are plenty of chances that you will see other wildlife on your trip. Manatees, snakes, dolphins, egrets, and other birds call this landscape home.
As it will be nightfall and later for a bioluminescent tour, wearing the proper clothing to keep you warm and dry is an important element. Bring extra layers for when it cools down after sunset.
A video recording device or camera may be a helpful addition to your adventure, too. People may not believe you unless you have photo evidence of this rare phenomenon.
8. Everglades National Park
The Everglades is a unique, biodiverse ecosystem unlike any other on planet Earth. It is a place full of life above and below water, making it a popular destination for water sports.
There are many areas of the park that are only accessible by water, that is to say, if solitude is what you're looking for, you will easily find it here. From mangroves to grassy ponds, Everglades National Park has it all.
Like most places on this list, you can either bring your own kayak or rent from a nearby location. Guided trips are offered within the park, some lasting several days.
Nine Mile Pond Canoe Trails is a popular route chosen by those who want to mix exercise and relaxation. The water is shallow and calm as it wanders through sawgrass and mangroves. To paddle the entire loop, plan for about five hours.
For the more adventurous, the Wilderness Waterway epically provides a multi-day paddle. This 99-mile trail spans the length of the entire park.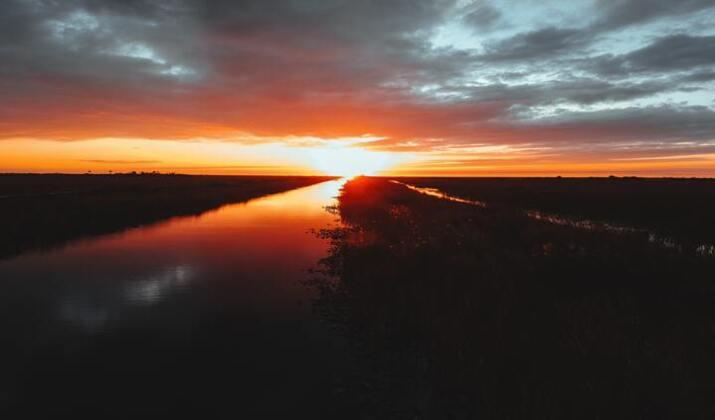 Photo by Marco Perretta on Unsplash
Be sure to bring plenty of bug spray on the journey, even in the months when bugs are not rampant. The swamp water of The Everglades provides ideal habitats for many pestering insects.
Insects are not always a bad thing though, as they support the food chain for tons of other wildlife. Kayaking through The Everglades provides an opportunity to gander at more species of amphibians, reptiles, and birds than you could name.
There are more than 40 species of mammals within the park as well, including the ever-elusive Florida panther. Believe it or not, black bears also call the park home.
Always remain aware and respectful of wildlife, large and small. Give animals plenty of room to move around, never approach them, and do not feed them. Keeping animals wild is part of recreating responsibly.
9. Dry Tortugas National Park
Dry Tortugas National Park is an incredible park located 70 miles off the coast of Key West, Florida. Don't worry though you don't have to kayak 70 miles of open ocean water to get there. A ferry service is available and will bring you to Garden Key, one of seven islands that make up the park.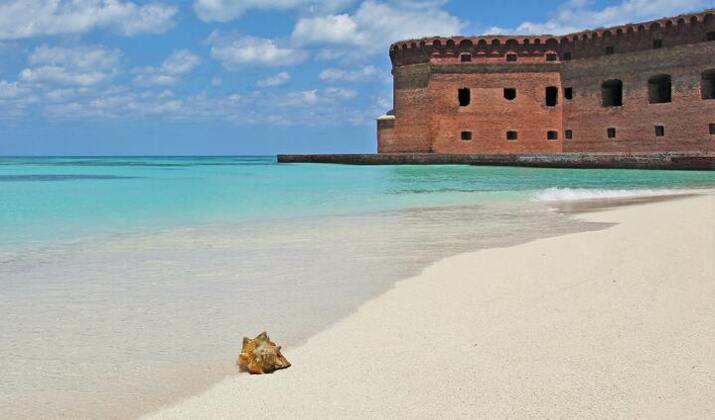 Photo by Christopher Osten on Unsplash
Fort Jefferson is a historical fort on the island open to the public for self-guided tours. An educational walk through the impressive structure is a great activity to add before or after your kayaking experience.
Once you arrive, the options for kayaking are plentiful. There are short paddle trips for beginners and longer adventures for those who are more experienced.
The nearest islands to explore are Bush and Long Key. Plan for a few hours to make the trip. From February to September, the island is closed due to nesting birds. If visiting in the fall and winter, you can shore your vessel and have a picnic on the beach or take a relaxing walk.
For a trip lasting several hours, kayak over Loggerhead Key, the largest island in Dry Tortugas National Park. Park staff highly recommends that you are an experienced kayaker before attempting this trek over deep open water.
If you are confident enough to paddle through strong currents and open sea, a serene and pristine beach awaits your arrival at Loggerhead Key. If you're lucky, you may even see a sea turtle.
Note: You must bring your own kayak or rent from mainland Florida as there are no rental services within the park. Every boat, including kayaks, must register for a boat permit upon arrival at Garden Key.
For the most adventurous and experienced paddlers, the Florida Circumnavigational Saltwater Paddling Trail, often referred to as the CT, is the pinnacle of Florida's water trail systems. This trail is a whopping 1,515-mile route following the state's entire coastline.
The trail begins at the westernmost coastline area near Pensacola and ends at Ferdinanda Beach near Jacksonville. Some kayakers paddle the whole thing in one expedition, and others break it up into several sections over several seasons.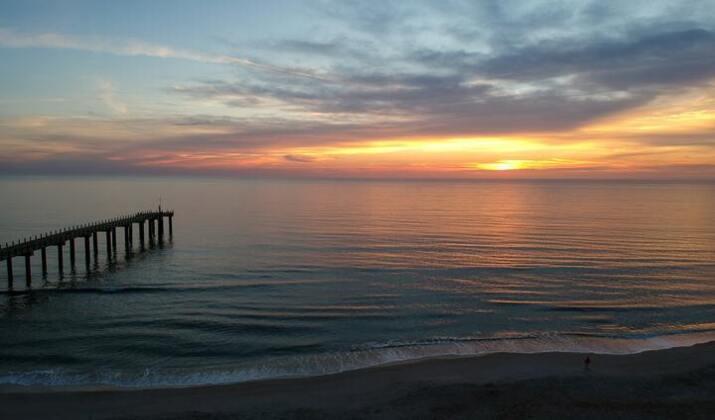 Photo by Kristin Wilson on Unsplash
Knowing how far you can paddle in one trip is essential to planning any type of long kayaking trip. Being properly prepared can save time, headaches, and money in the long run.
If you don't have the time or experience to make such a committed excursion, the trail is divided into 26 sections. You could do part of a section or combine two or more for an overnight or multi-day trip.
Along the way, there are many options for sleeping at night. Many people combine an amalgam of motels, dispersed campsites, campgrounds, and more to cover overnight accommodations.
Traversing this trail in total, one would see every variety of coastal landscape Florida has to offer – mangroves, barrier islands, and marshes. Over 20 National Park Service sites lie along the trail, along with hundreds of state and local parks.
All of this kayaking along the coastline inevitably leaves one wondering about potential dangers along the way, namely predators. But, rest assured the likelihood of a shark attack is extremely low.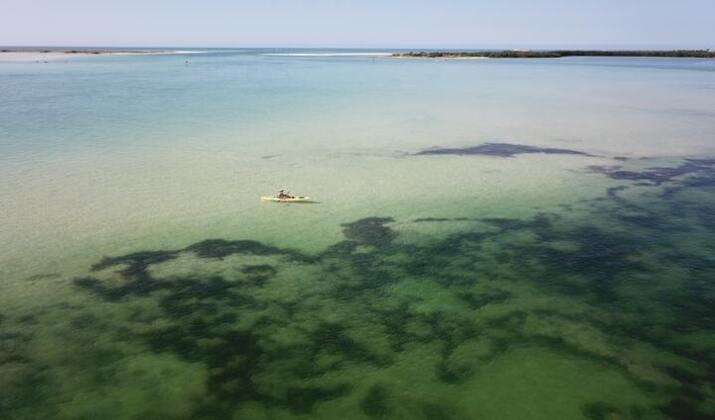 Photo by Anita Denunzio on Unsplash
Final Thoughts
Now that you have enough information to plan your Florida kayaking trip, it's time to decide where you will go to make lasting memories on the water.
With plenty of wildlife viewing, crystal clear waters, and beautiful landscapes, you're sure to enjoy your trip.
Remember to bring water for drinking, sunscreen or UV protective clothing, a life jacket or personal flotation device, a whistle, and a camera if you want to take home pictures of your adventure.
For a complete list of safety items to bring along, click here. Plan carefully according to current weather conditions, and remember conditions on the ocean can change very quickly.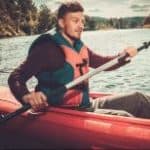 Author: Peter Salisbury
Pete is the Owner of KayakHelp.com. Born and raised in Cleveland, Ohio, he grew up kayaking, fishing, sailing, and partaking in outdoor adventures around the Great Lakes. When he's not out on the water, you can find him skiing in the mountains, reading his favorite books, and spending time with his family.