While the Great Lakes region may not be everyone's first choice for year-round paddling, kayaking in Lake Michigan is gorgeous from late spring through early fall. Lake Michigan is the sixth-largest freshwater lake in the world, it can be accessed from shorelines in Michigan, Indiana, Illinois, and Wisconsin.
Some of the largest port cities on Lake Michigan include Milwaukee, Green Bay, and Chicago, but there are loads of state parks and boat ramps to launch from in all four states. So visitors will have plenty to choose from.
Lake Michigan is, indeed, a lake, but its vast size means that high winds can cause large waves and created dangerous kayaking conditions.
This lake makes even the most experienced paddlers work from time-to-time, so our how-to guide is going to focus on everything you need to know to enjoy a safe and fun experience paddling in Lake Michigan.
Let's get to it!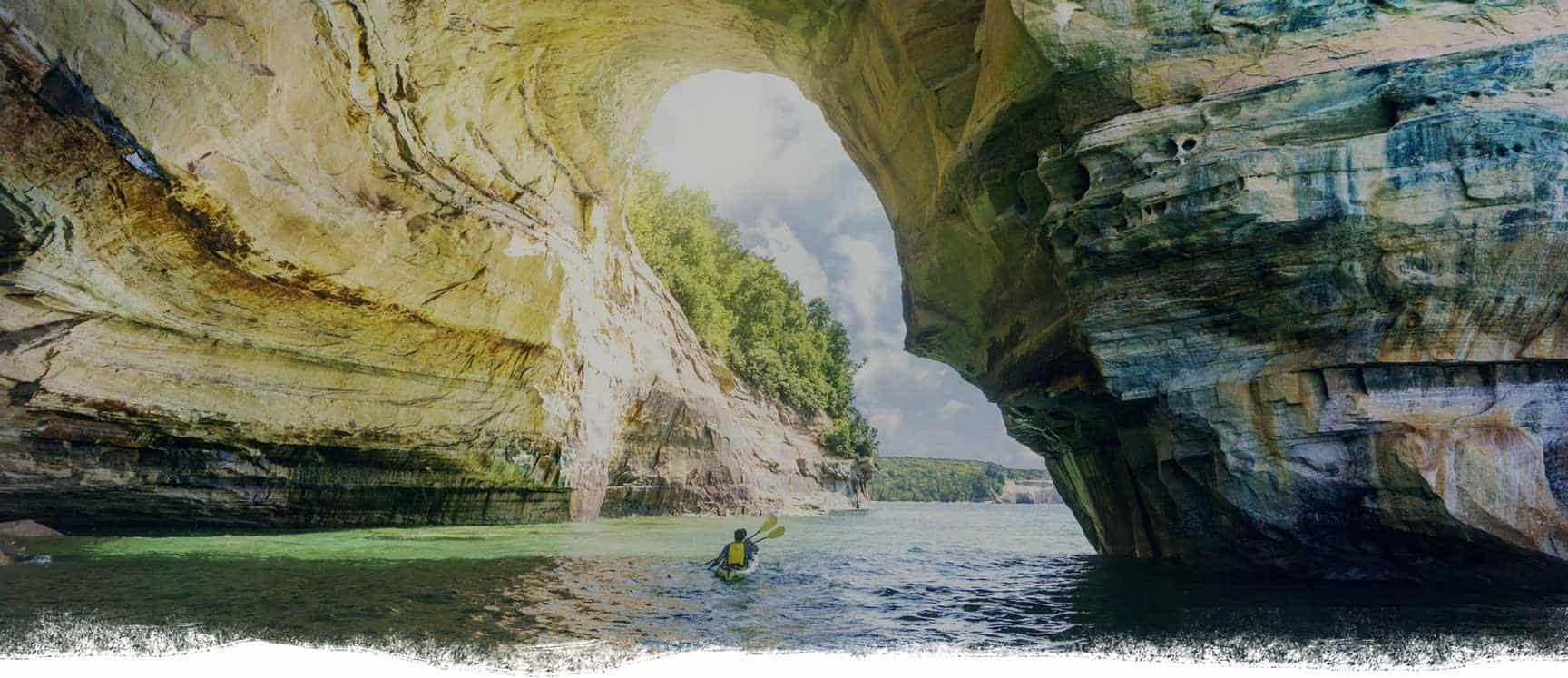 Five Places To Launch A Kayak on Lake Michigan
To be honest, there are far more than just five locations you could choose to start a paddle from on Lake Michigan. We chose these five because they are some of our favorites, but feel free to check out the full Lake Michigan Water Trail to see where else you can launch your kayak.
Indiana Dunes National Lakeshore
This national park includes about 15 miles of shoreline at the southern tip of Lake Michigan. The park's shoreline is part of the Lake Michigan Water Trail, but there is also great paddling on the Little Calumet River and Burns Waterway in the park.
The park allows kayakers to launch their vessels from any of the beaches, with the exception of the lifeguarded swim area at West Beach. They also limit kayaks to 18 feet in length and they must be carried or wheeled on designated paths and walkways.
Petoskey State Park – Tannery Creek Campground Water Access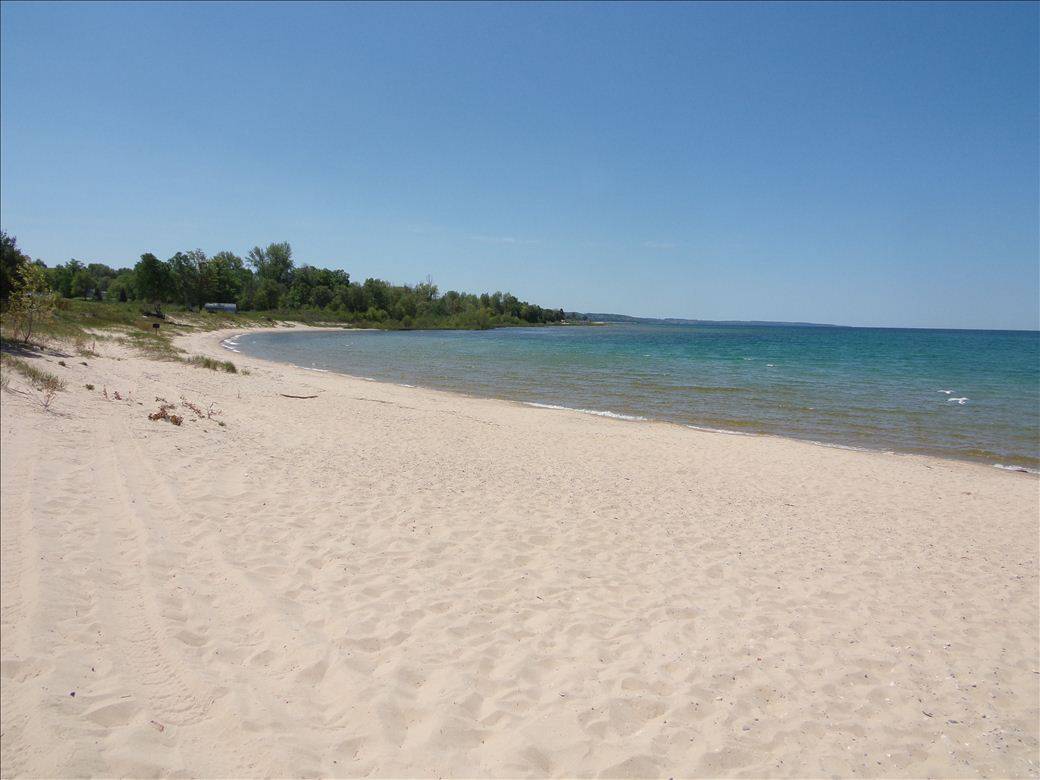 Petoskey State Park lies on the edge of Little Traverse Bay and includes a full mile of Lake Michigan shoreline. The Tannery Creek Campground is one of two campgrounds in the park, but it's the best choice for those interested in kayaking in Lake Michigan.
Tannery Creek Campground offers about 100 campsites and provides the shortest distance from campsites to the water. There are also a couple of short hiking trails in the park, but this destination is all about beach time or Lake Michigan kayaking.
Montague Boat Launch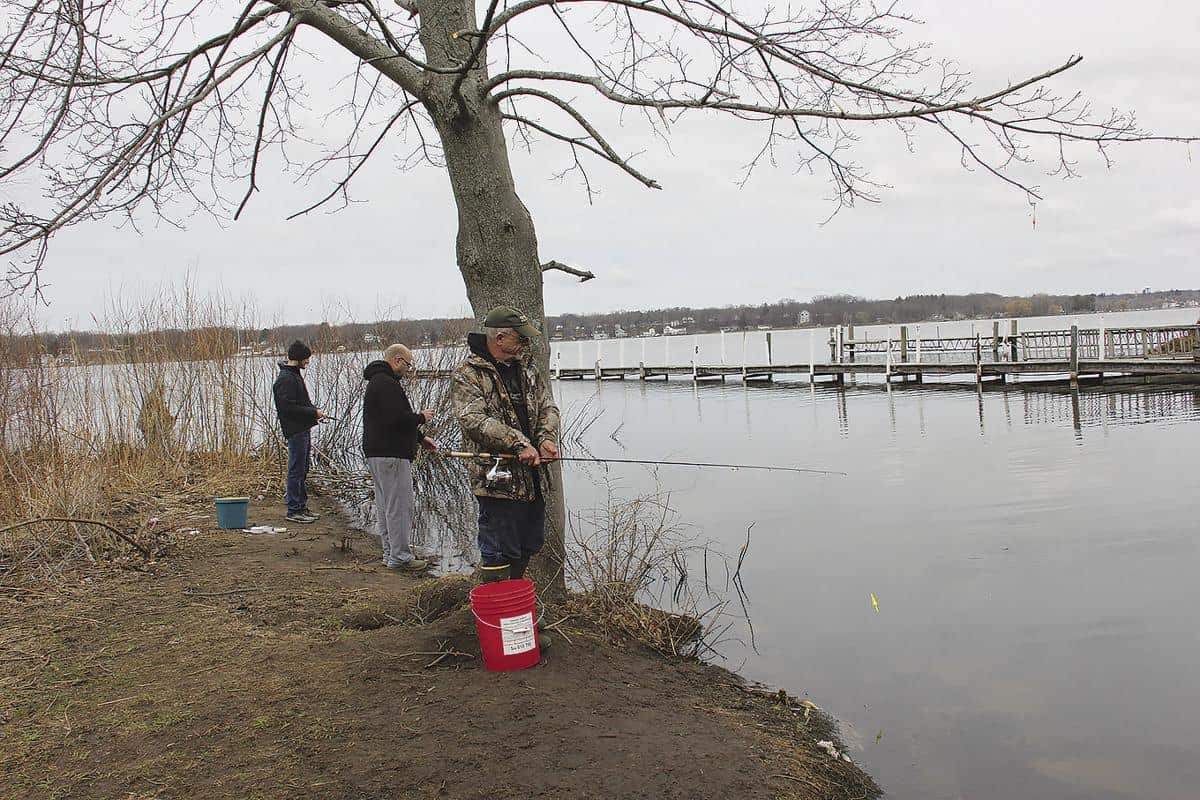 The Montague Boat Launch provides a nice middle-ground for those that don't want to drive all the way north to Petoskey or paddle in a more urban area at the southern tip of Lake Michigan. The closest large coastal city is Muskegon, and Grand Rapids is a little over an hour away.
This boat launch is perfect for a quick day paddling trip and it features a safe parking lot and restroom facilities. There is a $10 permit fee for day use, and the ramp can be located by plugging 8500 Ramp Road, Montague, MI into your GPS.
Warren Dunes State Park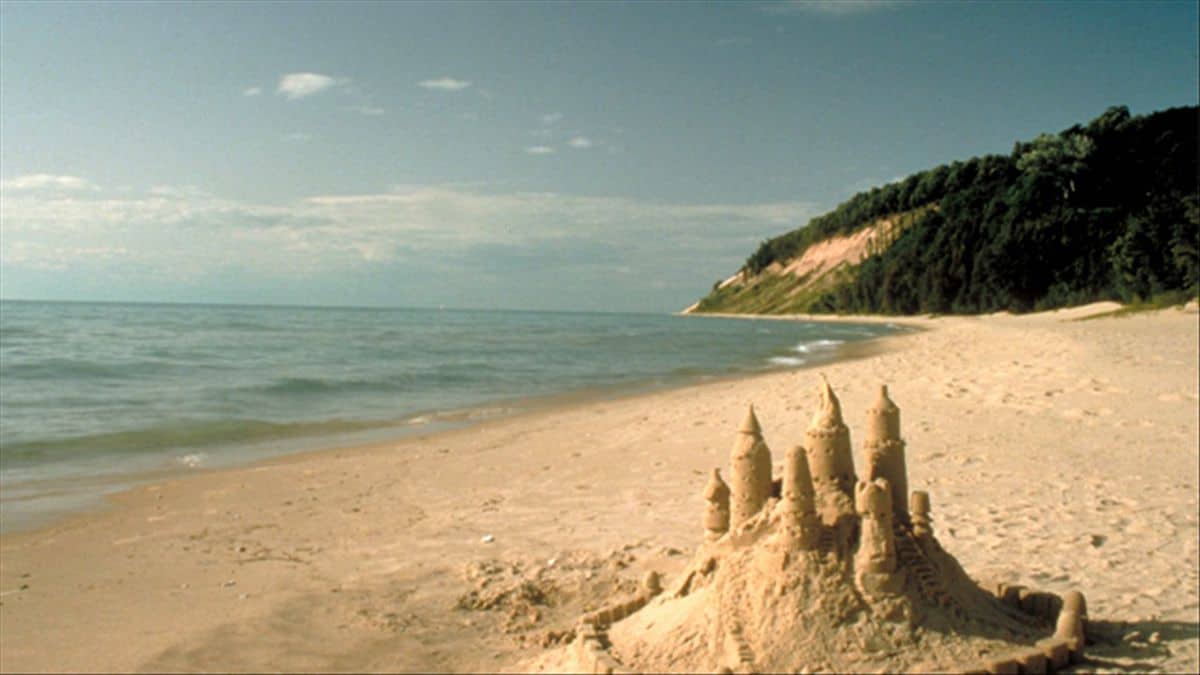 Warren Dunes State Park encompasses nearly 2,000 acres along the shores of Lake Michigan in southwestern Michigan. As you can tell, it includes a beautiful stretch of sandy beach along its three miles of shoreline.
The closest city is Sawyer, Michigan, and the best place to launch a kayak in this state park is to stay left when you go through the park entrance and park at the swim area.
Cave Point County Park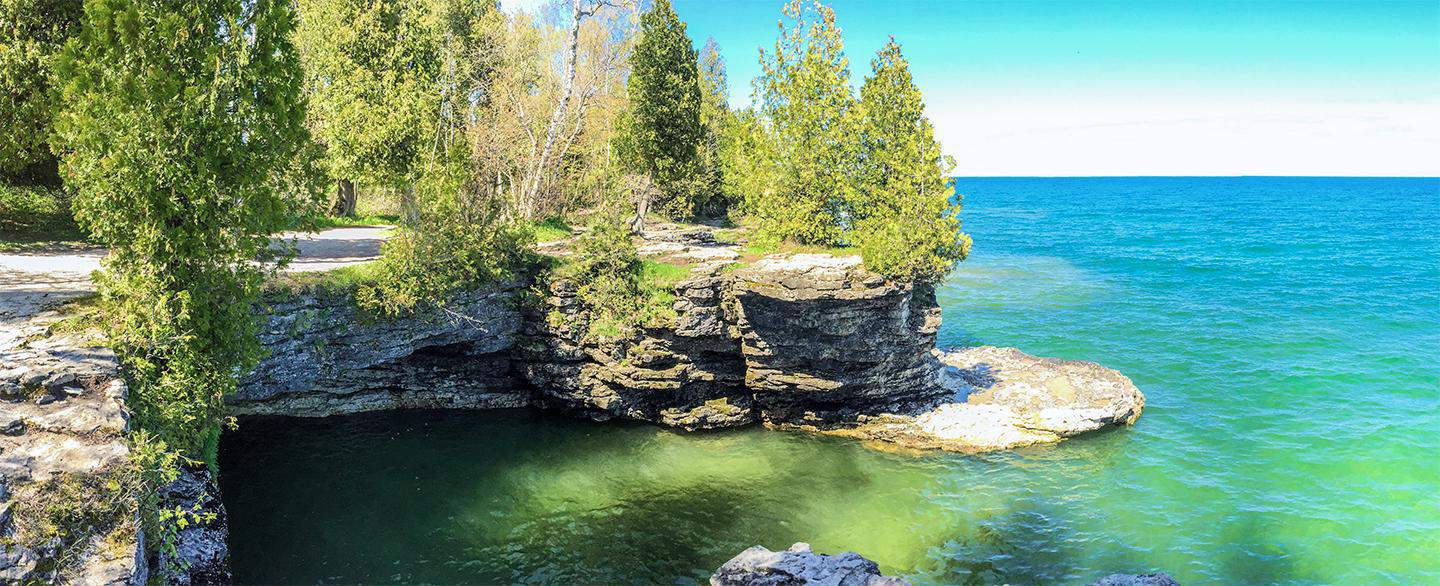 Cave Point County Park is located in Door County, Wisconsin and it's one of the best locations for guided kayaking cave tours. It's a highly sought-after location for divers, kayakers, and photographers because of the beautifully carved rock faces lining the edges of the lake's blue waters.
There is a public boat launch area located in Schauer Park in Jacksonport just one mile from Cave Point. It requires a $5 entry fee, but there are also several kayak companies that offer guided tours of the lake and the caves.
How To Choose The Right Kind of Kayak For Lake Michigan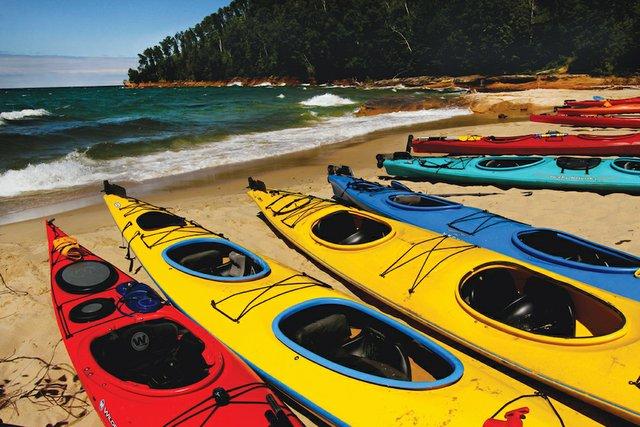 Lake Michigan's propensity to change from calm, flat water to rolling waves throughout the course of a day requires a certain type of kayak for safe paddling. So let's discuss a few tips for selecting the right kind of kayak for paddling on Lake Michigan.
Sit On Top Versus Sit Inside
Most kayakers on Lake Michigan use sit inside kayaks because they offer more flotation and additional protection from splashing water. When air temperatures dip lower in the spring and fall (and sometimes) during the summer, they also allow you to attach one of the best kayak spray skirts.
Spray skirts are a go-to kayaking accessory for Lake Michigan because they completely seal the cockpit of your kayak. This holds in extra body heat and keeps the entire lower half of your body warm and dry.
Sit inside kayaks are also preferred on Lake Michigan because many of the best touring kayaks are made in this style. Touring is a highly popular activity on Lake Michigan because of the many scenic lakeshore areas with incredible rock formations, migratory bird dwellings, and much more.
Avoid Recreational Kayaks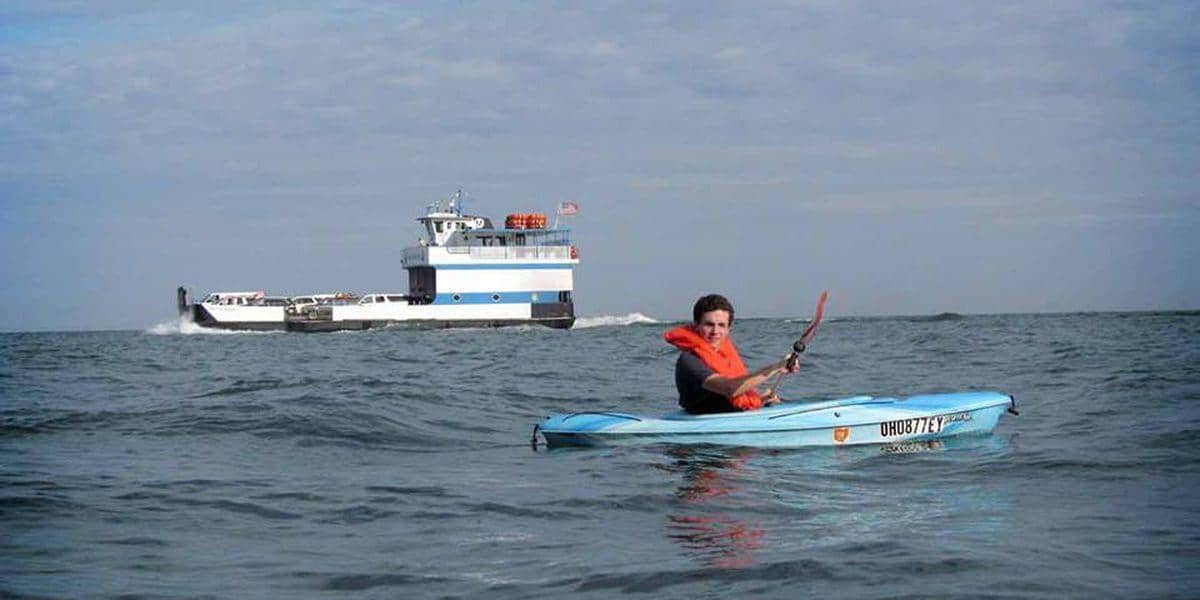 Those that have paddled on Lake Michigan for years say that recreational kayaks have no place on these waters. While some guide outfits may use them for short trips in protected bays or harbors, they are strongly discouraged for use on the open waters of the lake.
This is largely due to the fact that they lack the kind of flotation and stability required to handle the larger waves that come up on the lake from time-to-time. This makes them much more likely to capsize in rough waters than other types of kayaks.
In addition, there are a number of very large ferries and motorized shipping vessels on Lake Michigan every single day. Even on the calmest of days, they can create large waves that will capsize a recreational kayak in seconds.
Capsizing may not be a huge deal on other lakes with warmer water temperatures and less wind. On Lake Michigan, however, it can lead to disastrous consequences. So just heed the local advice and stay away from recreational kayaks if you want to paddle on Lake Michigan.
Rudder Steering System
Mainly due to the fact that heavy winds can come up on Lake Michigan daily, it is also highly recommended that your kayak boast some sort of rudder steering system. If you don't have experience using one of these systems, check out the video below.
Having a permanent or drop-down rudder at the stern of your kayak will help you keep your kayak tracking in the direction you want it to go when the wind begins to pick up. It can even be useful for eliminating corrective paddle strokes when you are paddling on calm days.
Fortunately, most of Lake Michigan is deep enough that you don't have to worry about your rudder impacting rocks or other submerged objects. That said, it's always important to keep a watchful eye out for submerged tree trunks, rocks, or logs that could damage your kayak's rudder and, as a result, make your return journey much more difficult.
Bulkhead Storage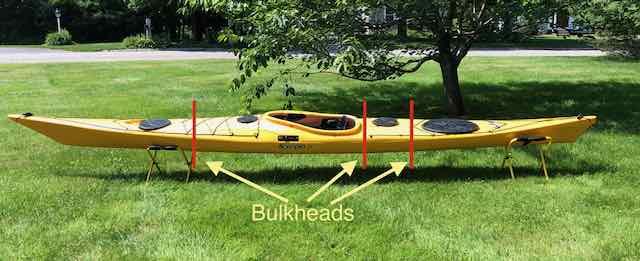 Finally, bulkheads are a must for kayaks on Lake Michigan because they provide the kind of flotation you'll need if the cockpit of your kayak begins to fill with splashing water created by large waves.
Many kayaks also have bulkhead storage compartments that can be accessed through sealed storage hatches on the deck of the kayak. These compartments are designed to be watertight and they become a great place to keep extra clothing layers or other emergency paddling gear.
The best sea kayaks almost certainly have bulkhead compartments that live up to their watertight billing. Unfortunately, this isn't necessarily the case with all types of kayaks, especially those on the cheaper end of the spectrum.
If you don't want to take a chance on whether or not your kayak's bulkhead compartment is actually going to remain 100% waterproof for the duration of your paddle, you might want to put your gear into a dry bag before storing it in your bulkhead compartment.
If you've never picked out a dry bag for the purpose of storing gear or clothing while you're on the water, be sure to check out our article on the criteria for choosing what size dry bag to use for kayaking.
Safety Tips For Kayaking in Lake Michigan
As always, we want to you be as safe and prepared as possible wherever you are paddling. These safety tips can be used in many places but, in this case, they are specific to keep you safe when kayaking on Lake Michigan.
Always Wear A Personal Flotation Device (PFD)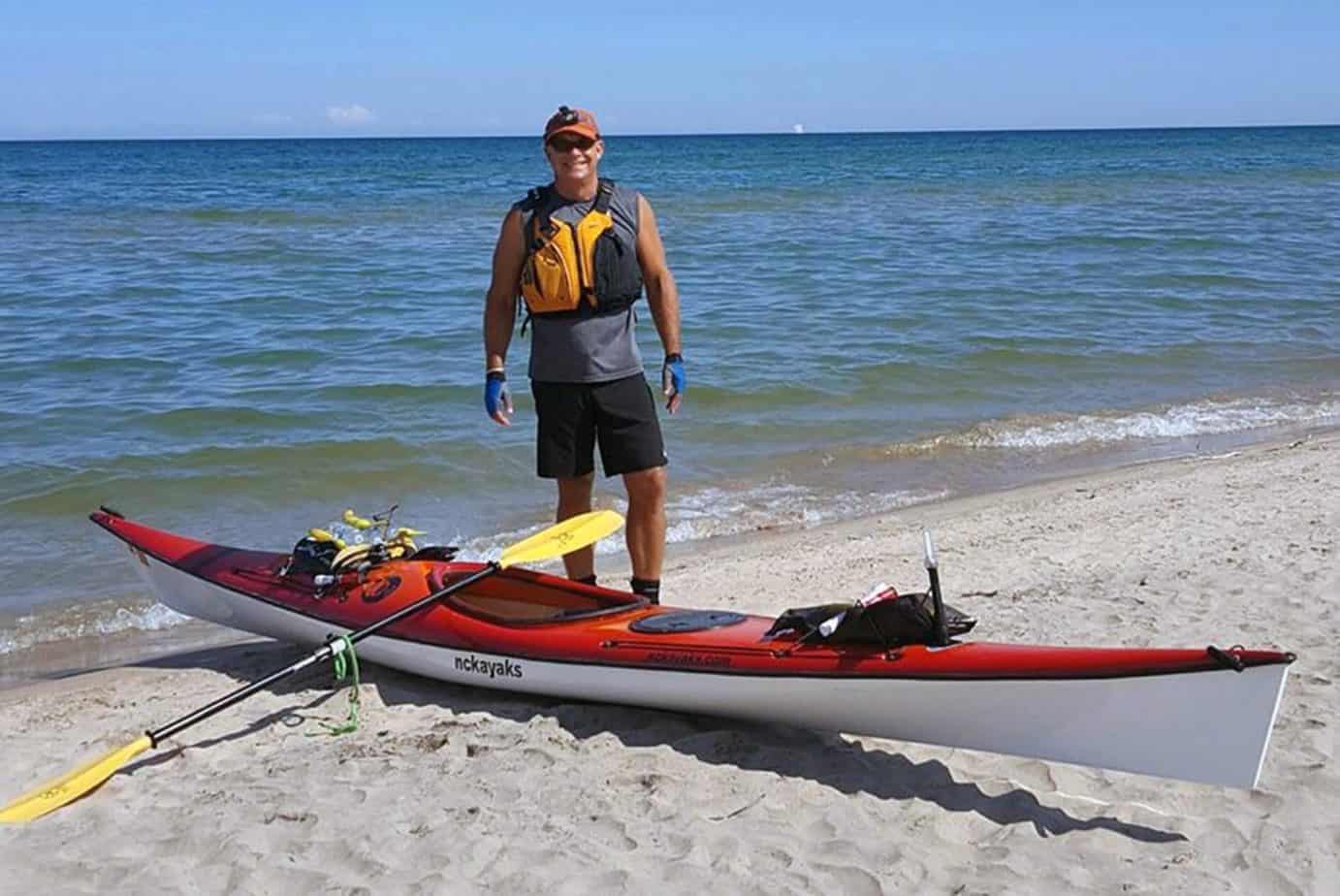 Even if it's a warm and sunny day with minimal wind (like you see pictured above), it's always recommended to wear a PFD when you are paddling on Lake Michigan. Legally speaking, you must at least have a PFD on board your kayak to be within regulations.
PFDs save lives and it really is that plain and simple. Of the minimal number of kayaking fatalities that happen annually, the vast percentage of them are traced back to the lack of the paddler's diligence in wearing a PFD.
This is especially important on the cold waters of Lake Michigan where, unfortunately, even the best swimmers can succumb to the effects of cold water shock. Nowadays, PFDs actually look pretty cool, so don't be a fool and just wear one!
File A Float Plan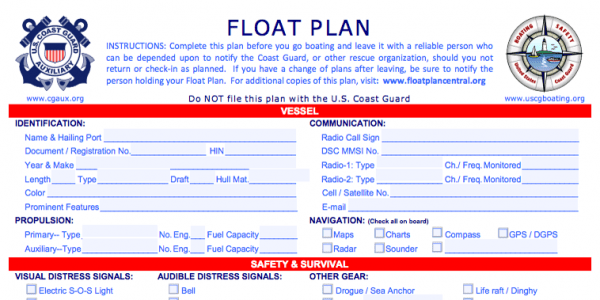 Filing a float plan is a great idea that can be applied to all forms of outdoor recreation. You may not always need to fill out quite such a detailed form (like you see above) and hand it directly to a U.S. Coast Guard official, but someone should have a strong idea of the key components of your paddling trip.
This includes information like when and where you are launching from, where you plan to land (if it's different from your launching location), how many people are in your party, color or distinct markings on the kayaks you will be paddling, and the date and time of your expected return.
The best-case scenario is that your float plan winds up in the trash after your successful trip. The worst case is that rescuers have a solid amount of vital information to guide their rescue efforts if you don't come home when expected.
Be Prepared For The Possibility of Cold Water Immersion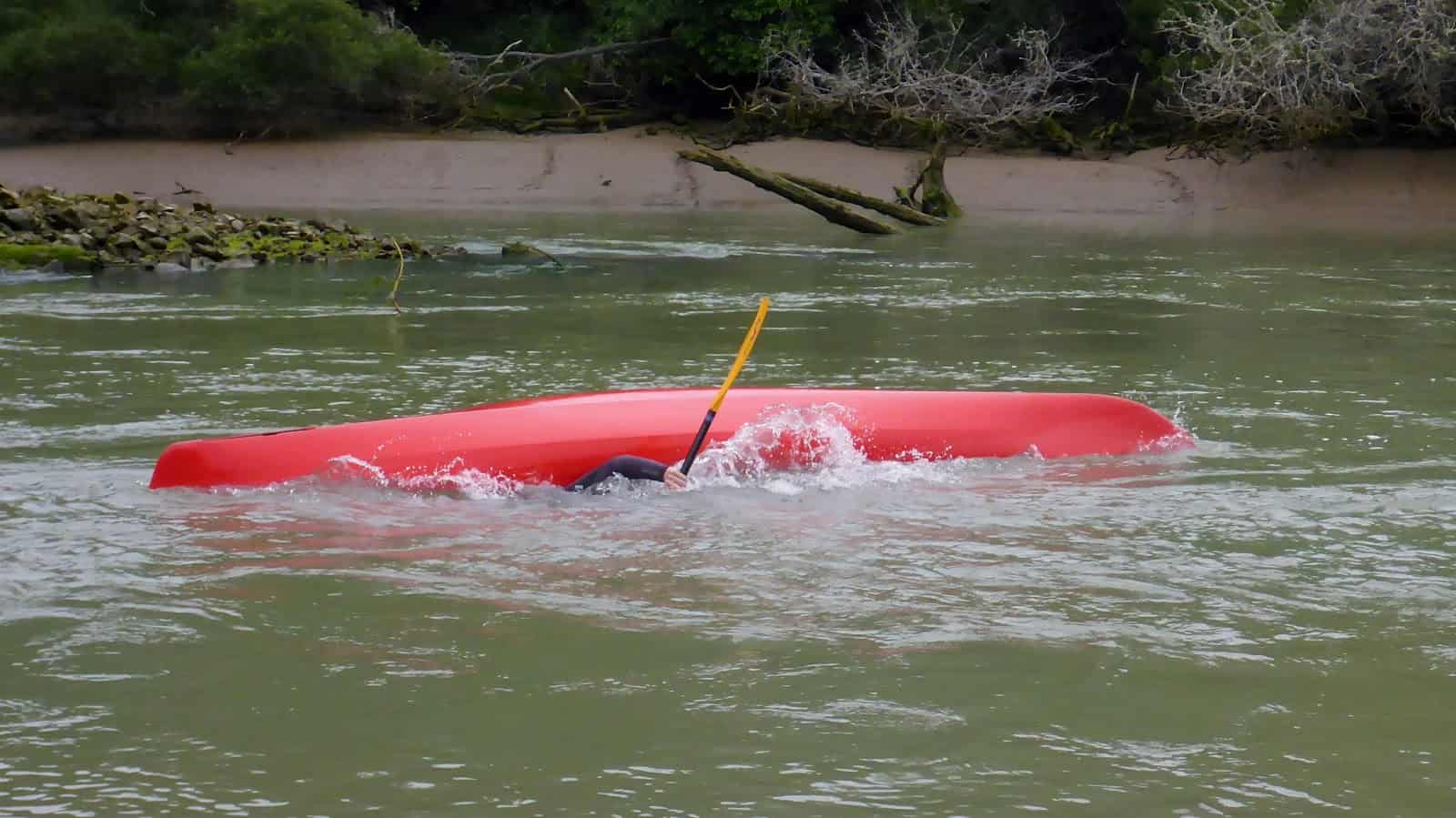 While the average water temperature on Lake Michigan can top 77 degrees in August, it also dips below 33 degrees in the month of March (the coolest month). Large weather systems can also cause upwelling events that change the surface temperature of the lake overnight.
So all experienced Lake Michigan kayakers know that you don't leave the boat ramp without being prepared for cold water immersion. Swimming in cold water unexpectedly is no joke and can be quite dangerous.
That's why many paddlers outfit themselves with one of the best drysuits for kayaking when paddling on Lake Michigan during the cooler months of the year. As things begin to warm, you may find that a wetsuit or paddle pants become more appropriate than a full drysuit.
Still, you will find few experienced paddlers in only their bathing suit on Lake Michigan. That's true even when the water temperatures are at their warmest because the impacts of wind on this lake can cool you off in a hurry even if the water temperature is above 70 degrees.
Pack A Waterproof Bag With Extra Layers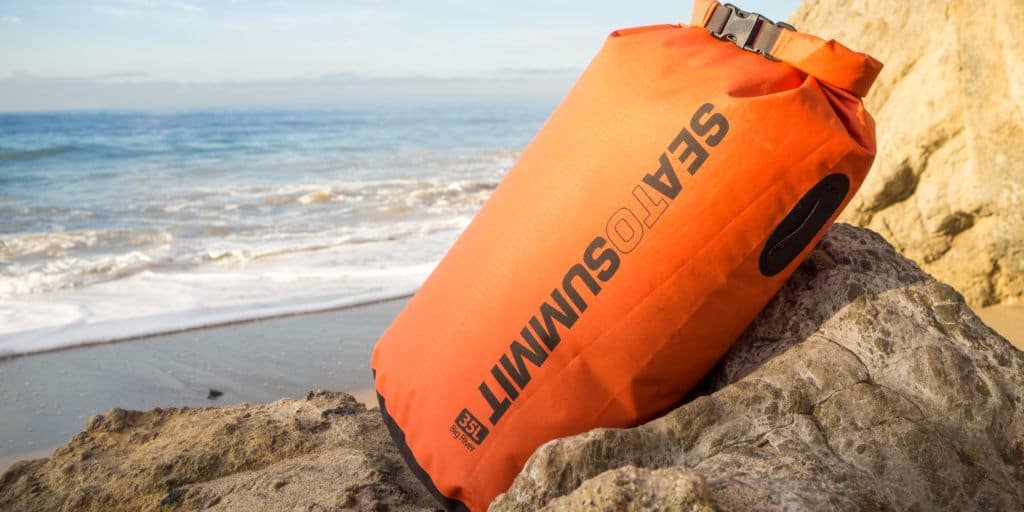 No matter whether you choose the leave the beach in a full drysuit with multiple winter layers underneath or a tee shirt and board shorts, you should always have a small dry bag packed with extra layers just in case you go for a swim.
When you get wet unexpectedly, your risk of hypothermia goes up quickly, and that's true year-round on Lake Michigan. Having a dry bag packed with extra layers gives you the ability to change out of your wet clothing once you successfully re-enter your kayak (or make landfall).
Plus, nobody really likes to sit around in wet clothes for hours if they weren't planning on a swim. The longer your Lake Michigan paddling trip, the more a dry bag packed with extra layers can help you stay safe and actually enjoy your time out on the water.
Know Other Potential Landing Spots Along Your Route
If you haven't realized it from the several other times we've mentioned it in this guide, the wind is a major factor on Lake Michigan. When it really gets howling, it makes paddling nearly impossible.
Many of the largest lakes in the United States have lake wind advisories that are issued when sustained winds reach a certain mile-per-hour threshold. Lake Michigan is no different.
If you hear that a lake wind advisory is already in effect or is imminent, it's best to reschedule your paddling trip. Sometimes, however, winds can come up while we are already out on the water and wreak havoc on our otherwise best-laid plans.
So when you paddle on Lake Michigan, it's always best to plan your trip around exploring a certain section of shoreline. Paddling across long expanses of the lake or several miles away from shore is never recommended.
When you are looking at the sections of shoreline you want to explore, however, it's good to identify one or two potential landing spots that could be used in case of emergency. These spots should be between your launching location and the turnaround point of your paddle, assuming your route is of the out-and-back variety.
If you're planning a point-to-point kayak, identify one or two potential landing spots between your starting and ending locations. These points will give you known places to pull your kayak up and safely onto shore if the winds get too strong for you to continue paddling.
Carry Appropriate Kayaking Safety Equipment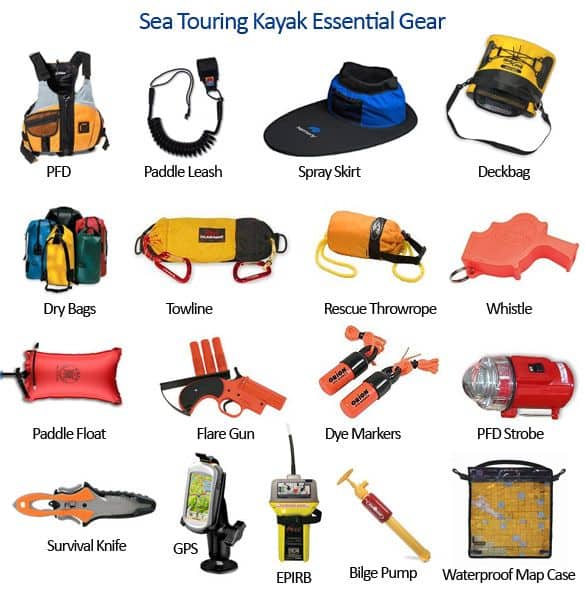 A good paddler never leaves home without a medium-sized dry bag full of their kayak safety equipment. While the image above gives you a good idea of some of the items that you might pack in this bag, every kayaker eventually customizes his or her setup as desired.
In our book, a PFD, bilge pump, whistle, paddle float, survival knife, towline, and some sort of light or strobe would be the absolute essentials we would pick from the image above. All of these items are meant to help you self-rescue or to signal a nearby boater that you need assistance.
I had a very experienced kayak guide tell me once that, "it's not a matter of if, but a question of when." They were referring to the need for kayak safety equipment and highlighting the importance of always carrying it on your watercraft.
Final Thoughts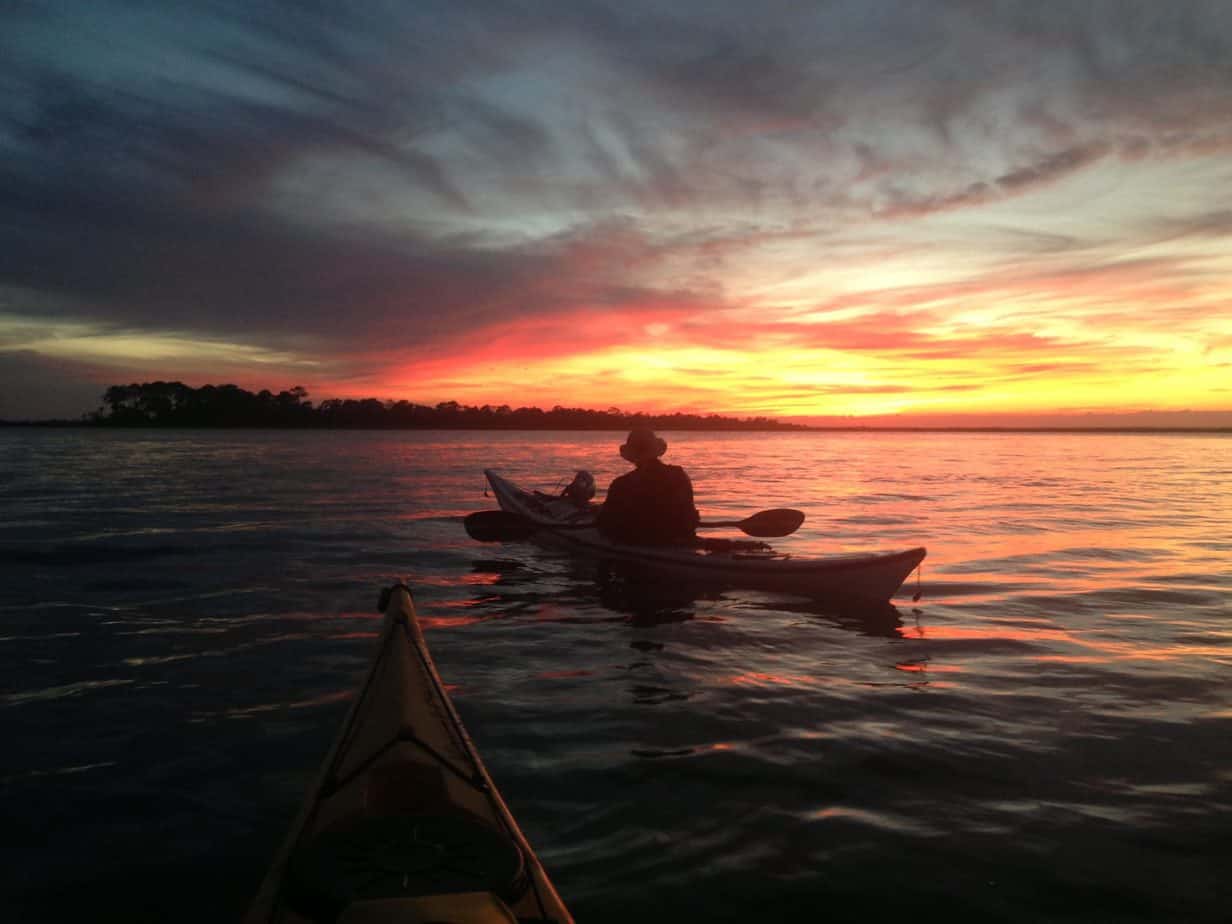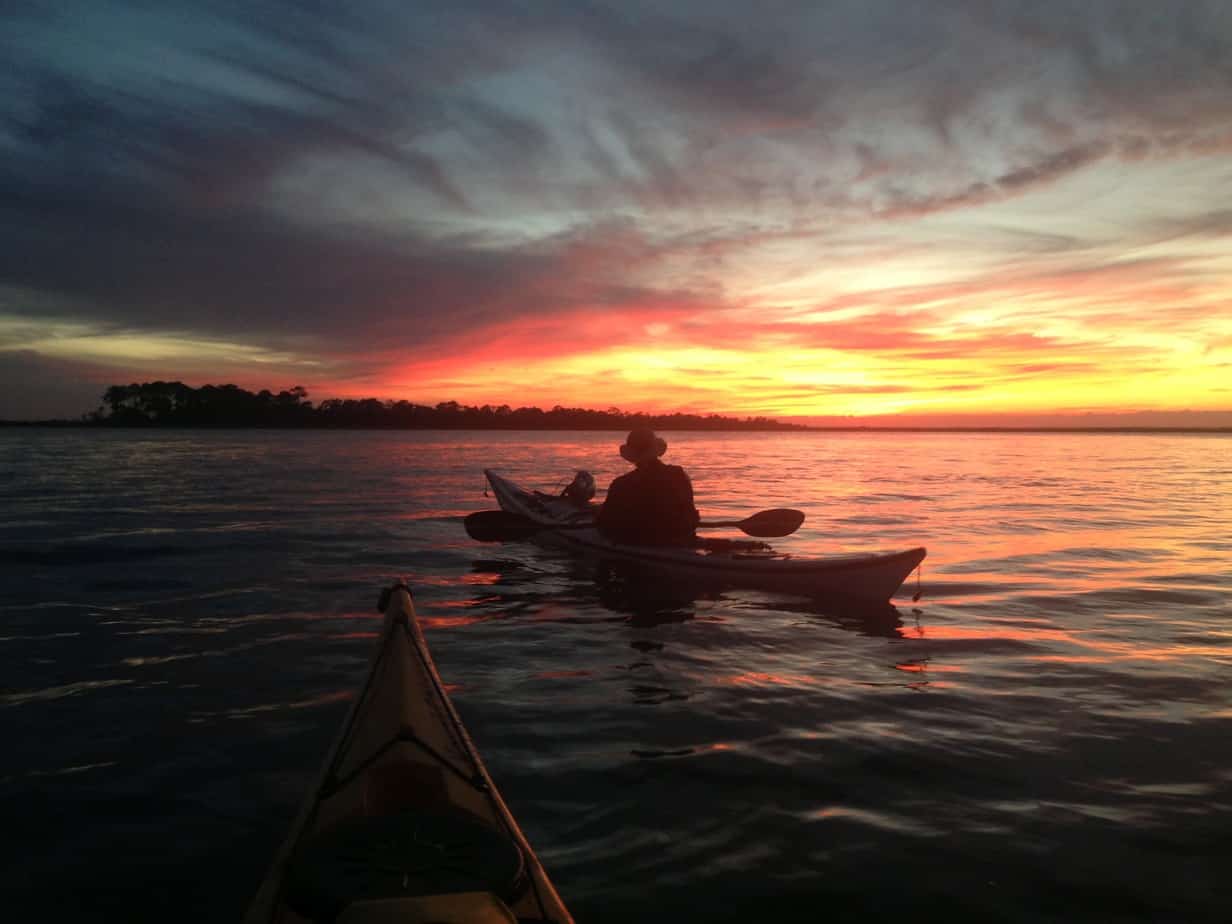 At the end of the day, there's nothing quite like professional advice from folks that have spent their lives paddling on Lake Michigan. Before you drive on up there and head out without being fully prepared, seek local knowledge about water, wind, waves, and weather.
Kayak guide companies are a great place to go to inquire about specifics of what to look out for when you are paddling in a certain area. Even if the guides are busy preparing their own kayaks for a day tour, they will most likely be able to spare a couple of minutes to provide you with some guidance.
Local gear outfitters and outdoor recreation retailers can also be a great resource for folks that are new to paddling on Lake Michigan. Don't be shy about asking for help because you think it will give you away as a tourist or a newbie!
After all, you are a tourist . . . and you are new to Lake Michigan. So it's always better to gather as much information and advice upfront to help you avoid becoming the next set of recreational kayakers rescued from Lake Michigan!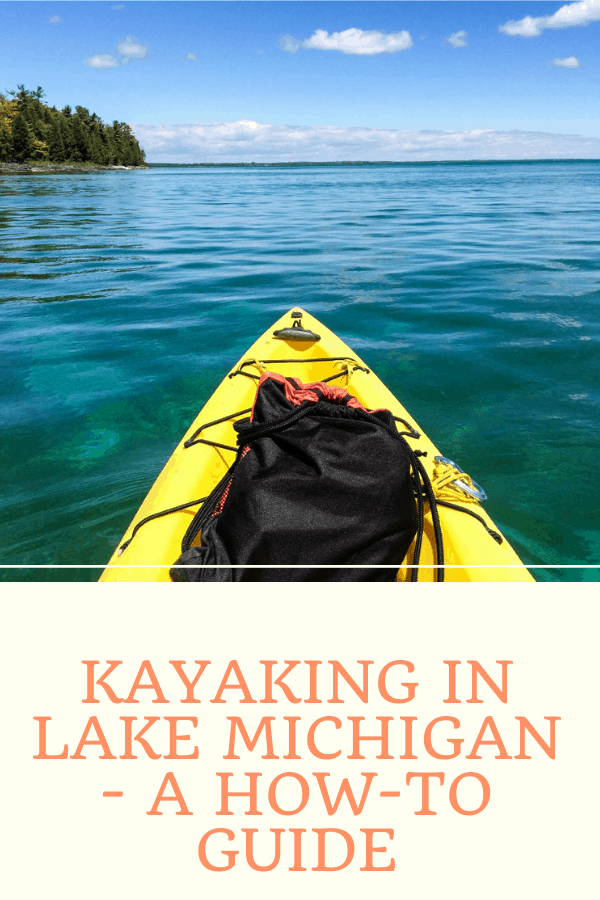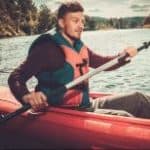 Author: Peter Salisbury
Pete is the Owner of KayakHelp.com. Born and raised in Cleveland, Ohio, he grew up kayaking, fishing, sailing, and partaking in outdoor adventures around the Great Lakes. When he's not out on the water, you can find him skiing in the mountains, reading his favorite books, and spending time with his family.