We recently reviewed the Pelican Mustang 100X from Pelican kayaks as one of the most affordable sit-inside kayaks for recreational use. One of its competitors from Perception Kayaks, however, also warrants a closer look.
In this Perception Swifty vs Pelican Mustang comparison, we are going to highlight some of the important differences between these two models. We'll also provide suggestions for the kinds of paddlers and activities that each might be best for.
If you're looking into buying a recreational sit-inside kayak, we also recommend checking out our complete list of the best recreational kayaks. Without further adieu, though, let's dive into our side-by-side comparison of the Perception Swifty and Pelican Mustang kayak models.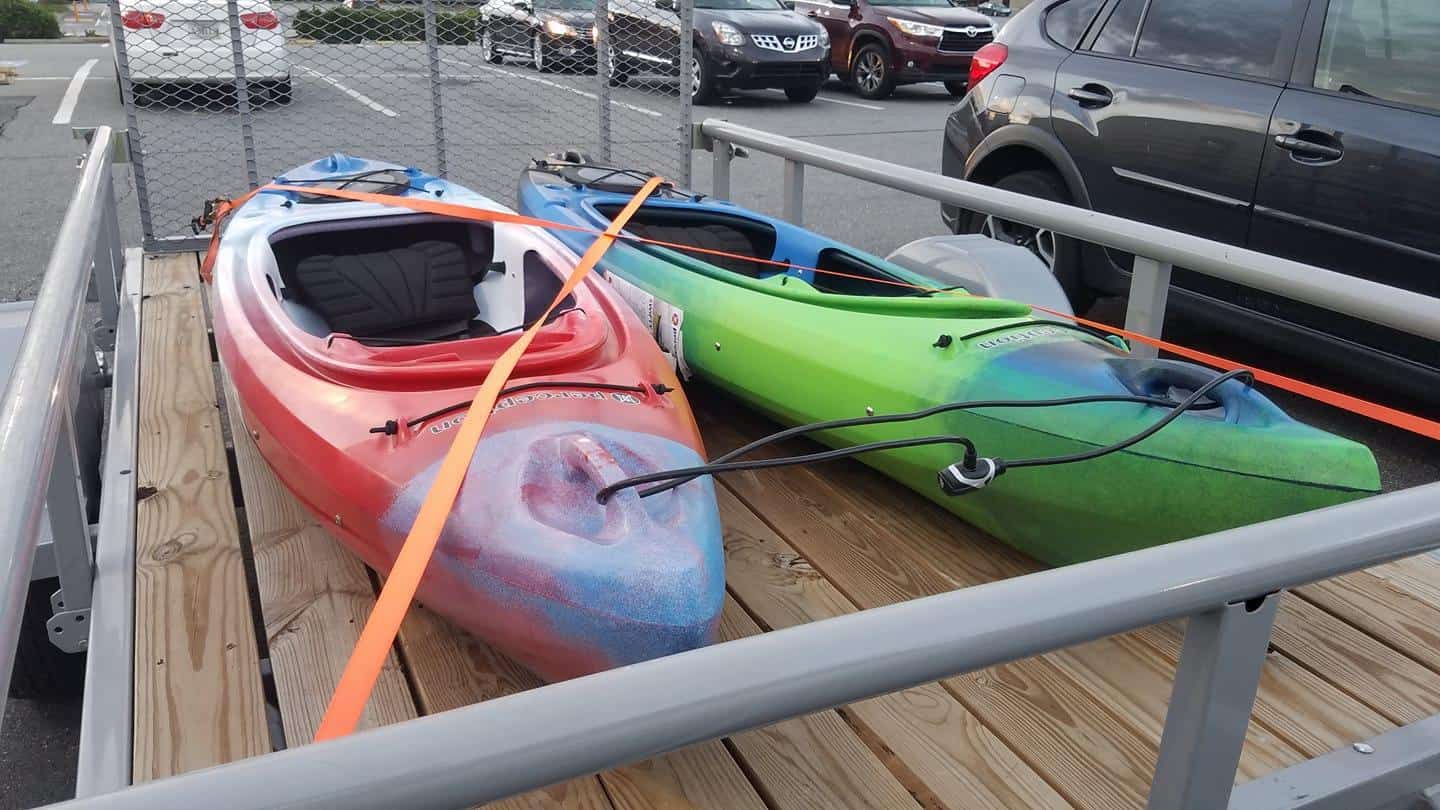 Perception Swifty vs Pelican Mustang – Quick Comparison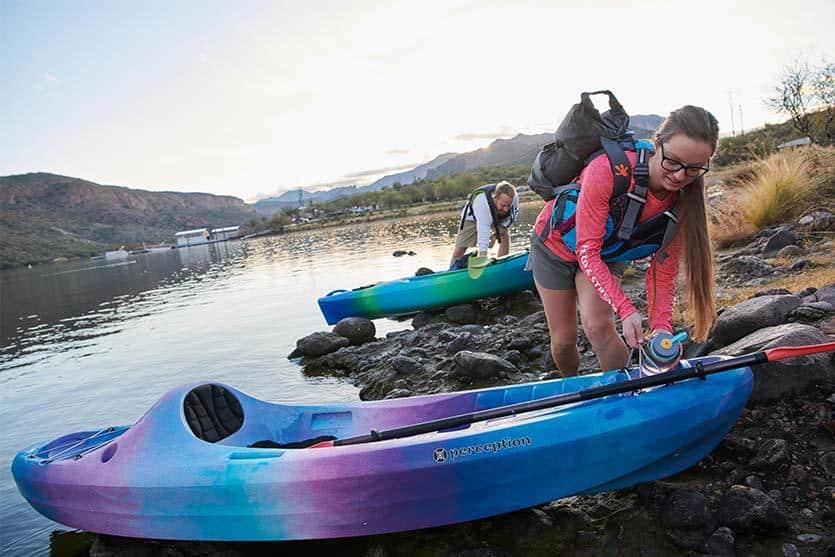 It's important that you know that there are actually two different sizes available for the Perception Swifty kayak. On the other hand, the Pelican Mustang is available in only the 100X model.
For the sake of a rapid comparison, we've put together this quick table to help you compare the most important specifications of these three kayaks.
| | | | |
| --- | --- | --- | --- |
| | Perception Swifty 9.5 | Perception Swifty 11.5 | Pelican Mustang 100X |
| Length | 9'6" | 11'6" | 10' |
| Width | 28.5" | 29.5" | 29" |
| Weight (in pounds) | 44 | 47 | 39 |
| Weight Limit (lbs) | 325 | 325 | 300 |
Side-by-Side Comparison of Features
Whenever you're interested in buying any sort of kayak, it's important to break down its features. Doing so will give you a better idea of the best use for the kayak and whether or not it will be able to accommodate your unique paddling preferences.
We're going to break down these two kayaks based on their most important features. As such, we will highlight key similarities and differences that will help you decide which kayak is best for you.
Hull Design – Swifty and Mustang

Hull design can be a little bit complicated because there aren't a set number of templates that all kayak manufacturers use. As you can probably tell from the photo above, there are some hull designs that appear very similar but differ in how they translate to your kayak's on-water performance.
For the purposes of this comparison, however, our lives are pretty easy because both of these kayaks feature a multiple-chine hull design. This design provides both the Swifty and the Mustang with a great balance between primary and secondary stability.
This means that they remain stable when you aren't paddling and your kayak is still in the water. It's why both of them are good kayaks for aspiring kayak anglers who will undoubtedly spend more time with their hands on a fishing rod than on one of the best kayak paddles.
It also means that they aren't impossible to regain your balance if the kayak tips slightly onto one gunwale while you're paddling. A kayak with excellent secondary stability makes it easier to regain control when it's tipped hard onto one edge or the other.
While you really shouldn't need this for a recreational or fishing kayak (and the secondary stability of these kayaks doesn't compare favorably to the best whitewater kayaks), it's not like you'll be swimming the minute your weight isn't perfectly centered in these kayaks.
Rod Holders – Swifty and Mustang
Both the Swifty and the Mustang feature multiple molded-in rod holders for carrying fishing rods on your outings. They both include two flush-mounted rod holders that are placed right behind the seat in the cockpit.
The similarities continue because these rod holders are slightly angled so that you can troll as many as two lines behind your kayak while you're paddling. So if you're making a decision based solely on the number, placement, and angle of rod holders, there's virtually no difference between these two kayaks.
Hatch Design – Swifty

Here is where these two kayaks do begin to diverge, however. The design of the stern hatches is slightly different and will impact both the function and versatility of these kayaks.
For starters, the Perception Swifty features a 10-inch sealed hatch in the stern for dry gear storage. While they claim the compartment to be entirely waterproof, we always recommend doubling down and protecting your sensitive gear with the right size dry bag for kayaking.
On top of the hatch at the rear of the Swifty kayak, you'll find bungee cords that form an X-shape across the top of the hatch. This will allow you to secure another large dry bag or gear that you don't mind getting wet.
Hatch Design – Mustang
On the Mustang kayak, the stern storage compartment is a little different. It actually features a removable storage pod that offers a total storage capacity of 17 liters.
This storage pod can be completely removed so that the kayak boasts an open storage compartment in the stern. Some kayak anglers prefer this design for installing their own kayak storage crate or tackle box.
When the compartment is installed, however, it provides dry storage (again, a dry bag is still recommended) and it includes two sets of X-shaped bungee cord for securing an additional dry bag or gear on top.
The only downside of this stern storage compartment is that it can be a little difficult to access when you're seated in the kayak. This is why Pelican included a second small storage hatch at the bow for storing smaller items that you need to retain access to while you're on the water.
Cockpit Size and Design – Swifty
The cockpit of the Swifty 9.5 kayak measures 42.25 inches long and 22 inches wide. The 11'6" version of this kayak has a slightly larger cockpit with dimensions measuring 41.1" long and 23 inches wide.
As you'll see in the next section, the Swifty's technical cockpit size is slightly smaller than the Mustang. It does, however, feature a more elongated, square cockpit design that can make it easier for less flexible paddlers to enter and exit this kayak.
It also features a large dashboard at the front of the cockpit for storing electronics or small snack items that you'll want easy access to while you're paddling.
The cockpit design of the Swifty also makes it possible to store a water bottle behind the seat of your kayak. However, there is a water bottle holder located directly in front of the seat on this kayak.
Cockpit Size and Design – Mustang

On the other hand, the Mustang's cockpit measures 47 inches long and 25 inches across. So it has a slightly larger cockpit relative to the Swifty, which can make it a better choice for larger paddlers.
This kayak also features a small dashboard at the front of the cockpit edge that it advertises as an electronics dashboard. This area is slightly smaller than what you'll find on the Swifty, but it does feature a small section of bungee cord for increased security for small gear items.
The cockpit also includes a small water bottle holder at the center of the seat, but there's not much room for storing any additional gear behind the seat. In fact, the entire back section of plastic behind the seat is one solid piece, so you won't have storage options there like you would with the Swifty.
Seat Design – Swifty

The seat in the Swifty kayak features a higher back that can be better for folks that need more lumbar support. It also includes a large cushioned bottom pad so that you're not sitting directly on the kayak's plastic material.
The seat can be adjusted using straps that will be located at your hips once you're seated inside. The seat is meant to sit freely inside the cockpit instead of resting against the back edge of the cockpit, which is one reason why you'll be able to store other gear behind your seat.
Seat Design – Mustang

The seat design on the Mustang kayak also features a cushioned bottom pad, but it's a slightly different shape than the square pad on the Swifty. Instead, it features a central cut-out (shown above) in order to accommodate the central bottle holder.
This is designed to be more ergonomic for smaller paddlers, but it translates to a smaller cushioned seating area in this kayak. The backrest on the Mustang kayak is also a little bit different than what we highlighted on the Swifty.
The Mustang features a lower backrest that doesn't quite provide as much lumbar support as the seat in the Swifty. It is still adjustable to your desired position, but it also sits closer to the back edge of the kayak's cockpit.
This means that the seat won't necessarily be floating freely in the cockpit if you decide you want to recline slightly. In a reclined position, you'll wind up leaning against the back edge of the cockpit, which could cause a slight discomfort on longer paddles.
Foot Brace Design – Swifty
One of the biggest differences between these kayaks comes in the design of their foot braces. The Swifty features fully adjustable foot braces on a track system that allows them to slide back-and-forth with minimal effort.
These foot braces allow you to adjust them to your ideal paddling position so that you're as comfortable as possible. This adjustability also allows this kayak to provide a comfortable ride for a wider variety of paddlers.
The only downside to adjustable foot braces is that they have to be adjusted! If someone much taller or shorter than you previously used the kayak, you'll need to spend a few moments to make adjustments before you start paddling.
While this adjustment shouldn't take much time, we do recommend doing it before you cover much distance. You'll also benefit from adjusting the foot braces in your kayak while you're holding onto a dock or buoy for added stability.
Foot Brace Design – Mustang
The Mustang kayak, on the other hand, features molded-in footrests, which is slightly uncommon amongst sit-inside kayaks. Molded-in footrests are more commonly found on sit-on-top kayaks because they are more widely used by rental and guiding companies.
The benefit of molded-in footrests is that you don't have to adjust them every time a new paddler gets into the kayak. So if you're looking for a family kayak that's going to stay at your vacation house and be used by family members of all ages, the Mustang might be a better choice for you.
The problem with molded-in footrests is that they don't provide complete adjustability to help paddlers find the most comfortable position possible. In other words, they offer a limited number of foot positions and some folks might find themselves uncomfortably stuck between two of these positions.
That being said, the final benefit of molded-in footrests is that it removes two potential moving parts that could break down on your kayak down the line. Molded footrests are rarely a cause for maintenance or repair over the lifetime of a kayak.
Handle Design – Swifty

The final feature that we're going to discuss is the handle design on these two comparable kayaks. The Swifty boasts completely molded-in handles at the bow and stern that are quite durable and provide an easy place to grab when you're transporting this kayak with a partner.
If you need to carry the kayak alone, you'll need to grab it from the cockpit edge or use a rolling kayak cart. The major benefit of molded handles is that they are much less likely to break than the toggle-style handles on other kayaks.
That said, they don't provide as much versatility to change your carrying angle as you're in transit. Plus, if something does happen that winds up breaking a molded handle, they require an extensive process of plastic welding in order to repair (check out the video below for more on plastic welding a kayak!).
Handle Design – Mustang

The bow and stern handles on the Mustang kayak are of the toggle variety. Still, carrying this kayak alone will require the same process of picking it up from the edge of the cockpit (or using a kayak cart) that the Swifty requires.
Toggle-style handles are more likely to break or tear over the lifetime of your kayak. They are also secured by small hooks that are riveted into the polyethylene material of your kayak.
The hooks are also notorious for loosening, cracking, or ripping out altogether over time. Fortunately, the process for securing them back into place isn't super complicated or difficult (check it out in the video link below).
Plus, it's very easy to find replacement toggle-style kayak handles online. They are relatively affordable and we'd even recommend keeping a stash of them on-hand proactively so that your kayak isn't out of commission for weeks while you wait for a new shipment of handles to arrive.
Although they are significantly less durable than molded handles, toggle-style handles can provide a more comfortable carrying experience. They are able to twist and rotate to accommodate varying carry angles that might be necessary depending on where you are typically launching or landing your kayak.
Final Features
Before we wrap up, it should also be mentioned that both of these kayaks feature drain plugs for removing water from the interior portion of the kayak.
They also include paddle parks that keep your paddle secure while your hands are busy with your fishing rod.
Who Are They Best For?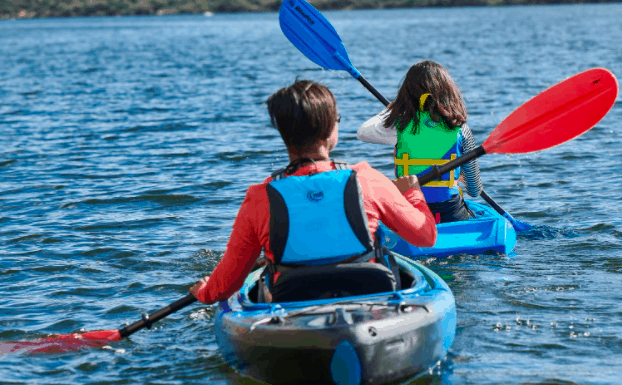 Both of these kayaks are designed for two purposes: recreational kayaking or kayak fishing. They are forgiving enough for complete beginners but also offer decent performance that won't leave experienced paddlers feeling completely unsatisfied.
They might also be useful for short overnight paddling trips as your skills grow. With dry storage and comfortable cockpits, these kayaks do have the versatility to help you enjoy a multi-day trip on your favorite local waterway.
Speaking of waterways, these kayaks are both best suited for calm lakes and ponds or slow-moving rivers. They can also perform well on protected coastal waterways, but they aren't made for efficiency on the open ocean.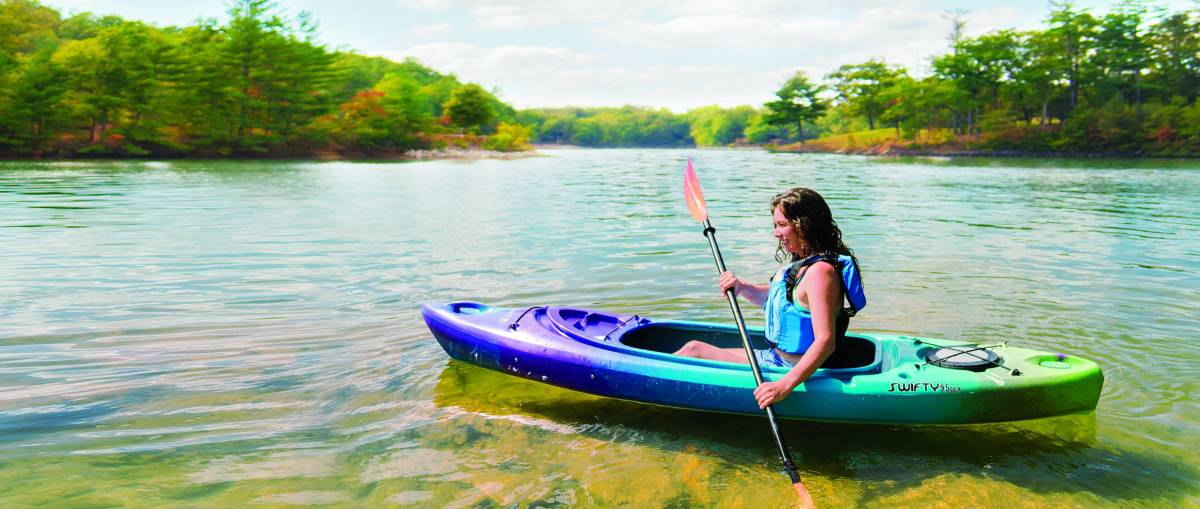 As you can probably tell by now, these kayaks are extremely similar. They are both great choices for beginners, but they'll also respond very well to the more experienced touch of seasoned paddlers.
They both give you the option of carrying multiple rod and reel combinations using their molded-in rod holders. They both also include options for both dry and wet gear storage via bungee cords and sealed hatches.
So the differences really come down to construction and price. The Perception Swifty features a one-piece, fully-rotomolded construction while the Pelican Mustang is built with two sheets of Pelican's patented polyethylene material that are then fused together.
While Pelican's proprietary material makes their kayaks more resistant to dents than the Perception Swifty, it also means that there's a higher likelihood of internal leaks if the fusing is compromised down the line.
That being said, the Pelican Mustang is slightly more affordable than the Perception Swifty. If it was our choice, however, we'd opt for the slightly more durable construction of the Perception kayak, even if it meant paying a little more up-front.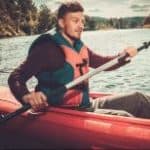 Author: Peter Salisbury
Pete is the Owner of KayakHelp.com. Born and raised in Cleveland, Ohio, he grew up kayaking, fishing, sailing, and partaking in outdoor adventures around the Great Lakes. When he's not out on the water, you can find him skiing in the mountains, reading his favorite books, and spending time with his family.