Ideally, you've targeted the right fishing kayak for your needs and now you're beginning to look at what you need to go with it. Even the best kayak can't paddle itself!
Kayak fishing arguably requires more accessories than other forms of recreational, touring, or whitewater kayaking. But if you want to be a successful angler, you need to have the right gear when the moment arises.
There are a bevy of kayak fishing accessories to choose from. Many will be more or less useful to you depending on whether you're fishing in lakes, rivers, bays, or the open ocean.
In this article, we'll highlight 15 must-have kayak fishing accessories and provide some recommendations for desirable products that fit each category. We'll finish with our pick for the #1 must-have kayak fishing accessory!
Thumbnail
Title
Astral Ronny Life Jacket PFD for Recreation, Fishing, and Touring Kayaking, Cloud Gray, L/XL
BENDING BRANCHES Angler Scout 2-Piece Snap-Button Kayak Fishing Paddle; (Black Shaft/Sage Green Blade - 250cm)
Best Marine Kayak Anchor - 3.5 Pound Anchor Kit for Kayaks, Canoes, SUP Paddle Boards & Jet Skis
Scotty #282-BK Baitcaster Rod Holder w/Gearhead & Track (Black)
Thumbnail
Title
Astral Ronny Life Jacket PFD for Recreation, Fishing, and Touring Kayaking, Cloud Gray, L/XL
Thumbnail
Title
BENDING BRANCHES Angler Scout 2-Piece Snap-Button Kayak Fishing Paddle; (Black Shaft/Sage Green Blade - 250cm)
Thumbnail
Title
Best Marine Kayak Anchor - 3.5 Pound Anchor Kit for Kayaks, Canoes, SUP Paddle Boards & Jet Skis
Thumbnail
Title
Scotty #282-BK Baitcaster Rod Holder w/Gearhead & Track (Black)
15 Must-Have Kayak Fishing Accessories
Okay, now let's get into the real meat and potatoes of this article. If you're going to get serious about kayak fishing, these are the first 15 accessories you'll want to secure on your kayak.
Check Price on Amazon
As the saying goes, "safety first!" Today's selection of personal flotation devices (PFDs) are manufactured to fit a variety of specific purposes from whitewater to kayak fishing.
A PFD designed for fishing is a must-have because it'll do much more than just keep you afloat if you go for an unexpected swim. It'll also have multiple pockets to keep small items handy and on your person.
The Astral Ronny Life Jacket is a great selection for a fishing-specific PFD. It weighs just over one pound and comes with a U.S. Coast Guard Type III seal of approval.
Multiple front pockets are essential on any fishing PFD. The Ronny has three pockets for storing small items like fishing pliers, a small measuring device, and even a cold beverage.
Fortunately, there are a variety of great brands out there manufacturing excellent PFDs for kayak fishing. Some names to stay on the lookout for include Astral, NRS, Stohlquist, and Onyx.
Check Price on Amazon
The last thing you want in a paddle for kayak fishing is a bunch of unnecessary weight. A quality kayak fishing paddle should be lightweight but still durable to withstand the rigors of the sport.
Another feature that is common to many kayak fishing paddles is a hook retrieval system. This allows you to easily free your line from snags and rescue lures that would otherwise be gone for good.
The Bending Branches Angler Scout is a great option for a lightweight kayak fishing paddle with the additional features you're looking for. It's a two-piece paddle that breaks down for easy transportation and compact storage.
One additional feature you might look for in a kayak paddle is an included measuring device. Along the shaft of this paddle, you'll find a built-in system to help you measure your catch for future reporting.
Fortunately, there are a host of great kayak paddles designed with anglers in mind. If you're looking for a couple of brands to trust, however, you won't go wrong with selections from Bending Branches or Werner.
Check Price on Amazon
One of the best parts about kayak fishing is that you can be more mobile than when you fish from land. You'll also be able to access those hard-to-reach spots that are inaccessible from a motorized watercraft.
But sometimes you'll want to anchor to keep your kayak stable and in your desired location while you concentrate on fishing. This is often necessary when fishing on a moving river or combatting ocean currents.
This folding anchor system from Best Marine is a great choice to keep on board your fishing kayak. It has a three and a half pound weight with 40 feet of marine-grade rope to help you keep your kayak in place.
When shopping for anchor systems, you'll want one that weighs enough to keep your kayak in place but doesn't add too much extra weight otherwise. A folding anchor is a great choice because it will take up minimal storage space on your kayak when not in use.
Check Price on Amazon
As you gain more experience as a kayak angler, you'll learn that it's extremely handy to have multiple fishing rods on board at one time. This allows you to switch back and forth depending on many factors.
Fish might be interested in different baits at different times of the day, or you might decide to go for a different type of fish in the afternoon than what you were after in the morning. Rod holders allow you to keep multiple setups at the ready.
An articulating rod holder like the Scotty Baitcaster is also useful because it allows you to keep a line in the water. You'll also be able to change the angle and direction in which the rod holder is placed.
The most important features of a good fishing rod holder are easy installation and security.
You'll want to know that your rods are secure with latching straps and you won't want to waste a bunch of time trying to install a complex rod holder when you could be spending that time on the water!
Check Price on Amazon
A quality fish finder is a key accessory that will help you take your fishing prowess to the next level. Simply put, when you have a better idea of where the fish are, you're much more likely to catch at least one!
Most fish finders use sonar to give you a picture of what's in the water below your kayak. A good model will allow you to automate certain settings so that you can set it and get back to fishing.
The Lowrance Hook2 is a great option for a fish finder that will provide two-dimensional views of the water below you. It also has a much wider coverage area than many other traditional fish finders.
A quality fish finder should be easy to mount and simple to operate. Since we're so used to it already with our smartphones, many seasoned anglers opt for fish finders with a touch screen feature.
As a kayak angler, you have to have your assortment of tackle at your disposal on the water. But you also need a secure and watertight container for all of that valuable bait and tackle.
While you could go with a standard milk crate and strap that down to your kayak, there are a variety of crates out there specifically designed for kayak fishing. These crates offer much more than the milk crate left on your doorstep.
The Wilderness Systems Kayak Crate is a great option because it's watertight and very secure. One of its best features is that it also includes a total of four additional rod holders for extra rod and reel combinations.
One of the most important features you should look for in a kayak crate is security. Look for a tackle crate that offers universal lash points because it will make it easier to secure the crate on a variety of kayaks.
Check Price on Amazon
Sunglasses are a key item for many outdoor recreation pursuits. The first great reason for sunglasses is eye protection, which is especially important on a kayak because you'll also have glare coming off the water.
As a kayak angler, you shouldn't look for just any sunglasses though. Polarized sunglasses will improve your ability to see fish behavior through the water and, if they float, that's an added advantage.
The Rheos Coopers Floating Polarized Sunglasses are a great option for the kayak angler because they reduce glare off the water and their nylon optics are tested to be clearer than glass.
All Rheos Gear sunglasses are also designed to float if you drop them into water. And they will even do so without you having to attach a bulky lanyard or goofy set of bright-orange floating Croakies.
Many experienced kayakers, paddleboarders, and watersports enthusiasts have lost their fair share of sunglasses to the depths. A great pair of angling sunglasses can float so that you don't lose them if they do happen to fall in.
Check Price on Amazon
Now we're starting to talk about what you'll need when you start landing fish. This is, after all, the goal of being a smart, well-prepared kayak angler, and you can't make that claim without a quality fillet knife in your arsenal.
A good fillet knife should make it easy to handle smaller fish, but also be durable enough to tackle larger, tougher fish like salmon and tuna. It should also come with a protective sheath to prevent accidents when not in use.
The KastKing 9-inch Fillet Knife is a great choice for the kayak angler because it's made of stainless steel and designed to maintain its edge whether you use it for freshwater or saltwater applications.
One of the most important features to look for in a fillet knife is the grip. Some of the cheaper models out there can become slippery when they get wet, but a knife with a non-slip polymer grip will provide the safety and security you need when making precision cuts.
Check Price on Amazon
As you start to lengthen the amount of time you spend in your fishing kayak, you'll want to prepare by bringing a rel ="nofollow" target="_blank"few more emergency items along. A dry bag is essential for keeping those items dry so you can use them when needed.
Whether it's extra clothing, sleeping gear for an overnight trip, or first aid supplies, there are many items that should be kept in a quality dry bag on longer kayak fishing expeditions.
The SealLine Baja dry bag is an excellent choice because it's roll-top closure system helps to ensure the most watertight seal possible. The vinyl material on this dry bag boasts a thickness of 1,000 deniers.
Denier count is an important metric when evaluating the toughness of a dry bag's material. But you should also be careful to pay attention to the type of material being used, as certain selections are more puncture or tear-resistant than others.
Two of the best materials used in quality dry bags are nylon and PVC. Top of the line dry bags utilize ripstop nylon with some sort of polyurethane coating for additional waterproofing.
Check Price on Amazon
If you've ever caught a fish, you already know that getting a solid grip to remove the hook isn't always the easiest task. That's why experienced kayak anglers keep a set of fish grips onboard and handy at all times.
Fish grips are especially helpful if you're fishing in catch-and-release waters, where the amount of time the fish is out of the water should be minimized.
Quality fish grips also allow you to hold a fish with one hand while you snap that quick photo to show your buddies later.
The Rapala 9-inch Floating Fish Gripper is a nice option because it comes with a quick-release mechanism that makes it easier to hold a strong fish. These fish grips are also corrosion-resistant, which is a nice feature for saltwater anglers.
Fish grips are only useful if they stick around. That's why you should look for a pair that float if dropped overboard and come with some sort of lanyard or leash that allows you to keep them secure to yourself or your kayak.
Check Price on Amazon
Once you've pulled your catch in and you're ready to bring it on board, the easiest way to do so is with a landing net. A solid landing net should be able to handle a large fish without the net or handle becoming compromised.
This is an essential accessory for those that don't want to worry about fish slipping out of your hands while you're working to remove the hook. It'll also give you a way to keep fish secure and in the water while you prepare your measuring device.
The KastKing Madbite Fishing Net is a great option because it features an extendable handle that can collapse when not in use. This gives you extra reach while also minimizing the amount of space this net takes up when not in use.
One of the most important features to look for in a fishing net is the strength of its components. A quality fishing net should be made with materials you can trust to get the job done when you land that record-breaking catch.
Check Price on Amazon
As you gain experience as a kayak angler, you'll find increasing opportunities for bragging rights amongst your fellow anglers. With a quality measuring device, you'll be able to prove the size of your catches without just estimating.
In some places, your catches must be over a certain length if you wish to take them home. This is another reason why every responsible angler should keep some sort of fish measuring device onboard.
The Frabill Bump Board is a no-nonsense measuring device that can measure fish up to 36 inches in length. It also contains foam insert aids that allow this measuring device to float if dropped overboard.
A quality measuring device should seamlessly incorporate into your kayak fishing setup. Look for a measuring device that can be mounted to a convenient location on your kayak for easy use.
Better yet, many other kayak fishing accessories come with a measuring device built-in. If you opt for a kayak paddle or a fishing net that has a measuring device built into the shaft or handle, you won't have to carry this extra weight around.
Once it's loaded down, your fishing kayak might even weigh in somewhere in the triple digits. Because you'll need to keep your back healthy getting your kayak to and from the water, you should get a quality kayak cart.
A kayak cart will also make you more likely to access launching locations where you can't park right next to the water. If you can find a paved path, a kayak cart will allow you to roll your kayak down to the water with minimal effort.
The ABN Universal Kayak Carrier is a good place to start because it has large tires that are easy to inflate and boasts a 200-pound weight limit. It also folds up for compact storage when you're not using it.
When searching for a kayak cart, make sure the cart you choose has enough weight capacity to handle your unique kayak setup. You should also look for a cart that has large tires so that it can even handle uneven dirt pathways.
Check Price on Amazon
A good set of fishing pliers will make hook removal, bait changing, and knot tying a whole lot easier. While you can make do with a traditional set of pliers, a true set of fishing pliers is built with the angler in mind.
Water can wreak havoc on a traditional set of metal pliers.
But a quality set of fishing pliers will be resistant to rust and corrosion from exposure to water, which is especially important for saltwater anglers.
The SAMSFX Quick Locking Fishing Pliers are a great set of fishing pliers with a multitude of tools.
The included Four-in-One fishing nipper comes with a knot tying tool, mono line cutter, hook sharpener, and jig eye cleaner.
When searching for a good set of fishing pliers, make sure it comes with some sort of lanyard that attaches to you or your kayak. Without this, you'll risk losing your pliers every time a fish makes an unexpected move.
Check Price on Amazon
There's an old saying about unfortunate stuff happening when you least expect it. Far too many anglers have lost multiple rods to the depths in one simple sweeping motion to keep their kayak upright.
All of the rods that you bring on board, as well as your paddle, should be leashed to your kayak for safekeeping. It's always better to be safe than sorry, and you never quite know when rod and paddle leashes will come in handy.
These leashes from Boom Fishing offer heavy-duty protection for your rods and kayak paddle. They have a tensile strength of 50 pounds and can stretch up to six and a half feet without worry of tangling.
When it comes to buying rod and paddle leashes, be sure that their method for securing to your kayak is compatible. Carabiners are a great option because they can attach to multiple points on most fishing kayaks.
Check Price On Amazon
If you had to select just one item to go along with your new fishing kayak, we'd have to recommend a fishing-specific PFD. There are a few reasons why this should be the first item on your list after you purchase one of the best fishing kayaks.
The first reason has everything to do with safety. Depending on the type of fishing you're doing, there's a greater-than-zero-percent chance that an unexpected circumstance causes you to capsize.
If this happens to you (like it happens to many!), you'll have the comfort of knowing you don't have to tread water while you right your kayak and collect any gear that has also fallen overboard.
The second reason a PFD should be the first item on your 'must-have accessories' list is that it gives you a place to keep essential fishing gear on your person. A proper PFD that's designed for fishing will have a place to hold a small tackle box, pliers, and other useful items.
In the spirit of keeping yourself safe and also keeping fishing essentials close at hand, a PFD designed for fishing is our top pick for the #1 must-have kayak fishing accessory!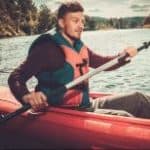 Author: Peter Salisbury
Pete is the Owner of KayakHelp.com. Born and raised in Cleveland, Ohio, he grew up kayaking, fishing, sailing, and partaking in outdoor adventures around the Great Lakes. When he's not out on the water, you can find him skiing in the mountains, reading his favorite books, and spending time with his family.