For many parents that love kayaking, it's never too early to start sharing their passion with their kids. And while it's good to paddle with your kids in one of the best tandem kayaks to start out, pretty soon you'll need to invest in one of the best kids kayaks.
The good news is that there are plenty of options for you to choose from when your kids are ready to paddle on their own. Your choice is going to depend on a variety of factors that are unique to your kid and your paddling preferences.
Fortunately, we've compiled a collection of kids kayaks that are perfect for various types of kayaking. We're reviewed each of these kayaks so you can learn whether or not they fit your style and budget.
We've also put together a Buyer's Guide for anyone that's buying their first kids' kayak. It will help you identify the most important features and specifications to use when comparing and contrasting different kayak models.
So let's find the perfect kayak for your kids!
Best Kids Kayak
Perception Kayaks Hi Five
MaxKare Kids Kayak
Pelican Solo
Lifetime 90479 Wave
Lifetime 90787 Dash
Intex Challenger K1
Lifetime Hydros Angler 85
Perception Joyride 10
AQUAGLIDE Navarro 110
Pelican Sentinel 100X
Intex Challenger K1 Kayak, 1-Person Inflatable Kayak Set with Aluminum Oars and High Output Air Pump
Intex Challenger K1 Kayak, 1-Person Inflatable Kayak Set with Aluminum Oars and High Output Air Pump
Buyer's Guide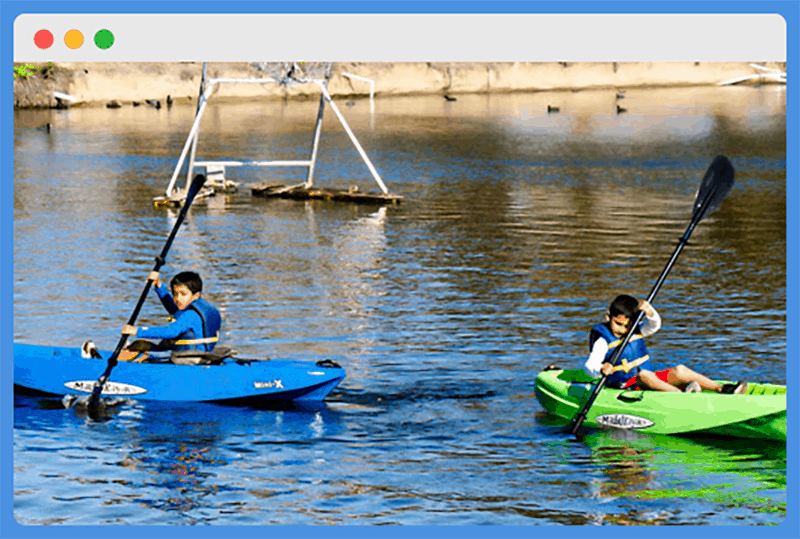 Before anything else, it's really important for you to know how to compare different kayak models.
Using these features, you'll be able to establish an easy-to-use kayak comparison table that will help you make the best choice for you and your kids.
Kayak Weight Limit
The first thing to consider is the weight limit of the kayaks you're interested in. You need to make sure that the kayak you choose is rated to handle your kids' body weight as well as the appropriate kayaking safety equipment that you're teaching them to use.
In addition, it's important that you know that most kayaks really shouldn't be loaded down to their maximum weight capacity.
Doing so will significantly reduce the kayak's ability to perform as it was meant to, and it will also make life much more difficult for your kids than it has to be.
Many experienced kayakers actually recommend keeping the maximum weight loaded into a kayak below about 80% of its advertised capacity.
There are various reasons for this, but we recommend checking out this article to learn more about the accuracy of kayak weight limits.
For kids, just be sure to remember that they are always growing. Because of this, it might make more sense to buy a slightly larger kayak than your kids are really ready for at this exact moment.
This will give them the ability to grow into their kayak without you having to buy an entirely new one in just a year or two.
Kayak Weight
The weight of the kayak itself is also important because you should try your best to find something that your kids will be able to move on their own.
Not only will this make less work for you, but it will also teach them valuable lessons about everything that goes into preparing for a kayak trip.
Many inexperienced kayakers fail to recognize the amount of work it takes just to get a kayak down to the water and ready to paddle.
So if you choose a lightweight kayak that your kids can move on their own while it's on land, they'll begin to get familiar with this process from a young age.
Furthermore, a lighter kayak will be easier for your kids to maneuver on the water. For you, this will allow you to enjoy longer paddles before you're forced to bring your kids into your kayak and tow theirs back to your launch point.
Inflatable Versus Rigid
With the technology that has long been used in whitewater rafts now becoming much more popular for kayaks, some of the best options out there for kids are actually of the inflatable variety.
But there are still some important pros and cons of both inflatable and rigid kayaks.
If storage space at your home (or in your vehicle) is extremely limited, for example, you'll be hard-pressed to find a rigid kayak that requires less storage space than its inflatable counterpart.
Inflatable kayaks these days also perform very comparably to rigid kayaks. This is especially true when we're talking about the kind of paddling that most kids will be doing when they're just learning how to kayak.
For instance, many long-distance kayakers scoff at inflatable kayaks because they can't provide the same speed and efficiency as the best touring kayaks.
But most kids simply aren't going to be ready for 15-20 mile days in their kayak (at least when they're just starting out).
That being said, inflatable kayaks do require more setup time when you get to the beach and your kids are ready to go.
In this scenario, it can sometimes be easier to simply untie a rigid kayak from your kayak roof rack and toss it in the water for the kids to go crazy.
Overall, we'd say that inflatable kids kayaks are best for those with limited storage space at home or in their car. But for anyone that's more concerned about on-water performance or ease of setup, a rigid kayak would be the best option.
Hull Shape
The shape of your kayak's hull is going to play a huge role in stability and performance. Different hull shapes, for example, will allow certain kayaks to be more stable while they're moving than while they're still (and vice versa).
Hull shape also dictates how efficiently your kayak will move through the water and how much effort the paddler must exert in order to propel the kayak forward and make turns/other maneuvers when avoiding obstacles or simply redirecting their kayak.
In general, there are four common hull shapes that you'll find on the vast majority of kayaks these days. They are the flat hull, rounded hull, V-shaped hull, and pontoon (or tunnel-style) hull.
Flat hulls are typically found on the best whitewater kayaks because they lend to easy maneuverability on moving water. Rounded hulls are common on recreational kayaks because they provide a good balance of primary versus secondary stability.
Many fishing kayaks use pontoon hulls because they are the most stable when the kayak is still in the water. For this reason, you'll find that the best kids kayaks feature pontoon or tunnel-style hulls as well.
That being said, the V-shaped hull is the best for speed and efficiency. So you might consider upgrading your kids' kayak to one with a rounded or V-shaped hull as he or she begins to be ready for longer distance paddle trips.
Kids Kayak Reviews
Check Price on Amazon
The Perception Hi Five kayak is built for kids weighing up to 120 pounds and it measures 6'6" in length. This kayak also features a unique, hybrid-style cockpit that allows kids to comfortably sit or stand up inside.
The stability of this kayak for standing purposes makes it a great training tool for both kayaking and stand-up paddleboarding. Multiple molded-in footrests allow kids to find a comfortable knee bend as they get taller.
That being said, this kayak is really suited for kids between the ages of five and ten, depending on their size.
But I do like it because it boasts a flat swim platform at the stern with multiple sets of handles to make it easier for kids to climb back on after they go for a swim.
It also comes with a bright yellow, two-piece kayak paddle that makes it easy for you to keep track of your kids from the beach.
There's also a tether system at the bow that makes it easy to tow this kayak with your larger kayak when the kids get tired.
Check Price on Amazon
The MaxKare kids' kayak is also suitable for kids from the age of five to about ten and it's rated to hold a maximum capacity of 121 pounds. It's also recommended for kids 5'3" tall or shorter.
This kayak features a folding backrest that easily flips up and secures in place when it's time to paddle. It also stays connected to the kayak and folds down out of the way when you're ready to store or transport your kayak.
There are a total of three molded-in footrest positions in this kayak so that your kids can learn the importance of keeping their knees slightly bent while paddling.
It also offers a total of 4.2 liters of storage space in the bow and stern tankwells (2.5 liters in the stern and 1.7 liters in the bow).
This lightweight kids kayak weighs just 20.5 pounds and measures 6'1" long by 24.6" wide. It also comes with a collapsible two-piece kayak paddle and a toggle-style front carry handle that makes it easy for kids to pull and move the kayak in and out of the water.
Check Price on Amazon
The Pelican Solo features a sit-on-top cockpit design with two scupper holes that provide adequate water drainage.
This is a really important feature for kids paddling in areas that you know they'll want to hop out and go for a swim at least once while you're paddling.
It also boasts a folding backrest that sets up in seconds and easily adjusts as you teach your kids about the benefits of different body positions while kayaking.
It also comes with a stern-mounted red safety flag that makes it easier to keep an eye on the kids while you're hanging out on the beach.
This Pelican kayak measures six feet long, 24 inches wide, and 9 inches deep. It also weighs a total of just 19 pounds and it's rated for a maximum weight capacity of 100 pounds, which makes it best for kids between the ages of five and eight years old.
Like all Pelican kayaks, it's made featuring patented RAM-X technology that allows the kayak material to bend or dent without cracking.
That material retains enough flexibility to be popped back into place rather than your kayak retaining an awkward dent that compromises its performance.
I also like that the Solo features a swim-up deck at the stern so that kids can easily get back on the kayak without climbing directly over the gunwales.
There is even a set of molded-in handles on this swim deck to make it easier for kids to re-enter the kayak from the water.
Check Price on Amazon
The Lifetime Wave kayak is another model designed for kids aged five and up and this one is rated to hold a maximum weight capacity of 130 pounds. It measures six feet long and 24 inches wide at the beam.
Side carry handles on both gunwales of this kayak make it easy for kids (or you) to carry the kayak when it's on land.
It only weighs a total of 18 pounds and it also features a toggle-style handle at the bow for kids to drag it on the beach or through shallow water.
This is another sit-on-top kayak that includes a stern swim-up deck for easy re-entry in deep water. Plus, that swim-up deck can be used for two small kids to paddle and/or hang out on this kayak together (provided they don't exceed the weight capacity).
The Wave kayak also includes two scupper holes towards the bow for water drainage and it comes with a youth kayak paddle.
Finally, it boasts a tunnel-style hull with reverse chine to provide maximum stability when your kids are just playing on (and off) of it.
Check Price on Amazon
The Lifetime Dash kayak is very similar to the Wave, but it boasts a few important differences. For starters, it measures 6'6" long and it boasts a bolstered maximum weight capacity of 150 pounds.
Unlike the Wave, this kayak also features a low-profile backrest to provide added stability and back support for kids that are getting comfortable with longer paddle trips.
It still features that useful swim-up deck at the stern and multiple footrest positions for kids of varying heights.
There's also a small water bottle holder in the center of the cockpit in this kayak. An innovative design in that bottle holder also allows it to double as a grip for carrying this kayak from the center as needed.
But there's also a toggle handle at the bow of the kayak for kids to drag it on the beach or other safe surfaces.
It also includes a total of three scupper holes for improved water drainage if you know your kids like to swim just as much as you hope they become entertained by kayaking.
Check Price on Amazon
The Intex Challenger K1 is the first inflatable kids' kayak on our list and it also signals a slight shift towards kayaks that are made for older and larger kids.
This one, in particular, is rated to hold up to 220 pounds, but it still only weighs 27.2 pounds when fully inflated.
This kayak choice would be best for kids from about 10 to 15 years of age and, ideally, it's best suited for kids that already have some paddling experience.
That said, it's also a great choice if you need to transport a kayak without a roof rack or you don't have a lot of storage space at home.
In total, this kayak measures 9' long, 30 inches wide, and 15 inches deep. It also comes with an 84-inch, four-piece collapsible kayak paddle but, if we're being honest, we'd recommend upgrading to one of the best kayak paddles for kids if you're going to be doing any serious paddling with this model.
We do, however, love that it includes a large netted storage area towards the bow for dry bags or other paddling gear. And it also comes with a detachable fin that you connect to the hull of the kayak to provide better tracking performance.
This detachable fin is a big deal because many inflatable kayaks tend to dramatically sway back-and-forth with each paddle stroke.
But the fin included in this design helps you improve your efficiency and keep your kayak pointed straight towards wherever it is you want to go.
Check Price on Amazon
Moving back to rigid kayaks, the Lifetime Hydros Angler 85 is a great choice for slightly older kids between the ages of about 13 and 17. It's also a great choice for parent-kid bonding if you both enjoy fishing and want to experience it in a slightly different way.
This kayak is specifically designed with kayak fishing in mind and, as a result, it includes a center-mounted swivel fishing rod holder and two flush-mounted fishing rod holders located just behind the seat.
Speaking of that seat, they've designed it to be of the flip-up variety so that you can easily set your kayak up in seconds when you get to the water. That eliminates the need to clip-in a completely separate kayak seat when prepping your kayak.
In total, the Hydros Angler measures 8'5" long, 29.5" wide, and 10.5" deep. It also weighs a total of 38 pounds and boasts a maximum weight capacity of 225 pounds.
Check Price on Amazon
The Perception Joyride 10 is a great choice for older kids that are starting to join their parents on coastal paddling trips. This sit-inside kayak measures 10' long by 29.5 inches wide and it boasts a maximum weight capacity of 275 pounds.
This kayak does weigh 50 pounds, so it's definitely a candidate for using a kayak cart to easily transport it from your vehicle to the water's edge. It does also offer a large stern bulkhead compartment for dry gear storage.
In addition to being a great choice for coastal paddling, this would also be an excellent candidate for taking an older child on his or her first kayak camping trip.
The bulkhead compartment and spacious cockpit will make it easy for you to teach your kid how to pack a kayak for camping.
The Joyride also features a super comfortable padded seat that's well-ventilated and adjustable to multiple seating positions.
Your kids will love the patented 'Selfie Slot' at the front of the cockpit for mounting their phone or camera to capture videos or still images while paddling.
Check Price on Amazon
If you like the idea of an inflatable kids' kayak but you want something that can perform a little better than the Challenger K1, check out the Navarro 110.
This inflatable kayak features an innovative design that mimics sit-inside kayaks and allows you to stay drier while paddling.
This sit-inside-style design makes this kayak ideal for coastal waterways or ocean paddling. But it's also built well for long-distance paddles on lakes, ponds, or slow-moving rivers.
The top of the kayak cover features a section of criss-crossed bungee cord for securing items that don't necessarily have to stay dry and there's also a small stern bulkhead compartment for dry storage.
The Navarro 110 kayak measures 11'4" long by 34" wide and weighs just 28 pounds. It also boasts a maximum weight capacity of 250 pounds.
Check Price on Amazon
The Pelican Sentinel 100X measures 9'6" long, 30" wide, and 13.25" deep. It weighs a total of 44 pounds and boasts a maximum weight capacity of 275 pounds, which makes it ideal for older kids from ages 13 to 17.
This is also an ideal kayak for fishing purposes because it's equipped with two flush-mounted fishing rod holders behind the seat.
It also boasts adjustable foot braces so that it can grow right along with your kids.
Loading gear in and out of the rear tankwell of this kayak is also super easy because it features a removable ExoPak. This collection container allows you to pack (and unpack) the kayak without having to remove items one at a time.
Final Thoughts
The reason we didn't make a final pick for these kayaks is because kids come in many shapes and sizes. Instead, we hope you found a few options on our list for kids of varying ages, weights, heights, and paddling abilities.
Sharing time on the water with your kids is always special and should be cherished. We can only hope that you now have a few kids' kayak options that will help you do that!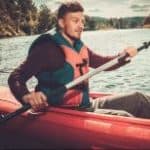 Author: Peter Salisbury
Pete is the Owner of KayakHelp.com. Born and raised in Cleveland, Ohio, he grew up kayaking, fishing, sailing, and partaking in outdoor adventures around the Great Lakes. When he's not out on the water, you can find him skiing in the mountains, reading his favorite books, and spending time with his family.