In the quest to find the perfect kayak, manufacturers are coming out with new models every year. Perception Kayaks is certainly no exception to that rule and, in fact, they are one of the premier kayak manufacturers in today's market.
Sadly, they've actually discontinued the production of the Perception Rhythm 11 Kayak. However, that doesn't mean that you won't still find some new and used models at retailers and throughout the independent marketplace.
To help you determine whether or not one of these kayaks will be a good addition to your paddling quiver, we're going to review the specifications and features of the Rhythm 11.
That said, we'll also suggest some newer kayak models from Perception that represent useful alternatives to the Rhythm 11 at a similar size and price point.
So let's get our paddle blades in the water!
Perception Rhythm 11 Kayak Review
The Perception Rhythm 11 Kayak is a sit-inside kayak designed for a single paddler. It has a relatively low maximum weight capacity, which makes it a better solution for small and medium-sized paddlers.
The best places to take this kayak out would be slow-moving rivers, lakes, and protected coastal waterways.
It's a relatively streamlined design that will be efficient over the water, but you won't make the kind of time in this kayak that you would make with one of the best touring kayaks.
That said, it is equipped with all of the features (more on these later) that you'd hope for in a comfortable kayak that you could spend a whole day on the water inside.
It features a small storage hatch towards the stern, but the only other storage area besides that is the bungee rigging just in front of the cockpit.
Overall, this kayak would be a great choice for paddler with an intermediate skill level and the need for an efficient vessel for recreational paddling.
If you choose the right size dry bag to store in and on top of this kayak, it can also suffice for an overnight paddle trip if you so desire.
Perception Rhythm 11 Specifications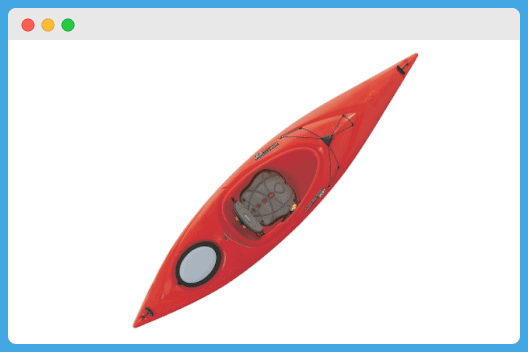 For starters, it's always helpful to have a consolidated list of the important specifications of any kayak. You can use this list to compare to some of the alternatives that we've included below.
Style: Sit-Inside
Length: 11'1"
Width: 28.5 inches
Weight: 47 pounds
Weight Capacity: 275 pounds
Cockpit Dimensions: 38" x 21"
Seating Capacity: 1
Perception Rhythm 11 Features Summary
Now it is time to get into the nuts and bolts of the Perception Rhythm 11 kayak. Fortunately, this kayak features a relatively simple, minimalist design with few moving parts that can break or malfunction over time.
Multi-Chine Hull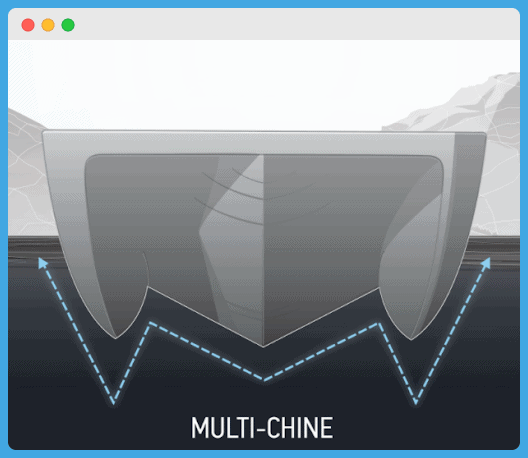 You will most commonly find multi-chine hulls on kayaks that are made for recreational use or kayak fishing. That's because this style of hull design is renowned for its stability whether your kayak is moving or sitting still in the water.
This kayak, however, combines the stability of a multi-chine hull with the performance and efficiency of a V-shaped hull.
In that way, it's sort of a hybrid that won't feel too wobbly for intermediate paddlers, but it will still allow you to cover ground efficiently as you gain strength and experience.
The multi-chine design also makes this kayak pretty responsive to your paddle strokes. So even if you don't have one of the best kayak paddles at your disposal, you shouldn't have any issue steering the Rhythm 11 kayak.
Fully Adjustable Backrest

Some kayak seats only allow for minimal adjustment to the seat's position. The fully adjustable backrest on the Rhythm 11, however, allows you to find the most comfortable position for your body type.
A fully adjustable backrest is a really great feature for new paddlers and those with larger body types. As you're learning how to engage your core and make the most out of each paddle stroke, you'll probably make regular adjustments to your backrest.
To be honest, even experienced paddlers love the flexibility of a fully adjustable backrest. If you are spending long hours on your kayak, sometimes you'll want to sit up perfectly straight to engage your core and extend for long, deep paddle strokes.
Other times, you may want to relax and recline a bit more while you are taking a break or eating a snack. Only a fully adjustable backrest will give you the freedom you need to always remain comfortable in your kayak.
Deluxe Padded Seat Cushion

While this feature is standard on most of the best recreational kayaks, it shouldn't be taken for granted. Some sit-on-top kayaks don't have padded seat cushions and, instead, you will be left to sit directly on the hard, rotomolded plastic that your kayak is made with.
This is really only doable for short paddles lasting an hour or two, tops. For anything longer than that, you need a kayak with a padded seat cushion that supports your weight and gently cushions your bottom.
The seat cushion on the Perception Rhythm 11 isn't just any old padded cushion, however. It's a deluxe cushion that includes more padding than your average kayak, which makes it a great choice for longer days on the water.
Thigh Pads

Thigh pads are a must on even the cheapest of sit-inside kayaks because, without them, you won't be very comfortable maintaining an ergonomic paddle position.
For those that don't know, it's actually preferable to keep your knees slightly bent while paddling a kayak.
By using your kayak's footwells or foot braces (more on these in the next section), you can keep your knees bent in a comfortable position. This makes it easier to engage the core muscles that you will use to paddle more efficiently.
If you paddle with your legs straight all day, your shoulders and upper arms are going to be killing you by the time you pull back onto the beach. So keeping your knees bent and core engaged are essential to efficient paddling.
The problem with a sit-inside kayak is that your knees will often make contact with the underside of the cockpit when they're bent.
This gets super uncomfortable and can cause rashes and irritation if a kayak doesn't have thigh pads.
Fortunately, this one does!
Adjustable Foot Braces

We mentioned a little bit about foot braces in the previous section, but there are two basic foot brace designs you should be aware of. The first is the molded-in footwell and the second is the adjustable foot brace.
The Perception Rhythm 11 kayak features the latter, which looks like two small foot pegs on a track system that's mounted to the sides of the kayak inside the cockpit.
Those pegs can be adjusted to suit your specific height and can also be adjusted when a new paddler gets into the kayak.
The main benefit of adjustable foot braces is that they can accommodate a wider variety of knee bends and foot positions. With molded footrests, you will only have three or four set footrest positions to choose from.
If you know that multiple people will be using your kayak and they are all different heights, adjustable foot braces will enable each individual to optimize the fit and comfort of the kayak when they sit inside.
The only downside of adjustable foot braces is that you must take the time to make the adjustment.
That's why many kayaks for beginners utilize molded-in footrests, but as you gain skills and experience, you'll soon understand why adjustable foot braces are the way to go.
Stern Bulkhead with Watertight Hatch

The stern bulkhead on this sit-inside kayak serves two main purposes: it provides extra flotation for the kayak as a whole and it also provides the structure for the stern storage hatch.
That hatch is advertised as watertight so that you can store more sensitive personal belongings, extra clothing layers, or even overnight camping gear without fear of them being soaking wet when you pull your kayak up on shore.
After a long day of paddling, there's nothing worse than discovering that your warm layers are soaking wet. So that's why we always recommend doubling up by placing your items in a dry bag before placing it in your kayak's stern hatch.
That's true for any kayak because, from our experience, we have simply learned that it's better to be safe than sorry. This kayak, for example, has a stern hatch that should accommodate a 10 or 20 liter dry bag.
The bulkhead itself is a feature that you'll find on many sit-inside kayaks because it provides extra flotation for the kayak itself.
With a sit-on-top kayak, on the other hand, you are essentially sitting on a large, enclosed pocket of air that keeps your kayak floating.
Sit-inside kayaks don't have quite as large of a pocket, which is why they tend to sit a bit lower in the water.
While this has the added benefit of making sit-inside kayaks (in general) faster than sit-on-tops, having a bulkhead is also imperative to the flotation and safety of any sit-inside kayak.
Deck Bungee Rigging
Most sit-on-top and sit-inside kayaks feature some sort of bungee deck rigging these days. It's more common to find one with bungee rigging than without, and this feature allows you to easily strap gear to the deck of your kayak securely.
Of course, this is made for the kind of gear that you don't mind getting wet with splashing water from waves or dripping from your paddle. Still, you will find that the bungee rigging on most kayaks is set up in an X-shape or criss-cross pattern.
The Rhythm 11 is a little different in that the bungee rigging on the deck just in front of the cockpit features a unique shape. This shape makes it easier to secure large items across the deck of your kayak or multiple smaller items side-by-side.
It also features a reinforced junction at the center of the unique shape that can be used to pull the bungee upwards before sliding cargo underneath.
This is a useful feature because it places less wear directly on the bungee itself when you're carrying larger cargo on the deck of your kayak.
Toggle Carry Handles

At the bow and stern of the Rhythm kayak, you'll find toggle-style carry handles that can be used for transporting it over land or dragging it across the beach. This style of handle is in opposition to the molded handles that some kayaks possess.
We love toggle-handles because they accommodate a wider variety of carry angles. With molded carry handles, you may find the kayak banging against your leg awkwardly because you can't adjust the angle or orientation of your wrist and arm while carrying.
Toggle handles are also great because they can be easily replaced when they break or come detached from your kayak. The trade-off here is that they are, indeed, more likely to wear out over time than a molded kayak handle.
All that said, you will really only use these toggle handles if you're carrying your kayak with a partner, dragging it on the beach, or guiding it from one end as the other end is secured on a rolling kayak cart.
If you need to carry your kayak solo, you will need to use the edges of the cockpit to do so.
Alternatives to the Perception Rhythm 11 Kayak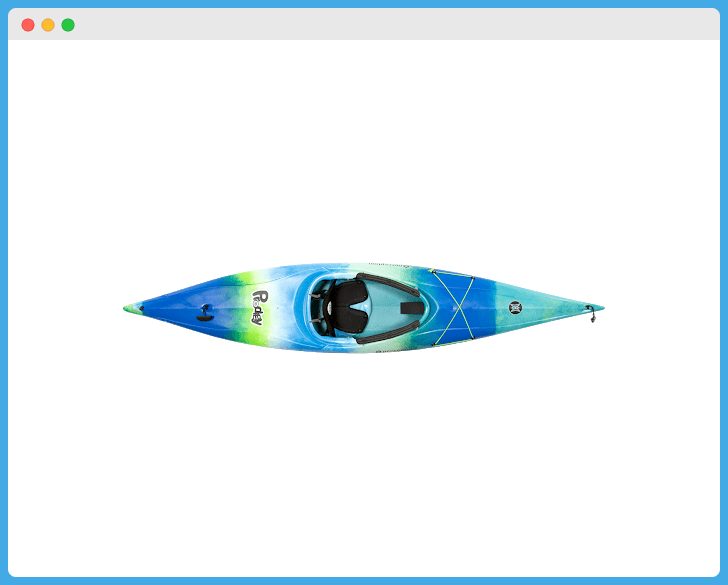 The Prodigy XS is made for beginner to intermediate paddlers and it's best suited for flat, slow-moving waters. It's easy to turn and quite stable for folks that are still mastering the skills of kayaking.
It measures 10 feet long, 23 inches wide, and weighs 26 pounds. This lighter weight also makes this kayak a great choice for kids, teens, and young adults.
The maximum weight capacity is 150 pounds and the cockpit measures 28 inches long and 18 inches wide.
This kayak also has almost all the same cockpit and deck features as the Rhythm 11, but it doesn't include a stern hatch, which makes it useful for day trips only.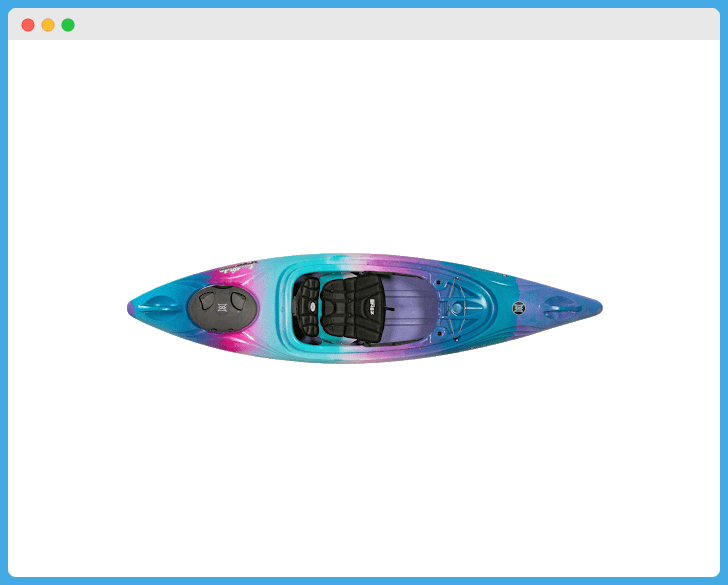 The Joyride 10.0 is one of Perception's most versatile kayak designs. While it excels best on lakes, ponds, slow-moving rivers, streams, and protected coastal waterways, it also performs well on the open ocean and decently in ocean surf.
This kayak measures in at 10 feet long, 29.5 inches wide, and weighs in at 50 pounds. It also boasts a maximum weight capacity of 275 pounds and the cockpit measures 51 inches long by 23 inches wide.
The Joyride is also equipped with two solo mount recesses on the 'dashboard' just in front of the cockpit. These recesses allow you to mount a variety of Perception kayak accessories, including fishing rod holders, GPS units, and kayak fishfinders.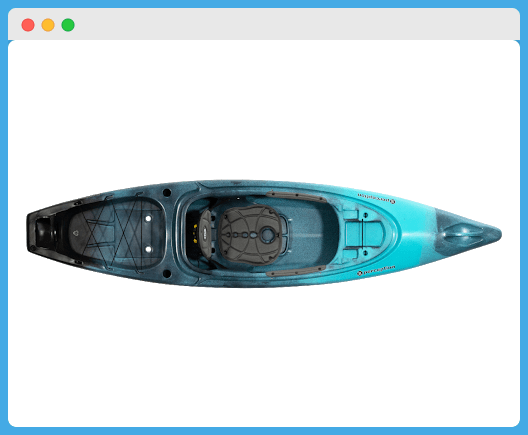 The Sound 10.5 is a slightly more expensive model than the Rhythm 11 (or the other two above for that matter), but it comes at a higher price for several very good reasons. For starters, this sit-inside kayak is made with the kayak angler in mind.
That doesn't mean it must be used for fishing only, but it includes two flush-mount fishing rod holders behind the seat and a large stern tankwell for securing a live tankwell, tackle box, or one of the best kayak crates for fishing.
In front of the cockpit, the dashboard also features two solo mount recesses for adding another swivel rod holder, a GPS unit, or another kayak accessory.
It also includes a small bungee strap in the molded dashboard for keeping a smartphone or other small accessories secure.
The Sound measures 10'6" long, 29.5 inches wide, and weighs in at just 46 pounds. That lighter weight is crucial if you are the kind of kayak angler that plans to add a bunch of equipment to your kayak.
The maximum weight capacity for the Sound is 335 pounds and the cockpit measures 56 inches long by 23.75 inches wide. This kayak is also equipped with molded carry handles that are more durable than toggle-style handles in the long run.
Final Thoughts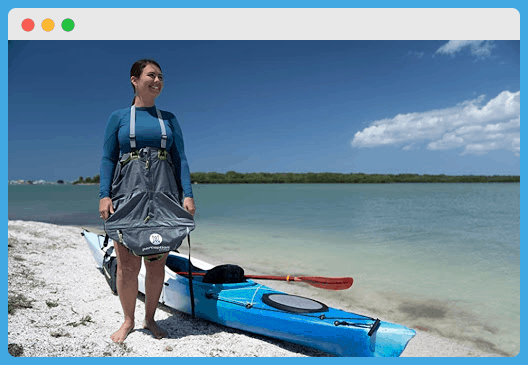 At the end of the day, the Perception Rhythm 11 kayak is definitely a worthwhile investment, if you can find one. It's an affordable kayak that's great for intermediate paddlers that are just starting to push their limits on how far they can paddle in a day.
It can also be a great option for teaching your teenager or young adult how to paddle effectively in a sit-inside kayak. This is because it's easy to maneuver and quite stable when the water conditions get a little rough.
If you're looking for an affordable kayak for paddling on lakes, ponds, slow-moving rivers, or protected coastal waterways, you won't go wrong with the Rhythm 11.
If you can't find one new or used, however, the alternatives above are also excellent choices.
We hope you've found this review useful and, as always, we wish you the most exciting of kayak trips in the future!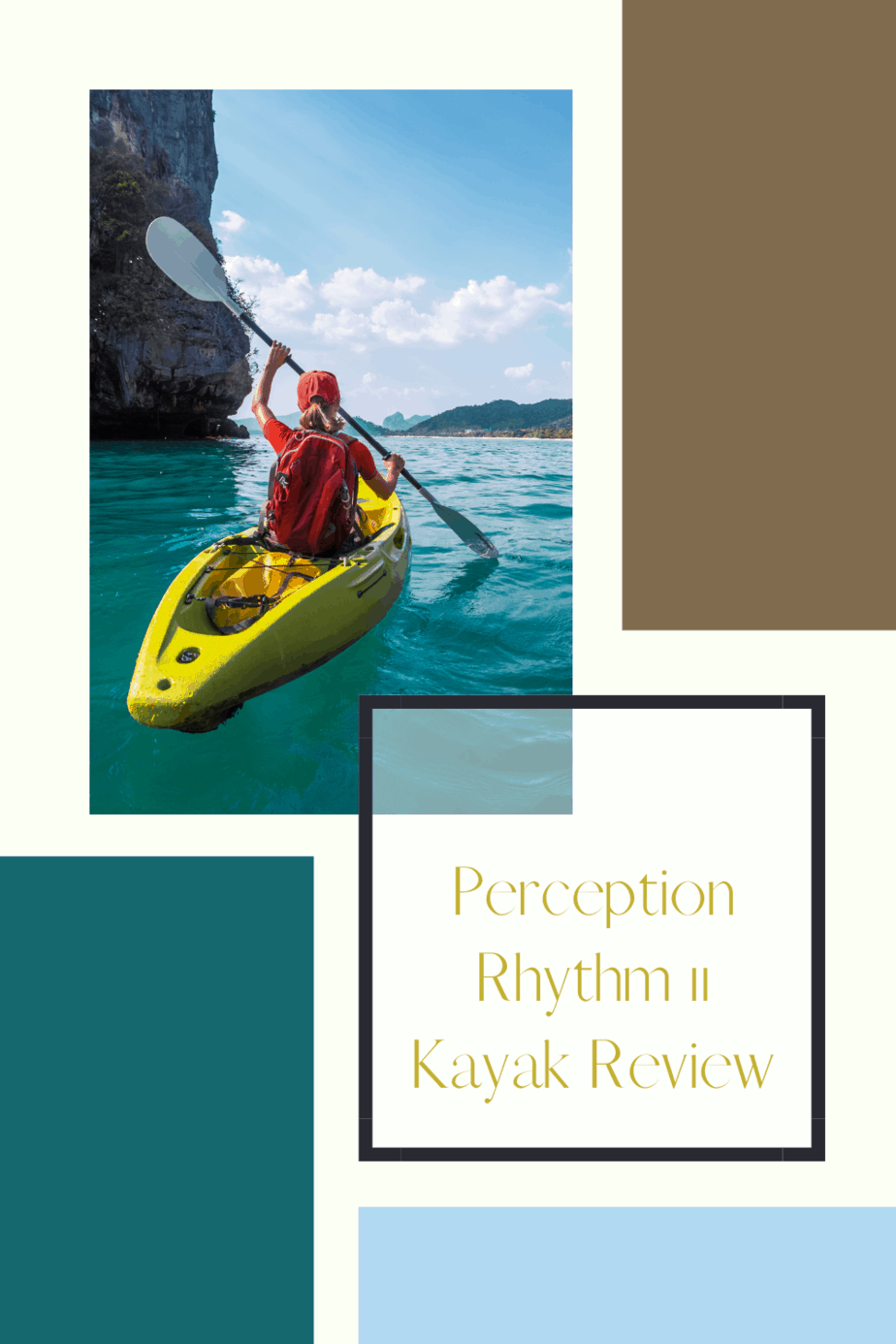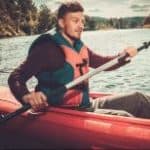 Author: Peter Salisbury
Pete is the Owner of KayakHelp.com. Born and raised in Cleveland, Ohio, he grew up kayaking, fishing, sailing, and partaking in outdoor adventures around the Great Lakes. When he's not out on the water, you can find him skiing in the mountains, reading his favorite books, and spending time with his family.