Kayak anglers have to carry a lot more gear on their boats than the typical recreational kayaker.
Once your kayak is loaded down with poles, tackle, fishfinder, and other accessories, space can get limited.
Having an unorganized kayak fishing setup is a recipe for disaster.
You should be able to focus your efforts on removing hooks from fish rather than from yourself or from gear that's stored inefficiently on your kayak.
Experienced anglers know that a lack of organization can also cause a huge amount of time to be wasted on the water.
If you're just getting into kayak fishing, surely you're interested in maximizing the time you spend actually fishing once you're out in your kayak.
In this article, we'll explain the importance of getting a kayak fishing crate and review the 10 best kayak fishing crates to make your purchase decision easier.
We'll also provide our top for the absolute best kayak fishing crate!
Jargon Buster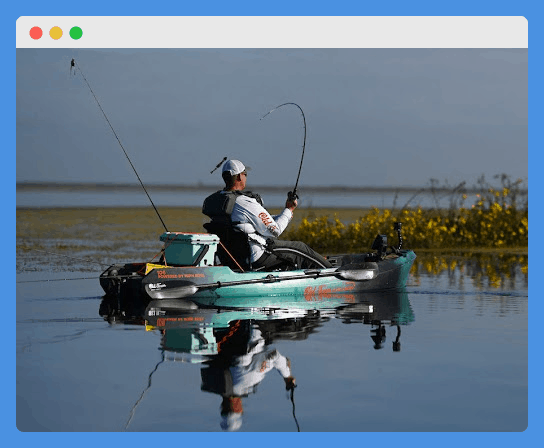 Kayak anglers have their own lingo that, for newbies, sometimes sounds like a foreign language.
In this section, we'll define several important kayak fishing terms that you'll encounter later in this article.
Tankwell
This is an area on your kayak where you can store gear that doesn't necessarily have to stay dry.
They are typically located in the bow or stern of a kayak and many are secured with attached bungee rigging.
Livewell
This is used by anglers that prefer to fish with live bait. It's a storage container to keep bait alive while you're fishing, although some anglers may turn around and use it for a fresh catch before they're able to properly fillet and prepare it.
D-Rings
These are D-shaped attachment rings that are very common to many elements of kayaks and kayak fishing accessories.
These rings are typically made of durable plastic and help you secure items to your preferred spots on a kayak.
Plano PLAM80700 Kayak V-Crate Tackle Box and Bait Storage, Premium Tackle Storage, Grey/Red, One Size
Perception Splash Kayak Crate
Pelican - Exocrate Fishing Bag - Large Saltwater Resistant Fishing Bag - Kayak Fishing Tackle Bag - 13" x 13"
Flambeau Outdoors 455TKP Tuff Krate, Kayak Tackle Storage Solution, Fishing Organizer Crate, Premium, Gray
Wilderness Systems Kayak Crate | 4 Rod Holders | Kayak Tackle Storage | Fits Most Kayaks
Hobie H-Crate JR for kayak fishing 72020298
Plano PLAM80700 Kayak V-Crate Tackle Box and Bait Storage, Premium Tackle Storage, Grey/Red, One Size
Perception Splash Kayak Crate
Pelican - Exocrate Fishing Bag - Large Saltwater Resistant Fishing Bag - Kayak Fishing Tackle Bag - 13" x 13"
Flambeau Outdoors 455TKP Tuff Krate, Kayak Tackle Storage Solution, Fishing Organizer Crate, Premium, Gray
Wilderness Systems Kayak Crate | 4 Rod Holders | Kayak Tackle Storage | Fits Most Kayaks
Hobie H-Crate JR for kayak fishing 72020298
Buying Guide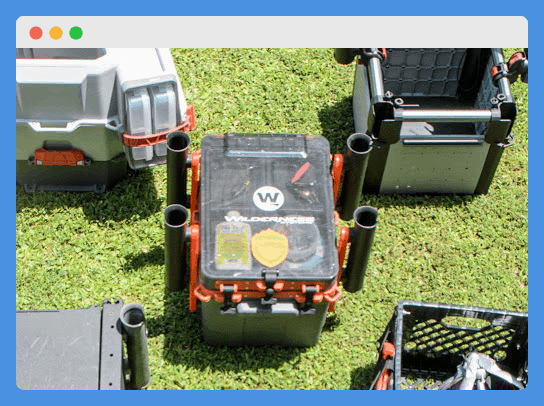 So what separates a good kayak fishing crate from a great one?
In this section, we'll highlight the most important considerations when buying a kayak fishing crate so that you can make the best decision for your specific needs.
Crate Size and Capacity
The first considerations to pay attention to are the size and overall capacity of these kayak crates.
The exact capacity that you'll need, however, will depend on how much tackle you typically bring along.
Deciding on sizing is a little easier. The kayak crate you choose must fit into the area where you plan to install it on your kayak, so a simple process of measuring that area will help you choose a crate that's the right size.
Crate Design
The next thing to consider is how you prefer to organize your tackle and fishing gear.
Many open crates are preferred by more experienced anglers because it allows you to customize your tackle storage.
The downside to this type of design, however, is that you'll typically have to purchase several smaller tackle boxes to go inside the larger crate.
Otherwise, you're going to end up with a jumble of tackle and accessories that takes forever to untangle when you need something.
Other crates come with multiple smaller compartments to aid in your organization efforts.
If you're relatively new to kayak fishing and aren't sure just how to organize your stuff just yet, this type of crate design can be great for starting out.
Ease of Entry
Getting into your kayak fishing crate should be easy, but this is often overlooked when folks are assessing different crate options.
The method by which a kayak crates closes and secures will dictate how easy (or difficult!) it is to gain access when you need it.
While you might think this is a little silly, consider trying to hold a squirming fish with one hand, making sure your fishing rod doesn't fall overboard with your legs, and using your free hand to open your kayak crate for that pair of fishing pliers you should have kept closer at hand.
Although it's great to have a lid that stays super secure if your kayak capsizes, the trade-off is a more cumbersome entry process.
You'll have to find a balance between a kayak crate that's easy to open and one that still keeps all of your tackle and supplies secure if your kayak flips.
Rod Holders
Most great fishing kayaks come with multiple fishing rod holders built into various locations on the kayak itself.
However, if that's not the case with your kayak, getting a kayak crate with fishing rod holders built-in is a great way to increase your ability to have multiple rod and reel configurations at the ready.
Most kayak crates come with standard-sized rod holders, so you'll need to make sure that your rod handles are compatible with holder size.
Even those crates that don't come with attached rod holders often retain the ability for you to attach additional holders as needed.
Because most kayak crates are stored in a kayak's rear tankwell, they are a great place to keep extra rod and reel setups.
Not only does this give you more rod storage, but it also offers a perfect setup for a trolling configuration.
Mounting Requirements
Mounting or attaching your new kayak crate to your watercraft should be fairly straightforward. However, there are a few things you should consider before settling on a new kayak crate.
For starters, make sure to measure the dimensions of the tankwell where you plan to mount or attach your kayak crate.
This is probably a no-brainer, but you don't want to end up with a crate that doesn't fit where you wanted to install it.
The most common area to install a kayak crate is behind your kayak's seat.
You'll want to make sure that the dimensions of the crate you're about to purchase will make it easy to access its contents while you're sitting in your kayak.
Depending on the crate you choose, you'll have several mounting options.
These options include, but aren't limited to, bolts, D-rings, tie-down straps, bungee cords, and carabiner clips.
Make sure you're comfortable with the preferred method of mounting your new kayak crate before you buy it.
Also, be sure that the crate you choose offers some sort of non-slip pads or bottom surface to keep it from shifting around while you're on the water.
Lastly, you should consider what will happen to your kayak crate if you do happen to go for an unexpected swim.
Your preferred mounting method should keep your crate firmly in place if your kayak capsizes.
Also Read: Best Kayak Coolers
Kayak Fishing Crate Reviews
Check Price on Amazon
The Plano Kayak V-Crate is one of the more unique kayak crates out there.
It's designed in this interesting V-shape in order to provide easier access to tackle stored in smaller boxes throughout the larger crate.
With dimensions of 25.875" long, 16.125" wide, and 18.125" high at its widest points, this kayak crate comes with four of Plano's 3750 Stowaway boxes to help you further organize your fishing tackle.
The back of this crate includes a side rail system where you can attach up to two fishing rod holders or other accessories.
The base of this crate is a waterproof compartment for storing any valuables of essential tackle that can't get wet.
The Plano Kayak V-Crate also allows you to detach the main unit from the base for easier transport or storage.
The base can actually bolt into the tankwell of your kayak so you know it's not going anywhere, even if you capsize with a big fish on the line.
Check Price on Amazon
The YakGear Cratewell is a soft-side kayak crate that fits into a standard milk crate with dimensions of 13" by 11" by 11".
The YakGear Kayak Angler Kit is a great purchase to go along with this Cratewell to complete your tackle storage setup.
The benefit of the Cratewell is that it gives you the ability to use it for dry storage or as a live well to keep fish healthy on your way home or for use with live bait.
You'll be able to add your favorite bubbler to this Cratewell, although you'll have to buy that separately.
Even if you don't outfit it with a separate milk crate, this solution can act as a soft-side dry storage crate that easily fits inside the stern or bow tankwell of your fishing kayak.
The Velcro flap on top of this crate gives you easy access to the contents, even if you only have one hand to operate it.
This YakGear Cratewell also weighs just over one pound, so it won't add very much weight to your kayak at all.
Check Price on Amazon
The Perception Splash Kayak Crate offers a large internal capacity and is built for compatibility with
Plano 3600
and
Plano 3700
tackle boxes.
The lid on this crate is actually removable so you can set it up for open access if you desire.
When it is attached, however, the lid secures with a simple latch that's easy to open with just one hand if your other hand is occupied with a squirming fish.
Although it doesn't come with them, this crate can be outfit with Perception Splash Rod Holders and Splash Pocket Organizers.
All around the exterior of this crate, you'll find strong webbing loops that allow you to attach accessories and further customize your crate configuration.
This crate also has D-rings on all four corners for additional attachment or tie-down points.
The Perception Splash Kayak Crate weighs just over five pounds and offers exterior dimensions of 17" long by 13" wide by 12.5" high.
The plastic feet on the bottom of the crate raise it up just enough to keep it from sitting in any water that gets into your kayak's tankwell.
Check Price on Amazon
The Pelican Exocrate is a soft-sided kayak crate that offers two fishing rod holders located on one side.
These holders have drain holes at the bottom to prevent the accumulation of excess water.
On the other side of the bag, several small sleeves give you a great place to store fishing tools that you might need quick access to when you land a fish.
The front Velcro pocket also provides additional external storage.
The main compartment of this fishing bag seals with a heavy-duty zipper and offers dimensions of 15.2" by 14" by 12.5".
The interior compartment is lined for water-resistance and fits an optional 13" by 13" crate.
The Exocrate also comes with a removable, padded shoulder strap for easy carrying and it contains reflective logos to help increase your visibility when you stay out late with the aid of one of the best kayak lights for night fishing.
Check Price on Amazon
The Flambeau Tackle Outdoors Tuff Crate Premium comes with two fishing rod holders that are both mounted on one side of the crate.
This can be a nice setup because it allows easier access to the crate and its contents from the opposite side.
The crate actually has two separate compartments.
There's a larger main compartment on the bottom for bigger items and a smaller top lid compartment that gives you easier access to the small stuff.
This crate has dimensions of 16.75" long by 12.8" wide by 15.26" high.
Additional rod holders can actually be added to any side panel of this crate and it comes with a total of ten mounting screws so you can customize your rod configuration.
The top lid on this crate gives you a recessed work surface area for tying knots or preparing bait.
This entire top compartment actually serves as the lid for the base to keep things secure in the event of a flip.
The Wilderness Systems Kayak Crate comes with four standard-sized fishing rod holders.
The large main compartment in this crate gives you the freedom to organize your tackle in a way that best suits you.
It also offers additional storage space in the lid and both of those storage compartments are water-resistant once the lid is closed and latched.
During the manufacturing process, this crate is blow-molded for added durability.
In terms of dimensions, the crate is 18 inches deep, 12.25 inches wide, and 13.25 inches long. It weighs just under 11 pounds and has a maximum capacity of 29 liters.
The universal lash down points on the Wilderness Systems Kayak Crate make it easy to secure in the open stern tankwell of just about any of the best fishing kayaks on the market today.
Check Price on Amazon
The Hobie H-Crate Jr is a great option for anglers with smaller kayaks, as this is the "junior version" of
the full-sized Hobie H-Crate
.
This crate has built-in fishing rod holders on each of its four corners.
With dimensions of 14" long by 14" wide by 13" high, you'll be able to organize all of your tackle and gear inside this crate.
It comes with four tie-down straps that come down from each corner and secure to your kayak using carabiner clips.
The exterior walls of this crate boast a number of recessed mounting points that allow you to connect it to just about anything.
The H-rail carrying handle on top of the crate makes it easy to move around, even when it's loaded down.
Those H-rail carrying handles are also great places to mount additional Hobie H-rail accessories, such as a universal mounting plate, cup holders, or an additional rod holder to complete your trolling configuration.
Check Price on Amazon
The BIG ANT Heavy Duty Collapsible and Stackable Milk Crate is the perfect option for the kayak angler that likes to customize their setup to the letter.
It's also made for any tackle or gear that doesn't necessarily need to be kept dry while you're on the water.
This crate has a 26-quart capacity and inside dimensions of 14.5" long by 10.6" wide by 9.9 inches high.
The entire crate collapses to a minimum thickness of just 2.95 inches and it weighs just under three pounds.
The major benefit of this crate is its durability.
It's rated to hold up to 132 pounds and is also designed to be stacked with others, which is a great option for kayak anglers that need additional storage capacity.
The BIG ANT crate comes with built-in locks to keep it from collapsing in on itself and the open design makes it easy to secure this type of crate using the existing bungee rigging on your fishing kayak.
Check Price on Amazon
This 19-quart dry box is part of Engel's UC series and comes with four standard-sized fishing rod holders.
The box itself weighs just seven pounds and has dimensions of 16.5" x 11.25" x 12.75".
This crate's 19-quart capacity is enough to hold up to 30 cans or 25 pounds of ice, which also means plenty of dry space for all of your fishing gear and tackle.
The latch-down lid creates a water-resistant compartment for dry storage.
The non-absorbent surface of this dry box makes it super easy to clean up after a few weeks out on the water.
The material is also stain and odor resistant, which is quite nice for a fishing-related crate.
The Engel Dry box is manufactured with a quality injection molded polypropylene polymer and insulated with high-grade, molded polystyrene foam.
It also comes with a small interior tray for storing smaller items that you don't want to dig around in the main compartment to find.
The CratePak from TCYC Collection comes with three standard-sized fishing rod holders and is capable of encapsulating a standard 13" by 13" milk crate.
On its own, this is a soft-sided kayak crate that also includes pockets for fishing tools and accessories.
The fishing rod holders on this crate are location on the back so that you'll be able to retain access to the crate without reaching around them.
It also has those additional pockets on all three sides for easy access to tools that you don't store right in your kayak fishing PFD.
This crate also includes an adjustable holder for a kayak light or safety flag so you remain visible on the water in all conditions.
The dimensions of this crate are 13" long by 13" wide by 15.25" high.
The TCYC Collection CratePak also features multiple D-rings and attachment points for securing down to your kayak.
Overall, this kayak crate weighs less than 2.5 pounds, which keeps down the weight of your whole kayak fishing configuration.
The Wilderness Systems Kayak Crate gets our top pick because it has repeatedly shown better water resistance than just about any other kayak crate on the market.
The latch-down lid will keep your fishing tackle dry even if you capsize when reeling in that 500-pound marlin.
We also chose this kayak crate because it gives you the option to customize the rod holder configuration on the sides of the crate.
The holders can be raised to accommodate shorter tankwells and they can also be angled for a better trolling alignment.
Unlike some kayak crates, this crate comes ready to install in your kayak right out of the box.
You won't need to perform any extra assembly and the universal lash down points make it easy to secure this crate in your preferred location on your kayak.
Finally, you'll love the fact that you can create your own organization system within this crate's large main compartment.
Every angler likes to keep his or her tackle organized a little differently and the additional lid compartment gives you quick access to those smaller items you use the most.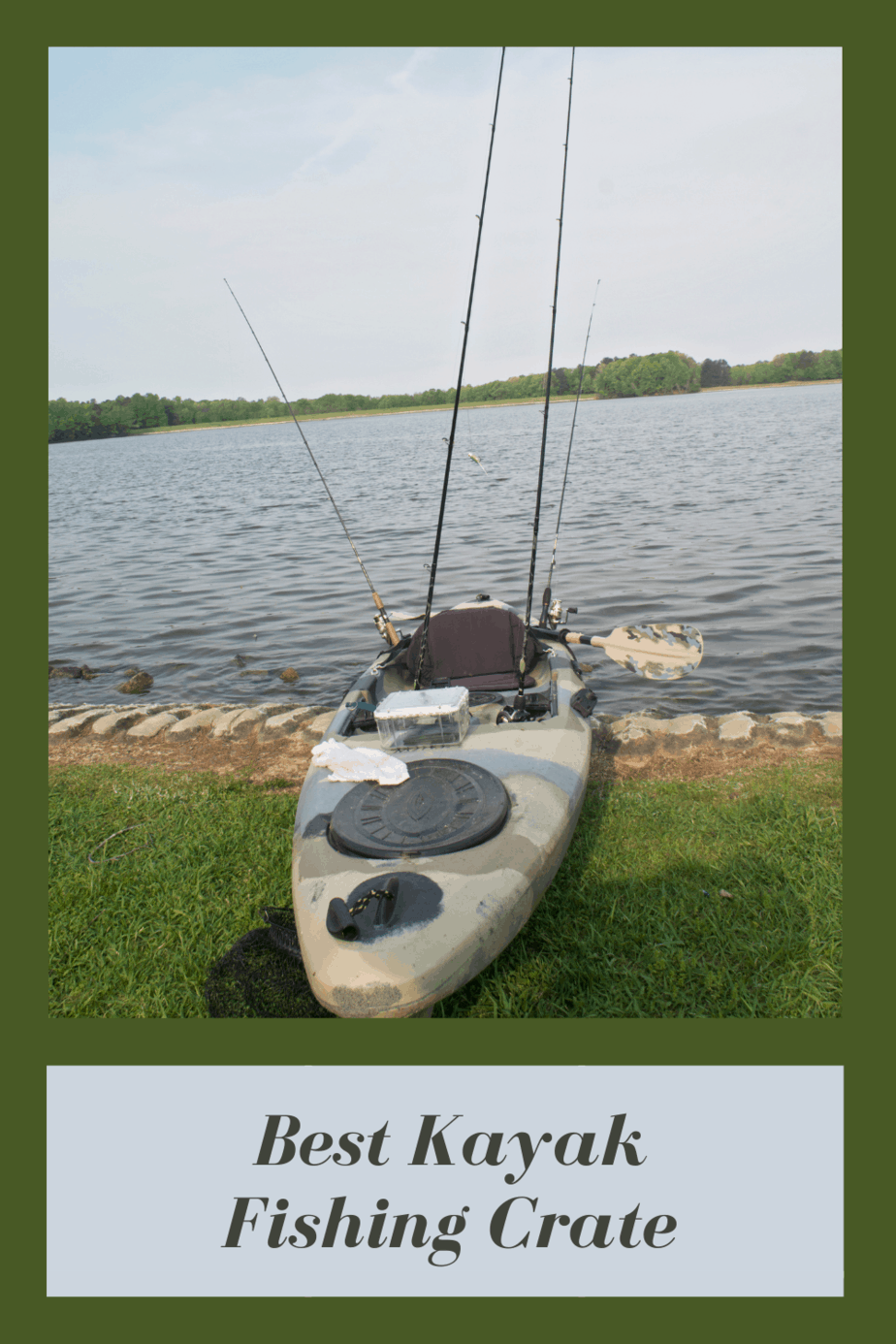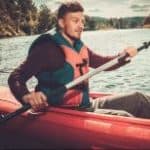 Author: Peter Salisbury
Pete is the Owner of KayakHelp.com. Born and raised in Cleveland, Ohio, he grew up kayaking, fishing, sailing, and partaking in outdoor adventures around the Great Lakes. When he's not out on the water, you can find him skiing in the mountains, reading his favorite books, and spending time with his family.