We've recently been reminded of the many blessings that come with having more time to spend with our families. But, if you're anything like us, you've been looking for new ways to get your family outside so that you can spend time together in nature.
Aside from simply giving you another recreational tool to get your family outside, kayaking can actually help you teach valuable outdoor skills to your kids.
Putting your kids in one of the best family kayaks will undoubtedly be a challenge for them to work on their teamwork and communication skills.
Not many people think about the team-building aspects of kayaking, but they come up every time you're climbing into a kayak with another person. So the skills you can instill in your kids through kayaking will remain valuable to them throughout their lifetimes.
But there are many options out there when you're looking for a new family kayak.
So we've canvassed the market to bring you the 10 best family kayaks  and we've also included a thorough Buying Guide to help you choose the right model for your family's unique needs.
Jargon Buster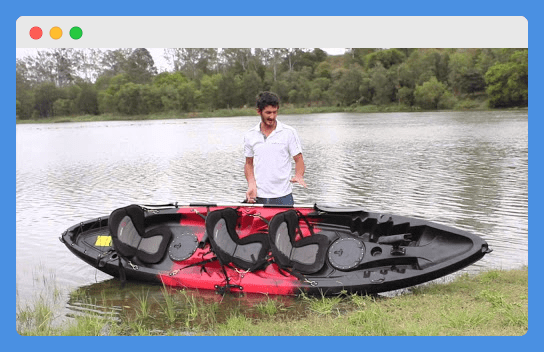 When you're new to shopping for a family kayak, the terms used to describe the features, specifications, and anatomy of a kayak can sound a bit technical. So let's take a few moments to define some of the kayak jargon you'll run into throughout the rest of this article.
PSI
PSI is a term that you'll see associated with many of the inflatable kayaks on our list. It stands for 'pounds per square inch' and it is a measure of the amount of pressure a kayak can safely be inflated to.
Scupper Holes
Scupper holes are holes that are intentionally included in the design of most sit on top kayaks.
They allow some water into the cockpit when you sit inside, but their primary function is to allow water to drain out so that the cockpit doesn't fill up like it might with a sit-inside kayak.
Self-Bailing Drain Ports
Self-bailing drain ports are pretty much exclusive to inflatable kayaks and they serve the same basic purpose as scupper holes on sit on top kayaks. However, some models allow you to close the drain ports to keep the kayak drier if you're paddling in calm locations with cold water temperatures.
Buying Guide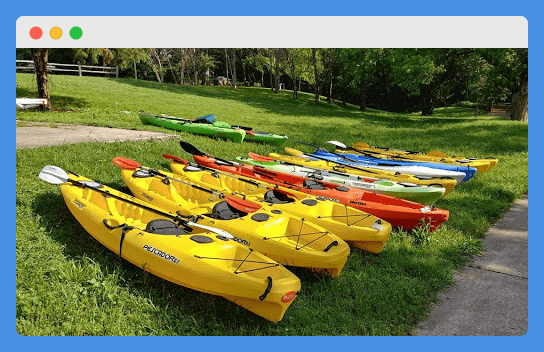 Getting your family set up to explore doesn't have to be super expensive if you focus on the most important specifications rather than getting attracted to "fluff" features.
Saving money on the initial purchase of a family kayak can be useful too because, depending on what type of vehicle you have, you might also need to purchase one of the best roof racks for cars without rails to transport your new vessel safely!
Inflatable Versus Hard Shell
One of the first choices you'll need to make is deciding whether an inflatable or hardshell kayak makes more sense for your family. So let's discuss some of the pros and cons of each type.
Inflatable kayaks are easier to store and transport because they're lighter and they deflate and roll or fold into a compact package when you're done using them.
This makes them ideal for traveling families or if you have minimal storage space at your home or apartment.
The downside of inflatable kayaks is that they don't tend to perform as well over distances as hardshell kayaks. And because of their inflatable design, they're also more susceptible to punctures or tears if you're not gentle with them.
Hardshell kayaks are generally able to achieve higher top speeds over distance and they offer better straight-line tracking than their inflatable counterparts. Depending on their specific design, some can also be more stable.
But hardshell kayaks require more storage space at home and they tend to be heavier than inflatables.
This makes them more difficult to transport and you'll definitely need some type of kayak roof rack to get a hardshell kayak to and from your favorite paddle spots.
Sit On Top Versus Sit Inside
You'll also need to decide whether a sit on top or sit-inside kayak makes more sense for your family. Each of these kayak styles is made for a specific purpose and type of paddler, but there can be a little overlap when inflatable kayaks are added into the mix.
In general, sit on top kayaks are the safest and easiest to use, especially for families that are relatively new to kayaking. This is why you see many kayak rental companies and guide outfits putting their guests into sit on top kayaks.
Sit on tops are easy to right and re-enter if you do capsize and they tend to be more stable than many sit-inside varieties. Because of their open cockpit design, they also tend to be more comfortable for taller paddlers.
On the other hand, sit-inside kayaks tend to offer a drier ride overall and keep you protected from the elements. This makes them a more favorable choice for cold water paddling or in regions where heavy winds and large waves are common.
But sit-inside kayaks can be difficult to right and re-enter if you don't have experience with the specific technique used in doing so. This makes them a better option for experienced kayakers that are comfortable with rescue maneuvers.
Interestingly, many inflatable kayaks offer a blend between these two types.
While many have raised sidewalls that keep you drier while paddling, they also include self-bailing drain ports that remove water from the cockpit, which makes them easier to right and re-enter if you capsize.
Weight Capacity
You must also take the weight capacity of a given kayak into account before finalizing your decision. As a rule-of-thumb, add at least 50 pounds to the combined weight of the paddlers that plan to use the kayak in order to account for water, snacks, and other kayaking gear.
Thumbnail
Title
RAVE Sports Sea Rebel Kayak
Advanced Elements StraitEdge2 Inflatable Kayak
Intex Challenger K1 Kayak, 1-Person Inflatable Kayak Set with Aluminum Oars and High Output Air Pump
Solstice by Swimline Durango Kayak, Multicolor, One Size (29635)
Thumbnail
Title
RAVE Sports Sea Rebel Kayak
Thumbnail
Title
Advanced Elements StraitEdge2 Inflatable Kayak
Thumbnail
Title
Intex Challenger K1 Kayak, 1-Person Inflatable Kayak Set with Aluminum Oars and High Output Air Pump
Thumbnail
Title
Solstice by Swimline Durango Kayak, Multicolor, One Size (29635)
Family Kayak Reviews
Check Price on Amazon
The Intex Explorer K2 is another inflatable tandem kayak that's among the most affordable options on our list. You'll like the versatility it offers with inflatable seats that can be removed if you desire to take it out as a solo paddler or with a small child on your lap.
It's constructed with heavy-duty, puncture-resistance vinyl and the interior actually features a total of three air chambers. This multi-chamber design helps to keep the kayak afloat if one chamber does become torn or punctured.
This kayak measures 10.25 feet long and 36 inches across. It boasts a maximum weight capacity of 400 pounds despite only weighing just over 30 pounds itself when fully inflated.
The cockpit is 20 inches deep to help deliver a drier ride if you encounter windy or wavy conditions. The removable skeg on the bottom of the kayak will help it track straighter so that you don't have to constantly correct course with a forward sweep stroke.
Check Price on Amazon
If you're looking for a family kayak that also doubles as an excellent fishing kayak, the Crescent Kayaks Fisher Xtreme II is an excellent choice.
In addition to plenty of space for two paddlers, it has a large open storage compartment in the stern that's perfect for coolers and tackle boxes.
There are two interior fishing rod holders on this kayak that are located towards the stern. These holders help you set up a trolling line (or two!) for easier hands-free fishing as you negotiate the kayak to a new location.
It also comes with three receiver locations for adjustable exterior fishing rod holders so that you can fish from either side of the kayak with ease.
This amount of rod holders also allows you to keep multiple bait combinations at the ready so you don't have to spend most of your time on the water changing tackle instead of actually fishing.
The Fisher Xtreme II measures 12 feet long and 34 inches wide. It also includes a total of three molded seats so you can paddle with two adults and a small child in the center if you're just going out for a recreational outing.
Check Price on Amazon
We wanted to add at least one more single kayak to our list and the Intex Challenger K1 is an economical choice for family use.
It's a single kayak that's best suited for calm lakes or slow-moving rivers and it'll be an excellent addition to your arsenal if you already have a few paddle craft.
It measures nine feet long with a width of 30 inches and the cockpit is 15 inches deep for a dry ride. When fully inflated, this kayak weighs only 27.2 pounds so it's really easy to transport down to the water.
It may be best suited for a single adult or two children because it only has a maximum weight capacity of 220 pounds.
That said, it features a large bungee rigging area in the stern that gives you plenty of space to store kayaking gear or a picnic lunch for a longer paddle.
The Challenger K1 also boasts welded seams and a rigid I-beam floor that give it added stability and improve its performance on the water. Aside from the kayak itself, it comes with an 84-inch collapsible paddle, a high-output foot pump, and a "just-in-case" repair kit.
4. Sevylor Tahiti
The Sevylor Tahiti is another tandem inflatable that's designed for fishing and/or hunting applications. It also represents a great bargain value if you're looking for a budget-friendly family kayak.
It includes two inflatable seats that can be adjusted to your comfort level and one (or both) of the seats can be removed if you want to paddle it solo or just throw the kids in and let them use it as a makeshift raft just offshore.
It measures 10.33 feet long and 37 inches wide and it has a deep cockpit area for keeping your dry while paddling. This makes it better suited to small lakes and calm rivers that still have the potential for the winds to kick up in the late afternoon.
The Tahiti comes with attached spray covers in the bow and stern that serve to keep the cockpit dry and also give you a covered place to store kayaking gear. This kayak also features multiple air chambers for safer design and it's capable of holding up to 360 pounds.
The Perception Rambler is a hardshell, sit on top kayak that comes with two fully-adjustable seat backs and it also has an optional middle seat in the center. This makes it an ideal family kayak for two parents and a small child (or your furry friend!).
It's a 13.5-foot kayak with a width measuring 34 inches across and a maximum weight capacity of 550 pounds. The kayak itself weighs 78 pounds, so it's another model that will be much easier to transport to and from the water with the aid of a kayak cart.
The scupper holes in the bottom of this kayak are designed to naturally allow any water that gets into the cockpit to drain instead of accumulating.
Because of this, this kayak is also much easier to right and climb back into if you happen to capsize in deeper water.
There's a large open storage compartment in the stern that's perfect for keeping a cooler or a large dry bag. That compartment is also secured using bungee straps so your items remain secure through wind and other unexpected weather.
Check Price on Amazon
The Solstice by Swimline Durango is another inflatable kayak that's designed primarily for tandem use. That being said, the adjustable seats easily clip into place and can be removed if you decide to use it as a single kayak as well.
You'll be able to keep your kayaking gear dry when paddling for multiple hours in this kayak because of the covered storage areas in the bow and stern.
On top of those areas, you'll also be able to use the bungee cord rigging to attach any additional accessories you decide to bring along.
This kayak measures 11 feet long and 37.4 inches wide and it boasts a stellar 440-pounds weight capacity. The entire kayak can inflate to pressures up to 15 PSI, which gives it extra rigidity and superior performance on the water.
Speaking of performance, the removable skeg on the bottom will help you track straighter in windy conditions but it can be removed when paddling in shallow waters.
This kayak also comes with a tough nylon cover that adds extra resistance to tears, punctures, and damage from UV radiation.
Check Price on Amazon
The Driftsun Rover 220 is one of the most rugged inflatable family kayaks on our list and comes with everything you need for a comfortable tandem paddling experience.
In addition to the kayak, you'll get two adjustable seats, two aluminum kayak paddles, a high-output pump, a removable rear tracking fin, and a travel bag.
That travel bag makes this kayak super easy to pack up and transport to new locations, so this is also a great option for on-the-go families. When deflated, the entire kayak measures just 24.5 inches long, 21 inches wide, and 10 inches deep.
When you've fully inflated it, which takes less than 10 minutes, this kayak is 12.5 feet long and 38 inches wide.
That extra width (when compared to other family kayaks) makes it even more stable for beginner kayaks to get used to paddling without going swimming right away.
The Rover 220 also is inflatable to a maximum floor pressure of six PSI and a maximum side tube pressure of three PSI. It weighs just 28 pounds when fully inflated and boasts a maximum weight capacity of 600 pounds.
The Rave Sports Sea Rebel 153 is a super affordable family kayak designed for a single paddler, but it is large enough for an adult to paddle with a small child on board and it has a maximum weight capacity of 200 pounds.
The kayak is 8.58 feet long and 35 inches wide at the center. It's an inflatable design that makes it a great option if you don't have a way to transport a hardshell kayak on your car's roof or with a kayak trailer.
It's also super lightweight and it weighs a total of just 22 pounds when fully inflated. This portability makes it a great option for family camping trips located near a clean, refreshing body of water.
Because it only has a single seat, the family will have to take turns utilizing it.
But it's also super kid-friendly because it's not a very deep kayak, which makes it much easier for kids to climb back in if they want to paddle out and jump in the water to cool off.
The Wilderness Systems Pamlico 135 is a sit-inside kayak that's best suited for small families that want to cover some ground while they're on the water.
Because of its sit-inside design, we recommend this kayak for paddlers with an intermediate-to-advanced level of skill and experience.
The Pamlico measures 13.5 feet long and 31 inches wide. The 14-inch deck height on this kayak helps to keep the cockpit drier when the winds come up and it boasts a sizable 500-pound weight capacity.
The kayak itself is a bit heavier, however, with a total weight of 72 pounds. So if you plan to paddle in locations where you'll need to carry this kayak a considerable distance to get from the car to the water's edge, we recommend looking into a wheeled kayak carrier.
We should also mention that this kayak features Phase 3 AirPro seats that are super comfortable and fully adjustable. These seats are built to provide all-day comfort for longer paddle expeditions.
Advanced Elements is one of the leaders in inflatable kayak technology and the Straightedge 2 is one of their most family-friendly models. It features two removable and adjustable seats so it can easily be configured for tandem or single-use.
The floor is self-bailing so water doesn't accumulate in the cockpit if you're paddling on mild whitewater or in the gentle surf. And it also allows you to close the self-bailing drain ports to keep the cockpit dry if you're paddling in calm, cool waters.
This kayak is 13 feet long and measures 35 inches across. Because it's inflatable, it's also super easy to store and transport because it packs down to dimensions of 18 inches wide by 12.75 inches high by 39.5 inches deep when deflated.
It only takes minutes to inflate fully and the heavy-duty PVC tarpaulin material it's made with provides ample puncture and UV resistance. It also boasts a 500-pound weight capacity and weighs only 47 pounds when fully inflated.
The Advanced Elements Straightedge 2 is our pick for the best family kayak  because of its durability and performance. Unlike many inflatable kayaks, this model is versatile enough to handle everything from mild whitewater to calm inland bays.
The floor features self-bailing drain ports that are best to leave open if you're doing any whitewater paddling. This allows water that enters the cockpit to drain out instead of accumulating.
If you're paddling on calmer waters and want to stay dry, you can close these drain ports to essentially turn this into a sit-inside kayak. This ability to change from a sit on top to a sit-inside configuration is rare and it makes this kayak more versatile than most.
We also chose an inflatable kayak as our pick because they're easier to store and transport than hardshell kayaks. This makes them a much better option if you don't have a roof rack on top of your vehicle.
Finally, the aluminum frame included in the bow and stern of this kayak makes it track straighter than others. This means you'll be able to use it functionally as your experience level grows and you begin to plan longer paddle expeditions.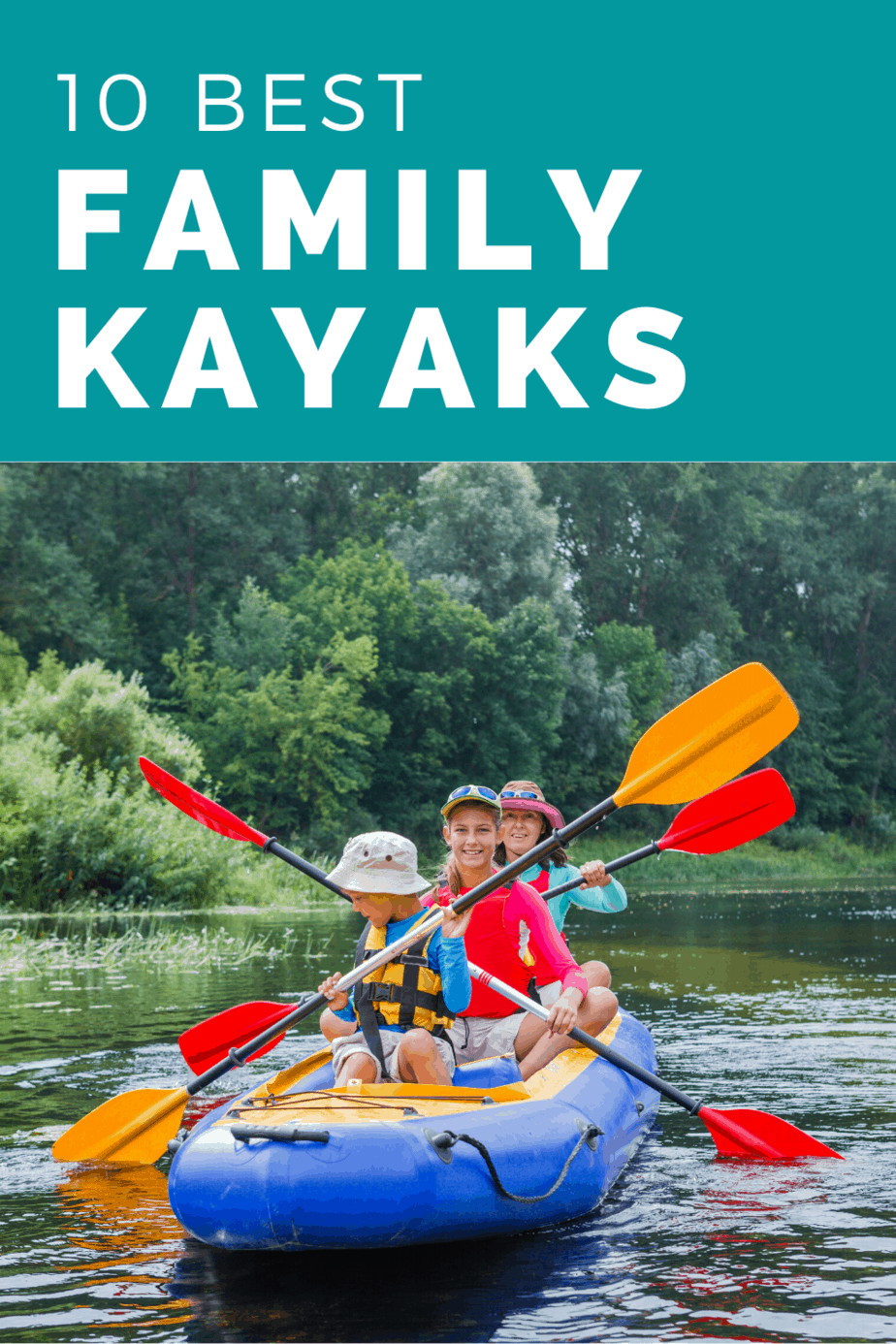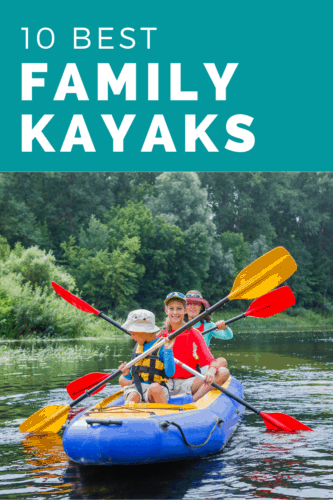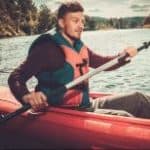 Author: Peter Salisbury
Pete is the Owner of KayakHelp.com. Born and raised in Cleveland, Ohio, he grew up kayaking, fishing, sailing, and partaking in outdoor adventures around the Great Lakes. When he's not out on the water, you can find him skiing in the mountains, reading his favorite books, and spending time with his family.