Kayaking is more fun with a friend! And some of the best 2-person kayaks even have room for a third paddler, a small child, or your favorite paddle pup.
There are a variety of two-person kayaks out there. Some are made purely for recreation while others boast a number of specialty features for fishing, long paddle expeditions, and family fun.
There are also kayaks that are better for on-the-go travellers and others that are better for folks that live close to a lake or slow-moving river.
The features of each vary, and the best kayak for you will largely depend on how you plan to use it.
In this article, we're going to offer the 10 best 2 person kayaks reviews. We'll also cover some important kayak jargon and provide tips on choosing the best kayak for your needs!
Also Read: Tandem Kayak vs Canoe
Jargon Buster
If you're relatively new to the sport of kayaking, take some time to familiarize yourself with some typical kayak jargon.
Spray Skirt
A spray skirt is a kayak accessory that's attached to the kayak to keep the cockpit (and its contents) dry. Generally, only sit-inside kayaks are compatible with spray skirts.
Gunwales
Gunwales are the sides of a kayak. This is usually where you'll find handles, paddle parks, and other kayak features.
Paddle Parks
This is a kayak feature used to secure your kayak paddle when you want your hands-free. They are generally secured with bungee cords.
Cockpit
The cockpit of a kayak is the area where the paddlers sit while they operate the kayak. The size of the cockpit can be very important, especially for larger paddlers.
Larger paddlers (or paddlers with longer legs) will require a larger cockpit. Otherwise, you're going to feel squeezed into a small cockpit and you'll be much less likely to enjoy a full day on the water.
Also Read: Pelican Kayaks Review
Buying Guide
In this section, we'll cover some of the most important topics to consider when you're comparing 2 person kayaks.
This includes sit inside versus sit on top kayaks, inflatable versus rigid kayaks, kayak shape and hull design, and activity-specific features and accessories.
Sit Inside Versus Sit On Top
Most of the kayaks on our list are of the sit on top variety. Sit on top kayaks are generally better for beginners and offer more stability than their sit inside counterparts.
Sit on top kayaks also have scupper holes built into the hull. This allows any water that comes over the gunwales to drain out of the cockpit before your kayak starts to weigh a bunch more.
Sit inside kayaks have the distinct benefit of being compatible with spray skirts. This is particularly important if you're going to be paddling in a place that receives frequent rainfall or windy conditions.
Inflatable Versus Rigid Kayaks
You'll find both inflatable and rigid (also called "rotomold") kayaks on our list. The main benefit of an inflatable kayak is the ability to deflate it and store it in a compact area when you're not using it.
The design of inflatable kayaks has greatly improved in recent years. Some of the best inflatable kayaks nowadays perform much better than earlier models.
That being said, most rigid kayaks will track straighter and maneuver more easily than their inflatable counterparts. However, you must have sufficient space to store a rigid kayak when not in use.
Another benefit of an inflatable kayak comes when going from your house to your preferred waterway. Unless you live right on the water, you'll need to consider how easy (or difficult!) it will be to transport your new kayak to the water.
Inflatable kayaks travel more easily, but they tend to come with sacrifices in performance. Rigid kayaks perform better but they require more energy and effort to transport.
Kayak Shape And Hull Design
Kayaks that are built for two paddlers are generally wider than those built for single paddlers. But many of the kayaks on our list are adaptable for one, two, or even three paddlers.
Larger paddlers, in general, will want a wider kayak. This is also true for exceptionally tall paddlers or paddler with very long legs.
More width in a kayak's design will generally make it more stable, but there are other factors that play into stability as well. Extra width also means a larger cockpit area, which allows more comfort for longer-legged paddlers.
A kayak with a flatter hull will be easier to maneuver quickly. This is why most whitewater kayaks feature a flat hull.
Kayaks with a deeper, V-shaped hull will track straighter and can achieve higher top speeds. The downside is that a deeper hull shape will make it more difficult to make quick maneuvers.
If you're planning on mainly paddling on flatwater on a lake or slow-moving river, you probably won't need to worry about making quick maneuvers.
But if you plan on doing any whitewater paddling or even taking your kayak out on coastal waterways with more weather variables, maneuverability will be more important than top speed.
Activity-Specific Features And Accessories
Two-person kayaks are designed with a variety of features and accessories. Some of the most popular two-person kayak are made for kayak fishing.
If you want to be able to fish from your kayak, some essential features include rod holders, D-ring attachment points, and bungee storage for tackle boxes. You'll also want your kayak to have at least one paddle park so that you can keep your hands-free to use your fishing rod.
If you're not interested in kayak fishing, there are a number of features and accessories designed for other purposes. An optional third seat, for example, is essential if you plan to paddle with a small child or a furry companion.
If you plan to head out for longer paddle expeditions, your 2 person kayak will need plenty of dry storage for your gear. This is especially essential for overnight paddle adventures, as you'll need a way to keep cooking and sleeping supplies dry while you paddle.
These are just a few examples of the accessories you'll want for different activities. Making YOUR decision requires considering your preferred kayak activities and which features will make those activities more enjoyable.
Best 2 Person Kayaks 
Buy From Amazon
The Intex Excursion Pro is an inflatable two-person kayak. It's made with a super tough laminate PVC core that improves its ability to resist damage from abrasions, impacts, and the effects of UV exposure.
This kayak inflates to high pressures so that it maintains a rigid shape that makes it easier to maneuver. It also features spring loaded valves that allow you to easily inflate it and deflate it quickly when you're finished paddling.
One of the biggest benefits of this kayak is that it can be packed up and stored in a compact space. This makes it a great two-person kayak for travellers and RV owners and it has a total weight capacity of 400 pounds.
The Excursion Pro also comes with a removable mounting bracket that can be adjusted to accommodate a variety of accessories. This bracket allows you to outfit this inflatable kayak with GPS systems, fish finders, fishing rod holders, and other preferred accessories.
Pros
Compact Storage
Ability To Attach Accessories
Easy Inflation and Deflation
Cons
Less Maneuverable Than Rigid Kayaks
Could Be Damaged More Easily Than A Rigid Kayak
Buy From Amazon
The Airhead Montana is another inflatable two-person kayak that's an excellent choice for anyone that doesn't quite have the space to store a rigid kayak. This kayak is also great for camping, taking on vacation, or exploring remote waterways.
This inflatable kayak is designed with three separate air chambers that are enclosed with thick, rugged nylon. That nylon is also coated with UV and water-resistant finish to make it more durable.
While it's mainly designed for flatwater, this kayak is durable enough to handle mild whitewater on your nearby river. It also elbow guards that keep your arms from scraping the gunwales while paddling.
The Airhead Montana has stretch netting in the bow for storing your gear. It also boasts a total of six D-rings in the bow and stern for additional spots to attach supplies.
Pros
Isolated Air Chambers
Large Bow Storage Area
Bright Orange Color For Increased Visibility
Cons
Have To Ensure Proper Inflation For Optimal Performance
Only One Drain Hole When Water Gets Into Cockpit
The Lifetime Tandem is a ten-foot rigid kayak that comes with two paddles. This is a great starter kayak for couples with minimal previous kayaking experience.
The ten-foot size is a great place to start for beginner tandem kayakers. However, this length can be tricky for larger paddlers.
This kayak has a total weight capacity of 500 pounds, but it can also be easily paddled by a single kayaker in the event that your partner can't join you. The Lifetime kayak weighs 60 pounds.
This kayak has molded-in handles on the bow and stern to make it easier to transport. It also boasts an ultra-stable tunnel hull design that makes it hard for inexperienced kayakers to tip over.
Pros
Easy To Maneuver For Beginners
Comes With Two Kayak Paddles
Stable Design Makes It Hard To Tip
Cons
Short Length Can Be Tricky For Larger Paddlers
Could Be Damaged More Easily Than A Rigid Kayak
The Perception Pescador Tandem kayak is a great kayak to keep near the water. It's a great two-person kayak for those that live near a lake, river, or calm coastal waterway.
This kayak has two adjustable seats that can adapt to your needs for a comfortable ride. The seat backs flip up and down so that they're super easy to set up at a moment's notice.
This kayak also has an optional third seat in the center of the kayak. This allows you to bring along one of your kids or gives your furry companion a place to sit while you paddle.
Multiple scupper holes in the hull of this kayak allow water to drain out easily. The Pescador Tandem boasts a total weight capacity of 500 pounds and the kayak itself weighs 69 pounds.
Pros
Built-In Seatbacks Snap Into Place Easily
Dry Storage Hatch In Front Of Each Paddler
Bow And Stern Storage Areas
Cons
Large Size Can Be Hard To Transport
Sits High In The Water So Can Be Easier To Tip
The Ocean Kayak Malibu Two is a tandem kayak that fits a wide range of paddlers. It offers a wide design that's great for beginners and still performs well for more experienced paddlers.
This kayak has clip-in seats that can be removed when you're finished paddling. While this makes for a little more work when setting this kayak up, it allows for slightly more compact storage.
This kayak comes with a variety of footwells to fit paddlers of many heights. It also features an optional third middle seat that can be used for an extra paddler or for gear storage.
That optional middle seat also allows this kayak to be maneuvered by just one paddler if your partner takes the day off. Storage straps on the bow and stern of this kayak secure with buckles to keep gear from getting away if you do capsize.
Pros
Fits A Wide Range Of Paddlers
Adaptable To One Or Two Paddlers
Multiple Footwells For Variable Paddler Heights
Cons
Minimal Gear Storage
Seats Take Longer To Set Up
This selection from Brooklyn Kayak Company (BKC) is a 12.2-foot kayak with two swivel fishing rod holders. This is a great two-person kayak for the couple that's interested in bringing home a fish or two for dinner.
This kayak comes with two paddle parks that give you a place to keep paddles secure as you preoccupy your hands with fishing. There are also four accessible handles on the bow, stern, and gunwales of this kayak to make it easier to transport.
The BKC 12.2' kayak comes with two soft, padded seats that clip-in and adjust for comfort. It also has two storage hatches in front of each paddler for waterproof storage.
This kayak has a maximum weight capacity of 440 pounds. It also features an optional third seat that can be used for a third paddler, extra gear, or a comfortable place for your paddle pup to relax while you're on the water.
Pros
Optional Third Seat
Padded, Adjustable Seats
Two Swivel Fishing Rod Holders
Cons
Clip-In Seats Require More Set-Up Time
Might Lack Some Features For 'Professional' Anglers
This two-person kayak from Elkton Outdoors is built for the adventurous couple that wants to bring plenty of supplies along on their paddle adventure. It boasts a number of features for fishing and ample space for gear storage.
This kayak comes with two open storage areas in the bow and stern. You can secure your gear in these spots using the attached bungee cord.
There are also two storage hatches in this kayak. They are located in front of each paddler and provide a space to store gear that you want to keep dry during your trip.
The Elkton Outdoors Tandem kayak has a total weight capacity of 650 pounds. The kayak itself weighs 72 pounds and is made of ultra-durable rotomolded plastic.
The kayak is a full 36 inches wide, which makes it extra stable for taller paddlers. It also boasts adjustable seat backs for a more comfortable ride.
Pros
Adjustable Seat Backs
Wide Design For Added Stability
Large Weight Capacity
Cons
Heavy Weight Makes It Harder To Transport
Lacks Optional Third Seat
The Perception Cove is a sit-inside two-person kayak that has a total weight capacity of 550 pounds. The kayak is 14-feet, six-inches long and weighs 71 pounds.
The sit-inside design of this kayak makes it compatible with a large, two-person spray skirt. This makes it an attractive option for the experienced paddle tandem that frequents wet or rainy areas.
This kayak boasts bungee cord on the bow deck for attaching gear and accessories. There is also a large storage hatch in the stern of the kayak for dry storage.
The Perception Cove has plenty of storage capacity for all-day and even overnight paddle expeditions. It also comes with a replaceable skid plate on the hull so that you can drag this boat over sand and rocks without worrying about causing excessive damage.
Pros
Compatible With Spray Skirt For Rainy Conditions
Replaceable Skid Plate On Hull
Large Interior Cockpit For Gear Storage
Cons
Length Requires Extra Storage Area
Only Has Bow and Stern Handles
The Vibe Kayaks Yellowfin two-person kayak is a thirteen-foot vessel that weighs 80 pounds. It has a total weight capacity of 500 pounds.
This kayak comes with an optional third seat in the center for a child or furry paddle partner. It comes with two paddles and two adjustable seats.
The seats in this kayak are framed, which gives them added rigidity. This helps to prevent the seats from collapsing or causing discomfort by forcing you to use additional abdominal strength.
It also comes with adjustable foot braces that are attached to the gunwales in the cockpit's interior. These braces allow you to find and maintain an ergonomic paddling position.
Finally, the Vibe Kayaks Yellowfin 130T boasts a total of four areas for gear storage. There are two small bungee-secured storage areas in the bow and stern, as well as two dry storage hatches in front of each paddler.
Pros
Framed Seat Backs For Added Comfort
Adjustable Foot Braces
Ample Storage Space
Cons
Heavy Weight Makes It Harder To Transport
Not The Easiest Kayak To Store In Compact Spaces
The Vanhunks Voyager Deluxe two-person kayak is twelve-feet long and offers a total weight capacity of 551 pounds. This is an excellent tandem kayak for larger paddlers.
It features two deluxe aluminum seats that can be adjusted for comfort. These seats allow you to sit higher in the kayak, which is beneficial for kayak fishing and visibility.
The total package also comes with two paddles and two swivel fishing rod holders. This kayak boasts two internal storage hatches where you can store dry bags, coolers, tackle boxes, and other gear.
In addition to accommodating two adults, this kayak can also be adapted to include a third seat in the middle. This allows you to bring a pet or child along on your paddle adventure.
Finally, the Voyager Deluxe is constructed with thick rotomolded plastic that is resistant to punctures and sun damage. When transporting it, the molded side handles make it easier to move around this kayak's 77 pounds of weight.
Pros
Higher Seats For Fishing And Visibility
Large Cockpit For Larger Paddlers
Internal Storage Hatches For Dry Gear
Cons
Heavier Weight Makes It Less Mobile
Extra Length Requires More Storage Space
Our Pick – Perception Cove Tandem
The Perception Cove Tandem is our pick because it offers the most versatility. It's great for casual paddles on the most beautiful of days and it can also be bulked up for more variable weather conditions.
The sit-inside design of the Perception Cove is also attractive because it creates a bunch more storage space in the kayak's cockpit. This extra storage space is essential for longer paddle trips.
We also like this two-person kayak because of its extra length. A longer kayak can achieve higher top speeds and will allow you to cover more ground with less effort.
This is a huge factor when you're paddling all day. And this kayak also has adjustable footrests that allow you to stay comfortable for a full day of paddling.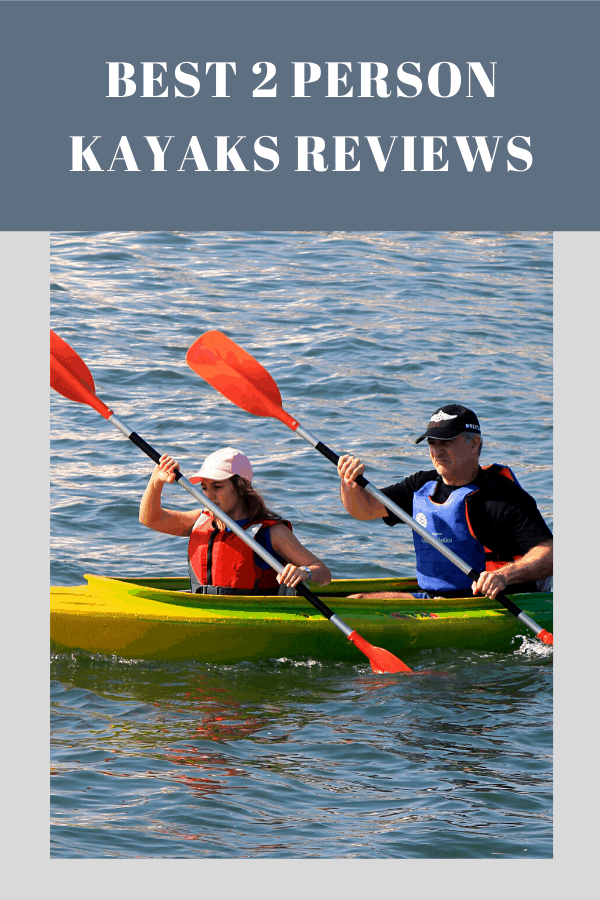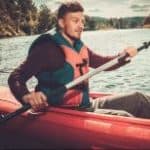 Author: Peter Salisbury
Pete is the Owner of KayakHelp.com. Born and raised in Cleveland, Ohio, he grew up kayaking, fishing, sailing, and partaking in outdoor adventures around the Great Lakes. When he's not out on the water, you can find him skiing in the mountains, reading his favorite books, and spending time with his family.