Kayak fishing is a great way to enjoy time on the water and (if you're lucky!) bring home some fresh fish for dinner. While some kayak anglers just do it for sport, others come to rely on what they're able to bring home at the end of the day.
Fishing kayaks are typically wider and more stable than most other types of kayak. Some of them even give you the ability to stand up comfortably so you can have a better view of what's happening in the water beneath you.
But there are so many fishing kayaks out there these days, so it can feel overwhelming if you're searching for a new watercraft. In order to help you narrow down your options, we're going to highlight the 10 best fishing kayak brands today.
In addition, we'll start by defining some important kayak fishing terminology that you should know and our Buying Guide will cover a few of the most important factors to consider when deciding which fishing kayak brand is right for you.
Jargon Buster
Because fishing kayaks are so unique when compared to other types of kayaks, they come with their own unique jargon. So let's take a moment to define some key terms that you'll likely run into throughout the rest of this article.
Rod Holders
These are where you can store multiple different rod and reel combinations while you're on the water. If you get a fishing kayak with many rod holders, you'll probably have some that are mounted flush to the deck of the kayak and others that swivel to allow for more directional versatility.
And while we're at it, if you want some advice on what to put in your kayak's rod holders, check out our article on the best kayak fishing rods!
Gunwales
This is the kayaking terminology for the sides of a kayak. On fishing kayaks, the gunwales are the most common spots to find fishing rod holders with a swivel design.
Tracks
Tracks are typically installed on the edges of a kayak's cockpit. They are used in fishing kayaks to give anglers a place to attach additional fishing-related accessories to their kayak setup.
Deck/Cockpit
These terms mean two different things, but we're including them together because of the unique design of fishing kayaks. The cockpit is where you sit in a kayak and the deck is the top of your kayak.
But in fishing kayaks, the design means that these two areas often somewhat blend into one. A quality fishing kayak has a large, open cockpit/deck area that allows anglers to stand up and remain stable.
Buying Guide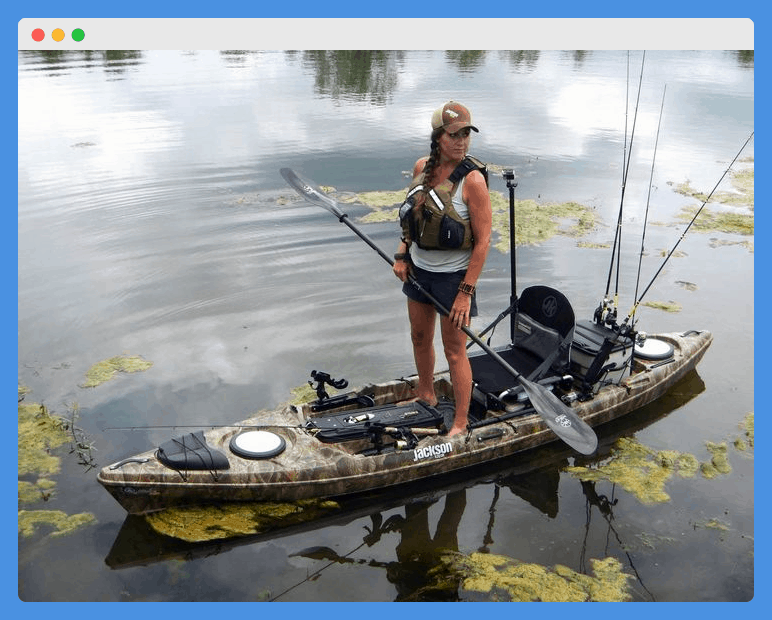 Fishing kayaks are arguably the most accessory-laden kayaks on the market. So this Buying Guide will help you determine which features and accessories will really be important to the type of fishing you plan to do!
Inflatable Versus Hard Shell
The first decision you can make to narrow down your choices is whether you want an inflatable or a hard shell kayak.
Inflatable technology has improved too much recently that the best inflatable kayaks now perform very similarly to hard shell kayaks.
The main benefits of inflatables are their lighter weight and ability to deflate and store them in a compact space. This is why they're the best choice if you travel with your kayak or live in a smaller apartment.
That being said, many kayak anglers avoid inflatable kayaks because they're worried accidentally hooking the kayak could cause it to pop.
So if you do choose an inflatable fishing kayak, make sure it has a nylon cover over the inflatable material to protect you from ending up on the water with less air in your kayak than you'd like.
For most anglers, hard-shell kayaks are the obvious choice because of their durability and stability. With many hard shell fishing kayaks, you'll also be able to stand up for optimal casting ability, which is something you won't find with an inflatable fishing kayak.
The major downside of hard-shell kayaks is that they almost always weigh more than inflatables. This makes them more of a challenge to transport, and it's one of the main reasons you should get one of the best kayak carts for transporting your fishing kayak.
Sit On Top or Sit Inside
The next choice you'll need to make is whether you want a sit on top or sit inside kayak. Most kayak anglers choose the former, but that'll depend on the type of environment where you normally paddle.
Sit on top kayaks are best suited to lakes, slow-moving rivers, and protected bays or coastal waterways. Sit inside kayaks are generally made for longer distance paddles and are useful in places where rain or waves is more common.
The problem with choosing a sit-inside kayak for fishing is that they're much more difficult to climb back into if you accidentally capsize. Additionally, they offer less above-deck storage space for your fishing gear.
For these main reasons, most anglers will opt for a sit on top kayak. They give you more space to store or attach your gear and they're also much more stable than their sit inside counterparts.
Propulsion
Unlike whitewater kayaks that rely solely on maneuvering using a paddle, fishing kayaks can be outfit with a pedal drive propulsion system.
This type of system can allow you to propel your kayak with your legs while your hands stay busy with your fishing rods.
Many kayak anglers prefer a pedal drive propulsion system because they can move around more frequently without setting down their rod.
If you're the kind of angler that likes to hit multiple spots during your day on the water, you need a kayak that offers pedal drive propulsion.
However, kayaks that allow you to power them with your legs do tend to be much more expensive than their counterparts. So you'll need to be prepared to make a larger investment if you want a pedal drive kayak.
Kayaks that require you to use a standard paddle to move around are much more affordable.
And don't forget that a kayak with flush-mounted rod holders will allow you to keep a line in the water to troll for fish even as your hands are occupied with moving your kayak to a new location.
Attachments and Accessories
Kayak anglers love to get into their accessories. Whether it's fishfinders, GPS units, tackle boxes, coolers, or any other accessory you can imagine, the kayak you choose must have the ability to hold all of those accessories.
So you'll need to pay close attention to the various storage options on the kayaks you're interested in. This starts with the large open storage compartments that are common to the bow and stern of most fishing kayaks.
These compartments must be large enough to hold your tackle box or a cooler.
And in some cases, you'll need to make sure the stern area of your kayak is compatible with a motor drive system if you want to eventually attach an electric motor to the back of your kayak.
Additionally, most anglers need to have a selection of tackle and gear at their disposal while they're paddling and fishing.
Because of this, a quality fishing kayak needs to have plenty of small storage hatches or tracks to attach accessories and gear.
Some of the most common kayak accessories that you should consider adding to your setup include fishing gloves, a tackle crate, and a first aid kit.
But if you're looking for a more comprehensive list, check out our recommendations for your kayak fishing accessories kit.
Fishing Kayak Brand Reviews
Advanced Elements is one of the most trusted brands when it comes to inflatable kayak technology. They make inflatables for touring, whitewater, recreational use, and, of course, fishing.
These inflatable kayaks utilize their own cutting-edge technology to inflate to higher pressures than most other inflatables on the market.
This gives them a more rigid feel and makes them perform much better than their inflatable counterparts.
Their Straightedge Angler and Straightedge Angler Pro kayaks are two of their most popular fishing kayaks. And they both include aluminum frame technology that makes the bow slice through the water cleaner and the stern acts as a skeg to help you track straighter over longer distances.
Overall, if you're looking for a high-quality inflatable kayak for fishing applications, Advanced Elements is the best brand you could choose. And inflatables always have the benefit of requiring less space at home!
Sevylor is another great choice for inflatable fishing kayaks. Although they don't offer the same high-quality construction that you'll find with Advanced Elements' kayaks, they have the benefit of being available at much more affordable prices.
Sevylor is considered by many to be the world's leading manufacturer of inflatable paddle craft. That distinction is thanks in large part to the wide range of inflatable that they offer, which includes kayaks, paddleboards, canoes, and much more.
They are also one of the few manufacturers of inflatable fishing kayaks that have managed to include mounted fishing rod holders in their design.
This makes them more useful for anglers that like to bring multiple rod and reel setups when they head out on the water.
Like most inflatables, Sevylor's models also have the advantage of being super easy to transport and compact to store when you're not using them. Some of Sevylor's most popular fishing kayak models include the Coleman Colorado and the Tahiti.
Lifetime Kayaks is the best fishing kayak brand if you're looking for a minimalist design with a budget-friendly price tag. They also make numerous different fishing kayaks for single paddlers or tandem use.
Lifetime is one of the few brands that make a useful hard shell kayak for tandem fishing. So if you and your fishing partner are looking for a vessel to spend afternoons on the water together, Lifetime is a good choice.
What you won't find on Lifetime Kayaks is a bunch of unnecessary features and accessories. Their designs are super minimal, which makes them better suited to beginner anglers that don't need to bring a lot of gear along.
All of their designs are of the sit on top variety and include fixed, folding seats that are easy to set up. Some of their best fishing kayak models include the Tamarack Angler and the Stealth Pro Angler 118.
Wilderness Systems kayaks boast some of the highest quality construction of any kayak on the market today. Their kayaks also include a number of fishing-specific features that seasoned and beginner anglers will love.
For starters, all of the Wilderness Systems fishing kayaks include raised aluminum frame seats and large, open cockpits.
The effect of these features is that you'll have a raised vantage point while seated and you can also stand and remain stable if you want to improve your casting.
They offer both sit on top and sit inside hard shell kayaks and Wilderness Systems also makes their own pedal drive system. The Helix pedal drive gives you the ability to propel your kayak while your hands remain on your fishing rod.
They also make an electric motor drive with a rechargeable lithium battery that's compatible with most of their best fishing kayaks. Some of the best Wilderness Systems fishing kayaks include the Radar 115 and the A.T.A.K. 140.
Ocean Kayak can trace its origins back to a backyard in Malibu, California in 1971. Their owner carved two indents into his surfboard for a place to sit and a place for his scuba gear to rest.
The rest, as they say, is history and Ocean Kayak has built a solid reputation for themselves as a manufacturer of sit on top fishing kayaks.
Their kayaks are extremely stable, which is why they're also trusted by many guide companies and kayak rental outfits.
Ocean Kayak models are available in standard models that require one of the best kayak paddles for locomotion. But some of their models include a pedal drive propulsion system for hands-free navigation.
Their seats are also easily removable so that they don't get eaten by critters if you're still learning how to store a kayak outside during winter.
Some of Ocean Kayaks best fishing kayak models include the Triden 11 and the Malibu Pedal kayak.
Old Town Canoes and Kayaks are built on a century of experience manufacturing watercraft with the goal of facilitating excellent days on the water.
Their kayaks are some of the best for fishing because they give you the ability to customize your setup with the accessories and equipment you rely on when you're on the water.
Many of their kayaks offer tracks or rails along the gunwales for attaching a GPS, fishfinder, hooks, and anything else you want to keep close at hand. They all have large, open cockpits that allow you to stand and remain stable for a better casting position.
Some of the best Old Town fishing kayaks also include a pedal drive propulsion system. With a highly efficient 10.3:1 gear ratio, these pedal drive systems make it possible to achieve top speeds up to 5.5 miles per hour in your Old Town fishing kayak.
These kayaks are also well-known for their Active Comfort Seating Systems that provide superior comfort for long days on the water.
Some of the best Old Town Fishing kayak models include the Sportsman Bigwater 132 and the Topwater 120, but they have many others to choose from.
Pelican Kayaks makes some of the lightest rigid kayaks on the market. This makes them an exceptional choice if you're set on getting a hard shell kayak but you don't want something too heavy and hard to move.
This brand also offers some of the more affordable fishing kayaks that you can find. In spite of their friendlier price tag, they offer high-quality construction from a company that's been doing it for over 50 years.
Their proprietary RAM-X technology creates a multi-layered material that's used in every single Pelican kayak. This material is impact-resistant and able to regain its shape after hard impacts.
This is something that most other hardshell kayaks can't boast because if they are dented, they tend to stay dented. Some of Pelican's best fishing kayaks include the Argo 100XP Angler and the Sentinel 120XR Angler.
Perception Kayaks has built a reputation as being a trusted kayak manufacturer within the guiding and outfitting communities. They make super-stable kayaks that are great for beginners just getting into the sport.
But they also make exceptional fishing kayaks that give you the ability to bring along everything you need for a full day of fishing. The company is based in Greensville, South Carolina and they make kayaks in a wide variety of sizes and shapes.
They offer both sit on top and sit inside kayaks and their best fishing kayaks have raised aluminum frame seats. These offer excellent ergonomic support and a raised vantage point above the water.
Some of Perception's more popular fishing kayaks include the Pescador Pilot 12.0 and the Pescador Pro 10.0. They also offer a pedal drive fishing kayak called the Crank 10.0 if you're looking for something that offers hand-free propulsion.
Sea Eagle is another great fishing kayak brand if you're primarily looking into inflatable fishing kayaks. They offer a number of different designs that can accommodate one to three paddlers, depending on your preference.
While their inflatable technology might not be quite on par with Advanced Elements, most of their kayaks do have the advantage of being much more affordable. This makes them a better choice if you're searching for a fishing kayak on a tighter budget.
Still, their fishing kayaks are best-suited to flat lakes and calm, slow-moving rivers. If you want to do any ocean fishing, I'd recommend looking into a different brand, such as Perception Kayaks.
But if you want an affordable fishing kayak that packs up into a super-compact package when you need to store it, Sea Eagle's kayaks are a great choice. One of their more popular fishing kayaks is the Sea Eagle 350FX Inflatable Fishing Explorer.
Hobie has been in the business of making super high-quality paddle craft for over 70 years now. Their refined process and durable construction make them one of the most trusted fishing kayak brands on the market.
Hobie fishing kayaks have the added benefit of including a pedal drive propulsion system. While this isn't necessarily true for all of their kayaks, choosing a kayak with a pedal drive will allow you to propel it hands-free.
That keeps your hands free to cast and otherwise operate multiple fishing rods. Most Hobie kayaks offer an exceptionally wide and open deck that allows you to stand up to cast without worrying about falling in.
But you can also paddle this kayak if you prefer the added control that the method provides. One of Hobie's most popular fishing kayaks is the Hobie Mirage Pro Angler 360, but the Mirage Passport 12.0 is also a great option.
We've chosen Advanced Elements as the best fishing kayak brand on our list because we have a hard time picking against the ease and convenience of an inflatable kayak. And no company has mastered inflatable technology quite as well as Advanced Elements.
By getting an inflatable kayak for fishing, you'll have a much easier time storing and transporting it to and from the water.
That's why inflatables are a great choice for travelers (whether you're rocking van life or RV living) or folks living in smaller apartments.
Unlike many other inflatable kayaks, you also won't have to sacrifice performance in order to improve portability and ease of use.
These kayaks include the necessary construction elements to function much like their rigid kayak counterparts once you're on the water.
And finally, Advanced Elements' kayaks make it easy to carry your boat if you live in a place where learning how to portage a kayak is necessary, like the Boundary Waters Canoe Area Wilderness!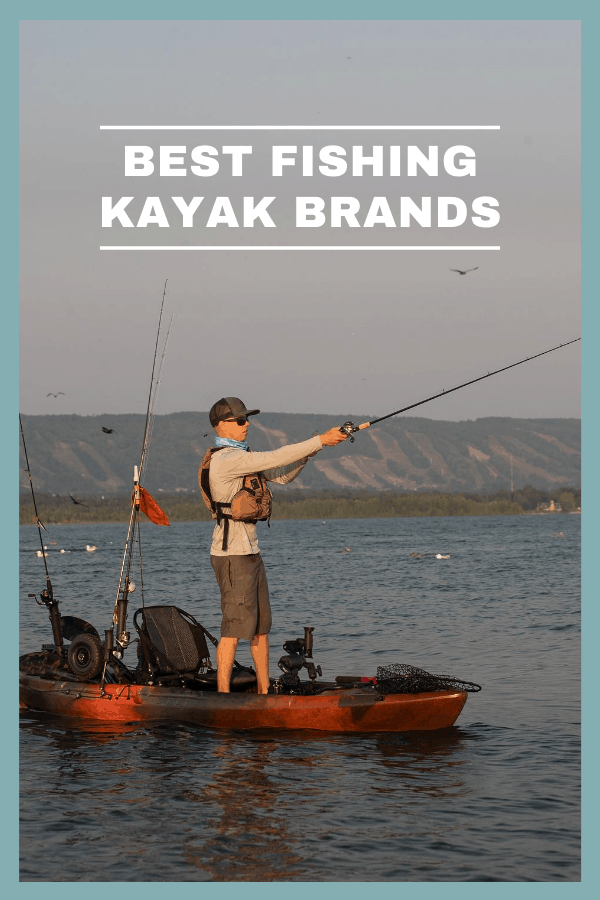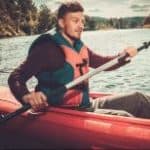 Author: Peter Salisbury
Pete is the Owner of KayakHelp.com. Born and raised in Cleveland, Ohio, he grew up kayaking, fishing, sailing, and partaking in outdoor adventures around the Great Lakes. When he's not out on the water, you can find him skiing in the mountains, reading his favorite books, and spending time with his family.