Many people don't think much about cleaning their kayak between adventures. This is especially the case with plastic kayaks because many of them aren't among the most expensive kayaks out there.
Often, that translates to less care because they can be relatively easily replaced. For those of you that are interested in maintaining your kayak as you should, however, you may be interested in the best cleaners for plastic kayaks.
The good news is that these cleaners aren't super expensive or hard to find. The bad news is that just buying a new cleaner for your plastic will not guarantee that it stays cleaner from here on out.
That is why we are also going to take the time today to provide some basic kayak cleaning tips that will help you maximize the lifespan of your vessel. So let's get started!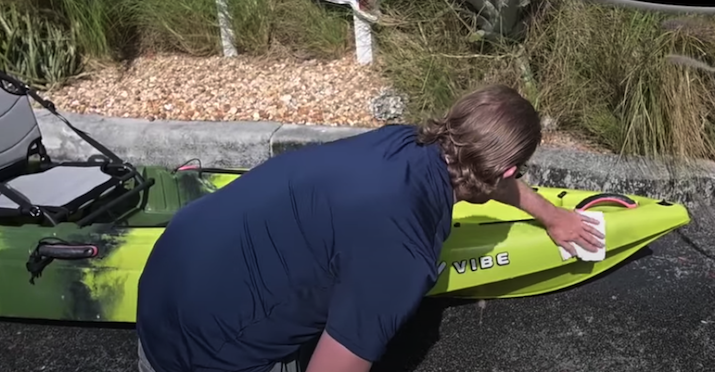 PC Captain Rick Murphy via YouTube
Best Cleaners For Plastic Kayaks
Star Brite Ultimate Paddlesports Cleaner and Protectant
303 Marine UV Protectant
Better Boat Premium Grade Boat Soap
Boat Juice Cleaner Kit
303 Marine Multi-Surface Cleaner
Star Brite Instant Hull Cleaner
Better Boat Premium Boat Scuff Erasers
Hula Boat Care Surf Away Spray Detailer
Star Brite Mildew Stain Remover
Better Boat Cleaner Wipes
Kayak Cleaning Tips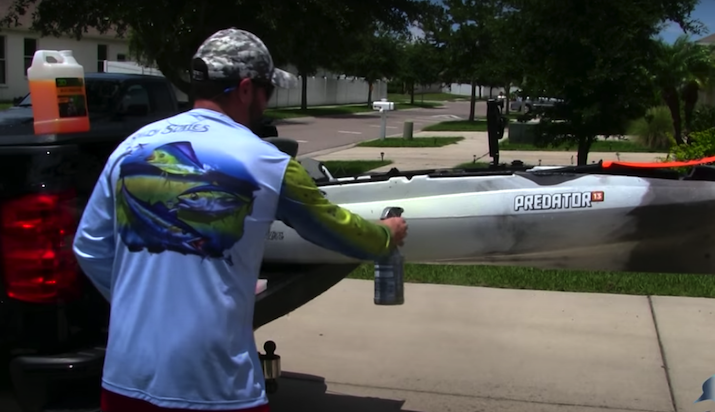 PC Joshua Taylor via YouTube
Before you worry about having the right cleaner for your kayak, you should know how to clean a kayak properly. Here are some kayak cleaning tips to help you do so:
Set It On Kayak Stands
Photo by sportpoint via Shutterstock
Setting your kayak up on a set of stands will make it much easier to reach the entire surface area for a thorough cleaning. Plus, it will eliminate those pesky strands of grass that will stick to your kayak if you are trying to wash it on your lawn.
There are additional benefits of this approach that we will discuss later on. For now, however, just know that kayak stands are a worthwhile purchase for all kayakers and can also come in handy if you ever need to repair a kayak down the road.
You will also benefit from setting your kayak up in the shade if you are washing on a particularly warm day. It will make it more comfortable to work on your kayak and you can always move it back into the sun to dry when you are finished cleaning.
Rinse It First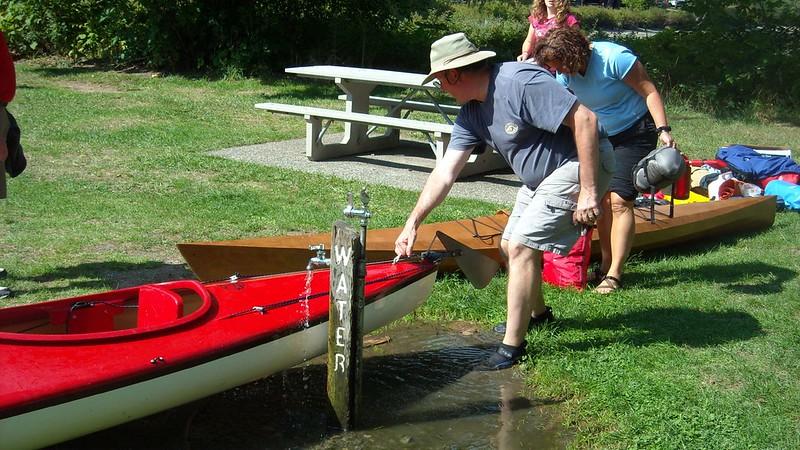 This is more important if you just finished paddling in saltwater or if the cleaner you choose doesn't come in a spray bottle. If you do choose a spray-on cleaner or if you just pulled your boat out of freshwater, you can probably get away without a rinse.
Still, this is the best first step if you want to do a thorough job. Make sure you rinse the deck and hull of your kayak and, if you have one of the best sit inside kayaks, open the compartments and rinse the inside of them as well.
Address Heavy Stains and Residues First
Photo by Happy cake Happy cafe via Shutterstock
If there are any major stains or residue build-ups on your kayak's hull, seat, mesh netting, or anywhere else, it makes the most sense to address these areas first. Otherwise, you will clean the majority of your kayak and have nasty residues spill over onto already-clean sections once you go back.
Some examples of these stains and residues include those left behind by mold and mildew, dried deposits of bird excrement, tree sap, rodent droppings, and much more.
Fortunately, major residues and stains really only occur on kayaks that have been neglected for far too long. It does happen, however, so we have made sure to include a couple of products that will help you deep clean your kayak if it needs it.
Mix (If Necessary) and Apply Kayak Cleaner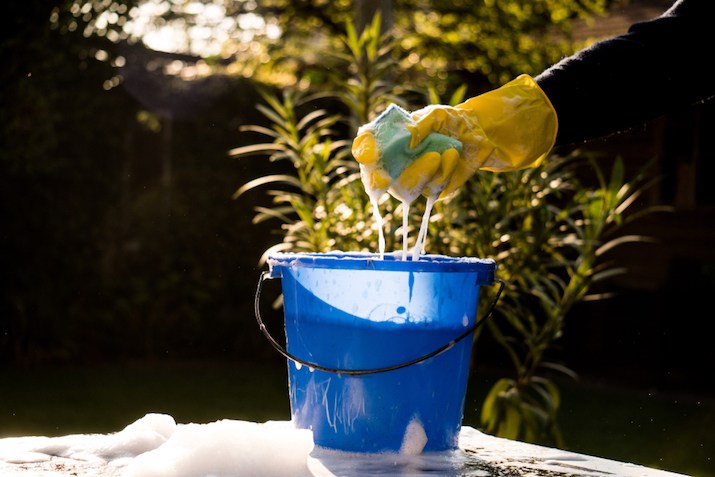 Photo by Pepijn van Bakel via Shutterstock
If you choose a liquid cleaner that doesn't come in a spray bottle, you will probably need to mix it with warm water before you proceed. For the rest, you can simply spray your cleaner on and then wipe it off in sections.
The same method you would use to clean a vehicle applies here. You want to work in smaller sections so that you can recall where you have already cleaned and avoid missing large spots.
Use a sponge or rougher towel to scrub any dirt or caked-on debris off the surface of your kayak. Make sure to get into all the nooks and crannies in the cockpit and storage compartments as well.
During this stage, it may be easier to scrub a section, rinse it off, and then move on to a new section to avoid soap residue drying on the surface of your kayak. This is especially true on really hot days.
You may also benefit from cleaning the deck of your kayak, rinsing it off thoroughly, and then flipping it over on your stands so that you can more easily clean the hull.
Wipe It Dry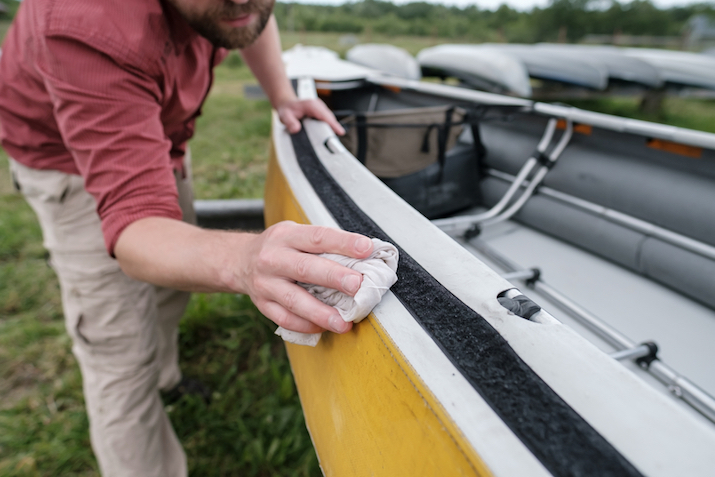 Photo by Koldunov Alexey via Shutterstock
Now you are going to want to wipe it as dry as possible to prevent any residue from forming on the surface. This is similar to wiping your car down after you clean it to avoid streaking.
While streaks will be less visible on most plastic kayaks, they are still sure to bother you after you have taken the time to thoroughly clean them. So grab a microfiber cloth or even an old beach towel to wipe your kayak dry.
You may need to flip your kayak over to get any standing water out before you wipe it down. This will especially be the case with a sit-in kayak if you sprayed and wiped out the bulkhead compartments.
For this application, you may even need to utilize your bilge pump or sponge to remove excess water from your compartments before you can wipe them down. It doesn't make sense to saturate your towel trying to soak up a large puddle of water when you have other means!
Make Sure It Dries Completely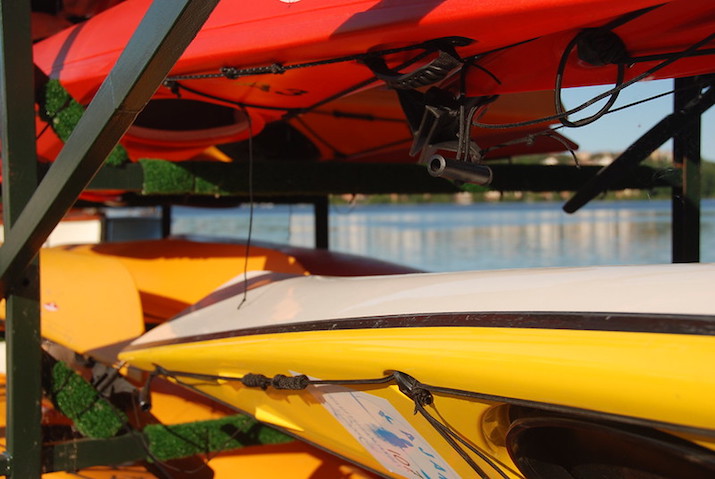 Photo by Let Ideas Compete via Flickr
Here is where you want to leave your kayak out in the sun for a while to make sure it dries completely. The plastic will usually dry quickly, but things like the bungee rigging and your kayak seat will take a bit longer.
This is one reason why it can be a good thing to clean your kayak right at the start of the hottest part of the day. Then, you will be able to leave it outside for the next few hours before putting it up in your garage or outdoor kayak storage rack before sundown.
If you are really pressed for time, I have seen some people use a battery-powered leaf blower to speed up the drying process. If you do this, you will just need to be careful not to blow debris right back onto (or inside of) your freshly cleaned kayak!
Thumbnail
Title
STAR BRITE Ultimate Paddlesports Cleaner & Protectant With PTEF - 22 OZ (096022)
303 Marine Aerospace Protectant – UV Protection – Repels Dust, Dirt, & Staining – Smooth Matte Finish – Restores Like-New Appearance – 10 Fl. Oz. (30305)
Premium Grade Boat Soap Marine Concentrate Cleaner Boat Wash Soap and Wax for Fresh and Salt Water Use Clean Fiberglass Boat Hulls Boat Cleaning Supplies RV Products 32oz Boat Cleaner
Boat Juice Boat Cleaning Kit - Exterior Boat Cleaner Water Spot Remover, Interior Boat Cleaner for Seats & Vinyl, 2 Microfiber Towels - Boat Cleaning Supplies & Accessories (Kit)
303 Boat Care Kit - Marine Aerospace Protectant, Marine Multi-Surface Cleaner, Clear Vinyl Protective Cleaner
Reviews of Cleaners For Plastic Kayaks
Check Price On Amazon
The Star Brite Ultimate cleaner works on plastic kayaks, but you can also use it for fiberglass, Kevlar, and
inflatable kayaks
. It comes in a 22-ounce spray bottle that makes it super easy to apply and eliminates the need for that initial rinse.
It contains PTEF polymers that are designed to bond to the surface of your kayak and leave behind a protective coating. This makes it less likely for dirt to stick to your kayak moving forward and also provides enhanced UV protection.
This cleaner is as easy to apply as they come. Simply spray it on and wipe it off to reveal a cleaner, shinier kayak underneath.
You can also apply it as often as you like and it won't damage or remove any stickers that you have added to your kayak to showcase your personality!
Check Price On Amazon
This UV protectant from 303 Marine is made for a variety of surfaces (and plastic is definitely one of them!). It is also available in 10, 16, 32, and 128-ounce sizes so that you can stock up or try it out as needed.
Being a protectant first (and actually a cleaner second), this product is actually designed to maximize the life of plastic kayaks. It also works on vinyl, rubber, fiberglass, leather, and more.
It is as easy as spraying it on and wiping it dry when you want to use it and it leaves behind a clear matte finish. This protectant is even used to restore lost color and luster on older kayaks.
Once you apply it, it works to repel dust, dirt, and chemical residues. It also prevents staining, fading, cracking, and even premature aging of your plastic kayak.
Check Price On Amazon
This concentrated boat soap is great for
ocean fishing kayaks
because it is specifically formulated to help you remove salt, mud, and other ocean sludge. For the record, it is also a fine product for freshwater kayakers as well.
You will need to mix this soap with warm water before cleaning your kayak with a sponge or brush. Because it is a concentrated soap, however, you will get anywhere from 35 to 40 washes per bottle, depending on how liberally you like to use it (and the size and number of kayaks you have).
This boat soap is also 100% biodegradable, which means you can feel more eco-friendly rinsing your kayak off right into your lawn or down your driveway. This also makes it a great solution if you store your kayak on a dock at a lakeside or oceanfront property and need a product that allows you to clean it right there.
Check Price On Amazon
If you want to clean your plastic kayak and also make it smell better at the same time, check out the Boat Juice Cleaner Kit. This can be a great product for kayaks that live in saltwater environments and wind up smelling like that environment once they come home.
Technically, this kit comes with an interior and exterior cleaner. The exterior cleaner is what you would primarily use on a plastic kayak and the interior cleaner is meant for vinyl surfaces (some kayaks do have vinyl seats!).
It also comes with two microfiber towels that are color-coded to go along with the interior and exterior cleaners, respectively.
This cleaner is designed to penetrate and remove stains and it can also address residue leftover from sunscreen or bug spray. It will also remove remnants of mineral deposits and hard water spots from your kayak.
Plus, the exterior cleaning solution contains a polymer wax sealant that bonds with your plastic kayak to leave behind a glossy and spot-free finish.
Check Price On Amazon
This multi-surface cleaner from 303 Marine is another great solution to help you clean your plastic kayak. It is safe for a variety of additional surfaces as well, including fabric, vinyl, brass, chrome, stainless steel, and more.
It has great cleaning power and doesn't leave behind any greasy residue. It will help to rejuvenate the surface of your kayak to keep it looking bright and new even if it has been out in the sun for a while.
This cleaner comes in a 32-ounce spray bottle that makes it super easy to spray on and wipe off as needed. That also allows you to do spot cleaning to remove bird excrement or other unsightly residues even if you don't need to do a full deep clean of your kayak.
Check Price On Amazon
Star Brite's Instant Hull Cleaner is a gel-based formula that was designed to remove the kinds of marine residue that only typically accumulates on kayaks that are stored or kept in saltwater environments.
This includes marine grasses, rust, fish blood, yellowing, scum lines, and more. So this product is going to be best for people that live near and store one of the best sea kayaks in or near the water for months at a time.
Because it is a slightly more powerful cleaning compound, this solution could remove stickers and other adhesive decals that have been applied to your kayak. That being said, it is safe for plastic kayaks and can also be used on fiberglass and painted surfaces.
The gel formula is designed to adhere to your kayak to penetrate and dissolve heavy debris accumulations. That means it requires less scrubbing to remove residue that has been caked on your kayak for months.
Check Price On Amazon
If there are just a few unsightly scuffs or marks on your kayak that have been bugging you for a while, you might consider trying one of these scuff erasers from Better Boat. They come in a three-pack and are safe for plastic, vinyl, fiberglass, wood, and glass.
They do not contain any bleach or other harsh chemicals and simply require you to add water in order to activate their scuff-removing properties. They do come with a reinforced core that allows you to use them multiple times without them breaking down.
Even if you do not have really nasty scuffs or paint marks on your kayak, these erasers may even be great for removing caked-on debris and other grime that can accumulate on a kayak that has been slightly neglected during the off-season.
Check Price On Amazon
If you are looking for another non-toxic, eco-friendly solution in a spray bottle, check out this spray detailer from Hula Boat Care. It is formulated to remove water spots and other grime.
It also leaves behind a water-repellent polymer coating that will extend the life of your kayak and help you go longer stints between deep cleans. This product also supplies a glossy finish to make your kayak shine again.
It is marine safe so that it can be used in both freshwater and saltwater environments. It comes in a 16-ounce spray bottle, but the company also offers one-gallon refill jugs so that you can refill your spray bottle when it is empty instead of creating more plastic waste by throwing it away and purchasing a new one.
Check Price On Amazon
Most plastic kayaks these days still have foam or fabric seats in the cockpit. Whether you have a sit-inside or
sit-on-top kayak
, the cleaner you use for the hull, deck, and compartments might not do the trick for the
kayak seat
.
Any fabric areas of your kayak are going to be the most likely to accumulate mold or mildew. This is usually less of a problem for people that live in exceptionally dry climates, but mold and mildew are a pest if you live near the ocean or in a more humid location.
The Star Brite Mildew Stain Remover is made to help you get rid of mold or mildew on any foam or fabric surfaces of your kayak. It can also help you remove stains left behind by mold or mildew if it has been a while since you have given your kayak some well-deserved TLC.
This cleaner works on contact, which means it doesn't require any heavy rubbing or scrubbing. You simply spray it on stained or molded areas, wait until the stain disappears, and then rinse it clean.
It may require multiple passes for very heavy stains or areas where mold and mildew have been prevalent for a while. Still, it works by using a high-alkaline engineered formula that works in three stages.
The first 'buffered bleach' stage removes mold and mildew stains and the second 'chelating agents' phase removes and lifts away any ground-in first. Finally, the third 'surfactants' phase cuts any remaining grease and grime so that it rinses away easily.
This product is safe for use on kayaks and won't damage the stitching or threads of your kayak seat. Just know that it should be limited to using it on the foam or fabric surfaces of your plastic kayak.
Check Price On Amazon
If you are one of the lucky ones that live in a place high up in the mountains and only paddles on pristine, alpine lakes, you are probably scoffing at some of these "heavy-duty" kayak cleaners.
So we figured we would finish up with a cleaning solution that even you might be able to get behind. Better Boat's cleaner wipes are essentially wet wipes (or baby wipes, if you prefer that term) for your kayak.
The wipes are soaked in a non-toxic and non-greasy formula that makes it easy for you to wipe away dirt, pollen, and other grime without needing a sponge or towel. They also don't require a second pass to dry your kayak once you wipe it down.
These wipes also include a UV protectant agent and a plastic restorer. So they can bring some of the shine back to your older kayak and help you protect the finish of your new one for years to come.
Each container comes with 40 pre-moistened, petroleum-free wipes. They even have a fresh lemon scent to leave your kayak smelling better when all is said and done!
Check Price On Amazon
It is literally right there in the name! This is the "ultimate" cleaner for plastic kayaks because of its ability to both clean and protect your kayak from ultraviolet damage.
You won't even need to worry about setting up a garden hose if you choose this cleaner. Its spray-on application makes it super easy to use and gives you the ability to apply it as liberally as needed.
It is also one of the most reasonably priced cleaners for plastic kayaks we could find. So the only thing it will leave you wanting is another bottle because it only comes in that 22-ounce size as far as I can tell.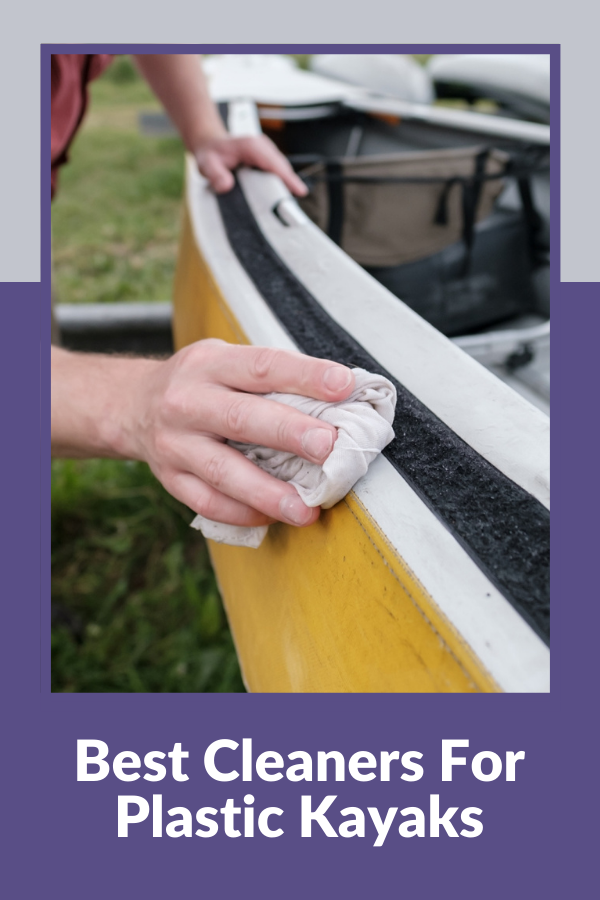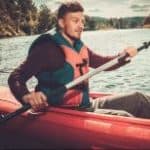 Author: Peter Salisbury
Pete is the Owner of KayakHelp.com. Born and raised in Cleveland, Ohio, he grew up kayaking, fishing, sailing, and partaking in outdoor adventures around the Great Lakes. When he's not out on the water, you can find him skiing in the mountains, reading his favorite books, and spending time with his family.