Whether your intention is whitewater kayaking or recreational paddling, you should look into the best sit in kayaks. There are models out there designed for every type of paddling imaginable and the choices can actually be quite overwhelming if you are new to the sport.
For me, paddling out in my kayak is exactly what I need to step away from my day-to-day routine and do some internal checks. It is also a great way to tune my senses back into nature and the beauty of the natural world.
For some, kayaking is a fast-moving, high-flying sport focused on whitewater rivers. For others, it is a slow-moving time for relaxation based around calm lakes, protected coastal waterways, and wide rivers.
In this guide, we have chosen the 10 best sit in kayaks that we could find. They are designed for a variety of different types of paddling, so we hope that there is something here for everyone.
In addition, we have outlined a few simple steps that can help you choose the right kayak for your experience level and paddling style. So zip up your PFD and let's hop right in!
Thumbnail
Title
BKC Brooklyn Kayak Company UH-SK287 Touring Kayak 14 ft 11-inch Solo Distance Travel Kayak for Open Water Paddling, Collapsible Paddle Included (Yellow)
Pelican - Maxim 100X Recreational Kayak - Sit-in - Lightweight one Person Kayak - 10ft
Lifetime Cruze 100 Sit-in Kayak, 2-Pack, Sky Fusion, 10-Foot
Oru Kayak 1-Person Foldable Kayak – Coast XT Folding Kayak Perfect for Travel and Rugged Waters – Stable, Durable, Lightweight Adventure Kayak – Lake, River, and Ocean Kayaks for Adults and Youth
Lifetime Emotion Tide 10' Sit-in Kayak - 2 Pack (Paddles Included)
Thumbnail
Title
BKC Brooklyn Kayak Company UH-SK287 Touring Kayak 14 ft 11-inch Solo Distance Travel Kayak for Open Water Paddling, Collapsible Paddle Included (Yellow)
Thumbnail
Title
Pelican - Maxim 100X Recreational Kayak - Sit-in - Lightweight one Person Kayak - 10ft
Thumbnail
Title
Lifetime Cruze 100 Sit-in Kayak, 2-Pack, Sky Fusion, 10-Foot
Thumbnail
Title
Oru Kayak 1-Person Foldable Kayak – Coast XT Folding Kayak Perfect for Travel and Rugged Waters – Stable, Durable, Lightweight Adventure Kayak – Lake, River, and Ocean Kayaks for Adults and Youth
Thumbnail
Title
Lifetime Emotion Tide 10' Sit-in Kayak - 2 Pack (Paddles Included)
PC Filip Mroz via Unsplash
Best Sit In Kayaks
Brooklyn Kayak Company SK287 Angler Touring Kayak
Pelican Kayaks Maxim 100X
Lifetime Kayaks Cruze 100
Oru Kayak Coast XT
Lifetime Kayaks Emotion Tide 10
Dagger Kayaks Nomad M
Buying Guide
PC Rohith Goura via Unsplash
Sit in kayaks obviously require a slightly altered buying approach than what you would use, let's say, for the best sit on top kayaks. Keep in mind that you should decide how much importance you place on each of these factors.
Our goal here is to give you a larger picture of the important considerations when you are buying a new kayak. Ultimately, you get to choose which of these factors hold the most significance for you!
Kayak Length
This can be a good place to start because a kayak's length will play a large role in how it handles once you are on the water. A longer kayak may be able to achieve higher top speeds, but it likely won't maneuver as easily if you need to change direction.
Shorter kayaks will turn on a dime, but don't be surprised if somebody in a super-sleek racing kayak goes gliding past you while making it look effortless at the same time. It is not likely that you are a much worse paddler than that person, but your kayak will not be designed for such speeds.
Hull Design
The shape of the bottom of your kayak determines its overall performance. That includes factors like stability and tracking ability.
Primary Versus Secondary Stability
For the first factor we mentioned, there are actually two types of stability for kayaks: primary stability and secondary stability. Depending on the type of paddling you will be doing, you may place a larger emphasis on one or the other.
A kayak's primary stability refers to how well it remains stable when it is flat in the water and standing still. As you might imagine, the best fishing kayaks for stand-up fishing place a large emphasis on primary stability.
Secondary stability refers to how well a kayak will resist capsizing when tipped on its edge. This factor is extremely important for whitewater kayaks and the best sea kayaks that are typically used in windy and wavy water conditions.
Rudder Versus Skeg
When it comes to a kayak's ability to track straight, we are most concerned about the design of the stern portion of the hull. Some kayaks will be completely devoid of a rudder or skeg and, instead, will rely upon the natural depth of the stern part of the hull.
If you can find a kayak with a rudder, that will tremendously improve your ability to track straight in adverse conditions. A rudder can usually be deployed at will, depending on what the conditions dictate.
They are also typically mounted on the stern deck of a kayak and then can flip down as needed. Once your rudder is in the water, it can be controlled either using a hand lever or the foot pedals inside your kayak.
Skegs, on the other hand, are designed for the same purpose, but they are usually mounted further underneath the hull of your kayak. They can also be deployed or retracted at will, but their alignment usually cannot be changed to steer your kayak (like is possible with a rudder).
Cockpit Dimensions
It takes some folks more time to get used to getting in and out of a sit in kayak because of their smaller cockpit dimensions. For larger individuals, in particular, it is important to pay attention to the dimensions of a sit in kayak's cockpit before buying.
These dimensions are usually measured in length and width. For most, width is the more important measurement of the two.
A kayak with a cockpit width of 16 inches, for example, can be pretty tight for all but the smallest paddlers out there. As a general rule, it pays to have at least 2-3 inches of free space on either side of your waist when you are getting in and out of your kayak.
This helps to account for the added width of your PFD and any cold-weather kayak clothing layers you may be wearing. So, if you measure your waist from hip-to-hip, add 4-6 inches to that measurement and that will be the minimum cockpit width you are looking for.
Storage Space
One of the best parts of having a sit in kayak is the presence of sealed storage hatches. Sit in kayaks are often equipped with bulkheads that are sealed spaces inside the body of the kayak.
These spaces not only give the kayak added buoyancy but they can also be used to store your kayaking gear. While other types of kayaks have open storage areas at the bow and stern, sit in kayaks offer sealed compartments that can keep your gear protected from the elements.
Plus, most of them boast additional bungee rigging on the deck that makes it easy for you to secure one of the best kayak deck bags. So, in short, sit in kayaks tend to offer more storage space than other types of kayaks.
That being said, the amount of storage space you need will depend on the type of paddling you intend to do. If running short whitewater river sections is your jam, you will not need nearly as much space as someone who is into taking their kayak on long, multi-day expeditions, for example.
Best Sit In Kayak Reviews
Check Price On Amazon
This SK287 Touring Kayak from Brooklyn Kayak Company is a great choice for anyone that is looking for a kayak that can handle long-distance expeditions. It boasts ample storage space and is also equipped with some great features for kayak anglers.
There are two fishing rod holders that are mounted flush to the deck of the kayak right behind the seat. In true expedition style, these rod holders have covers so that no water gets into them when you aren't actively using them for a fishing rod.
The bulk of the interior storage space on this kayak is split between two sealed storage hatches at the bow and stern. These bulkheads are great for storing camping gear and other gear that you don't necessarily need to have quick access to while you are on the water.
For the items that you do need frequently, there are also bungee tie-downs on the deck. These can be used for items that you don't mind getting a little wet, but they can also be used to boost dry storage with a kayak deck bag.
The SK287 is 14'9" long and weighs a total of just 44 pounds, which is actually on the lighter side for a kayak of this size. So, hopefully, you don't need to invest in a kayak cart or trolley to get it down to the water.
In terms of the ideal paddler, we would say that it is made for small to medium-sized paddlers. With a weight capacity of 330 pounds, it may not be ideal for larger paddlers who also have a lot of kayaking gear.
Aside from that, this kayak boasts excellent tracking ability because of the drop-down rudder mounted to the stern. That rudder is adjusted using foot pedals in the cockpit so that you can correct course easily.
Plus, that added course correction will save you unlimited amounts of energy. You won't have to correct course using your paddle strokes and will be able to keep a smooth, consistent paddle rhythm while correcting course with the rudder instead.
Check Price On Amazon
The Pelican Kayaks Maxim 100X is a great choice for recreational paddlers that don't want to have to worry about damaging their kayak as they learn the basics of the sport. While making some of the most affordable kayaks on the market, Pelican also makes some of the most durable.
Pelican is probably the only kayak company I have ever heard of that runs over their kayaks with a truck in order to test them out. Most other kayaks will snap or seams will burst under that kind of pressure.
Pelican Kayaks, however, are designed to naturally bend and then easily regain their shape. So their kayaks are much better at handling impacts and drops than the competition.
The Maxim 100X, in particular, is light and easy to carry, which is great because, with a maximum weight capacity of 275 pounds, this kayak is ideally suited to small and medium-sized paddlers.
The kayak is 10 feet in length and weighs just 36 pounds, which is remarkably light. It also boasts two storage areas in the bow and stern, respectively, where you can attach all of your gear for day paddles.
The bow storage area is actually completely sealed with a hatch to keep water out. The stern area is an open storage compartment with a mesh netting stretched across it, but that netting can be removed if you ever need to place anything larger back there.
This kayak is also known for being incredibly agile on the water. While it may not be the fastest kayak over long distances, it maneuvers very well and will quickly respond to your paddle strokes.
That responsiveness is another reason why it is a good choice for beginners. You will have a kayak that quickly reacts to your paddle strokes so that you get the feel for how to use different angles and approaches as you progress.
Also Read: Pelican vs Lifetime Kayaks
Check Price On Amazon
Technically, the Lifetime Kayaks Cruze 100 is currently only available as a two-pack. That being said, the cost of buying two of these sit in kayaks is still less than some of the single kayak options on our list.
So, this could actually be a solid option for those of you looking for his-and-hers kayaks instead of selecting one of the best tandem kayaks (we know tandem kayaking has its pros and cons!).
The Cruze 100 is a beginner's kayak that is best suited to recreational paddling. It should be used on mostly calmer waters, such as lakes, wide rivers, and protected saltwater bays.
One cool thing about this package is that it does come with paddles included, so you won't have to do a separate search for paddles. Plus, the stable, flat bottom design of the hull makes them very stable for beginners.
That being said, the deep channels in the hull of the kayak (combined with chine rails on the edges of the hull) make it track straight and maneuver easily.
In terms of dimensions, the Cruze 100 measures 10 feet long by 30 inches wide. It offers a maximum weight capacity of 275 pounds while weighing just 46 pounds itself.
In terms of the cockpit, it includes everything that a beginner would need to be comfortable. There are multiple footrest positions and the seat back and pad can be adjusted for comfort.
Check Price On Amazon
The Oru Kayak Coast XT is the perfect kayak for adventurers, travelers, apartment dwellers, and folks with smaller vehicles. It is a folding kayak that completely eliminates the need for a kayak rack on your car or a trailer towed behind it.
When you aren't using it, this kayak packs up into a compact box that measures just 33" by 12" by 29" and has a comfortable carry handle on top. It is advertised as taking between 10 and 15 minutes to set up when you do want to paddle but be prepared for a slightly longer setup time when you are just learning how to do it.
Despite what you might think, the Coast XT actually handles and performs very similarly to similar rigid kayaks on the market. Oru actually makes several different styles of kayaks, but the Coast XT is made for serious adventures.
It is 16'2" long, 25 inches wide, and weighs just 36 pounds. That makes it easy enough to carry when it is unloaded, even for smaller paddlers.
Speaking of smaller paddlers, the cockpit dimensions on this kayak are just 16" wide by 30" long. However, it does boast a maximum weight capacity of 400 pounds and it offers a whopping 180 liters of storage space.
While there aren't hatches to easily access that storage space, the entire interior of the kayak can be loaded with gear and supplies. Plus, it comes with extra-reinforced anchor points for securing smaller items throughout the kayak.
Bungee rigging on the bow and stern sections of the deck allow you to secure additional items to the top of the kayak.
If you travel frequently or don't have a ton of space to transport a larger kayak, this is the best option for you. It packs up small enough to fit in the trunk of a sedan and you won't get charged extra baggage fees if you bring it along on the plane.
For those of you concerned about durability, Oru's kayaks are made with a five-millimeter thick, double-layered polypropylene material (the same material used to rotomold most other rigid kayaks). It also includes a 10-year UV treatment for resistance to ultraviolet degradation.
Check Price On Amazon
The Emotion Tide 10 from Lifetime Kayaks is also available in a two-pack set. We would love it if they were being sold as singles, but that is just not currently the case.
The Emotion Tide is very similar to the Cruze 100, but it does feature a couple of important differences. For one, the section of bungee rigging at the bow of the kayak is beefed up so that it can handle heavier and larger loads.
In addition, the keel at the stern of the kayak is deeper and thinner, which improves the overall tracking ability of the kayak. That makes them able to handle higher winds and heavier chop than the Cruze 100.
So, while the Emotion Tide is best suited to calm lakes, slow-moving rivers, and coastal bays with minimal chop, it can also handle light surf and more adverse weather conditions than the Cruze 100.
If you are looking for a set of kayaks for a beach house on, say, one of the Great Lakes, the Emotion Tide set could be a great choice. These kayaks are 10 feet long and measure 10'3" long and 29.5 inches wide.
They also boast a maximum weight capacity of 275 pounds while weighing just 48 pounds each. So they are slightly heavier than the Cruze 100, but still light enough to transport with relative ease.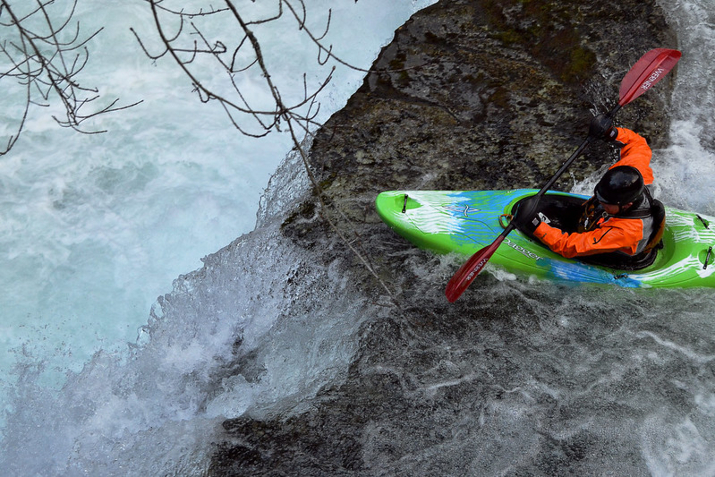 For those of you interested in a sit in kayak for whitewater, the Nomad from Dagger Kayaks can't be overlooked. This kayak actually comes in small, medium, and large sizes, but we picked the medium size because it is best suited to accommodate the widest range of paddlers.
To cover the major specifications first, the Nomad M is 8'6" long and 26.5 inches wide. The cockpit dimensions measure 34.5 inches long by 19 inches wide and the ideal paddler weight for this kayak is between 135 and 210 pounds.
The deck height is approximately 15 inches and the kayak's total volume is 86 gallons. It weighs a total of 48.5 pounds.
The Nomad M is a great choice for whitewater beginners because it is known for forgiveness, stability, and predictability. When you are learning how to run rivers, there is a lot that you can't predict, so it will be nice to have a kayak that you can.
Dagger has slightly modified the original version of the Nomad kayak in recent years. One of their upgrades was to increase the total volume of the kayak so that it could handle larger whitewater.
They also added rocker to help keep the bow up and reshaped the deck to make it easier to roll and resurface. Finally, the redesigned Nomad M is even faster than the original version, so it will carry past drops with greater ease.
If the Nomad's features are exactly what you are looking for but the size of the Nomad M isn't quite right for you, the Nomad S is designed for paddlers between 90 and 170 pounds and the Nomad L is best for paddlers between 170 and 265 pounds.
Check Price On Amazon
Our pick for the best sit in kayak is the Brooklyn Kayak Company SK287 Angler Touring Kayak because, for starters, it is extremely affordable for a kayak that is designed for long-distance touring and kayak angling.
Most kayaks that are designed for long-distance touring or ocean fishing are sometimes double the price of this one. Plus, at 14'11" long, this kayak isn't too long or difficult to transport on a truck with a roof rack or on a kayak trailer.
Also, with a weight of just 44 pounds, small and medium-sized paddlers won't have too much difficulty transporting this kayak or getting it to react to their paddle strokes.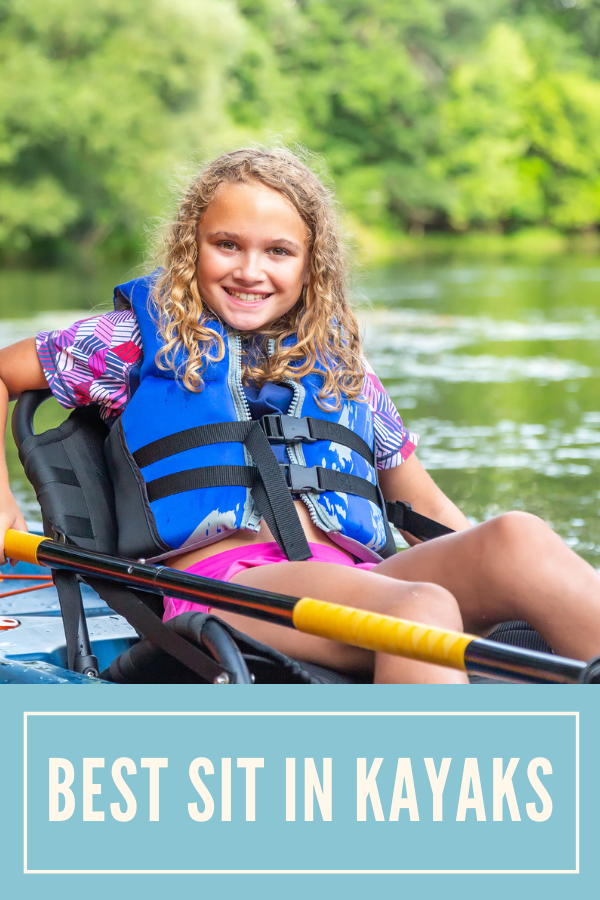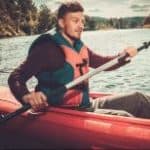 Author: Peter Salisbury
Pete is the Owner of KayakHelp.com. Born and raised in Cleveland, Ohio, he grew up kayaking, fishing, sailing, and partaking in outdoor adventures around the Great Lakes. When he's not out on the water, you can find him skiing in the mountains, reading his favorite books, and spending time with his family.