When the weather is great, there aren't many better things to do than fishing or waterskiing. A day on the water with friends and family is a wonderful experience.
However, one of the most important things these days is having a quality boat. Therefore, it is wise to do some research before buying the first cool-looking boat you see.
Many people buy a wakeboard boat. There is nothing wrong with this if you want to do some wakeboarding, and they share similarities with fish and ski boats.
But a wakeboard boat may not suit all your needs, whereas a fish and ski boat could. So what is best for you?
In this article, we will give you lots of tips for buying a fish and ski boat and give you a rundown of the 12 best brands.
What To Look For In Fish And Ski Boats
Choosing the best fishing and skiing boat can be tricky. Therefore, here are some key things to think about before you buy:
Tie-off Point
One of the primary considerations of a fish and ski boat is where the rope attaches to the boat. Most people prefer the tie-off point to be at a similar height to the skier's hands.
This position means the rope can keep you level with the water, as water skiing doesn't require jumping like wakeboarding does. But if you want to use your boat for wakeboarding, you would be better off with a boat equipped with a tower or a higher tie-off point.
How The Boat Is Propelled
Water skiing requires a smooth wake, which is achieved via an in-built propulsion system. The alternative is a boat with an outboard motor fixed to the stern.
Outboard motors produce a different type of wake, but it depends on the individual boat. If you opt for an outboard motor, you will need to demo the boat to determine if the wake is to your liking.
As we have just mentioned, you can have different wake characteristics to suit different sports. For example, wakeboarding requires a large and energetic wake, while skiing is best on a smooth wake.
The best boats should be able to generate various types of wakes. These multi-purpose boats offer more versatility and performance, which is much better than a boat dedicated to one purpose.
Your Budget
The cost of a boat isn't the best way to judge how good a boat is. However, cheap boats will leave you disappointed due to their lack of versatility.
Therefore, you should set a budget and find a boat within your price range with as many features that suit your needs as possible. Remember, more technologically advanced boats will cost more.
Your budget should take storage and maintenance into account, too. This will help you pick a boat you can live with.
How Versatile The Boat Is
It is easy to find a boat that is dedicated to waterskiing. But, the task becomes more challenging when you want something more versatile.
You may want a boat that you can use for several water sports. This is when you need a multi-purpose boat, but be aware that they are more expensive.
If you buy a boat specifically designed for water sports, you will soon find that they are unsuitable for other activities and purposes. But some boat manufacturers now offer a range of options to fine-tune your boat's specification to suit your needs.
Where You Ski
You need to consider where you will use your fish and ski boat. For example, do you want to use it in the sea or on a lake?
Boats designed explicitly for skiing don't work very well in rough water. They are designed to perform at their best on calm water. Therefore, you may not want one of these if you intend to use it in the sea.
Look For A Well-Known Brand
Boat manufacturers that have been around for a while have had the opportunity to make a name for themselves. Therefore, sticking with established brands will mean you can discover their strengths and weaknesses.
Less established brands are riskier, as they have not yet built their reputation.
Best Fish and Ski Boat Brands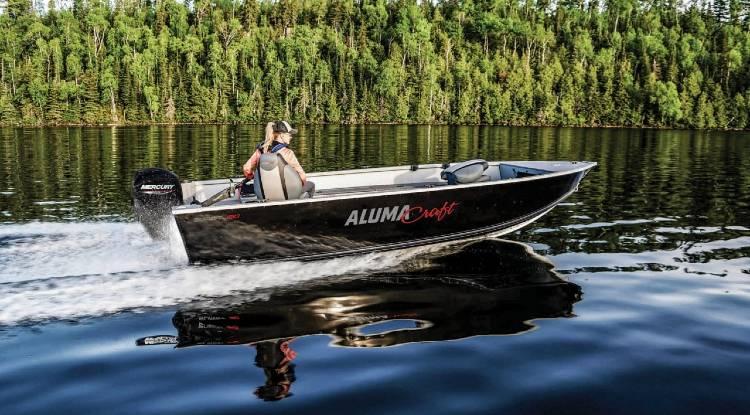 Image from Alumacraft
Aluminum boats are incredibly durable, and Alumacraft has been manufacturing them for more than 75 years. They have a wide variety of vessels to choose from, making them one of the largest producers of aluminum boats.
Alumacraft owners love the quality of the boats, which comes from a strong quality control process. The company takes pride in the standard of aluminum, construction methods, and paint. They also have an extensive network of dealers.
The other great thing about Alumacraft boats is that they are more affordable than other brands. But the one-piece aluminum hulls make them very durable, so they can withstand impacts from waves and rocks pretty well. The hull might dent, but it won't get a hole, which is reassuring.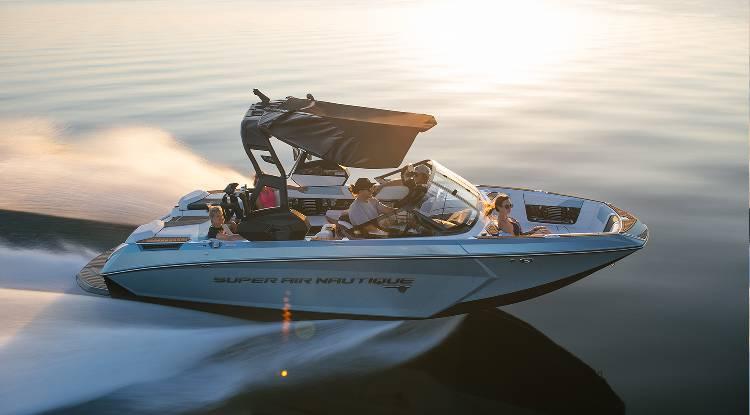 Image from Nautique
One of the most prominent brands in the ski boat world is Nautique. The brand is known for its high-quality boats that are the result of superb craftsmanship.
Nautique often comes out on top over the other premium ski, surf, and wake boats. They are loved for their consistent wave and competition-beating build quality.
Many people who own Nautique boats stay faithful to the brand. Their ownership experience is enhanced by excellent customer service.

Image from Malibu Boats
Malibu has been making boats in America since 1982. The company focuses on boats used for wakeboarding, skiing, and tubing.
These water sports are demanding on boats; therefore, Malibu builds high-performing boats.
Malibu boats are expensive, but you get what you pay for and they have an excellent reputation for reliability and performance.
The reliability comes from Malibu's engine, one of the most reliable in the business. All Malibu boats have an inboard engine that has been developed in-house by their own engineers.
Their Fiberglass Engine Chassis System (FibECS) means that their boats don't have any wooden stringers in their construction. The benefits of this are durability, strength, and sound damping.
Image from Skiersmarine
Mastercraft is a luxury boat brand that provides high-end water sports boats. These boats are at the more expensive end of what is available, but they are known for their exceptional quality.
Mastercraft boats are not that common among average boaters due to the brand's luxury status. However, sports enthusiasts love them, as they create great wakes.
These boats are primarily used for wake sports and have led the industry for many years. They are also built to the highest standards.
Mastercraft's reputation is bolstered by how their boats create one of the most consistent yet variable wakes in the industry. This is made possible by Mastercraft's Surfstar system, which has 19 associated patents.
The boats have seven settings for the wake. You can choose a number to suit your experience level and your preferred wake shape. It does this by adjusting ballast and trim tabs to configure the wake.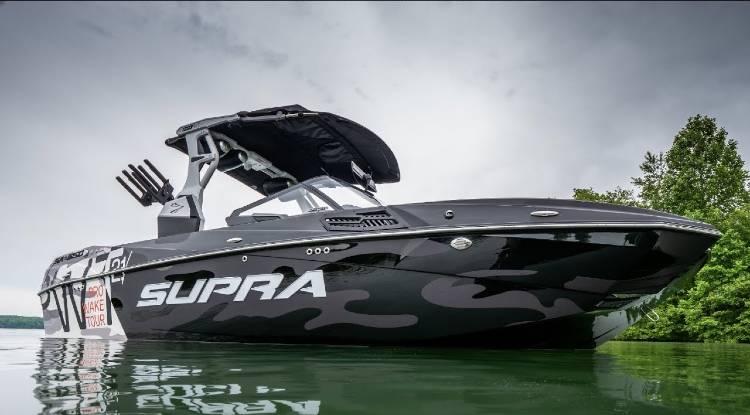 Image from YouTube
Like Mastercraft, Supra is an ultra-high-end boat brand producing excellent wake and towboats. The company has developed a reputation for its boat's outstanding construction.
Supra boats create incredibly good wakes for water sports. In fact, they are considered to be some of the best wake boats you can buy, earning many awards along the way.
One of the unique qualities of Supra boats is their wake technology. Autowake is Supra's way of automatically shifting ballast to adjust the shape and size of the wake.
Autowake means that the boat's occupants don't have to move around to redistribute the weight. It senses the boat's movement based on the desired shape of the wake. It automatically moves water around the tanks to achieve the required amplitude of the wake.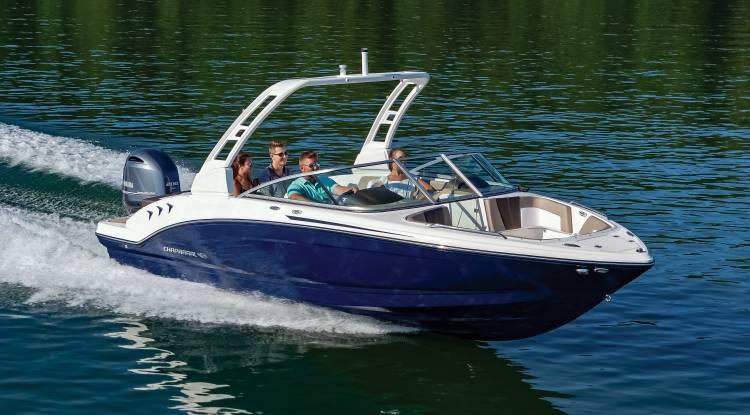 Image from Chaparral
Chaparral has been around for about 50 years and is positioned in the mid to upper-mid end of the market. Their boats offer a degree of luxury but still remain at a competitive price.
Owners of Chaparral boats like their outstanding quality. The company has received the National Marine Manufacturers Association Consumer Satisfaction Index award for every model they make.
Thanks to the V-plane design and weight, you can expect a stable ride from the hull. These boats are solid with thick construction, making them heavy.
The extra weight makes them stable in choppy water and offshore. However, they are not as fast as lighter boats, requiring more powerful engines.
You may think that this will negatively affect fuel efficiency, but surprisingly Chaparral boats are recognized for their fuel efficiency.
Image from Tige
Tige makes boats for wakeboarding, wake surfing, and water skiing. Their boats are known to be high-end in the wake sports world and are well-regarded for their build quality.
Tige's construction is famous for being extremely time-consuming, paying attention to every detail. They use a patented hull design and trim tab system that impresses wake sports enthusiasts.
One of the main reasons Tige boats are of such high quality is that each boat is assigned a dedicated Quality Control Auditor. The auditor is an experienced overseer who follows the boat throughout the entire build process, verifying each step of the construction.
The hull is built with a laborious laminating process using high-end fiberglass. This makes the boats slightly heavier than other fiberglass boats, but this is not a negative, as it helps create an excellent wake.
Since the brand's incarnation, Tige's boats have received outstanding reviews for durability from owners. They have also set a new standard for comfort and performance in wake boats.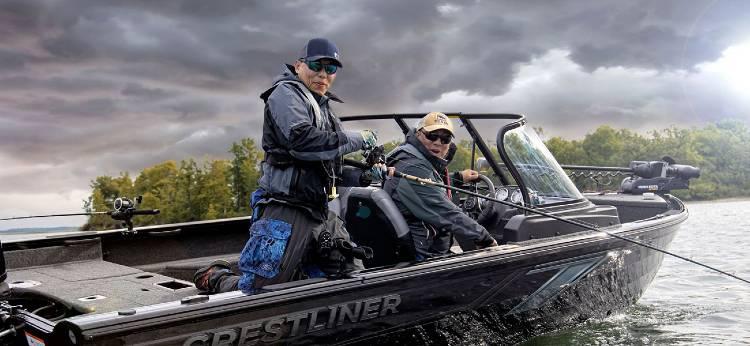 Image from Crestliner
Crestliner makes all-welded aluminum boats popular with freshwater fishermen. They are comparable to boats made by Lund and have been around for about 70 years.
These fishing boats are regarded as excellent value for money, and they have many outstanding characteristics. One of their characteristics is that the seams are welded rather than riveted.
Welded seams are less prone to leaking than riveted seams. But repairs are more difficult, and most boat owners cannot repair a cracked weld themselves.
However, most Crestliner owners see welded seams as a positive as they enhance their boat's durability.
Crestliner has stopped using wood in their transoms and gives their boats a wide beam. The result is a quiet ride, which is made better by super fast hulls.
Owners like the attention to detail of their Crestliners, as some great touches make them user-friendly. For example, the interior has a rubberized coating which is more durable than carpet and provides grip.
Also, Crestliners have lots of storage lockers for fishing equipment and other items.
Most Crestliners are used for freshwater fishing, but they are noted for how they perform in saltwater, too.
Aluminum boats are solid and can take a beating. But it seems that Crestliner owners like to test their boats by abusing them and bragging about it on the internet, which is a testament to their build quality.
Image from Lund
Lund specializes in building fiberglass and aluminum fishing boats. Their boats are considered premium products and are prevalent in the American Midwest and Canada.
You will notice that Lund boats are pretty expensive, but most people who own them feel that they are worth the extra money. They are built from high-end materials and have a strong warranty to give you peace of mind.
You can't help but be impressed by the fit and finish of Lund boats. Their electronics are superior to many other brands and use excellent wiring.
Lund boats are regarded as having superior performance to other brands at similar price levels. You can enjoy a fast and smooth ride along with excellent handling.
In addition to all this, these boats are practical, as their layout has been meticulously thought out. There is no dead space, as there are plenty of places to store all your fishing gear.
Lund boats are known for their durability in both saltwater and freshwater. You can use them on the sea, in rivers, and on lakes, so they are very versatile, which is a quality you want from a premium brand.
The construction of Lund boats includes high-quality closed-cell foam injected into the hulls. This stuff provides flotation, even if your hull gets badly damaged, ensuring that you can get home under pretty much any circumstances.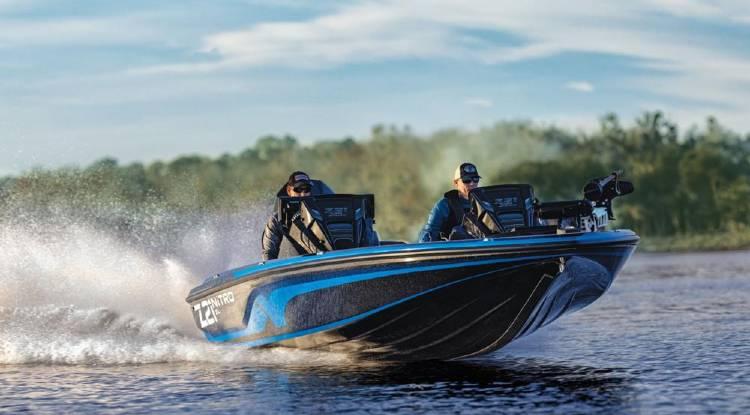 Image from Nitro
Nitro boats are at the more affordable end of the market. When you buy one, the price is the price; you cannot haggle to bring the price down.
Even though Nitro boats are less expensive than other boats on the market, the manufacturer describes them as high-performance.
Nitro boats divide opinions between owners regarding how good they are. But they are regarded as a value brand, and their products are pretty good for what you spend.
Nitro prices their boats competitively, but they are great for all kinds of fishermen, but most Nitro boats are bass boats.
These boats are built using a mindset that seeks continuous improvement. Nitro's manufacturing processes are constantly being tweaked to reduce waste and labor time, streamline production, and upgrade methods.
Nitro has employed these principles to reduce manufacturing costs and to pass the savings on to the customer. In addition to this, Nitro makes many of its components in-house, further reducing costs.
Nitro incorporates their proprietary Vortex Technology and Rapid Planing System into all their boats. Together, these give you a fast and smooth ride through the water. However, some people suggest that the ride quality isn't that smooth at high speeds.
Having said that, most Nitro boat owners are content with their boat's performance and handling. As generally, they don't buy Nitro boats for all-out speed but for their value for the money.
You have to remember that you get what you pay for when it comes to boats. Nitro is a cheaper brand, and even with the continuous improvement of their manufacturing, the boats are still made to a price.
Therefore, you need to be realistic about what you want from your boat. At this price, you can't expect anything too luxurious or flashy.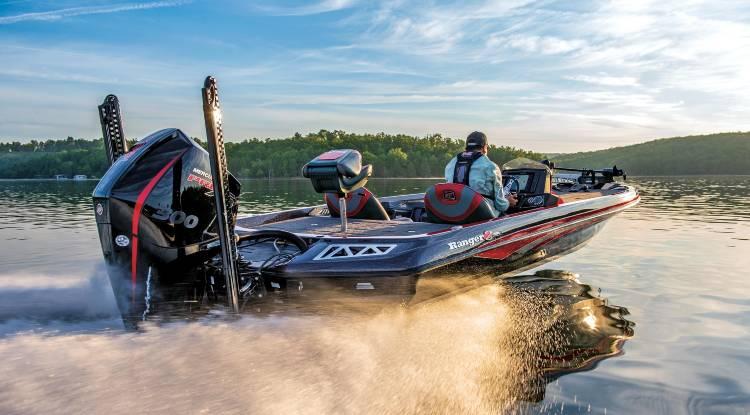 Image by Ranger
Ranger Boats is one of the most popular brands that produce bass boats. In fact, many people label the brand as the pioneer of the modern bass boat.
Ranger Boats is a premium brand that sits in the upper half of the bass boat market. They are well-known for their excellent design and construction quality. Their top-quality fit and finish complement their durability.
These boats are designed mainly for fishing and with a five-point philosophy of "Quality, Performance, Innovation, Safety, and Resale."
You can expect a stable platform for fishing, with a few nice touches to enhance the user experience. For example, the boats are fitted with swivel chairs, places to store your fish, and well-organized equipment storage.
The design of these boats ensures maximum efficiency and comfort. All this results from decades of constantly listening to what customers want.
As you would expect, Ranger Boats are made from premium materials. All details, such as wiring and usability, are top of the line, justifying the boats' prices.
Ranger Boats was one of the first boat manufacturers to inject foam into their hulls. This is an excellent safety measure to keep you afloat in the event of an accident.
These boats have a reputation for being seriously tough and last for decades. This goes for both their aluminum and fiberglass boats.
The durability partly comes from the pultruded manufacturing process used in their fiberglass boats. This process bonds several fiberglass layers with resin before being heated to create an especially robust composite material.
Ranger's aluminum boats have welded seams and use no wood. Therefore, there is nothing for the water to rot over time, like other boats.
In addition to all this, Ranger offers an excellent warranty for every element of the hull for 10 years. The electrical system and trailer are covered for three years, which is pretty good.
Image from Everglades Boats
Florida-based Everglades Boats builds offshore and bay boats. They specialize in duel and center consoles and build some cabin models, ranging from 23 to 45 feet.
The company has been around for over 20 years and is popular along the east coast of the United States. Everglades Boats are seen as a high-end brand focussing on recreation and offshore fishing.
These boats are well-known for their high level of safety and comfort. The company's reputation lies in innovation, quality construction, and boats with a smooth and stable ride.
Everglades Boats have a thick construction to their hulls, making them heavier. But, they are some of the most solidly-built boats you can buy, adding to the focus on safety.
The extra weight should hamper their speed, acceleration, and fuel efficiency. But many reviews state that they are pretty fast boats, despite their weight. However, speed is not the primary focus of Everglades Boats.
Everglades Boats are very reliable, thanks to the materials, design, and instruments they use. Some of these boats have ergonomic and comfortable layouts, this is great, but some hardcore fishermen say that the layouts are not convenient for fishing.
In 1999, Everglades Boats developed a revolutionary construction method. This method consisted of molding a foam core separately and then building it into the boat's hull.
The result of doing it this way, rather than injecting it, ensures that the foam core has no gaps. This heavy construction allows the boat to withstand the pounding of offshore waves.
To give you peace of mind, Everglades Boats have a lifetime warranty on their hulls, while the components are also covered for three years. After the owner sells the boat, the new owner is protected by the guarantee for 30 days, too.
Final Thoughts
As you can see, there are a few things you need to consider before buying a fish and ski boat.
But there are some excellent brands to choose from to suit your budget and needs.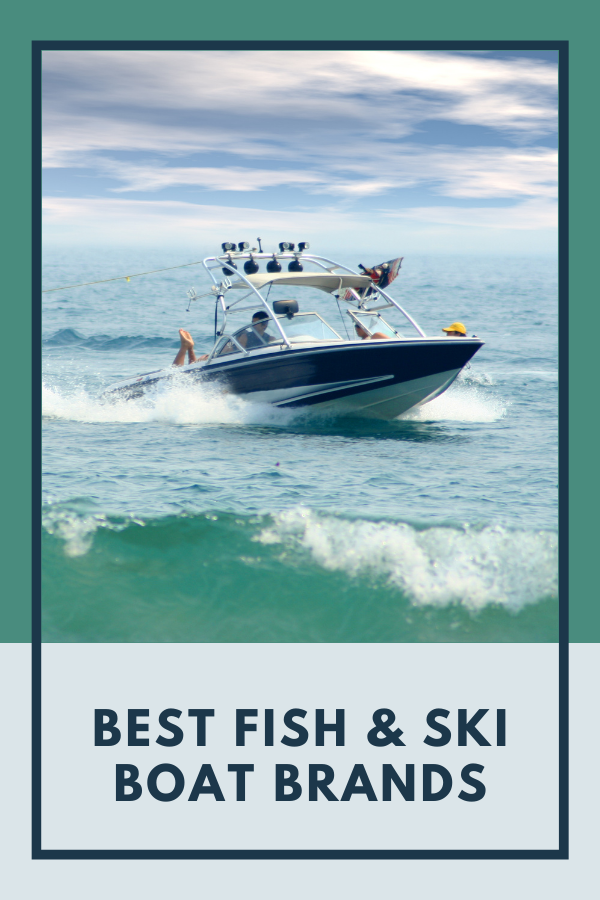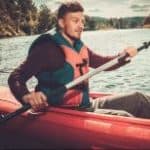 Author: Peter Salisbury
Pete is the Owner of KayakHelp.com. Born and raised in Cleveland, Ohio, he grew up kayaking, fishing, sailing, and partaking in outdoor adventures around the Great Lakes. When he's not out on the water, you can find him skiing in the mountains, reading his favorite books, and spending time with his family.