Water skiing is one of those top rich people sports that tend to require a healthy collection of extra gear. We are going to leave one of the most expensive ski boats off this list, but the rest of our time today will be dedicated to highlighting the water skiing equipment you must have.
This collection will include gear that is essential for water skiing safety and stuff that will simply make water skiing more fun. It will also include several different types of water skis that will allow you to accommodate skiers of all experience levels.
Stocking your ski boat up with the right stuff can make or break your days out on the water. While you will need to find gear and equipment that fits your body type and skill level, all of these items should be on your boat before you launch.
While we won't settle the debate over whether wakeboarding or water skiing is better in this article, we will spend a brief period examining how to differentiate quality water skiing equipment from the cheap stuff. So let's get into it!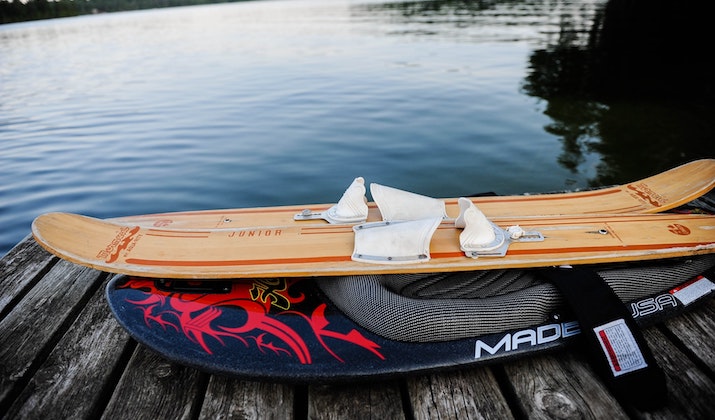 Photo by Clark Young via Unsplash
15 Must-Have Water Skiing Equipment
Life Vest
Tow Rope
Handle
Ski Gloves
Safety Flag
Ski Bindings
Binding Slime
Water Ski Bag
Spray Leg Guard
Wing Angle Gauges
Wetsuit
Drysuit
Training Skis
Combo Skis
Slalom Ski
Buying Guide for Water Skiing Equipment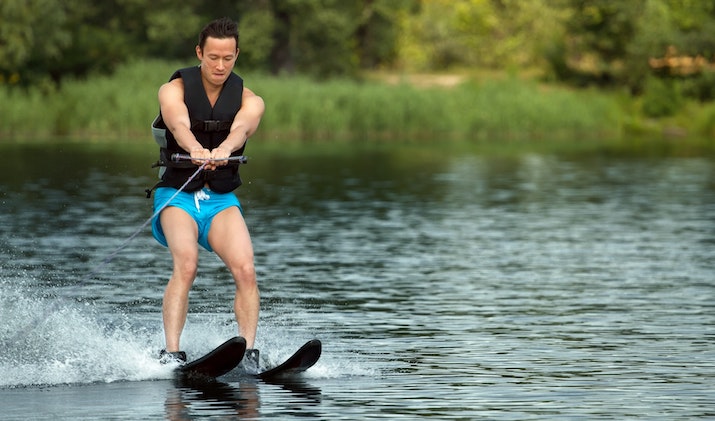 Photo by Kostiantyn Li via Unsplash
When you are equipping your boat with the requisite equipment for water skiing, it helps to find deals and make sure you are getting stuff from the best water skiing boat brands that also make water skiing gear.
Here are a few buying tips that you can use to your advantage:
Should You Buy New or Used?
The first thing to consider is whether you should be looking to buy all of this equipment new or look at the used marketplace. In our opinion, the answer actually depends on the equipment, your experience level, and how much you are going to use it.
For instance, a life vest for water skiing is one of those equipment items that can be worth buying new. That way, you can be assured that your life jacket actually still has the amount of buoyancy you need when the moment of truth arises.
For other things, however, shopping at garage sales or your local Play It Again Sports location is a great way to save a little money. That includes things like training skis that you will only use for beginners and a water ski bag that is primarily going to be deployed for seasonal ski storage.
How Can You Find Equipment That Fits?
Because we have so many different types of water skiing equipment on this list, sizing is going to be quite variable. However, the best-case scenario when you are looking for this type of gear is to find a retail location that will allow you to try things on.
That will work for ski bindings, gloves, life vests, leg guards, wetsuits, drysuits, and even the skis themselves. Even if you do not end up making a purchase when you are trying these gear items on in the store, it will allow you to hone in on your size and then, in many cases, find a better deal online.
What Time of Year Should You Shop For Water Skiing Equipment?
The off-season! The best time of the year to find great deals on both new and used water skiing equipment is actually towards the end of the summer and early fall.
Sometimes, you may even find deals during the winter, but avoid buying during the late spring and early part of the summer. This is when everyone else that didn't plan ahead will be shopping for water skiing equipment as well.
Online marketplaces tend to have their deepest discounts in the fall and winter because they need to clear out overstock in order to make room for the next season's inventory. Keep an eye out on the clearance pages for the best water ski brands in order to find gear and equipment at discounted rates to prepare for the next season.
How Important Is Safety Equipment?
While all of these items are must-haves, we really want to emphasize the importance of getting the safety equipment that we have listed below. That includes a life vest, waterproof ski helmet, safety flag, and, to a lesser extent, spray leg guards.
Leg guards are one of those items that will protect your shins and knees from the rigors of high-speed water skiing. They do, however, tend to be an item that is required for experienced skiers rather than beginners.
The others, on the other hand, are absolutely essentials for water skiing due to the fast speeds that you will be moving at in this sport. A life vest will keep you afloat if you accidentally knock the wind out of yourself and need to float on your back while recovering.
A safety flag is an essential item that helps the spotter in your ski boat signal to other boaters that you are in the water somewhere behind your boat. Many experienced skiers might sneer at our inclusion of a waterproof ski helmet, but we know that water can feel a lot like concrete when your head unexpectedly hits it when you are being towed at 20-plus miles per hour.
Thumbnail
Title
O'Neill Men's Reactor USCG Life Vest BLKBLKBLK MEDIUM
Wakeboard Rope-75ft Water Ski Rope with EVA Handle & Floating,Ski Ropes 4-Section Tow Ropes for Watersports,Kneeboard,River Tube,Snow Tube
Vihir Adult Water Sports Helmet with Ears - Adjustable Helmet,Perfect for Kayaking, Boating,Surfing
Radar Men's Vice Inside-Out Pre-Curved Fingers Amara Palm Waterski Gloves, Black, Medium
Affordura Water Ski Flag 48 Inch Orange Boat Flag 3 Sections Skier Down Flag Boat Safety Flag with Flag keeper and Storage Bag
Thumbnail
Title
O'Neill Men's Reactor USCG Life Vest BLKBLKBLK MEDIUM
Thumbnail
Title
Wakeboard Rope-75ft Water Ski Rope with EVA Handle & Floating,Ski Ropes 4-Section Tow Ropes for Watersports,Kneeboard,River Tube,Snow Tube
Thumbnail
Title
Vihir Adult Water Sports Helmet with Ears - Adjustable Helmet,Perfect for Kayaking, Boating,Surfing
Thumbnail
Title
Radar Men's Vice Inside-Out Pre-Curved Fingers Amara Palm Waterski Gloves, Black, Medium
Water Skiing Equipment You Must Have
Check Price on Amazon
A life vest is the first item on our list because it is arguably the most important piece of water skiing equipment when it comes to personal safety. In reality, you should always have enough flotation devices on board for every passenger
before
you leave the boat ramp.
For the purposes of this article, however, we are specifically discussing life vests that you will be wearing while you are actually water skiing. These types of life vests will be slimmer and generally more form-fitting than a regular life jacket or a kayak fishing PFD, for example.
Still, a life vest for water skiing should have enough buoyancy to keep your body weight afloat when you fall. Because most human bodies, on average, contain 80 percent water and 15 percent fat (which are both lighter than water), your life vest really only needs to support that remaining five percent of your body weight.
That means that a body that weighs 200 pounds will need a life vest that can support at least 10 pounds (200 pounds – 160 pounds of water content – 30 pounds of fat content). Of course, this will change if you have a lower or higher body fat percentage.
Check Price on Amazon
Most tow ropes that are specifically sold for water skiing also come with an ergonomic handle. That being said, expert skiers often have a very specific preference for the grip on their handle as well as the length of their tow rope.
On average, the recommended length for a water skiing rope is 75 feet (about 23 meters). This length places the skier far enough behind the boat that the wake will be a little bit smaller when making hard cuts back and forth.
This is also why many wakeboarders prefer to use a slightly shorter tow rope that actually places them in a better location to take advantage of the peak of the wake for jumping and inverted tricks.
You can also find these items separately if you know that there is a specific type of handle that you want to attach to your tow rope. Some skiers, for example, prefer a heavier handle as opposed to wakeboarders that tend to prefer lightweight models.
Check Price on Amazon
This might be one of the most highly debated pieces of water skiing equipment that we have chosen to include on this list. That is because many expert water skiers probably wouldn't be caught dead wearing a helmet.
Whatever their individual reasons, it is hard to argue with the fact that skiers that wear a helmet are less likely to suffer a serious head injury during a big fall. When you are being towed at high speeds and you catch an edge, the effects of going from 30 miles per hour to zero in seconds often don't feel good.
In recent years, new research on the severity of long-term cognitive issues associated with concussions has increased the number of water skiers wearing helmets. Of course, you will need a waterproof design that dries relatively quickly if you are using it for watersports.
We do not recommend repurposing another type of helmet for water skiing because they will take forever to dry. That will cause mold and mildew to build up in the helmet between uses and will make you much less likely to put it on your head when you are ready to ski.
Check Price on Amazon
Ski gloves are honestly another one of those gear items that some water skiing purists might scoff at. They'll say things like "toughen up your hands" and "if you can't hang on without them, you don't deserve to ski with them."
Simply put, we just do not agree and we think that ski gloves are a great way to improve your grip on the tow rope handle, protect your hands, and even extend the number of ski runs you are able to take by reducing grip fatigue.
Grip fatigue is what happens when you have been holding onto a ski handle for a long period of time and you start to feel like you just can't hold on any longer. This phenomenon can cut your ski runs short even if the rest of your body is ready to keep going.
That is the primary reason why many serious skiers always have a pair of gloves at their disposal. They will help you enjoy longer sessions as you perfect your technique or just enjoy a beautiful glassy morning on the lake.
Check Price on Amazon
A safety flag is one of the equipment items on our list that the skier actually doesn't use actively when they are behind the boat or getting ready to hop in the water. Instead, this item is used by the spotter on the boat to signal when the skier is in the water.
Different places have varying rules and regulations about the use of safety flags for boaters. In our experience, however, the flag goes up whenever the skier falls or is getting ready to begin a run and it comes down whenever the skier is up and the ski boat is underway.
Some boaters will get a safety flag mount that allows them to keep the flag permanently installed somewhere onboard. However, the best method is to have an active spotter who is responsible for the safety of the skier in the water while the captain focuses on driving the boat.
Check Price on Amazon
Regardless of the type of water skis that you buy, some skiers will upgrade or change out the bindings to something a little more comfortable. Many ski bindings are of the slip-in variety but some are slightly harder and provide more lateral support.
Some bindings also come in specific sizes that are akin to shoe sizes while others are more adjustable and provide a sort of universal fit. These tend to be better if you know you will have multiple skiers with different-sized feet using your skis.
Check Price on Amazon
Anyone who has ever tried to shove their feet into cold water ski bindings first thing in the morning knows that it is sometimes the hardest thing about water skiing. Nobody wants to pull a ligament just trying to get their feet into their bindings.
That is why binding slime is one of those equipment must-haves that you will find on most ski boats. Binding slime can be applied directly to your foot or to the inside of the bindings themselves to help your foot slide in more easily.
There are many different binding slime options, but most of them are made of some sort of lubricating substance that will not cause damage to your bindings and is also biodegradable so that you aren't putting harmful chemicals into the waters of your favorite skiing lake.
Check Price on Amazon
Most people do not necessarily keep their water skis in a ski bag at all times. That is what the storage compartments on many of the
most expensive ski boats
out there are designed for.
However, you will need a place to store your skis when it is time to unpack your boat and get it ready for winter storage. Or, you may just need it to transport your skis if you ever travel to visit friends that also have a ski boat.
Whatever the case may be, we always recommend storing your water skis in a bag if you are traveling with them or you are not going to be using them for a month or longer. It will maximize their lifespan and also provide protection against curious critters that want to chew on your ski bindings.
Check Price on Amazon
A spray leg guard for water skiing is designed to be worn on your back leg when you are slalom skiing. They place a protective layer between your skin and the heavy water spray that is common for this particular style of water skiing.
Spray burn is a real ailment that many expert skiers (the ones that are really laying it down) suffer from at the start of every water skiing season. That is why most slalom skiers eventually add a leg guard to their collection of must-have water skiing equipment as they progress.
Neoprene is the most common material used to manufacture spray leg guards because it is water-resistant and partially insulating. Most models are large enough to be worn over a wetsuit or drysuit if you are skiing in colder weather.
Check Price on Amazon
Wing angle gauges are a tool that goes with all water skis and they are used to make adjustments to the wing (also known as the spoiler) on the skis. As a skier approaches a turn, the wing helps to slow the ski down.
If the wing angle is set to a higher degree, the ski will slow down faster to allow the skier to turn more quickly. Adjustments to the wing angle should only be made with wing angle gauges and most water skis will have different tolerance levels for the minimum and maximum allowable wing angle.
Check Price on Amazon
Most serious water skiers also keep a wetsuit in their equipment bag so that they can extend their ski season by a few weeks at either end of the summer. The thickness of the wetsuit you choose will largely depend on the water temperature and weather in your region.
Wetsuits work by capturing water and then warming it up using the heat of your body. So it will keep you warmer in colder water and provide insulation, but it will not keep you from getting wet.
So you will still be wet once you finish your ski run and peal your wetsuit off. Plus, you will have to worry about drying your wetsuit between uses unless you want to investigate tricks for putting on a wet wetsuit.
Check Price on Amazon
Drysuits are also an option for cold weather water skiing and they are actually designed to keep you completely dry throughout your entire time skiing. They seal around your neck, wrists, and ankles and usually have some sort of zippered entry.
Some drysuits even come with built-in feet that will keep your toes warm when the water and air temperatures are cold. That said, many water skiers opt for drysuits without feet because it can make it harder to fit into ski bindings and also make your ski feel less responsive.
The great part about a drysuit is that you can basically wear as many layers underneath it as you want to stay warm. When water skiing, you will just need to balance the need to wear insulating layers with the ability to still move freely while you are skiing.
Check Price on Amazon
Training skis are the first type of water skis that should be on just about every ski boat. They will allow you to teach someone that has never skied and are a very popular choice for kids because they feature a rope that essentially keeps the skis parallel (which is one of the hardest things for beginners).
Check Price on Amazon
Combo skis are the next progression for beginner and intermediate skiers and one ski will actually be equipped with a slalom binding. This allows you to get up on two skis and then drop one ski as you make the transition to slalom skiing.
Check Price on Amazon
Slalom skis are for expert skiers and they offer performance improvements that you won't find on combo skis. While you could use the ski with the slalom binding in your combo set, experts eventually graduate to a ski that is designed specifically for slalom.
Final Thoughts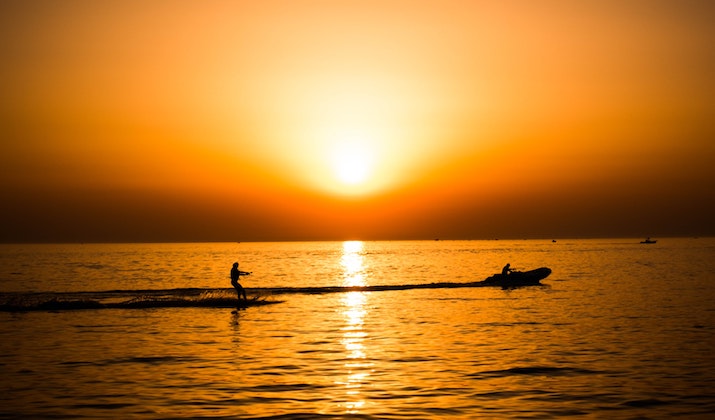 Photo by Tobia Sola via Unsplash
There really is no substitute for being prepared when you take your boat out. You never know when you will be teaching a first-timer how to water ski or get challenged to tow an experienced skier who just hasn't been on the water in a while.
We hope that you have enjoyed this collection of must-have water skiing equipment and that you can use this list to get your ski boat prepared for next summer. As always, we wish all of our readers the best of water-based recreation in the coming months!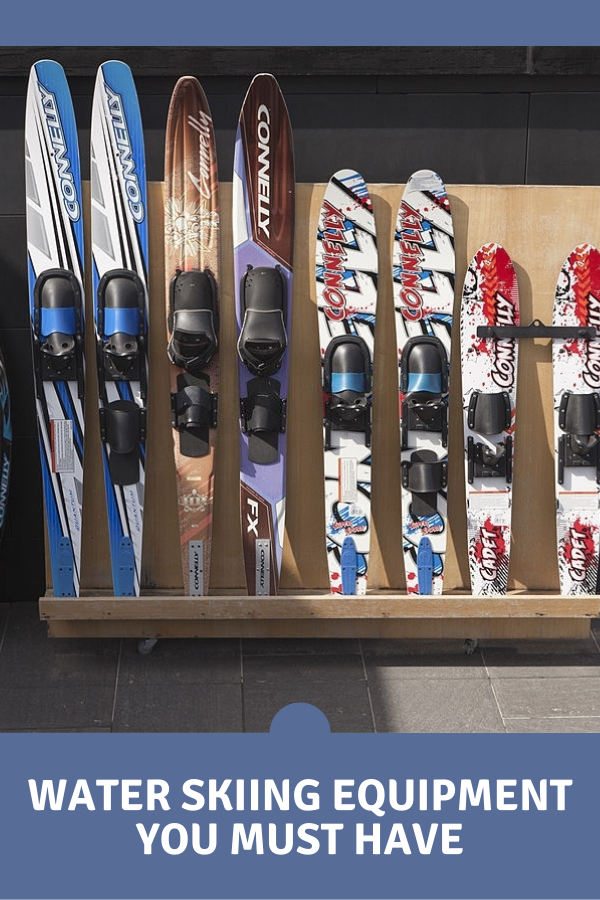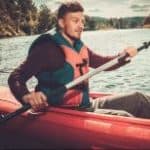 Author: Peter Salisbury
Pete is the Owner of KayakHelp.com. Born and raised in Cleveland, Ohio, he grew up kayaking, fishing, sailing, and partaking in outdoor adventures around the Great Lakes. When he's not out on the water, you can find him skiing in the mountains, reading his favorite books, and spending time with his family.