Florida is truly one of those US states that can claim to be a kayaker's paradise. If you want to appreciate some of the state's clearest waters, then you'll need the ultimate fun guide to clear kayaking in Florida.
The Sunshine State truly offers something for all kayakers. There are long coastlines to explore if you have one of the best touring kayaks and plenty of time to kill, but there are also inland rivers with some of the clearest waters you'll ever see.
One of the coolest things to do in the state is to paddle in a clear bottom kayak that allows you to see fish, manatees, and other aquatic species below you. Whether you bring your own kayak to do this or find one to rent, you should not miss out on this amazing opportunity.
In our ultimate fun guide to clear kayaking in Florida, we will provide plenty of options for where to go and what to expect. We will also provide some basic safety and travel tips for clear kayaking in Florida.
So let's get clear kayaking!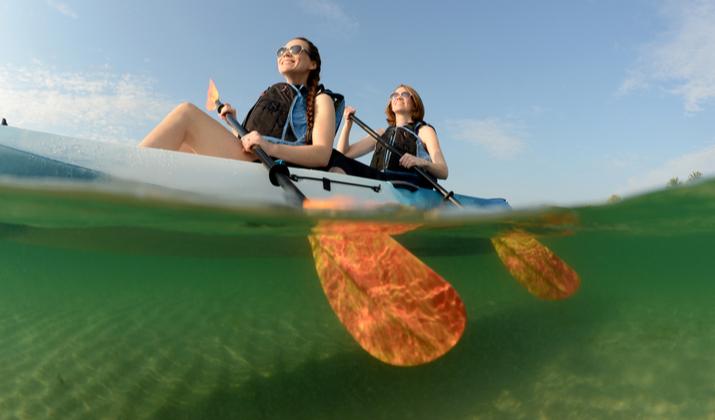 Photo by FtLaud via Shutterstock
Should You Buy or Rent a Kayak for Clear Kayaking in Florida?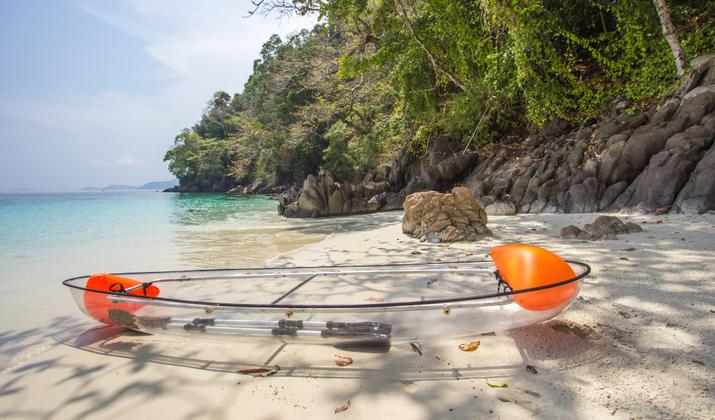 Photo by Nathapon Triratanachat via Shutterstock
The first consideration when you are thinking about clear kayaking in Florida is whether you should buy or rent your clear kayak. Fortunately, there are some options for renting if you don't have the ability to bring your own.
That raises the first important question: how are you arriving at your Florida clear kayaking destination?
If you are arriving by plane, for example, you are probably going to have to rent a kayak during your visit. That is, of course, unless you plan on bringing one of the best folding kayaks in the plane's underneath storage area.
To sum up our thoughts on this matter, renting is best for anyone traveling to Florida by air or any sort of mass transition solution (aka train, bus, boat, steamship…just joking about that last one). Bringing your own clear kayak is a great choice if you are a road tripper traveling to the state in an RV, truck camper, or camper van.
Still, think about how often you will really want to use a clear bottom kayak. Other than in ideal locations like Florida or Lake Tahoe, this type of kayak really isn't the most versatile option at your disposal.
So if you plan on doing any other kayaking on your road trip adventure, you are probably best to get a kayak that can handle a wider variety of environments. All things considered, your best bet is to rent a clear bottom kayak from a vendor in close proximity to wherever you plan on starting your clear kayaking adventure in Florida.
Where To Go Clear Kayaking in Florida
The logical place to go from here is to provide a quick overview of the many places to go clear kayaking in the state of Florida. Because of the exceptional water quality throughout the state, you'll find places from north to south, east to west, and all the way up in the panhandle as well.
Because Florida is so large, we are going to break up these locations by region to make things a little more manageable.
Clear Kayaking in The Panhandle
Some locals refer to the panhandle as Old Florida because of its history and cultural heritage. Some of the clear kayaking destinations in this part of the state wind past old Civil War battle sites and other important historical landmarks.
Destin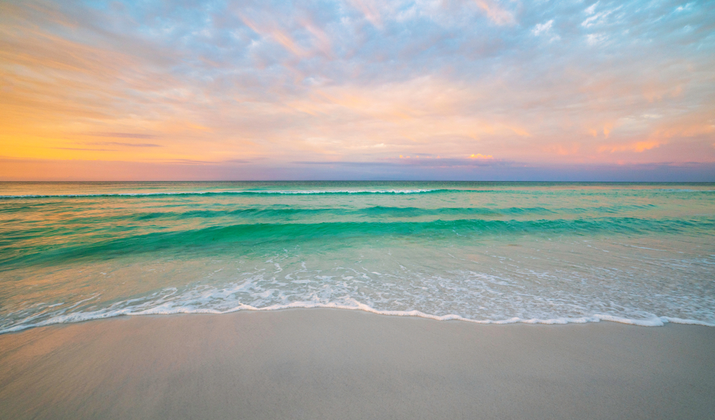 Photo by Jay Beckerich via Shutterstock
Destin is one of the furthest locations west in Florida where you can go clear kayaking, but the waters here are still exceptionally clear. You'll have options for paddling along the coast in the Gulf or heading in to check out Choctawhatchee Bay.
Destin Clear Kayak Rental is one of the best vendors to contact if you're looking to do some clear kayaking up here. They offer day trips to nearby Crab Island, dolphin watching excursions, as well as clear kayak tours to watch the sunset.
Wakulla County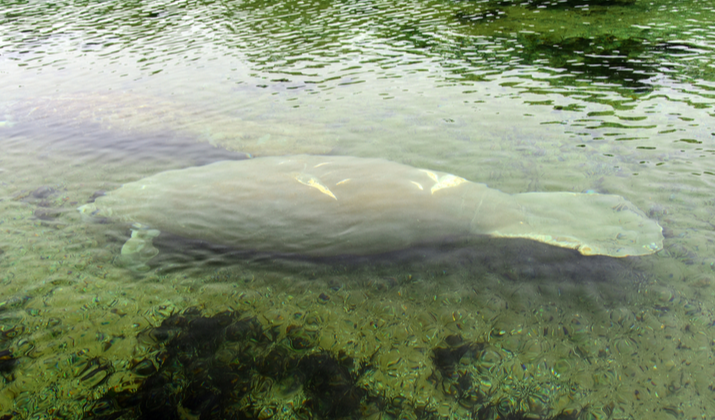 Photo by Nina B via Shutterstock
Moving towards Tallahassee, Wakulla County has some beautiful clear kayaking destinations like the St. Marks River, Wakulla Springs, and Apalachee Bay. Check out Wakulla Watercraft Rental to inquire about clear kayak rental rates and suggestions on where to head for your kayaking adventure in Wakulla County.
Panama City Beach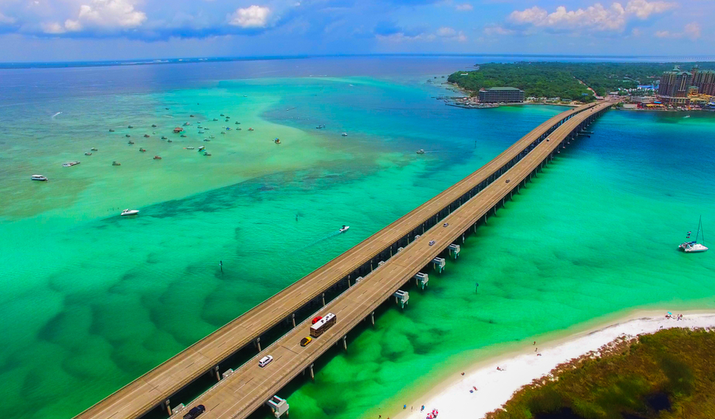 Photo by Mia2you via Shutterstock
Not too far from Destin, you'll find the magnificently clear waters around Panama City Beach. Clear kayaking is far from the only attraction that brings visitors to this laid-back, but party-friendly Gulf coast oasis.
Saint Andrew Bay provides an excellent protected coastal waterway for clear kayaking adventures, but you'll also find North Bay, East Bay, and West Bay Grand Lagoon close by. Paradise Adventures is one of the best places to go for clear kayaking rentals in this area and they're sure to give you plenty of pointers to make your visit special.
Clear Kayaking in Northeastern Florida
Working our way across the top of the state, we get into the section of Florida that contains major cities like Jacksonville and Gainesville. While popular for their large universities and major sports teams, there are a few awesome clear kayaking destinations here too.
Silver Springs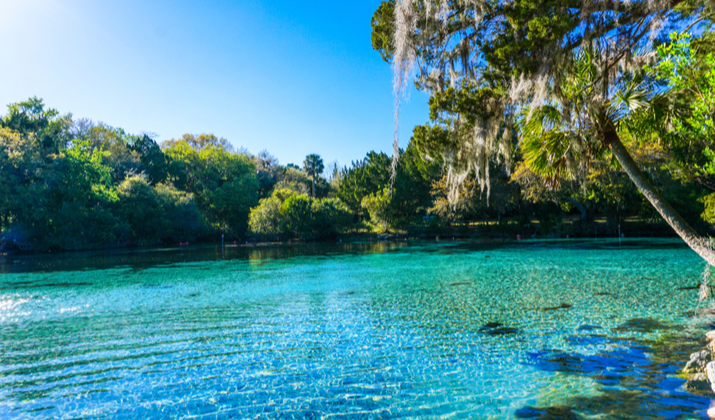 Photo by Adventures on Wheels via Shutterstock
Silver Springs could almost be considered a central Florida destination, but we already have plenty of those, so it's leading off this category. As you can see, it's one of the most iconic destinations for clear kayaking in the entire state and if you are looking for a place to rent a clear kayak and get some advice here, check out Get Up and Go Kayaking in Silver Springs.
St. Augustine
Photo by Barbara Smyers via Shutterstock
St. Augustine is definitely a northeastern Florida destination and this spot boasts plenty of historical significance, in addition to opportunities for clear kayaking.
Explore the coastline and see the oldest masonry fort in the continental United States from the water or head up the San Sebastian River for a completely different clear kayaking experience.
Amelia Island
Photo by Rafal Michal Gadomski via Shutterstock
Amelia Island is one of the furthest northeastern destinations in the state for clear kayaking and it offers some excellent rivers to explore. The St. Marys, Amelia, and East Rivers are all within close proximity and Fort Clinch State Park is definitely worth a visit while you are here, whether you arrive by land or water.
Clear Kayaking in Central Florida – Eastern
Central Florida might be what you would call the Holy Grail of clear kayaking destinations in the Sunshine State. With a plethora of natural springs and incredibly clear rivers, this might just be the place to hit several clear kayaking destinations in one trip.
Crystal River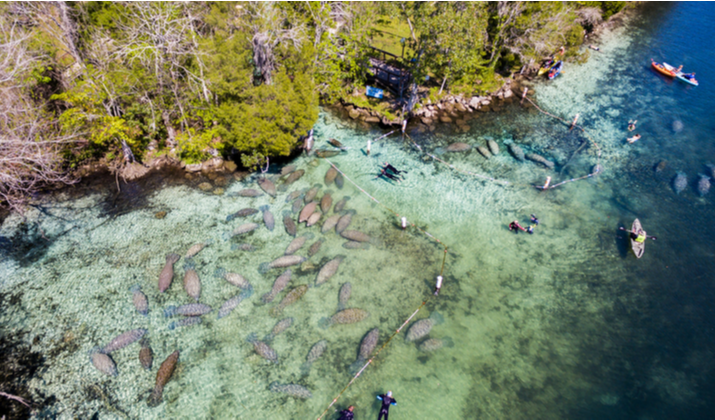 Photo by Alex Couto via Shutterstock
If seeing manatees is what you are after for your clear kayaking experience, there is quite possibly no better place than Crystal River. The astounding clear waters are abundant with sea cows, as long as you do your homework and visit during the right time of the year.
Crystal River's popularity means that there are plenty of options here for renting a clear kayak. Check out Crystal River Kayak Company, Captain Mike's Kayak Rentals, or Paddles Outdoor Rentals for rates and availability.
St. Petersburg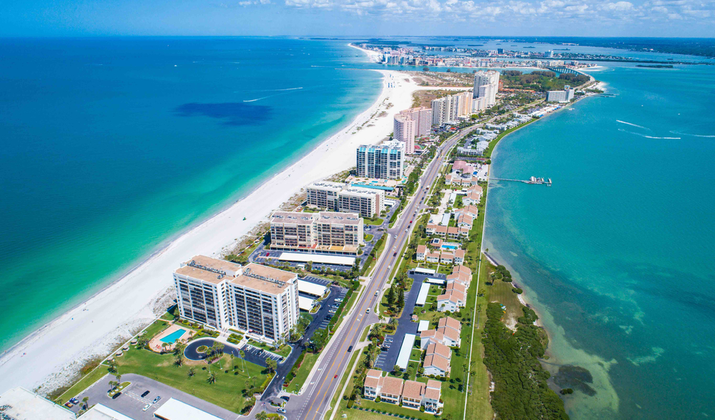 Photo by Garrett Brown via Shutterstock
Tampa Bay is obviously a huge inland bay near St. Petersburg, but for clear kayaking you're better off heading down towards Shell Key Preserve. Nearby, you'll find another Get Up and Go Kayaking location on Shell Key for clear kayak rentals and St. Pete Kayaking also offers clear kayak tours.
Weeki Wachee
Photo by Adventures On Wheels via Shutterstock
One of the coolest names on our list, the clear kayaking around Weeki Wachee is just as stunning as Crystal River to the north. While the main waterway here is called the Mud River, it hardly lives up to its namesake when it comes to appearance.
The fine folks at Get Up and Go Kayaking have a nearby location for clear kayak rentals, but there are several launch locations to explore if you bring your own.
Clear Kayaking in Central Florida – Western
Central Florida might be what you would call the Holy Grail of clear kayaking destinations in the Sunshine State. With a plethora of natural springs and incredibly clear rivers, this might just be the place to hit several clear kayaking destinations in one trip.
Rock Springs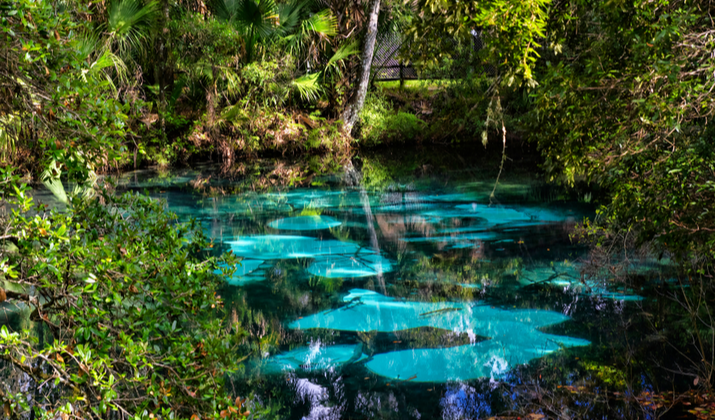 Photo by Rafal Michal Gadomski via Shutterstock
Rock Springs is located a little inland and to the north of Orlando, but getting there is worth every penny if you're in it for the clear kayaking. The waters of the springs are 68-70 degrees year round and some areas are only several feet deep if you're looking for a safe place for the kids to swim.
Get Up and Go Kayaking is your choice for clear kayaking tours near Rock Springs and their tour is best suited for intermediate paddlers. It starts at Kings Landing and heads upstream to Emerald Cut, where you can then relax and let the run take you back down to your starting location as you enjoy the scenery.
Cocoa Beach
Photo by Cristina Christensen via Shutterstock
Cocoa Beach on Florida's east coast might be passed over for a visit to nearby Cape Canaveral if you are interested in learning the area's history of space travel, but you should take the opportunity to go for a clear kayaking adventure while you're here too.
BK Adventure is one of the best places to go in this area for clear kayak rentals and tours. They offer a sunset tour, a night-time bioluminescence tour, and a separate bioluminescence tour through the nearby Merritt Island Wildlife Refuge.
Fort Pierce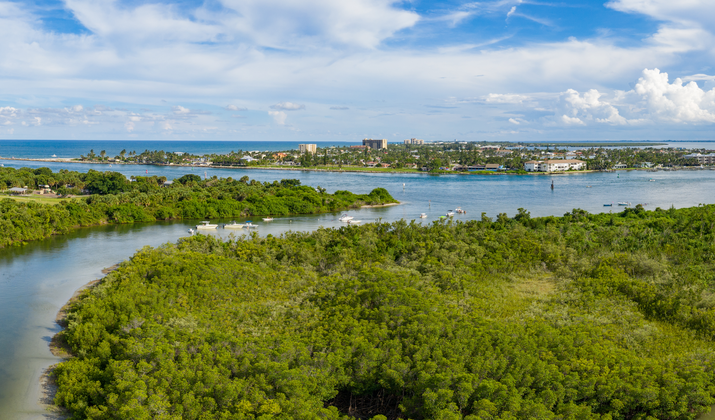 Photo by Stephen Wood via Shutterstock
Fort Pierce is situated centrally on Florida's Treasure Coast, named for the numerous shipwrecks that have undoubtedly happened off the coast over the centuries.
Get Up and Go Kayaking has another location here and their clear kayak tour explores scenic mangrove tunnels in the area.
Starting from Fort Pierce Inlet State Park, this 2 to 2.5-hour tour is a great choice if you want to see manatees, turtles, sea birds, sting rays, and other aquatic species during your clear kayaking adventure.
They even offer sunrise, sunset, and glow-in-the-dark tours to spot bioluminescent comb jellies during the winter months.
Clear Kayaking in Southern Florida
As you move into southern Florida, you begin to get closer to the more swampy lakes and canals of Everglades National Park. While the Everglades provides some exceptional kayaking in its own right, we will focus on southern Florida destinations with a bit clearer waters than the Everglades in this piece.
Cape Coral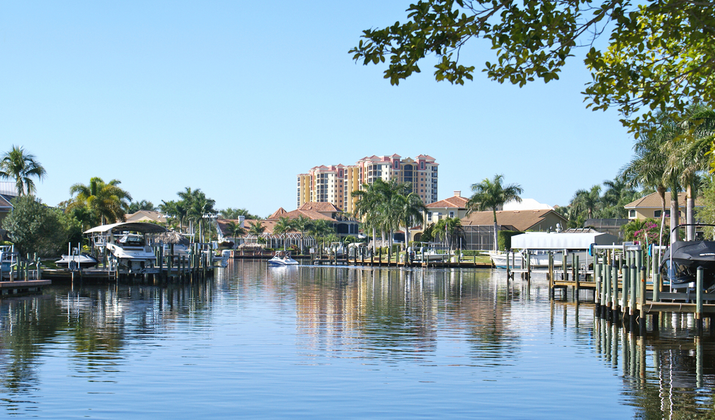 Photo by mginley via Shutterstock
On Florida's east coast, Cape Coral is one of the furthest south destinations for clear kayaking before you get into the Everglades. The Caloosahatchee River is one of the more popular spots for kayaking around Cape Coral, and nearby Fort Myers, but there's also Estero Bay Preserve State Park.
Your best bet for clear kayak rentals in the Cape Coral area is Get Up and Go Kayaking.
Miami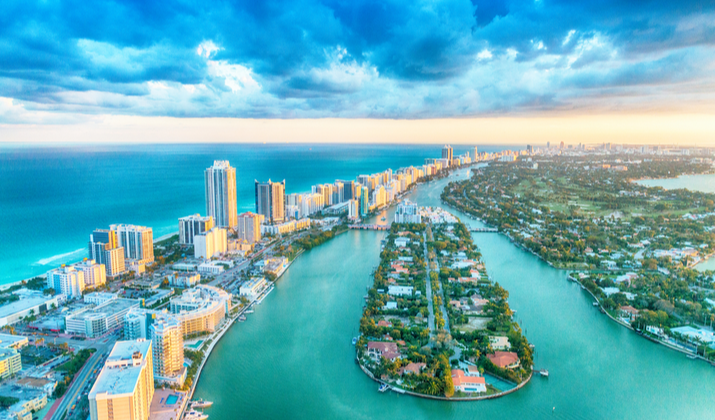 Photo by pisaphotography via Shutterstock
Heading almost directly across the state, you have probably heard about the enticing prospects of visiting Miami for more than just clear kayaking. While Miami proper is known for other things, heading out to nearby Virginia Key provides a great launching point for a clear kayaking adventure.
From here, you can explore Lamar Lake or Norris Cut and get a sense for what other mysteries might be waiting for you if you took a boat excursion down to Biscayne National Park. Check out the Virginia Key Outdoor Center for more information on clear kayak rentals here.
Florida Keys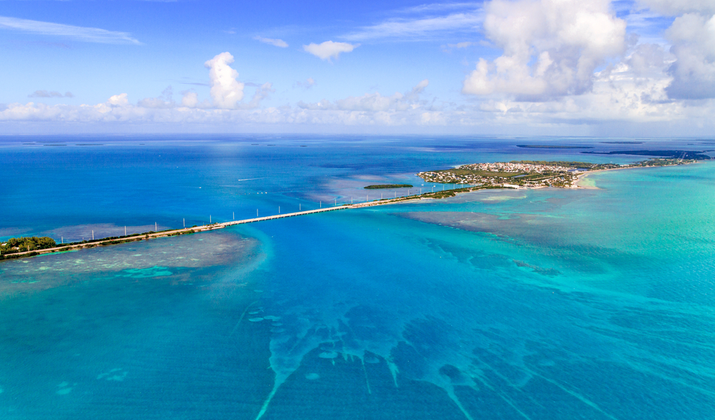 Photo by Bertl123 via Shutterstock
When it comes to clear ocean kayaking, it is hard to beat the many destinations up and down the Florida Keys. From launching in the evening on the Gulf side to catch the sunset to getting up early on the Atlantic side to catch the sunrise, there is no shortage of clear kayaking in the Keys.
Opportunities begin around Key Largo and continue all the way down to Key West, with some of the best stops in between being Marathon and Islamorada.
If you have your own clear kayak, Curry Hammock State Park is an awesome destination about halfway down the Keys where you can do a short paddle loop that winds through a beautiful mangrove forest and comes out into a protected bay where you'll often find manatees sheltering from the open waters.
For options for renting clear kayaks in the Keys, check out I Can See Clear Kayaking Tours in Islamorada and Get Up and Go Kayaking in Key West.
How to Prepare For Clear Kayaking in Florida
Now that you know your best bet is to rent a clear bottom kayak and you have several options at your disposal when choosing where to go in Florida, it is time to think about how to pack and prepare for your clear kayaking adventure.
Tip #1: Schedule Your Rental in Advance
Photo by Customdesigner via Shutterstock
You may have a little more leeway if you're visiting Florida in the offseason (which, by the way, is opposite of most of the rest of the US). Generally speaking, you should try to make a rental to secure your clear kayak at least a week in advance.
Certain times of the year may require up a month or more of advanced scheduling to make sure a kayak is available for you when you arrive. While many rental companies have a healthy fleet of clear kayaks, they are a popular item for visitors and residents alike.
If you want to guarantee that you won't be stuck settling for a non-clear kayak (although paddling a recreational kayak in Florida's clearest waters isn't a bad consolation prize), make sure you schedule your rental in advance.
Tip #2: Wear Plenty of Sunscreen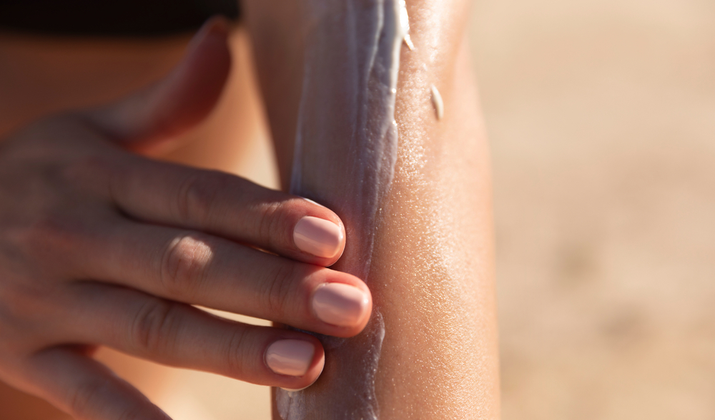 Photo by Lea Rae via Shutterstock
Protecting your skin is vital on bright and clear days kayaking in Florida. You can do that in one of two ways: wear plenty of sunscreen and reapply often, or wear long sleeves and pants that are thin and breathable while still offering UV protection.
In addition, consider the UV rays that will hit your skin as they reflect off the surface of the water. It's those rays that are sometimes the most damaging to kayakers because they only prepare for direct rays from overhead.
Sunscreen and breathable kayaking clothing will protect you from both, thankfully. Additionally, consider getting yourself a pair of the best polarized sunglasses for kayaking to protect your eyes from those harmful UV rays.
Tip #3: Stay Hydrated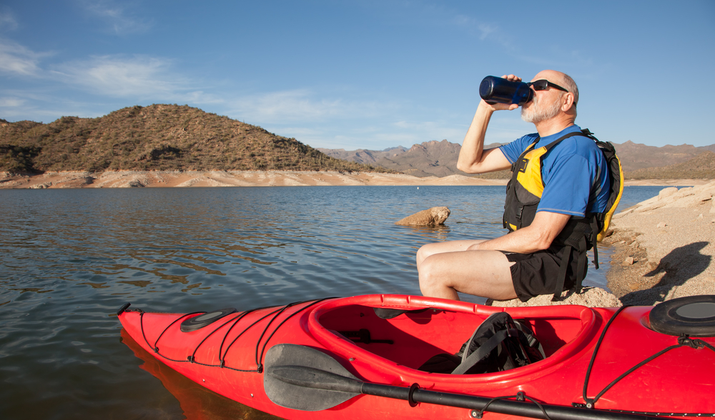 Photo by Jim David via Shutterstock
The Florida sun can take a lot out of you, but it is often the humidity that causes you to lose more water in sweat than you might imagine. The only way to replenish what you lose while kayaking is to make sure you are staying hydrated.
To do that, you should bring some kind of insulated water bottle with you every time you head out. The size of that bottle should depend on how long you're going to stay out – it is recommended to carry 0.5 to 1 liter of water for every hour you're planning to be out.
We also recommend an insulated water bottle because it will help you keep your water somewhat cool on hot Florida days. As an added tip, consider using a carabiner to somehow attach your bottle to your kayak so it doesn't float away if you capsize.
Tip #4: Pack Extra Layers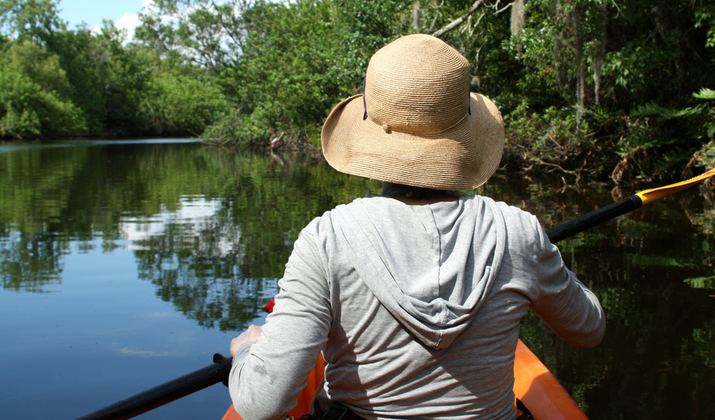 Photo by Buddhadl via Shutterstock
Yes it is Florida and yes that means the weather is usually spectacular…usually. All kayakers should know, however, that conditions can change when you're on the water and you're better to be prepared for anything.
That means bringing a dry bag packed with at least a couple of extra layers. Even if it's just a light rain jacket, it is better than needing a layer to be comfortable and not having it with you.
Tip #5: Tip Your Guide/Rental Staff!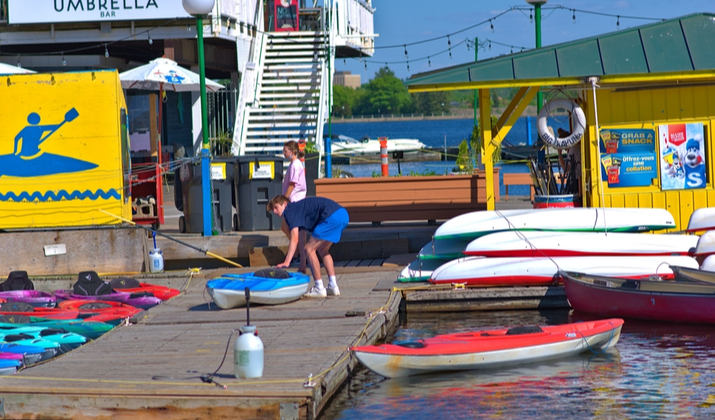 Photo by nomis_h via Shutterstock
Having worked as a kayak guide, I can tell you firsthand that it's an incredible job and you get to meet tons of wonderful people every season. That said, it also involves long days in the sun and moving lots of kayaks and other rental equipment around.
There are benefits to all that hauling (i.e. you will be in great shape by the end of the summer), but the days are always much more fulfilling when patrons express their appreciation for all your hard work.
If you notice someone going above and beyond to help you in and out of your kayak or otherwise make your clear kayaking experience in Florida extra special, don't hesitate to show your gratitude with a little tip on the side!
Final Thoughts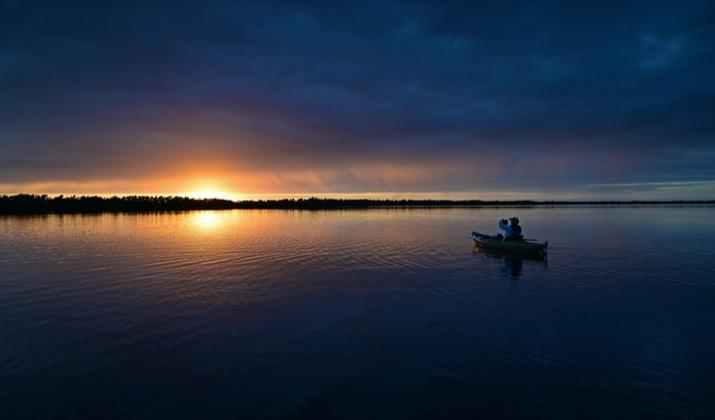 Photo by Francisco Blanco via Shutterstock
Clear kayaking in Florida is something that we think everyone should experience at least once in their lifetime. Manatees, after all, are protected under the Endangered Species Act and Florida is one of the only places in the US where you can see them in a natural environment.
We hope you have enjoyed the ultimate fun guide to clear kayaking in Florida and the tips we have provided in it. As always, we wish you the best of luck and the sweetest of kayaking adventures in the months and years to come!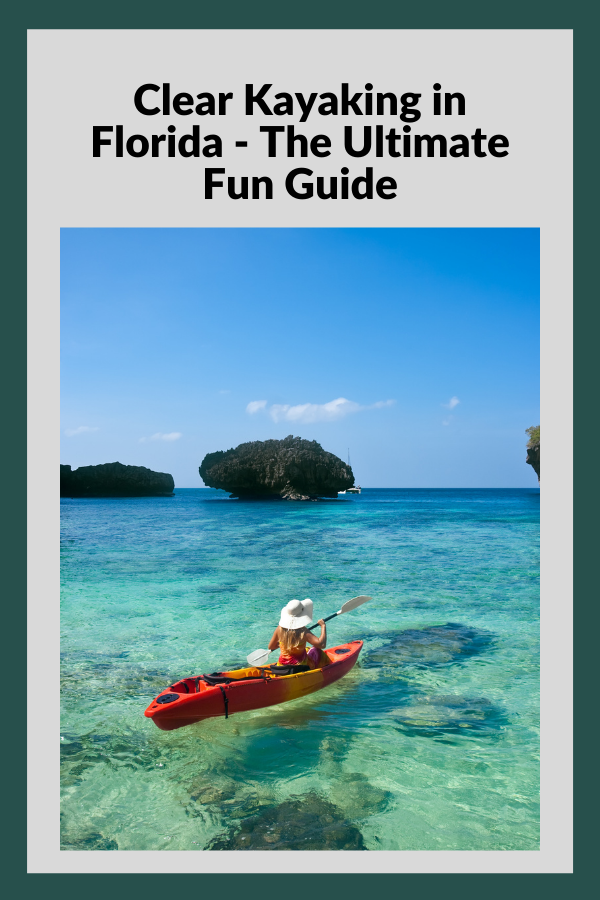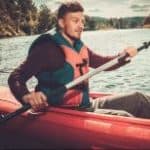 Author: Peter Salisbury
Pete is the Owner of KayakHelp.com. Born and raised in Cleveland, Ohio, he grew up kayaking, fishing, sailing, and partaking in outdoor adventures around the Great Lakes. When he's not out on the water, you can find him skiing in the mountains, reading his favorite books, and spending time with his family.