Carrying multiple rod and reel combinations is a must for kayak anglers once you gain significant experience. To keep everything organized and easy to handle on your kayak, however, you'll need one or more of the best kayak rod holders.
At the most basic level, there are two types of kayak rod holders you should know about: flush-mounted rod holders and swivel-mounted rod holders. Fortunately for you, we have included several of both styles in our reviews below.
If you are relatively new to kayak angling, you should also check out our reviews of the best fishing kayaks because most of them already come with rod holders. If you have a kayak that doesn't and you want to get creative, you might also like these DIY kayak rod holder ideas.
That being said, this guide will focus on detailing ten of the best kayak rod holders that you can mount or install on your kayak to give you the ability to carry extra rods. So let's get started!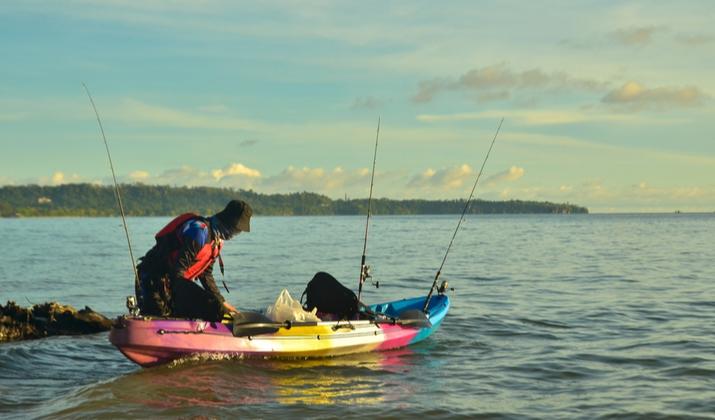 Photo by hkhtt hj via Shutterstock
Best Kayak Rod Holders
YAKATTACK Omega Rod Holder
Borogo Rod Holder Two-Pack
RAILBLAZA Rod Holder II
Bekith Powerlock Rod Holder Two-Pack
Scotty #282-BK Baitcaster Rod Holder
BigTron Fishing Rod Holder Bracket
RAILBLAZA Rod Tube with MiniPort Kayak Track Mount
PLUSINNO Rod Holders
YAKATTACK AR Tube Rod Holder
SeaSense Two Rack Rod Holder
Kayak Rod Holder Buying Guide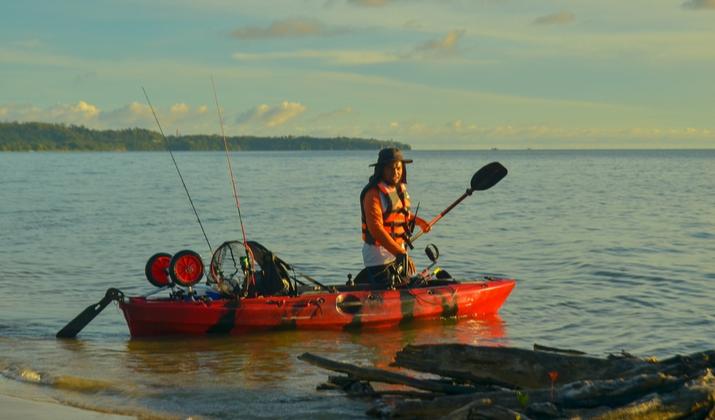 Photo by hkhtt hj via Shutterstock
Buying new kayak rod holders for your personal watercraft requires some consideration. So think about these factors before settling on the best kayak rod holders for your personal use.
Your Kayak
Start with considering the design and layout of your kayak and whether or not it can accommodate certain types of kayak rod holders. Here are a few questions to ask yourself:
Do I have gear tracks I can use to mount a rod holder?
Are there flat surfaces on your kayak that were designed for mounting rod holders?
Do you have slots for flush-mounted rod holders?
Where are the best places to mount rod holders on your kayak?
The answers to these questions will help you begin to narrow down your choices on the types and number of rod holders your kayak can accommodate.
Your Fishing Style
The types of fishing you do should also come into play when you are selecting new rod holders for your kayak. For instance, you will see below that certain types of rod holders are designed to fit select types of fishing rods.
Start by making sure the rod holders you select can accommodate your fishing rod styles. From there, consider whether you need a rod holder that can swivel 360 degrees or whether you'll be alright with flush-mounted rod holders.
Finally, simply consider the number of rod holders you want to add to your fishing kayak. How many additional fishing rods can you realistically carry without them beginning to get in the way of casting and general kayak use?
Additionally, consider whether you're going to use your fishing rod holders for trolling or whether they will be primarily used to store extra rod and reel combinations until you can actively use them to fish.
If you are looking for rod holders for the purposes of trolling, flush-mounted designs tend to be better because they keep your rods at a steep angle and make it easy to troll the line behind a pedal fishing kayak as its in motion.
If you frequently go kayak fishing in narrow creeks and streams with low-hanging trees or shrubs, having a swivel-mounted rod holder that also pivots up and down will be vital to your ability to get your fishing rods out of the way of upcoming obstacles.
Rod Holder Dimensions
Rod holder dimensions come into play when making sure that they can fit your fishing rods and keep them secure. The two most important dimensions to look at are tube length and inner tube diameter.
Tube length will tell you how much of the rod handle it will accommodate and whether or not the reel will be resting on the top of the tube when fully inserted. Ideally, you want the reel to remain 2-3 inches above the top of the rod holder so that it does not impact the reel's operation.
Additionally, you need to make sure the rod holder is wide enough for your fishing rods to fit. To make things as simple as possible, measure the width of the grip on your thickest fishing rod and then search for rod holders with an inner tube diameter that's wider than that grip width.
Mount Type
If your kayak is already equipped with gear mounting tracks or side rails, you are going to have the easiest time finding a number of fishing rod holders that are compatible with your setup. If not, you may need to consider drilling into the deck of your kayak to install a mount.
Drilling into a kayak should always be approached with caution. If it is done incorrectly, it can compromise your kayak's buoyancy and put you in a dangerous position when you are out on the water.
Find more tips on safely drilling into your fishing kayak in our article on DIY kayak rod holder ideas.
If you don't have gear tracks and you want to avoid drilling into your kayak to install a rod holder, your best bet is to get rod holders that you can mount on a milk crate or kayak cooler in the rear storage compartment of your kayak.
Another benefit of going this route is that you will maintain the ability to remove the cooler or crate if you don't need it. So if you use your fishing kayak for recreational paddling sometimes, you won't have a permanently-installed rod holder potentially getting in the way.
Thumbnail
Title
YakAttack Omega Rod Holder with LockNLoad Track Mount (Track Sold Separately)
Borogo Kayak Fishing Rod Holder, 2 Pack Kayak Deck Flush Mount Fishing Boat Rod Holders and Cap Cover for Kayak, Fishing Boat, Canoe and Fishing Tackle Accessory Tool
RAILBLAZA Rod Holder II with MiniPort Track Mount Kayak Rod Holder Track Mount
Bekith 2 Pack Adjustable Powerlock Rod Holder with Combo Mount, Black Finish
Scotty #282-BK Baitcaster Rod Holder w/Gearhead & Track (Black)
Best Kayak Rod Holder Reviews
Check Price on Amazon
The Omega rod holder comes with a Lock N' Load mounting base that is designed for kayaks with gear tracks installed on the gunwales. If your kayak doesn't already have tracks, this rod holder is compatible with YAKATTACK's GT175 Generation II GearTrac mount tracks.
You can buy this rod holder without a mounting track if you already have one, but this rod holder can also be purchased with a four-inch, eight-inch, or 12-inch mounting track. This rod holder works with many types of fishing rods, including spinning, casting, fly fishing rods, and larger conventional reels.
It comes with a 360-degree rotating collar that captures the reel so that you can quickly secure it and be on your way. It also boasts multiple modes that gives you control over how you stage rods between uses or lock them into place for added security.
Check Price on Amazon
This two-pack of rod holders is a great option for those of you that want to install new flush-mounted rod holders, or replace old ones, in your
fishing kayak
. Both rod holders have caps to keep them from filling up with water when you're not using them.
They come with all the screws and hardware you need to install them on your kayak, but keep in mind that these rod holders are best for kayaks that are made with cut-outs for rod holders. The tubes themselves offer a 45-millimeter inside tube diameter and a 7.5-inch tube length.
Each rod holder comes with three screw holes to provide plenty of security when you install them. The top of the holder is also designed to provide a 30-degree angle that slants your fishing rod slightly backwards.
Check Price on Amazon
The RAILBLAZA Rod Holder II is a very similar design to the first YAKATTACK rod holder on our list. It is designed for kayaks with mounting tracks on the gunwales, but this rod holder doesn't come with a mounting track base if you need one.
Still, it works with spinning reels, baitcasters, offshore fishing rods, and fly fishing reels. It also features a rotating collar that secures your rod and prevents the possibility of losing it when a large fish strikes.
The entire rod holder also rotates a complete 360 degrees to provide a ton of trolling or bobbing flexibility. It's compatible with all kayak tracks and features a compact design and tool-free operation.
Check Price on Amazon
This two-pack of rod holders comes with two different combo mounts: one can be screwed directly onto a flat surface on the deck of your kayak and the other is designed to clamp on a kayak with gunwale rails.
The holders themselves are completely adjustable up and down, as well as rotating a full 360 degrees around. The side of the holders have spring-loaded tension knobs that make it easy to quickly adjust the position of the rod.
All of the hardware used on these rod holders is stainless steel, which makes it highly durable as well as resistant to corrosion. The cool part about the two mounting options that come with these rod holders is that they can be quickly removed from either to make this kayak easier and more streamlined to transport.
Check Price on Amazon
The Scotty #282-BK is another swivel-mounted rod holder that is designed for kayaks with gear tracks for mounting. This rod holder does come with its own track mount that can be screwed into a flat location on your kayak, if needed.
This rod holder is designed for only baitcasters or spinning reels. For baitcasting reels, it offers a cushioned cradle for the rod to sit in and for spinning reels there's an open front slot to accommodate the spinner.
Plus, the rod holder has an open bottom that is designed to accommodate trigger grips. For the purpose of security, there's a soft latching strap that snaps over the top of baitcasters or under the bottom of spinning reels.
This rod holder also comes with Scotty's Gearhead Track Adapter that slides into place quickly and easily. This adapter locks down the rod holder (or other Scotty accessories) and allows you to quickly change the position of the rod holder with a simple twist.
Check Price on Amazon
This BigTron fishing rod holder bracket is made for being installed on the outside of a
kayak tackle crate
or a
milk crate
. They are made of a high-quality propene polymer material that is durable enough to be used in freshwater or saltwater environments.
The cool part about this rod holder bracket is that it can also be installed in your truck or on a garage wall if you need to improve your fishing rod storage in more places than just on your kayak.
It holds three fishing rods and the horizontal slats actually have openings that help you secure certain types of fishing tackle, such as spinning lures. Each rod holder is about 10.63 inches long, the inner tube diameter is 1.9 inches, and the entire bracket is roughly 12.4 inches wide.
Check Price on Amazon
This version of the RAILBLAZA fishing rod holder comes with its own track mounting base that makes it compatible with kayaks that have pre-installed gear tracks that are compatible with RAILBLAZA products. If your kayak does have these kinds of tracks, you can easily install this rod holder without any additional tools.
The UV-stabilized reinforced fiberglass plastic rod holder can accommodate fly fishing rods, spinning reels, and baitcasters. In addition to being compatible with kayaks with tracks, this rod holder will also work on many of the best bass fishing boats, such as options from Tracker, Crestliner, and Lund.
The Track Loader mounting base is also compatible with many other RAILBLAZA StarPort accessories. So you will have the flexibility to remove the rod holder and install a more useful accessory for various types of kayaking.
Check Price on Amazon
The PLUSINNO rod holders are designed with a clamp on the bottom that makes them easier to secure to
clear kayaks
or even
canoes
. They actually offer two different rod holders designed with smaller or larger clamps.
So you will have the option of getting the design with the smaller clamp with a maximum clamp opening of 1.97 inches. If the area you plant to clamp your rod holder onto your kayak is wider, the other option comes with a maximum clamp opening of 4.75 inches.
Two-packs of both of these rod holder designs are available as well, and both options are made with heavy-duty ABS plastic that offers great impact and corrosion resistance. The rod holder itself can accommodate spinning reels, fly fishing rods, and baitcasters.
Once clamped into place, they rotate a full 360 degrees to provide plenty of flexibility. A rotary button on the side also controls the rod holder's movement up and down and can be engaged to secure the holder in place.
Check Price on Amazon
The YAKATTACK AR tube rod holder has one of the most rugged appearances of any rod holder on the market today. Luckily, its performance also matches its rugged appearance.
It is compatible with a GearTrac mounting system, but it doesn't come with a mounting solution, which means you'll have to double-check that it will work with your kayak. It does, however, allow you to secure spinning and casting rod and reels.
The tube holder and down stem are made from marine-grade polymers for strength and durability. With the compatible GearTrac, the Lock N' Load mourning base attached quickly with the use of a single Mighty Bolt.
That being said, you don't have to worry about this fishing rod holder coming loose or rotating accidentally, even if you get a strike from a potentially record-breaking fish.
Check Price on Amazon
Finally, this SeaSense rod holder rack is another design that is made to secure to a kayak fishing crate or a
DIY milk crate
. If you have one of the
best coolers
for kayak fishing, you might also be able to secure this rod holder rack to the exterior of your cooler.
If you endeavor to build your own cooler for kayaking, installing one of these rod holders on the outside would also be beneficial for your fishing needs. The rack is made of polypropylene material and boats a single-piece construction that eliminates concerns over hinges or other weak points.
Each rod holder is about 10.875 inches long and the holders are four inches apart. The entire rack is 12.5 inches wide by 2.5 inches deep and the horizontal slats include a pliers holder and knife holders between the rod holders.
This UV-stabilized rack is crack-resistant and can easily be cleaned with warm water and a mild detergent. It also comes with all the mounting hardware you need to secure it in place quickly and easily.
Final Thoughts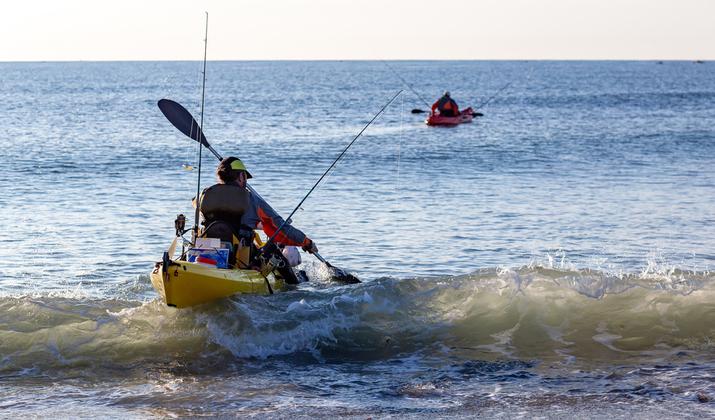 Photo by Robalito via Shutterstock
Now that you have these options at your disposal, it's time to install one and get back out on the water. Whether you're fishing somewhere inland or you are heading out to do some saltwater kayak fishing, these rod holders will allow you to take more setups with you.
We hope you have found these reviews useful and you have a new rod holder in mind that you'll be adding to your kayak shortly. Enjoy your angling season!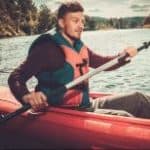 Author: Peter Salisbury
Pete is the Owner of KayakHelp.com. Born and raised in Cleveland, Ohio, he grew up kayaking, fishing, sailing, and partaking in outdoor adventures around the Great Lakes. When he's not out on the water, you can find him skiing in the mountains, reading his favorite books, and spending time with his family.