The kayak paddle float is a small and innocuous piece of gear that can make a real difference to your day in a range of different situations.
In its most basic form, the kayak paddle float is an inflatable, foam flotation device that attaches to the end of a paddle. It can also allow you to use your paddle as an outrigger, providing the support you need to re-enter your boat after a capsize.
The utility of the humble paddle float doesn't end there, though! You can use your handy float for a range of things, from vital kayak stabilization in rough waters to a comfortable cushion.
In this article, we'll be looking at exactly what you need a paddle float for and what to look out for when buying one. We'll also review some of the best paddle floats on the market.
Best Kayak Paddle Floats
What is a Kayak Paddle Float Used For?
Stability
The primary use for a paddle float is to provide additional stability and to allow for safer entry or reentry into your kayak. It's essentially a piece of safety equipment, so it should be considered part of any kayaker's core gear.
By attaching either a foam or inflatable float to the end of your paddle, you can turn it into a temporary outrigger that will give you the stability to stay upright or the leverage to get back into your boat.
Flotation
When not in use keeping your kayak stable, your paddle float can be pressed into service as a makeshift flotation device. This is especially true of foam paddle floats, which do not need inflation.
If you're worried about your dry bag full of mobile phones and wallets disappearing under the waves, attaching your paddle float to it will give you the necessary peace of mind.
Training
Practicing your wet exit and reentry maneuvers is a great idea if you want to stay safe when you're out paddling. Having a paddle float on hand can make a real difference when perfecting maneuvers like the Eskimo roll by providing extra buoyancy and stability to allow you to flip your kayak back over.
Makeshift Float Bags
Float bags are used to prevent water from entering your kayak in the unfortunate event that you capsize.
If you don't have a float bag, or just don't have the room to fit one into a smaller kayak, your paddle floats can serve as a makeshift float bags. This will prevent your kayak from taking on too much water and potentially sinking.
A Spare Cushion
Not all kayaks are as comfortable as they could be, especially if you happen to be borrowing or renting one. Since you're probably packing your kayak float as a core piece of safety equipment, there's no reason you shouldn't also make use of it as a makeshift cushion.
You can even use your extra cushion to keep you comfortable around the campfire at night while kayak camping. Just be sure to check the ground for thorns if you're using an inflatable model.
Foam or Inflatable?
Before heading out to buy your new paddle float, you should try to determine if you'd prefer a foam model or an inflatable version.
While it might not seem like a huge distinction, there's a significant difference between foam and inflatable paddle floats, and it's worth knowing the pros and cons before you purchase one.
Foam
Closed-cell foam floats are the easier of the two types of float to use, because they don't require inflation. On the flip side, they're not quite as buoyant as an inflatable paddle float. Since you'll probably be using your float when you're in some degree of distress, like a capsize, you may prefer a foam float for its ease of use.
The downside of a foam paddle float is that it can be bulky, and you will need somewhere to store it. This might not be a problem in a 14-foot touring kayak, but for 'yakkers whose space is at a premium, the more stowable inflatable options might be a better fit.
Inflatable
Inflatable kayak paddle floats have increased buoyancy at a cost: ease of use. In order to use one of these paddle floats, you'll need to inflate it first.
Unless you happen to have one inflated just in case of an accident, that means you'll be inflating it in the water–something many inexperienced kayakers would prefer to avoid. The benefits of using an inflatable paddle float are its extra buoyancy and the ability to easily store it when it's deflated.
Best Kayak Paddle Float Reviews
The Harmony Blade Aid Paddle Float is our pick for best kayaking paddle float because of the handy little features that make it superbly easy to use, especially under challenging conditions.
Made of durable urethane covered nylon, the Harmony Blade Aid Paddle Float is designed specifically for use in salt water and resists the corrosive effects of salt water and UV rays.
When you're in the water and need it to inflate in a hurry, the auto valve systems allows you to achieve this quickly, and with one hand. As the float inflates, it self-attaches to the paddle, meaning you can keep one hand free to remain in contact with your kayak.
PROS
Auto-valve system means one-handed inflation
Saltwater and UV ray resistant
Self-attaches to the paddle
Deflates for easy storage
CONS
Needs to be inflated before use
Not double-chambered
The NRS Foam Paddle Float is ideal for kayakers looking for a simple and easy-to-use paddle float that's ready to go at a moment's notice. Made from durable EPE foam, the NRS Foam Paddle Float won't hold water.
It's also more than capable of taking a beating without falling apart. The outer casing of the NRS Foam Paddle Float is made from a bright orange, 400-denier nylon, and the addition of strips of reflective tape means it stays visible even in low light conditions.
The only downside to the NRS Foam Paddle Float is that it is rather bulky, making storage a challenge on smaller boats.
PROS
400-denier nylon outer
EPE foam construction
Reflective tape for added visibility
The Riverstones Paddle Float has dual air chambers to maximize its buoyancy. It comes equipped with twist close air valves to ensure that there is no air leakage once filled.
To make attaching the Riverstones Paddle Float as easy as possible, it's designed with a mesh pouch that fits over the paddle. It also features a quick release clip, ideal for getting it into place when you're in the water.
To make sure you can find your paddle float in an emergency, the Riverstones Paddle Float is brightly colored for maximum visibility. The downside of the Riverstones Paddle Float is that its twist close valves require both hands to use.
PROS
Quick release clip
Dual air chambers
CONS
Twist close valves require both hands
The Beluga Outdoor Gear Microcell Standard Paddle Float lets you sandwich your paddle between two slabs of Microcell foam that are wrapped in durable, 200-denier nylon and a PVC mesh that allows for quick draining.
The large size of the Beluga Outdoor Gear Microcell Standard Paddle Float means it provides excellent stability. It's ideal for giving you the support you need to get back into a kayak in rough water.
The same size that makes it so useful during a capsize, however, makes it a little difficult to store in smaller kayaks.
PROS
Large and very stable
Durable 200-denier nylon outer
PVC mesh for quick draining
CONS
Bulky and difficult to store
The Seattle Sports Paddle Float is a simple but effective, double-chambered, inflatable float. Its extra-large capacity means you'll have all the extra stability you'll need to get back into your kayak or keep yourself level in rough conditions.
If you're concerned about your paddle float getting blown away in windy conditions, then worry no more. The Seattle Sports Paddle Float comes with its own tether to keep it right where you need it.
When you do need it, the Seattle Sports Paddle Float has quick release buckles that make it simple to attach and detach from your paddle. That's just what you want when you've taken an accidental swim.
PROS
Easy to attach
Inbuilt tether
Double-chambered
Check Price On Amazon
We've chosen the Harmony Blade Aid Paddle Float as our best kayak paddle float because it combines the extra buoyancy of an inflatable model with a single-handed auto valve that makes it almost as easy to use as a foam model.
Made from urethane covered nylon and proofed against erosion by saltwater and UV rays, the Harmony Blade Aid Paddle Float makes a solid addition to any 'yakkers kit, and is durable enough to stay part of that kit for years to come.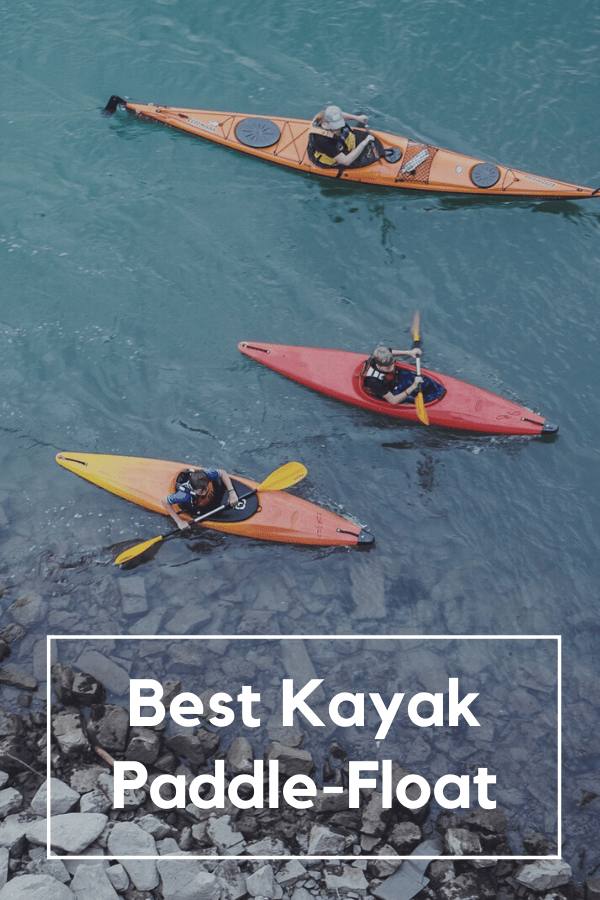 Author: John McCloy
John is a professional copywriter, fencer, and paddlesports fanatic based in the UK. When he's not out on the water, he can usually be found convincing new people to try kayaking, pretending to be Zorro or climbing what passes for mountains in England.