Technology has made it a lot easier to do outdoor sports, including kayaking. No longer do you have to take with you a printed map and scrutinize it to find your physical location and figure out where to go.
The days of using guidebooks to find launch spots are over as well. These days, you can open an app on your phone, find a launch spot near you, and then get driving directions to it.
There are many iOS apps that make kayaking easier and more fun. From GPS apps to trackers to other digital tools like compasses, these apps will help you improve your skills and stay safe while on the water.
Let's find out more about these kayaking apps for your iPhone.
Best Kayaking Apps for iPhone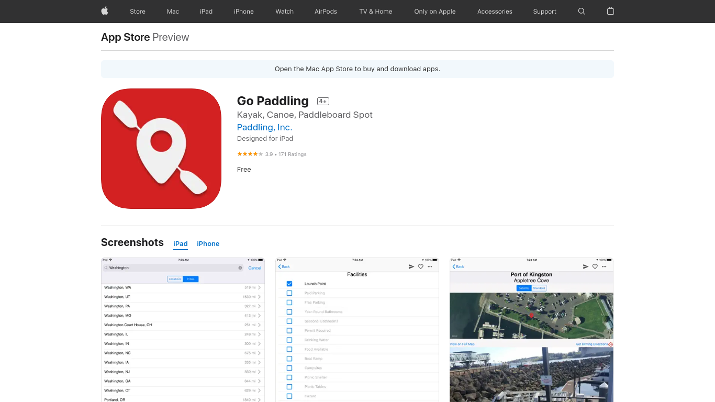 If you want to explore new kayaking spots, Go Paddling is one of the most essential apps to have. You may also know it as Launch Sites, its old name.
The app has a list of over 25,000 locations where you can go kayaking, canoeing, or stand-up paddleboarding.
You can search for spots in your city or any other city you want to travel to. Alternatively, you can use the map view to find sites near you and get driving directions to them.
Not only that, but you can browse comments other kayakers have left, in which they share their experiences or thoughts about launch spots.
That will help you get an idea of ease of access, location, what the water conditions are like, etc.
Users can plan trips and share them with family and friends. If you find a new spot that is not yet listed on the app, you can create a listing and upload photos.
To make it easier to plan trips, you can add potential destinations to your favorites list.
The app is entirely free, with no extra costs.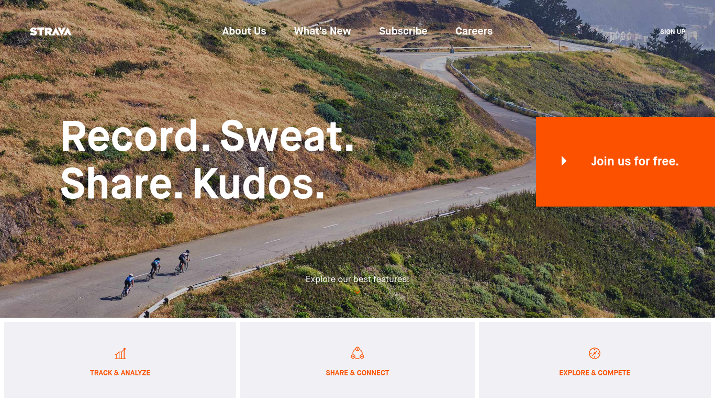 Strava is a fitness-tracking app designed for hiking, running, and cycling, but it's useful for kayakers and stand up paddleboarding as well.
When signing up, the app will ask you which activity you are interested in. Scroll down until you find "Kayak."
You can also select "Row" or "Stand Up Paddle."
When you start tracking your activity, the app will again ask you to choose a sport. You can select Canoe, Kayak, Row, Stand Up Paddle, Surf, etc.
The app will track the total time spent kayaking, the distance you have gone, and your average speed. If you have a heart rate tracker, you can connect to it via Bluetooth.
Once you're done with your trip, you can save your activity log, add notes, change the saved map type, and more. Your activity will be kept on your feed – Strava gives you a social media feed like Facebook.
You can follow friends and see their activity, react to their saved activity posts, and comment on them.
If you have the premium version, you can see yourself on the leaderboard and see how your activity measures up to other users in your age range.
You can also find workout buddies to share your stats with – use your contact list or Facebook account to quickly find friends who are also on Strava.
There are also groups and clubs on Strava that you can join to interact with other users and take part in group challenges.
If you combine hiking with your kayaking trips, you can browse hiking routes added by the community.
Paddle Logger is a logging app explicitly designed for paddle sports, including kayaking. Only available for iOS, you can use it on your iPhone or even your Apple Watch.
Just press the big button to start tracking your paddling activity. The countdown feature is helpful if you want to safely store your iPhone in a waterproof case before you actually begin, and Siri voice control is available as well.
You can set the countdown for as little as five seconds and up to five minutes.
The app will track details such as:
Distance
Total trip duration
Average speed
Max speed
You will also see your trip history on the map, displaying exactly where you have gone. All of your trips will be saved in your logbook.
With the premium version, you can also create custom folders to organize different types of trips and challenges. Other features of the premium version include being able to drop pins on the water, view more in-depth stats, view satellite trip maps, see detailed graphs, and more.
Race Mode allows you to use preloaded distances to test yourself and push yourself to your limits.
One cool feature is PaddleLIVE, which keeps your friends and family notified of your precise location, sort of like WhatsApp's live location feature.
Just choose which contacts to share your location with. You can turn location sharing on for an hour, an hour and a half, or two and a half hours.
PaddleLIVE also has a one-click button that allows you to contact emergency services.
Race Mode and PaddleLIVE are only available on the premium version.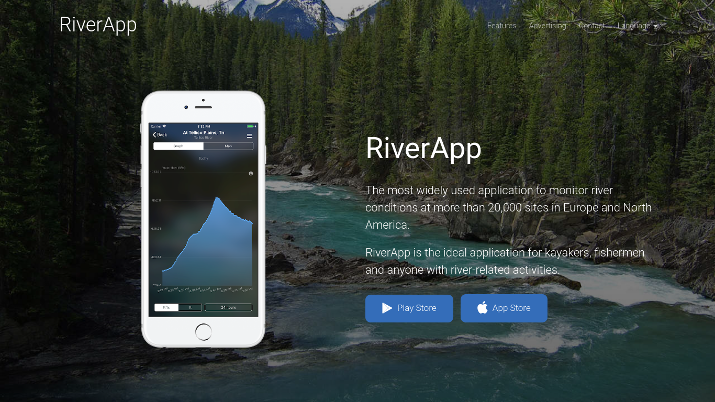 RiverApp is one of the most essential apps you should download, as it will help you stay safe. It allows you to monitor river levels across North America and Europe.
It shows the water levels of 15,000 rivers, along with a map view of kayaking routes that you can use. With 2,500 river sections for paddlers, you will never run out of places to go kayaking.
You can see the navigability of different river sections, what the water levels are like, and even what the water temperatures are like. Furthermore, the app displays navigability issues like fallen trees and other hazards.
Users can set up custom alarms and get notifications about potential navigability issues, and you can also create a favorites list, so you can quickly browse the water conditions of your favorite river stretches.
It also includes forecasts from top hydrological institutes from 15 countries, including the US and Canada, allowing you to plan your trips in advance. You can also go back and see data from previous years, allowing you to get a better idea of what the average water conditions are like.
Another great app is Gaia GPS. While mainly geared towards hikers, campers, and cyclists, it also has valuable maps for kayakers.
For example, the BRMB Paddling Map has over 56,000 miles of paddling routes across Canada.
More importantly for kayakers living in the United States, the new Wild and Scenic Rivers map layer shows the best spots in the Wild and Scenic Rivers of the US for kayaking, hiking, fishing, and other boating activities.
The National Wild and Scenic Rivers are sections of waterways designated by Congress as Wild and Scenic. These sections enjoy certain protections, but they're stunning and great for kayaking.
Covering over 12,000 miles of over 200 rivers in the United States, you can find out if certain sections of your favorite routes are protected by Congress and discover free-flowing rivers to kayak on.
Read about the best 15 rivers for kayaking in the United States.
You will need the premium version of Gaia GPS to use this layer. The premium version will give you access to hundreds of maps, weather and terrain features, and the ability to use maps offline.
Alternatively, you can check out the no-cost features of Gaia GPS. The free version contains basic maps that can help you plan a hiking or camping trip in conjunction with your kayaking trip.
You can create custom routes and track your activities.
One cool feature of Gaia GPS is the ability to leave "breadcrumbs" while hiking, which will make it easy to retrace your route and get back to where you came from.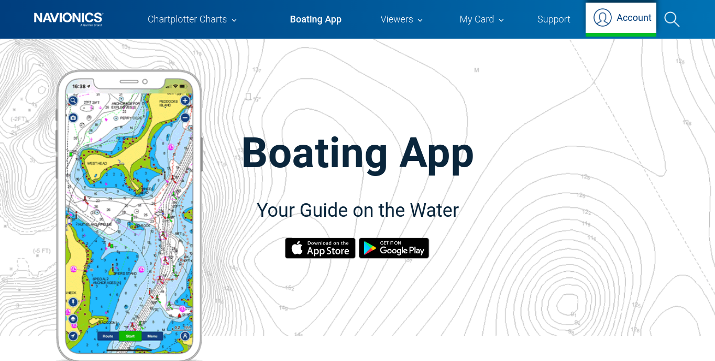 This app gives you nautical charts that allow you to learn more about the waters you're traversing, including marine services, safety depth contours, and more.
It has many layers you can use, such as the SonarChart image overlay, which gives you a better view of what's above and below the water based on satellite imagery. The Relief Shading overlay gives you a better understanding of the water bottom structure.
You can use these maps to find better fishing spots, for example, or to stay away from shallow waters.
There are also US government charts from the NOAA that cover the United States, Canada, Mexico, the Caribbean, and more.
There are other valuable features as well. For example, the AutoGuidance + TM Technology allows you to automatically plan routes from dock to dock based on charts.
With real-time weather alerts and updated forecasts, you can avoid kayaking or fishing on days when the waters will be dangerous. Read about the best weather conditions for kayaking.
If you are fishing while kayaking, you can use markers to mark the spot you found a good catch and then go back there later.
You can share your markers and tracks with friends, and you can even share your live location for safety purposes. Furthermore, there is a large and active community of boaters on the app who edit information and upload navigational aids to help everyone else out.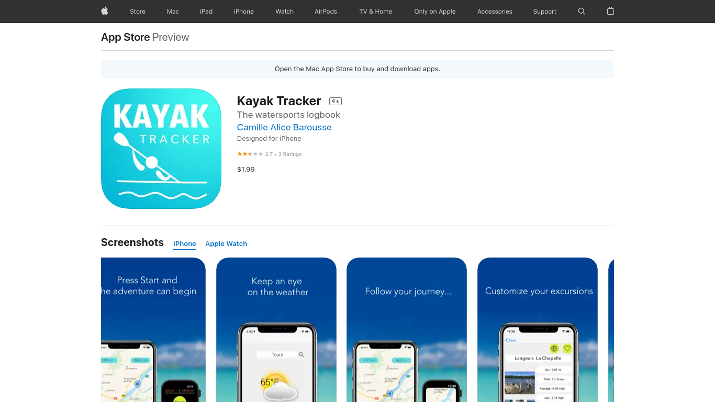 Kayak Tracker is a watersport tracking app for people who enjoy kayaking, canoeing, rafting, stand-up paddling, and more. It allows you to log your trips, discover your distance traveled, and more.
Other data that the app tracks include total journey time, maximum speed, average speed, and altitude difference. Furthermore, it provides weather data for where you currently are and where you want to go, helping you better plan your journeys.
While you can use this app without an Apple Watch, it will work better with an Apple Watch, allowing you to track your journey on your watch. It also integrates with Apple Watch to track your cardio data.
The app doesn't require you to create an account to use it, and you can use it in the background with minimal battery usage. Note that it's for iPhones only – it is not yet optimized for iPads.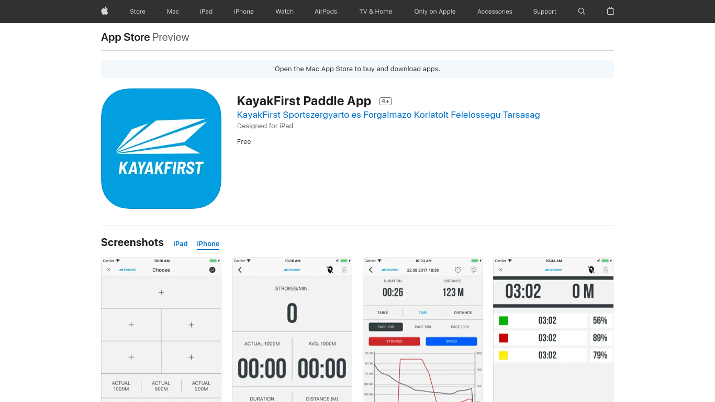 KayakFirst Paddle App is an ergometer and tracker for watersports, including kayaking. You can track your strokes per minute, pace (for 200, 500, and 1,000 meters), distance, trip duration, average speed, and more.
You can access helpful charts that help you get a better idea of the ups and downs of your trips and how your speed, stroke speed, and other factors have changed over time.
When signing up, the app will ask you to complete a short form with information about yourself (such as your weight), the type of watersport activity you will be doing (such as kayaking or canoeing), and other basic information.
The app also allows you to create a custom interval training plan, which you can put on your calendar.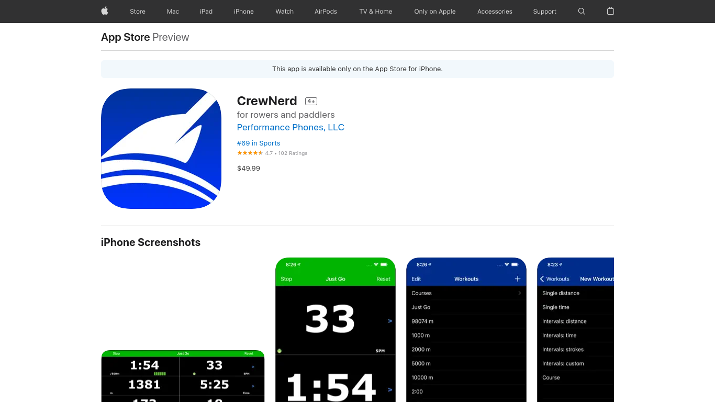 CrewNerd is a fantastic app that is great for athletes or anyone who wants to track their kayaking performance and get better at rowing and paddling.
It uses your phone's accelerometer to detect your stroke rate and how much bounce and stern check you produce while kayaking. It also calculates speed, pace, and distance traveled.
Here are some other things you can track via the app:
Stroke count
Elapsed time
Heart rate
Interval count
Direction
Meters per stroke
And more!
However, CrewNerd sets itself apart from most other tracking apps by not only tracking your performance in real-time but allowing you to send that data to your coach, over the internet, in real-time.
You can also stream your workout data via any web browser using the CrewNerd Viewer online.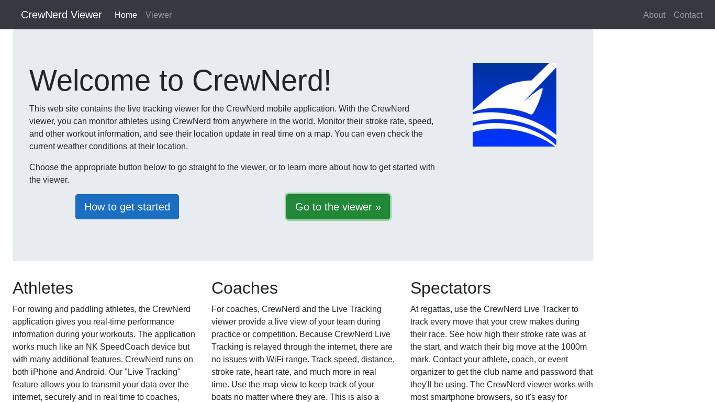 As a coach, you can keep track of all boats on your team and see their live stats. You can also see where each one is on the map.
In the Workouts tab, you can find pre-made workouts to follow. Furthermore, you can create your own custom workouts based on distance, strokes, and time.
These workouts allow you to challenge yourself. You can set a countdown timer before the workout starts, or you can choose for it to start automatically when you first start paddling.
In addition to workouts, you can create custom courses with specified start and end lines on the map. The app will automatically start and stop tracking your activity at the defined lines.
You can export your data in different formats (including CSV), upload it to other apps like Strava, or simply view it in the workout log.
Voiceover support is available for visually-impaired individuals.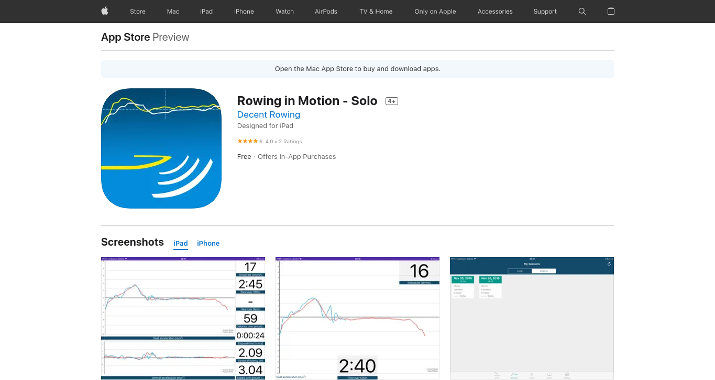 Rowing in Motion – Solo is an excellent app to use if you want to improve your rowing technique. It allows you to track your boat's acceleration, speed, stroke rate, and other metrics.
The app gives you live feedback on how you can improve your rowing technique and how efficient you are at moving your boat forward. After recording a rowing session, you can also upload it to the website to get detailed analytics.
With graphs, custom data displays, and a feature that turns your boat acceleration into a sound, this app gives you all you need to become a better athlete.
The app is superb for athletes working with coaches, as you can transmit live data using mobile Wifi (without an internet connection) to your coach if they also have the app installed on their phone.
They can see a real-time video showing acceleration data and more, allowing them to help you improve your rowing technique.
While this app is designed for athletes working one-on-one with coaches, there is a separate app, Rowing in Motion – Teams, that is intended for clubs, squads, and groups of people working together with a coach.
Furthermore, the app allows you to create training workouts with custom time and rest intervals, target distances, and target stroke rates.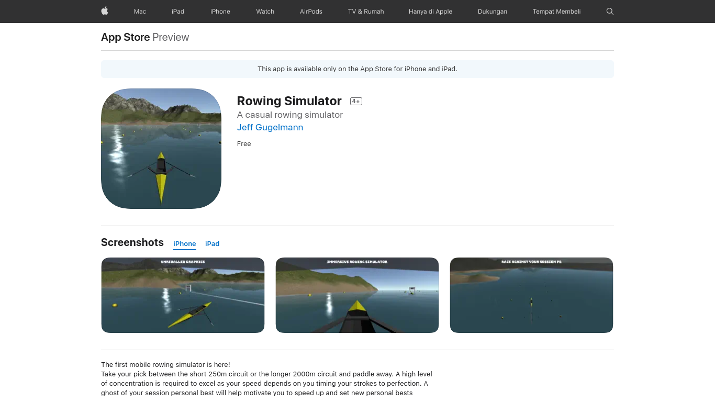 Is it raining outside? Do you long to go kayaking, but the weather is too harsh, or you simply don't have the time?
Rowing Simulator is an app that simulates a kayak trip right on your phone. You can be at home and enjoy a virtual kayaking experience from the comfort of your bed.
The game allows you to choose between a 250-meter circuit and a 2,000-meter circuit. With incredible graphics and challenging courses that require you to time your strokes to precision, this app provides plenty of fun to kayaking enthusiasts who can't get out on the water for whatever reason.
Paddle Paddle is an iOS tracking app that allows you to track your kayak trip on your phone, monitoring data such as:
Maximum speed
Average speed
Pauses
Paddling pace
It also shows you the weather, and you can set a target destination on the map, and the app will guide you toward that target.
One of the cool things about this tracker is that when you view your trip history, it uses color coding to indicate your speed. Green lines indicate faster kayak speeds, while red lines indicate stretches in which you were going slowly.
You can export your data as an infographic or TCX file, or upload it to Strava.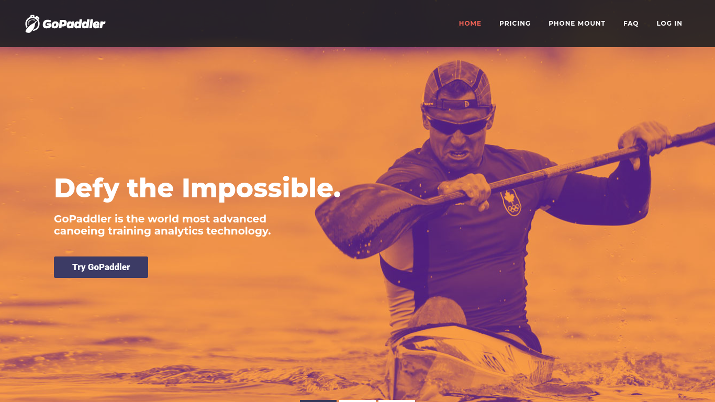 GoPaddler is an app designed for athletes working together with coaches to improve their kayaking skills. The app allows you to track your performance and log your kayaking sessions, including:
Duration
Total distance
Average speed
Average stroke rate
Average stroke length
There are charts displaying your performance and speed during the trip. As a coach, you can not only view logged data but even see live data from your athletes as they kayak.
Since the app uses your smartphone's accelerometer and GPS, you don't need any additional hardware to use it.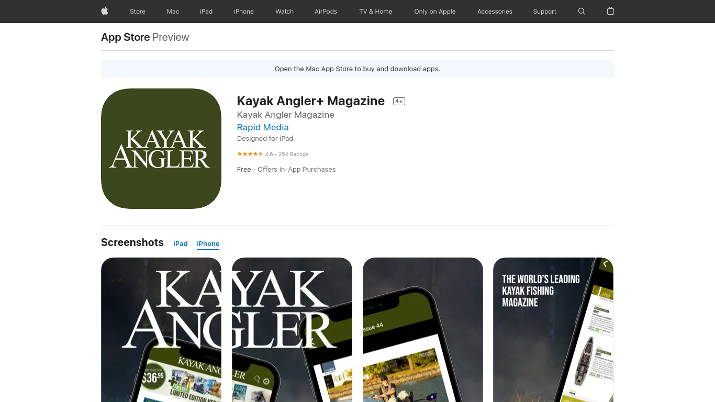 Do you love kayak fishing? Kayak Angler+ is a must-read magazine for all kayak and fishing enthusiasts.
It is packed with stories, updates, tips, and guidance that will help you plan trips and become a better kayaker in general.
Furthermore, the magazine features buying guides, helping you find the best kayak paddles, the best life jackets, the best fishing kayaks, the best canoes, the best sit-on-top kayaks, the best sit-in kayaks, and more.
We also have helpful buying guides, all of which I have linked in the previous paragraph.
The Kayak Angler+ Magazine app features the best fishing stories and kayaking articles from the print edition of the Kayak Angler magazine. It also gives you digital extras, like videos and photos.
You can purchase an annual subscription or buy current or back issues.
A yearly subscription costs only $11.99 (see the app for updated pricing), and it gives you access to premium content on the app.
Whether you are new to kayaking or are an expert kayaker, you will learn a lot from reading The Kayak Angler, so download the free app today.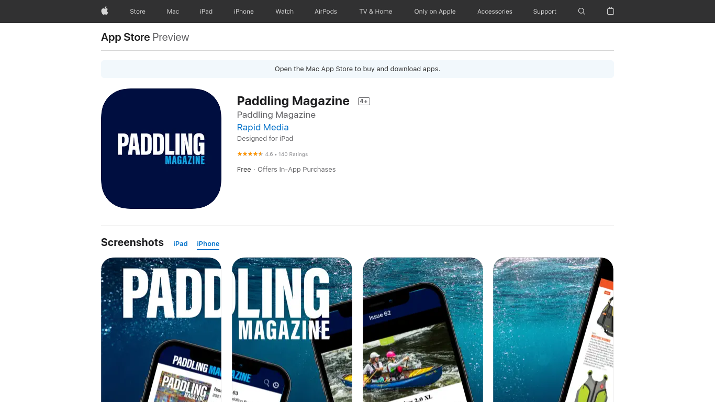 Another fabulous magazine is Paddling Magazine. It focuses on all things paddling, including kayaking and canoeing.
While it's published by Rapid Media, the same publisher as Kayak Angler, it has less of a focus on fishing, although kayak fishing enthusiasts will find plenty of helpful information as well.
It's excellent for people who love camping, as it will inspire you to go on multi-day camping trips and day trips as well. In the Trips section, you can find trip reports, recommended destinations, and paddling trip guides for different types of trips, including:
Whitewater
Canoeing
Fishing
Paddleboarding
And more
In the Gear section, you can find reviews and buying guides for the best kayaking accessories, apparel, and more.
Paddling Magazine will help you improve your kayaking skills, learn new tips, and get advice from expert writers.
Built-in iPhone Apps for Kayakers
Your iPhone also has pre-installed apps that are useful to you as a kayaker. The most important one is the Compass app, which displays your bearing, coordinates, and elevation.
It's crucial to have a compass, as it can help you find your way back if you get lost.
Another helpful app is Apple Maps, as it can help you find directions to launch spots.
Wrapping It Up
The apps on this list will help you enrich your knowledge about kayaking and improve your performance by tracking your kayaking activity.
If you have limited space on your phone, download one tracking app and Go Paddling so you can track your activity and find new launch spots.
If you loved this article, share it with a friend!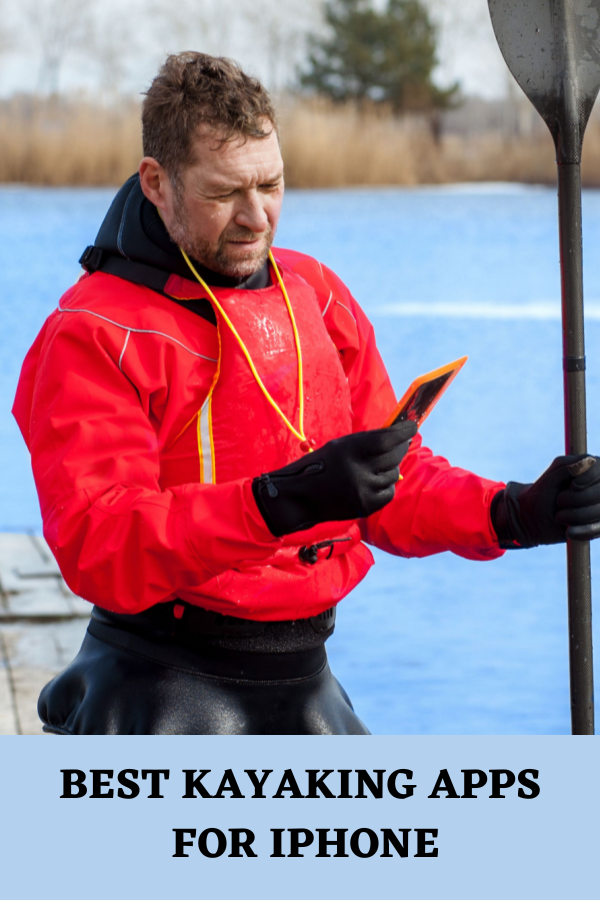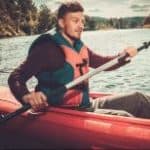 Author: Peter Salisbury
Pete is the Owner of KayakHelp.com. Born and raised in Cleveland, Ohio, he grew up kayaking, fishing, sailing, and partaking in outdoor adventures around the Great Lakes. When he's not out on the water, you can find him skiing in the mountains, reading his favorite books, and spending time with his family.