Fishing kayaks are naturally a bit heavier than most other types of kayaks. That doesn't mean they have to be super tough to maneuver and transport, especially if you choose one of the best lightweight fishing kayaks.
For obvious reasons, many of the models we've reviewed here are of the inflatable variety. They are naturally much lighter than rigid, rotomolded kayaks but they are also durable enough to handle the sharper objects that often go along with your ideal kayak fishing setup.
Inflatables also have the benefit of packing up into a more compact package so that they are easier to store. That said, not all of the lightweight fishing kayaks we've chosen are inflatables.
To use a standard metric, we are defining "lightweight kayaks" as those that are 50 pounds or less for the purposes of this article. We hope you enjoy the kayaks we've chosen and take a few moments to read through the selection tips on our buying guide as well!
Thumbnail
Title
Intex 68309EP Excursion Pro Inflatable 2 Person Vinyl Kayak with Aluminum Oars, Fishing Rod Holders, and High Output Pump for Rivers, Lakes, & Ocean
Elkton Outdoors Steelhead Inflatable Fishing Kayak - One-Person Angler Blow Up Kayak, Includes Paddle, Seat, Hard Mounting Points, Bungee Storage, Rigid Dropstitch Floor and Spray Guard
Pelican - Basscreek 100XP Fishing Kayak - Sit-On-Top Kayak - Lightweight one Person Kayak - 10 ft,Olive Camo
Pelican Sentinel 100X Angler Fishing KayakSit-on-Top KayakLightweight one Person Kayak9.6 ft
Sevylor Colorado 2-Person Inflatable Fishing Kayak with Paddle & Rod Holders, Adjustable Seats, & Carry Handle; Kayak Can Fit Trolling Motor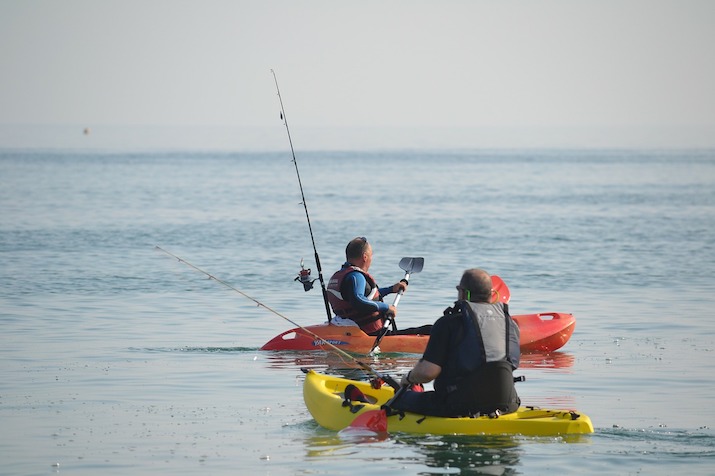 Photo by imordaf on Pixabay
Best Lightweight Fishing Kayaks
Intex Excursion Pro
Elkton Outdoors Steelhead 130
Pelican Kayaks Basscreek 100X Angler
Pelican Kayaks Sentinel 100X Angler
Sevylor Coleman Colorado
Perception Kayaks Flash 9.5
Elkton Outdoors Cormorant
Sea Eagle RazorLite 393rl
Crescent Kayaks Ultralite
Buying Guide
Photo by Jonathan Cutrer on Flickr
On average, fishing kayaks weigh approximately 86 pounds, so you've already significantly narrowed down your search by prioritizing lightweight models. Here are a few other factors that you should consider as you read through our fishing kayak reviews below:
Inflatable Versus Rigid
We haven't included any folding kayaks on this list, so you'll only find rotomolded and inflatable designs. But how do you decide whether an inflatable or a rigid kayak makes more sense for you?
In our opinion, inflatable fishing kayaks are best for folks with smaller vehicles. They are also quite useful if you don't have a lot of space to store a kayak where you live.
While some of you probably live in areas where you wouldn't think twice about leaving your kayak stored on your roof rack overnight, that's not the case for everyone. Inflatable kayaks can either be left safely locked up inside your vehicle or relatively easily carried up to a second or third-floor apartment.
Some folks worry about inflatable kayaks for fishing because of the risk of snagging a hook in the gunwales and puncturing the kayak. Fortunately, most inflatable fishing kayaks have a thick outer cover that protects the interior air chambers, so this is not quite as likely as you might think.
On the other hand, there is absolutely zero risk of ripping or tearing a rotomolded kayak with a fishing hook. So if you want that kind of peace of mind, I'd suggest going for one of the rigid kayaks on our list.
These kayaks can sometimes be more stable and comfortable for fishing because they allow you to sit a little higher above the water than most inflatables.
Attachment Points
Many kayak anglers rely on different technologies to aid in their fishing endeavors. From fishfinders to GPS units, there are a lot of different accessories that you can attach to your fishing kayak.
Your setup will obviously be unique to your style and preferences, but you should consider the kind of accessories you will be attaching to your kayak when you are shopping for the kayak itself.
Is there a place to mount a fish finder so that you can easily control and view it from the kayak seat? Are there D-rings to clip line snips and other small fishing tools in the cockpit so that they are easily accessible?
These are just a few of the many questions you might ask when you are looking at the different fishing kayak designs out there. Ultimately, the number and location of attachment points you need will depend on how you like to set up your fishing kayak.
Just make sure to consider these attachment points before you buy a kayak that doesn't have a place for your favorite kayak fishing accessory!
Weight Capacity
Add up the combined weights of your body and your partner's body (for tandem kayaks only). Then, add about 50 pounds to be on the safe side when accounting for all the fishing gear you will load onto your kayak.
Your resulting number will be the average weight you plan to put into your kayak for a fishing trip. Note that we said average in the above sentence because sometimes you will load less and once you catch that record-breaking fish, you will definitely have more weight in your kayak.
It is also good to observe the 80 Percent Rule when you are analyzing a kayak's weight capacity. While the manufacturer may recommend a certain number for their kayak's weight limit, we recommend keeping the total weight loaded into the kayak below about 80 percent of that number.
Some experts actually recommend using a 70 or even a 60 percent threshold to avoid compromising the efficiency of a kayak on the water. So, if the kayak's advertised weight limit is 400 pounds, you actually want to keep the total weight loaded into it somewhere in the 240-320 pound range.
Stability
As these kayaks are all designed for fishing applications, they are among the most stable models you can find on the market. For instance, they are nowhere near as tippy as one of the best whitewater kayaks.
However, there is obviously variation within these fishing kayak models as well. For larger paddlers, a wider kayak design is going to offer more stability than a narrower design.
Also, consider whether you will be doing (or at least attempting) any stand-up kayak fishing. If you will, extra width is really handy and you will also need a kayak with an open, flat cockpit design that makes it easier to fish from a standing position.
Lightweight Fishing Kayak Reviews
Check Price On Amazon
Weight: 39.01 pounds
Length: 12'7"
Width: 37"
Weight Capacity: 400 pounds
The Intex Excursion Pro is a super affordable and versatile inflatable fishing kayak. It comes with two inflatable seats so that it can accommodate tandem paddlers, but one seat can also be removed if you want to set it up for a single paddler.
This kayak includes two integrated recessed fishing rod holders and they are located on the sidewalls next to the stern paddler's seat. It is also one of the few inflatable kayaks you'll find with footrests to help with stability and proper paddling form.
Along with the main body of the kayak, you'll also get two removable skegs of different sizes. One is meant for deep water while the other is better for shallow rivers, creeks, and streams.
Both will significantly improve the kayak's tracking ability compared to if you paddled without them. Speaking of paddling, this kayak also comes with two collapsible, aluminum, four-piece kayak paddles that fit into the carry bag when you pack everything up.
The Excursion Pro is made with a three-ply PVC material that is similar to what you will find on most whitewater rafts. It can hold higher air pressures than most other inflatables and is also more resistant to punctures, abrasions, and long-term sun damage.
Check Price On Amazon
Weight: 40 pounds
Length: 10'10"
Width: 39.5"
Weight Capacity: 400 pounds
The Elkton Outdoors Steelhead 130 is another inflatable kayak, but this one is made for a single paddler. It features a more rigid floor than most inflatable kayaks and the floor can be inflated to a maximum pressure of 6 PSI while the side tubes inflate to a maximum of 3 PSI.
That added pressure in the floor is what creates that extra rigidity and allows this kayak to track better. It also helps that it has self-bailing ports in the cockpit to allow water to drain out instead of you having to sit in a puddle while you are trying to fish.
The main body of the kayak is made with a 1000-denier reinforced and layered PVC material. It can handle bouncing off rocks and bumping up against logs without you constantly worrying about it popping or tearing.
The foam padded seat in the cockpit simply clips into place when you are ready to paddle. This saves you a little setup time compared to some other inflatable kayaks because you don't have to inflate the seat in addition to the body of the kayak.
When it comes to your fishing setup, there are a total of four mounting points on the side tubes of this kayak. With two points behind the seat and two towards the forward section of the cockpit, you will have a lot of flexibility as to where you place your favorite kayak fishing accessories.
With a floor-mounted footrest, you will also enjoy extra control when paddling and reeling in your latest catch. Plus, this kayak comes with everything you need to inflate, store, and paddle it comfortably.
Check Price On Amazon
Weight: 50 pounds
Length: 10'
Width: 30.5"
Weight Capacity: 325 pounds
The Pelican Kayaks brand has developed quite the reputation for building some of the lightest and, yet, most durable kayaks on the market. If you want to see how crazy durable their kayaks are, check out this quick video!
The Basscreek 100X Angler is built with a multi-chine, flat-bottom hull that makes it super stable for kayak anglers. It's also equipped with two flush-mounted fishing rod holders behind the seat and an additional swivel-mounted holder in the center of the cockpit.
Adjustable footrests on the edges of the cockpit allow this kayak to be adapted to fit a wide variety of paddlers. It also features an ergonomic seating system that is easily adjustable and breathes well in warm conditions.
When you need dry storage, you will be able to take advantage of either the four-inch day hatch just behind the seat or the larger quick-locking hatch at the bow of the kayak. Additional wet storage can be found in the stern storage compartment with plenty of bungee rigging to keep your gear secure.
In addition to the storage areas, there are a total of six accessory eyelets placed in strategic locations on the deck of this kayak. These eyelets allow you to attach your gear and fishing supplies according to your perfect setup.
Check Price On Amazon
Weight: 44 pounds
Length: 9'6"
Width: 30"
Weight Capacity: 275 pounds
If you like the durability and stability of the previous Pelican Kayak but you are looking for something a bit smaller, the Sentinel 100X Angler is the perfect solution. It is shorter and lighter, but because it also has a lower weight limit, it is really best for smaller paddlers.
This model lacks the swivel-mounted rod holder in the center of the cockpit, but it does have two flush-mounted holders behind the seat. Instead, it has a center console that can hold your smartphone and it has two beverage holders on top of it.
There's a small storage area at the bow of this kayak with mesh netting over it, but the real dream is in the stern storage compartment. This kayak comes with something called an ExoPak, which is essentially a removable storage pod.
That pod offers about 13 liters of enclosed dry storage, but it is completely removable if you want to use the stern compartment for other items (like a kayak cooler). Being removable, it also allows you to load your fishing gear inside before securing the pod in your kayak.
This kayak also features two accessory eyelets for attaching smaller gear items and it includes paddle parks on both gunwales. That allows you to secure your paddle out of the way depending on whichever side you are fishing off of.
Check Price On Amazon
Weight: 37.6 pounds
Length: 10'9"
Width: 39"
Weight Capacity: 470 pounds
The Sevylor Coleman Colorado is another tandem inflatable fishing kayak that can be adapted to suit a single paddler if needed. It also includes a total of six fishing rod holders and quick-set paddle holders on both tubes to free your hands up for fishing.
This inflatable fishing kayak features 18-gauge PVC construction with a 1000-denier tarpaulin bottom. The entire exterior of the kayak is also lined with an 840-denier nylon cover for additional protection against cuts and abrasions.
The interior is comprised of multiple air chambers so that the kayak remains afloat if one chamber is accidentally compromised. It also boasts an airtight system that keeps air from leaking out of the chambers while you are on the water.
The Coleman Colorado is also great for keeping items close at hand inside the cockpit. There are mesh pockets accessible to both paddlers where you can store line snips, lures, and even a small snack while you're paddling.
In addition, D-ring attachment points provide even more opportunities to customize your fishing setup. If you decide to do so down the line, this kayak can also be equipped with a Sevylor trolling motor because it comes with the necessary fittings for easy attachment.
Check Price On Amazon
Weight: 41 pounds
Length: 9'6"
Width: 28.5"
Weight Capacity: 325 pounds
The Perception Kayaks Flash 9.5 is a sit-inside rigid kayak with two fishing rod holders built right into the body of the kayak just behind the seat. The seat is slightly elevated in the cockpit so that you don't wind up sitting in water if a few splashes get into the cockpit.
One of the cooler features of this kayak is a "dash" area in front of the cockpit. This flat area is great for storing a smartphone and it also includes a section of bungee cord to help you keep items stored in there secure.
While we are on the topic of storage, the other main storage area in this kayak is a bulkhead compartment at the stern. The hatch to this stern bulkhead is 10 inches wide so that it can easily accommodate small and medium-sized dry bags.
Inside the cockpit, you will also be able to take advantage of the adjustable footrests and a high seatback to find a comfortable paddling and fishing position. There's also enough room in the cockpit (under the deck) for another small dry bag if you need it.
The bottom of this kayak features dual tracking channels that go a long way towards helping you stay on course in windy conditions. That said, this is also one of the most easily maneuverable rigid fishing kayaks you'll find out there.
Check Price On Amazon
Weight: 27 pounds
Length: 10'
Width: 35"
Weight Capacity: 450 pounds
If you thought the Steelhead from Elkton Outdoors was a lightweight option, check out the Cormorant. It is definitely the lightest fishing kayak on our list and, because it's inflatable, it can pack up and store right in the trunk of a small sedan or SUV.
The main difference is that this kayak is designed for two paddlers. Just like the Steelhead, it includes a total of six fishing rod holders on the side tubes and it comes with two swivel mounts that can be placed in any of the six holders you choose.
This kayak also comes with a small detachable skeg that can be installed on the hull to improve tracking. It also comes with everything that you need to get out paddling as soon as it arrives, provided you already have your fishing gear set up and ready to go!

PC Sea Eagle
Weight: 35 pounds
Length: 12'10"
Width: 30"
Weight Capacity: 500 pounds
The Sea Eagle RazorLite is one of the coolest inflatable fishing kayaks we've ever seen. Its additional length is great for longer trips and it boasts plenty of weight capacity for larger paddlers.
This kayak is constructed with drop stitch technology, which is typically reserved for the best stand up paddleboards out there. This allows it to be inflated to 10 PSI and makes it perform much more like a rigid kayak than an inflatable.
The RazorLite doesn't have as many accessories and attachments as some of the other kayaks on our list, but it's made for covering ground and keeping you as comfortable as possible.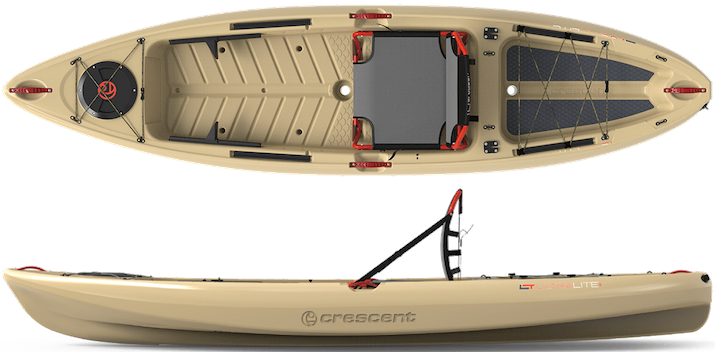 PC Crescent Kayaks
Weight: 49 pounds
Length: 10'2"
Width: 30"
Weight Capacity: 350 pounds
The Crescent Kayaks Ultralite model is the only kayak we could find under 50 pounds that can accommodate your stand up fishing needs. When you do want to sit down, however, it rocks the same kind of mesh-netted, aluminum-framed seat that you typically find on much heavier kayaks.
The Ultralite's best fishing features include side accessory tracks, two YakAttack rod holder mounting locations, large scupper holes in the cockpit and stern storage area for quick water drainage, and a locking bow hatch for dry storage.
Check Price On Amazon
The Elkton Outdoors Steelhead fishing kayak is our top pick because it is the complete package. It comes with everything you need to start paddling as soon as you take it out of the box (except your fishing rods of course!).
It is also suitable for a wider variety of paddlers because it can fit in almost any vehicle that you drive to your favorite fishing location. In other words, you don't need a truck or one of the best kayak roof racks to transport this kayak.
It also makes the most sense for folks that might not have ample kayak storage at their home or in their apartment complex. Just leave it locked up safely in its carry bag in your car until the next time you want to take it out for a fishing adventure!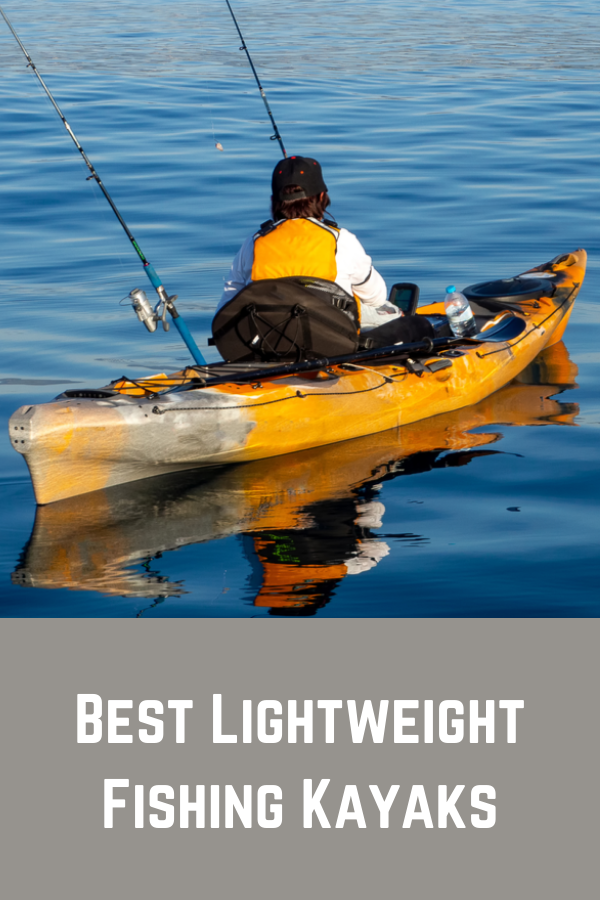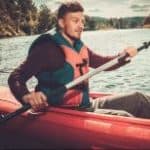 Author: Peter Salisbury
Pete is the Owner of KayakHelp.com. Born and raised in Cleveland, Ohio, he grew up kayaking, fishing, sailing, and partaking in outdoor adventures around the Great Lakes. When he's not out on the water, you can find him skiing in the mountains, reading his favorite books, and spending time with his family.