Kayak fishing requires more specific clothing than other forms of kayaking. It's one form of kayaking that keeps you outdoors for longer periods of time than others, which means you need additional protection from the elements.
While you can take the approach of slathering yourself with sunscreen on hot days, the best way to protect yourself from the sun is with the right clothing.
But ultraviolet rays aren't the only element that you'll need to protect yourself from when kayak fishing.
There's rain, wind, and a host of other environmental factors to plan for when kayak fishing, and that doesn't even mention the scales, fins, and other parts of the fish themselves that can cause harm if you don't wear the proper clothing.
There are also many kayak fishing accessories that you should look into before heading out onto the water, but this article is all about selecting the proper attire for all of your kayak fishing needs. In other words, this is the Ultimate Kayak Fishing Clothing Guide!
Kayak Fishing Hats
Starting from the top and working our way down, getting a quality hat is one of the first ways that you can protect your face and neck from sunburns while kayak fishing.
But a hat can also protect your eyes from the intense UV rays that you'll often experience out on the water.
A quality kayak fishing hat should have a full brim and some mechanism for tightening or cinching down so that it stays on your head when high winds come up.
It should also be made of a waterproof or water-resistant material that can also dry quickly if it gets wet.
Here are a few good options for kayak fishing hats:
Also Read: Kayaking Safety Equipment List
Check Price on Amazon
The Wallaroo Hat Compay Explorer Sun Hat is made with 100% microfiber and it has a three-inch brim.
It provides a 50+ ultraviolet protection factor (UPF) and it includes a chinstrap with an internal drawstring to help you adjust the fit and keep it tight in windy conditions.
Check Price on Amazon
The Frogg Toggs Waterproof Breathable Boonie Hat has a one-inch internal band that tightens around your head to keep it in place. It's made of 100% waterproof fibers and it's also quick-drying so you don't have to worry about it retaining moisture if it does get wet.
Check Price on Amazon
The Outdoor Research Sombriolet Sun Hat is made of 86 percent nylon and 14 percent polyester. This blend of materials makes it super comfortable and extra breathable for hot days on the water.
It also has a UPF rating of 50+ so it protects your head and neck from damaging sun rays.
Kayak Fishing Sunglasses
When you're kayaking, you'll need to protect your eyes from more than just the rays that are beaming down on you vertically from the sun.
A good pair of polarized sunglasses is the best way to protect your eyes from harmful sun rays while you're on the water.
The issue with kayak fishing is that the sun's rays also reflect off the surface of the water and hit your eyes horizontally in addition to the direct rays that rain down vertically.
Polarized sunglasses provide protection from horizontal and vertical rays.
One pro tip for wearing your sunglasses while kayak fishing is to always attach a pair of floating Chums or Croakies to them so that they don't sink if they fall into the water. Here are a few good options for kayak fishing sunglasses:
Check Price on Amazon
Knockaround Sunglasses are excellent because they're stylish and they're reasonably priced. They don't cost much more than those gas station shades that you rely on so often, but they're obviously much higher quality.
Their lenses are polarized and mirrored to protect your eyes from harmful UV rays. The lightweight frames also won't pinch your skull and the impact-resistant lenses will handle almost anything that you throw at them.
Check Price on Amazon
Huk Sunglasses are well-known for their kayak fishing prowess. They feature plastic frames and polycarbonate lenses that are polarized to reduce glare and provide 100 percent UV protection.
These sunglasses also are built for a tight but comfortable fit so you don't have to worry about them coming off and the frames are injected with TR90 material to provide long-lasting durability and impressive comfort.
The Rheos Gear Floating Sunglasses don't fall short of their floating name. These sunglasses will actually stay on top of the water if you drop them in, which means no more diving for dropped sunglasses in less than ten feet of water.
These sunglasses are polarized and they're available in a number of styles. They're also made with mirrored lenses that are three inches wide so you won't have your view obstructed when you're reeling in that record-breaking catch.
Best Kayak Fishing Jackets
Staying out for that extra 30 or 60 minutes trying to catch one more fish often results in kayak anglers enduring less-than-favorable weather conditions.
And whether that means paddling home in the rain or just experiencing a chilling wind, you'll need a rain jacket or windbreaker for kayak fishing.
The best kayak fishing jackets are lightweight and made of some sort of waterproof material.
They might not provide excellent insulation, but they can help you stay warmer by protecting you from getting too wet or having that biting wind penetrate your other layers.
Here are some options for the best kayak fishing jackets:
Check Price on Amazon
The Charles River Apparel Jacket is made of 100 percent nylon material and it runs large so that you'll have plenty of room for a fishing shirt and other layers underneath.
It also features elasticized cuffs and a drawstring waist to keep it tighter and waterproof when conditions are at their worst.
Check Price on Amazon
The Carhartt Shoreline Jacket is made of 100 percent nylon and it features a water-repellent finish with a storm placket for additional weather resistance.
But this jacket is also made from a breathable membrane so that it won't cause you to sweat unnecessarily in warmer conditions.
Check Price on Amazon
The NRS Rio Paddling Jacket is quite arguably the best option for a water-resistant paddling jacket for windy and wavy conditions.
While it's not 100 percent waterproof, it will keep you much warmer when it's windy and it will keep water from splashing on your paddling base layers.
This jacket is made of a urethane-coated nylon oxford material and adjustable neoprene neck and wrist closures can be tightened to keep water out. The waist of this paddling jacket also secures with a bungee and barrel-lock cinch for added water resistance.
Best Kayak Fishing Shirts
One of the first rules of kayak fishing looks like this: no cotton! That's especially important for your base layers like shirts and pants.
While it can be useful to pack a cotton layer or two for when you get back onto land, kayaking in cotton is not recommended.
The best kayak fishing shirts are generally made of some sort of polyester or nylon material so that they dry quickly.
In addition, kayak fishing shirts should have a bit of mesh material on the back or armpit areas so that they breathe better on super hot days.
Here are some options for the best kayak fishing shirts:
Check Price on Amazon
The Koofin Performance Fishing Shirt is a long-sleeve option with a sun protection factor of 50+.
It has mesh side vents to help disperse body heat and it's made of a moisture-wicking blend of 90 percent polyester and 10 percent spandex, which makes it quick-drying and stretchy for comfort.
Check Price on Amazon
The Columbia PFG Terminal Tackle Shirt features a 100 percent nylon construction and it includes Columbia's patented Omni-Shade technology to block both UVA and UVB rays.
The shirt's material features a UPF 50+ sun protection rating and is quick-drying if it gets wet. It's also extra breathable so that you won't overheat when kayak fishing on hot days.
Check Price on Amazon
The Columbia Ridge Lite Shirt is a long-sleeve, button-up shirt that's made of 100 percent synthetic fibers.
It might look like a regular flannel shirt, but it features Columbia's signature wicking fabric to remove moisture from your body and keep you cool while you're out on the water.
This shirt also includes two chest pockets that give you great storage locations for small fishing gear. It has button-down cuffs that allow you to wear it as a short-sleeve shirt if you want to get your forearms a little sun exposure.
Best Kayak Fishing Gloves
Most anglers only like to use gloves when the weather absolutely demands it.
This is because they can hinder your ability to handle your fishing rod and deal with fish when you do reel them in, which is why some of the best kayak fishing gloves are fingerless.
But if cold weather absolutely necessitates an additional layer of insulation for your hands, the best way to go is a pair of thin neoprene kayaking gloves.
Other gloves made for sailing, water skiing, diving, or cycling can also be adapted for kayak fishing, so long as they don't contain any leather or cotton material.
Here are some options for the best kayak fishing gloves:
Check Price on Amazon
The KastKing Sol Armis Sun Gloves have a UPF rating of 50+ and they offer a fingerless design so that you can maintain an adequate grip on your fishing rod. They also feature a microfiber palm that helps you grip your paddle and provides extra padding for your palm.
Check Price on Amazon
The Palmyth Neoprene Fishing Gloves are technically full-fingered gloves, but they feature two cut fingers on either hand.
You'll be able to remove your pointer finger and thumb from these gloves to enjoy better dexterity when changing tackle, casting, or performing any other fishing-related activities.
Check Price on Amazon
The Booms Fishing FG2 Fingerless Gloves are made of 85 percent elastane material and they feature synthetic leather palms to reduce blisters and cuts.
They also cover up to two inches above the wrist so that they provide added protection for some of your body's most sensitive areas when kayak fishing.
Best Kayak Fishing Pants
The perfect pair of kayak fishing pants for you will largely depend on the climate in which you do most of your fishing.
For warmer climates, lightweight pants with zip-off legs are great because they are thin enough to breathe on hot days but also provide ample sun protection.
If you typically fish in colder climates, however, you'll want a pair of cold weather kayaking pants that are designed to keep your lower half dry and insulated.
Paddle pants for kayaking are often the best choice because they seal tightly at your waist and ankles to allow minimal water inside if you go for a swim.
Here are some options for the best kayak fishing pants:
Check Price on Amazon
The NRS Rio Paddling Pants are made of durable, waterproof nylon oxford material with a urethane coating for added protection against water and wind.
They have a roomy cut with taped seams that work for a wide variety of body types and their elastic ankle closures help to keep water out.
These paddling pants give you plenty of room to wear more insulating layers underneath and not feel uncomfortable in your kayak. The waist also secures with a bungee and barrel-lock cinch for a more relaxed, comfortable fit.
Check Price on Amazon
The Frogg Toggs Classic Pro Action Rain Pant comes with an expanded four-inch back rise that ensures the pant will fit underneath any rain jacket for more comprehensive coverage and rain protection for the wearer.
These pants feature oversized leg openings with hook-and-loop adjustments so that you can tighten the legs around booties or your ankles. They also offer an adjustable elastic waist so that you can customize your fit.
Check Price on Amazon
The NRS Endurance Paddling Pants offer a slimmer, more slender fit when compared to the Rio Paddling Pants. These pants are made of NRS's patented HydroTex 2.5 laminate material with sealed seams for excellent water resistance.
These pants include a water-resistant zip thigh pocket to keep your keys or other non-sensitive items close at hand while you're paddling.
They also feature a double-pull hook-and-loop closure at the waist for an exceptionally comfortable, snug, and water-resistant fit.
Best Kayak Fishing Shoes And Sandals
Getting in and out of your kayak isn't always the most fun if you don't have the right footwear. Stepping on rocks, sticks, and uneven terrain is much easier if you have the right kayak fishing shoes or sandals strapped to your feet.
For warmer weather, strapped sandals like Chacos or Tevas are the best way to go. But if you need something that protects your feet and also keeps them warmer in cold water or weather, you need a proper pair of kayaking booties.
If you really love your sandals but still need extra warmth on cold days, we'd also recommend looking into some of the best kayaking socks. In the meantime, here are some options for the best kayak fishing shoes and sandals:
Check Price on Amazon
Chaco Sport Sandals are widely regarded as some of the best adventure sandals in the industry. They feature super comfortable soles that are best for folks with high arches and they are available in a wide variety of colors and styles.
Check Price on Amazon
The NRS Paddle Wetshoes are a great option for full-foot coverage on colder days. Whether you're dealing with cold water or chilly air temperatures, these three-millimeter Terraprene booties include heat-reflecting titanium adhesive to keep your feet warm.
They also feature a fleece-like lining for a softer fit, but that material also dries quickly after it gets wet. YKK Zippers on the sides of the Wetshoes also make them easy to secure and these zippers are widely considered to be some of the most durable in the industry.
Check Price on Amazon
Teva Sport Sandals come from another well-trusted brand in adventure footwear. These sandals tend to be better for folks with flatter feet, but they still offer plenty of cushion and exceptional grip for walking on smooth, slippery rocks when you exit your kayak.
Best Kayak Fishing Wetsuits And Drysuits
Just because the weather isn't the best doesn't mean you can't still get out on the water. But you'll need a little more insulation than you would otherwise require on a sunny day in the middle of summer.
Getting into a wetsuit is a great way to stay warmer and protected from the elements when kayak fishing.
But the downside of a full-body wetsuit is the inability to relieve your bladder without going in the suit or taking it off entirely once you get back to shore.
That's why they make wetsuits just for your upper or lower body that are much better for kayak fishing. If you want to keep wearing your regular kayak fishing layers but put something on over them, then you'll need a proper kayaking drysuit.
If you want even more options, check out our reviews of the best wetsuit for kayaking, but here are some options for the best kayak fishing wetsuits and drysuits:
Check Price on Amazon
The Palm Bora Kayak Drysuit is a great option for colder days because you'll be able to wear your desired layers underneath and keep them dry even if you end up in the water.
This drysuit is made of four-layer fabric with 320-denier reinforced panels and it includes a lower horizontal zipper for going to the bathroom without taking it off.
The NRS Grizzly Neoprene Wetsuit is the best wetsuit option for larger paddlers, but it's made for water temperatures of 68 degrees and up.
It does offer a sleeveless design and a full-length front zipper that makes it easier to put on and take off, as well as unzip to relieve yourself on a long day of fishing.
The Kokatat NeoZip Long John Neoprene Wetsuit is three millimeters thick and it comes with a two-way nylon front entry zipper with a full-length flap for easier access.
This flap makes it much easier to put on and take off and, most importantly, it makes it easier to relieve your bladder without fully removing the entire wetsuit.
The Essential Additional Clothing Item For Kayak Fishing – The Buff
Check Price on Amazon
The Buff is arguably the most versatile piece of kayak fishing clothing that you could own these days. It can be be used as advertised above for sun protection without having to continuously reapply sunscreen to your face, neck, and nose.
On hot days, you can dip your Buff into the water and then put it around your neck to keep you cool. When it's dry and your nose is a little stuffy, you can turn it into the handkerchief that you forgot to pack.
If you find yourself with a particularly messy fish cleaning process on your hands (literally!), you can even use your Buff to clean your hands or wipe down different parts of your kayak.
And last, but certainly not least, a Buff can be used to filter the surrounding air so that you breathe cleaner on the water.
So whether you're still dealing with COVID-19 or just need to filter smoky air because there's a fire blowing smoke into your area, a Buff can help you breathe easier.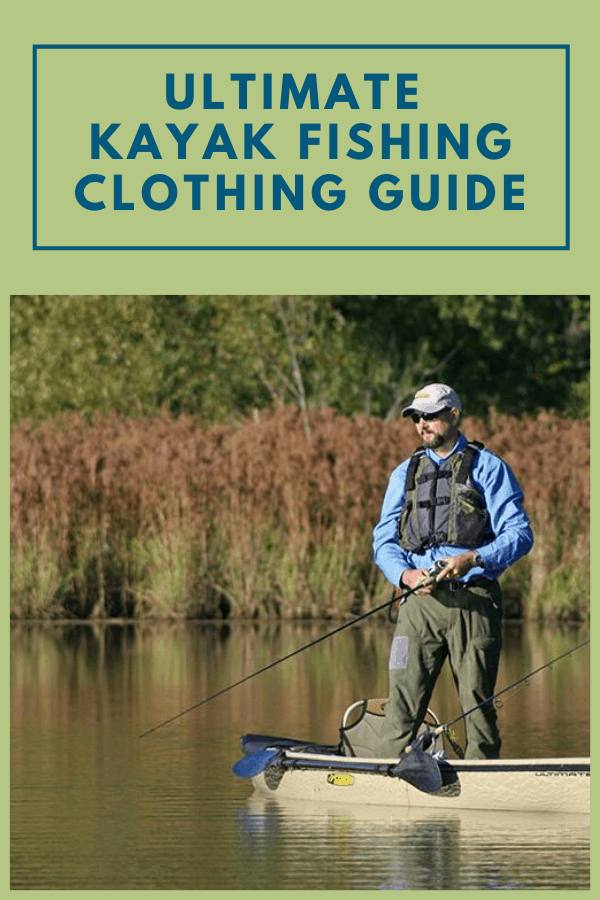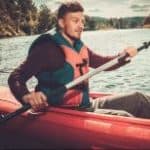 Author: Peter Salisbury
Pete is the Owner of KayakHelp.com. Born and raised in Cleveland, Ohio, he grew up kayaking, fishing, sailing, and partaking in outdoor adventures around the Great Lakes. When he's not out on the water, you can find him skiing in the mountains, reading his favorite books, and spending time with his family.