There are some important differences between canoes and kayaks that make each better for different applications. The best folding canoe models provide the added storage space of a typical canoe while being much easier to transport and store.
Both of these human-powered vessels have come a long way since they were originally built and used among coastal fishing cultures. Back then, there was no need to fold your canoe up at the end of the day so that it could fit in the back of your sedan or SUV.
Nowadays, both canoeing and kayaking are typically pursued for recreation or exercise, instead of as a means of providing sustenance for your family and community. That has placed new demands on canoe manufacturers.
Fortunately, they have responded beautifully and, while the folding canoe industry is still in its infancy, we have several awesome models to share with you today. Plus, we will provide some tips on how you can select a canoe that will best serve you and your family.
PC MYCANOE
Best Folding Canoes
Ally Canoes 15' All-Around Canoe
Ally Canoes 18' All-Around Canoe
MYCANOE Solo Canoe
MYCANOE Duo Canoe
Pakboats PakCanoes
Long Haul Folding Kayaks York Classic Canoe
Long Haul Folding Kayaks York Commando Canoe
Canoe Jargon Buster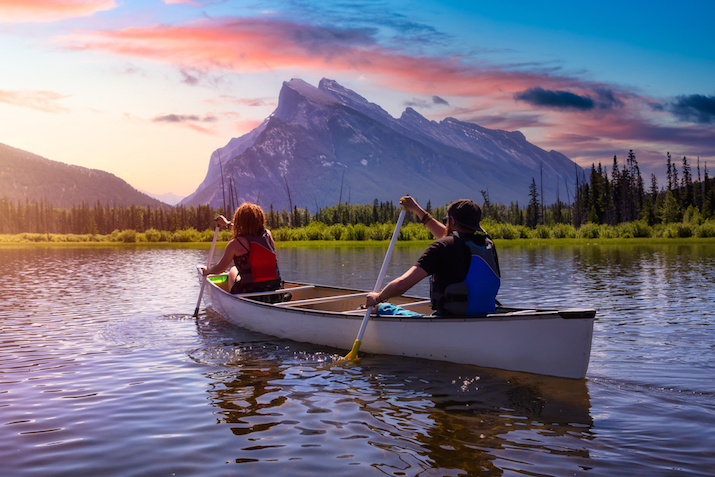 Photo by EB Adventure Photography via Shutterstock
There are several canoe design terms that you should have a firm grasp on before we proceed with our reviews. So let's cover some important canoe jargon!
Yoke
The yoke on a canoe is a beam that connects the gunwales at the centerline of the vessel and provides structural stability to the entire hull of the canoe. The center of the beam is typically curved so that it can fit comfortably around the neck and rest the canoe's weight on the shoulders when portaging between waterways.
Sponson
A sponson is a flotation strip that is installed to improve the stability and buoyancy of a canoe. Some are installed between the frame and the skin of the best folding canoes and others are attached externally and employed more like kayak outriggers.
Ribs
Much like the ribs in your torso, the ribs of a canoe run perpendicular to its length and are installed inside the frame. They provide lateral support, make the hull more rigid, and improve the overall strength of the canoe.
Stems
Stems are located at the bow and stern of most canoes and are constructed from laminated strips of wood. Some canoes have both inner and outer stems, but their purpose is to blend the upper and lower portions of the frame together to create tips that will be efficient as you move the canoe through the water.
Folding Canoe Reviews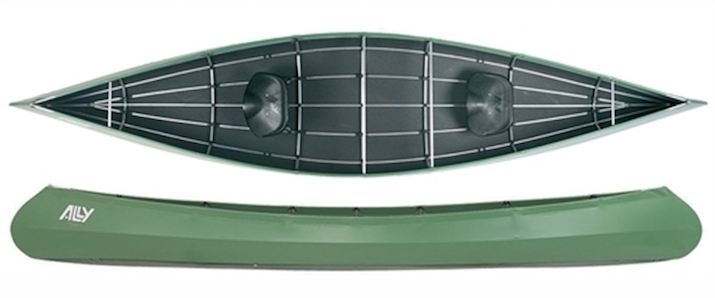 PC Western Canoe Kayak
Length: 14'10
Width: 37"
Depth: 14"
Weight: 40 pounds
Weight Capacity: 680 pounds
Packed Size: 44.1" x 19.7" x 16.5"
The 15' All-Around model from Ally Canoes is designed for stability and maneuverability. It is easy to assemble and built to handle a wide variety of paddling environments, including whitewater.
The hull of this canoe boasts a gently arched keel line and a tall curved bow and stern to provide efficient paddling. While the center of the canoe is 14 inches deep, the bow and stern are close to 18.5 inches tall.
The lightweight design of this canoe makes it a great selection for casual family paddles or longer canoe expeditions. It has plenty of room for your camping gear and can also support the weight of the angler's many fishing accessories.
The seats inside this canoe can be adjusted up and down as well as along the length of the canoe. That is what allows it to be set up for one, two, or even three paddlers depending on your preference that day.
The 15' Ally All-Around Canoe is built with a flexible design that naturally absorbs impacts and dissipates shocks in rough waters. The skin on the exterior is durable and reinforced to handle bumps against rocks, sticks, and other canoe obstacles.
It also boasts a flotation mat at the bottom of the cockpit that provides extra buoyancy, insulates against heat and cold, and further increases the canoe's shock-absorbing properties. The width of this canoe at the waterline even tapers down to 33 inches to provide more efficiency over long distances.

PC Western Canoe Kayak
Length: 18'
Width: 37.8"
Depth: 14"
Weight: 46.3 pounds
Weight Capacity: 915 pounds
Packed Size: 44.1" x 19.7" x 16.5"
The 18' All-Around model from Ally Canoes features the same gently curved keel line and tall bow and stern as the 15' design. It is equally capable in both flatwater and whitewater environments but offers more storage space for longer canoe trips.
The high weight capacity of this canoe makes it capable of handling three or four paddlers with ease. Or, it has the ability to handle two paddlers, a furry companion, and several weeks' worth of food and camping gear.
Despite having more than three extra feet of length and storage space, this canoe only weighs about six pounds more than the 15' version. That keeps the base weight down so that you can feel comfortable loading more cargo and also makes portages much more manageable.
Like the 15' model, it also tapers down from the top of the gunwales to a width of 34 inches at the waterline to provide better efficiency over distance. It comes with everything you need to assemble it at home, but you will need to buy canoe paddles separately.

PC MYCANOE
Length: 10'
Width: 32"
Weight: 28 pounds
Weight Capacity: 330 pounds
Packed Size: 45" x 21" x 12"
MYCANOE is the Oru Kayak of the canoe world. Their two folding canoe models are some of the lightest and easiest to set up on the market today, and their smaller Solo model is perfect for a single paddler.
It features a true origami-style design that allows you to unfold and assemble it in just five minutes. This canoe is TUV safety certified and provides plenty of stability and maneuverability for beginners.
The single-seam construction makes it easy to fold for assembly and disassembly and each canoe is rated to last for up to 20,000 fold cycles. The 2021 models also feature an improved gunwale design that allows you to install most off-the-shelf canoe accessories.
The capacity of this canoe still allows you to load in a cooler or your camping gear for an overnight adventure. Or, the open cockpit makes it feasible to execute day paddles with your pup.
MYCANOE models do not come with their own canoe paddles, but they are compatible with a number of useful add-ons. That includes an optional rowing kit for a rowboat-style conversion and a stabilizer kit that is great for rough conditions or standup fishing.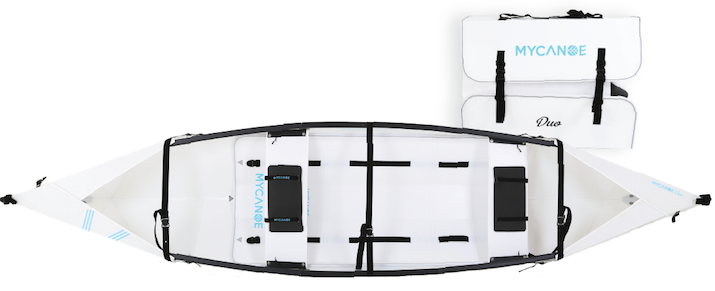 PC MYCANOE
Length: 14'6"
Width: 35"
Weight: 43 pounds
Weight Capacity: 480 pounds
Packed Size: 36" x 27" x 10"
The MYCANOE Duo offers all of the convenience and portability of the Solo model but gives you an extra seat, way more storage space, and an additional 150 pounds of carrying capacity.
In spite of the additional 4.5 feet of internal space, the Duo still remains lightweight and folds into a super compact carrying case. It still boasts three cross straps to provide extra support and rigidity to the entire design (these sort of act in the same way as a yoke on a traditional canoe).
The Duo also sets up in less than 10 minutes and is manufactured using the same double-layer, marine-grade polypropylene hull material as the Solo. It also features a 15-year UV treatment that slows down the degrading impacts of ultraviolet radiation.
The MYCANOE Duo is primarily designed for flat, slow-moving rivers, lakes, and ponds. However, it is also rated for open water and up to Class III whitewater rapids.

PC Pakboats
The fine folks at Pakboats actually make five different sizes of their PakCanoe folding canoe. We are going to cover all of their features together because they boast the same design elements and amenities.
They only really differ in size, weight, and carrying capacity. All PakCanoes are made so that they pack down into a convenient carry bag that measures 35" by 18" by 14".
Here are the rest of the specs on the various PakCanoe models before we get into their design and features:
The Frame
Now, regardless of their dimensions, all PakCanoes begin with an aluminum tubing frame. The frame is built in sections and then connected using a shock cord so that it can be assembled in a similar fashion to modern tent poles.
Extra space is built into each of the joints where the tubing comes together in order to prevent corrosion or "freezing". 'Freezing' is when two sections of aluminum tubing essentially become stuck together and don't allow you to fully disassemble the canoe.
The cross ribs and stems of the frame are bent to their final shape and then are installed using plastic hardware and secured with pop rivets. Plastic clips interlock to grab securely onto the gunwales and connect the ribs to the bottom of the canoe.
Air Tubes
PakCanoes are also designed with air tubes between the frame and the outer skin of the canoe. These tubes (also known as 'sponsons') inflate once the frame is assembled and help to stretch the skin taught while also providing extra rigidity for the hull.
On the water, the sponsons also help to protect the sides of the canoe from damage if you bump up against rocks, trees, or other obstacles. They also make the canoe safer by reducing the amount of water that can enter the cockpit if you capsize.
The Canoe Skin

PakCanoe 170 PC Pakboats
PakCanoes doesn't go as far as to sew seal skins together and coat them in whale fat to keep the frame of their canoes waterproof, but they do utilize a heavy-duty synthetic fabric that is coated with an abrasion-resistant PVC finish.
They also added a heavy-duty wear strip under each rod of the internal frame to help prevent tearing in high-stress areas. Thinner strips of fabric are also welded over both gunwales to provide additional reinforcement.
They have also patched reinforcement at all of the cross rib positions inside the gunwale channel of the canoe.
At the ends of the skins, they have sewn D-rings into the skin halfway up the stems to give you anchor points for ropes and other canoe accessories. These D-rings are intentionally placed low to improve the canoe's stability and make lining easier when you are paddling larger river rapids.
The Cockpit
There is a pad on the bottom of the cockpit that is made of closed-cell foam. In addition to further improving the canoe's abrasion resistance, it also eliminates pressure points where your heels would normally make direct contact with the frame.
The seats inside the canoes are very similar to standard canoe seats, but they offer more versatility. The height can be adjusted and locked in at several different positions and they can also be moved closer to the bow or stern depending on your preference.
The Included Accessories
Every PakCanoe model also comes with a dual-action pump to help you inflate the air tubes (they can also be inflated by mouth). They also come with a repair kit and a heavy-duty storage bag made of polyurethane-coated fabric and a foam padded bottom.
The Canoe Models and Their Best Uses

PakCanoe 150T PC Pakboats
Each PakCanoe model is designed with a specific purpose or type of paddler in mind. So let's conclude with a brief rundown to help you choose the best model for your needs.
The PakCanoe 150 is the best choice if you normally paddle by yourself but occasionally need space for a second paddler or additional paddling gear. It also has decent speed for flatwater and is rated to handle up to Class III whitewater.
The PakCanoe 150T is roughly three inches wider than the regular 150, which provides extra stability for family use. This canoe also handles both flatwater and whitewater well and is a great choice for fishing or backcountry canoe camping.
The PakCanoe 160 is the best all-around canoe that this company makes. It is a good family canoe for casual days on the lake, but it can also adapt quickly to handle more intensive 2-3 week canoe expeditions.
The PakCanoe 165 is narrower than both the 160 and 170 models, which makes it more efficient over long distances. While it can comfortably support two paddlers and lots of gear, its narrower design allows it to be paddled efficiently by one person as well.
The PakCanoe 170 is the perfect canoe for serious wilderness excursions (imagine multiple weeks portaging around the Boundary Waters Canoe Wilderness Area in this bad boy!). It is also great for shallow water paddling because of its wider footprint and makes it easy to distribute camping gear evenly to retain speed and stability.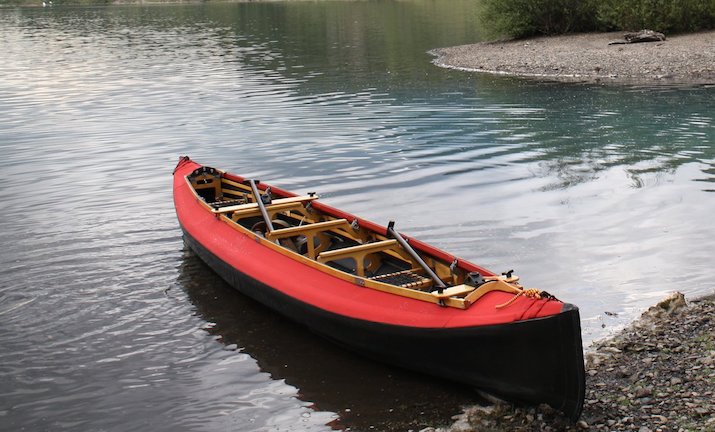 PC Long Haul Folding Kayaks
Length: 17'
Width: 35.5"
Weight: 89 pounds
The York Classic Canoe is a wooden-framed folding kayak that is extremely versatile. It can adapt to handle one, two, or even three paddlers and it is capable of handling even the most rigorous of paddling conditions.
Like other Long Haul kayaks, every York Classic is handmade at their facility in Cedaredge, Colorado. They hand-select the ash hardwood and the birch laminate wood that is then used for the construction of the frame.
Then, they use a black CSM rubber material for the hull, an acrylic material made by SeaMark™ for the deck, and finish the design by installing corrosion-resistant stainless steel fittings throughout.
The Classic Canoe has several advantages that you typically only find on larger vessels. For one, the hull is larger and wider, which provides excellent stability without compromising too much maneuverability.
That extra stability makes this canoe a great selection for anglers. Speaking of anglers (and all of their fishing gear), the payload bays on this canoe are really easy to access so you can get what you need without a fuss.
In addition to the canoe, the York Classic package includes a set of three standard packing bags and a Longren packing sleeve. You will also have the option of choosing your preferred deck color from the following schemes: blue, red, forest green, black, cadet light grey, and medium smoke grey.
Furthermore, you will also have certain upgrade options to decide on before you complete your York Classic order. Some of the add-ons you might enjoy include a solo expedition tuck-under spray skirt, paddle tie-downs, a lifeline, a stroke guard, and more.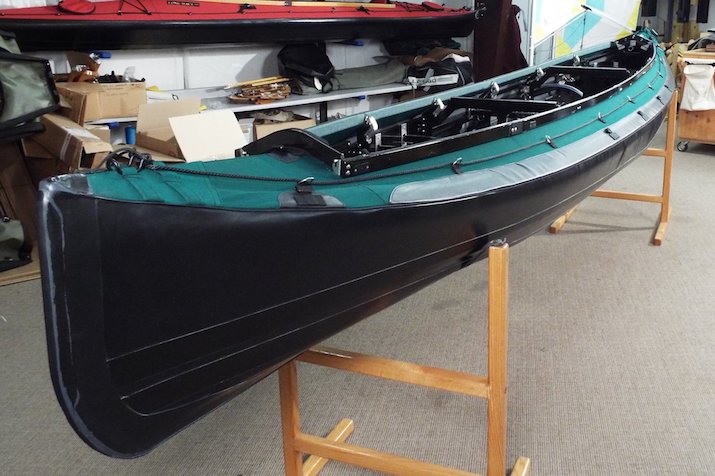 PC Long Haul Folding Kayaks
Length: 17'
Width: 35.5"
Weight: 96 pounds
The York Commando Canoe from Long Haul Folding Kayaks features all of the same design elements as the Classic Canoe and it is an excellent choice for canoe anglers. The advantage of choosing this package, however, is in all of the additional accessories that it comes with.
You will still get a handmade, wooden-framed folding canoe built by experts craftsmen with more than 26 years of folding canoe construction experience. You will still get a large, stable canoe with ample storage and easy access to that storage.
You will still get the canoe and all of the standard accessories that come with the Classic model. Plus, you will still have the same deck color options for your preferred finished appearance.
With the Commando package, however, you will also get two stabilizing sponsons, a stroke guard reinforcement along the gunwales at the hull seam, easy-carry handles at the bow and stern, and twelve heavy-duty tie-down points.
You will also get touch codes, six two-inch keel strips, a spray skirt, a black painted frame, and a lifeline. The upgrade options for the Commando package include an additional solo rib, solo seat, solo spray skirt, or three-person spray cover.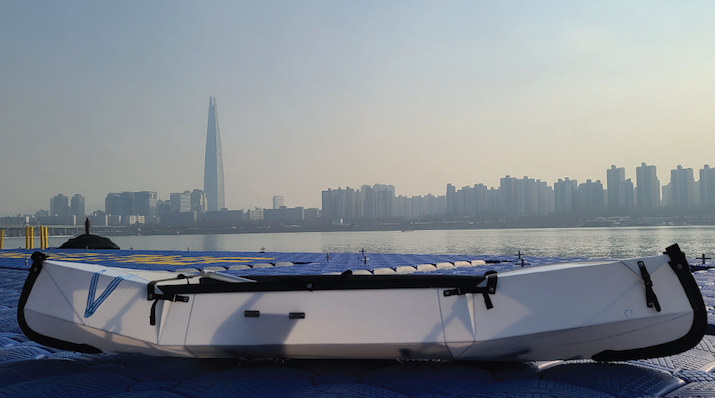 PC MYCANOE
The solo canoe from MYCANOE is our pick for the best folding canoe this year because it is one of the most lightweight, easy-to-use, and affordable models you will find. Some of the more intricate designs out there cost multiple thousands of dollars.
The MYCANOE Solo will give you a canoe that you can take out by yourself with minimal hassle. You won't have to keep track of a bunch of moving parts and accessories and deal with a complex assembly process every time you want to paddle.
The MYCANOE design is built for speed and convenience and it also makes this canoe accessible for beginners and folks living in smaller apartments. In spite of its compact nature, the Solo still provides a reasonable amount of storage space and plenty of carrying capacity.
Perhaps most importantly, the price tag on the MYCANOE Solo (and even the MYCANOE Duo) is so reasonable that you can keep money in your pocket for a high-quality canoe paddle or even book a trip based solely on exploring a new region with your folding canoe.
We also love it because it is a great fit for RVers, boondockers, and even international travelers. It folds down to a small enough size that it can be checked on most airplanes and will not take up an unreasonable amount of storage space in your preferred road trip vehicle!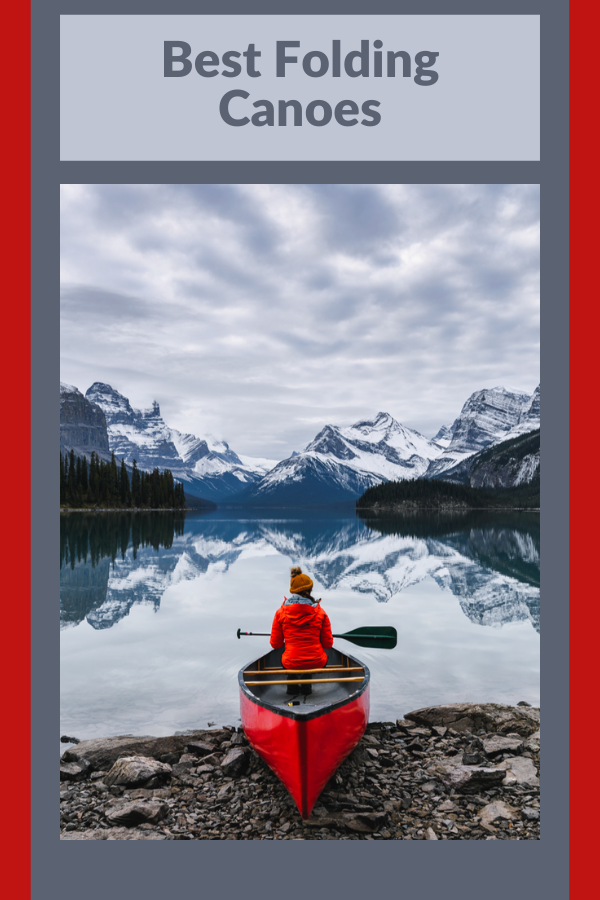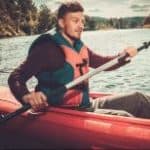 Author: Peter Salisbury
Pete is the Owner of KayakHelp.com. Born and raised in Cleveland, Ohio, he grew up kayaking, fishing, sailing, and partaking in outdoor adventures around the Great Lakes. When he's not out on the water, you can find him skiing in the mountains, reading his favorite books, and spending time with his family.