The best ski gifts for dad will enhance his day on the mountain. On his special day, you can treat him to an accessory that will make him more comfortable or allow him to have more fun on the slopes.
So we have compiled a list of the best ski gifts for dad. He will be thrilled with any of these fantastic accessories.
Thumbnail
Title
OutdoorMaster Ski Socks 2-Pack Merino Wool, Non-Slip Cuff for Men & Women - Black, M/L
Volk Ski Strap and Pole Carrier - 2 Sets per Pack - Skiing Accessory for Easy Transportation of Your Ski Gear - Feel Comfortable Walking to and from The Mountain - Adjustable Size
KOODER Boot Dryer,Shoe Dryer,Foot Dryer ! Eliminate Bad Odor and sanitize Shoes!
PHOOZY XP3 Ultra Rugged Thermal Phone Case - Insulated Weatherproof Protection - AS SEEN ON Shark Tank - Protect Against Cold & Snow, Extends Battery Life (Medium - Cosmic Black)
Best Ski Gifts For Dad
Check Price on Amazon
As a skier, you can never have enough ski socks. But you also need good ones made from a suitable material. These ski socks are made from merino wool which has many advantages.
The soft material is super comfortable, but it also reduces friction inside your ski boots. But the main advantage is that merino is excellent at wicking moisture away from your skin. Therefore, your feet stay dry for longer, enhancing comfort.
These merino ski socks are also shaped for optimum fit, preventing them from wrinkling up in your boots.
Check Price on Amazon
Carrying your ski equipment can be pretty awkward, especially if you need to walk a long way to and from the slopes. So if dad needs to carry his skis as well as the kid's, things become a whole lot more difficult.
This is where the Volk Ski Strap and Pole Carrier comes in. It is super easy to use, as you simply fit the strap around the tips and tails of your skis, then clip in the poles.
The system safely secures your equipment, but you can fit it into your jacket pocket when you are not using it. The system is compatible with all types of skis, including touring skis, cross country skis, and alpine skis.
Check Price on Amazon
Skiing in slushy or
rainy weather
can make your ski boots soaking wet. This is a problem the following day, as nobody wants to put on damp ski boots. Some chalets and hotels have ski boot dryers in their boot rooms, but not all.
But with the KOODER Boot Dryer, your dad can ensure his ski boots are dry for his day on the mountain. Once he has finished skiing, all he needs to do is plug in the boot dryer and slip the two elements into each boot.
The dryer warms up the boots while sanitizing them, eliminating odors. For extra comfort, your dad may want to switch the dryer on in the morning while he eats breakfast to give his boots a pre-warming.
Check Price on Amazon
When the temperatures are well below zero, you need to ensure that you are wearing enough clothing. Layering up is the best way to stay warm, but you need a good base layer, or you will get cold quickly.
This thermal underwear set from Rocky is ideal for skiing in extremely cold temperatures. It is made from a lightweight synthetic fleece material, which is super soft and comfortable.
Even though the material is thin, it is incredibly warm and draws sweat away from your body. The moisture-wicking properties of the material help your body regulate its temperature, so you don't get cold when you stop skiing or sit on a chairlift.
Check Price on Amazon
We all rely on our cellphones so much that we are lost when the battery dies. Unfortunately, the cold temperatures zap the energy out of batteries, so our phones become useless.
But with the Phoozy Insulated Phone Pouch, your dad can keep his phone warm, preserving the battery. Therefore, everyone can stay in contact with him on the mountain.
The Phoozy comes in a range of styles and sizes. So there is one to suit your dad's taste and whatever phone he has.
Check Price on Amazon
Sometimes you just don't get around to servicing your skis, which can be frustrating if there is a powder day. But you can gain a little extra speed with some rub-on ski wax.
Rub-on wax is good for a few runs, so it is helpful to keep some in your jacket pocket or backpack.
This stuff from MountainFLOW is eco-friendly, as it is made entirely from plant-based substances. Therefore, your dad can rub it on the base of his skis while knowing he is making a positive step away from oil-based ski wax.
Check Price on Amazon
Improving your fitness a few weeks leading up to a ski trip will allow you to have more fun. One of the things a skier should focus on improving is their core. A strong core means you can react to changes in the snow and give you superior balance and agility.
The Revbalance 101 V2 is an excellent example of a balance board. Using it every day a few weeks before your trip will make a massive difference to your strength and fitness.
You may think that a balance board is just something you stand on. But you will be surprised how versatile the Revbalance 101 is. You can do several upper body, lower body, and core exercises to help your skiing.
Check Price on Amazon
Sometimes using a cellphone on the mountain is not the most convenient way of staying in touch with your group. You have to get your phone out of your pocket, take your gloves off, dial your contact (often with a wet finger), and hopefully, they answer.
But a set of wearable walkie-talkies like these from Retevis is an excellent solution. Thanks to the wearable earpiece, they have a hands-free mode, so you can communicate with your partner with ease.
They have a compact and cold-resistant design, ideal for the rigors of skiing.
Check Price on Amazon
If your dad is a hands-on kind of guy, he may like to look after his own skis rather than take them to a shop. If so, he will love this ski tuning kit from Winterial.
The kit has everything your dad needs to keep his and the family's skis in top condition. The kit includes essentials for waxing skis and snowboards, including a wax iron. Dad can fix holes in the base with the provided P-Tex, and sharpen the edges with the multi-angle tuner.
Being able to service your own equipment is advantageous, as you can be sure it is ready for the next dump of snow.
Check Price on Amazon
There are many skiing-themed novelty T-shirts, and some are better than others. But this one has a family connection with the caption "My Favorite Ski Buddies Call Me Dad" emblazoned on the front. The design also includes a colorful picture of some ski goggles with the reflection of a skier jumping in the lens.
Check Price on Amazon
When the wind blows and the temperatures are low, your exposed face can get very cold and uncomfortable. It is vital to keep your neck and face warm while skiing, especially when you ski in freezing climates.
Therefore, your dad will surely love this winter face mask and neck gaiter. It is made from a breathable and stretchy fabric that wicks moisture away from your face while protecting it from the wind and cold.
The fleece material keeps in the heat, but it also has strategically placed mesh panels to maintain airflow to prevent your goggles from fogging.
Check Price on Amazon
There is a high chance of your ski goggles getting scratched when you are off the slopes. Many people put their goggles on top of their helmets when they head to the après bar, leaving them vulnerable to damage.
But with the Gogglesoc, your dad can protect his goggle lens. It is perfect for when his helmet hangs on a coat hook or on the back of his chair while enjoying an après beer.
The Gogglesoc slips over the goggle's frame and can be ripped off in a fraction of a second, even while wearing gloves. There is a vast choice of designs, so there is bound to be one your dad likes.
Check Price on Amazon
Unfortunately, skis often get stolen in ski resorts. When you see hundreds of pairs left outside restaurants, it is hardly surprising that skis are easy targets for thieves.
Some people split their skis and place them in different locations, so the thieves can't piece together a pair without lots of searching. But this also makes it awkward for you, or you may forget to do it.
The best way to protect your skis is to use a ski lock. Thread the cable through the bindings and around a ski rack to secure them. Just don't forget the combination!
Check Price on Amazon
If your family has several pairs of skis, your dad may appreciate a dedicated storage system. Storing your skis properly prevents them from being damaged or damaging something when they fall.
This horizontal ski rack from StoreYourBoard is inexpensive and robust. It can store up to three pairs of skis or snowboards safely.
With this system, your dad can store his skis conveniently and quickly grab them when the snow falls. Check out our blog for more ski storage ideas.
Check Price on Amazon
Clumsy baggage handlers can damage your ski equipment before it has gotten anywhere near the snow. Therefore, you need to carry your skis and boots safely when traveling.
This two-piece ski and boot bag combination is the ideal way for your dad to keep his stuff safe. They are made from rugged, waterproof polyester and have 5mm of foam padding throughout, protecting boots, skis, and poles.
The bags are large enough for all your equipment and have extra room for your ski clothing, saving space in your suitcase.
Check Price on Amazon
If your dad needs a new pair of ski goggles, you may want to check out these ones from Wildhorn. Wildhorn is the U.S Ski Team's official goggle supplier, so you can be sure that they are high quality.
Wildhorn has a few choices in their range, but the Roca is a firm favorite among skiers. They come in many colors and designs, but they also have quality lenses for optimum clarity.
The Roca comes with an interchangeable lens, so you can quickly switch lenses to suit the light conditions. Check out our blog for more information on goggle lenses.
Check Price on Amazon
Fitness is essential for performing your best on the slopes, so you need to look after yourself. One of the best ways to do this is to use a foam roller kit.
The 321 Strong 5-in-1 foam roller set will allow you to prepare your muscles for a day of skiing. But you can also use it afterward to rejuvenate sore muscles.
The set includes a massage roller, a muscle roller stick, a strap for stretching, and massage balls. You can incorporate all of these into your workout routine in the weeks before your skiing trip.
Check Price on Amazon
Layering is essential for staying warm while skiing on cold days. A down jacket like this one from Columbia makes an excellent base layer or can be carried in a backpack for when it is needed.
Thanks to Columbia's Omni-Heat™ Reflective lining and polyester material throughout, it is really warm. Unlike many down jackets, this one is made from waterproof material, so you can wear it as an outer layer too.
You can buy this jacket in various styles, so your dad can look cool while staying warm.
Check Price on Amazon
Powder Days, by Heather Hansman, is a story of America's rich history of skiing and how the modern ski-bum culture evolved.
The book documents how the sport was kickstarted in America during World War II by the Tenth Mountain Division and how it became popular. It also talks about the family-owned ski resorts and how they evolved into the mega ski resorts we know today.
We learn about skiing pioneers and ski-bums who made it the sport we know in this critically acclaimed book.
Check Price on Amazon
Family ski trips create memories, especially if you have a favorite ski resort. With this framed ski map, your dad can be reminded of all the great times he has had at his favorite resort.
Choose between maps of several Colorado ski resorts for your dad to hang on his wall. You can order the map in a selection of frames or unframed. The detailed maps show the resort's slopes and legends to inspire your dad's next ski trip.
Check Price on Amazon
There are a few great action cameras on the market, but for your dad to capture all the on-slope antics, he needs a 360-degree camera.
The Insta360 One X2 records everything at the same time. This means you don't need to worry about the action being out of frame. You choose the field of view in the editing process, and you will find lots of cool features within the editing software.
You can mount the camera in several ways, and it is compatible with GoPro mounts. The coolest way to record with the Insta360 is with the invisible selfie stick. Somehow the camera deletes the stick from the footage, creating a drone-like effect.
Check Price on Amazon
If your dad skis in extreme cold or has poor circulation, he will love a pair of heated ski socks. These are the best way to keep toes warm and comfortable in sub-zero temperatures.
The socks have heating elements that run around the feet for optimum comfort. You can select the level of toastiness with a phone app and Bluetooth connectivity. The mink-like material also adds to their coziness.
Each sock is powered by a lightweight rechargeable lithium-ion battery. So you just have to plug them in after a day of skiing, so they are ready for the following morning.
These socks are pretty versatile and not just for skiing. Your dad can use them for any outdoor activity, from camping to hiking.
Check Price on Amazon
The Dakine Helipack is an iconic design that has evolved over the years. This backpack was designed initially for heliskiing, as it features everything you need for a day of heli-drops. It is compact, so it doesn't take up too much space in the chopper, and has compartments for your avalanche kit, a ski/snowboard carrier, and everything else you need for the day.
But, you don't have to be an extreme skier to enjoy the benefits of the Dakine Helipack. It is excellent for traveling, and its compact size means that you can comfortably wear it on the chairlift.
The Dakine Helipack comes in various colors and designs to match perfectly with your dad's ski outfit.
Check Price on Amazon
Poor circulation or skiing in frigid temperatures can make your hands incredibly uncomfortable. So much so, it can ruin your day, and nobody wants their dad to miss out on a day of skiing for something that is preventable.
So your dad may like to use a pair of rechargeable hand warmers. These are ergonomically designed to slip into ski gloves and rest neatly in your palms.
The hand warmers are easy to use and are activated with just one button. They have three levels of heat, so your dad can choose the appropriate setting to suit the temperature.
As an extra feature, the hand warmers also act as a power bank, ideal for charging a cellphone on the mountain.
Check Price on Amazon
Is your dad quite clumsy? If so, his car's paintwork is at risk from falling skis and snowboards while he puts his boots on in the parking lot.
The SnowStrip is a magnetic protector that sticks to the side of your car. It features a series of ridges that prevent skis and snowboards from accidentally falling over.
Even though the backing strip has powerful magnets, the SnowStrip can be attached and removed in seconds without damaging the car's paintwork. But you can still drive at highway speeds with it attached.
Check Price on Amazon
If your dad is the kind of guy that likes to start après early, he may like a set of WhiSki Poles.
These are high-quality ski poles with a difference. They have an integrated flask within each pole for storing your dad's favorite drink.
He can take a few sips on the chairlift to warm himself up for après and get a head start on everyone else.
The WhiSki poles use a standard ski pole handle, but it has a cap that unscrews to give you access to the flask. You can remove the cap with one hand, even with gloves. The cap also has a strap to ensure you never lose it.
Check Price on Amazon
Discovering new places to go is all part of the skiing experience. This book highlights some of the most inspiring skiing and snowboarding destinations in the world.
Learn all about ski resorts in the U.S, France, Japan, Canada, and Chile. The book is the result of interviews with some of the best skiers in the world who have conquered the towering peaks in these locations.
You are treated to stunning photos of incredible landscapes while learning about their rich history.
Check Price on Amazon
The Airblaster Ninja Suit is a fantastic base layer providing warmth and comfort. It is made from a polyester and spandex blend, meaning it is super soft against your skin, insulating, and moisture-wicking.
Many skiers and snowboarders regard the Airblaster Ninja Suit as the perfect base layer for cold weather days on the mountain. The one-piece design adds to the comfort, as does the hood that fits perfectly under your helmet.
Airblaster makes the Ninja Suit in a variety of colors and designs; some are pretty crazy, while others are more subtle.
Check Price on Amazon
Everyone should ski with a helmet, but having a beanie in your pocket is ideal for when you stop for a break or walk around the resort.
The Carhartt Cuffed Beanie is a classic design and is incredibly comfortable to wear. This is the kind of beanie that you cannot go wrong with.
It also comes in a wide range of colors, so you can find one that goes well with your dad's ski jacket.
Check Price on Amazon
Your dad may be a little nervous about hurting himself while skiing, but he can manage the risk with the POC VPD vest. This super lightweight body armor protects the torso from both the front and back. It also protects the shoulders and elbows.
The great thing about this body armor is that it isn't bulky. Its flexibility gives your freedom of movement, so your dad can ski without feeling restricted.
POC has created the VPD vest with mesh construction for ventilation. The padding is also removable for easy cleaning.
Final Thoughts
As you can see, there are plenty of cool skiing gifts for dad.
The items on this list will all add something positive to your dad's experience on the slopes.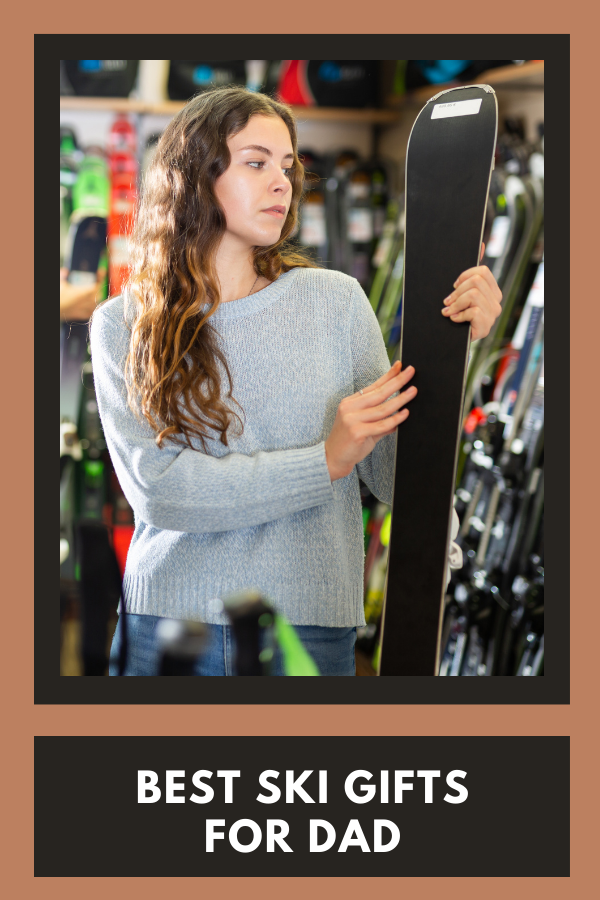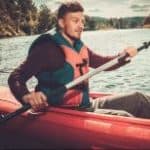 Author: Peter Salisbury
Pete is the Owner of KayakHelp.com. Born and raised in Cleveland, Ohio, he grew up kayaking, fishing, sailing, and partaking in outdoor adventures around the Great Lakes. When he's not out on the water, you can find him skiing in the mountains, reading his favorite books, and spending time with his family.