If you have never heard of the Lake District, you will be adding it to your bucket list of kayaking destinations after this article. We're here to provide a complete guide to kayaking in Lake District to help you plan for your trip to this epic destination.
This guide is going to cover a brief overview on where Lake District is, information about weather throughout the year there, recommended types of kayaks for paddling in Lake District, the best lakes and rivers to kayak on, and companies where you can rent a kayak from or hire to take you a guided kayaking tour in the Lake District.
With these resources in hand, we hope you'll be able to organize and schedule the perfect trip for kayaking in Lake District. Without further adieu, let's get started!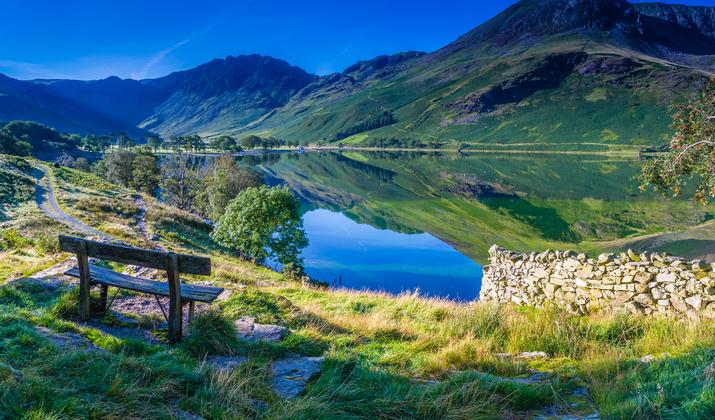 Photo by Michael Conrad via Shutterstock
Where is Lake District?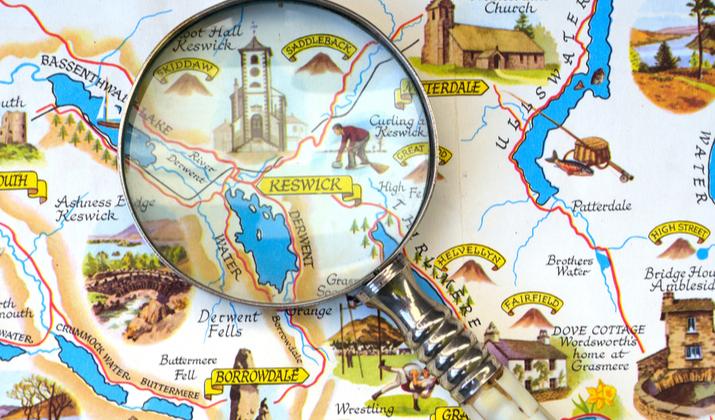 Photo by Martin Charles Hatch via Shutterstock
Obviously the logical place to start is with a quick overview of where in the world you can find the Lake District. You'll need to head to the northwestern part of England to find this popular holiday destination.
This district lies within the boundaries of Cumbria, which is a county and administrative unit established in 1974. The district is renowned for its beautiful lakes, extensive forests, and high mountain peaks.
Over the years, it has also been associated with famous Lake poets and writers like William Wordsworth, as well as other famous characters like Beatrix Potter and John Ruskin.
Lake District National Park is a larger area that includes the most of the mountainous region known as the Lake District (also just called the Lakes or Lakeland), although towns like Kendal are technically outside of the park's boundary.
The national park was established in 1951 and it is currently the most visited national park in the entire United Kingdom. On average, it receives more than 16 million visitors each year and it is the largest of the 13 total national parks in England and Wales, although it is surpassed by Cairngorms National Park in the UK.
Interestingly, all of the land in England that lies above an elevation of 3,000 feet (914 meters) above sea level is contained within the national park. That includes Scafell Pike, which is the highest mountain in the country.
Of more importance to kayakers, however, are the many crystal clear lakes that this region is named for. The district is home to the deepest (Wast Water) and largest (Windermere) lakes in England.
What is the Best Time of Year For Kayaking in Lake District?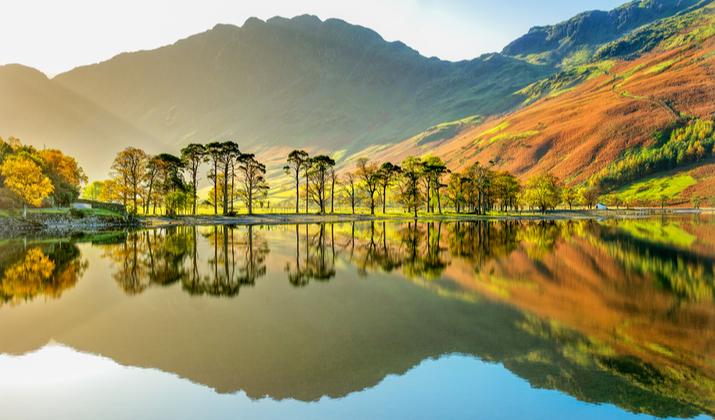 Photo by Undivided via Shutterstock
Next, we need to talk about when you should plan a visit to Lake District so you can enjoy the best possible weather conditions for paddling while you are there. The weather here varies dramatically from season to season, but it can also change a lot in the course of a single day.
The Lake District averages about 200 wet days per year, which means the likelihood of experiencing at least some rain during your visit is rather high. So you may need to consult our recommendations for cold weather kayaking gear before your visit.
This is mainly caused by weather patterns that bring clouds into the Lake District. As they hit the region's tall mountains, those clouds rise, any water vapor they contain cools and condenses, and that vapor then returns to earth in the form of rain or snow.
The best time of year to visit Lake District for a kayaking trip is roughly from May through September. While daytime temperatures still rarely exceed the mid-60s, they also don't drop much below the low 40s.
Still, weather will always vary depending on where exactly you're trying to paddle, so we recommend consulting the national park's website for updated weather information and other resources to help you plan your trip. You might also find photos and live webcams around Lake District National Park useful for planning your visit.
What is the Best Type of Kayak For Kayaking in Lake District?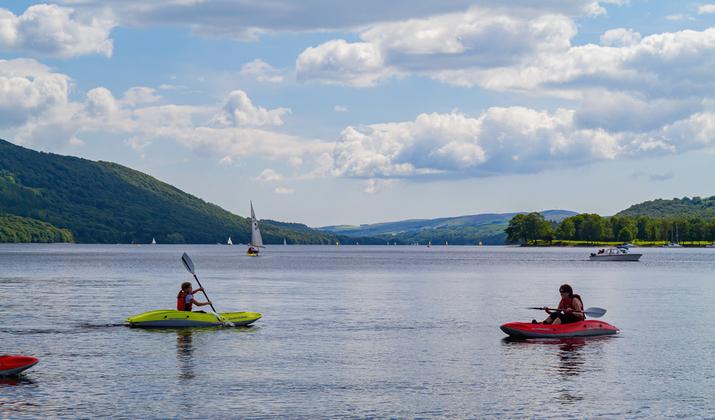 Photo by Kit Leong via Shutterstock
Now it's time to discuss the type of kayak you should be using for paddling in Lake District. If you are traveling here from an international destination, you can mostly trust the rental company you get your kayak from with this decision.
Due to the lower temperatures and the high chance of precipitation in the Lake District, the best type of kayak for a paddle here is going to be either a touring kayak or a sea kayak. Simply put, you want something that is compatible with one of the best kayak spray skirts.
Where Should You Go Kayaking in Lake District?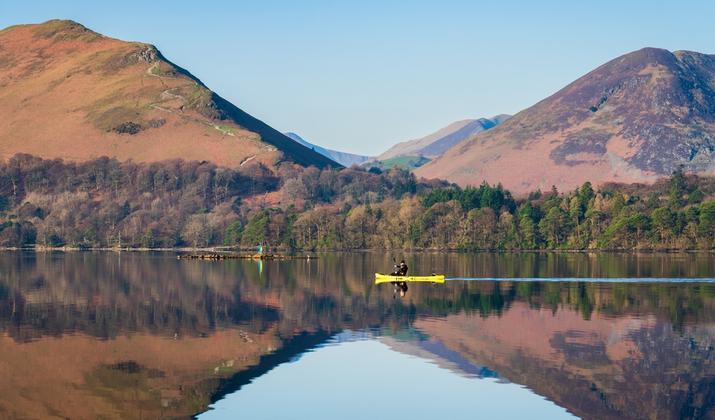 Photo by Pajor Pawel via Shutterstock
Because it's a relatively large area, there are actually multiple places where you can go kayaking in Lake District. So let's talk about a few of the most popular places to paddle here so that you have some options at your disposal.
Lake Windermere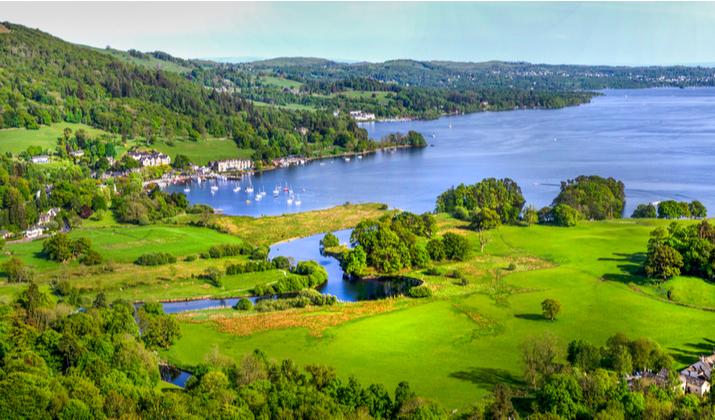 Photo by Garry Basnett via Shutterstock
With dimensions measuring roughly 10.5 miles long, one mile wide, and a maximum depth of approximately 220 feet, Lake Windermere is the biggest lake in England. As you might expect, that makes it a popular choice for visitors and residents alike.
Many paddlers attempt to traverse the entire length of the lake in their kayak, but this is only recommended for experienced paddlers. Plus, there are many ferries, sailboats, and motorized vessels to look out for on this lake.
As a more realistic journey, you might consider paddling out to one of the lake's 18 islands. There's fantastic wildlife to see from almost any spot on the lake, including fishing birds and, if you're lucky, maybe even an otter.
There's also plenty of architectural areas of significance, such as the Wray Castle at the lake's northern end. At the southeastern end of the lake, you can also paddle past Storrs Temple, which is a garden house built in 1804 to honor the lives of four British Naval officers.
Lake Ullswater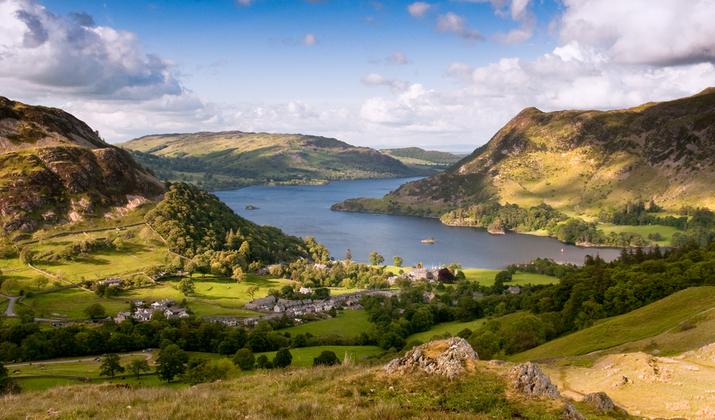 Photo by Joe Dunckley via Shutterstock
At roughly 7.5 miles long, 0.75 miles wide, and with a maximum depth of approximately 205 feet, Lake Ullswater is the second-largest lake in the Lake District. It may not be quite as popular as Lake Windermere, but it still boasts some fantastic scenery and may allow you to avoid some of the crowds on busy days.
The lake is separated into three distinct areas. There's the Glenridding area at the lake's southern end, the Middle Reaches at the center of the lake, and Pooley Bridge at the north end of the lake.
Glenridding is known for its abundant population of red deer and the nearby Aira Force waterfall if you're willing to take a quick detour from your paddle. Sandwick Bay is an excellent location for a beach stop and picnic in the Middle Reaches and the Ullswater Yacht Club is a popular attraction in Pooley Bridge.
Strong winds often come from the south or southwest across this lake, so paddlers should be advised and plan their paddling routes accordingly.
Wast Water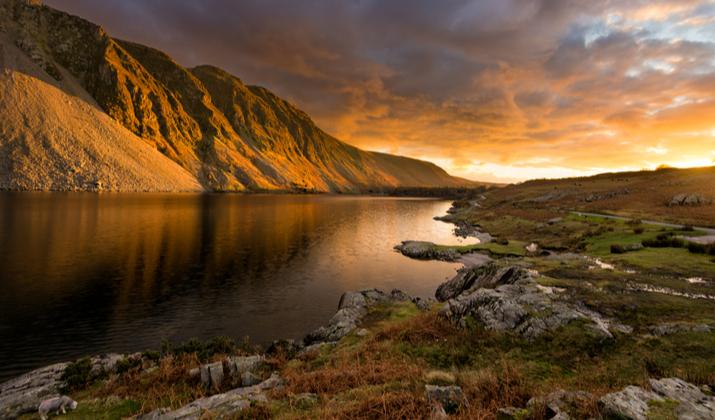 Photo by Daniel_Kay via Shutterstock
Wast Water is the deepest lake in the Lake District and it sports a maximum depth of 259 feet. The lake is also home to perhaps the most dramatic backdrop of any of the beautiful bodies of water in the entire district.
From the water, the high peaks of Kirk Fell, Red Pike, and Scarfell Pike rise up to the heavens above. The only problem with paddling here is that you'll find it difficult to rent a kayak anywhere on this lake's rocky shoreline, which makes this a destination for bringing your own kayak.
Derwentwater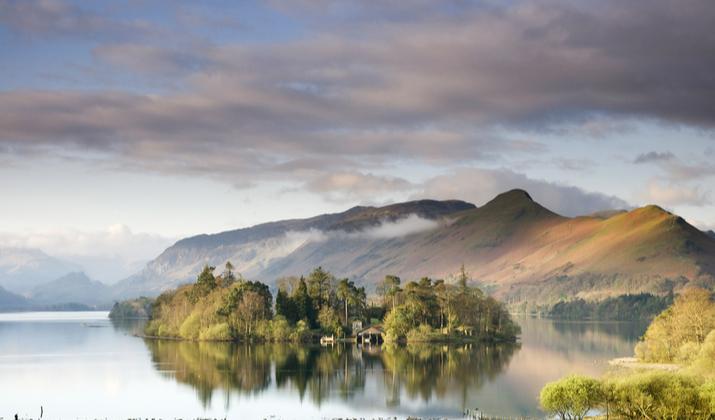 Photo by stocker1970 via Shutterstock
Derwentwater is the third-largest lake in Cumbria and it boasts a length of 3 miles, a width of one mile, and a maximum depth of 72 feet. Although it's not as large as Windermere or Ullswater, its close proximity to the city of Keswick makes it perhaps the busiest spot in the entire Lake District.
Wherever you launch your kayak along the lake's shoreline, you'll be able to explore one or more of the four islands that dot the lake's interior. Derwent Island is the largest of the four, but Lord's Island, Saint Herbert's Island, and Rampsholme are also worth exploring.
Coniston Water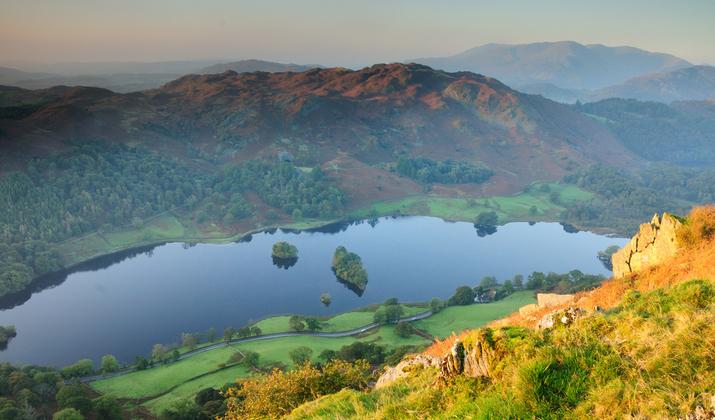 Photo by Stewart Smith Photography via Shutterstock
With a length of five miles and a maximum depth of approximately 184 feet, Coniston Water is the fifth-largest lake in the Lake District. There are three small islands–marked by blue and white flags–that you can paddle to from launch locations around the lake.
The backdrop for this lake is also spectacular, but the highlight is the towering Old Man of Coniston, the highest point in the historic Lancashire County, that looms over the lake and the village.
Bassenthwaite Lake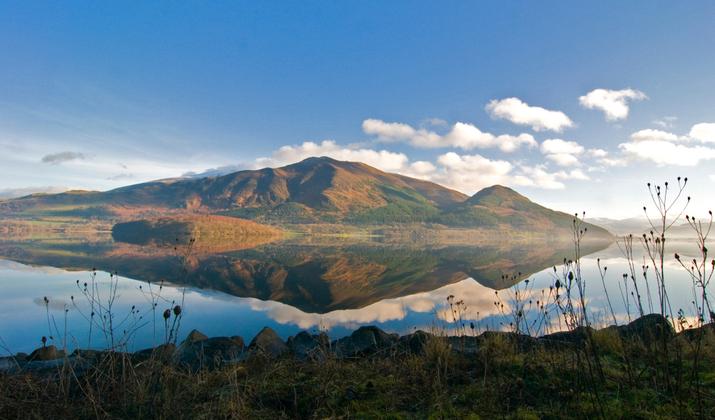 Photo by JPCO via Shutterstock
While it boasts a length of roughly four miles and a width of about 0.75 miles, Bassenthwaite Lake is one of the shallowest bodies of water in Cumbria–at just about 70 feet deep. That actually helps to make it much quieter than many of the other lakes in the district.
Because of its shallow nature, motorized vessels are not permitted on any part of the lake. In addition, paddlers of personal watercraft must also obtain a permit before launching their vessel onto the Bassenthwaite.
So if you do get a permit to paddle here, you won't have to contend with the crowds you'll see on lakes like Windermere. Plus, parts of the lake are protected as a National Nature Reserve for fish species and osprey.
That means you'll need to be mindful of where exactly you paddle on Bassenthwaite Lake. The south side is the wildlife sanctuary, which makes it a great location for spotting various types of native wildlife.
The lake's eastern shore is entirely private and the northern end is often used by the local sailing club for sponsored races. So keep an eye out for signs that designate restricted areas while paddling here.
Grasmere Lake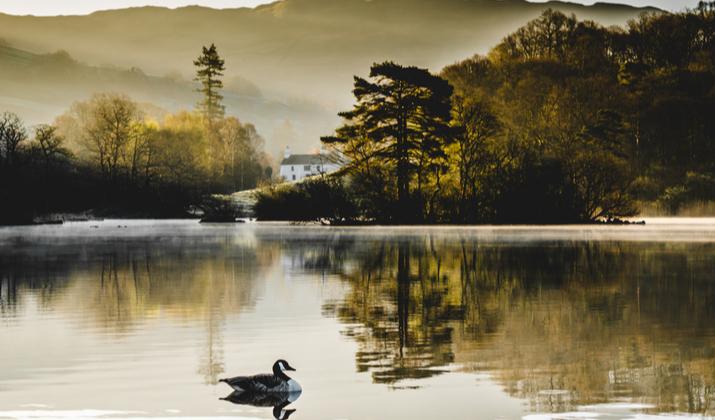 Photo by Christopher Czermak via Shutterstock
In contrast to some of the larger lakes in the district, Grasmere Lake offers something different entirely. At just one mile long, a half-mile wide, and with a maximum depth of approximately 75 feet, the lake is petite and charming.
The rental kiosk for kayaks can be found at the lake's southwestern shore and there's a small island in the middle of the lake that you can paddle around. Unfortunately, it is privately owned, so you aren't permitted to land there.
If you are looking for a longer paddle using Grasmere Lake as your starting location, you can hop onto the River Rothay from the lake and meander the four miles from Grasmere down to Windermere.
Other Locations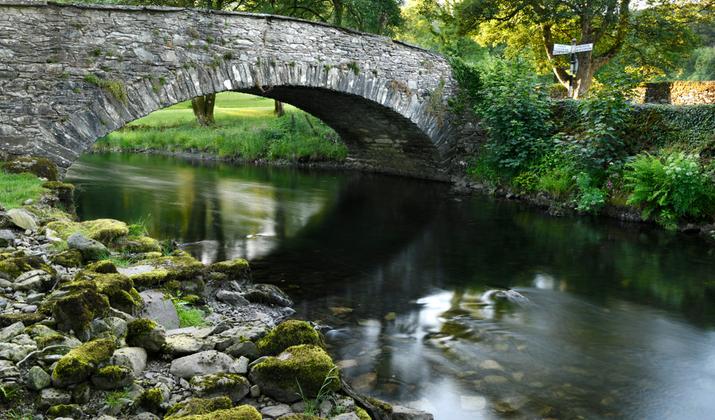 Photo by Reimar via Shutterstock
Fortunately, the selections don't stop there and you'll have plenty of other lakes and rivers to choose from if you're trying to find a more solitary place to paddle. Here's a quick list of the other locations that you can research before your trip to Lake District:
Lakes
Thirlmere Reservoir
Crummock Water
Ennerdale Water
Rivers
Eden
Lune
Derwent
Rothay
Greta
Guide or Rental Companies for Kayaking in Lake District
If you don't bring your own kayak to Lake District, you'll need to rent one. Whether you're renting a kayak or looking for a guided kayaking tour, here are a few companies that can help you out.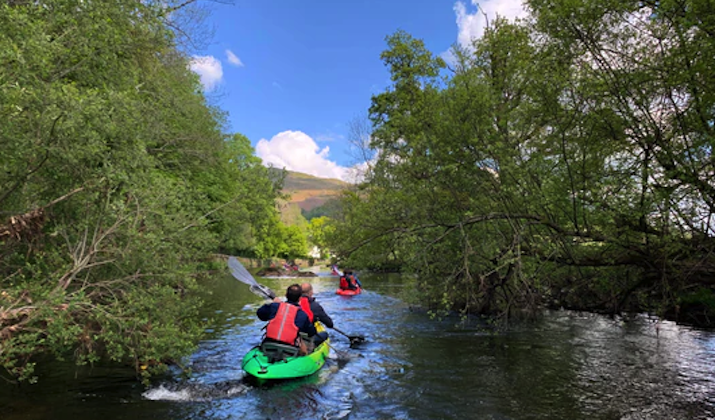 PC Windermere Canoe and Kayak
Windermere Canoe and Kayak offers rentals of sit-on-top and closed cockpit kayaks, as well as standup paddleboards and canoes from three separate locations on Lake Windermere. They also offer rentals of different kayaking equipment, such as wetsuits, paddles, and buoyancy aids.
Just keep in mind that they do require certain certifications or equivalent experience in deep water self rescue for renting Canadian canoes or closed cockpit kayaks.
PC Ullswater Outdoor Adventures
If you are looking for a kayaking tour in the Lake District, Ullswater Outdoor Adventures is an excellent guide company. They specialize in working with smaller groups and they also design customized kayaking experiences for private groups.
Some of their cooler offerings include a kayak and cliff jump adventure, Scottish canoe expeditions, kayak and canoe coaching, an Ullswater full day kayak exploration, and something called the Hell Water Challenge.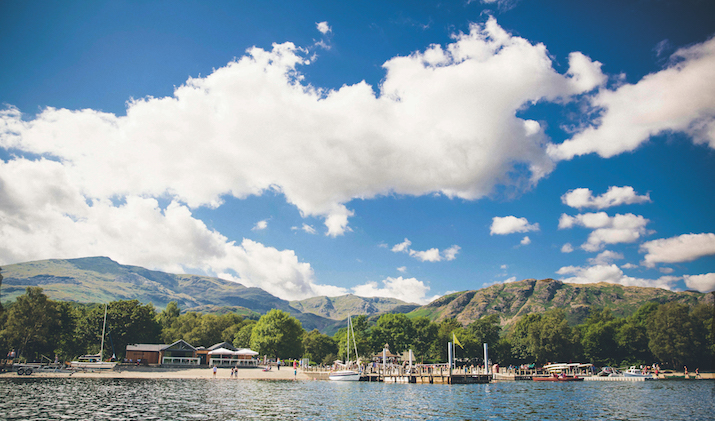 PC Coniston Boating Centre
For those of you looking for a place to rent kayaks to explore Coniston Water, the Coniston Boating Centre is your best bet. They offer sit-on-top-kayaks, open Canadian canoes, and even paddleboards for rent.
They are also a dog-friendly kayak rental company, which means you might not have to leave your furry friend home when you want to go kayaking here. Just make sure you know how to kayak with a dog before you risk messing up some rental equipment!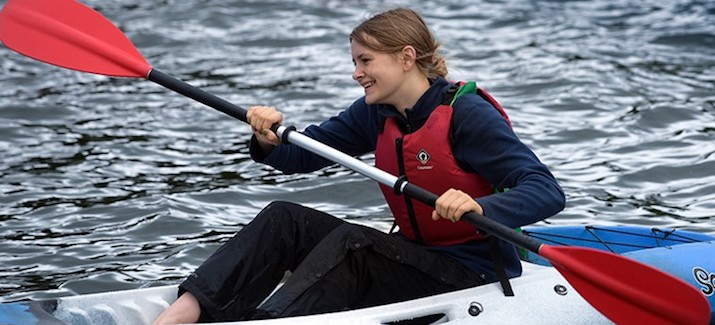 PC Brockhole on Windermere
Brockhole is another good location if you are looking for a place to rent kayaks on Lake Windermere. Located between Bowness and Ambleside, Brockhole's location offers a more protected and safer place for families or beginners to kayak on Lake Windermere.
They offer rentals of single, double, and even triple kayaks. Paddlers aged 14 and up are able to rent a single kayak, but anyone under the age of 14 must paddle with an adult in a double or triple kayak.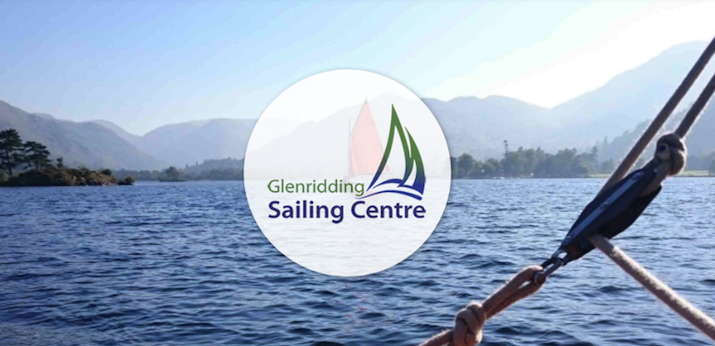 PC Glenridding Sailing Centre
The Glenridding Sailing Centre is the best place to rent kayaks or other personal watercraft for paddling on Lake Ullswater. Their fleet features single kayaks, double kayaks, Canadian canoes, and even small sailing dinghies.
These kayaks can be booked online in advance and you might also be interested in some of the group activities offered at the Glenridding Sailing Centre during your visit.
Final Thoughts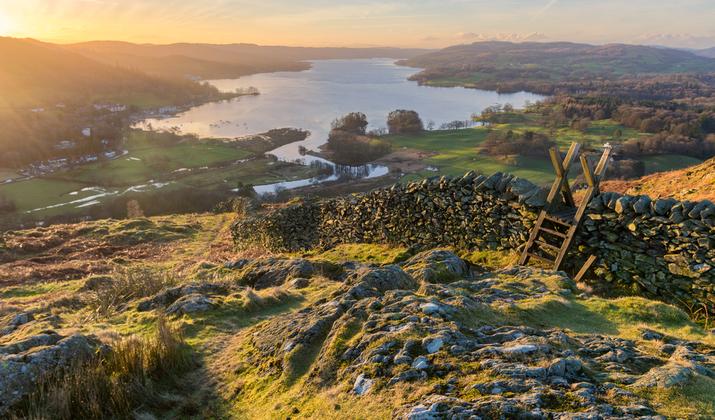 Photo by Daniel_Kay via Shutterstock
We hope you've enjoyed this complete guide to kayaking in Lake District and that it gives you plenty of food for thought when planning your trip to this fabulous kayaking location.
We wish you the best and brightest of kayaking adventures in the future!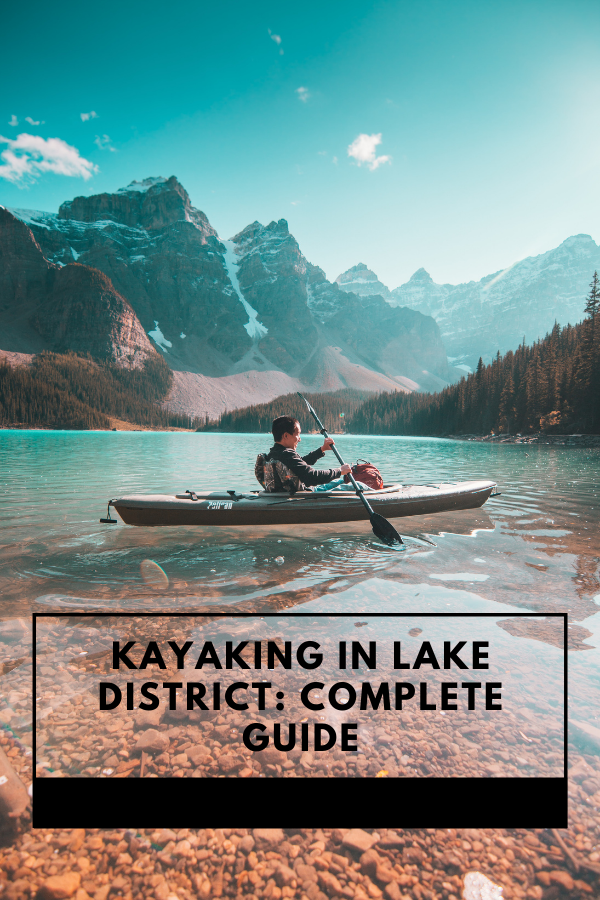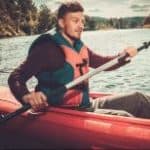 Author: Peter Salisbury
Pete is the Owner of KayakHelp.com. Born and raised in Cleveland, Ohio, he grew up kayaking, fishing, sailing, and partaking in outdoor adventures around the Great Lakes. When he's not out on the water, you can find him skiing in the mountains, reading his favorite books, and spending time with his family.