New skis come out every season; our skills develop, and we discover new places to go. There is a pair of skis for every occasion; for example, you can buy powder skis, freestyle skis, cross country skis, and all-mountain skis.
This means that the most dedicated skiers tend to accumulate new equipment. Of course, you can sell your old skis, but what if you haven't finished with them and want to use them for specific conditions?
The problem with collecting all of this equipment is that it can be difficult to store it safely and tidily while keeping it easy to get to for when you need it.
With this in mind, it is a good idea to check out some ski storage ideas. There are some simple solutions and some more complex ways to keep your gear in top condition.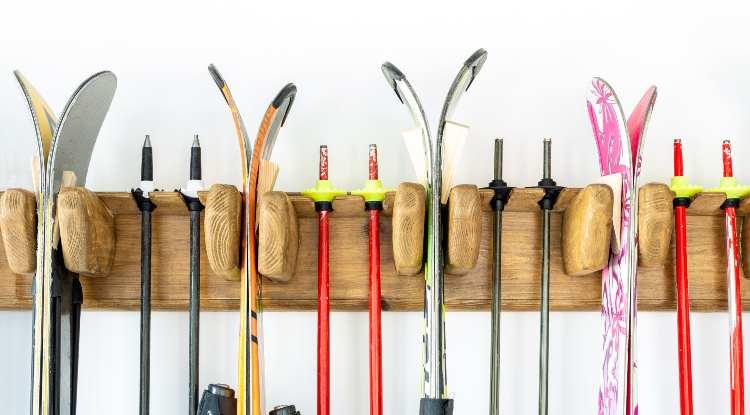 Image by Gorlov-KV from Shutterstock
Why You Need To Store Your Skis Properly
Propping your skis up against the wall leaves them vulnerable to falling over and damage. This is especially the case with twin-tip skis, which are more rounded at the ends, making them unstable.
When your skis fall over, their edges and bases can be damaged. Your ski bindings can also break, which is dangerous, as you may not notice until your ski comes off while skiing.
Your skis can also damage the things around them. For example, if you leave your skis in your garage, they could fall and hit your car, denting it.
Therefore, it is a good idea to keep your skis in a safe and secure place.
What To Look For In A Ski Storage Rack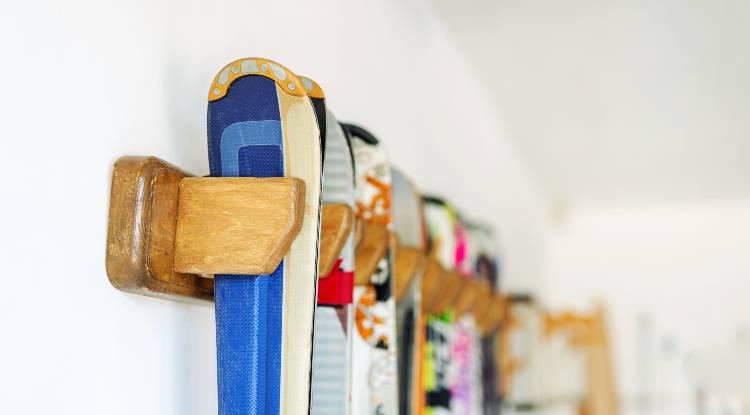 Image by Gorlov-KV from Shutterstock
Material And Construction
You can buy ski storage racks made from a range of materials. Heavier duty versions are made from metal and are suitable for people with a wide range of ski and snowboard equipment.
Metal racks coated with epoxy are very sturdy and incredibly durable, so they will last many years. These high-end racks make it easier to organize your equipment, thereby minimizing the chances of your skis and snowboards falling and getting damaged.
However, you can also buy ski and snowboard racks made from wood. These are probably just as durable as metal ones, but they look much more stylish and less industrial.
Some ski rack manufacturers use plastic as their construction material. These racks are only really suitable for lightweight skis and snowboards. You shouldn't rely on plastic ski racks if you know you will add to your ski collections, as they are not as durable as metal and wooden racks.
Think About How Much Space You Have
If space is tight, or you don't have a garage to store your equipment, you may be better off with wall-mounted ski and snowboard racks.
There are different types of wall-mounted ski and snowboard racks, such as hooks or holders, that safely grip skis and snowboards. These systems take up less space than traditional racks and are easy to attach to a wall.
You may want to consider how your skis will fit in your space. For example, will they fit better mounted vertically or horizontally? Also, measure the available wall space before buying any ski storage solutions.
Wall-mounted ski racks are a great way to keep your equipment organized and are often the best-looking way to do it. Furthermore, they're relatively cheap.
Organization Of Ski Storage
The primary purpose of a ski storage rack is to provide convenient and organized storage. Therefore, you should choose a solution that makes it easy to grab your stuff and go.
You don't want to have to wrestle your skis and snowboards out of the rack when you are in a rush to get first lifts.
So if a design looks like it may be complicated or awkward, choose a different ski storage solution.
Consider How It Looks
How a ski or snowboard rack looks won't matter most of the time. But, if you have a cool-looking ski room or garage, you may want to consider the rack's aesthetics.
You may prefer a minimalist style or go for one made from quality wood that goes well with its surroundings.
Think About How Easy It Is To Install
If you plan to install the ski rack yourself, make sure the one you buy has instructions and tools for installation. This is especially important if you are not too experienced with DIY, as it will make your life easier.
Most ski and snowboard storage racks require anchors and screws to hold the track in place, and you often need to drill holes for additional hooks.
Consider How Versatile The Storage System Is
Most ski storage racks are versatile enough to accommodate skis, poles, and snowboards. However, the more versatile racks allow you to adjust the bars and hooks to accommodate different skis and equipment.
If you want an ultimate storage solution, you may want to build something yourself by combining multiple products. For example, you can make a ski locker with built-in boot dryers, a shelf for your helmet, hooks for poles, etc.
Think About Your Budget
Your ski and snowboard equipment is already pricey, so you may not want to spend too much on storing it. Therefore, come up with a budget and stick to it.
If you stick to a budget, it will help you narrow down your choices. This way, you won't have to trawl through hundreds of different ski and snowboard storage solutions.
Thumbnail
Title
StoreYourBoard Ski Wall Rack and Storage Shelf, Holds 10 Pairs, Ski Wall Mount, Home and Garage Storage Hanger
Gravity Grabber - The Ultimate Ski + Snowboard Wall Storage Rack | Save Your Rocker, Tips, and Tails | Damage-Free Ski/Snowboard Storage Rack | Fits any Ski or Snowboard | Ski/Board Wall Storage (Black, 2)
Rocker Ski Rack Individual Ski Racks (Large)
Button Ski Hanger 5-Pack, 5 Individual Fixtures To Safely Store 5 Pairs Of Alpine Skis Of Any Shape Or Size (Rockers, Carvers, Racers, Kids) To Make A Wall Or Floor Ski Storage Rack
Ultrawall Ski Rack Wall Mounted for Garage Organizer, Ski Storage Rack for Home Shed Storage Organization System, Holds Up to 300lbs
Recommended Ski Storage Ideas
Check Price on Amazon
This system from StoreYourBoard is ideal for those with a lot of ski and snowboard equipment. It supports your skis and snowboards vertically and has space for your poles too.
It also comes with a sturdy overhead shelf ideal for storing your boots, gloves, bags, and more.
The whole system is made from heavy-duty steel and aluminum. Therefore, it can hold up to 300 lbs of equipment without taking up too much room.
You only need 16″ of wall space (plus the dimensions of your skis and whatever you put on the shelf). The rack's design makes it very versatile, so you can build and install it to suit your needs.
The StoreYourBoard ski and snowboard rack has an impressive weight capacity and is easy to install and customize. Even though it cannot hold cross country skis, it is durable enough for everything else you have.
Check Price on Amazon
The Gravity Grabber is one of the most elegant ski storage systems you can buy. It ensures your skis and snowboards are safely kept out of the way while saving space and money.
This is a wall-mounted ski storage system that uses gravity to lock your skis and snowboards in place. It also comes in two colors to suit your decor.
Even though the Gravity Grabber looks dainty, it is incredibly strong, so you can have peace of mind that your skis and snowboards will be kept safe and sound.
The system has a safe contact point and anti-slip pads that grip your skis and snowboards, regardless of their shape and size. They hang securely, protected from damage.
The Pop, Drop, and Lock mechanism makes the Gravity Grabber super easy to use. The swivel arms and an integrated pole hanger design allow you to grab your gear and get the first tracks in the morning without delay.
If you are not confident about DIY, the Gravity Grabber is a great solution. This is because it is a straightforward system to install.
The Gravity Grabber may not be suitable for multiple heavy skis and snowboards. However, it is ideal for small spaces and for people who want a budget-friendly and easy way to securely store their ski and snowboard equipment.
Check Price on Amazon
The Rocker Ski Rack is another elegant solution for keeping your ski and snowboard equipment safe and secure. It saves space using a wall-mounted configuration, ideal for garages, cupboards, and spare rooms.
People who opt for the Rocker Ski Rack like its simple style and low cost. However, you can only hang one pair of skis from it, so if you have many pairs, you will need to buy more than one ski rack.
The Rocker Ski Rack is incredibly well-made and is strong. Its design is also suitable for different sized and shaped skis and holds them without damaging or marking them.
The designers of this ski rack have also managed to integrate an accessory hanging bar into it. This allows you to tidily store poles, gloves, helmets, goggles, and more.
For a durable and versatile ski rack that looks great, you can't go wrong with the Rocker Ski Rack. However, if you have obscurely shaped equipment, make sure it will fit before you buy one.
Check Price on Amazon
The Totti Button Ski Hanger is an excellent way of hanging your skis on the wall by their bindings. This is a very cost-effective way of keeping your skis safe when you are not using them.
You get five buttons in a pack, which offer plenty of versatility for storing five pairs of skis. All you need to do is screw the buttons onto a wooden baton 6″ apart, then attach the wood to the wall.
You simply hang your skis onto the button via the bindings. This is a simple design that doesn't take up too much space, so it is ideal for those without a dedicated garage to keep the equipment in.
The design also makes it easy to unhook your skis in a rush, so you don't have to worry about keeping your ski buddies waiting on a powder day.
People who choose this ski storage system love it for its ease of use and simple but effective design. Also, hanging your skis from the bindings means that there is no pressure on the skis' tips or tails.
Check Price on Amazon
This ski storage solution from Ultrawall is another convenient way of hanging your ski equipment on your wall. It consists of a mini rail with a mounting fixture that can take four skis or snowboards up to 300 lbs.
The simple design gives you easy access to your ski and snowboard equipment. But it also makes it effortless to store your stuff at the end of the day.
The 24″ wall mount frame is easy to install on any wall, and all the required hardware is included in the package. Therefore, you don't have to make a trip to the hardware store for additional materials.
As the Ultrawall Ski Rack is made from heavy-duty, black powder-coated steel, you can be assured that it will last for many years. The arms that support your skis are padded; therefore, your ski equipment won't get scratched.
The system also comes with some customizable rubber-coated hooks. These allow you to adjust the space between each holder so you can fine-tune the rack to hold your equipment.
Check Price on Amazon
This product from Rough Rack is a heavy-duty ski and snowboard rack and is well-known for its durability. There are much cheaper options, but this one can hold up to eight pairs of skis or snowboards.
So, if you have a quiver of skis or snowboards for all eventualities, the Rough Rack is an excellent choice. You simply hang your skis and snowboards from the sturdy arms that support the tips.
However, there are no additional hooks for your poles, so you will have to find another solution for storing them. But when it comes to skis and snowboards, the design of the rack's arms accommodates all kinds.
One of the advantages of the Rough Rack is that it comes with all the mounting hardware and installation instructions. Therefore, it is easy to install, even if you have had little or no DIY experience.
Check Price on Amazon
Sometimes storing your skis or snowboards vertically just won't work. Therefore, this horizontal ski storage rack from StoreYourBoard is ideal.
It is made from heavy-duty molded ABS plastic, which is lightweight and flexible, providing durable storage of your skis and snowboards. StoreYourboard has made each rack deep enough to hold wide skis and snowboards.
Therefore, if you have racing, twin tip, slalom, downhill, cross country, or all-mountain skis, there is more than enough room for your equipment.
This ski rack is very easy to install; all you need is a screwdriver or a drill to install the screws and drywall anchors. It is best to screw the rack directly into wall studs if you have heavier skis and snowboards with bindings.
Check Price on Amazon
If you want to individually mount your snowboards to the wall, the XCMAN snowboard wall mount is the simplest and most minimalistic way to do it.
This system consists of two small rubber bullet-like pieces that you screw into the wall. All you need to do is screw the rubber bullets on the wall wide enough to slot your snowboard between them.
Your snowboard is suspended by the broader part of the nose. Making this an elegant but simple solution to snowboard storage. It also works well for displaying your snowboard, as well as keeping it safe.
The XCMAN Snowboard wall mount comes with four rubber bullets, so you can hang two snowboards individually.
This system is great; however, you don't save much wall space, as the snowboards sit flush with the wall.
Check Price on Amazon
This system from Grassracks works in the same way as the XCMAN system. It works by hooking your skis or snowboard between the two buttons screwed into the wall, using the wide part of the sidecut.
However, the Grassracks version is more pleasing to the eye, as the buttons are made from bamboo. Bamboo is incredibly strong, so this system can support skis and snowboards weighing up to 75 lbs.
This system is surprisingly versatile, too, as you can mount the buttons to hold ski poles, jackets, gloves, etc. Depending on your needs, you can buy them in packs of 2, 3, 5, and 10.
The bamboo buttons look great, so you can use them in different spaces.
Sometimes you need to get creative when it comes to the best ski storage ideas. How much wall space and the equipment you want to store all play a part in what solution you can use.
Often you are limited by the shape of your room, too, so you may have to customize your ski storage system to suit. The YYST ski wall mount is a great way to make use of the space you have.
This system is a simple two-pronged hook that supports your skis. The prongs have a thick black plastic coating, preventing your skis from getting marked.
Each hook holds one pair of skis vertically. But this system allows you to arrange multiple hooks to accommodate your collection, including your Nordic skis.
The distance between the two prongs is 1," and they are 10cm long away. Make sure you measure the width and thickness of your skis before you buy to ensure that they will fit.
The hooks come with all the hardware necessary to mount them to the wall, making it convenient and easy to do.
Storing Skis And Snowboards At The End Of Winter
When the snow melts and it is time to put your skis and snowboards away until next winter, you need to make sure the bases don't dry out.
If you don't put a fresh coat of storage wax on your skis and snowboards, they will become slow. Here is what you need to do before you store your skis and snowboards at the end of winter:
1. Clean The Base
Get some base cleaner and spray it evenly on the base of your skis or snowboard. Wipe it off along with the old wax and dirt, leaving you with a clean base.
2. Drip Wax Onto The Base
Switch your waxing iron on, but don't let it get too hot. You need just enough heat to melt the wax, not to make it smoke.
When the iron is hot enough, press the corner of your block of wax onto the iron, and let the melted wax drizzle onto the base.
Drizzle the wax in a zig-zag pattern on the base before dripping it around the edges.
3. Spread The Wax
Place your iron onto the base and smooth out the wax to cover the whole of the base. Pay close attention to the raised parts of the wax, ensuring you re-melt any that has solidified.
Don't spend too long on one section of the base. In extreme cases, the heat can cause the top sheet of your skis or snowboard to come off. Smooth the wax over, but just long enough to allow the wax to melt into the pores on the base
4. Let The Wax Cool
Let the wax cool to ensure it doesn't come off if you put the skis or snowboards in a bag for summer. You may want to leave your skis or snowboard out in the sun for a while. This will give the wax more chance to settle into the base.
5. When Winter Comes
When it is time to head up the mountain, scrape the excess wax off the base, and polish it with a cloth. Then structure the base by running a stiff brush along the length, creating tiny grooves in the wax for extra speed.
Final Thoughts On The Best Ski Storage Ideas
Now you have plenty of ski and snowboard storage ideas. Some are more heavy-duty than others, while some are simple and elegant.
With these solutions, you don't have to worry about knocking your skis and snowboards over, causing damage. A good ski and snowboard rack is one of the best winter sports accessories for the home.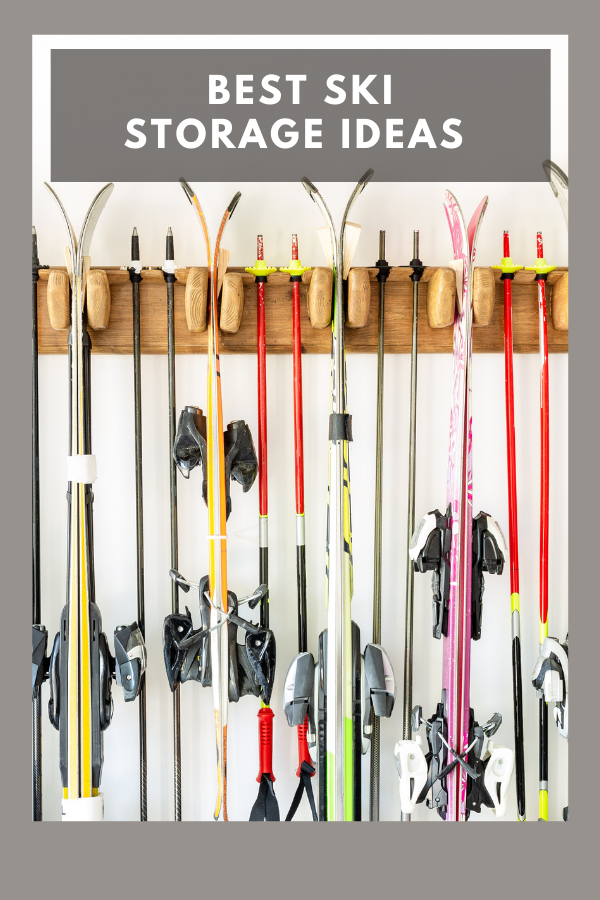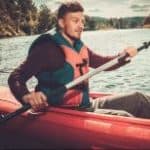 Author: Peter Salisbury
Pete is the Owner of KayakHelp.com. Born and raised in Cleveland, Ohio, he grew up kayaking, fishing, sailing, and partaking in outdoor adventures around the Great Lakes. When he's not out on the water, you can find him skiing in the mountains, reading his favorite books, and spending time with his family.