Advanced skiers and snowboarders crave steep and technical slopes to test their mettle. Luckily, ski resorts have slopes that cater to all levels of skier and snowboarder with challenging slopes.
Checking off the steepest ski runs in North America is a kind of bucket list for many skiers and snowboarders. Doing so is rewarding and improves your skills as an advanced skier.
So here is a list that you can use as a reference. However, you should not attempt any of these slopes unless you are confident that you have the skills and experience necessary.
Best Steepest Ski Runs In North America
1. Corbet's Couloir, Jackson Hole
Image by CSNafzger from Shutterstock
Jackson Hole has a range of slopes for all ability levels. Still, it is probably most famous for the legendary Corbet's Couloir.
Corbet's Couloir is right under the main tram that takes you to the top of the mountain. So everyone in the tram can catch a glimpse of this incredibly challenging run and the brave souls who take it on.
To ride Corbet's Couloir, you need to be able to cope with the massive drop at the top. Depending on how deep the snow is, you can drop two to nine meters, so you need to bring your A-game.
Your landing is on a 50-degree slope, immediately followed by a hard right-hand turn. If you don't manage this part, you will hit a large rock with dire consequences.
Some people attempt to stop themselves as soon as they land. But this will cause a horrendous crash, as you are traveling at least 40mph. Stay on your feet and ski it out.
After this technical part, you are treated to a beautiful powder field, roughly 200-meters long. This part is super nice and nowhere near as difficult as the top section.
2. The Fingers, Palisades
Image by eddie-hernandez.com from Shutterstock
Palisades in California is a great all-around ski resort and has played host to the Winter Olympics. But it also found fame thanks to filmmaker Warren Miller.
Miller was a pioneer and is well-known for capturing extreme skiers jumping off cliffs and taking steep lines on camera. Some of Miller's footage is of The Fingers in Palisades.
The Fingers is the location of an unofficial race on the morning after a fresh snowfall. Skillful and dedicated skiers get on the KT22 lift first thing in the morning to take on the 2,000-foot vertical descent.
The skiers bomb from the top in a straight line, taking one of two lines. These lines are known as Middle Knuckle and Main Air and provide 40-foot jumps and 60-degree gradients. The Fingers are visible from the bottom of the mountain, so many onlookers turn up to see the action unfold.
If you feel like taking on The Fingers, stay away from the middle line. Here, the snow often slides off, exposing dangerous rocks, increasing the danger.
3. Paradise, Mad River Glen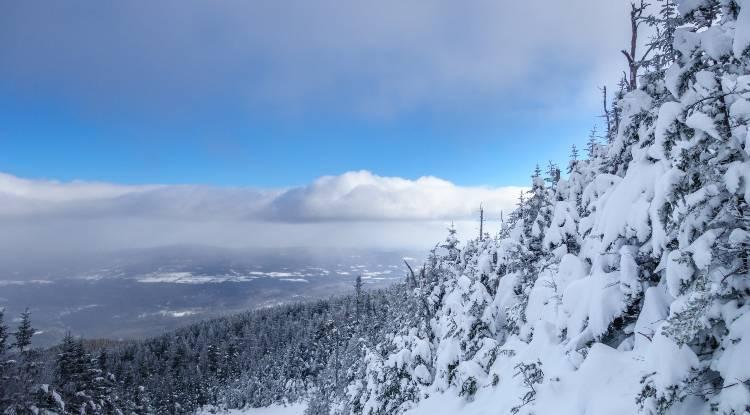 Image by Heidi Besen from Shutterstock
Mad River Glen is often overlooked as a ski destination. This is because there are places with more reliable snow and better amenities. But it has some of the most diverse and challenging terrain in Vermont.
Paradise is regarded as the steepest run at Mad River Glen and is a maze of thick glades and rocky outcrops.
The run kicks off with an eight-foot cliff drop, then becomes a twisty steep gully lined with frozen waterfalls. You need to be in good shape to ski here, as you have to deal with huge moguls and deep powder-filled trenches.
If you head to Paradise in a group, make sure you know where everyone is, as people can get lost in the trees. You also need to be able to make fast and tight turns, as the trees are close together on a 38-degree gradient.
4. Paranoid 4, Mammoth Mountain Ski Area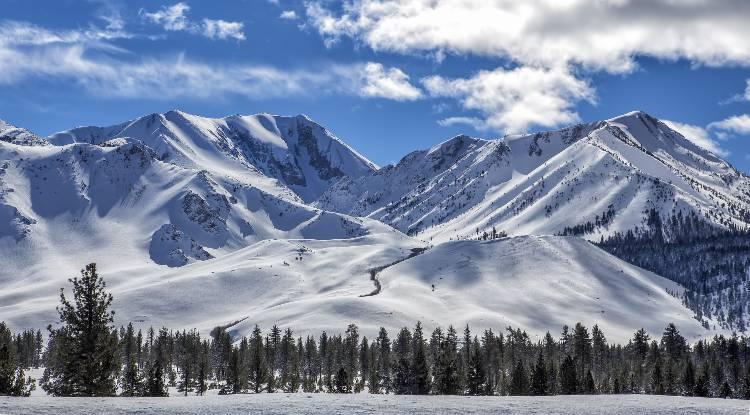 Image by Michael Lauffenburger from Shutterstock
Mammoth Mountain is located not far from Yosemite National Park in California. The ski area is massive, and visitors are treated to lots of vertical drops and excellent snow cover.
Paranoid 4 is a collection of four double-black diamond slopes. These are great fun but incredibly dangerous.
Mammoth Mountain often gets blasted by hurricane-force winds, which is both good and bad. The wind blows the snow above the ridgeline, where it settles.
This gives Paranoid 4 fresh snow, even when it hasn't snowed for a while. But the bad side of this is that wind-loaded snow is prone to avalanching.
The other issue with Mammoth is that visibility can be bad during these storms, which adds a whole new level of danger to the slopes. However, if you visit on a clear day, head to Paranoid 4 for incredible views and steep lines. But be careful of the patches stripped of snow by the wind.
5 Pipeline, Snowbird Ski & Summer Resort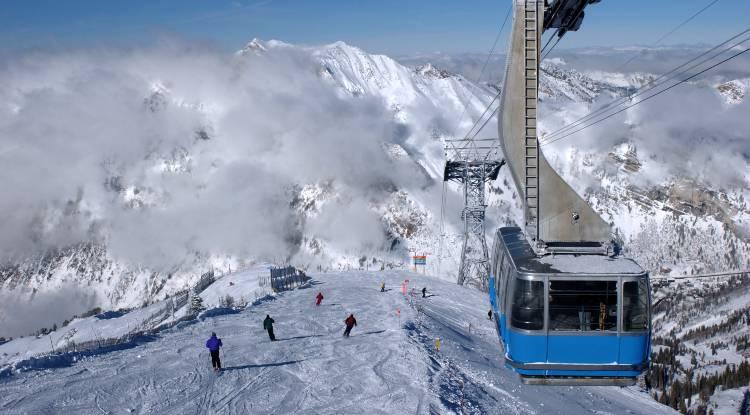 Image by FashionStock.com from Shutterstock
Snowbird, Utah, gets about 500″ of snow every winter, making it very popular with advanced skiers and snowboarders. The snow is also dry, making it highly fluffy and addictive to ride.
Advanced skiers and snowboarders also love Snowbird for its steep and challenging terrain. One of the more notable runs is Pipeline.
Pipeline is on many skiers' to-do lists and isn't open often during the winter. Its summit is at 11,000 feet and only accessible on foot, and you often need to rappel to the entrance. In addition to this, you have to sign a waiver before you drop in!
When you get to the slope's entrance, you will start in a narrow pass littered with loose rocks. Then you must charge straight down until it opens up.
You also need to carry a shovel, probe, and transceiver, so you are prepared for the worst. But make sure you can use your equipment properly.
6. Rambo, Crested Butte Mountain Resort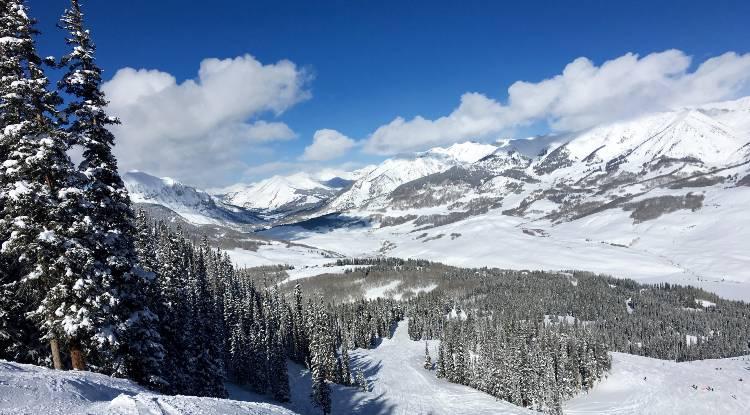 Image by atemplin from Shutterstock
Crested Butte in Colorado is a gorgeous ski town with a beautiful ski area. It is known for its characterful charm but also for its extreme ski and snowboard terrain.
Rambo should be at the top of your list if you are in Crested Butte and looking for a challenge. Rambo is regarded as the steepest manmade run in the country.
This run isn't very long at 300 meters, but it has a 55-degree gradient pretty much all the way down. Some people say that you drop eight feet with every jump turn.
There is no going back once you go over the edge at the start. You need to be careful of the exposed (and unexposed) rocks and roots for the run's entirety, but if you want to catch some air, head to the north face for some drops.
7. The Slides, Whiteface, Lake Placid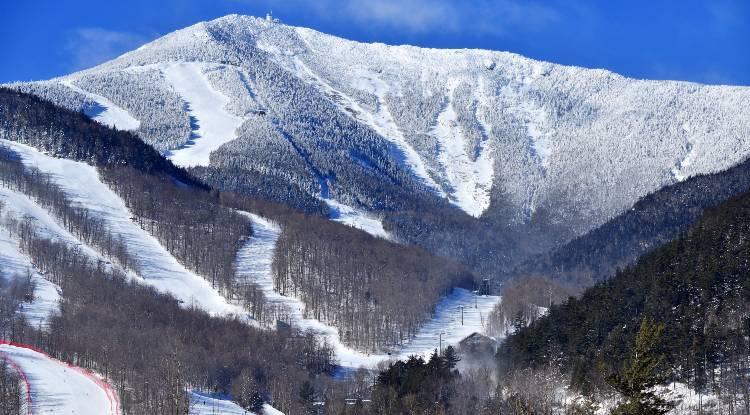 Image by nyker from Shutterstock
Lake Placid is situated in The Adirondacks in New York. It has a small ski area but is regarded to have the highest vertical drop east of the Rocky Mountains.
It is a family resort, but it also has some terrain gnarly enough to scare the best skiers and snowboarders. One of the more challenging runs is The Slides.
The Slides are made up of cliff drops, waterfalls, glades, and a collection of narrow and steep chutes. You can find The Slides on Olympic Mountain, used for the 1980 Winter Olympic Games.
This area was created by a series of landslides several hundred years ago. It should only be attempted by expert skiers and snowboarders due to its difficulty and danger.
Even though The Slides is marked as a double-black diamond, it is not groomed or serviced by snow-making machines.
The runs here are treacherous, so you have to take it slowly. Many frozen waterfalls are hiding under the snow roughly halfway down, which you have to get past carefully.
8. S1, Aspen/Snowmass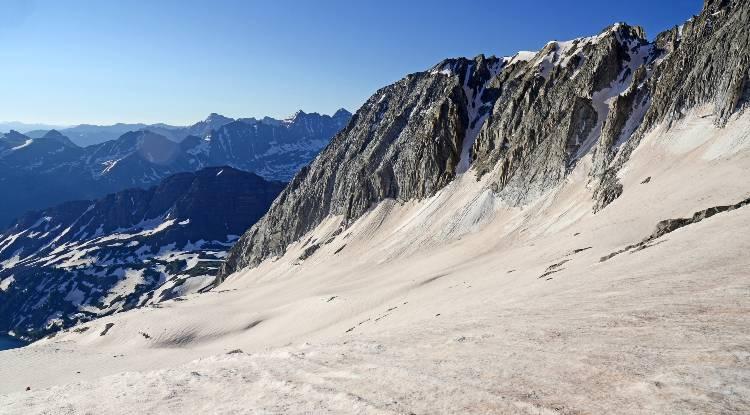 Image by nyker from Shutterstock
Aspen Snowmass is a glitzy ski resort with a high profile, but it isn't just a place to be seen. Across the four connected resorts, you will find a vast amount of terrain. On top of this, the area gets deep fluffy powder and great weather.
There is some excellent terrain for advanced skiers and snowboarders around Aspen. S1 is a perfect example of this, as it is a nearly vertical run.
S1 is one of the "dumps," a collection of narrow slopes created by old mine debris. A charge down S1 will bring you close encounters with huge moguls and steep descents in the trees.
S1 is 900 feet long and drops 540 feet; some of it is 42 degrees steep. The top part calls for you to drop off a cliff before entering the main part, so make sure you have strong legs.
9. S&R Cliffs, Mount Hood Meadows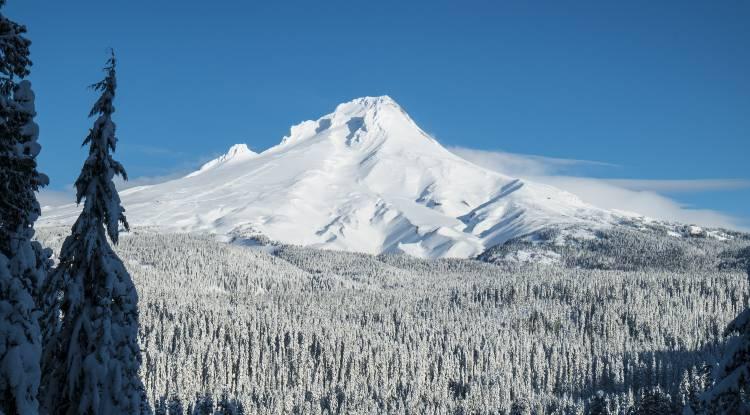 Image by Robert Crum from Shutterstock
Mount Hood Meadows is the largest and best ski resort on the mountain. Most people choose it over the others because of its superior infrastructure, facilities, and diverse terrain.
You can expect some family-friendly terrain, but there are some very challenging and steep runs too. One of these is known as S&R Cliffs.
S&R cliffs were established as a ski run when Heather Canyon was deemed too perilous to ski. But a remote section was opened, as S&R cliffs, offering exciting skiing and snowboarding.
When you drop into S&R cliffs, you are rewarded with rocky outcrops, tight chutes, and crazy cliff drops, some over 30 feet high. After all this drama, you are faced with a long flat section that takes you back to the chairlift.
Usually, you would head to a run like this first thing in the morning to beat everyone to the powder. However, the snow here is known as "cascade concrete," which sticks to the slopes well but is challenging to ski when there are no tracks. Therefore, let some people go before you for a better experience. But be careful of following lines; they may lead you off a massive cliff!
10. White Nitro, Sugarloaf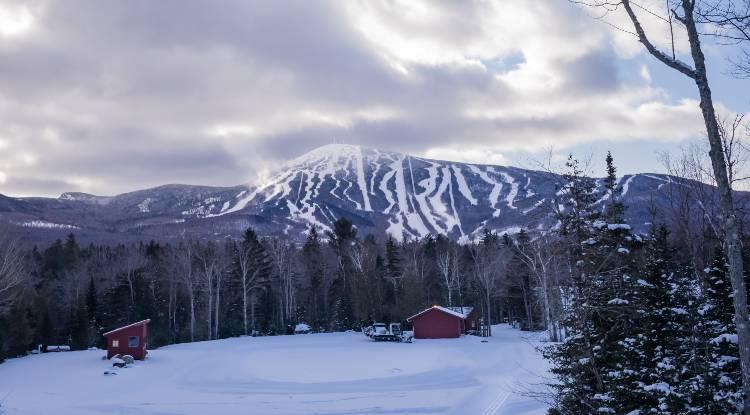 Image by M.Bailey from Shutterstock
Sugarloaf is situated in the Longfellow Mountain range in Maine. It is one of the largest ski areas in the Northeastern U.S.
Its highest point sits at 4,250 feet and has some unique and steep skiable terrain. You can enjoy nearly 100 acres of open treeless snowfields for unrestricted powder turns.
White Nitro is the steepest lift accessible slope in New England. The 43-degree gradient drops away below you and is intimidating.
If you want to check off White Nitro from your bucket list, it is best to get there early. The snow is much better in the morning, as it falls under the mountain's shadow later in the day, causing the snow to freeze solid.
11. Gunbarrel, Heavenly Mountain Resort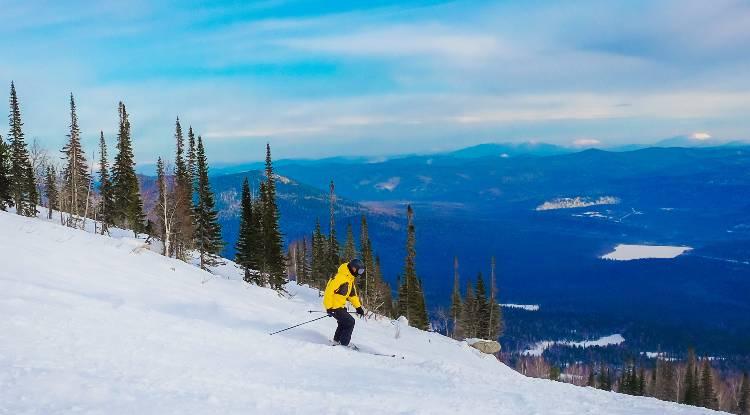 Image by Bee Bonnet from Shutterstock
Heavenly is located on the Nevada/California state line, which gives it some unique characteristics. Nevada offers desert views, casinos, and shows, while the Californian side has lake views and pine-lined slopes.
Heavenly's ski terrain is diverse enough to provide something for every kind of skier. But if you are an advanced skier looking for some steeps, head to Gunbarrel.
Gunbarrel is a challenging run due to its steepness and moguls. The 31-degree slope is 1,600 vertical feet of technical bumps.
The slope is just above the base lodge and is the venue for a grueling competition, the Gunbarrel 25. The competition is open to skiers aged from seven years old to 70 and is a race to see who skis Gunbarrel 25 times first. You have to complete 40,000 feet of descent in six hours to qualify.
Many skiers regard Gunbarrel as the world's most famous mogul run. Some people are said to be addicted to the run and regularly complete 50 descents in a day, totaling 100,000 vertical feet.
12. Goat, Stowe Mountain Lodge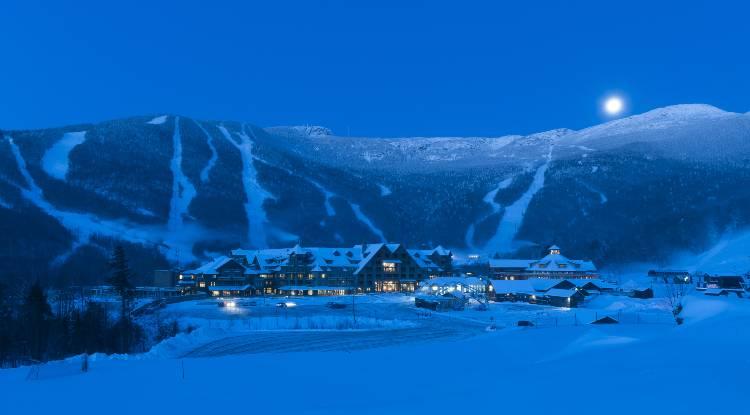 Image by Don Landwehrle from Shutterstock
Stowe is a high-end ski resort located in Vermont. Visitors to this New England ski destination love its iconic terrain, legendary slopes, and charming village atmosphere.
The resort prides itself on being an elegant alpine haven, perfect for relaxing between days on the mountain. If you visit Stowe and ski the infamous "Goat," you will be thankful for the opportunity to rest.
Goat is pretty steep at 40-degrees, and it has a double fall line. It is also a very long run, measuring 2,000 feet.
This run is a stark contrast to the resort's relaxed atmosphere, thanks to its challenging features. Skiing Goat sees you needing to cope with ledges, large rocks, ice, and huge moguls.
Combined with the steepness, these features make Goat one of the most difficult slopes to ski in the east. Some parts are no wider than five moguls, and everyone is happy to get down unscathed.
13. McConkey's, Palisades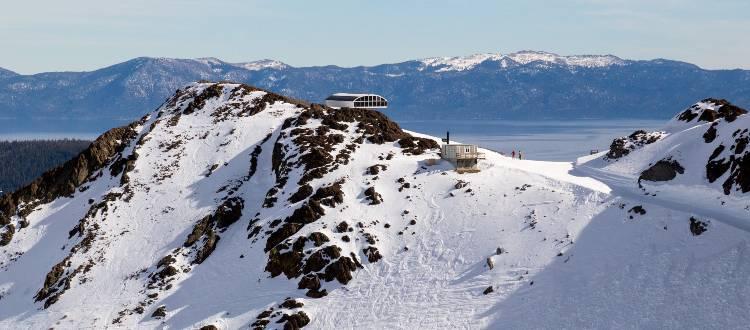 Image by CSNafzger from Shutterstock
We have already mentioned Palisades, but the terrain there is so intense that it is bound to have several of the best steepest ski runs in North America.
Palisades used to be called Squaw Valley, but the name was changed due to its racist connotations. But another name linked to the area you may be aware of is McConkey.
Shane McConkey was a pioneering skier, extreme sports athlete, and character. He, unfortunately, died in a base-jumping accident in Yosemite, but he made a name for himself in Palisades.
Shane had a run named after him, and as you can expect, it is not one of the bunny slopes. McConkey's is a 60-degree slope, accessible by a 15-minute hike after a ride on a chairlift.
Once you have gotten off the chairlift, turn left and head past the McConkey memorial sculpture (remembering to give it a pat for good luck). When you get to the top of the run, you see that there are a few different lines.
The Center Route is one of the world's steepest lift accessible slopes and is regarded as the hardest one to take. You need to be in form, though, as you are visible from the above chairlift. If you get it wrong, you will be subject to lots of abuse, but you will be rewarded with a round of applause if you do well.
14. Tuckerman's Ravine, White Mountains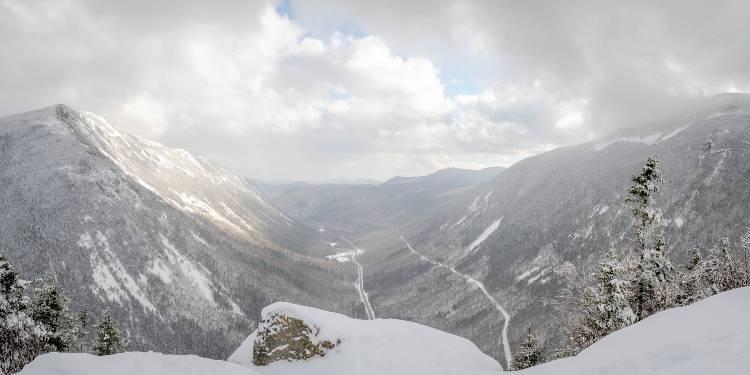 Image by Keith J Finks from Shutterstock
The White Mountains National Forest takes up a large portion of New Hampshire. It encapsulates quaint towns, waterfalls, parkways, and fantastic mountain ranges.
The local mountain ranges include several ski resorts, but for the steepest slopes, you have to head to Tuckerman's Ravine. This is not part of any of New Hampshire's designated ski areas, but it has been skied since the 1930s.
You need to hike for 30 to 45 minutes to get to the base of the ravine before trekking to the summit. Once at the top, you have a selection of lines to take.
More experienced skiers choose Headwall, the main run that goes down the center of the ravine. It has a 55-degree gradient, and you have to contend with several 25-foot drops.
The area is popular with spectators in the spring. People set up tailgate parties and gather around Lunch Rocks to watch the action unfold.
Another line known as "Dodges Drop" is probably the most complex route. This has many no-fall zones that may kill you if you get it wrong. It has lots of frozen waterfalls, cliffs, and rock bands, which add to the line's technicality.
In addition to these scary characteristics, it gets incredibly narrow. Some parts are just over double the width of your skis, and the 50-degree gradient is pretty much constant for the entire 1200-foot long run.
This run is not for the faint-hearted. You need top skills and confidence to take on Dodges Drop…or a death wish!
15. DJ's Tramline – Cannon Mountain Ski Area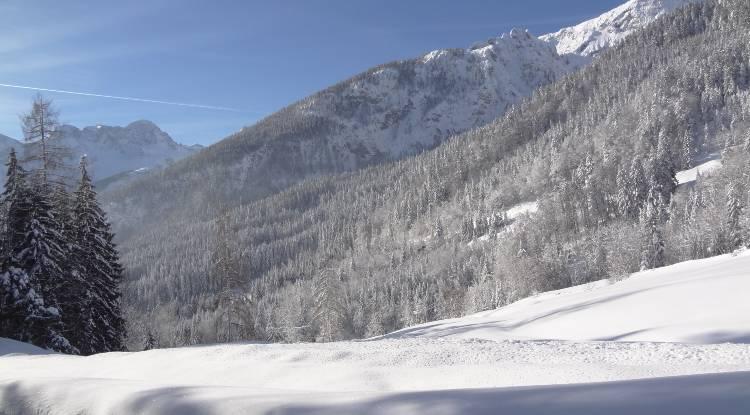 Image by gftony from Shutterstock
Cannon Mountain in New Hampshire gets pounded by extreme weather and is known for its steep terrain. It has built a reputation for being a place for expert skiers and snowboarders only.
There is a lot of steep terrain featuring moguls and trees, but the most vertical run has to be DJ's Tramline. This is a slope that was never meant to be skied due to its apparent dangers.
The route it follows was an old tramline built in 1938 to transport people up the mountain. The Tramline was closed in 1980 and made into a ski run.
DJ's Tramline has a 34-degree slope, so it is pretty steep. But you can't ski it that often, as it only opens when the snow conditions permit. If the conditions are not perfect, DJ's Tramline is far too dangerous to ski.
If you are lucky enough to be at Cannon Mountain on a good snow day, only head to Dj's Tramline if you are up to the task. The run will dictate your every move, and there are not many escape routes to less challenging sections.
Once you have dropped into DJ's Tramline, you are committed, and there is no way out.
Final Thoughts
It is great to earn bragging rights, claiming that you have skied the best steepest ski runs in North America. However, you need to be realistic about your abilities.
These runs are more challenging than you think. Even if you learn the runs by checking out YouTube videos, you may be in for a nasty surprise.
Before dropping into any of these runs, it would be a good idea to book a lesson with a local instructor. They will be able to assess your skills, and if they think you are ready, coach you down.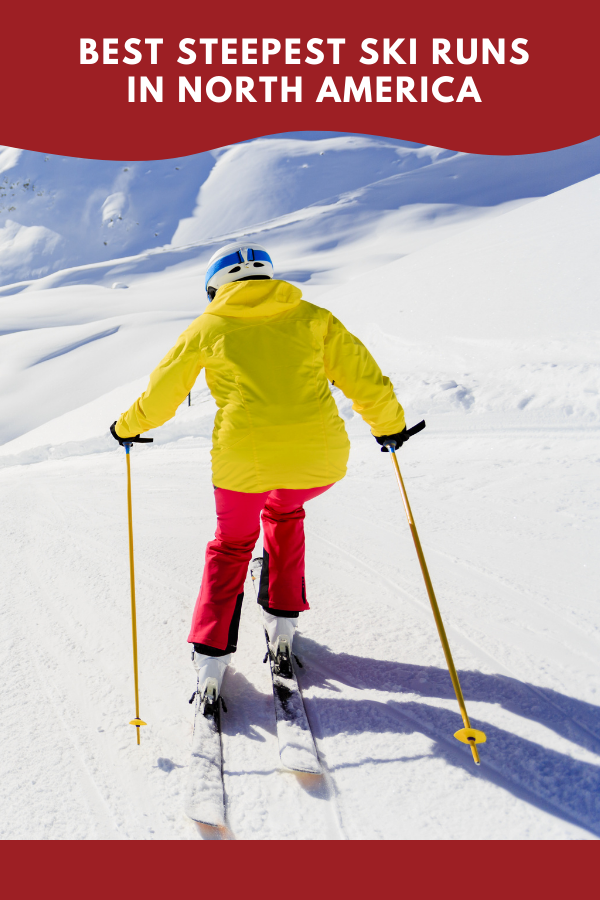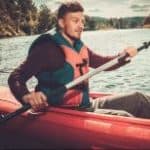 Author: Peter Salisbury
Pete is the Owner of KayakHelp.com. Born and raised in Cleveland, Ohio, he grew up kayaking, fishing, sailing, and partaking in outdoor adventures around the Great Lakes. When he's not out on the water, you can find him skiing in the mountains, reading his favorite books, and spending time with his family.