Skiing is more diverse than most people realize. There are quite a few different types of skiing that you may not be aware of.
Some of the different skiing disciplines have blurred lines and cross-over. So in this post, we will go into the different types of skiing and what they are all about.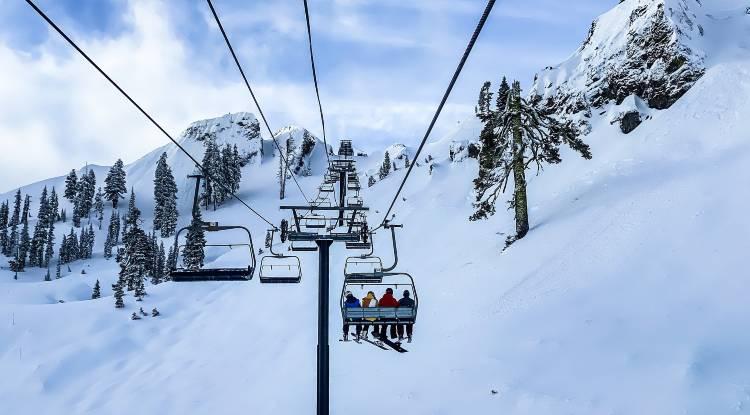 Image by derwiki from Pixabay
1. Alpine/Downhill Skiing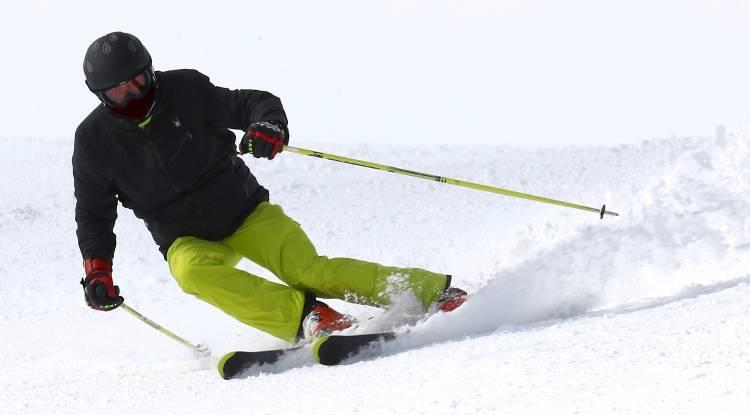 Image by woodypino from Pixabay
Alpine skiing is also known to many as downhill skiing. This is the type of skiing you probably picture when someone mentions they are going on a ski trip.
Alpine skiers go to a ski resort and ride various types of ski lifts to get to the tops of the slopes. When they get to the top, they ski down the slopes, usually on groomed slopes. But more experienced skiers will look for deep powder snow away from the groomed slopes.
Ski resorts grade their slopes according to their difficulty. This is so skiers and snowboarders can head to the ones within their ability.
The ski resorts use a color-coding system to indicate how difficult the slopes are. There are variations depending on where you are, but mostly the color-coding system in the U.S. is as follows:
Green circle: These are very easy slopes perfectly suited to kids and beginners.
Blue square: You will head for blue square slopes once you have gotten past the beginner stage and are approaching intermediate skills.
Black Diamond: These are the most challenging groomed ski slopes in a ski resort in the U.S.
Double Black Diamond: These are very difficult slopes and are not groomed. They are only suitable for expert skiers who can cope with obstacles, steep faces, and exposure.
Alpine skiers use alpine skis, which come in a variety of shapes and sizes. But they all have metal edges to help you carve turns down the slope and to stop.
Most alpine skiers use all-mountain skis. These are versatile enough to allow you to ski anywhere on the mountain. However, all-mountain skis don't excel at one particular skiing discipline.
Skiers need to wear ski boots that attach to their skis via bindings. You can get lots of different ski boots to suit your style and ability. But alpine skiers will generally wear boots that have a medium stiffness.
More flexible ski boots are great for freestyle and beginners, while stiffer boots are better for advanced, hard-charging skiers.
Competitive Alpine Skiing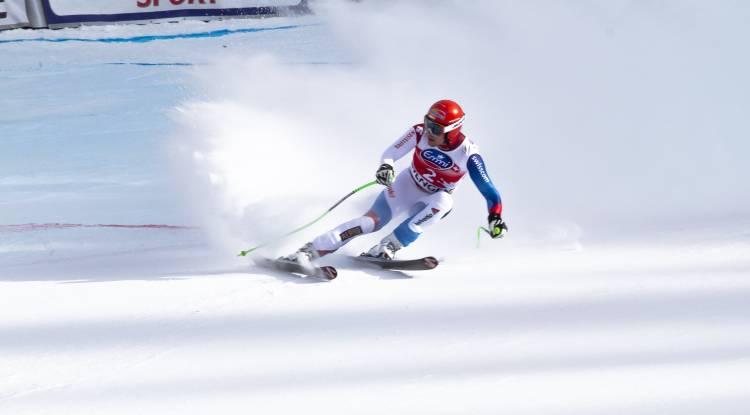 Image by adege from Pixabay
Ski racing is a very popular spectator sport. It is the highlight of the Winter Olympic Games for lots of people, thanks to its drama and high speeds.
Alpine ski races demonstrate the speed, nerve, and technical skills of the best downhill skiers in the world. But there are several disciplines that use different race formats.
During a downhill ski race, the athletes ski as fast as possible to clock the fastest time on a set course. Most downhill ski races take place on the ski resort's steepest slope, especially if it gives spectators a good view of the action.
These races give both ski racers and the slopes legendary status, as they are incredibly dangerous. The danger comes from their steepness, and racers often reach 96 mph during races.
Downhill courses are marked with painted lines down either side of the slope. Skiers need to stay within the lines but don't need to ski around gates. If they stray over the lines, the skier will be disqualified.
Another ski race discipline is Super G, which is quite similar to downhill. However, the racers need to negotiate gates set wide apart, which requires them to make frequent sharp turns.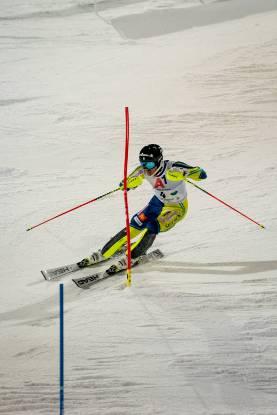 Image by 1150119 from Pixabay
A slalom race sees skiers zig-zagging through gates set close together. They need to get down the course as fast as they can, but to be the fastest, the racer has to have lightning reactions and a high level of technical ability.
During the Winter Olympic Games, many competitors do the Combined Alpine event. This is when they race in slalom and downhill races.
The final alpine skiing discipline is the Giant Slalom. Giant Slalom is quite similar to Super G, but the skier has to negotiate more gates, making the races more technical.
2. Freestyle Skiing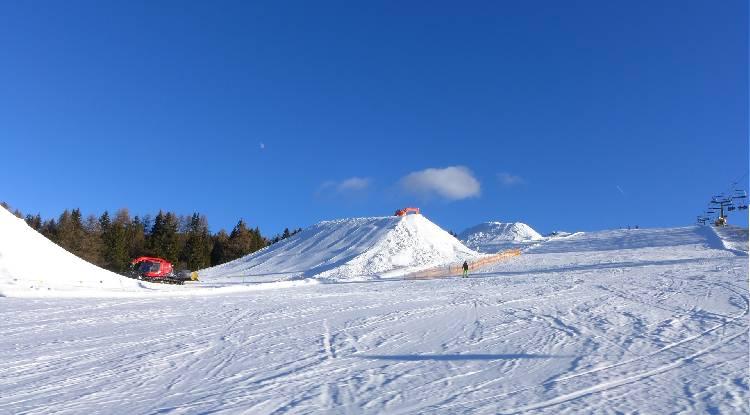 Image by fabiodisconzi from Pixabay
Freestyle skiing is when the skier performs a range of intricate tricks. They will often spend lots of time in the ski resort's snow park. This is an area full of jumps and features that allow the freestyler to express themselves.
Snow park features can include anything that the park shaper can think of. Some snow parks have old cars, wall rides, giant metal mushrooms, and other bizarre features.
Snow parks usually have a line of small jumps for beginners, but they will also have larger ones for braver and more experienced skiers and snowboarders.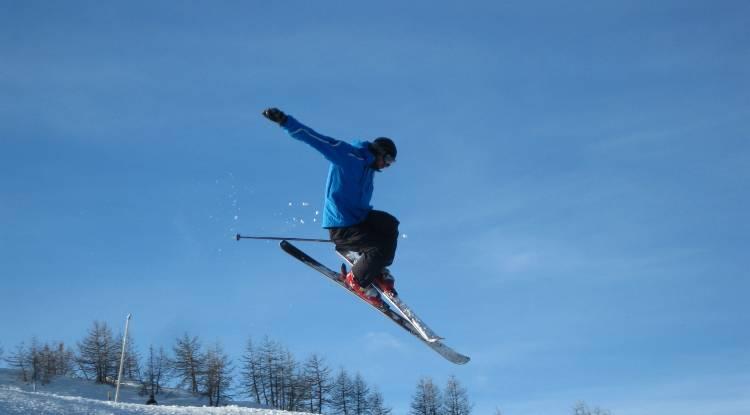 Image by pierre733 from Pixabay
You will also see boxes and rails. These are designed for skiers and snowboarders to slide along. Tricks on boxes and rails are impressive, but they are incredibly painful when you get them wrong.
Freestyle skis are much shorter than alpine skis, as it makes them easier to spin in the air. They also have twin-tips, so you can take off and land backwards.
But freestyle skiing isn't limited to the snowparks. Some ski resorts build halfpipes, which are large channels cut into the snow.
Halfpipes have massive walls that skiers and snowboarders ride up to send them high into the air. They perform a trick, land in the halfpipe, and do the same on the opposite wall.
Competitive Freestyle Skiing
There are many different disciplines of freestyle skiing competitions. All of them test the skier's ability to perform tricks.
Skiers are judged on their style, technicality, amplitude, and difficulty of the tricks.
Freestyle skiing competitions include halfpipe, big air, and slopestyle. Slopestyle is one of the most exciting, as skiers have to demonstrate their skills on a snow park-style course.
3. Ski Jumping
Image by guidokam from Pixabay
Ski jumping is much of a recreational sport, but it is one of the most impressive winter Olympic events to watch.
Ski jumpers take off from a huge ramp, but they don't perform any tricks like a freestyler. Their goal is to fly the longest distance possible, but they also need to execute a stable landing.
The athletes set off along the ramp's inrun, which allows them to gain speed and prepare for takeoff. When they get to the end of the ramp, they have to pop their legs to take off. They need to time their pop perfectly to ensure that they fly as far as possible.
As the skier flies through the air, they can stay airborne for up to seven seconds. They are judged on their landing and the distance flown.
The skier needs to reach a line known as the K-point, which is used to determine their relative distance. They also need to land in a telemark stance, which sees one foot slightly in front of the other.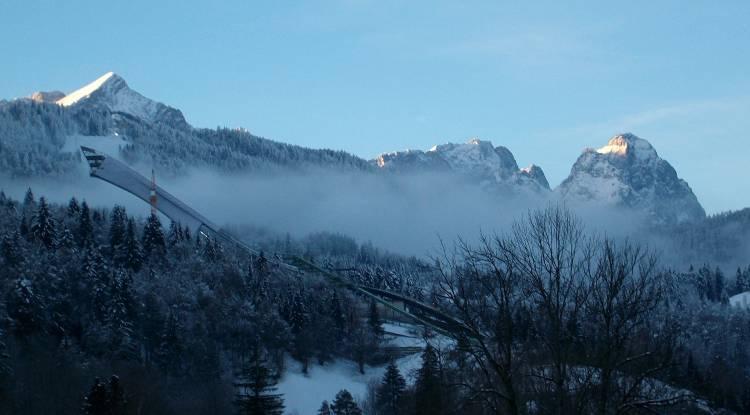 Image by sirigel from Pixabay
Once the skier has landed, they have to stay in complete control until they pass another line. The judges will take away points if they fall before crossing the line.
But ski jumpers earn points for a stylish jump and landing. They can also earn points if they jump in wind conditions that may negatively affect their jump. In addition to this, points can be deducted if the weather benefits the ski jumper.
For example, if they have a headwind during their jump, they can get more lift. This means that they can fly further, making it unfair for skiers that didn't have a headwind. This is a complicated process that levels the playing field for the competitors.
4. Backcountry Skiing
Image by markusliebe from Pixabay
Backcountry skiing is closely related to alpine skiing; however, you look for areas covered in fresh powder rather than staying in the resort and skiing on groomed slopes.
For many, backcountry skiing is the ultimate rush on snow. Untouched powder gives you an incredible feeling of flying as you carve through the light and fluffy snow.
There are a few ways you can get into the backcountry. Some backcountry areas are accessible from the ski lifts, but other areas require more effort or inventive ways to get to them.
If you have some spare cash, you can fly into the backcountry in a helicopter, use a snowmobile, or a snowcat. But most skiers have to hike to get to the best areas.
But backcountry skiing should not be approached with a gung-ho attitude. The skiing films you see may look like the athletes are just going for it, but lots of preparation has been done prior to dropping in.
Before you head into the backcountry, you need to understand the dangers. The most significant hazard of backcountry skiing is the avalanche risk.
Often the best-looking backcountry lines are the most dangerous. Unfortunately, many people get themselves into trouble by not knowing the dangers.
The best way to stay safe is to get educated. You need to learn how to spot dangerous slopes, but you also need to know how to rescue avalanche victims.
If you want to head into the backcountry, you should book a guide or instructor. They will teach you how to use an avalanche transceiver, probe, and shovel. But they will also give you all the information to stay out of trouble.
Competitive Backcountry Skiing
There are some incredible backcountry skiing competitions. Due to the nature of the discipline, they are not great for spectators unless you have a pair of binoculars, but the TV footage is excellent.
A great example of a backcountry competition is the Freeride World Tour. Competitors hike to the top of the mountain and choose a line back down that will allow them to demonstrate their skills.
The skiers will drop off cliffs, take challenging lines, and perform freestyle tricks in sketchy places to get the most points possible.
5. Ski Touring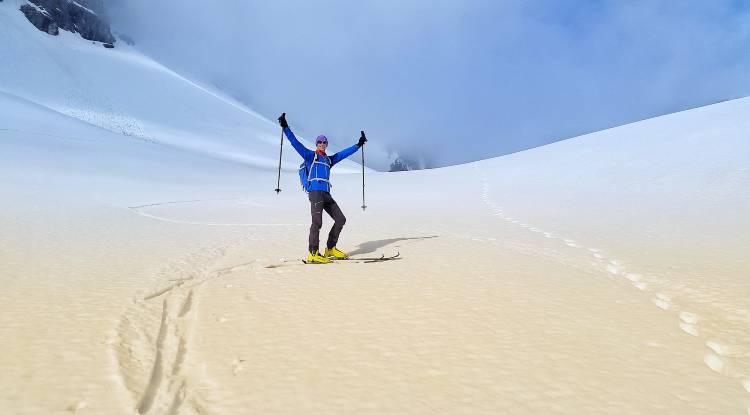 Image by simon from Pixabay
Ski touring is the process of accessing backcountry terrain that you can't reach from a ski lift. You use special ski touring equipment to hike into the backcountry, allowing you to explore new terrain.
You can ski tour with powder skis or alpine skis. The main thing you need to consider is the skis' width, as wider skis give you more float in powder snow.
To use your skis for hiking up the mountain, you need to attach "skins" to the bottom of them. Skins are adhesive strips of material cut to the shape and size of your skis.
The material has a furry texture that gives you forward traction; therefore, your skis can slide forwards, but not backward.
To make hiking uphill easier, you will need to fit your skis with touring bindings. These bindings hinge at the toe, allowing you to stride forwards more efficiently.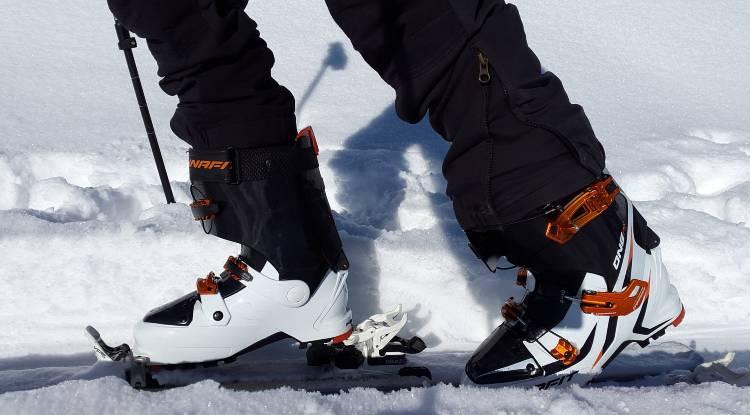 Image by simon from Pixabay
Once you get to the top of the mountain, you remove the skins and put them in your backpack. You also take your bindings out of touring mode by locking your heels down, so they are like regular ski bindings.
As you may have guessed, you spend more time hiking up the mountain than you do skiing down it. In fact, you can spend several hours hiking for a run that lasts just a couple of minutes.
But ski touring is a whole different style of skiing, and going uphill is part of the experience. It gives you the chance to see the mountain landscape at a different pace.
Ski touring is also fantastic exercise. It gets your heart rate up while giving you a full-body workout. But you are rewarded with untouched powder, which makes the effort you put in totally worth it.
6. Telemark Skiing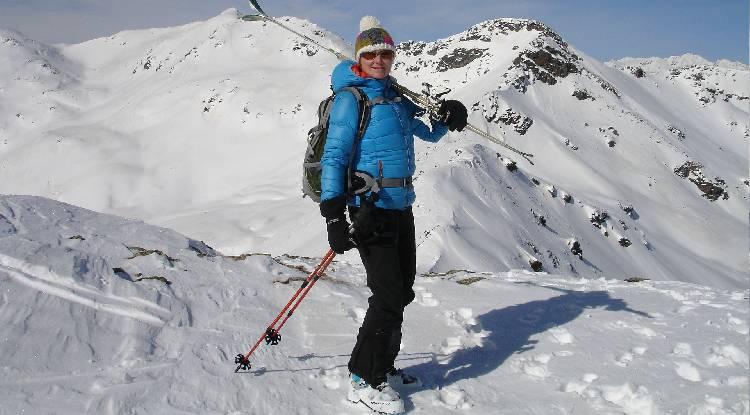 Image by simon from Pixabay
A telemark skier uses a very unique technique for getting down the slopes. The method consists of a sidestep and a lunging motion that gets their knee close to the snow.
The equipment has similarities with touring equipment, as your heel is free to move up and down. But you don't lock down your heel at any point while telemark skiing.
Telemark skiing is one of the oldest forms of the sport. It has evolved quite a lot since the first pioneering telemarkers.
7. Cross-country Skiing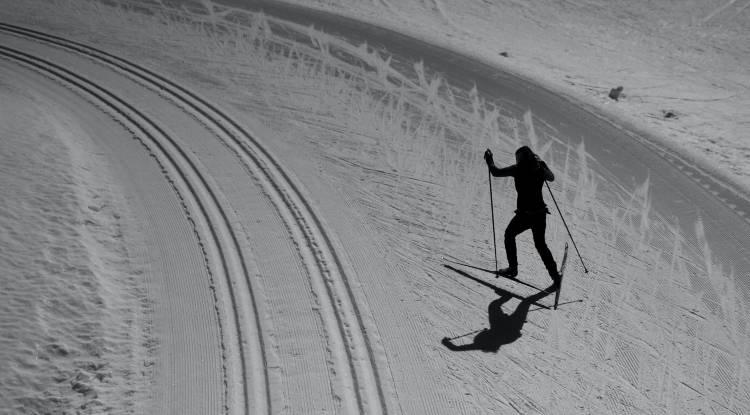 Image by Thomas Dils from Unsplash
Cross-country skiing is an entirely different skiing style, as it isn't based on sliding down the mountain. Instead, cross country skiing is a way of traveling on snow under your own steam.
Cross-country skiing is very popular in Scandinavian countries. This is because they get lots of snow, but they are not particularly mountainous.
There are two techniques used in cross-country skiing. Skiers propel themselves forwards using either a skating method or striding forwards.
You will find cross-country skiers mainly on groomed tracks, with grooves cut into them. The skis sit in the grooves, keeping the skier on course as they stride forwards.
When it comes to uphill sections or overtaking other skiers, they will leave the grooves and skate using the inside edges of their skis.
Cross-country skiing requires specialist equipment to allow the skier to use the correct techniques.
The skis are very different from alpine or freestyle skis, as they are very thin and lightweight. Neither do they have metal edges (unless you have touring cross-country skis).
So the skier can stride or skate, the bindings hinge at the toe, allowing the heel to lift. This makes the movements required for cross country skiing more efficient.
Also, cross country ski boots are quite unlike regular ski boots. Rather than being made from stiff plastic, they are made from soft leather or a synthetic material.
Cross-country ski tracks are usually relatively flat, depending on their difficulty rating. They may have some undulating sections that test your fitness when going uphill and your skill when skiing downhill.
You are not restricted to cross-country ski tracks, as you can use your cross-country skis to explore when the conditions are suitable. The great thing about cross-country skiing is that you get away from the crowded resorts. You get to see the alpine landscape in a different way, and maybe see some mountain wildlife.
Cross-country skiing is widely regarded as one of the best sports for getting fit. It gives you a full-body workout, is low impact, and is excellent for your cardiovascular system.
Competitive Cross-Country Skiing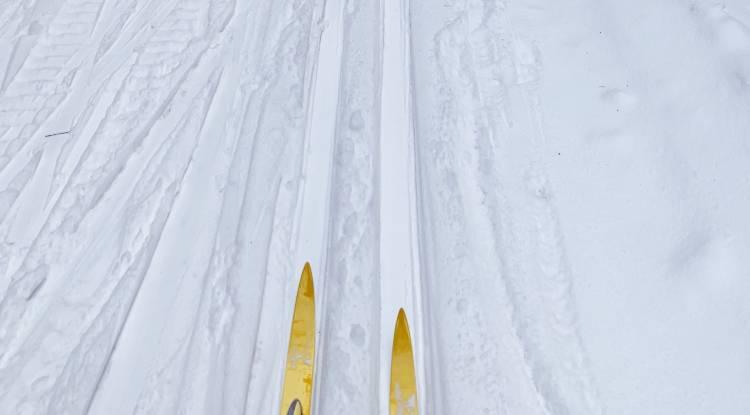 Image by hejnelly from Unsplash
It is probably no surprise to you that cross-country skiing is a very competitive sport. There are a few different cross-country race formats that feature in the Winter Olympics, and they are considered as the main events by many skiing fans.
Cross-country ski racecourses can be as long as 35 miles, and the athletes can average 15mph. To be a good cross-country ski racer, you need to have a high level of endurance.
The races are overseen by officials who scrutinize the racers to ensure they stick to the race rules. The racers need to stay within the grooves in the track and use the classic striding technique.
Most cross-country ski racecourses have several grooves cut into them. The racers can overtake each other by slotting into other grooves; however, they are not allowed to constantly switch between the tracks during a race.
Another cross-country ski race discipline is biathlon, which combines skiing with rifle shooting. These races are a true test of the athlete's fitness and shooting ability.
All biathlon races take place on closed racecourses, but there are several formats. The races consist of a typical cross-country ski race, but the athletes have to stop at certain points to shoot targets.
The skiers shoot five targets set 50m away while lying on the ground. If they miss a target, they get a distance penalty, but this depends on the race's format.
Due to the demanding nature of these races, biathletes are considered to be the fittest athletes in the world. A biathlete's heart rate is incredibly high during a race, which makes shooting challenging. Therefore, they need to time their shots between their heartbeats to hit the targets accurately.
Nordic Combined
The Nordic Combined event demonstrates a skier's fitness and technical ability in the air. This event consists of cross-country skiing and ski jumping. There are two competitions for individuals and a team event in the Winter Olympics.
Competitors in the individual events need to do a ski jump and a 10km cross-country ski race. The Nordic Combined team event uses a relay format, where the ski jumper hands over to a four-person cross-country relay team. Each racer has to travel five kilometers.
Final Thoughts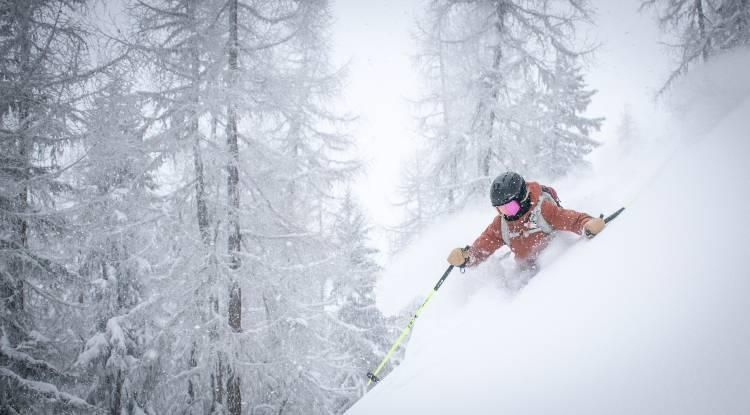 Image by Alex Lange from Unsplash
As you can see, there are many different types of skiing. They all have their own techniques and specialist equipment.
Each one has a competitive side that has reached the world stage, creating superstars and legends. Not all of the athletes are household names worldwide, but they are recognized and inspirational to the sport's fans.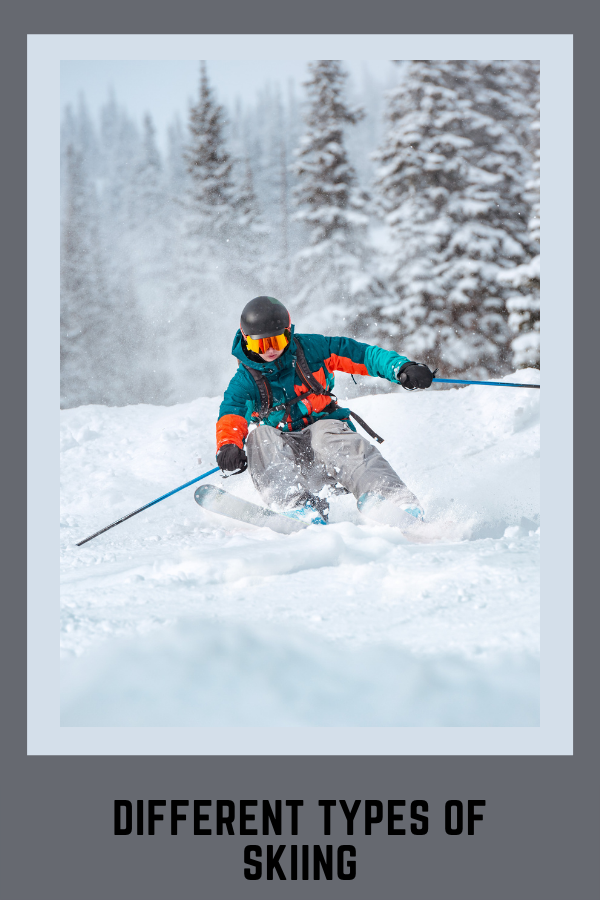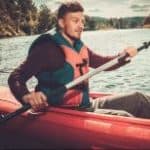 Author: Peter Salisbury
Pete is the Owner of KayakHelp.com. Born and raised in Cleveland, Ohio, he grew up kayaking, fishing, sailing, and partaking in outdoor adventures around the Great Lakes. When he's not out on the water, you can find him skiing in the mountains, reading his favorite books, and spending time with his family.