Smith Optics makes outstanding eyewear from sunglasses to prescription eyewear to goggles.
Their goggle range includes biking goggles, but in this post, we will go through the best Smith goggles for skiing & snowboarding.
We will also give you some bonus tips on what to look for in a pair of snow goggles.
What To Expect From Smith Snow Goggles
Smith snow goggles have various characteristics that suit different skiers and snowboarders. They also affect the price and performance of each model of goggles, so they are worth knowing about.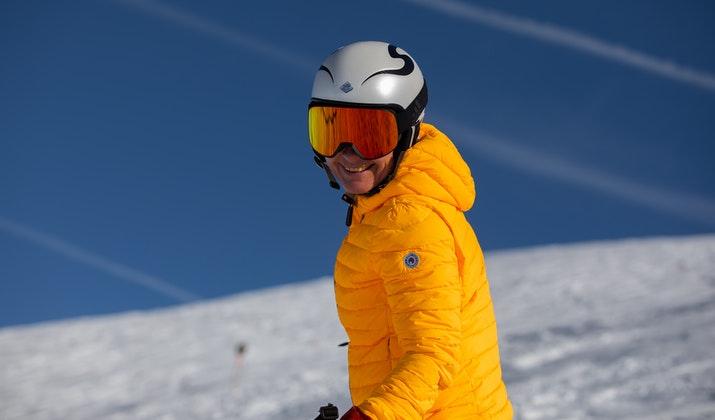 Photo by Volker Meyer from Pexels
Vison
You will have much more fun and a safer time on the mountain when you can see everything going on around you. Clear vision helps you ride at your best and stay aware of other slope users.
Smith goggles have ChromaPop™ technology. This is lens tech that enhances detail and color as you ski or snowboard.
It works by filtering two light wavelengths that typically confuse color going into your eyes. This filtering gives you better definition, enhanced natural color, and an incredible level of clarity.
Lens Retention
Smith goggle lenses are held in place in two ways. One method is with a dual locking mechanism. This is known as the Smith MAG™ system, which keeps the lens attached to the frame, even when you crash hard.
However, you can easily change your lens to suit the light conditions by pushing two levers to release it.
The other way Smith goggles retain their lenses is with magnets. These goggles allow you to change your lens quickly. But the strong and weatherproof N52 magnets automatically snap the lens into position.
Lens Shape
You can buy your Smith goggles with differently shaped lenses. Here is the rundown of what is available.
Spherical Lenses
These goggle lenses are curved both horizontally and vertically. The shape gives you excellent clarity, superb fit, and superior defogging performance.
Cylindrical Lenses
Cylindrical goggle lenses curve horizontally around your face. These are less expensive than spherical lenses, but they still provide you with Class 1 optical standards and optimum fit.
A Huge Range Of Lens Colors
Smith has a massive range of goggle lens colors. Each one is suited to different light conditions. You may benefit from having two or three different lenses of varying colors to cover the conditions you ski in.
Fit
Photo by Yaroslav Shuraev from Pexels
Smith uses what they call a responsive fit. This design allows the goggle frame to form around your face for the best fit.
The goggle frames use a reticular architecture that acts like suspension. This flexible design ensures your goggles are as comfortable as possible.
Smith uses its QuickFit system. This makes it incredibly easy to get a secure and comfortable fit with minimal effort.
Integration
Smith has ensured its goggles pit perfectly with most ski and snowboard helmets. Their excellent fit means you don't get the gap between the goggles and helmet. It also means that the goggles don't interfere with the helmet's fit.
In addition to their excellent fit, Smith goggles have superior airflow. The free-flowing air reduces the likelihood of the goggles fogging up. Warm air flows out of the goggles at the top through the AirEvac system.
Thumbnail
Title
Smith I/O MAG Snow Goggles AC/TNF X Austin Smith/ChromaPop Sun Black
Smith Optics Vogue Unisex Snow Winter Goggle - Everglade, Ignitor Mirror
Optics 4D MAG Unisex Snow Winter Goggle - White Vapor, Chromapop Sun Platinum Mirror
Smith Optics Cascade Classic Unisex Snow Winter Goggle - White, RC36, One Size
Smith Optics Squad MAG Unisex Snow Winter Goggle - Ac - Tnf Red X Smith, Chromapop Sun Platinum Mirror
Thumbnail
Title
Smith I/O MAG Snow Goggles AC/TNF X Austin Smith/ChromaPop Sun Black
Thumbnail
Title
Smith Optics Vogue Unisex Snow Winter Goggle - Everglade, Ignitor Mirror
Thumbnail
Title
Optics 4D MAG Unisex Snow Winter Goggle - White Vapor, Chromapop Sun Platinum Mirror
Thumbnail
Title
Smith Optics Cascade Classic Unisex Snow Winter Goggle - White, RC36, One Size
Thumbnail
Title
Smith Optics Squad MAG Unisex Snow Winter Goggle - Ac - Tnf Red X Smith, Chromapop Sun Platinum Mirror
The Best SMith Goggles For Skiing & Snowboarding
Check Price on Amazon
The Smith I/O MAG uses a spherical ChromaPop lens, so you get super clear and distortion-free vision. The lens is also strong, so if you happen to land on your face, your lens should survive. But if it doesn't, you can quickly change it, as it is held in place with magnets.
Smith has ensured that the I/O MAG lens has the highest level of anti-fog treatment available.
You can choose between a massive range of lens and strap colors. This way, you can select a combination that suits your style and the light conditions.
Check Price on Amazon
The Smith Vogue is specifically designed for women and has all the high-performing characteristics of modern snow goggles. However, even though they are very up-to-date, they have a classic design.
Smith has created the Vogue goggle frames to fit a woman's smaller face. But to improve the fit further, they have used a compression-molded foam, which gives you a perfect seal to keep out wind and moisture while you shred hard.
The Vogue's lens is cylindrical for optimum clarity and has the AirFlow ventilation system. Therefore, you can ride with confidence that your lens won't fog.
Check Price on Amazon
The Smith 4D MAG goggles have the most expansive field of view while providing you with super sharp optics. This combination allows you to read the terrain ahead and never miss anything.
Thanks to the magnetic lens retention, you can also change the lens in a flash. The lenses available use Smith's ChromaPop tech, so you get enhanced natural color and contrast.
The 4D MAG frames have a low bridge fit. So these goggles are ideal for people with wide or high cheekbones or a lower nose bridge.
Check Price on Amazon
The Smith Cascade Classic goggles have been around for a while, but they still look and perform great. They are great value for money too, especially when you see the included features.
These goggles have a cylindrical duel lens. This reduces the chance of the lens fogging up while giving you distortion-free vision.
The lens also provides excellent contrast allowing you to see all the imperfections in the snow. The Cascade Classic makes an ideal second pair of goggles at this price.
Check Price on Amazon
The Smith Squad MAG has a frameless design, meaning your peripheral vision is not obstructed by a frame. But These goggles also use the MAG system that lets you quickly change the lens to suit the light conditions.
There are several lens colors to choose from, but they also come with a Chromapop storm rose flash replacement lens, a goggle bag, and a spare lens sleeve.
The SMith Squad MAG goggles are very comfortable to wear. They have a three-layer DriWix face foam that forms to your face and keeps the elements outside.
Check Price on Amazon
The Smith Skyline gives you a wide field of view due to its rimless design. But the oversized spherical lens enhances your peripheral vision further, thanks to its shape.
Smith has used their Fog-X anti-fog coating on the Skyline's lens, so you can be confident that you will have fog-free vision all day.
The Smith Skyline comes in a broad range of styles and with a range of lens colors. Therefore, you can choose a pair that suits your style and the light conditions you usually ski in.
Check Price on Amazon
The Smith Riot snow goggles are specifically designed for women. Skiers who wear these goggles love their wide field of view, maximizing peripheral vision.
This broad field of view comes from the minimalist frame and excellent cylindrical lens. The lens also features Smith's ChromaPop technology, so you can keep a watchful eye on the snow conditions ahead of you.
The goggles maintain consistent airflow with superb ventilation to ensure the lens stays clear. But the anti-fog is also enhanced by the Fog-X inner lens.
Smith has used its responsive fit technology, so the frame conforms to the shape of your face. Therefore, these goggles are very comfortable, especially with their two-layer DriWix face foam.
The Riot women's ski goggles are designed to perfectly integrate with your helmet. This means you don't have to worry about a gap between your helmet and goggles or them not fitting together correctly.
You can be assured that these goggles will stay in place, even if you have a big crash. The dual-slide strap allows you to fine-tune the size, while its ultra-wide design and grippy silicone hold it firmly.
Check Price on Amazon
The Smith Range is for those who love the new-school style. So if you ski with short poles and skis and spend all your time in the park, these are the goggles for you.
These goggles give you a broad field of view, so you can spot your takeoffs and landings. They also have exceptionally good airflow, which works seamlessly with the Fog-X inner lens to keep your vision fog-free and uncompromised.
This ventilation is essential for skiers and snowboarders who work up a sweat while they are riding.
The Smith Range snow goggles have a large fit. But they are also available in a low bridge fit. So if you have high or wide cheekbones or a lower nose bridge, these goggles are ideal.
Check Price on Amazon
The Smith Drift women's snow goggles are designed to excel in all conditions. Whether you are skiing on a bluebird day, in flat light, or a blizzard, the Drift goggles will have you covered.
The Smith Airflow lens tech ensures the Drift goggles have active ventilation, giving you fog-free visibility in a whole host of weather conditions.
Smith has designed the Drift goggles with a women's-specific medium fit. This gives them a sleek, low-profile fit, suitable for a wide range of faces while providing compatibility with most ski and snowboard helmets.
The fit is enhanced by Smith's responsive frame design. So you can be sure that you will be comfortable while moisture and wind are kept at bay.
Check Price on Amazon
The Smith Prophecy OTG snow goggles fit over your prescription glasses, so you can focus on the world around you while you shred the mountain. To enhance comfort for people who wear glasses, Smith has used a floating foam membrane to eliminate pressure on the temples.
So whether you are skiing in perfect weather or the best weather, the Smith Prophecy OTG goggles will keep everything visible.
These goggles use Smith's ChromaPop™ lens technology, so the contrast is augmented no matter what the light conditions are. You also get distortion-free vision from the spherical lens.
As with all Smith snow goggles, the Prophecy OTG has excellent airflow and the Fog-X anti-fog inner lens for fog-free performance.
Even though the Smith Prophecy OTG goggles are designed for spectacles, their shape still manages to fit perfectly with helmets. They also have Smith's QuickFit strap adjustment system, so you can get the perfect fit with no hassle.
These goggles have a medium to large fit, but you can also get them with a low bridge fit.
Check Price on Amazon
Young shredders don't need to miss out on the enhanced clarity and performance of Smith snow goggles. The Smith Grom has a youth medium fit, so young riders can enjoy all the benefits of their parents' goggles.
The Grom uses the same boosted contrast as the adults get due to the ChromaPop™ lens tech. Therefore they can enjoy distortion-free vision while scoping the side hits and tree runs.
They also get excellent impact protection, so the lens is unlikely to be damaged during progression sessions. On top of this, you can even wear them over glasses with a pressure-free fit.
As you would expect from goggles of this quality, you get an excellent fit. This not only keeps the goggles comfortable all day but stops moisture and wind from getting in.
The superior fit comes from the two-layer DriWix face foam and carefully thought-out frame shape. Thanks to the silicone-backed strap and helmet integration, you can be sure that the Grom goggles stay in place.
Check Price on Amazon
The Smith Daredevil is an excellent alternative to Grom snow goggles. These goggles also have an over-the-glass fit that eliminates pressure on your temples, so you remain comfortable and focused on your shredding.
Smith has given the Daredevil goggles a semi-rimless frame design. This gives you a wide field of view, so your young ripper can spot all the fun parts of the mountain while staying safe.
Tips For Buying The Right Snow Goggles For You
1. Buy Your Goggles Before You Hit The Mountain
The prices of ski and snowboard goggles are much higher in ski resorts. Therefore, it is best to buy yours before you arrive, either at a store or online.
You will also find a much broader selection online, and the prices are likely to be cheaper.
2. Try Some On If You Can
Whether you buy your snow goggles online or in a store, try some on before you buy. You will get a good feel of how they fit and the field of view they give you.
It is best to wear your helmet when you try on ski and snowboard goggles. If you do this, you know that your goggles won't interfere with your helmet and can avoid "the gap."
However, if you have a Smith helmet and are considering Smith goggles, you won't have a problem. Their design ensures that they integrate with each other perfectly.
3. Choose The Right Lens Color
Your goggle lens color isn't just for show; it makes a difference to your visibility in certain light conditions. So you need to think about the typical light conditions you ski in.
Do you only go skiing on sunny days, or do you go out even when the visibility is poor?
You should choose a lens with the VLT (Visible Light Transmission) that suits your usual light conditions. The lens should also give you good color definition, depth perception, and contrast.
You can learn more about lens colors in this blog. However, here is a brief overview:
Look for goggle lenses with a yellow, amber, or gold color for moderate and variable light conditions. These colors bring out the bumps in the snow in flat light, as they emphasize shadows.
If you are skiing in low light conditions, you may want to opt for a light rose or rose copper-colored lens. These colors improve contrast in flat light.
When you ski on a sunny day, you will benefit from dark colors. Dark colors dim everything down, so you don't have to squint while you ski.
Some ski resorts have night skiing in the evenings. If you want to use the slopes at night, you need as much light in your eyes as possible. Therefore, you need light or clear lenses for night skiing.
Look for goggles that have interchangeable lenses, just like the examples from Smith above. These goggles allow you to change your lens to suit the conditions.
4. Consider Polarized Goggle Lenses
Polarized lenses protect your eyes from the sun's glare bouncing off the snow. These lenses are usually darker than regular lenses and perform exceptionally well. However, their effectiveness diminishes slightly towards the end of the day when shadows appear.
5. Ensure The Lens As UV Protection
One of the primary purposes of a pair of snow goggles is to protect your eyes from ultraviolet light. Most reputable brands make their goggle lenses to protect your eyes from UVA and UVB rays.
If you choose cheap goggles without this protection, your eyes can get sunburned, permanently damaging your eyes. Therefore, to prevent cataracts and nasty eye diseases, you need to make sure your goggles have sufficient protection.
The sun can still damage your eyes on cloudy days on the mountain. And you are susceptible to snowblindness, too, without proper protection.
6. Check For Good Peripheral Vision
Modern snow goggles have a low profile and fit well with helmets. But, before buying a pair of goggles, you need to make sure that they have a great field of view.
Some goggles don't have a great field of view, compromising your peripheral vision. The problem with this is that you can miss what is going on around you.
Luckily the Smith goggle designs have an excellent field of view. This is due to the frame design and lens shape.
7. Make Sure They Fit
When you try a pair of goggles on, make sure you adjust the strap accordingly. Doing this will ensure that they are comfortable enough for you and won't move while you ski.
Some snow goggles, like the ones from Smith, have wide straps. These are more comfortable than narrow ones, and they are more secure.
Other fit and comfort features to look out for are flexible frames and face foam. These will seal out the wind and moisture, preventing the lens from fogging.
People have different face shapes, most frames accommodate this, but there are exceptions. For example, goggle manufacturers make "Asian fit" snow goggles and ones for people with low nose bridges and high cheekbones.
Don't forget to look for OTG snow goggles if you wear glasses. Also, some goggle manufacturers provide prescription inserts, so you can leave your glasses in your pocket.
8. Look At The Anti-Fogging Capabilities
Snow goggles can fog up pretty quickly, which can ruin your day. So you need to choose goggles with dual lenses that prevent condensation from forming.
Most quality modern ski goggles come with an anti-fog coating on the inside of the lens. And when combined with good ventilation, you should have clear vision all day unless you manage to get the foam wet.
9. Look For Impact Resistance
Most ski and snowboard goggles are made from some form of polycarbonate. This stuff is much tougher than regular plastic, so it shouldn't break if you land on your face.
Goggles with flexible frames also reduce the likelihood of the lens popping out when you crash. The strong magnets and retention systems used by Smith also prevent you from losing your lens.
The foam inside your goggles is not just for comfort. It also gives you some impact protection. This foam can make the difference between breaking your nose or coming away from a crash unscathed.
Final Thoughts
As you can see, Smith has a vast range of ski and snowboard goggles, and the ones on this list are just a fraction of what they offer. Pretty much all of the Smith goggles meet the requirements of the tips above.
All you need to do is ensure that whichever goggles you buy fit you properly and get the right colored lens.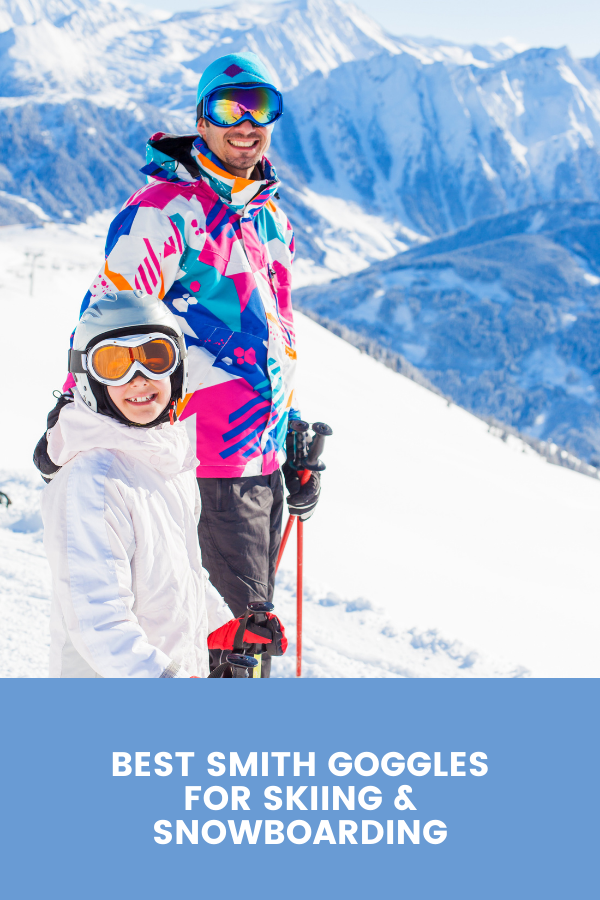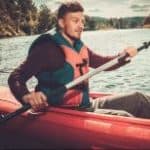 Author: Peter Salisbury
Pete is the Owner of KayakHelp.com. Born and raised in Cleveland, Ohio, he grew up kayaking, fishing, sailing, and partaking in outdoor adventures around the Great Lakes. When he's not out on the water, you can find him skiing in the mountains, reading his favorite books, and spending time with his family.