One of the most important parts of looking after your skis is to keep them waxed. Waxing your skis helps them to glide faster and work how they are supposed to.
In addition to this, regularly waxed skis have a longer lifespan. Also, the layer of wax actually slightly protects the bases from rock strikes and harsh icy conditions.
There are different types of ski wax on the market, but in this article, we will go through some of the best ski wax you can buy. We will highlight the best ski wax for varying conditions, ways of boosting your base's performance, and also look into eco-friendly options.
By buying any of these products, your skis will perform well, allowing you to have the most fun on the mountain possible.
We will also answer some frequently asked questions about waxing your skis or snowboard, so you know how to keep them running perfectly.
Thumbnail
Title
Super HotSauce - All Temperature Ski/snoowboard wax ® 340 G / 12 oz -Voted Best Ski and Snowboard Wax. LAST THREE times AS LONG. You will be glad. Video at the left. Toda La temperature.
Demon Hyper Wax -Universal Blend for Any Temp- 1.06 LB/ 480 gm Block
ZUMWax RUB ON WAX Ski/Snowboard - All Temperature Universal - 70 gram - INCREDIBLY FAST in ALL Temperatures!!!
Swix Bio Degradable Ski/Snowboard Warmer Conditions Wax (180g Bar), Yellow, 7"x3"x2"
Swix F4 Paste 75 ml Ski Snowboard Wax Universal
Best Ski Wax
Check Price On Amazon
Hertel has been producing some of the best ski wax since 1972 and they are still going strong. One of Hertel's best-selling ski wax is the Super HotSauce.
Hertel HotSauce is formulated to be effective in all temperatures. Therefore, you don't have to worry about having the wrong wax for the conditions.
You can take full advantage of this excellent ski wax whether you are a beginner or an expert skier. Hertel promises that their HotSauce gives you more control and less fatigue while providing you with high performance on the slopes.
This 12 oz brick can be applied to your skis, hot or cold. Therefore, you can rub or melt it onto your skis with a waxing iron. Either way, you will get 36 days of skiing from a single brick.
Check Price On Amazon
Another tremendous universal temperature ski wax is Demon Hyper Wax. This stuff has been made in Southern California since 1991, so you can be sure it is made with a tried and tested formula.
You apply Demon Hyper Wax with a waxing iron, and it can be used for any snow temperature. Therefore, you can prepare your skis or snowboard and then focus on fun.
The premium blend formula that makes this wax is proven to be high-performing and makes your skis or snowboard slide as fast as possible all day.
Check Price On Amazon
Sometimes you don't have time to do a proper wax job on your skis or snowboard, or you may just need a little boost. This is where the ZUMWax Rub On Wax comes in.
With the two-step process, applying this wax couldn't be easier. First, rub it onto the base, just like a deodorant stick. Then, buff the base with the cork attached to the container.
This is not a long-term solution but will give you a few runs with extra glide without the need to get your waxing iron out.
On top of this, ZUMWax is reasonably priced, eco-friendly, and tested meticulously by the company's in-house riders.
Check Price On Amazon
Swix is a big name in the ski wax world and has been around for a long time. They have seen that winter sports enthusiasts need to reduce their impact on the environment, so they have developed this biodegradable ski wax.
It works well for both skiers and snowboarders, and you get the best results when you melt it onto the base with a wax iron. It is formulated to work in warm temperatures, so it is ideal for slushy spring days when the mercury gets between 28 degrees Celcius (50 degrees Fahrenheit). 
This wax is proven to make your skis or snowboard slide very well in warm conditions, so you can get to the après bar before everyone else.
Check Price On Amazon
Swix made this wax with convenience in mind. So if you wake up to a powder day and haven't waxed your skis or snowboard in a while, you can do a quick wax job with this easy-to-apply paste.
A quick polish with the paste followed by a brush will allow you to enjoy a few hours on the mountain with freshly waxed skis or a snowboard. You'll find it easier to apply in warmer temperatures, but it still goes onto the base pretty well if you need to do it in the parking lot before you head up the hill.
You don't need to worry about the snow temperature either, as this stuff is designed for all temperatures and snow conditions.
Check Price On Amazon
If you want some wax for your skis or snowboard that will last a long time, you can't go wrong with this example from One Piece. You get 250g of ski wax suitable for skiers and snowboarders of all levels and for all conditions.
As this wax is universal, it works just as well in the depths of winter as it does during the warmer months leading to spring. Therefore, you can expect optimum glide and performance from your skis or snowboard throughout the season.
In addition to this, this wax is kinder to the planet thanks to its non-toxic formula. So you can reduce your environmental impact while still doing the thing you love most.
Check Price On Amazon
The North collection of ski wax from Swix is designed to enhance your time on the mountain in the simplest way possible. Swix has used a formula that allows your skis or snowboard to glide effortlessly, help you maintain control, and protect your base.
But the formula is also environmentally friendly without having a negative effect on performance. The 180g brick will give you at least 20 wax jobs, which is more than enough for most people during a season.
The Speed Brick works fantastically in all temperatures and snow conditions and is a popular choice with some of the world's top freeride skiers and snowboarders.
Check Price On Amazon
As the temperatures start to increase at the end of the season, it doesn't mean that your speed has to decrease. Choosing a quality warm temperature wax allows you to keep your speed up even when the snow is slushy, and you are shredding in a t-shirt.
A great example of warm temperature wax is this racing wax from ZUMWax. It works exceptionally well when the snow becomes sticky, so you can outrun your friends and get to the lift before them.
This 100g bar of wax works best in air temperatures ranging between 25°F and 50°F and when the snow temperature is between 21°F and 32°F. 
It is made by hand in the USA in the most cost-effective and environmentally friendly way possible. So it is kinder to the planet and your wallet at the same time.
Check Price On Amazon
Whether you are a skier,
snowboarder
, or cross-country
skier
, you can benefit from MountainFlow Eco-Wax Rub-On wax. This stuff is versatile enough to suit all disciplines and is incredibly easy to apply.
All you need to do to get ready for the mountain is rub the wax onto the base of your skis or snowboard with the included applicator pad. This fast and easy method gives your snowboard or skis a high level of glide to keep you sliding quickly and efficiently.
This rub on ski wax is plant-based and contains no petroleum products like most ski waxes. Therefore, you can be sure you are doing your bit for the planet while you ride, as only natural products go back into the ecosystem.
It is suitable for snow temperatures ranging from 25 to 40 degrees Fahrenheit. So it is useable for most of the winter months. 
Check Price On Amazon
The smell of melting wax can be pretty therapeutic as it dribbles onto the base of your skis or snowboard. But One MFG has taken this a step further by making this universal ski and snowboard wax smell like cinnamon-infused coffee.
This wax not only smells good but is optimized to work well in the most common temperatures you experience during winter. If you are in a hurry, you don't have to get your waxing iron out, as you can rub it onto your base for a quick wax job in the morning.
You get a block of 130g, which is enough for several wax jobs, so you can be sure to have fast-running equipment all winter.
Check Price On Amazon
We are seeing more eco-friendly ski and snowboard waxes these days, and this one from PURL is a great example. It is made from biodegradable and non-toxic ingredients, so it is free of nasty chemicals and fluorocarbons.
PURL is a member of the 1% For The Planet to bolster the company's green credentials. Therefore, 1% of all sales are donated to conserving the environment.
PURL Purple ski and snowboard wax is universal, so it has a wide operating range between 10°F and 32°F. This means you don't have to be too concerned about having suitable wax for the conditions.
You can expect fast glide no matter what discipline of skiing or snowboarding you enjoy.
This is a hot wax, so you need to melt it onto your skis or snowboard. But it lasts a long time and is high performing.
Check Price On Amazon
This wax from DEYS (Don't Eat Yellow Snow) can be used for making your skis, snowboard, or cross-country skis glide fast and perform well. Although this wax is best suited to 0 F to +41 Fahrenheit, you can use it at any temperature.
You can get up to 10 hot wax jobs from this 4 oz block of wax, and it works well whether the snow is hard-packed or deep and powdery. This is because it is exceptionally hydrophobic, repelling water from the base, allowing it to slide quickly on the snow as it melts below your base.
As a bonus, when you buy this wax, you get a plastic base scraper for a proper wax job.
Check Price On Amazon
If you are a cross-country
skier
, you'll understand the importance of having skis that glide effortlessly. Therefore, you will benefit from cross-country ski-specific wax.
The XC Quick Wax from Maxiglide is perfect for all waxless and skate types of cross-country skis. It enhances glide when the snow is wet and heavy, but it also prevents snow and ice from building up on the bases of your skis.
You can experience the benefits of Maxiglide XC Quick Wax in all temperatures, so you can hit the trails all season. In addition to this, it is formulated from a blend of natural oils and waxes, so it is kinder to the environment than fluorocarbon-based waxes.
Check Price On Amazon
It's all very well having universal ski wax that can be used at any temperature. But what if you want to optimize your skis or snowboard perfectly to the conditions?
Demon United has put together this kit consisting of five different waxes, each formulated for a specific temperature range. Therefore, you can be prepared for the changing temperatures throughout the winter to ensure optimum glide performance.
The kit includes the blur blue wax, suitable for temperatures below 31 degrees, which produces a berry scent when you melt it. You also get an orange-scented wax for temperatures over 31 degrees, a vanilla-scented universal wax with modified hydrocarbons, and a universal graphite wax.
Putting the lovely scents aside, the waxes included in this package are high performing and long-lasting.
Check Price On Amazon
Sometimes you need a little boost, especially if you haven't waxed your skis or snowboard for a while. But with Zardoz NOT wax Base Boost, you can quickly give your base the treatment it needs.
This stuff is a 100% pure liquid fluoropolymer that is fast and easy to apply. All you need to do is wipe it onto the base without needing to get your servicing kit out and wait for your hot wax to cool and settle into the base before scraping.
You can use Zardoz NOT wax Base Boost in any temperature or snow conditions, but it works best when the snow is wet. You can apply it on top of your regular wax to enhance its performance and make it last longer. It provides an extra layer of lubrication to your ski or snowboard bases to help you go faster.
In addition to all this, it comes in a handy pocket size, so you can apply it anytime you fancy. Also, it is non-flammable, non-toxic, odorless, and colorless, so you can carry it on a plane with no issues.
Frequently Asked Questions
1. How Often Should I Wax My Skis Or Snowboard?
Ideally, you should wax your skis or snowboard once a week or after you've used them five or six times. This will keep the base in good condition, allowing it to glide quickly and efficiently.
2. Should I Wax My Own Skis Or Snowboard?
Waxing your own skis or snowboard has its benefits. For example, if the snow forecast looks good, you can make sure you prepare your equipment so it is in prime condition for the following morning.
However, waxing your own skis or snowboard requires equipment, and it is a messy process. So, if you are traveling, your accommodation may not be suitable for waxing your equipment.
Ski resorts are full of ski shops that will service your equipment for you. Taking it to a shop will save you time, and it can often be done overnight.
If you get a ski tech in a shop to service your equipment, you need to get there before everyone else, as other people will want their skis to be perfect for a powder day too. Also, you need to be prepared to collect your equipment first thing in the morning, so you can get to the front of the lift line.
3. What Happens When You Don't Wax Your Skis Or Snowboard?
If you don't wax your skis or snowboard, the base will begin to dry out. A good sign that you have a dry base is when it starts to whiten and has a rough texture.
In extreme cases, the base will shrink away from the edges of your skis or snowboard. This can cause them to be vulnerable to severe damage from impacts with rocks or hard ice.
4. Can You Ski On Unwaxed Skis?
You can ski on unwaxed skis without too much trouble. However, they won't perform as well and will be susceptible to damage.
As soon as you wax your skis, you will notice a dramatic improvement in performance. They will be faster, turn easier, and prevent you from needing to push yourself along with your poles on flat sections.
5. Do You Need To Wax New Skis Or Snowboards?
New skis and snowboards come out of the factory with a basic layer of wax on their bases. However, it's probably been a while since the wax was applied by the time they get to you.
The factory wax may be suitable for a day or two, but it's best to give the bases a proper wax job as soon as possible. A proper layer of wax will always be more effective than factory wax, making your skis or snowboard run quickly and smoothly.
6. How Do I Know My Skis Or Snowboard Need Waxing?
When you are skiing or snowboarding and your bases need a layer of wax, you will notice a change in performance from your equipment. You will feel that you are not going as fast as you should be, and you will feel like the base is dragging on the snow.
You should always inspect the bases of your skis or snowboard before you head off on a trip. If they need waxing, you will notice the whitening we discussed earlier.
The base will have a chalky appearance, which is more evident on bases with dark colors. Another sign of a dry base is if it has a rough texture, as a base with a good layer of wax will be smooth and shiny.
If your snowboard or ski's base looks almost fuzzy or rough, you need to wax them before you head up the mountain.
7. Are There Alternatives To Ski Wax?
Some people like to look for alternatives to wax for their skis or snowboards. For example, some people have experimented with furniture polish, carnauba wax, candle wax, and even soap.
These alternatives may be effective for one or two runs. Still, they will never replace the real thing, even the temporary rub-on options.
You can squeeze out some extra performance or extend the life of your wax with rub-on stuff. However, the best thing to do is regularly give your skis or snowboard a proper hot wax job. 
Final Thoughts
As you can see, there are many different solutions for keeping your skis and snowboard running smoothly with extra glide. 
Whether you want to wax your skis or snowboard with minimum fuss using universal wax or choose the optimum product for the conditions, there is something for you.
It's refreshing to see more eco-friendly options on the market, as skiing and snowboarding aren't very kind to the environment. 
If we can all make small changes, such as choosing more sustainable ski and snowboard wax, we can reduce our impact on the environment.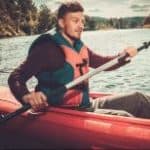 Author: Peter Salisbury
Pete is the Owner of KayakHelp.com. Born and raised in Cleveland, Ohio, he grew up kayaking, fishing, sailing, and partaking in outdoor adventures around the Great Lakes. When he's not out on the water, you can find him skiing in the mountains, reading his favorite books, and spending time with his family.