San Francisco is a great city and offers its people and visitors a lot. You have easy access to forests and beaches to scratch your outdoor itch.
But what is there to do for skiers and snowboarders? California has lots of ski resorts, but which ones are accessible from San Francisco by car or by plane?
In this post, we will go through the best ski resorts near San Francisco. These can all be reached by car or via a short flight and even take you out of the state for a more varied mountain experience.
Best Skiing Resorts Near San Francisco
Bear Mountain, Southern California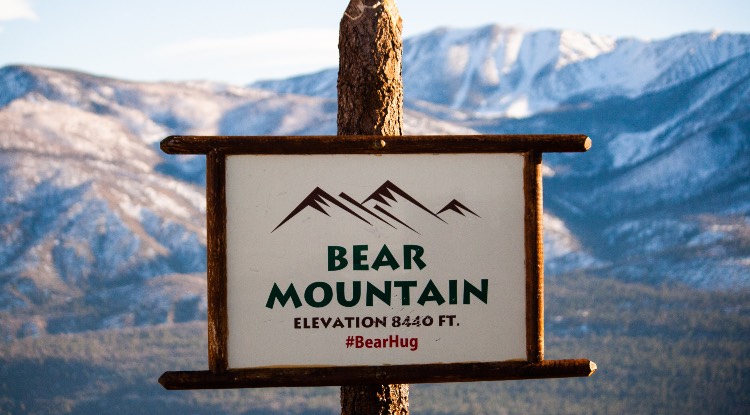 Southern California has some fantastic ski resorts, but driving all the way from San Francisco takes a long time. A short flight to one of the Orange County airports will get you pretty close to the San Bernardino mountains.
In the San Bernardino mountains, you have access to about 200 acres of terrain to ski on. The area is very varied, so beginners and experts will be suitably entertained.
The San Bernardino mountains are also great for backcountry skiing. If you are an advanced skier, you won't find anything too challenging, but the area is ideal for freestyle, thanks to the range of snowparks.
One of the attractions to the San Bernardino mountains is that the main ski resort is the bustling Big Bear Lake. This is a town with a great selection of restaurants and bars, but it also offers lots of alternative attractions, even its very own Alpine Zoo.
Northstar, Lake Tahoe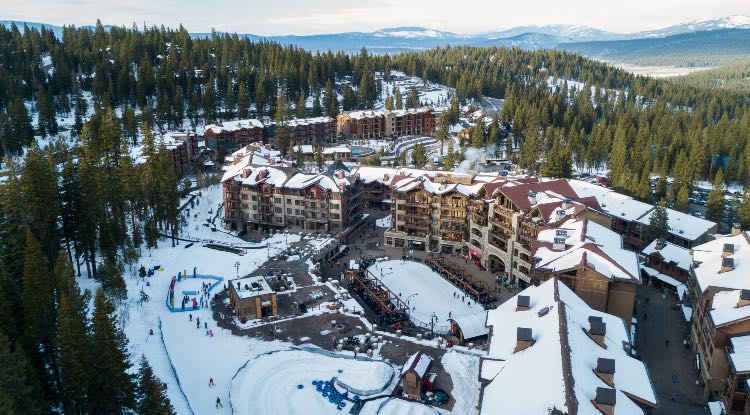 Lake Tahoe is also just a short flight from San Francisco, landing at Reno in just one hour. You can get to the lake from Reno in just 45 minutes.
This stunning lake is well known for its collection of ski resorts overlooking the water. You will also find a range of glamorous casinos and some excellent nightlife.
Northstar is situated not far from Lake Tahoe's north shore, and the ski area boasts over 3,000 acres of terrain. But Northstar is well renowned for having a chilled-out atmosphere combined with luxury places to stay, eat, and shop.
The ski slopes in Northstar are very well looked after and groomed to perfection. You can expect a wide range of slopes for skiers and snowboarders of all levels to enjoy.
If freestyle is your thing, Northstar is home to a few excellent snowparks, including a superpipe designed by Shaun White.
Diamond Peak, Lake Tahoe
Diamond Peak is at Incline Village in Nevada, which is close to the northeast shore of Lake Tahoe. It is a very snowsure ski resort due to its high altitude, with 1,840 ft of vertical drop.
The ski area around Diamond Peak gives you 655 acres of terrain to enjoy – 500 of those acres are in the trees, making your skiing super picturesque and much easier on bad weather days.
With 30 ski slopes, powder-filled bowls, and tree runs, the area has a lot to offer skiers and snowboarders. Many of Diamond Peak's ski slopes have panoramic views of Lake Tahoe, creating a unique winter vacation experience.
If you like to practice your tricks, Diamond Peak also boasts Lake Tahoe's best looked-after snowpark, known as "The Village."
Sugar Bowl, Lake Tahoe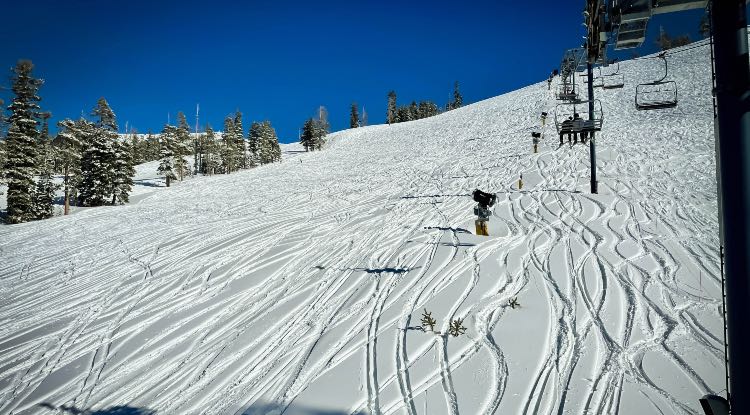 Sugar Bowl is also located on the banks of Lake Tahoe, but it is in California. It is the closest major ski resort to San Francisco and is perfect for short or longer ski trips.
Its proximity to the Bay Area and Sacramento makes Sugar Bowl a popular ski resort for day-trippers and weekend skiers. But, when you compare it to the other Lake Tahoe ski resorts, it offers a much quieter atmosphere.
The less manic atmosphere gives you the advantage of quiet ski slopes and short lift lines. Sugar Bowl is not as ostentatious as the other Lake Tahoe resorts either; therefore, it doesn't have a tacky feel to it.
Sugar Bowl was established in 1939, but it doesn't feel dated. It is well-developed, featuring some up-to-date ski lifts, well-maintained slopes, and snowparks.
The ski terrain around Sugar Bowl makes it an excellent choice for intermediate skiers and snowboarders.
Mount Bachelor, Oregon
Another great ski resort near the Reno airport is Mount Bachelor. It is one of the United States' largest ski resorts and arguably one of the best areas to ski.
Mount Bachelor is often missed by people due to its low profile and the fact that it doesn't have any accommodations to stay in. It is popular with day-trippers from Eugene, Portland, Bend, and even Seattle.
Therefore, if you want to ski or snowboard at Mount Bachelor, you will need to stay in one of the nearby towns.
Mount Bachelor rises from Oregon's high desert. It is actually an inactive volcano that sits isolated away from the other mountains.
The ski terrain on Mount Bachelor is vast, measuring 4,318 acres with over 100 ski slopes. The slopes are serviced by eight high-speed quad chairlifts and three four-man chairlifts.
Half of Mount Bachelor has no lifts, but you can still ski it and get back to the bottom of the lift stations. This side of the mountain has a more off-piste style to it, even though it is looked after by the ski patrol.
Among all the slopes, you will find some great runs ideal for intermediate skiers and snowboarders. There is also a good selection of beginner runs.
However, if you are an advanced skier or snowboarder, you will love what Mount Bachelor has to offer. You can expect steep bowls and some excellent tree runs.
What sets Mount Bachelor apart from many ski areas is its lava flows. With the snow coating the lava flows, you can experience interesting features, chutes, and wind lips to play on.
Las Vegas, Nevada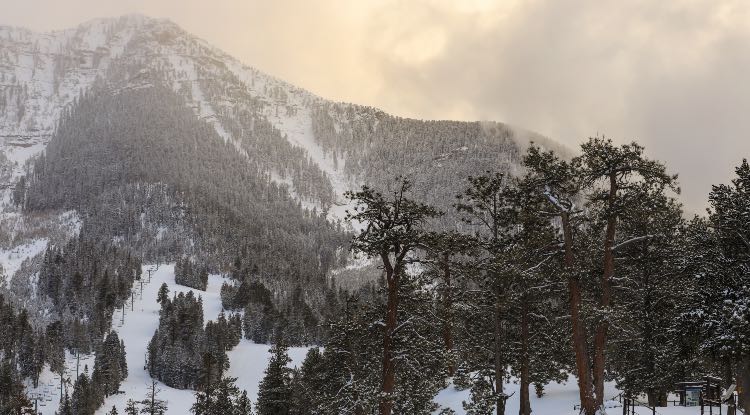 When someone mentions Las Vegas, you think of casinos, showgirls, and bright lights. But, there are a few ski resorts accessible from Las Vegas, such as Lee Canyon.
This place is the polar opposite of Sin City, as it is pretty small. But it does have 30 ski slopes to enjoy.
Most of Lee Canyon's slopes are best suited to experienced skiers and snowboarders due to their difficulty. With Lee Canyon being just an hours' drive from Las Vegas, you can mix up your trip and experience two sides of the notorious desert town.
An alternative ski resort accessible from Las Vegas is the Brian Head Ski Area. Brian Head is roughly 200 miles from Las Vegas, so you may want to stay overnight or be prepared to be pretty tired on the drive back.
Brian Head is in Utah, and the ski area consists of two mountains with 650 acres of terrain. You can enjoy 71 varied ski slopes, and the resort also offers night skiing on Fridays and Saturdays.
The two mountains each have their own lodge with places to eat and drink. You can expect a barbecue restaurant that serves craft beer and also cafes for a quick bite to eat.
Lots of people travel to Las Vegas from San Francisco. You can take one of the many flights cheaply and be there in an hour and a half.
Squaw Valley, California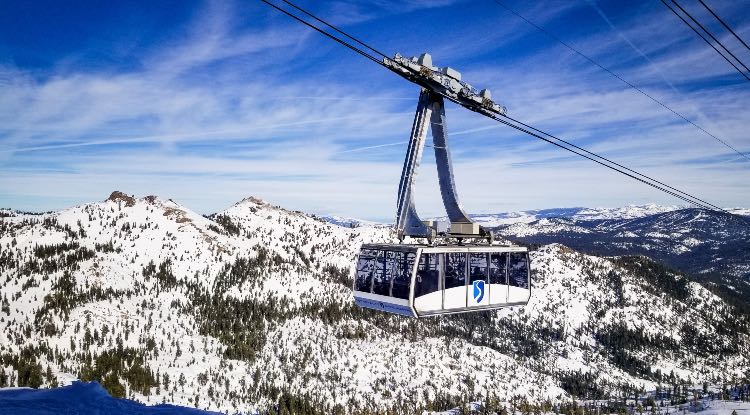 Squaw Valley is near Lake Tahoe and is just over a four-hour drive from San Francisco. You can also fly into Reno to make your journey easier.
It is also known as Olympic Valley, as it hosted the 1960 Winter Olympic games, which saw significant development for the resort and the ski terrain.
Later, Squaw Valley became the location for many of Warren Miller's extreme ski films. The resort still attracts some of the world's best skiers to drop the many cliffs visible from the ski lifts.
A visit to Squaw Valley gives you access to 6,000 acres of ski terrain. With just one lift pass, you can ski on both Squaw Valley and nearby Alpine Meadows.
Recently the ski area has been updated with modern lifts, new and renovated lodges, and improvements to the infrastructure.
The vast ski area has a great beginner zone at the top of the mountain and immaculately groomed slopes. If you head over to Alpine Meadows, you can enjoy large open bowls and incredible views of Lake Tahoe.
You can choose from a selection of lodges on the mountain, or take advantage of the European style village, with a wide variety of shops and restaurants.
There are many different places to stay in the area, including slopeside options. If you don't stay slopeside, the resort's shuttle will get you to the snow quickly.
You can ski in Squaw Valley into the summer months, and it is the Spring Skiing Capital of the U.S. To make Springtime more fun, you can benefit from their packed events calendar.
Mammoth Mountain, California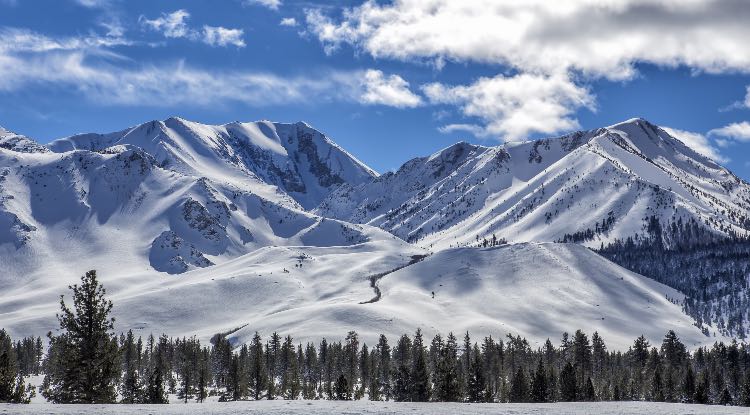 A six-hour drive East from San Francisco will take you to Mammoth mountain. This is a vast ski resort located in Yosemite National Park.
It is one of the largest ski resorts in California and is regarded as one of the best in the U.S.
Mammoth Mountain was founded in the 1940's and blends historical charm with modern lifts and excellent infrastructure. One of the more charming places is Mammoth Lakes, which has a laidback, small-town atmosphere.
You can expect over 3,500 acres of skiable terrain in Mammoth Ski Resort. The slopes are serviced by 25 modern lifts that are well placed to get you to the various areas quickly.
As the area is so large, you can expect varied terrain to suit all levels of skier and snowboarder. A quarter of the area is designated for beginners, while intermediates get to blast on lots of perfectly groomed slopes.
You will find that the steeper slopes are located at the top of the mountain. Here more advanced skiers and snowboarders can enjoy open bowls, powder-coated meadows, mogul runs, and steep chutes.
The off-piste is plentiful, and there are several snowparks and a superpipe to keep experts entertained.
Mammoth Ski Resort is closer to LA and the other large California cities than the Lake Tahoe resorts. Therefore, you can expect it to get pretty busy during weekends and major holidays.
Badger Pass, California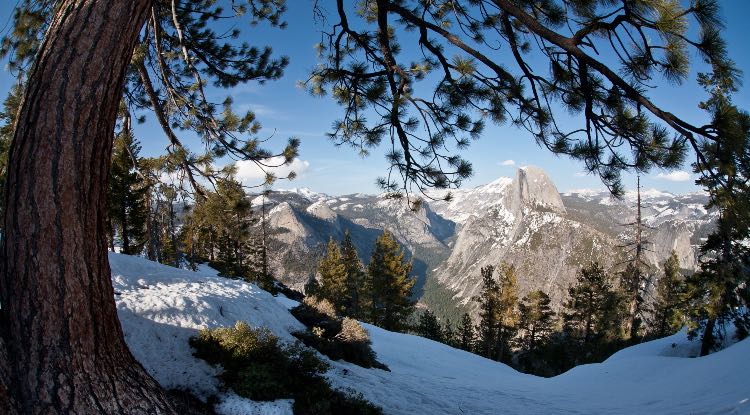 Badger Pass is also not far from Yosemite National Park. It is located in the Central Sierra mountain range and takes about four hours to drive there from San Francisco.
Badger Pass is one of the oldest ski resorts in California. It is less crowded than many of the ski resorts found in Lake Tahoe, so you can get a more tranquil experience on your skiing trip, making it ideal for families.
Even though the Badger Pass ski area is only 90 acres, it gives you the opportunity to enjoy varied slopes and gorgeous scenery. Some of the attractions that make Badger Pass great for families are the snow tubing hill, its friendly atmosphere, and affordable ski pass prices.
The Badger Pass Ski School has been going since 1928. It offers packages that include equipment, lift passes, and two lessons to get you skiing competently on your first day.
Badger Pass has 10 groomed ski slopes that range from beginner to expert. But, it is more of a resort for beginners, families, and cross-country skiers.
Yosemite has almost 100 miles of cross-country skiing and snowshoeing routes to choose from. Many of them start in Badger Pass and allow you to view the incredible scenery at a slower pace.
To get the most out of cross-country skiing and snowshoeing in Badger Pass, you could book a guided tour. The Yosemite Mountaineering School and Guide Service will take you to the best places to see Yosemite's iconic peaks, such as El Capitan and Half Dome.
Mount Shasta, California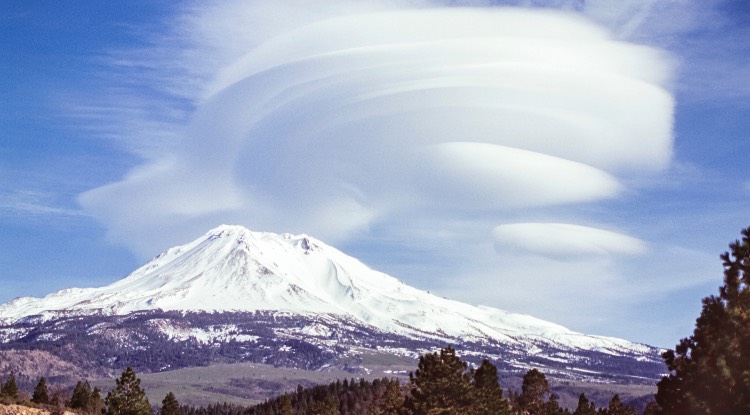 Driving North from San Francisco for four and a half hours will take you to Mount Shasta. This is an extinct volcano rising 7,500 ft, overlooking the cities of McCloud and Mount Shasta.
The ski area is known as Mount Shasta Ski Park and has 425 acres of terrain to ski on. Just over half of the slopes are suitable for intermediate skiers and snowboarders, but the rest is ideal for beginners and experts.
Mount Shasta is another good destination for cross-country skiers, as there are lots of routes with dramatic views. But, there are also some great options for freestyle skiers and snowboarders with the two snowparks.
Silvertip Terrain Park is ideal if you are just getting to grips with freestyle or are progressing. But, if you are more advanced, you should head to Revolution Terrain Park for bigger jumps and features.
Mount Shasta has a good selection of backcountry terrain too. Therefore, it is an excellent place for experienced skiers and snowboarders.
To get the most out of the area's powder stashes, hire a guide to take you to the best places and keep you safe. There are a few backcountry cabins located away from the resort for overnight stays. The cabins are basic refuges with bunk beds and log burners.
Dodge Ridge, California
Dodge Ridge is just over a three-hour drive from San Francisco. It is actually the closest ski area to the Bay Area and is ideal for a family ski trip.
The Dodge Ridge ski area isn't as large as the ones you find around Lake Tahoe, but its 832 acres has a nice mix of slopes suitable for beginners and more advanced skiers and snowboarders.
Dodge Ridge is not a high-end ski resort, so don't expect the high-tech snow grooming machines you find in larger ski resorts. Also, some slopes can close from time to time.
With all this said, it is a much cheaper ski resort than the ones around Lake Tahoe. With it being on the outskirts of Yosemite National Park, you have access to a range of other winter sports to enjoy.
Not far from Dodge Ridge is Pinecrest Lake, which is where the University of California has its alumni summer camp. Therefore, the area is popular with people traveling from San Francisco.
Boreal, California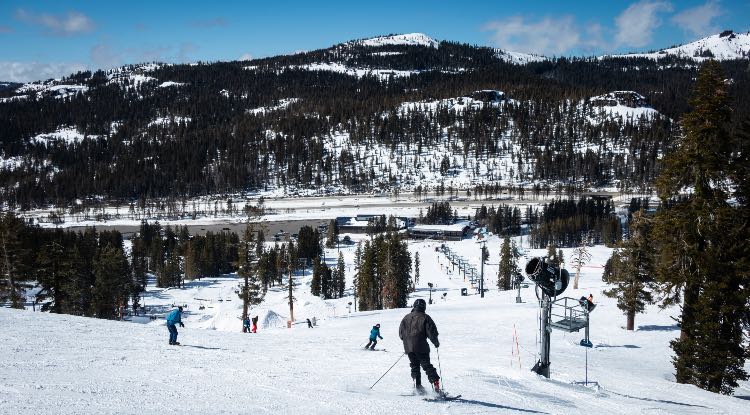 Boreal is located near Lake Tahoe but is still in California. It takes about three hours to drive there from San Francisco, making it one of the most accessible ski resorts to get to.
Boreal is often one of the first ski resorts to open in the Lake Tahoe area, thanks to its excellent snowmaking facilities. But, it gets around 400″ of snow each winter.
The area is made up of 380 acres of skiable terrain with 41 groomed slopes, serviced by eight lifts. Boreal is the ideal destination for families due to its beginner-friendly slopes.
If you are an aspiring freestyler, Boreal is the place to go. It has a mini pipe, so you can get to grips with halfpipe riding, but it is also home to the Woodward Tahoe training facility.
The training facility allows you to dial in your tricks in relative safety all year round.
Bear Valley, California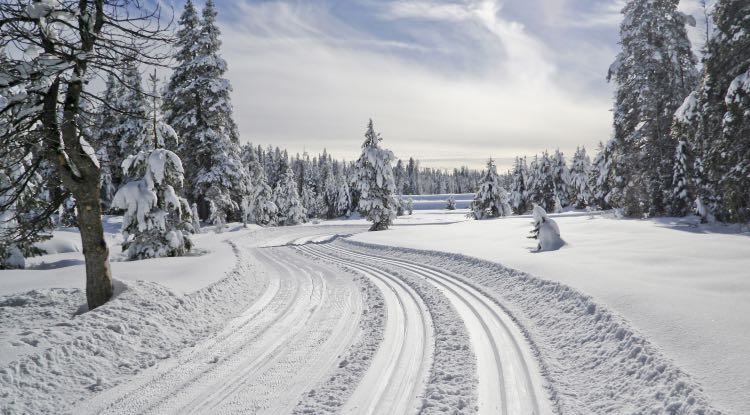 Bear Valley is in the Sierra Nevada mountain range, between Yosemite and Lake Tahoe. It takes just over three hours to drive there from San Francisco.
Bear Valley is known as a very family-friendly ski resort with a chilled-out atmosphere. The resort has excellent views of the mountain range, and it has enough terrain to suit beginners and experts alike.
One of the advantages of traveling to Bear Valley is that it has good weather. Therefore, you can enjoy a full day on the mountain with good visibility and comfortable temperatures.
Bear Valley also has a great selection of accommodation options near the ski area. You can expect a range of cabins and rental properties without needing to travel too far.
The Bear Valley ski area measures 1,680 acres and has over 75 slopes and 1,900 ft of vertical drop. About a quarter of the slopes are suitable for beginner skiers and snowboarders. But most of the terrain is geared towards intermediate and advanced skiers.
Skiers and snowboarders who want to work on their freestyle skills can go to one of the two snowparks. They have been designed to help you progress, with features that range from beginner to advanced.
If you get to Bear Valley after a fresh snowfall, you can take advantage by joining a snowcat tour. The snowcat will take you deep into the backcountry, so you can enjoy the fresh and untouched snow.
There is a lot of backcountry to access from Bear Valley. So if you have ski touring equipment or a splitboard, you are spoiled for choices.
Bear Valley is also an excellent destination for snowshoers and cross-country skiers. You will find over 3,000 acres of routes to choose from.
Mount Baldy, California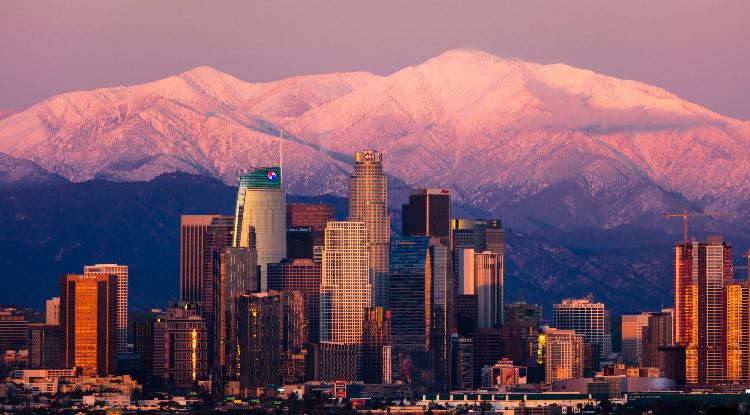 Mount Baldy is located in the San Gabriel Mountains, about an hour's drive from LA. Making it a six and a half hour drive from San Francisco, but it is also close to the San Bernardino International Airport.
Mount Baldy is one of those ski resorts with something for everyone, but more than half of the slopes are for advanced skiers and snowboarders. There are some excellent snowmaking facilities there, but it gets about 170″ of snowfall every winter.
There are 2,100 ft of vertical drop at Mount Baldy and 26 ski slopes accessible from four lifts. The longest slope is 2.5 miles long, which is a real leg burner if you ski it all in one go.
If you are a beginner skier or snowboarder, Mount Baldy is a good place to go. It has an area known as the Flow Zone, designed to help you progress, featuring berms and rollers. The Flow Zone has staff on hand to give you tips and advice to help you out too.
More advanced skiers and snowboarders will be able to find lots of steeper runs on Mount Baldy to test their skills.
To keep the kids entertained when they are not skiing, they can enjoy the snow tubing park. This has seven lanes of high-speed but safe fun as an alternative activity.
Final Thoughts
San Francisco is a good base for skiing and snowboarding.
You may not have time to go to the beach in the morning and go skiing in the afternoon if you drive, but you can certainly do it over a weekend.
Images from Shutterstock.com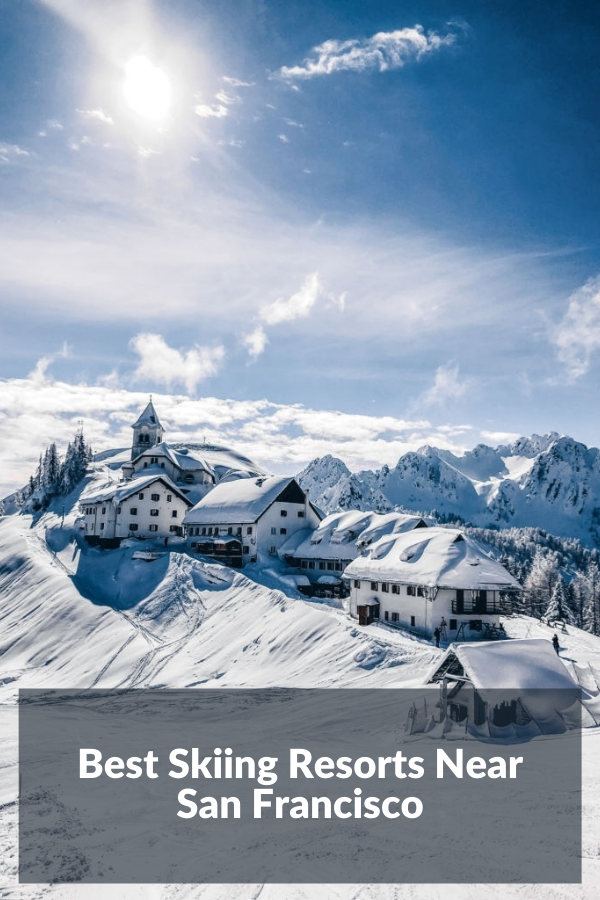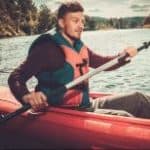 Author: Peter Salisbury
Pete is the Owner of KayakHelp.com. Born and raised in Cleveland, Ohio, he grew up kayaking, fishing, sailing, and partaking in outdoor adventures around the Great Lakes. When he's not out on the water, you can find him skiing in the mountains, reading his favorite books, and spending time with his family.