If you have progressed beyond the beginner stage with your skiing, you may be in the market for your own pair of skis. As an intermediate skier, your skis will need particular characteristics to ensure they are the best ones for you.
In this article, we will give you some tips for buying and some examples of the best skis for intermediate skiers.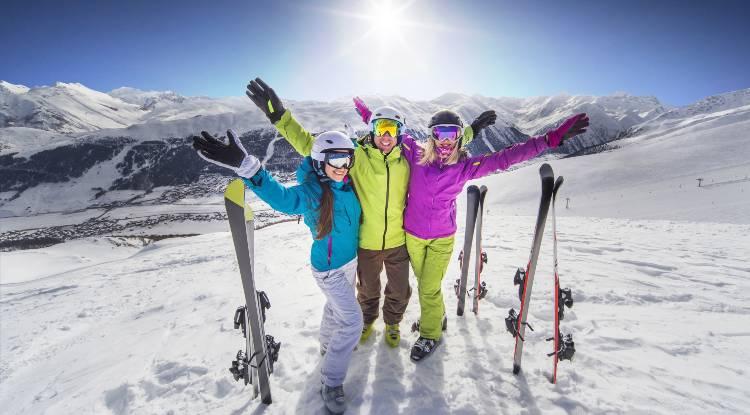 Image by YuryKo from Shutterstock
Tips For Buying The Best Skis For Intermediate Skiers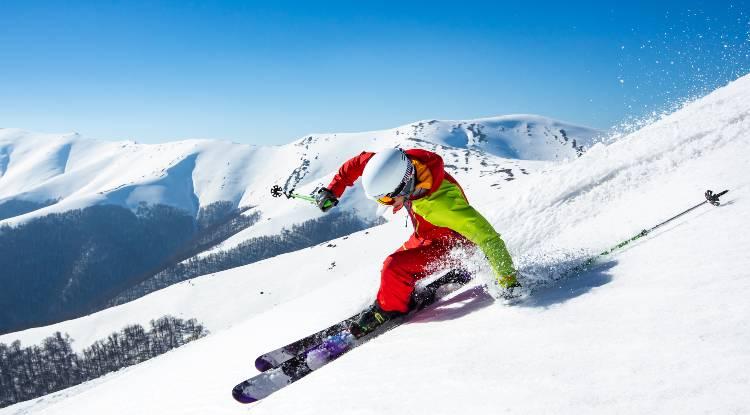 Image by Taras Hipp from Shutterstock
Decide What Type Of Skiing You Want To Do
By now you should have a good idea of what you like to do when you are on the mountain. For example, do you like to spend lots of time in the snowpark? Do you like to go fast on the groomers? Or do you want to do a bit of everything?
There are skis for every style and discipline, so carefully think about what you want to do.
Consider The Length Of Your New Skis
The length of your skis will depend on your skill level, height, and what type of skiing you like to do.
You will find that most skis come in four or five different lengths. Shorter skis are better for lighter skiers and those who feel they need a little more help to initiate turns. They are also great for freestyle, as they are easier to spin.
However, if you are a heavier skier and like to go fast, you would be better off with longer skis. You need to remember that longer skis are not as maneuverable as shorter ones, but they give you more stability when charging.
Check out our blog on Longer vs Shorter skis for more information.
Look At The Skis' Width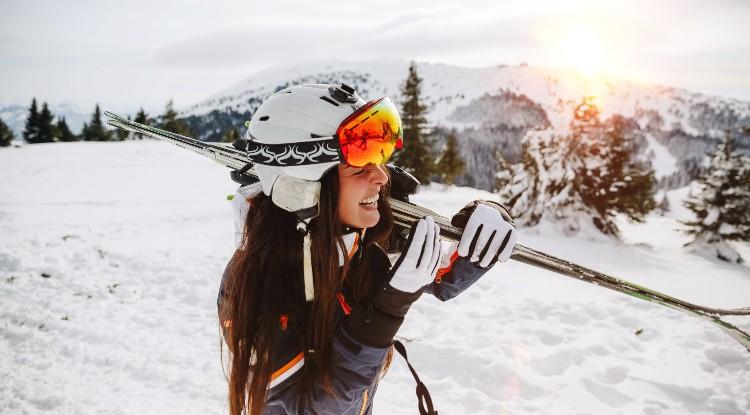 Image by Marko Ristic Leo from Shutterstock
The width of your skis makes a massive difference in how they perform. Therefore, you need to pay attention to the width measurements, especially the waist, which is the narrowest part.
Narrow skis are very easy to turn, as you can go from edge to edge without much effort. They also grip the snow well as your weight is concentrated in one area, allowing you to turn sharply.
Wider skis have a larger surface area, providing lots of float in powder. In addition to this, they are more stable in choppy snow.
Pay Attention To The Sidecut
When you look along the edge of a ski, you will notice that it is curved; this is the sidecut. The sidecut makes a difference in how tight and easily you can turn.
There is no rule to say precisely what sidecut is best for you, as it depends on personal preference and the type of ski. The sidecut determines your turning radius, and most skis fall under three categories:
Small turning radius – You will find that alpine skis designed for groomers will often have a small turning radius of 17 meters or less. These skis are ideal if you like short, fast turns.
Medium turning radius – Most all-mountain skis have a medium turning radius. You can expect the radius to sit between 17 and 22 meters, which is great for coping with both resort and backcountry skiing.
Large turning radius – A long turning radius measures from 22 meters. You will find freeride and powder skis with this kind of turning radius, as they are suited to aggressive skiers and for those who want lots of stability in deep snow.
Decide What Profile You Would Like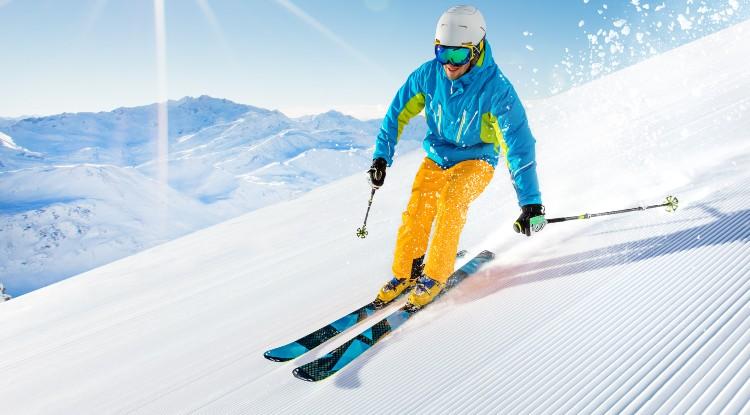 Skis come in various profile shapes to give them specific performance characteristics. Here is a rundown of what is available:
Camber – Cambered skis have an upward curve that runs most of the ski's length, but its highest point is under the bindings. This shape increases the pressure at the tip and tail, which helps you to keep an edge during a hard turn.
You will find that most alpine, all-mountain, and freeride skis have a cambered profile.
Rocker – A rocker ski is also known as reverse camber, as it has the opposite shape to a cambered ski, curving upwards. The tip and tail are the highest points, leaving the area under the bindings firmly in contact with the snow.
This shape gives you lots of float in powder and makes turning incredibly easy. You will find that you can buy pretty much all types of skis with a rocker profile.
Full Rocker – Full rocker skis also work well in powder and turn very easily. These skis have a flat base with a rise close to the tips and tails, making them very forgiving. They are often much shorter than other skis, too.
Tip Rocker – The tip rocker ski has a cambered profile with a slight rocker at the tip. This shape gives you excellent edge hold and a playful feel while performing well in powder.
Tip And Tail Rocker – These skis are very similar to tip rockers, but they have an additional rocker in the tail. Due to their versatility, tip and tail rocker skis are very popular.
They work well in powder but also on groomers. You will notice that these skis feel a little shorter as the tips and tails are raised.
Twin Tips – Twin tip skis are symmetrical with raised tips and tails. This allows you to take off and land jumps backward (switch).
The Best Skis For Intermediate Skiers
Here are some handpicked skis that are ideal for intermediate skiers. These will help you take your skiing to the next level and enjoy the mountain.
Thumbnail
Title
Volkl M6 Mantra Flat Skis 2022-170
Atomic 2022 Bent Chetler 100 Skis (180)
Salomon QST Spark Mens Skis Grey/Orange 171
Blizzard 8A005200001 Men's Brahma 88 All-Mountain Freeride Red Skis, 177
HEAD Unisex Kore 93 Graphene Lightweight High-Performance All-Mountain Freeride Skis - Bindings Not Included, 170 cm
Thumbnail
Title
Volkl M6 Mantra Flat Skis 2022-170
Thumbnail
Title
Atomic 2022 Bent Chetler 100 Skis (180)
Thumbnail
Title
Salomon QST Spark Mens Skis Grey/Orange 171
Thumbnail
Title
Blizzard 8A005200001 Men's Brahma 88 All-Mountain Freeride Red Skis, 177
Thumbnail
Title
HEAD Unisex Kore 93 Graphene Lightweight High-Performance All-Mountain Freeride Skis - Bindings Not Included, 170 cm
Check Price on Amazon
The Volkl M6 Mantra are multi-award-winning skis due to their incredible versatility. Many people believe that they are unrivaled and perfect for many skiers' needs.
Volkl has achieved this by using innovative technologies within the M6 Mantra's construction. They have combined the innovations with tried and tested methods and know-how to create a superb pair of skis.
Volkl M6 Mantra owners love how strong they feel while performing long turns. But they also enjoy their nimble handling characteristics when they need to make quick turns.
Check Price on Amazon
These tip and tail rocker skis are super easy to use and ideal for progression. Their poplar wood core makes them very light and their level of flex blends playfulness with power.
The extra contact with the snow you get from their design, mixed with their torsional stiffness, gives you plenty of stability in both powder and on the groomers.
You will love their medium pop, as it gives them a lively rebound while remaining balanced at speed. They have a medium sidecut radius, so you will have plenty of control no matter where you are on the mountain.
In addition to this, they have a semi-twin tip shape, so if you fancy skiing switch or hitting the park, these skis are ideal for the occasional freestyler too.
Check Price on Amazon
Most intermediate skiers want a pair of versatile skis that don't limit their progress or where they can go. This is where the Atomic Bent Chetler 100 comes in.
The design of these skis means that many different skiers will enjoy them. They are directional-free skis with twin tips, which is an unusual combination, but it works very well.
These skis have a tip and tail rocker profile, but there is more emphasis on the rocker at the tip. This gives them extra edge hold and performance in powder.
Atomic has used a relatively straightforward construction on the Bent Chetler 100, but they are light and robust. Therefore, you should get a few fun-filled seasons out of them.
One of the more unique aspects of these skis is that they use Atomic's HRZN tech. This rounds off the tip and tails to resemble a boat's hull, adding extra float in powder, and speeding up going from edge to edge.
Check Price on Amazon
The Salomon QST Spark is new for 2022 and is ideal for intermediate to advanced skiers. If you like an energetic and poppy feel to your skis that allow you to shred the whole mountain, look no further than these.
The rocker-camber-rocker profile and construction make them appealing to a wide range of skiers. And there are a few things that make them stand out from the rest.
These skis fit firmly in the mid-range when it comes to all-mountain skis. Therefore, they are super easy to use and suitable for pretty much any conditions and terrain.
You will find that their width allows you to float well in powder, but they have plenty of bite on hard-packed snow. Their shape leans towards a twin-tipped shape, which makes them playful while adding to their versatility.
So if you want to get into freestyle while not going for an all-out freestyle setup, the QST Sparks are a great option.
You can buy these skis in shorter lengths; therefore, they are a good choice for teens and junior skiers with some experience under their belt.
Check Price on Amazon
The Blizzard Brahma 88 is one of the most well-respected pairs of skis you can buy. These skis perform best on hard-packed groomers at high speed.
Even though they are branded as all-mountain skis, you wouldn't call them all-rounders, as they are not very forgiving. But they are more suitable for talented intermediates and advanced skiers who prefer to stay on the groomed slopes in the resort.
The Brahma 88s are very precise and feel incredibly powerful. You get a smooth ride out of them, too, thanks to high-end vibration damping.
But, you have to be prepared, as they are demanding and require lots of input. This year's versions of the Brahma 88 retain their characteristic powerful nature, but they are more maneuverable.
You can now buy these skis in several lengths, so you can find the perfect length for you. In addition to this, Blizzard has given the Brahma 88s low-density wooden strips. The strips vary in their stiffness and quantity depending on the length.
This means heavier and more aggressive skiers get stiffer and longer skis. But the shorter-length skis are slightly softer and more forgiving.
Check Price on Amazon
The Head Kore 93 is a lightweight all-mountain ski that has proved to perform well by winning several awards.
These skis are pretty forgiving as they are not as stiff as similarly priced competitors. This forgiveness makes them versatile for intermediate skiers who want to experiment all over the mountain.
If you want to spin in the park or arc our perfect carves on the groomers, you will love the Head Kore 93s. In addition to this, you can fit them with touring bindings and head out into the backcountry, taking advantage of their light weight.
These skis have large tips that give you more float in powder than many skis in the same category.
With all these superb characteristics, the Head Kore 93 is very well-priced and has excellent value for the money.
Check Price on Amazon
The Nordica Enforcer 100 offers a classic backcountry experience. For many years, these skis have been a benchmark for freeride/all-mountain skis.
Nordica has managed to hit the sweet spot by blending the construction, shape, and profile to create one of the highest-performing and versatile skis.
Even though the Enforcer 100 is very wide, it carves exceptionally well. This extra width makes it float in powder, but somehow it defies everything we know by remaining playful.
The Nordica Enforcer 100 is also very stable at speed and in all conditions. It is a very well-made ski, too, with thin metal strips that don't add too much weight but go a long way to dampen vibrations.
The tip and tail rocker profile gives these skis a medium turn radius, generating a lot of carving potential. This is helped with the ski's smoother and longer effective edge.
Check Price on Amazon
The Elan Ripstick has been on the market for a few years now, and ever since, they have impressed skiers with their performance and light weight.
Not everyone liked them, though, as more aggressive skiers felt that it was too easy to overpower them when charging at speed. Therefore, Elan released the Black edition that used a layer of carbon to give the skis more stiffness to keep the more advanced skiers happy.
Elan has discontinued the Black edition but used some of its carbon in the standard Ripstick 96. This addition of carbon on the inside edge gives the Ripstick 96 a bit more stiffness, so it appeals to more people.
The asymmetrical shape works well with the added stiffness, making the Ripstick 96 more responsive. But the outside edge stays flexible, giving the skis a playful personality.
Ripstick 96 owners love the lightweight and edge hold when making hard turns. These skis are upgraded and beefed-up versions of the original skis that keep everyone more than entertained on the mountain.
Check Price on Amazon
If you have found that you really enjoy hitting the backcountry, you may want to check out the Volkl Blaze 106. These skis are well-known for their lightweight feel and their backcountry prowess.
The Blaze 106s are made around a hybrid multilayer wood core, which massively contributes to their lightness. In addition to this, Volkl has included a Titanal Binding Platform, which provides a strong feeling under your feet.
The weight of these skis is genuinely extraordinary, and they are the lightest freeride skis you can buy unless you go for touring specific skis.
They have a rocker-camber-rocker profile that gives you lots of maneuverability while providing a long, effective edge for holding an edge while turning.
One of the more interesting elements of the Volkl Blaze 106 is the 3D.Radius. This is not unique to the Blaze 106, but it is most pronounced when you compare it to the other Volkl skis.
The 3D.Radius enhances steering and maneuverability and doesn't limit your radius as you exit the carve. In addition to this, the technology makes turn initiation effortless, giving your skis agile handling.
Check Price on Amazon
The Rossignol Blackops Escaper replaces the Sky 7. It provides a narrower ski with the same character but is faster when going from edge to edge.
Rossignol decided to replace the Sky 7 as its lightweight tips and tails left you wanting more speed. However, the Blackops Escaper has a more robust construction without being over the top, which means you can charge harder.
These skis are very fast and easy to turn. They also give you lots of confidence when you are carving a turn on hard-packed snow.
You should consider the Rossignol Blackops Escaper as a narrow freeride ski rather than a wide all-mountain ski. This is because its construction leans more towards a backcountry ski, which is what the Sky 7 was.
It has a large turning radius of 19 meters, and its full wood core gives it a nice stiffness for a variety of skiers' needs.
Check Price on Amazon
The Blizzard Black Pearl is one of the most popular women's skis and has been for a few years. Women skiers love its versatility, but they also find it approachable while being high performance.
Blizzard has used a construction method specifically suited to women skiers. They use a Carbon Flipcore construction, which is lightweight and gives you a good amount of stability in tricky conditions.
In addition to this, the construction has an intuitive flex pattern that feels very natural, creating predictable handling.
Blizzard has given these skis a camber profile with a gentle rocker and a little bit of taper at each end. With this profile and construction, you get a very smooth feel, high-performance, but with a relaxed personality.
Check Price on Amazon
The Nordica Santa Ana 88 is an excellent example of an all-mountain women's ski with a premium level of feel and performance. These skis are not the stiffest, but not everyone wants super stiff skis.
Nordica has managed to strike a perfect balance between power and precision, which is pretty rare these days. They have done this with a performance wood core and using their in-house Terrain-Specific metal laminate.
The laminate gives you lots of power and vibration damping, giving you a smooth ride in pretty much any condition all over the mountain. These performance characteristics are enhanced further by Nordica's Carbon Chassis.
The chassis makes the skis stiffer longitudinally, boosting their responsiveness and precision.
Check Price on Amazon
The Salomon Stance 90 came out in 2021, and it was so good Salomon kept it the same for 2022. Of all the skis in Salomon's Stance line, this is the narrowest and focussed towards groomed resort slopes.
These skis are for the more advanced skier, so you may want to look elsewhere if you consider yourself just getting into the intermediate level. However, if you have some confidence and expect to spend lots of time skiing in the near future, these skis will give you some room to grow.
The Salomon Stance 90s are often overlooked and under-rated. This is because there are a lot of skis in this corner of the market, and the graphics don't really grab your attention.
But you need to look through its uninspiring aesthetics and ski on them. You will soon find that they are smooth, stable, and versatile.
The construction of these skis consists of a poplar wood core and a couple of titanal sheets. They also use Salomon's C/FX (carbon and flax weave), which gives them lots of pop without ruining stability or edge hold.
These skis are not the lightest, nor are they the heaviest, but their weight fits perfectly well with the range of lengths available.
You will love how versatile these skis are when it comes to the different snow conditions. For example, you can bash through choppy snow and still be amazed at their stability and strength.
If you are considering the Blizzard Brahma, the Salomon Stance 90s are a good alternative. They are not quite as powerful as the Brahmas, but they are a little more compliant and accessible.
Final Thoughts
Some of these skis may seem a little advanced. But you need something that you won't grow out of quickly.
However, you need to be realistic about your abilities, as you don't want a pair of skis that are so advanced that you will hate them or feel out of control.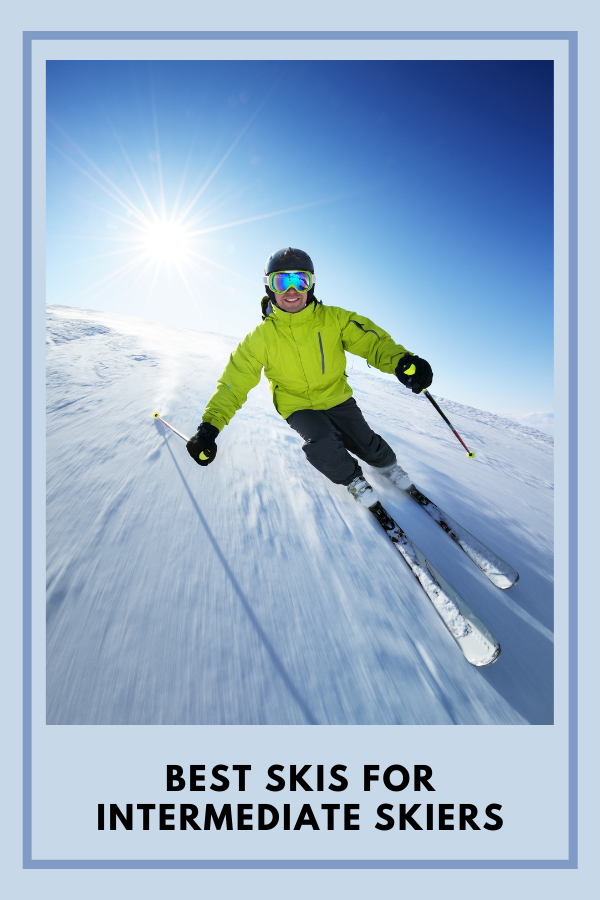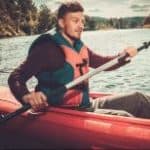 Author: Peter Salisbury
Pete is the Owner of KayakHelp.com. Born and raised in Cleveland, Ohio, he grew up kayaking, fishing, sailing, and partaking in outdoor adventures around the Great Lakes. When he's not out on the water, you can find him skiing in the mountains, reading his favorite books, and spending time with his family.