There are many reasons that kayakers naturally gravitate towards the ocean as their skills progress, but one of the most common is the desire to see more wildlife while you're paddling. That shouldn't be a problem if you pick one of the best places to sea kayak with whales.
Of course, you'll need to be aware of the type of whales you want to see and their migration patterns to make sure you arrive at the right time of the year. Otherwise, you might see a few seals and sea birds, but the whales will be several hundred miles to your north or south.
From humpbacks to orcas, this collection of sea kayaking locations offers some of the best whale watching in the world. To help you enjoy safe adventures, we've also offered some tips for sea kayaking with whales, so let's get right to it!
Photo by reisegraf.ch via Shutterstock
Best Places to Sea Kayak with Whales
The San Juan Islands, Washington
La Jolla Shores, California
Malibu, California
The Channel Islands in the English Channel
Southeastern Alaska
Maui, Hawaii
Tysfjord, Norway
Johnstone Strait, Canada
Loreto, Mexico
Vava'u, Tonga
Tips For Sea Kayaking with Whales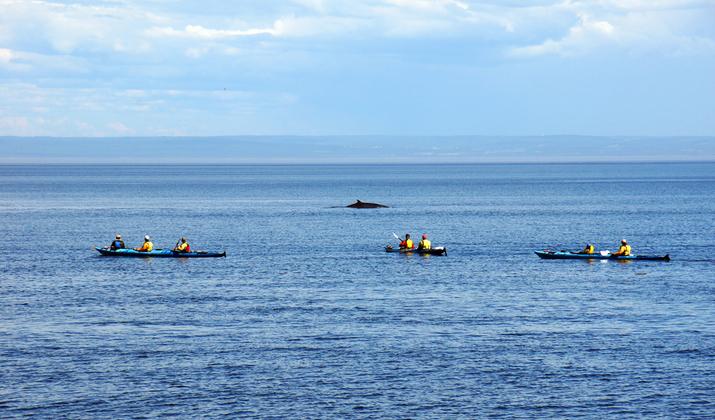 Photo by Sylvie Bouchard via Shutterstock
If you've never paddled a sea kayak before, there are some things you should be aware of. These tips will not only help you plan for a safe sea kayaking adventure, but they will also help you maximize your chances of actually seeing whales while you are on the water.
Study Whale Migration Patterns
Before you even worry about loading your kayak on your roof rack or finding a location to launch, you need to make sure that whales are actually going to be in the area if you hope to see a breach or two on your paddling trip.
Different whale species have different seasonal migration patterns and the timing of their migrations will vary depending on where in the world you're hoping to sea kayak with whales.
So, the logical first step is to study these migration patterns to make sure you plan your paddle for the most likely time of year for whales to be near that location. The whale watching season for destinations along the southern coast of California, for example, starts around mid-December and continues into late April.
That season will obviously be a little different if you're planning on paddling further north or south (or across the world entirely). Fortunately, whale watching has been a popular tourist attraction for decades, which means there is plenty of information online to help you narrow down the best months for whale watching in the destinations you are hoping to visit on your paddle trip.
Prepare for the Local Weather
As you will learn soon enough, some of the best places to sea kayak with whales are largely cold-weather destinations. Even if you visit during the summer months, the water temperature can still be cold enough to require cold weather kayaking gear.
If your kayaking arsenal doesn't already include things like insulated kayaking gloves, a wetsuit or a drysuit, and booties, you might think about adding those gear items before heading out on your whale watching kayaking trip.
At the very least, most sea kayakers have a spray skirt at their disposal for whale-watching adventures. This helps keep the heat from your lower body trapped inside the cockpit of your kayak and also keeps any rain or splashing water from entering the cockpit and getting you wet.
Because we are talking about sea kayaking here, the US destinations on our list should be reasonably close to a US Coast Guard station. These stations are great resources for checking on things like weather, tides, currents, and other potential hazards you should be aware of before your paddle trip.
If you are heading to an international destination, you can still find a comparable authority that will help you get the most up-to-date information possible so you can do your best to plan for the elements before you hit the water.
Find a Guided Whale Watching Tour
Unless you have a lot of experience whale-watching in a specific destination, it can be hard to know exactly where whales are going to be on a given day. Of course, it's not an exact science for local guides either, but they have a lot more experience in their respective regions.
Getting on a guided kayaking tour that is specifically dedicated to whale watching is a great way to increase your odds of actually seeing whales while you are out there. Guides usually know where to take your group to see breaches and they can also share valuable information about whale migration and breeding habits.
Many of these tours will offer discounted fees if you are planning on bringing your own sea kayak, so inquire about this during the booking process. If you are traveling abroad to sea kayak with whales, this is also the best way to go.
You won't have to worry about transporting your kayaks halfway around the world and then lugging them around once you get there. You can simply take your personal belongings and then find a local outfitter that has everything you need for a fun day of whale-watching.
Observe Whales at a Safe Distance
Being respectful of wildlife while sea kayaking is vital to your safety and the safety of the marine species you are viewing as well. Do your best to maintain a safe distance of at least 20 to 30 yards when viewing whales from your sea kayak.
Of course, it can be difficult to predict exactly where whales will breach when you are sitting on top of the water. So it is possible for whales to pop up closer to you than you would like, but if you have the ability to maintain that distance, you should do your best to do so.
Best Places to Sea Kayak with Whales
1. The San Juan Islands, Washington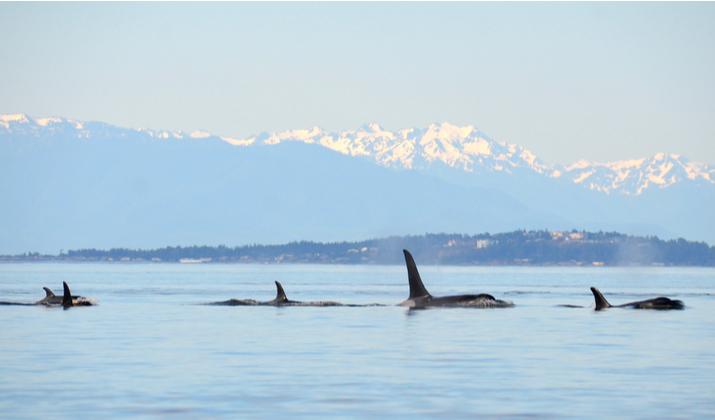 Photo by Monika Wieland Shields via Shutterstock
Located to the northwest of Seattle, the San Juan Islands are a unique island chain that offers one of the best places to view orcas in the world. The very first park in the world dedicated to whale watching was actually created right here.
Almost 95 percent of the orca sightings that are reported in the entire state of Washington happen in a narrow corridor of the inland ocean along the western edge of the San Juan Islands. So if you are going to Washington and want to see orcas, this spot is your best bet.
The time of year with the highest likelihood of seeing orca whales in the San Juans begins in March and runs through October. Throughout that season, it is not altogether uncommon to see humpback and Minke whales here as well.
If you are searching for a sea kayaking tour in the San Juan Islands, check out Sea Quest Expeditions. Roughly 55 percent of their guests report seeing whales sometime on their tour and they have been offering day excursions and kayak camping trips up here for more than 30 years.
2. La Jolla Shores, California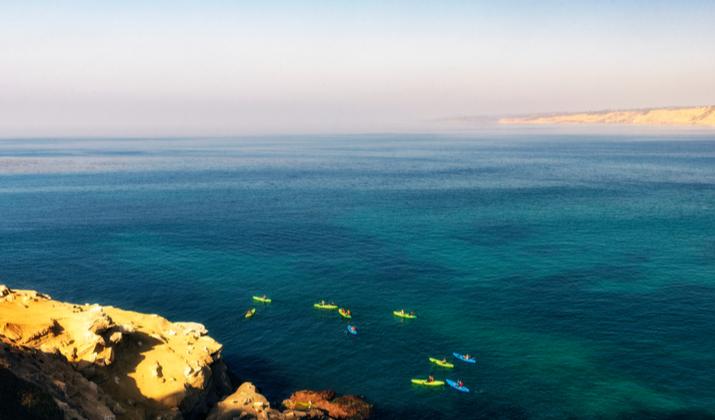 Photo by Tom Forbes via Shutterstock
Kayaking off the coast of La Jolla is one of the most iconic spots in all of California. While it's a great place for spotting seals or snorkeling to look for California's colorful state fish–the garibaldi–it's also an excellent place for whale watching.
Whale season in southern California runs from mid-December through mid-to-late April if you're hoping to spot gray whales during your sea kayaking trip. If you want to catch blue whales here, you'll need to wait until a little bit later in the spring and summer.
During the spring and summer, you might also see dolphins, Minke whales, humpback whales, and finback whales off the coast of La Jolla. Even if you don't see whales during your paddle trip, the caves along the coast are awesome to check out from a safe distance unless you're on a guided tour.
Speaking of those, you might want to check out the tour offerings from Everyday California. Their whale watching tours run from December 15th through March 6th, but they offer other sea kayaking tours year-round.
3. Malibu, California
Photo by mr.grigorev via Shutterstock
If La Jolla is number 1 on the iconic places to sea kayak in Southern California, Malibu is number 1a, and many people might put Malibu ahead on their list. This stretch of southern California coastline just northwest of Los Angeles is one of the most beautiful coastlines in the entire state.
As you head further away from the city the coastline becomes less developed and there are places like Dume Point where you can even grab a set of binoculars and look for whales right from roadside pull-outs.
The best time to see grey whales while sea kayaking off the coast of Malibu is from February through April. You can also see dolphins and seals while kayaking along the coast of Malibu during this time of the year.
4. The Channel Islands in the English Channel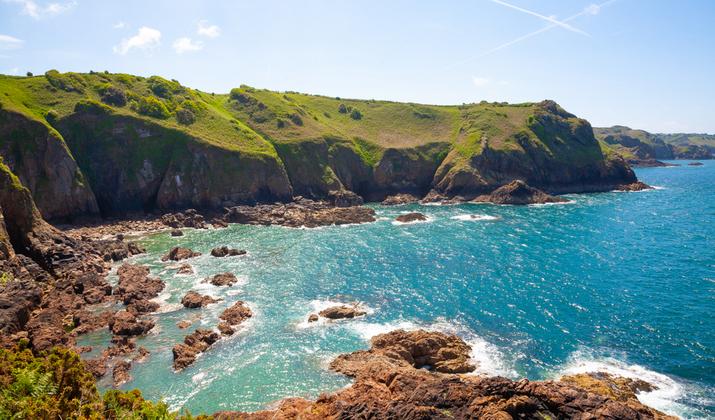 Photo by Oligo22 via Shutterstock
For those that live in Europe or are planning a visit in the near future, the Channel Islands in the English Channel are a great whale-watching destination for sea kayakers. The northern latitude of this island chain makes it an ideal location for spotting orca whales.
Depending on the time of year you visit, you may also get a chance to spot blue whales, humpbacks, and finbacks as they migrate through the area. The terrestrial wildlife in the Channel Islands is definitely worth investigating as well.
The primary whale watching season throughout Europe runs from May through October, but the season may be more restricted as you head further north. July and August tend to be the most common months to spot whales in the continent's northern waters.
The English Channel is also a popular place for spotting bottlenose dolphins and other porpoises. Plus, you'll get to imagine what it would be like to swim across this great channel like Captain Matthew Webb.
5. Southeastern Alaska
Photo by Martina Birnbaum via Shutterstock
There are so many reasons to visit the most northern and most remote state in the US, but whale watching during the warmer months of the year is definitely up there. As a bonus, you might just get a once-in-a-lifetime opportunity to see the Northern Lights from your sea kayak if you plan it right.
The whale-watching season in southeast Alaska runs from roughly April through November. This is when approximately 600 humpback whales can be found in the Inside Passage near locations like Juneau and Glacier Bay.
Orca pods are very commonly seen in these areas during these months, but you may also see humpbacks, belugas, gray whales, and other species as well. Minke and fin whales, as well as white-sided dolphins and harbor porpoises, are all commonly seen in the waters of southeast Alaska.
Kayaking tours dedicated to whale watching are a little harder to find up here, due to the colder water and short season. So you'll either need to do some digging to find one or plan on bringing your own kayak and sea kayak accessories for a whale-watching adventure in Alaska.
6. Maui, Hawaii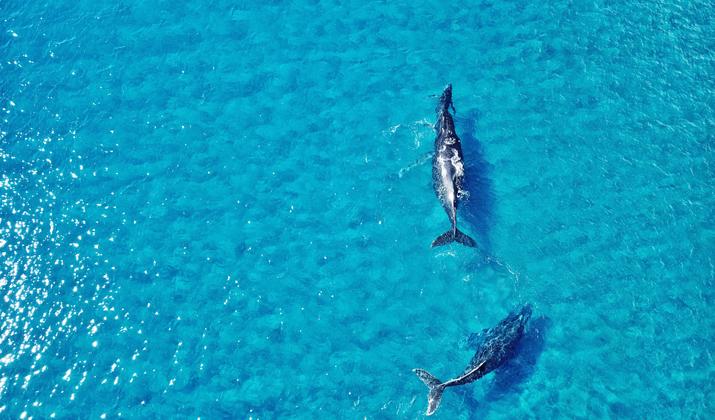 Photo by Jeremy L Foster via Shutterstock
The Hawaiian Island of Maui is largely considered to be the number one destination in the world for whale encounters by kayakers. It is a popular breeding and nursing ground for more than 10,000 humpback whales along their annual migration route.
The highest concentration of whales can usually be found off of Maui's western shore, with launch locations in places like Kihei and Lahaina. This is because the calm waters off this shore of the island provide comfortable conditions for the whales and safe conditions for kayakers on the surface.
February and March are the prime months for seeing whales off the coast of Maui, which is a great time to escape the cold weather if you live anywhere in the northern parts of the US. The full length of the whale-watching season in Maui runs from November into May.
There are several outfitters that will take kayakers out into the whale sanctuary, and it's not uncommon for whale encounters to take place less than a mile from shore. Check out Maui Adventure Tours to see if any of their whale-watching tour offerings will work for your group.
7. Tysfjord, Norway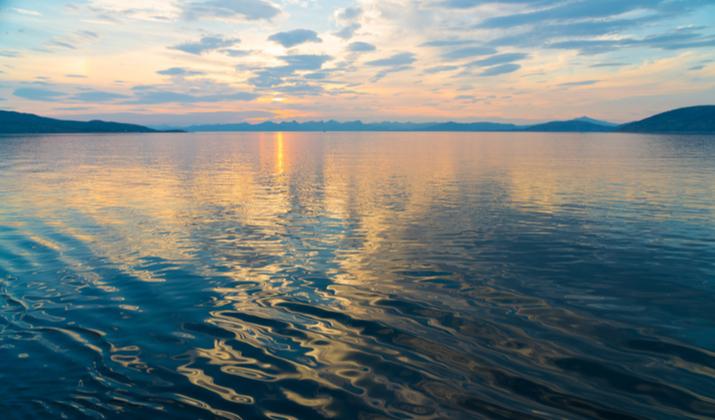 Photo by hans engbers via Shutterstock
Tysfjord is a unique European whale watching destination because its season differs from other popular spots, such as the English Channel. The fjord has a unique orca whale watching season from October into January when the whales often enter the fjord to hunt schools of herring.
Each year, it is reported that roughly 700 orcas enter the fjord and their hunting tactics are truly something to witness in person. Some adventures even offer the ability to swim with the orcas, although you might prefer to view them safely from the cockpit of your sea kayak.
Be prepared for cold weather kayaking if you are going to head to this northerly destination, as Tysfjord is actually within the Arctic Circle. Even if you don't want to head there in the winter to see the more than 700 orcas that gather here, it's a magnificent way to see the fjords of Norway on your Europe trip.
In addition to orcas, the fjords are popular places to see humpback whales in the winter. During the summer, you might even spot sperm whales.
8. Johnstone Strait, Canada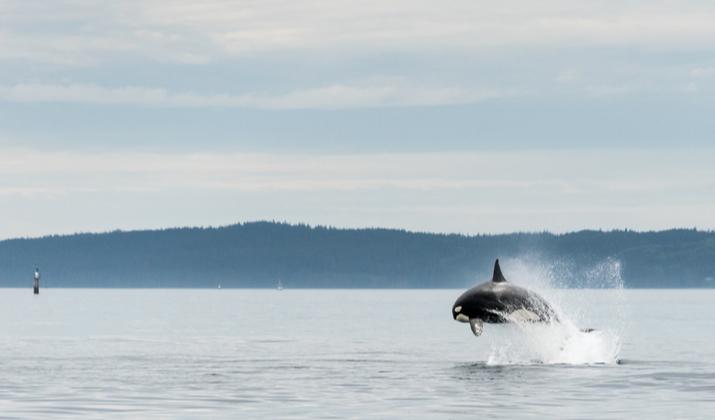 Photo by Daniel Toh via Shutterstock
Sticking with our theme of talking about orcas, Johnstone Strait is another superb orca-watching destination to the northwest of Vancouver. It's along the same migration route that eventually brings some whale species to the waters near Juneau and Glacier Bay.
This strait, however, is world-renowned for having one of the largest populations of orcas on the planet. Because of this rare pod, the tours here emphasize conservation and daily acts that you might even be able to take home to preserve whale species worldwide.
The highest concentration of orcas can be found in the strait from July through September, which also happens to be some of the months where you can enjoy the warmest weather at this northern whale-watching destination.
The ocean conditions here require considerable sea kayaking skill and expertise. It is always a good idea to see a kayak guide, which is why you should check out Kayak British Columbia if you're planning on visiting this destination.
9. Loreto, Mexico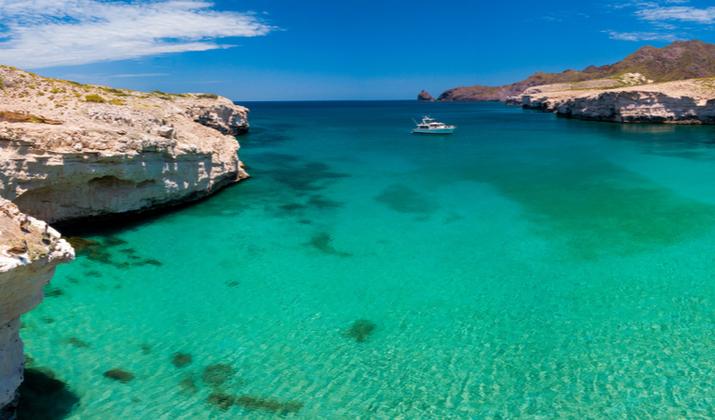 Photo by Alex M Foster via Shutterstock
While many visitors flock to popular locations like Cabo San Lucas and Cancun, you will find an excellent whale watching destination about 200 miles north of those inclusive resorts of Cabo San Lucas.
Loreto is a historic port town on the east coast of Baja California Sur (or the western edge of the Gulf of California). From this town, day trips and extended kayak excursions run along the Baja Peninsula's rugged coastline.
You'll get a chance to enjoy sights of deserted islands, picturesque coastal cliffs, pristine blue waters, and, of course, whale watching if you visit at the right time of year. The primary whale season here runs from December through March.
Gray whales are the most common type of cetacean to frequent the protected waters of the gulf, but you'll occasionally find blue whales here too. Dolphins, sea lions, and even whale sharks have been spotted getting a break from the open ocean in the calm waters off the coast of Loreto.
Perhaps the best part about paddling here is that the protected waters make it an accessible sea kayaking location for beginners. If you opt for a guided tour, many finish at waterfront lodges where guides prepare a delicious meal after a long day of paddling.
10. Vava'u, Tonga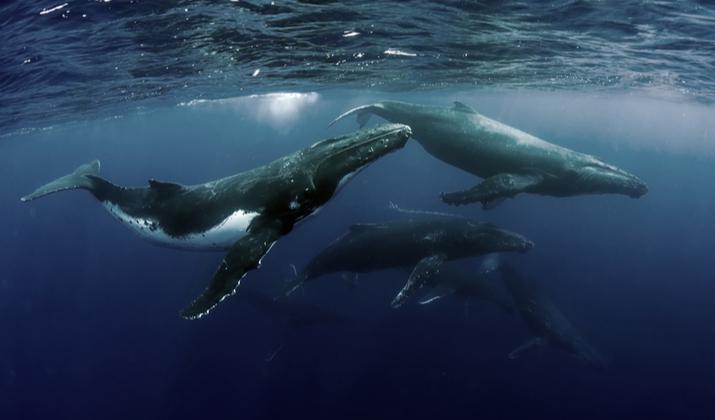 Photo by Tomas Kotouc via Shutterstock
The final whale-watching destination on our list also happens to be one of the most off-the-beaten-path destinations for whale enthusiasts. The Vava'u island group creates a protected marine sanctuary for humpback whales.
This sanctuary attracts many visitors that want to swim or kayak with humpbacks in pristine Pacific waters. Paddlers can even sign up for island hopping itineraries that take them along the chain to experience different villages and recreation experiences along the way.
In addition to whale watching, many of these trips include coral reef snorkeling and camping. The primary months for whale watching in Tonga are between July and October, which also happens to be the region's dry season and the best time for calm ocean paddling.
While swimming encounters with humpbacks are a once-in-a-lifetime opportunity in Tonga, the kayaking trips provide more chances to see whales up close. Plus, they have the added benefit of allowing you to experience more of the culture and wildlife of this Pacific island chain.
Our Pick – Maui, Hawaii
Photo by Manuel Balesteri via Shutterstock
It's hard to pick against one of the most iconic tropical destinations in the world. That is especially true when you know that whale-watching season in the Hawaiian Islands coincides with the time of year when most people that live in cold places in the US are looking for any excuse to head for warmer weather.
We also have a little bias having visited Maui during whale-watching season several times. Those trips were also highlighted by seeing dolphins swimming in front of our boat and snorkeling with thousands of bright-colored fish.
Plus, the allure of Maui includes tropical cocktails, surfing, paddleboarding, or just the chance to relax. All told, it's a can't-miss destination to sea kayak with whales and much more.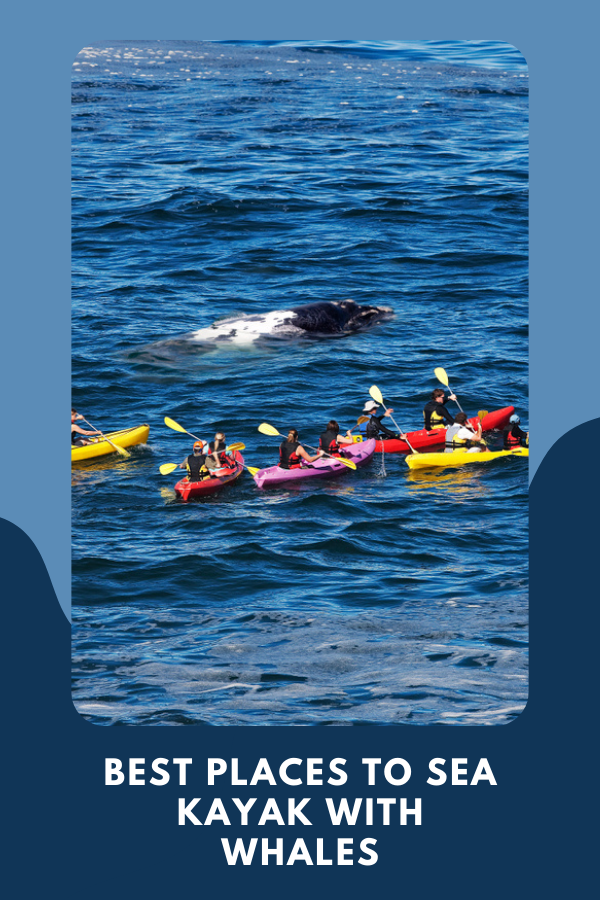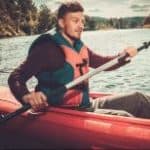 Author: Peter Salisbury
Pete is the Owner of KayakHelp.com. Born and raised in Cleveland, Ohio, he grew up kayaking, fishing, sailing, and partaking in outdoor adventures around the Great Lakes. When he's not out on the water, you can find him skiing in the mountains, reading his favorite books, and spending time with his family.