When you think about the concept of skiing, it is pretty odd. You sit on a chair suspended high above the ground from a cable that takes you to the top of a mountain.
Once you are at the top of the mountain, often in sub-zero temperatures, you slide back down it on two planks attached to your feet.
This seems like a peculiar thing to do, but many people flock to the mountains every year to do it. Some people make many sacrifices to make it the central part of their lifestyle.
For the modern skier, the thought of a ski trip conjures up images of quiet slopes, mountain meals, and lively après ski. But how did we get to this point?
Our annual trips to the mountains are a far cry from the origins of skiing. Therefore in this brief history of skiing, we will go through the timeline that has led us to the sport we know and love today.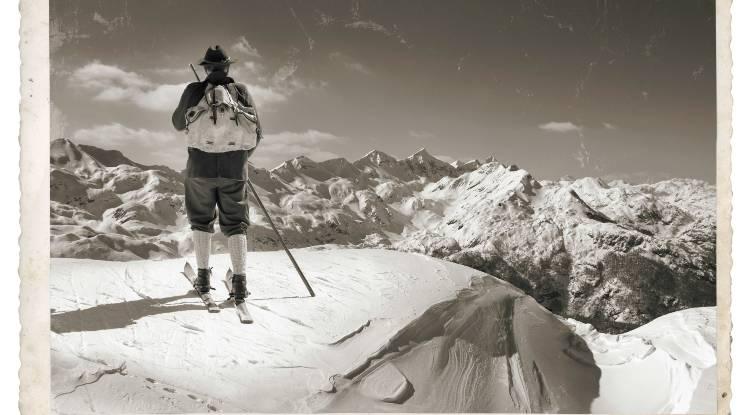 Image by Ivan Smuk from Shutterstock
When Did People Start Skiing?
Image from NYTimes
Skiing has been around for longer than you may think. It is so old that skiers have been depicted in cave drawings found in Central Asia.
These cave drawings suggest that people have used skis to travel as far back as the Ice Age. The evidence is pretty limited, so it is unclear who invented skiing. Still, we do know that skis have been used as a mode of transport for thousands of years.
Back then, people would have also used skis for hunting, as they would have needed to get through deep snow quickly and efficiently.
But the Sami are believed to be the first skiing community; these were the only indigenous Scandinavian people that lived through the Middle Ages. Historians widely credit the Sami's as inventors of skiing.
However, archeologists have found skis in Northern China that date back to 8000 years B.C. These horsehair-covered wooden skis were two meters long, made from wood.
The horsehair would give the skier traction, so the skis could slide forwards but not backward. This way, the skier could ski uphill, similar to skins ski tourers use today.
The Evolution Of Alpine Skiing
Image by Everett Collection from Shutterstock
It wasn't until the 18th Century that alpine skiing was invented. It evolved from competitions held by the Norwegian army.
These competitions tested the soldier's skills of navigating snowfields and forests and skiing downhill while shooting. These skills are still demonstrated during the biathlon event in the Olympics.
Interestingly, a Norwegian by the name of Olaf Rye became the first ski jumper on record. Even though ski jumping had not been invented yet, he jumped 9.5 meters in front of a crowd of spectators in 1809.
By this point, skiing had become extremely popular, and the Norwegians created Alpine skiing race courses. This led to skiers looking for ways to improve the performance of their skis.
The skis used by the Norwegians were made from hickory, which is a very tough and hard wood. These characteristics allowed the skis to be thinner and lighter and have a better flex.
These skis were also much more resilient to damage from striking rocks under the snow. The hickory had to be imported from the U.S., which sparked Norwegian immigrants to manufacture skis in Wisconsin and Minnesota.
In 1868, Norwegian Sondre Norheim invented the Telemark Ski. This ski had a side cut, which allowed skiers to turn on the edge rather than skid sideways.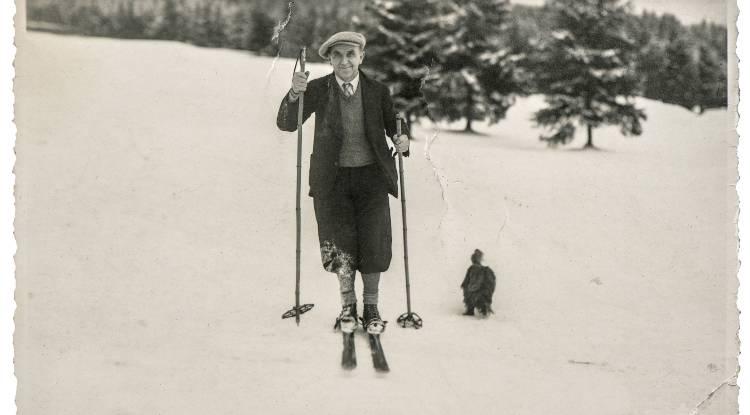 Image by LiliGraphie from Shutterstock
This evolution changed how people ski forever. Skiers could now ski with more precision, which increased their performance and enjoyment of the sport.
By the 1890s, ski manufacturers started to produce two-layer laminated skis. They still had a hickory base, but the body was made from lighter spruce or basswood.
The laminations made the skis cheaper to produce, lighter, and more flexible. However, the glue holding the layers together was not waterproof, so the skis quickly delaminated.
Throughout the 1890s, ski manufacturers made significant steps in developing their skis. This was when skis became cambered, meaning they were bowed in the middle, slightly raised underfoot.
Cambered skis distribute the skier's weight more evenly over the ski's length. It also gives the ski more float in deep snow.
The skis back then didn't have metal edges like our current ones do. Steel-edged skis were developed in 1928 by Rudolph Lettner from Salzburg, Austria.
Steel edges give you much more grip on the snow and ice and allow you to carve while skiing downhill. This innovation led to the evolution of skiing techniques still used to this day.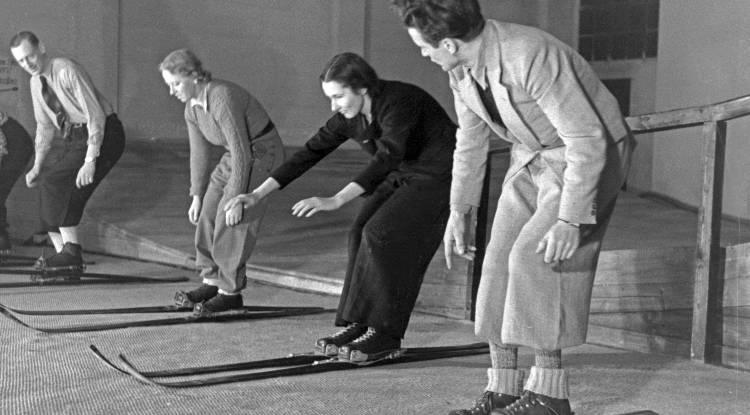 Image by Everett Collection from Shutterstock
For example, during this time, Hannes Schneider developed two new types of turns, the stem turn and the parallel turn. This was a whole new skiing style that was way more advanced than the style people had been used to up until this point.
Schneider established the world's first ski academy in St Anton, the 'Albergschule'. This allowed him to teach his new style of skiing to the masses while starring in many early ski films.
In the 1930s, Hannes Schneider took his skills and some advanced European skis to Japan. Here, he was paid by the Japanese government to teach the public how to ski.
He taught the Japanese people on a colossal scale. One of his lessons saw him teach thousands of skiers on Mount Fuji all at the same time via a loudspeaker. These large-scale ski lessons kick-started the Japanese skiing boom.
How Skiing Became An Olympic Sport
Image by Mirt Alexander from Shutterstock
Chamonix in France was the venue of the first winter Olympics in 1924. However, downhill skiing was not one of the featured sports, even though it is now considered the main event. The only skiing discipline that was featured was Nordic skiing, which was more established at the time.
Alpine skiing's popularity was increasing, so the Federation Internationale de Ski (F.I.S.) decided to include Alpine skiing in the 1936 Winter Games held in Germany.
Freestyle skiing became an Olympic sport in 1979. It first appeared at the Calgary Winter Olympics in 1988. British ski-jumper Michael Edwards, better known as 'Eddie the Eagle,' competed at these games.
Eddie, unfortunately, came last in both the 70m and 90m jumps. However, he won the heart of the crowds with his character and personality, cementing his place in the history books.
Alpine skiing is now one of the biggest events in the Winter Olympics. There are several disciplines of Alpine skiing at the Winter Olympics, downhill, slalom, super G, and giant slalom.
Ski racers can specialize in one discipline, but many enter the Combined Alpine event. This is when they race in both slalom and downhill races.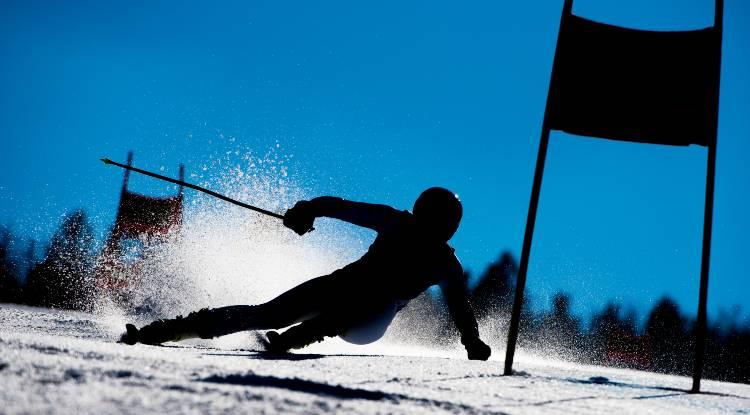 Image by MilanTomazin from Shutterstock
Other skiing events in the Winter Olympics include moguls, big air, aerials, halfpipe, and slopestyle. These are classified as freestyle events, as skiers compete against each other while attempting stylish and intricate tricks for points.
One of the most exciting skiing events is the ski cross. This is when four skiers race head-to-head on a fast-paced course consisting of jumps and banked turns.
Ski cross evolved from the snowboarder cross event. But the nature of the sport sees skiers going much faster and going higher and further off the jumps.
The Evolution Of The Ski Lift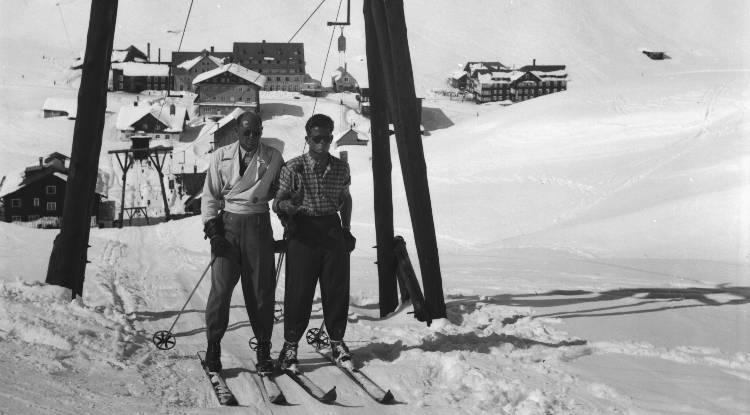 Image by Everett Collection from Shutterstock
The first ski lift was built in Idaho's Sun Valley. It was the brainchild of railway magnate William Averell Harriman in 1936. He wanted a way to transport skiers 2,000 feet from the bottom of the valley that was quicker and more efficient than the makeshift hoists used previously.
William Averell Harriman gave the challenge of transporting skiers to his employees at the Union Pacific office in Omaha. The idea of a cable-based system came from one of the company's bridge designers, James Curran.
The design idea came from another invention he worked on that transported bales of bananas on boats in Honduras. He used a similar concept but swapped fruit hooks for chairs.
His design saw an overhead cable that suspended a J-shaped bar that the skier could position themselves against.
The bar lifted the skiers off the snow, so Curren experimented with fitting a chair to the side of a pickup truck. A skier would jump on and off the chair while wearing roller skates to see if a chair was feasible to use rather than the J-shaped bar.
Sun Valley installed one of Curren's chairlifts in 1936. But in 1946, it installed the world's first double chairlift, where the skiers would sit next to each other. This was followed by three and four-seater lifts in the early 1960s.
Up until this point, skiers had to get up the mountains either under their own steam or via crude tows and hoists. Some skiers managed to utilize mining equipment to scale the mountains. They would hold onto ore buckets attached to a pulley system on the side of the slopes.
The early 1900s saw the first mechanical ski lifts appear on mountains. These were powered by horses and waterwheels.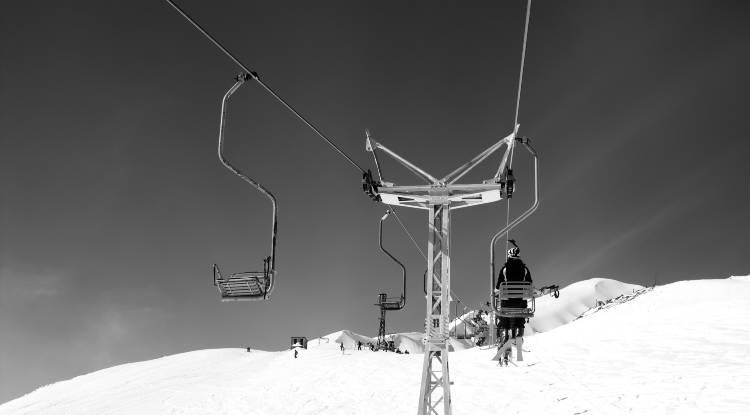 Image by Lizard from Shutterstock
In the 1930s, a Canadian engineer developed a ski lift powered by a Dodge car set on blocks. The rope that transported skiers up the mountain was wrapped around one of the car's wheels.
Skiers would hold onto the ropes or sit in toboggans attached to them. These ropes were incredibly heavy and slippery; therefore, they had a tendency to skip and twist, making them dangerous and difficult to use.
Chair lifts were used in conjunction with rope tows, J bars, and T-bars as this was a more cost-effective way of creating a ski lift system in a resort. Some high-end ski resorts also built cable cars and gondolas.
New Hampshire installed their "Skimobile" in the late 1930s. This ski lift resembled a roller coaster, where skiers would sit in cars on a track.
The modern chairlift became a standard in ski resorts in the 1960s and 1970s. These lifts hit the mark between comfort and cost.
We now see ski lifts in seemingly impossible locations. These are incredible feats of engineering that take skiers to the top of some of the highest mountains in the world.
Further Advancements In Ski Technology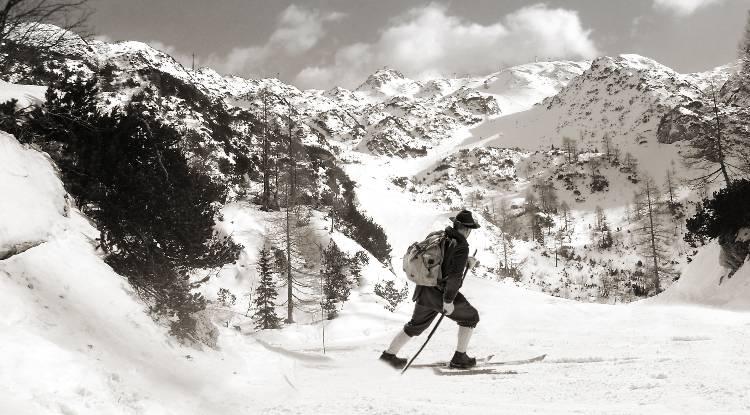 Image by Ivan Smuk from Shutterstock
The delamination problem skiers experienced with the two-layered skis became less of a problem in 1932. Ski manufacturers started to use waterproof glue that was made with milk protein.
Splitkein, Anderson & Thompson used this glue to successfully create the first three-layer laminated skis, improving performance.
But in 1937, a much better glue became available. R.E.D. was invented by Clark of Cambridge, England, which was a formaldehyde-based adhesive Aerolite used in the aviation industry.
R.E.D. was ideal for bonding the laminates together while paving the way for metal and plastic skis. This led to the development of the first skis with a cellulose plastic base.
In 1945 aircraft engineers Wayne Pierce, David Richey, and Arthur Hunt experimented with aluminum laminate skis with a wood core. But it wasn't until 1949 that a commercially successful metal ski would become available.
These skis were created by Howard Head. He used a pressure-bonded aluminum ski with a plywood core. The skis also featured plastic sidewalls and integral steel edges that surrounded the entirety of the skis.
Throughout the 1950s, ski construction continued to evolve. 1955 saw the introduction of polyethylene ski bases in Austria. These skis didn't need wax, like the previous ones.
A similar material called P-Tex was developed in Switzerland at the same time. P-Tex was adopted by most ski manufacturers and is still used on modern skis.
By the end of the 1950s, fiberglass was made a successful and viable material for skis by Art Molnar and Fred Langendorf. Fiberglass would replace wood and aluminum as ski construction material by 1968.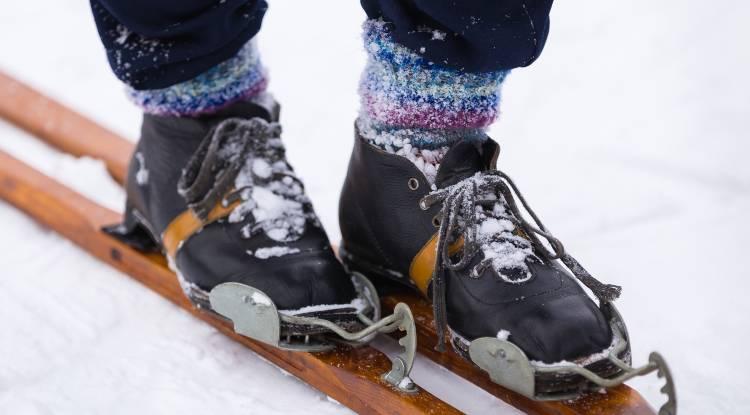 Image by Fotoksa from Shutterstock
Now that skiers had more control over their skis, ski boot technology needed to catch up. Therefore, the old leather boots needed to be replaced for something with more rigidity.
In 1962 Bob Lange invented the plastic-shelled ski boots. This was a design that was adopted by all ski boot manufacturers, as skiers recognized the enhanced performance of stiffer boots.
The 1970s and '80s saw even more advancements in ski materials and construction. This was the decade of improved fiberglass, the introduction of kevlar, ceramic fiber, and carbon fiber.
All these materials improved the performance of skis. Skis became stronger, had advanced vibration damping, and improved torsion. During this time, manufacturers started to use extruded polyethylene for their ski's bases, which is tough, holds wax very well, and allows the skier to go faster.
The 1990s and 2000s were the era of shaped skis. Gone are the days of shallow or non-existent side cuts in favor of deep side cuts to enhance carving ability.
These new shapes were born from snowboard technology, which also saw improvements and a rise in popularity during this time. One of these innovations is twin tip skis.
Twin tip skis made way for skiers to perform snowboard-like tricks. Skiers could now land their tricks backwards (switch), adding a new level of difficulty and style to the sport.
At the time, the skiing industry was losing out to the more trendy snowboarding. Therefore, the new style of skis and snowboard-influenced fashion came at just the right time, saving many ski manufacturers from bankruptcy.
The Rise Of Ski Films
During the 1980s, we saw the widespread distribution of ski films. The pioneer of these films was the legendary Warren Miller.
Warren Miller's films were iconic as they were groundbreaking. He used new filming techniques to capture skiing and snowboarding's finest sportsmen and women.
His films had large budgets and spanned continents. Many people were inspired by Warren Miller's films, which resulted in a boom in ski sales and vacations.
During this time, skiing became the primary industry in mountain villages all over the world.
Modern Skiing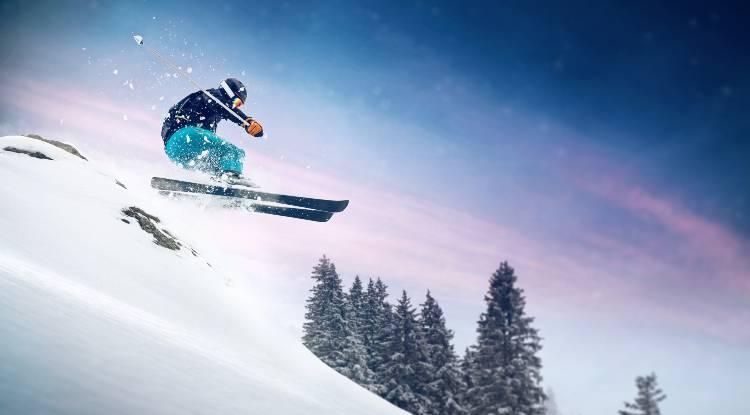 Image by lassedesignen from Shutterstock
Since those early days of skiing, ski resorts have strived to develop and grow. These mountain towns and villages are now homes to people from all over the world.
The people who travel to ski resorts and live in them share a passion for the mountains and winter sports. Every winter, each ski resort sees more visitors.
These resorts continue to develop their infrastructures, both on the mountain and in the villages. New high-tech ski lifts are built every year, making the trip up the mountain as seamless and as effortless as possible.
Ski resorts constantly improve by providing shops, restaurants, and many types of accommodation. There are also many activities available to entertain visitors, from dog sledding, snowmobiling, and ice skating.
The Future Of Skiing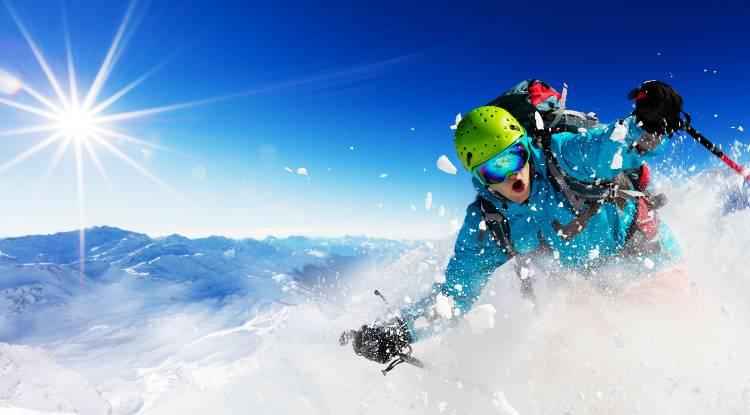 Image by Jag_cz from Shutterstock
Skis will continue to evolve, both through advancements in technology and fashion trends. They will become lighter and more responsive as ski manufacturers utilize breakthroughs in materials and manufacturing processes.
Ski boots and bindings will also become lighter and more comfortable. While the clothing will become more breathable and waterproof, protecting skiers from the elements.
The main worry for the skiing industry is climate change. Each year the temperature gets a little warmer, reducing the amount of snow that falls.
Ski resorts at lower altitudes are the ones at immediate risk. Previously when they would get lots of snow, the precipitation falls as rain.
However, ski resorts with glaciers are the ones that see significant change. This is because it is easier to measure how much the glacier has melted each year; a prime example is Chamonix in France.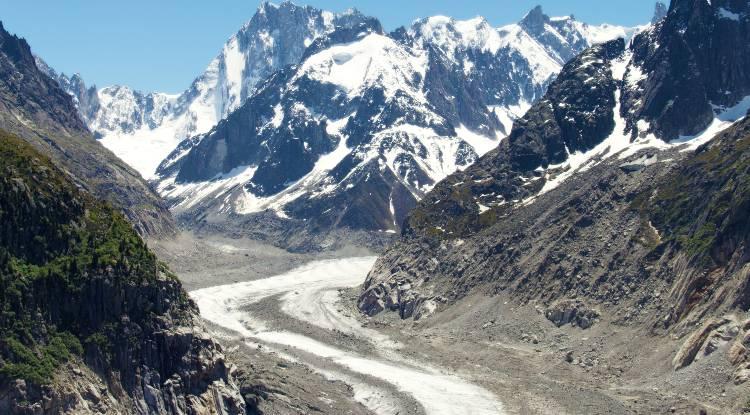 Image by Greg Salmon from Shutterstock
Many ski resorts strive to look after the snow they get to ensure it lasts until the end of winter. They also invest in snowmaking facilities to top up the snowfall artificially.
Snowmaking is not the answer to ensuring ski resorts can stay open. It is incredibly bad for the environment, as it uses a lot of power, further contributing to climate change.
Also, the air temperature needs to be cold enough for the water vapor to turn into snow.
Final Thoughts
Image by Artur Didyk from Shutterstock
As you can see, skiing has come a long way since those cave paintings were made. The innovations have been driven by advancements in technology and the desire for enhanced skiing experiences.
Ski equipment, resorts, clothing, and accessories will continue to improve. But the main focus should be on ensuring that we can have winters in the future – without snow, there is no skiing.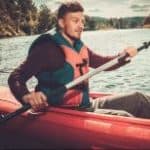 Author: Peter Salisbury
Pete is the Owner of KayakHelp.com. Born and raised in Cleveland, Ohio, he grew up kayaking, fishing, sailing, and partaking in outdoor adventures around the Great Lakes. When he's not out on the water, you can find him skiing in the mountains, reading his favorite books, and spending time with his family.