Whitewater kayaking is one of the most extreme versions of kayaking and it requires the right safety equipment. To that end, it pays to trust your flotation on rushing rapids to a kayak from one of the best whitewater kayak brands.
Whitewater kayaks require quality craftsmanship because of the intensity of the rivers they are used on. That said, you'll find brands on this list that specialize in both traditional hardshell whitewater kayaks and inflatable whitewater kayaks.
Both designs have their advantages, of course. So we'll also get into some simple buying tips for folks looking to purchase their first whitewater kayak.
Without further adieu, let's get started.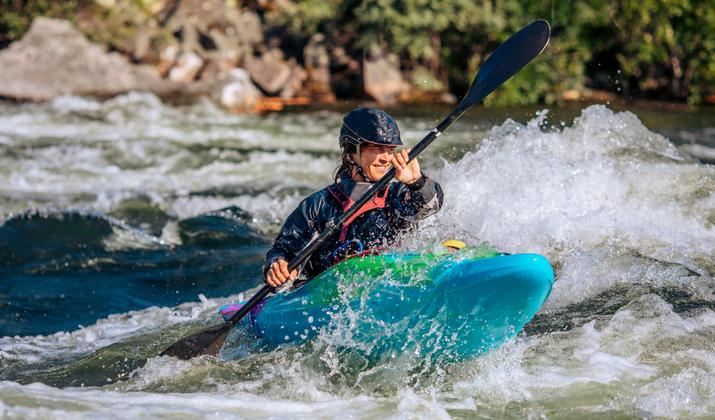 Photo by Parilov via Shutterstock
Best Whitewater Kayak Brands
Dagger Kayaks
Pyranha Kayaks
Jackson Kayak
Liquidlogic Kayaks
Wave Sport Kayaks
Riot Kayaks
Prijon Kayaks
Bliss-Stick Kayaks
Ackless Kayaks
Verus Kayaks
Advanced Elements
Northwest River Supply (NRS)
Driftsun
AIRE
Aquaglide
Quick Whitewater Kayak Buying Guide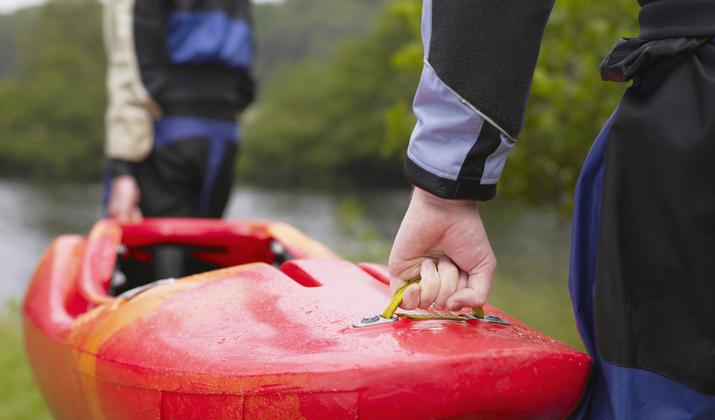 Photo by sirtravelalot via Shutterstock
When you begin your search for a whitewater kayak, you are likely to encounter many different designs. Use these quick tips to narrow down your choices so you can find a kayak that is going to best serve your needs.
Types of Whitewater Kayaks
The main types of whitewater kayaks are play boats, creekers, river runners, and long kayaks. Let's start by discussing some of the advantages and disadvantages of each type.
Play Boats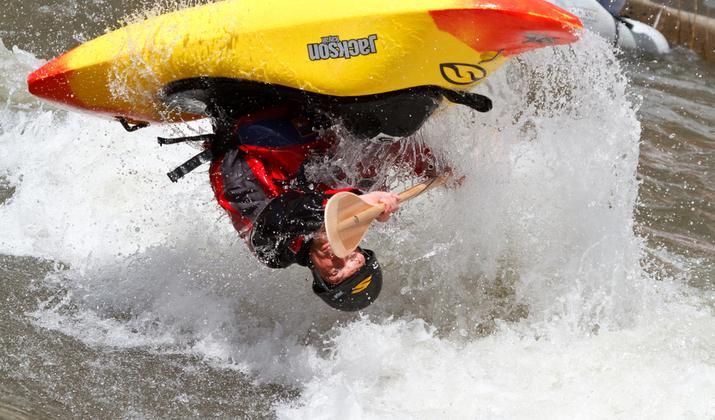 Photo by topseller via Shutterstock
Play boats are the best style of whitewater kayak for those that want to perform tricks or 'boofs' on the water. While these skills require more practice and experience than others, they make whitewater kayaking a whole lot more fun.
This kayak style is known for its short lengths (usually less than 6.5 feet) and its excellent maneuverability. They rotate very easily thanks to their aggressively planed hulls and the volume is concentrated around the cockpit so the paddler can submerge the bow or stern without losing complete control of the kayak.
While they can be a lot of fun at whitewater parks, you won't find play boats being used for navigating long stretches of whitewater. They also aren't the best when it comes to handling especially big waves.
Creekers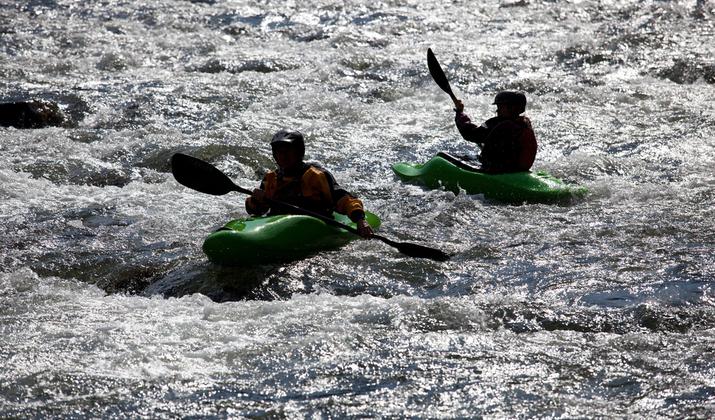 Photo by Steve Heap via Shutterstock
Creekers (also known as 'creek boats') are typically between 7.5 and nine feet long and feature a high-volume displacement hull. As their name implies, they are meant for navigating creeks and other narrow waterways.
Another telltale characteristic of creekers is more rocker that assists the paddler in staying on top of the water by reducing the likelihood of the kayak nose-diving. They tend to handle very well in technical whitewater, but they can also be pushed around relatively easily by strong currents.
River Runners
Photo by Ivan Chudakov via Shutterstock
This type of whitewater kayak gets its name due to its ability to safely navigate large rapid and high-flow waterways. River runners are usually between seven and nine feet in length and their hull design is the closest to a recreational kayak that you'll find among this group.
That being said, river runners have several features that make them much better for whitewater paddling than an average kayak. They feature a moderate displacement hull that handles big water better than creekers, but that design does sacrifice some maneuverability.
Some experienced paddlers use river runners for aerials, but that is less common. That being said, these are generally considered to be the most versatile type of whitewater kayak.
Long Kayaks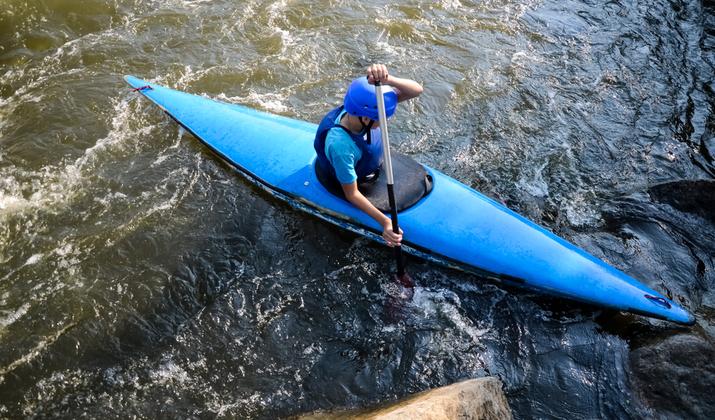 Photo by Valerka Stepankov via Shutterstock
As you would imagine, long whitewater kayaks are typically more than 9.5 feet in length and they are meant for racing or speed over long distances. You won't see too many long kayaks out there these days, as many brands have moved away from them.
Still, this style is certainly out there for those interested in buying a used kayak, so you should know that long kayaks are known for planing hulls instead of displacement hulls. This hull design helps them ride higher in the water (and at a faster speed).
The downside of that design is that long kayaks don't maneuver as swiftly as their counterparts and they also require more effort to do so. It usually takes a pretty strong paddler to handle a long kayak, but they do offer the most storage capacity of these types if you're looking for a kayak for a multi-day river trip.
Design
There are several key terms to be aware of when you're comparing and contrasting whitewater kayaks. They all relate to the design, so let's cover each in brief before we get into our reviews of the best whitewater kayak brands.
Hulls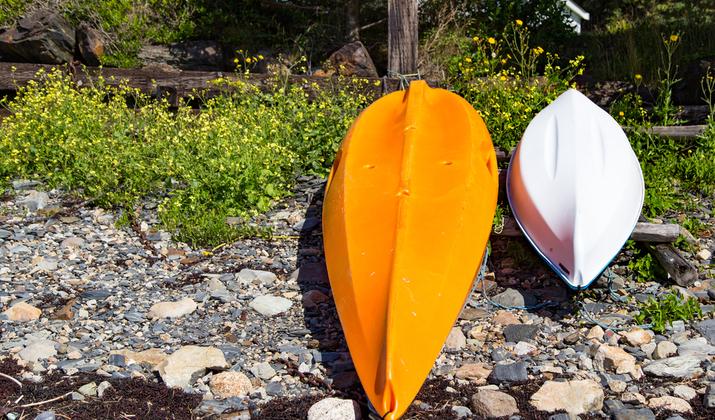 Photo by Tom Clausen via Shutterstock
The two basic types of whitewater kayak hulls are known as planing hulls and displacement hulls.
Planing hulls are flatter and tend to make it easier to turn your kayak in whitewater. They can also be faster because they sit higher in the water.
Displacement hulls are rounder and dip further below the waterline than planing hulls. This allows them to hold their line a bit better and also allows for more forgiveness for beginners.
Chines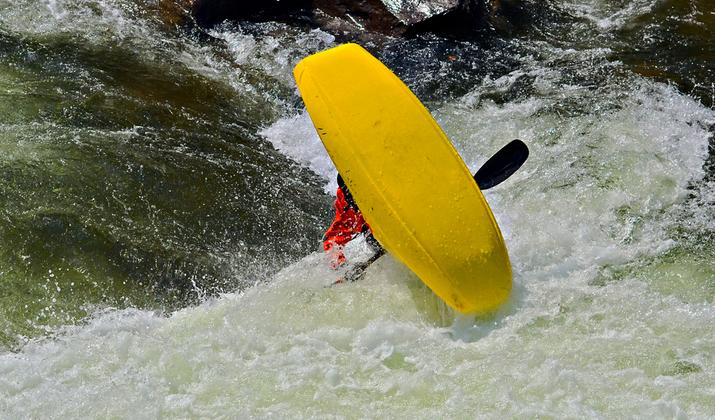 Photo by Susan Leggett via Shutterstock
The design of a kayak's chine is usually described as 'harder' or 'softer'. Harder chines will provide a sharper angle between the hull and the sides of the kayak while softer chines have a more rounded look.
Harder chines give paddlers the ability to turn on a dime with less effort, but they also can be more susceptible to river currents. If you're not conscious of your hip angles in a kayak with hard chines, it can feel quite squirrely at first.
Softer chines are more forgiving and, therefore, a better option for less experienced whitewater paddlers. They require a bit more effort to maneuver and get them pointed where you want them to go and they don't respond to your paddle strokes as quickly as hard chines.
It is worth noting that your choice will rarely be a true 'either-or' on this front. There are varying degrees of chine and many whitewater kayak manufacturers combine some of the best aspects of hard and soft chine to create a more versatile kayak.
Rocker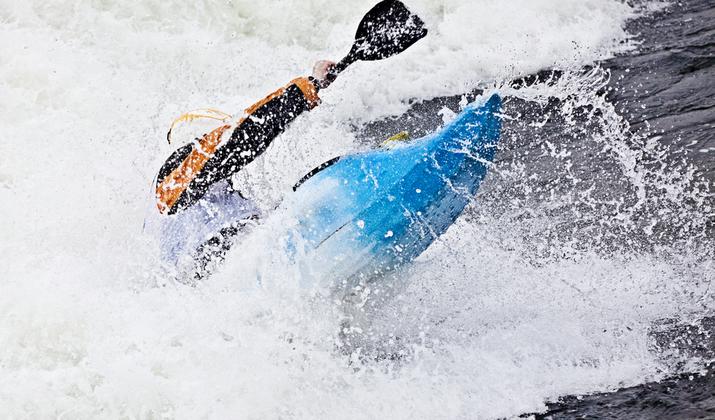 Photo by Getmilitaryphotos via Shutterstock
Rocker refers to the degree of the curve in the hull as it reaches the bow and stern. Whitewater kayaks are usually advertised as having more rocker (more curve) or less rocker (less curve).
Generally speaking, less rocker leads to a longer waterline and makes the kayak faster. More rocker, on the other hand, shortens the waterline to make the kayak more maneuverable.
Rocker can also be different at the bow and stern, as well. More bow rocker, for example, tends to keep the kayak from nose-diving at more landing angles than less rocker.
Ultimately, bow rocker will have an impact on how well your kayak rides over waves or punches through them. Stern rocker will play more of a role in determining how well your kayak releases, tracks, and holds its speed.
Volume
Photo by marekuliasz via Shutterstock
A kayak's volume is the amount of water it would displace when fully submerged with the cockpit cover. Kayaks with more volume will float higher in the water, which tends to be better for larger paddlers or folks that like to load in a lot of gear.
Kayaks with less volume sit lower in the water to provide more responsiveness for play maneuvers and an overall more exhilarating ride.
A Final Note on Choosing a Whitewater Kayak
These factors need to be considered holistically to find a kayak that will really suit your needs. For example, two whitewater kayaks with the same volume might not actually ride the same in the water if one has a planing hull and the other has a displacement hull.
That is why it is really important to look closely at all of the design elements of a kayak before settling on one. It can also be a good idea to find kayaking forums online where kayak owners share more about their unique experiences with certain whitewater kayak models.
Best Whitewater Kayak Brands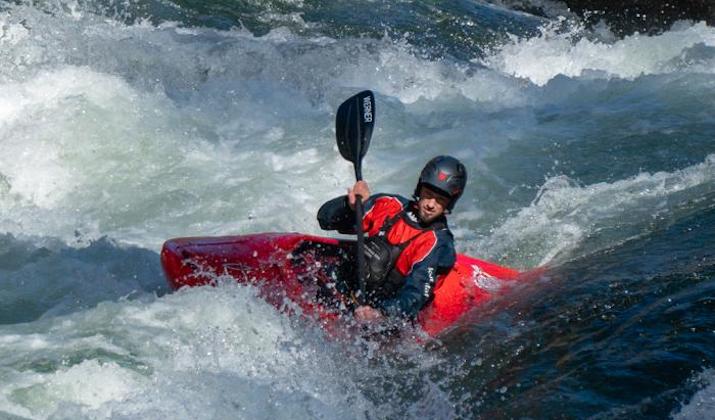 PC Dagger Kayaks
Dagger Kayaks is actually part of a larger conglomerate that includes other brands like Wilderness Systems, Perception, Mad River, Adventure Technology, and Boardworks. Their whitewater kayak lineup features seven different designs: Jitsu, Katana, Code, Phantom, Rewind, Torrent, and The Green Boat.
Dagger's stellar reputation is largely built on the fact that their professional kayakers test each of their new designs before they hit the market. This means that they're paddled by some of the best paddlers in the world and in some of the most extreme conditions before Dagger trusts that they've built something worthwhile for you.
They also offer kayaks for touring, multi-water, and recreational paddling in addition to their whitewater lineup. This company also has an awesome YouTube Channel with lots of how-to videos and other great resources for whitewater kayakers.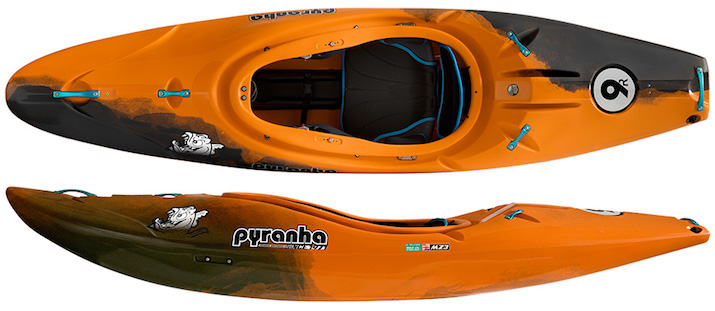 PC Pyranha Kayaks
Pyranha Kayaks also designs some of the best whitewater kayaks for river running, free riding, and recreational whitewater paddling. They don't waste their time on kayaks for other paddling disciplines and their focus has allowed them to become one of the best brands in this industry.
Their current lineup features 17 unique designs and several of them received awards in 2020 for Paddlesports Whitewater Product of the Year. They also have more than 40 years of experience in both kayaking and designing kayaks for whitewater environments.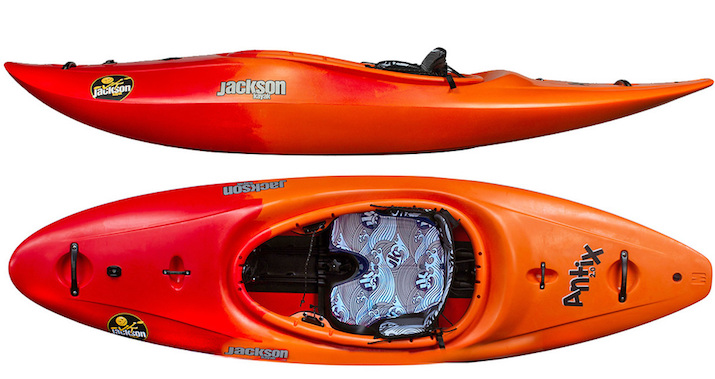 PC Jackson Kayak
Jackson Adventures actually makes kayaks for a wide variety of purposes, including kayak fishing and recreational paddling. Their whitewater lineup, however, is arguably what they are best known for in the paddling community.
They currently offer four different adult whitewater kayaks and three more designs made specifically for kids. If you're a parent looking to introduce your children to your love of swift-moving water, there is quite possibly no better company to trust than Jackson Kayaks.
They've been around since 2004 and the company was originally founded by an Olympic kayaker named Eric Jackson and his design partner–David Knight–and his friend–Tony Lunt.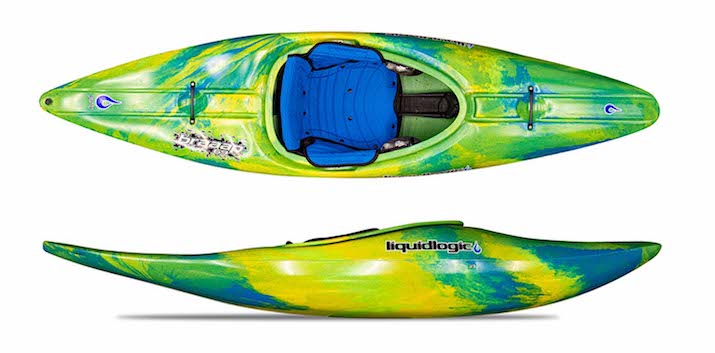 PC Liquidlogic Kayaks
How can you go wrong with a company that has a motto that says, "We make great kayaks for people who love great kayaks?" They offer recreational kayaks, crossover kayaks, and, of course, some of the best whitewater kayaks in the world.
Their current whitewater lineup features five different designs and some of the designs are available in several different sizes. They also sponsor one of the most awesome teams of whitewater kayakers out there and those riders are consistently giving them feedback that goes directly into their design process.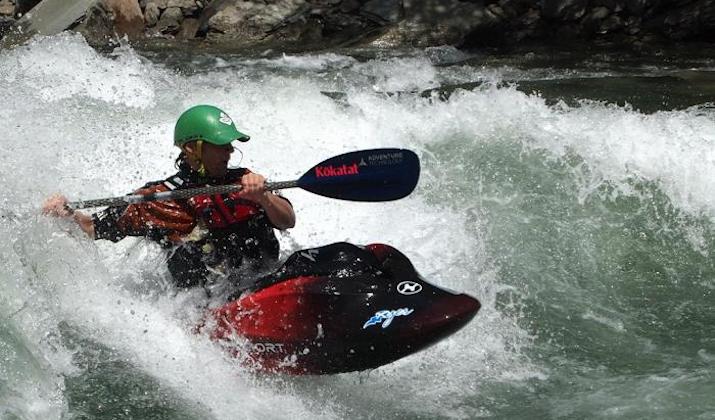 PC Wave Sport Kayaks
Wave Sport's full lineup also offers kayaks for touring, freestyle riding, and recreational paddling. Their kayaks that are exclusively designed for whitewater, however, offer quite a bit of variety for both seasoned and inexperienced paddlers.
What we like most about their selection is that you can search for kayaks by paddler size as well as the type of water you plan to be on the most. So you won't be buying a kayak made for Class IV whitewater when you're just interested in earning your chops on Class II and III creeks.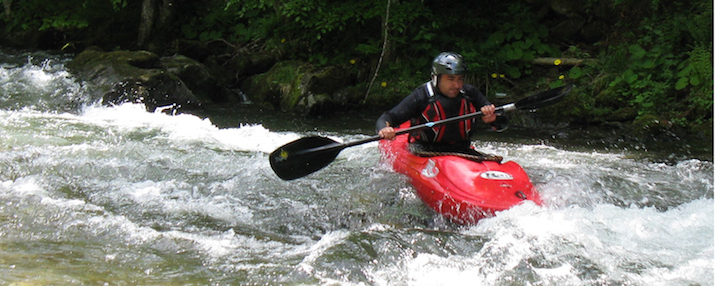 PC Riot Kayaks
Riot Kayaks offers a vast selection that includes designs made for just about any type of kayaking you could imagine. Their whitewater lineup features seven designs ranging from 6'1" to 8'4".
The Astro, Magnum, Thunder, and Boogie kayaks give you plenty to choose from when you're selecting a new kayak. Plus, Riot Kayaks has also started dabbling into the world of thermoformed kayaks if you are looking for something even lighter and faster.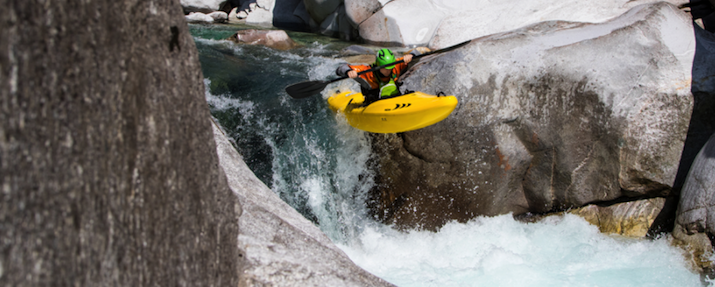 PC Prijon Kayaks
Prijon Kayaks intentionally designs their models for extreme river trips. While they do offer sea kayaks, touring kayaks, kayaks for kids, and a host of others for casual paddling, their extreme lineup is worth a second look.
It offers 10 different designs, including a rare tandem whitewater kayak that you won't find from many other hardshell kayak makers. This German-based company has been around for more than 60 years and their business model includes sustainable thinking driving meaningful action.
Anton Prijon Sr. originated this company by racing in his own self-made kayak way back in the late 1940s. He became a kayaking world champion in 1958 and went on to pioneer many new kayak designs and types of kayak paddles that kayakers take advantage of to this day.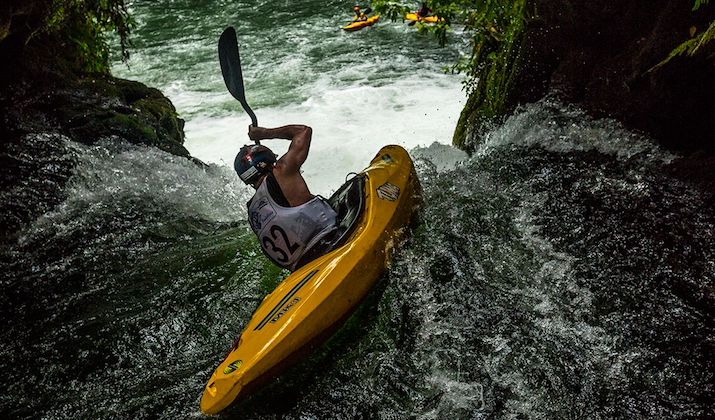 PC Bliss-Stick Kayaks
Bliss-Stick Kayaks is a New Zealand-based company with roots tied to the "Land of the White Cloud." Based in Aotearoa, this small company makes some of the best kayaks for some of the world's best kayakers out of a small sheep shearing shed.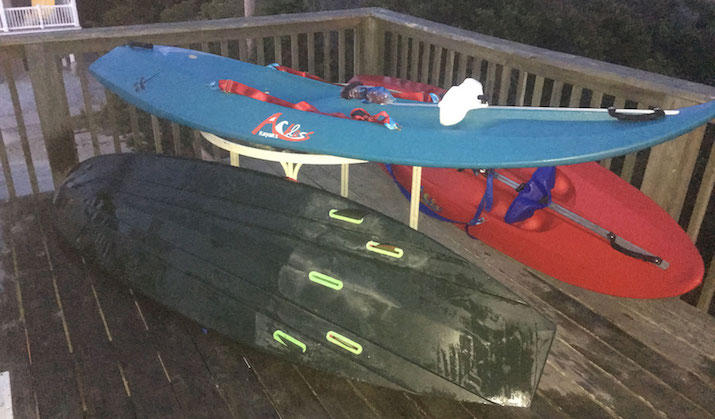 PC Ackless Kayaks
Ackless Kayaks actually focuses their designs on whitewater river surfing and, as a result, they produce some of the most unique kayaks in the world. Based in Sea Isle City, New Jersey, this is somewhat of an unsuspecting brand for many folks.
However, the company has deep ties to Costa Rica and they regularly test their kayak designs on some of the biggest waves that both Costa Rica and the Jersey shore can muster. If you're looking for something to get into play boating at your local river park, Ackless Kayaks are definitely worth checking out.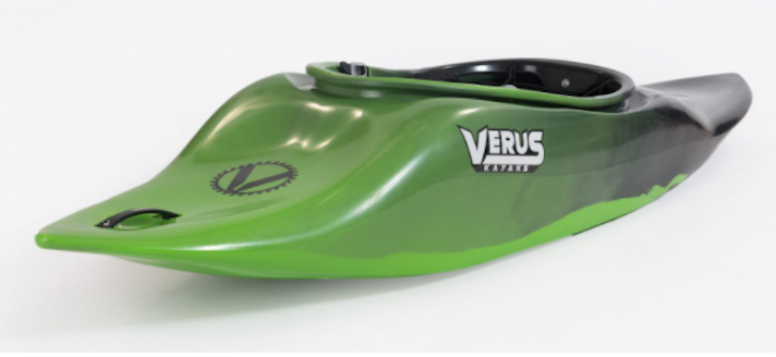 PC Verus Kayaks
The standard lineup from Verus Kayaks currently features just two whitewater designs: the Gladiator 2.0 and the Hellbender. However, there is certainly something to be said for a company that puts extra focus on perfecting a few designs instead of spreading itself too thin.
For what it's worth, they also offer three composite whitewater kayak designs that are made for high-end whitewater enthusiasts. The Volant Carbon/Kevlar, Volant Full Carbon Fiber, and Sagitta kayaks are some of the lightest and sleekest-looking whitewater designs you'll find.
Verus is one of the newer companies in this industry and they got their start in 2015 when President and Founder Josh Pecaric first tried his hand at shaping kayaks in his garage.
The first few might have been rough, but perseverance pays off and the company continues to grow into a well-respected name in the whitewater kayaking industry.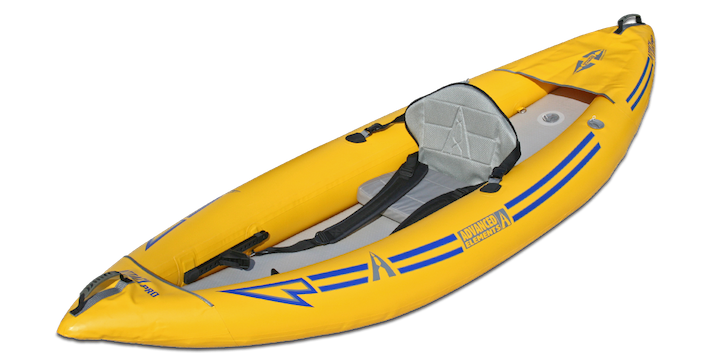 PC Advanced Elements
Advanced Elements is one of the most recognized names in the inflatable kayak industry right now and their selection has grown to include two kayak designs made specifically to handle whitewater.
The StraightEdge can handle up to class III whitewater, but it's really more of a crossover kayak made for flatwater paddling. The Attack Pro, on the other hand, is a full-time, self-bailing inflatable kayak that can handle any river class determined by the paddler's experience and skill level.
Their kayaks are designed in California and they continue to innovate in the world of inflatable kayak technology. Heck, if whitewater rafting isn't dangerous in an inflatable raft, why should kayaking be?

PC NRS
NRS actually acquired the STAR kayak brand in 2017 and they have continued that company's legacy of producing these high-quality whitewater inflatables. Their lineup includes whitewater rafts, inflatable fishing kayaks, and some great choices for whitewater beginners.
The Paragon, Raven I Pro, Viper XL, and Ravan II are just a few of their best designs for whitewater use. NRS also offers a huge variety of kayaking accessories to help you equip your kayak with everything you need for many different styles of paddle adventures.

PC Driftsun
Driftsun offers two inflatable kayaks that can handle whitewater paddling. Their Rover 220 can also handle two paddlers if you and your partner are looking to have some fun on your local rivers together.
This Northern California-based company was created in 2014 and they pride themselves on bringing all of their products directly to marketplaces so that their customers receive the value and quality they deserve.

PC AIRE
The AIRE company is a powerhouse in the whitewater rafting world, but they have also branched out to make a few pretty neat inflatable kayaks for whitewater use. Their selection of 14 unique designs offers plenty for single and tandem paddlers to choose from.
You'll find everything from the youth-specific Spud to the 14-foot tandem Super Lynx and still have plenty to choose from in between. This company calls Meridian, Idaho its home and we quite honestly can't think of many better places to experiment with whitewater designs than that.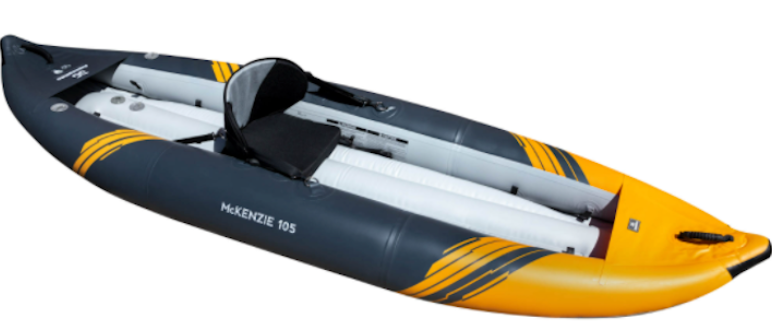 PC Aquaglide
Aquaglide has been around for about 15 years and is headquartered in the Pacific Northwest. For a company that makes a ton of different inflatable water sports products, their McKenzie 105 and McKenzie 125 hybrid whitewater kayaks are pretty sweet.
They are super lightweight so you don't have to carry a heavy kayak down to the riverbank and they feature self-bailing cockpits so you don't get swamped when you hit a particularly big wave. They also come with a removable fin so you can use them for casual paddling or whitewater.
Final Thoughts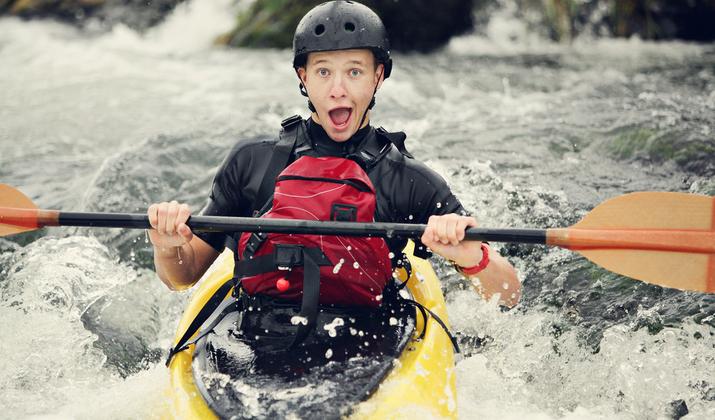 Photo by Ahturner via Shutterstock
Whitewater kayaking is easily the most exhilarating form of this sport once you get into it. For beginners, it might look a little dangerous at first, but it's all about gaining experience and skills to have fun and do it safely.
We hope you have enjoyed this review of the 15 best whitewater kayak brands and we wish you the best of luck running your favorite rivers during the year to come!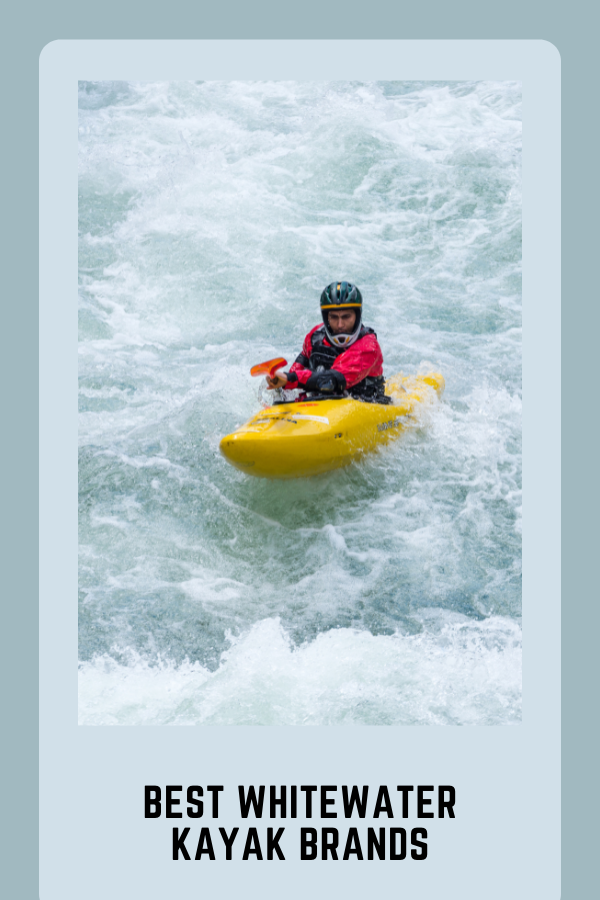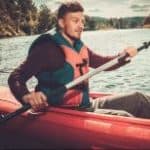 Author: Peter Salisbury
Pete is the Owner of KayakHelp.com. Born and raised in Cleveland, Ohio, he grew up kayaking, fishing, sailing, and partaking in outdoor adventures around the Great Lakes. When he's not out on the water, you can find him skiing in the mountains, reading his favorite books, and spending time with his family.